The LeadTek WinFast GTX 260 Extreme+ has been beefed up with 216 stream processors. Also, it's factory overclocked for some sweet gaming goodness.
INTRODUCTION
VOICEOEVER
"In the war for world video card domination, two rival factions attack and counter attack each other continuously in their endless pursuit of claiming final and total victory."
"Stop tape. That was great, HAL. Can you put a little more emphasis on domination?"
"Yes, Dave. I would be happy to do that for you. Is there anything else I can do for you, Dave? Would you like me to sing a song for you, Dave?"
"No, that's okay, HAL."
"Daisy. Daisy. Give me you answer do. I'm half crazy…"
And so it is that Nvidia has come to answer the HD 4800 series video card onslaught from ATI with their third and latest addition to the GTX-200 series, the new and improved GTX 260 utilizing 216 stream processors (up from 196). And there's nothing crazy about that. What is crazy though is Nvidia's naming scheme. Although the new GTX 260 with increased SP's is planted firmly between the original GTX 260 and their top-of-the-line GTX 280, Nvidia has chosen to maintain the 260 designation, and instead allows vendors to provide their own naming scheme to this most recent combatant to enter into the theater of operations. LeadTek has entered the fray with the Winfast GTX 260 Extreme+.
But the LeadTek Extreme+ is more that just a mere GTX 260 with 216 stream processors, it's a factory overclocked GTX 260 with 216 stream processors. It's been upgraded. LeadTek has chosen to bump the core/memory clock from 576/1998 MHz to 602/2214 MHz on the GTX 260 Extreme+. With this much firepower, is it sure to be a winner? Let's find out if this new video card weapons system has got what it takes by taking a closer look at the LeadTek WinFast GTX 260 Extreme+.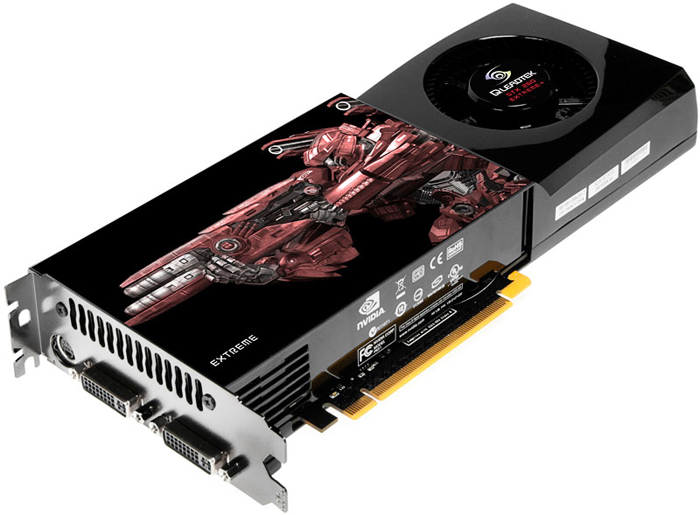 "An Absolute Power to a Perfect Gaming-Mate"
About LeadTek
Vision
"Innovation and Quality " are all and intrinsic part of our corporate policy. We have never failed to stress the importance of strong R&D capabilities if we are to continue to make high quality products with added value.
By doing so, our products will not only go on winning favorable reviews in the professional media and at exhibitions around the world but the respect and loyalty of the market.
For Leadtek, our customers really do come first and their satisfaction is paramount important to us.
Using all digital means of communication available – such as our regularly updated Website- customers, current and potential, are easily able to refer to our catalogue of products with information on prices, services and future developments.
Looking ahead, Leadtek will continue to maintain its status on the Asia-Pacific market while extending its global sales network. By combining our trend-setting graphics, multimedia audio and video, communications technologies, we remain dedicated to cutting edge technologies and value added products.
We will work toward further integration of computer and communications technologies with our sights set on combining multimedia videophony, and GPS (Global Positioning System) in a single product. Also to extend the market for broadband network devices.
Our ultimate goal is to facilitate and improve human life through new technology and applications without harming the environment.
Together we can dream of a world where we enjoy the convenience of modern technology without compromising our natural heritage for future generations.
And turn even this Dream into a Reality with Leadtek.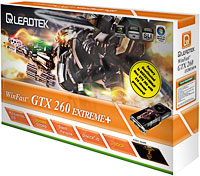 FEATURES
PCI Express 2.0 GPU
Provides Support for
Next Generation PC Platforms

GPU/Memory Clock at


602/2214

MHz!!
HDCP capable

896MB, 448-bit

memory interface for smooth, realistic gaming experiences at Ultra-High Resolutions /AA/AF gaming
Support Dual Dual-Link DVI with awe-inspiring

2560×1600

resolution
The Ultimate Blu-ray and HD DVD Movie Experience on a Gaming PC
Smoothly playback H.264, MPEG-2, VC-1 and WMV video–including WMV HD
Industry leading 3-way NVIDIA SLI technology offers amazing performance
NVIDIA PhysX™ READY
PCI Express 2.0 Support

Designed to run perfectly with the new PCI Express 2.0 bus architecture, offering a future-proofing bridge to tomorrow's most bandwidth-hungry games and 3D applications by maximizing the 5 GT/s PCI Express 2.0 bandwidth (twice that of first generation PCI Express). PCI Express 2.0 products are fully backwards compatible with existing PCI Express motherboards for the broadest support.

2nd Generation NVIDIA® unified architecture

Second Generation architecture delivers 50% more gaming performance over the first generation through enhanced processing cores.
GigaThread™ Technology

Massively multi-threaded architecture supports thousands of independent, simultaneous threads, providing extreme processing efficiency in advanced, next generation shader programs.
NVIDIA PhysX™ -Ready

Enable a totally new class of physical gaming interaction for a more dynamic and realistic experience with Geforce.
High-Speed GDDR3 Memory on Board

Enhanced memory speed and capacity ensures more flowing video quality in latest gaming environment especially in large scale textures processing.
Dual Dual-Link DVI

Support hardwares with awe-inspiring

2560-by-1600

resolution, such as the 30-inch HD LCD Display, with massive load of pixels, requires a graphics cards with dual-link DVI connectivity.

Dual 400MHz RAMDACs

Blazing-fast RAMDACs support dual QXGA displayswith ultra-high, ergonomic refresh rates up to 2048×[email protected]

3-way NVIDIA SLI technology

Support hardwares with awe-inspiring

2560-by-1600

Offers amazing performance scaling by implementing AFR (Alternate Frame Rendering) under Windows Vista with solid, state-of-the-art drivers.

Click to Enlarge

Microsoft® DirectX® 10 Shader Model 4.0 Support

DirectX 10 GPU with full Shader Model 4.0 support delivers unparalleled levels of graphics realism and film-quality effects.

OpenGL® 2.1 Optimizations and Support

Full OpenGL support, including OpenGL 2.1 .
Integrated HDTV encoder

Provide world-class TV-out functionality up to 1080P resolution.
NVIDIA® Lumenex™ Engine

Support hardwares with awe-inspiring

2560-by-1600

Delivers stunning image quality and floating point accuracy at ultra-fast frame rates.

16x Anti-aliasing: Lightning fast, high-quality anti-aliasing at up to 16x sample rates obliterates jagged edges.
128-bit floating point High Dynamic-Range (HDR): Twice the precision of prior generations for incredibly realistic lighting effects

Dual-stream Hardware Acceleration

Provides ultra-smooth playback of H.264, VC-1, WMV and MPEG-2 HD and Bul-ray movies.

High dynamic-range (HDR) Rendering Support

The ultimate lighting effects bring environments to life.

NVIDIA® PureVideo ™ HD technology

Delivers graphics performance when you need it and low-power operation when you don't. HybridPower technology lets you switch from your graphics card to your motherboard GeForce GPU when running less graphically-intensive applications for a silent, low power PC experience.

HybridPower Technology support

Delivers graphics performance when you need it and low-power operation when you don't. HybridPower technology lets you switch from your graphics card to your motherboard GeForce GPU when running less graphically-intensive applications for a silent, low power PC experience.
HDCP Capable

Allows playback of HD DVD, Blu-ray Disc, and other protected content at full HD resolutions with integrated High-bandwidth Digital Content Protection (HDCP) support. (Requires other compatible components that are also HDCP capable.)
| | |
| --- | --- |
| | |
Click to Enlarge
SPECIFICATIONS
GPU
NVIDIA GeForce GTX 260
Graphics Bus
PCI Express 2.0
Memory size
896MB GDDR3
GPU/Memory clock
602/1107MHz
Memory data rate
2214MHz
Output
Dual Dual-Link DVI, HDTV
Memory Interface
448-bit
Stream process
216
RAMDACs (MHz)
400
2nd Generation NVIDIA® unified architecture
NVIDIA® Lumenex™ Engine
Full MicrosoftR DirectX®10.0 Shader Model 4.0 Support
3-way NVIDIAR SLI™- Ready
NVIDIAR PhysX -ready technology
True 128-bit floating point high dynamic-range (HDR) lighting
Built for Microsoft® Windows Vista™
OpenGL® 2.1 Optimizations and Support
Package contents
WinFast GTX 260 EXTREME+ graphic card
Maunal & Driver disc
Quick installation guide
DVI to VGA converter
Power cord
System Requirements
Window XP, 2000, Vista
A PCI Express or PCI Express 2.0 compliant motherboard with 2 full-height free slot
Installation software requires DVD-ROM drive
VGA or DVI compatible monitor
A Minimum

500W

or greater system power supply (with 12V current rating of 36A) with two 6pin power cords support
Adapter/Cable Bundled
DVI-to-VGA Adaptor x 1
Power Cable
Software Bundled
WinFast Graphics Driver CD (w/ WinFox II) x 1
Never Winter Night 2 DVD x 1
Major GPU Specifications
GPU
HD 3870 X2
9800 GX2
8800 GTX
GTX 260
LeadTek WinFast GTX 260 Extreme+
GTX 280
HD 4850
HD 4870
GPU frequency
825MHz
600MHz
575MHz
576MHz
602MHz
602MHz
625MHz
750MHz
ALU frequency
825MHz
1500MHz
1350MHz
1242MHz
1296MHz
1296MHz
625MHz
750MHz
Memory frequency
900MHz
1000MHz
900MHz
999MHz
1107MHz
1107MHz
993MHz
900MHz
Memory bus width
2×256 bits
2×256 bits
384 bits
448 bits
448 bits
512 bits
256 bits
256 bits
Memory type
GDDR3
GDDR3
GDDR3
GDDR3
GDDR3
GDDR3
GDDR3
GDDR5
Memory quantity
2 x 512 MB
2 x 512 MB
768 MB
896 MB
896 MB
1024 MB
512 MB
512 MB
Number of ALUs
640
256
128
192
216
240
800
800
Number of texture units
32
128
32
64
72
80
40
40
Number of ROPs
32
32
24
28
28
32
16
16
Shading power
1 TFlop
1152 GFlops
518.4 GFlops
715 GFlops
839.8 GFlops
933 GFlops
1 TFlop
1.2 TFlops
Memory bandwidth
115.2 GB/s
128 GB/s
86.4 GB/s
111.9 GB/s
124.0 GB/s
141.7 GB/s
31.78 GB/s
115.2 GB/s
Number of transistors
1334 mil
1010 mil
681 mil
1400 mil
1400 mil
1400 mil
965 mil
965 mil
Process
55nm
65nm
90nm
65nm
65nm
65nm
55nm
55nm
Die surface area
2 x 196 mm²
2 x 324 mm²
484 mm²
576 mm²
576 mm²
576 mm²
260mm²
260mm²
Generation
2008
2008
2006
2008
2008
2008
2008
2008
Shader Model supported
4.0
4.0
4.0
4.0
4.0
4.0
4.1
4.1
The LeadTek Warranty
USA and Canada area
Limited Warranty and Limitation of Liability
Leadtek Research Inc. warrants "Leadtek" products, sold by Leadtek Research Inc. for use in North America, to be free of defect in material and workmanship under normal use during the warranty period. No warranty of any kind against incompatibility with the customer's system configuration is provided by Leadtek Research Inc. The Customer Service Dept. of Leadtek Research Inc. can only setup RMA services for the original end user (the original buyer) to send the product back for repair or replacement if the product is still under Warranty. If the product is purchased in North America and be brought to other regions outside North America, the customer must provide a valid mailing address in the U.S. for warranty repair/replacement. We do not mail RMA returns to addresses outside North America (namely U.S. and Canada only).
 
The warranty period shall begin on the date on which the product was originally purchased by the customer (proof date) and shall expire
 
 36 months following that date (Graphics & Multimedia products)
 12 months following that date (Videophone products) 
 12 months following that date (GPS products)
What the warranty does not cover: 
 Any product, on which the serial number has been defaced, modified or removed. 
 Failed bios flash on Leadtek video cards.
 Products that have been damaged by accident, disaster, negligence, electrical surges, misuse, improper maintenance, abuse, or as a result of service or modification other than that done by Leadtek Research Inc.,
 LeadTek products purchased outside North America.
Leadtek Research Inc., at its sole discretion, shall repair or replace the defective product covered by this warranty. In the event a returned product is no longer available, Leadtek reserves the right to substitute with another product of similar or greater functionality.
During the warranty period, product determined to be defective will be repaired or replaced with a new or remanufactured unit at no charge, provided the product is returned to the designated address with an authorized RMA number and freight charges prepaid.
All returns will be tested. In the event a returned product is determined by Leadtek to be not defective or not covered by the expressed warranty, Leadtek will notify the sender and the product will be returned to the sender at the sender's expense. If the prodcut is not defective, customer needs to pay a flat diagnostic and handling fee of $30.00 because all products need to be shipped back to Taiwan for repair and test. Customers agree that they will abide by the findings of Leadtek's Technical Support Department.
This warranty does not apply to products that have been damaged by accident, disaster, negligence, electrical surges, improper maintenance, abuse, misuse, or as a result of service or modification other than that done by Leadtek. Repair or replacement as provided under this warranty is the exclusive remedy for the user of this product. neither leadtek, nor their authorized dealers shall be held liable for incidental or consequential damages, losses, or expenses, such as lost revenue or lost business opportunities arising from or related to the purchase or use of this product. in no event will the liability of leadtek, or their authorized distributors or dealers exceed the price paid for the product. this limited warranty is the sole warranty and is applicable only to product sold as new. leadtek makes no other warranty of any kind whatsoever, expressed or implied and this warranty is in lieu of all other warranties. all implied warranties of merchantability and/or fitness for a particular purpose are hereby disclaimed.
Software is provided on an "AS-IS" basis without warranty. Leadtek Research Inc. makes no warranty of any kind with regard to any software and/or printed material accompanying the product, including, but not limited to implied warranties of merchantability or fitness for a particular purpose. Leadtek Research Inc. shall not be liable for errors contained within the software and/or issued documents, nor shall either be liable for incidental or consequential damages in connection with the furnishing, performance, or use of the software and/or documents. The information contained in the documentation is subject to change without notice. The contents of this document and/or included software may be revised without prior notice. Leadtek Research Inc. also reserve the right to make changes and/or improvements to their products without incurring any obligation to incorporate such changes or improvements in products previously sold or shipped. 
PACKAGING
I like getting boxes, especially if they come from exotic overseas places like Hong Kong. I get excited. It's even more exciting if one of those boxes contains a newly released video card that's just hitting the market. As you can see in the pictures below, the box arrived intact and virtually unscathed. Though headquartered in Taiwan, you can make out from the picture right below on the left that this card was made in China. That's also stated on the video card's bright orange box that we'll see later. 
| | |
| --- | --- |
| | |
The LeadTek Winfast GTX 260 Extreme+ video card was found inside the packing box that was filled with sheets of foam and pieces of cardboard material. I almost want to say that it was a really really good job of packing. But there was only one thin piece of foam material between the video card box and the end of the packing box. That was a little odd, I thought. Look at the picture on the below right to see what I mean. Do you see all those pieces of foam just directly to the left of the video card that they could have used between the video card box and the end of the cardboard box? Why they didn't do that, I'll never know. Perhaps it has something to do with feng shui. I am one with the box. I become the box. I am the box. Maybe that, and the fact that the video card had "Sample Only – No Commercial Value" stamped on the shipping invoice.
| | |
| --- | --- |
| | |
The WinFast GTX 260 Extreme+ from LeadTek comes in a bright shiny orange box. And I do mean bright. Every time I look at this box I get the sudden urge for Orange Flavor Chicken or Sweet & Sour Pork. American cuisine doesn't really do justice to any food that's orange. I'm not sure there are many that do. Printed on the bright LeadTek box are the card's specifications and features. Prominently displayed inside of a large yellow circle are the words, "Factory Overclocked to 602/2214MHz!! New GTX 260 with 216 Stream processors!!" Wow!! Double bangs for emphasis. There are plenty of Nvidia logos displayed on the box as well as a "Certified for Windows Vista" logo. LeadTek is sure to mention that the card is PCI Express 2.0, DirectX 10, and HDCP compliant, has 896MB's of GDDR3 memory, includes a silent fansink, and comes with a free game, Neverwinter Nights 2. The back of the box continues with more of the card's specifications and features and it also lists the package contents.
 Click to Enlarge
FIRST LOOK
The video card itself it wrapped in an antistatic bag and it is nestled securely in foam packing material with its bundles adapters tucked nicely away in their own compartment. Laid on top are the instruction manual, along with the installation disk and the free game, Neverwinter Nights 2. The accessories include an S/PDIF analog audio cable, two Dual 4-pin (Molex) peripheral connectors to single 6-pin PCI Express power connector, a DVI to VGA adapter, a DVI to HDMI adapter, and an HDTV (component) breakout cable that includes S-Video and RCA connections. That's a pretty thorough bundle of cable accessories. 
| | |
| --- | --- |
| | |
The LeadTek WinFast GTX 260 Extreme+ video card lies encased within the shroud of the two slot fansink design. But fear not. The only thing that's going to be buried with this fansink is heat. This is the same fansink that's found on Nvidia's top-of-the-line card, the GTX 280. The dual slot cooler design also serves to protect the components inside, and it does so ever so quietly. The GTX 260 uses two 6-pin PCI-e connectors for power and we'll find out later on just how much power that is. And if you're wondering why you can't see the connector for the SLI connector in the lower picture on the right, that's because it's covered by a removable piece of rubber. The audio connector is covered with something to, but I don't remember if it's rubber or too or even plastic. That's because I don't remember where I put it. But you can that see the audio connectors sit just to the right of the two 6-pin power connections in the same picture.
 Click to Enlarge
The LeadTek WinFast GTX 260 Extreme+ video card is a long card. It's very long. It's almost as long as my GeForce 8800GTX, and that's about 10.5″, give or take a hair or two. I put it up against a smaller single slot cooler design, the XFX 9600 GT XXX Alpha Dog, for comparison. The GTX 260 is longer, is taller, and better protects all those delicate components hanging on the PCB just waiting to get knocked off. Oh, and by the way, it's a lot faster too.
 Click to Enlarge
GPU-Z
GPU-Z, from TechPowerUp, is "a lightweight utility designed to give you all information about your video card and GPU." All the specs of the LeadTek WinFast GTX 260 Extreme+ video card match up with what the manufacturer provided. The Nvidia display drivers being used are ForceWare version 178.24 for Windows XP.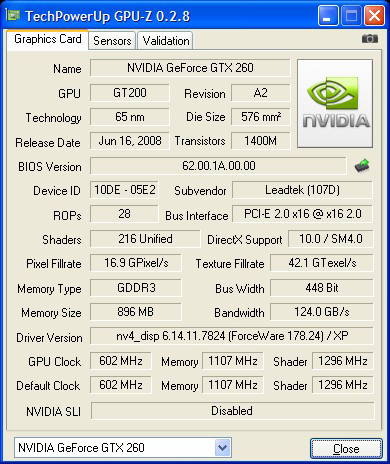 TEST SETUP
My Intel Core 2 Duo E8500 has a stock speed of 3.16GHz but I overclock it to 4.0GHz and it runs pretty stable 24/7. I also fold 24/7. If you don't know what [email protected] is, you can read about it in our forums here. It's for a good cause and we at Bjorn3D.com would welcome your participation. Just remember that we are team #41608. And by the way, if you stop on in at our forum, why not go ahead and join? It's simple. It's easy. And it's free. We give away prizes (shameless plug).
TESTING METHODOLOGY
The Move To Vista 64
We, at Bjorn3D, had to face the reality that Vista is here to stay for a while, so while most of our testing is in Vista 64-bit, I've held on to the aging Windows XP platform for two years since Vista has come out. Windows 7 is just around the corner and Bjorn3D is in the process of standardizing to Vista 64-bit in preparation for Microsoft's latest and greatest offering. Reviewers, like me, are still free to test in XP at this time because, thankfully, the bosses are not a bunch of control freaks. But I am required to test and report in Vista as soon as possible. Hopefully, Santa Claus is making a list and checking it twice, and barring that, I've made arrangements at the local blood bank to transfer funds into Bill Gates' account.
Using a combination of synthetic and real world game benchmarks, we run all the tests listed below a total of three times and the average of the tests is then reported. In all of the games that were tested, all the settings were set to the maximum allowed. Since the OS is Windows XP, only DirectX 9 results are reported because only Vista supports DirectX 10.
The Test Suite
Synthetic Benchmarks & Games
3DMark06 v. 1.10
Company of Heroes v. 2.301
Far Cry 2 v 1.01
F.E.A.R. v 1.08
World in Conflict v 1.0.0.9
3DMARK06
3DMark06, developed by Futuremark, is a synthetic benchmark used for universal testing of all graphics solutions. 3DMark06 features HDR rendering, complex HDR post processing, dynamic soft shadows for all objects, water shader with HDR refraction, HDR reflection, depth fog and Gerstner wave functions, realistic sky model with cloud blending, and approximately 5.4 million triangles and 8.8 million vertices; to name just a few. The measurement unit "3DMark" is intended to give a normalized mean for comparing different GPU/VPU's. It has been accepted as both a standard and a mandatory benchmark throughout the gaming world for measuring performance.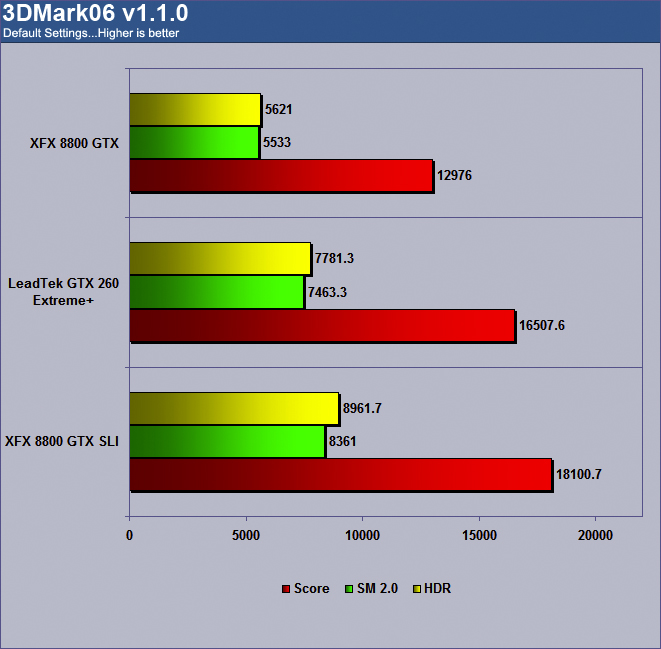 The WinFast GTX260 Extreme+ from LeadTek was put up against a pair of XFX 8800 GTX's, both singularly and in SLI, using the default setting in 3DMark. While the two cards together in SLI hold their own in this synthetic benchmark, the lone 8800 GTX is starting to show its age to a new generation of video cards.
COMPANY OF HEROES v2.301

Company of Heroes (COH) is a Real Time Strategy (RTS) game for the PC, announced in April, 2005. It is developed by the Canadian based company, Relic Entertainment, and published by THQ. COH is an excellent game that is incredibly demanding on system resources, thus making it an excellent benchmark. Like F.E.A.R., the game contains an integrated performance test that can be run to determine your system's performance based on the graphical options you have chosen. It uses the same multi-staged performance ratings as does the F.E.A.R. test, letting the games benchmark handle the chore takes the human factor out of the equation and ensures that each run of the test is exactly the same producing more reliable results.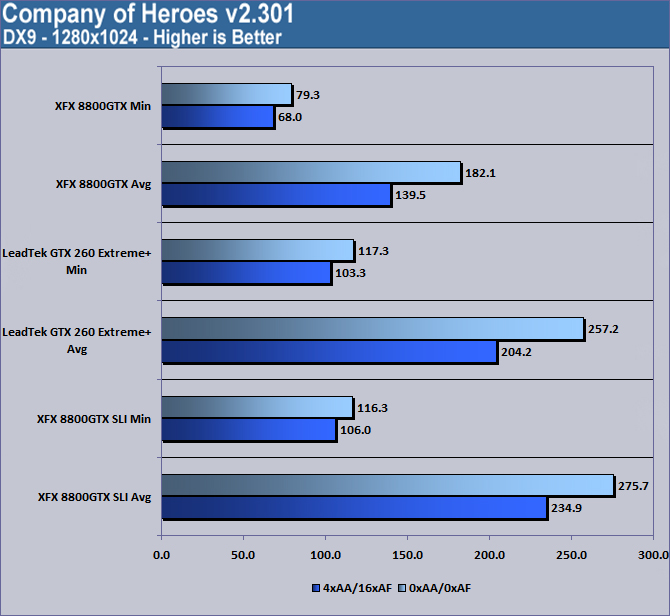 COH 1280×1024
Maximum settings were used in the game Company of Heroes and each video card was tested using 0xAA/0xAF and 4xAA/16AF. Though the average frame rate at 0xAA/0xAF for the single 8800 GTX video card is respectable, the LeadTek WinFast GTX 260 Extreme+ beats in handily by more than 40%. This single video card is almost as good as two 8800 GTX's in this test and only trails the SLI'd cards by about 6.5%. Adding 4xAA/16xAF appears to slow down the GTX 260 quite a bit, but the 8800GTX's SLI'd not so much.
COH 1680×1050
At the higher resolution of 1680×1050, the LeadTek WinFast GTX 260 Extreme+ starts to take off, besting the single 8800GTX average frame rate by almost 60% at 0xAA/0xAF. Though still beaten by the pair of cards SLI'd, it's holding its own.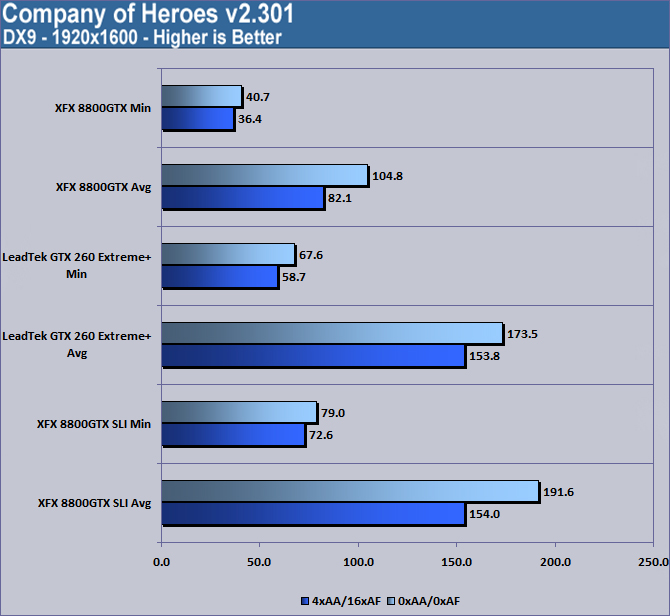 COH 1920×1600
At 1920×1600 resolution, 4xAA/16xAF doesn't hamper the GTX 260's performance much at all. But then again, all of the cards seem to handle this resolution pretty well with 4xAA/16xAF turned on, and none of the cards seem to lose much in the way of performance.
FAR CRY 2 v.1.01

Far Cry 2, released in October 2008 by Ubisoft, was one of the most anticipated titles of the year. It's an engaging state-of-the-art First Person Shooter set in an un-named African country. Caught between two rival factions, you're sent to take out "The Jackal". Far Cry2 ships with a full featured benchmark utility and it is one of the most well designed, well thought out game benchmarks we've ever seen. One big difference between this benchmark and others is that it leaves the game's AI (Artificial Intelligence) running while the benchmark is being performed.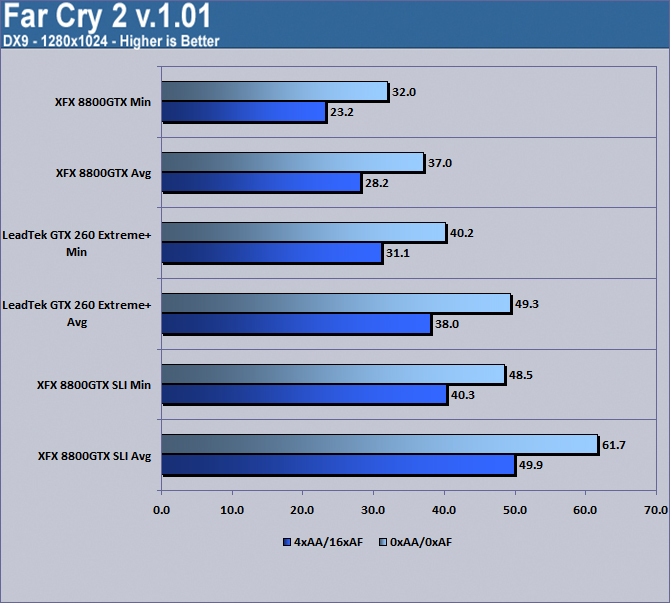 Far Cry 2 1280×1024
Ah, Far Cry 2, such a lovely benchmarking utility, such a pretty game. What's really nice about the Far Cry 2 benchmarking utility is that you can loop it to run up to 99 times. Then it reports the average of the number of loops that you've chosen when it's all done. That's nice. That's very nice. We ran the Ranch Small Demo at each resolution three times, both at 0xAA/0xAF and at 4xAA/16/AF with all graphics settings set to their maximum. When you do that though, the game gets mean. With or without AA & AF, Far Cry 2 is stingy in regards to frame rates. Some frame rates drop below 30 FPS, which is never a good thing. The single 8800 GTX is starting to take a beating.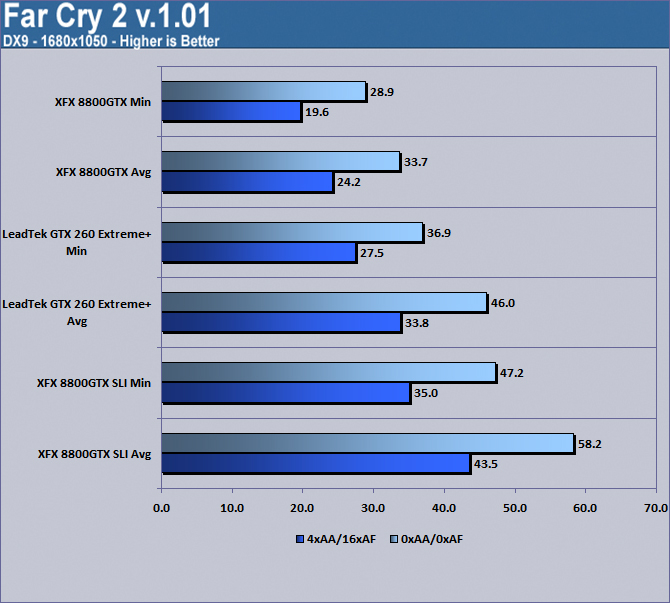 Far Cry 2 1680×1050
Even the LeadTek GTX 260 is starting to feel the weight of the added Antialiasing and Anthroscopic filtering here, dropping below 30 FPS on the minimum frame rate.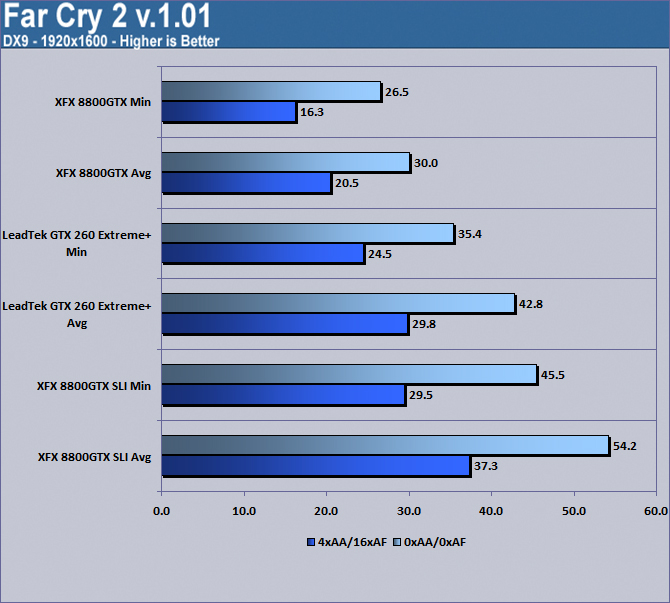 Far Cry 2 1920×1600
The LeadTek WinFast GTX 260 Extreme+ continues its decline as we increase the resolution to 1920×1600. At 4xAA/16xAF, its average frame rate drops below 30FPS. To increase the frame rate, some of the pretty pretties must go. But which ones? That's up to the user to decide. But Far Cry 2 did, indeed, make the GTX 260 cry. And though it's a sad day for the GTX 260 Extreme+, all is not lost. It's a factory overclocked GTX 260 with 216 shaders. It's an Extreme+. It is extreme. Are you?
F.E.A.R.
F.E.A.R. (First Encounter Assault Recon) is a first-person shooter game developed by Monolith Productions and was released in October of 2005 for Windows. F.E.A.R. is one of the most resource intensive games in the FPS genre of games ever to be released. The game contains an integrated performance test that can be run to determine your system's performance based on the graphical options you have chosen. The beauty of the performance test is that it gives maximum, average, and minimum frames rates per second. F.E.A.R. is a great benchmark, and one heck of a FPS.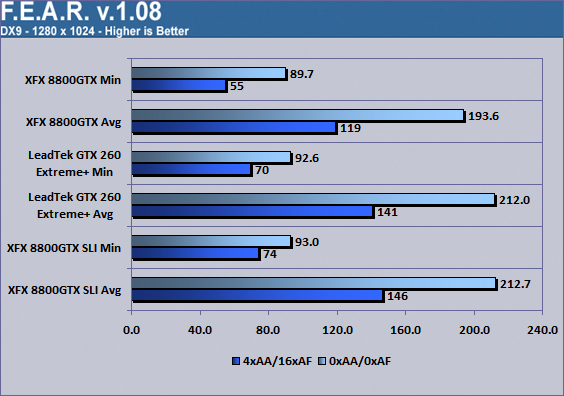 FEAR 1280×1024
"Fear not," said the single XFX 8800GTX, "for I am mighty!" And mighty it was. Even though it was beaten by the LeadTek GTX 260, the single 8800GTX put in a mighty performance by falling behind less than 10% in the average frame rate. In SLI, the two cards together barely beat the GTX 260 in the average frame rate and if this were a horse race, it would be a photo finish.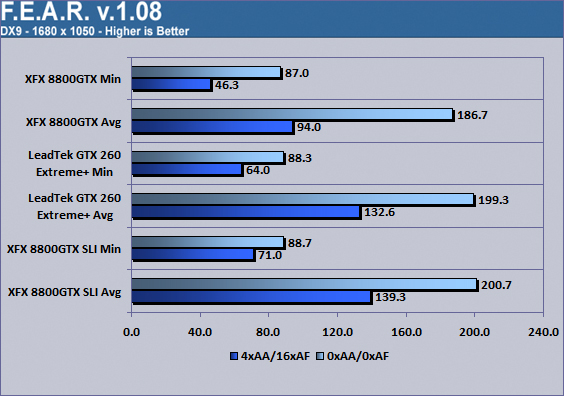 FEAR 1680×1050
The single 8800GTX manages to keep within sight of the GTX 260, but at the same time, it can see the 8800GTX's SLI'd as well. In this particular game, SLI appears to offer no great performance advantage until AA and AF are turned on. But even then, the single 8800GTX still manages to deliver quite a nice frame rate.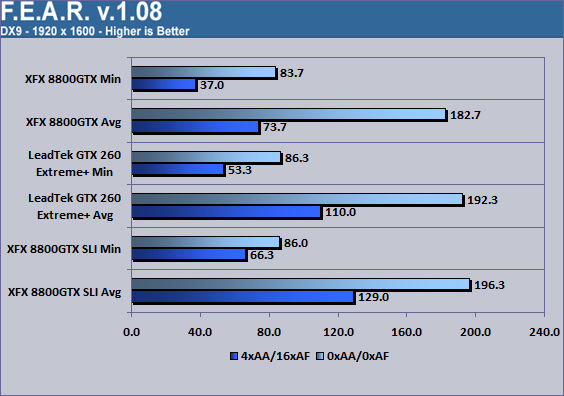 FEAR 1920×1600
The two 8800GTX's SLI's handle 4xAA/16xAF better than the LeadTek GTX 260 Extreme+, but it's not something that I would write home about. Even with AA and AF turned on, the frame rate on the GTX is quite manageable. The single 8800GTX manages to do quite well too.
WORLD IN CONFLICT

World in Conflict is a real-time tactical video game developed by the Swedish video game company Massive Entertainment, and published by Sierra Entertainment for Windows PC. The game was released in September of 2007. The game is set in 1989 during the social, political, and economic collapse of the Soviet Union. However, the title postulates an alternate history scenario where the Soviet Union pursued a course of war to remain in power. World in Conflict has superb graphics, is extremely GPU intensive, and has built-in benchmarks. Sounds like benchmark material to us!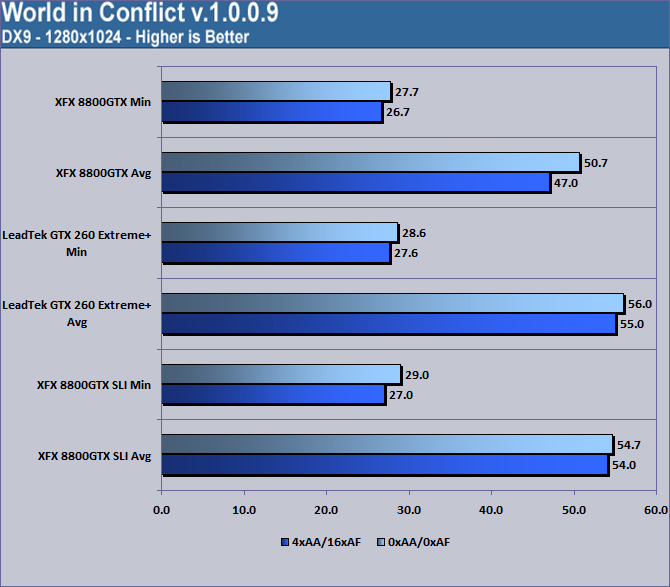 WIC 1280 x 1024
World in Conflict is an odd duck. And it's not because the LeadTek WinFast GTX 260 Extreme+ beats the SLI'd 8800GTX's. This game is odd because it really doesn't seem to care what resolution you run it at. There are but just a few frames separating all the resolutions of the various cards. The thing that has the biggest impact on it was, well, nothing. I ran far more than three passes on each card at each resolution. It just didn't seem to matter.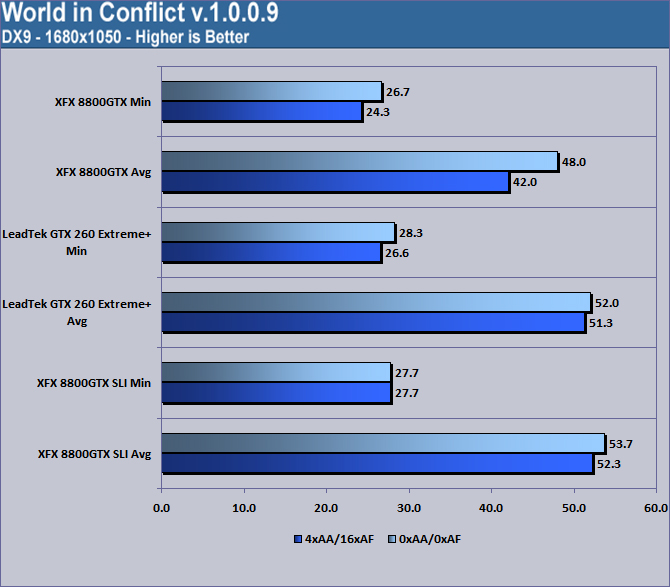 WIC 1680 x 1050 

The pair of cards in SLI takes the lead from the GTX 260, but not by much. I will never notice that one frame and it will not be missed. But did you notice that turning on AA and AF have virtually no impact on this game?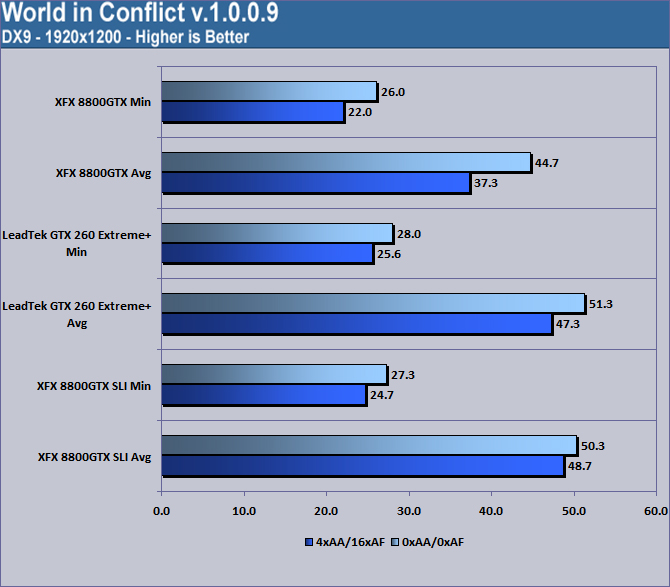 WIC 1920 x 1600
At the highest resolution, the cards in SLI lose their lead to the GTX 260 Extreme+ once again. The game is beautiful at this resolution and is still very playable at this frame rate.
TEMPERATURES

Under load, the temps on the GTX 260 video card reached as high as 72°C. That's pretty hot but that's what I'm running it at right now. Come summer, and I might have to change that. The two XFX 8800 GTX video cards, on the other hand, run considerably cooler, but then again, they're both water cooled. I have them in my CPU loop and they both sport CoolIt Systems Nvidia VGA MTEC Cooler Cold Plates. There's a little thermoelectric cooling action going on with those waterblocks there and they do keep things nice and cool.
The LeadTek WinFast GTX 260 Extreme+ video card has a hot chipset, but it also has a very good cooling solution. At its default setting of 40% when controlled automatically, the fan is very near to being silent. I know that it adds to the hum in my computer room, but it does not stand out in any way. I can make it conspicuously loud if I turn up the fan all the way, but cooler weather has hit where I live and I do not need to do that. Still, when the fan is cranked up on high, the temperature of the card goes way way down.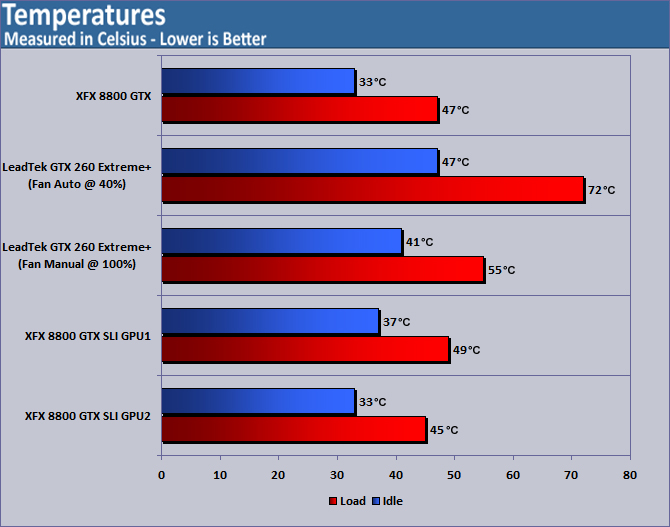 Ambient Room Temperature 25°C
POWER CONSUMPTION

As I mentioned earlier, I fold 24/7. The kind of folding that I do takes horsepower, or more specifically, GPU power. And no matter how ever good my intentions might be, the electric company still wants to charge me for the power I use. But I figure, if it's worth doing, it's worth doing. So I do it.
On any given day, I'll be folding with more than one or two video cards, and lately I've been folding with up to a total of five or so cards. The two 8800GTX's fold, fold, and fold all day and fold all night, except when I'm gaming. The LeadTek WinFast GTX 260 Extreme+ is folding as I write this. It's a good folder. It folds pretty well because it has a lot of stream processors (216) and the boys at Stanford use them well.
Saving humanity, being the main objective in folding, is not the only objective. Points are rewarded based on production and that production has a unit of measure. They are called work units, or WU's. The more WU's that you do and the more complicated the WU is, the more points that you get. The LeadTek GTX 260, folding at 6580 PPD (points per day), is folding at a rate that is 50% better than a single 8800GTX. It is also folding at a fraction of the cost.
Power comsumption was tested at load and at idle. To get a load on the video cards, I used them for folding. Performing the same task, the LeadTek WinFast GTX 260 Extreme+ uses better than 15% less power. Over the course of a year, that savings adds up. To test the single 8800GTX, I removed the second 8800GTX from the system, though it remained in the water cooling loop. Even at idle it consumes nearly as much power as the GTX 260 does when it's under load. When both 8800 GTX's are in the machine, idle power consumption is nearly a third more than that of a single GTX 260 Extreme+ at load. Amazing.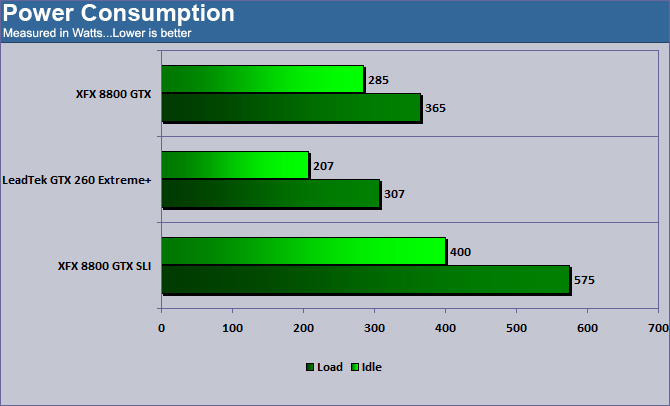 Measured With Kill A Watt P4400 Watt Meter
OVERCLOCKING

The LeadTek WinFast GTX 260 Extreme+ is a factory overclocked video card and LeadTek has chosen not to over do it. But that's them, not me. I chose to overclock this thing to see what it could really do. Well, it can do pretty darn good. The 602/1107/1296MHz factory overclock was bumped up rather easily to 700/1175/1507Mhz. It performed well and remained stable the entire time. Remember that little frame rate disappointment in Far Cry 2? I meant it when I said that this card was extreme. Your mileage may vary and neither I nor LeadTek make any claims as to the potential overclocking headroom of this GPU. And while I won't make any claims, I will say that its overclocking potential is excellent. You might even say extreme.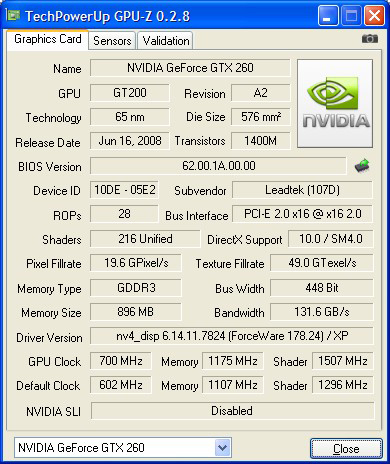 Overclocking the already factory overclocked LeadTek WinFast GTX 260 Extreme+ increased the temperatures as expected, but the fansink did a really nice job of keeping things cool.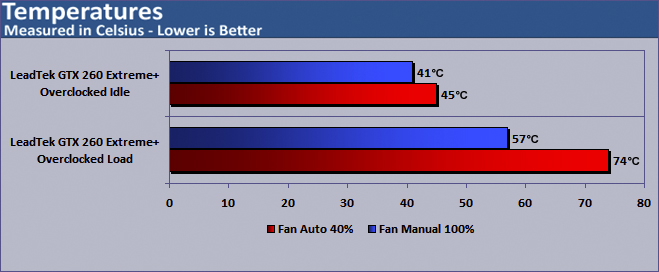 LeadTek WinFast GTX260 Extreme+ Overclocked 700MHz/1175MHz/1507MHz
CONCLUSION
The LeadTek WinFast GTX 260 Extreme+ is surely designed to be a winner in this battle for video card domination. Upping the stream processors to 216 from 192 and giving it near top-of-the-line performance of the GTX 280 was a wise move on the part of Nvidia. And offering this card at a factory overclock was a wise move on the part of LeadTek. With a retail price of around $300 or so USD, this card offers a tremendous value, considering that it nearly equals and sometimes beat the performance of a pair of video cards that retailed for nearly $1200 less than two years ago. This battle of the video card manufacturers has many beneficiaries, and it is us, the consumers, who benefit most of all from their rivalry.
The overall picture quality on every game tested was stunning. Though some of the benchmarks tested a little on the low side at times, during gameplay this was not evident as the gameplay frame rates were smooth and stutter free. With the overclocking potential of this video card, there is plenty of headroom available that may be able to thwart any such low frame rate encounters. It folds like a champion as it folds for a cure. And as it hammers out frame rates for games and WU's for [email protected], it does it all with an economy for power consumption.
The only thing better than having a LeadTek WinFast GTX 260 Extreme+ video card would be having two of them in SLI, or maybe even three of them in Tri-SLI. But that would mean upgrading to Windows Vista because Tri-SLI is only available on that platform, and upgrading to Vista is something that I've been hesitant to do. But if there's anything that could prompt me to do it, it could be this card. Well that, and two more just like it.
We are trying out a new addition to our scoring system to provide additional feedback beyond a flat score. Please note that the final score isn't an aggregate average of the new rating system.
Performance 10
Value 9
Quality 10
Warranty 8
Features 10
Innovation 10
Overclockability 10+
Pros
+  Great Performance
+  216 Stream processors
+  Factory Overclocked
+  Lots of Oveclocking Potential
+  Excellent Power Consumption
+  SLI & Tri-SLI certified
+  Quiet Fansink
+  Great for Folding When Not Gaming
Cons
–  Loud Fan at 100%
–  10.5″ Length May Cause Full Tower Chassis Envy
–  Only One Card in Each Box
–  I Don't Own Any PhysX Capable Games
The factory oveclocked LeadTek WinFast GTX 260 Extreme+ has excellent performance that will surely please any PC gaming enthusiast. And if the extreme gaming enthusiast isn't so easily pleased, the GTX 260 Extreme+ has plenty of overclocking potential that should be able to put a smile on their face.
Final Score of 9 out of 10 (Extremely Good) and the Golden Bear Award.