Gigabyte GA-EP45-UD3P featuring Intel's P45 chipset that is capable of delivering a good performance at affordable cost. In addition, this board is built with Gigabyte's Ultra Durable 3 where Gigabyte adds 2oz of copper to help reduce power consumption and keeps the components running cool. The motherboard also boasts ample of overclocking tweaks and supports DDR2-1336+. We put this board against the more expensive EVGA 790i FTW Digital and see who comes out as a winner.
INTROUDCTION
While the computing world is getting quite excited with the release of the Core i7, the truth is that it is not something that average users cannot afford at the moment. The processor is not too bad as you can buy the cheapest one at around $300, but the motherboards and DDR3 memory still are expensive. As we have seen that currently, the performance gain for the Core i7 probably will only be noticeable if you are a hardcore gamer and really need that extra 20% gain over the similarly clockspeed Core 2 Quad processors. Thus, it is still not a bad idea to buy a cheaper motherboard with Core 2 Quad processor, especially if you stick with DDR2 RAM.
Gigabyte has recently launched a line of motherboards featuring "Ultra Durable 3". What is Ultra Durable, you ask? Well, it features the Ultra Durable that Gigabyte has been talking for a few years now that includes their Dynamic Energy Saver, where the motherboard will throttle down to save some power. We have previously looked at this feature with our X38 reviews (EX38-DS4 or EP35-DS4). The Ultra Durable 3 steps even further in terms of cooling of the motherboard. Gigabyte has designed the motherboard with "2oz of Copper and 2oz Copper Power and Ground layers for dramatically lower system temperature, improved energy efficiency, and enhanced stability for overclocking." In addition, the motherboard also features Japanese Solid Capacitors, Lower RDS MOSFET, and Ferrite Core Choke.
Basically, by adding more copper to the motherboards, Gigabyte is able to produce a cooler motherboard, which in turn, means higher overclocking, lower power consumption, and cooler components.
In addition, the motherboard has a VRD 11.1 design where it features six gears of power phase switching. Note, this will only work with the latest Intel processors. All of the Ultra Durable motherboards will feature 2 Gigabit LANs capable of teaming, for higher bandwidth throughput. They will also feature DualBIOS for automatic recovery. The Ultra Durable motherboard can be found with the older P45 boards and the new X58 boards from Gigabyte. With the P45 based board, Gigabyte is taking overclocking to a new height by supporting 1366+ DDR2 memory.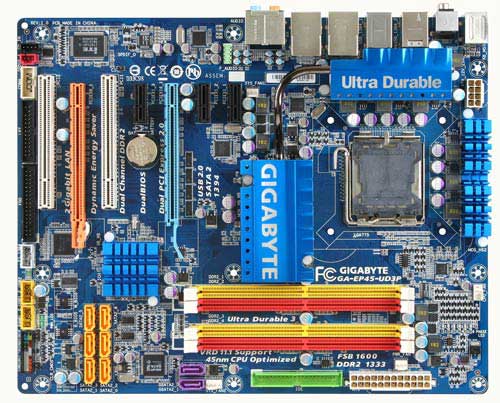 Gigabyte ws kind enough to send one of their boards, the GA-EP45-UD3P featuring Ultra Durable 3, for us to review. Today, we will put this board to the test and see if this would be an ideal board for budget enthusiasts with its price tag of a little over $100.
About Gigabyte
Founded in 1986, GIGABYTE started as a research and development team and has since taken the lead in the world's motherboard and graphics accelerator markets. To truly reach out to all consumers, GIGABYTE further expanded its product portfolio to include more diverse digital products such as Notebook and desktop PCs, digital home appliances, networking servers, communications, mobile and handheld devices, servicing every facet of people's lives at home or at work.

Everyday, GIGABYTE aims to "Upgrade Your Life" by knitting a global network to effectively honor its commitment to world wide customers. What's more important, GIGABYTE wishes all users to see and feel the brand through its products and all the touch points from GIGABYTE to the hands of all users.
PACKAGING AND CONTENTS
Gigabyte has stopped using the soft box for their motherboard packaging and went back the thick cardboard box that is often found with so many motherboard manufactures. I like this type of packaging better. Since Gigabyte emphasize the idea of a "cooler" components with the 2oz of copper used, it is only fitting that they use green letters. As if that's not enough, you will find the box if filled with information on cooler running components and efficient power usage with the Ultra Durable 3.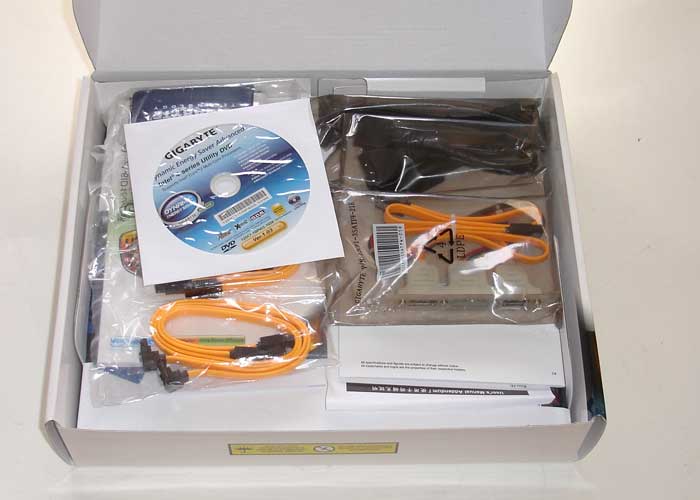 Lifting up the cover reveals all of the accessories packaged neatly above a cardboard riser. Underneath this cardboard is where the motherboard lies.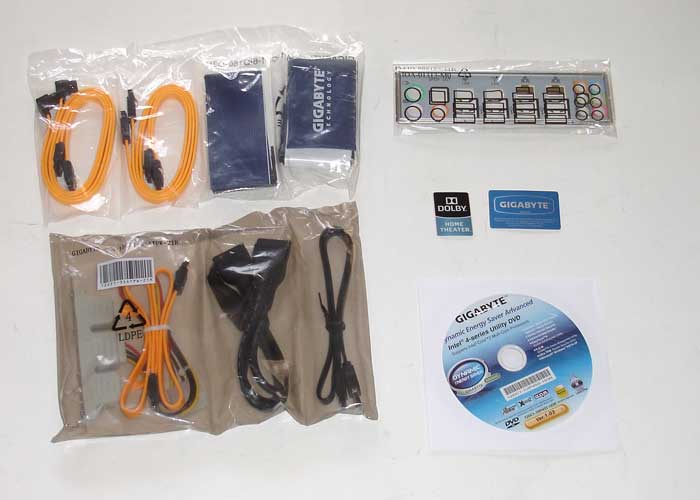 For a mainstream board, Gigabyte bundles the board with the following accessories:
Four SATA cables
One IDE cable
One floppy cable
An eSATA bracket
An I/O shiled
A Dolby Home Theater and Gigabyte sticker
A driver DVD
A hardware installation guide
A user manual
A manual for the Ultra TPM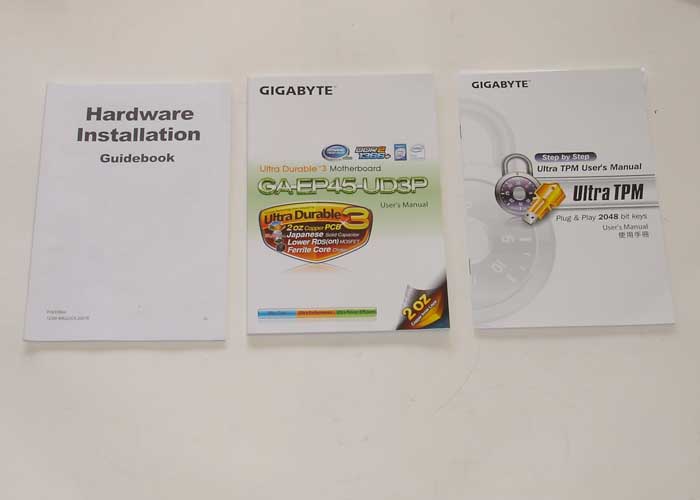 We have seen the eSATA bracket from Gigabyte since the P35 boards, yet Gigabyte has still not implemented an eSATA port on back of their motherboards. I think it's time for Gigabyte to start adding at least one eSATA port on the back I/Os.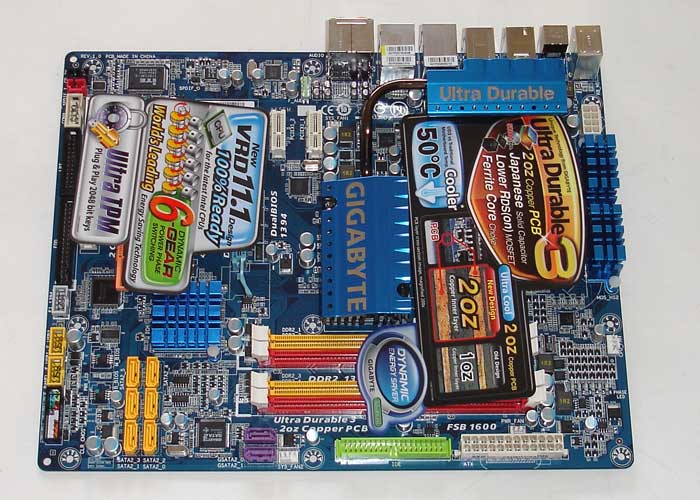 It looks like Gigabyte is going all out with their stickers. The board is filled with stickers showcasing the Ultra Durable, VRD 11.1, and Ultra TPM.
EasyTune 6
Gigabyte includes a neat Windows application called EasyTune v6 which allows users to overclock their motherboards in Windows. Every overclocking settings in the BIOS can be adjusted in the software. It also provides system information.
FEATURES AND SPECIFICATION
Gigabyte ® GA-EP45-UD3P
Detailed Specifications
CPU

Support for an Intel Core™ 2 Extreme processor/ Intel® Core™ 2 Quad processor/Intel Core™ 2 Duo processor/ Intel® Pentium® processor Extreme Edition/Intel® Pentium® D processor/ Intel® Pentium® 4 processor Extreme Edition/Intel® Pentium® 4 processor/ Intel® Celeron® processor in the LGA 775 package (Refer to CPU support list for more information) L2 cache varies with CPU

Chipset
North Bridge: Intel® P45 Express Chipset
South Bridge: Intel® ICH10R
System Bus
1600/1333/1066/800 MHz FSB
Memory
4 x 1.8V DDR2 DIMM sockets supporting up to 16 GB of system memory
Dual channel memory architecture
Support for DDR2 1366+*/1066/800/667 MHz memory modules
Expansion Slots

1 x PCI Express x16 slot, running at x16
1 x PCI Express x16 slot, running at x8
(The PCIEx16 and PCIEx8 slots support ATI CrossFireX technology and conform to PCI Express 2.0 standard.)
3 x PCI Express x1 slot
2 x PCI slots

Storage

South Bridge:
6x SATA 3Gb/s connectors (SATA2_0, SATA2_1, SATA2_2, SATA2_3, SATA2_4, SATA2_5) supporting up to 6 SATA 3Gb/s devices
Support for SATA RAID 0, RAID 1, RAID 5, and RAID 10
GIGABYTE SATA2 chip:
1 x IDE connector supporting ATA-133/100/66/33 and up to 2 IDE devices
2 x SATA 3Gb/s connectors (GSATA2_0, GSATA2_1) supporting up to 2 SATA 3Gb/s
devices
Support for SATA RAID 0, RAID 1 and JBOD
iTE IT8718 chip:
1 x floppy disk drive connector supporting up to 1 floppy disk drive

LAN

2 x Realtek 8111C chips (10/100/1000 Mbit)
Support for Teaming

Audio

Realtek ALC889A codec
High Definition Audio
2/4/5.1/7.1-channel
Support for Dolby Home Theater
Support for S/PDIF In/Out
Support for CD In

IEEE 1394

T.I. TSB43AB23 chip
Up to 3 IEEE 1394a ports
(2 on the back panel, 1 via the IEEE 1394a bracket connected to the internal IEEE 1394a header)

USB

Integrated in the South Bridge
Up to 12 USB 2.0/1.1 ports
(8 on the back panel, 4 via the USB brackets connected to the internal USB headers)

 Back Panel I/O Ports

 1 x PS/2 mouse port
1 x PS/2 keyboard/mouse port
1 x optical S/PDIF Out connector
1 x coaxial S/PDIF Out connector
8 x USB 2.0/1.1 ports
2 x IEEE 1394a ports
2 x RJ-45 ports
6 x audio jacks (Center/Subwoofer Speaker Out/Rear Speaker Out/Side Speaker Out/Line

Internal I/O Connectors

1 x 24-pin ATX main power connector
1 x 8-pin ATX 12V power connector
1 x floppy disk drive connector
1 x IDE connector
8 x SATA 3Gb/s connectors
1 x CPU fan header
2 x system fan headers
1 x power fan header
1 x front panel header
1 x front panel audio header
1 x CD In connector
1 x S/PDIF In header
1 x S/PDIF Out header
2 x USB 2.0/1.1 headers
1 x IEEE 1394a header
1 x parallel port header
1 x serial port header
1 x power LED header
1 x chassis intrusion header

BIOS

2 x 8 Mbit flash
Use of licensed AWARD BIOS
Support for Dual BIOS
PnP 1.0a, DMI 2.0, SM BIOS 2.4, ACPI 1.0b

OS Compatibility

Windows Vista
Windows XP

Accessories

Four SATA cables
One IDE cable
One floppy cable
An eSATA bracket
An I/O shiled
A Dolby Home Theater and Gigabyte sticker
A driver DVD
A hardware installation guide
A user manual
A manual for the Ultra TPM

Support DVD Contents

Norton Internet Security 2008 (OEM)
Inifineon TPM Driver
Gigabyte EasyTune 6
Gigabyte DES Software
Carol MediaOne
WinZip
Antivirus for Kaspersky

Form Factor

ATX Form Factor; 30.5cm x 24.4cm
 Features|
Ultra Durable 3 technology with 2 oz copper PCB for 50°C cooler working temperature
Revolution energy saving design with DES Advanced featuring hardware based Dynamic 6-Gear switching
Supports 45nm Intel® Core 2™ multi-core processors with FSB 1600 MHz
Natively support to dual channel DDR2 1366+* for remarkable system performance
2 PCI-E 2.0 x16 graphic interface with CrossFireX support for ultimate graphics performance
Built-in TPM chip with 2048bits encryption to highest level digital data protection
2 Gigabit Ethernet LAN with Teaming functionality
100% 50,000 hour lifespan Japanese solid capacitors design
DualBIOS solution gives a multiple security to the system
Hardware Overvoltage Control IC Provides more voltage control options on CPU, North bridge and memory
Supports Dolby Home Theater® audio to create a stunning surround sound listening experience.
Blu-ray playback outputs supported by high quality 106dB SNR ALC889A HD audio
MOTHERBOARD LAYOUT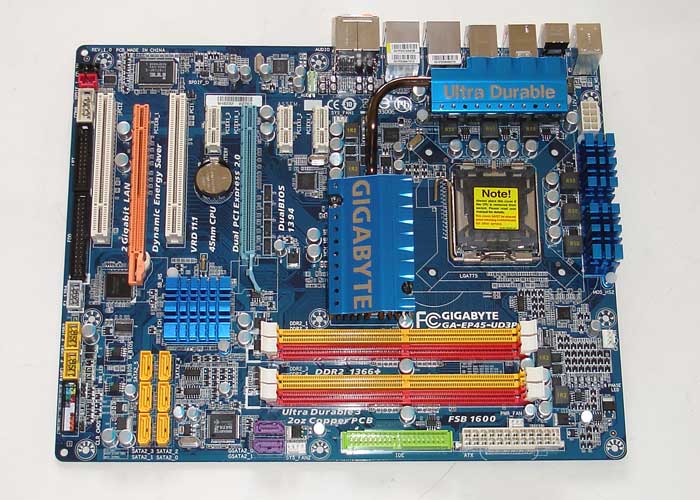 Here is the motherboard in plain view. Gigabyte has redesigned their motherboard slightly since the X38/P35 days. The overall layout is still similar, but Gigabyte has placed the memory slots further toward the left side of the board and away from the Northbridge heatsink. All in all, the board's layout is a much better design from a clearance issue standpoint.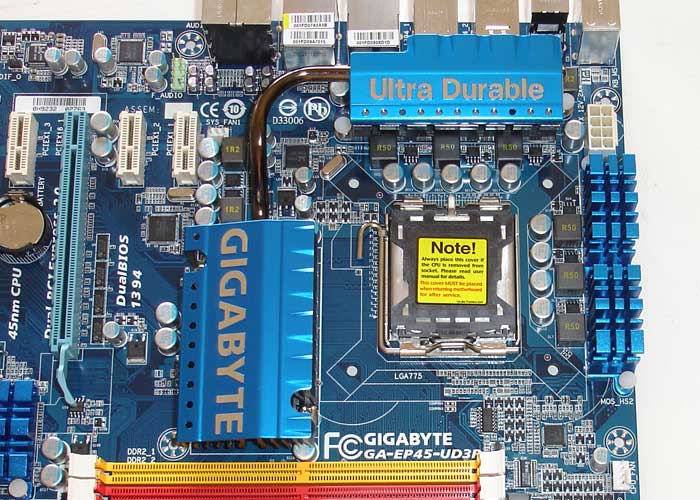 As it was mentioned, the board features all solid capacitors. The cooling of chipsets is done with low profile heat-pipes. A small heatsink is placed above the MOSFET and a big heat pipes connects the Northbridge to the MOSFET. Another small heat sink is used for the Southbridge. Unlike some manufacturers, Gigabyte does not connect the Northbridge and Southbridge heatsink with a pipe, so they can be replaced independantly.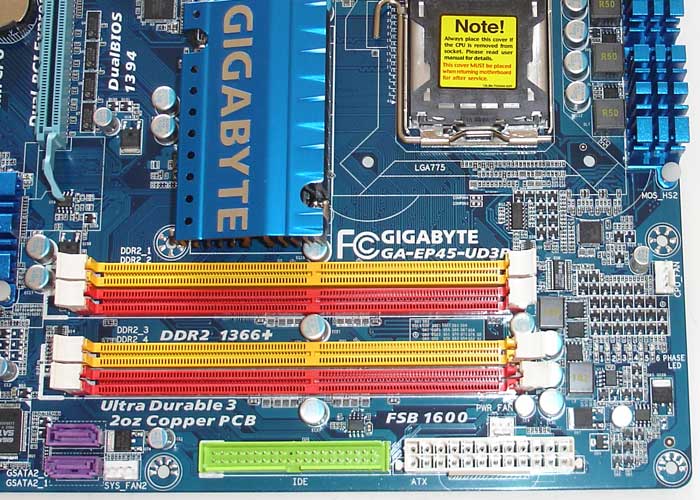 Near the CPU area, you can see the 8-pin ATX auxiliary power connector is placed way up in the right corner and away from the CPU heatsink area, very nice. The CPU socket has plenty of space for even the biggest cooler. You will find six voltage regulators for the processor, two extra voltage regulators for the Northbridge, and two extra voltage regulators are placed next to the memory.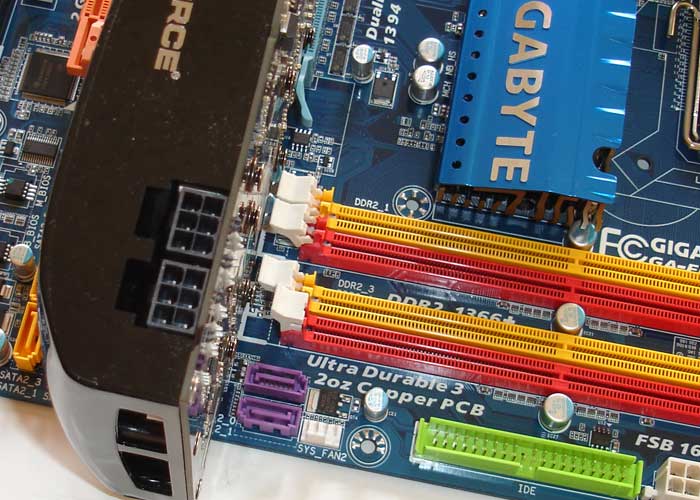 The memory slots are far enough away from the Northbridge heatsink so that the first DIMM slot will not be blocked even if you use a memory that has thick heat spreader or a large CPU heatsink. The memory slots are far away enough from the first PCIEX X16 slot so that you can install the memory stick without having to remove the graphics card first.
The GA-EP45-UD3P features native DDR2 memory up to 1366+ MHz at 2.3 V ~ 2.54V. The reason which Gigabyte is able to achieve such speed at similar voltage is due to their extra oz of copper added to the motherboard. The extra copper "improves power efficiency by reducing circuit impedance by 50%", according to Gigabyte. Although it maybe overkill to have such memory speed, it is never enough for any hardcore overclocker to be able to push their components as far as they can. Currently, there are a handful of manufactures that make DDR2-1200, and you can find DDR2-1300 from Team Group INC.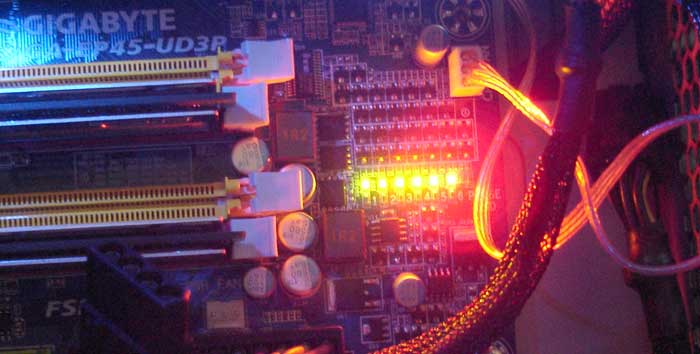 Next to the memory slots is where you can find the six phase LED indicator which lights up different LED color depending on the CPU loads.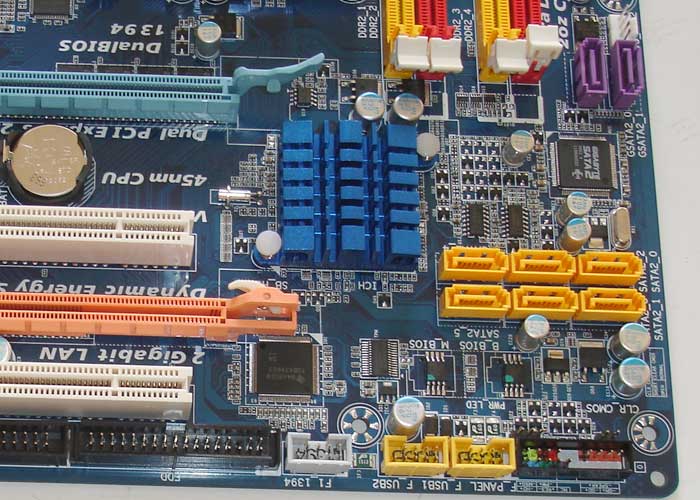 The main ATX power and the IDE power have been placed on the lower right hand edge of the boards and next to them you will find a system fan connector. They are placed away from any major components. We see two SATA connectors next to the system fan connetor, powered by the Gigabyte GSATA controller. Moving toward left, there are six more SATA connectors controlled by the Intel ICH10R. Despite the fact that these connectors are not rotated at 90 degrees, they are far away from either PCIEX cards so they will not be blocked by large graphic cards.
Gigabyte had color-coded their front panel connector. Although not as ideal as what Asus has done with their "Q-connector", it's nonetheless better than some manufacturers all-black labels. Next to it, we find two USB headers and a FireWire header. Gigabyte places the legacy connectors all the way toward the left side of the board. We find a floppy header, a parallel port header, and a serial port header here. Although it may seem somewhat inconvenient to have the floppy connector here, it won't be any major issue as this port is probably on its way out and most of us do not even use it anyhow.
Here you can see the Clear CMOS jumper although no Jumper is provided. In my past experience with Gigabyte's board, there is really no need to use the jumper as the dual BIOS chip will recover to previous good states in the event of any problem. Still, since this board has no onboard power or clear CMOS button like many high-end boards, it would still be nice to have the jumper included. Next to the jumper is where you can find the power LED and the two BIOS chips.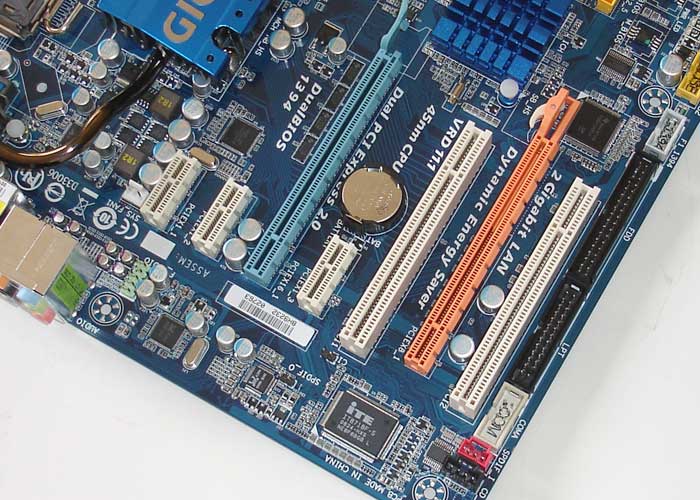 Gigabyte advertises that this board supports Dolby Home Theater with the Realtek ALC889A codec for 2/4/5.1/7.1-channel high definition audio output. There is support for S/PDIF In/Out and CD In. As you can see from the picture, there is a S/PDIF jumper on the upper left corner.
The biggest problem I can find with the motherboard layout is probably the front panel audio connector where it is being placed above the first PCIEX slot just in the middle of the board. It is somewhat inconvenient to find this port here.
For expansion slots, you will find three PCIEX X1 slots, two PCI slots, and two PCIEX X16 slots capable of running CrossFire (at X8 lanes only when they are running in CrossFire). The two PCIEX X16 slots are spaced far enough for even the biggest cards. I like the overall layout of the expansion slots. Even if you plan to run two dual-slot cards, it will only block one PCI slot and one PCIEX slot, so you have plenty of slots left for expansions (1 PCI and two PCIEX).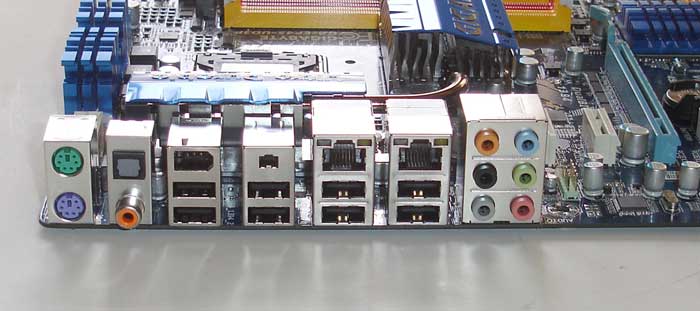 Pretty standard ports are on the back of the motherboard. Here you will find the P/S2 keyboard and mouse, eight USB 2.0 ports, a FireWire port, two Gigabit Lan ports, audio jacks, an optical S/PDIF Out connector, and a coaxial S/PDIF Out connector. Having the S/PDIF connector would make this board an excellent choice for the HTPC users.
The overall the layout of the board is excellent. I do wish that there would be a few extra fan headers. Although I think Gigabyte probably thinks that since the board will be running cool, there is really no need for the fan headers. Still, it is nice have more than two of them for overclocking purposes.
BIOS – AN OVERCLOCKER'S DREAM
Gigabyte uses Phoenix Technologies Award BIOS for the motherboard. The overclocking menu is on the topmost position which is very nice, as this is probably the place where enthusiasts would spend most of their time. Gigabyte has finally remove the need to press "CTL+F1" to enable the advance features that was found on the older motherboard. Now when you enter the MB Intelligent Tweaker (M.I.T), you will have the access to all of the overclocking features.
Let's start by taking a look a few of the common BIOS setting's screenshots. You can click to enlarge.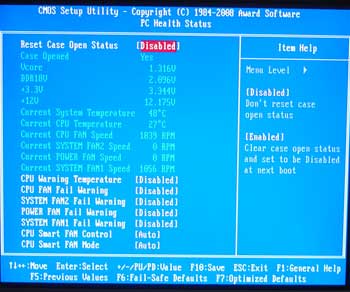 MB Intelligent Tweaker (M.I.T.)
The amount of overclocking tweakness for this motherboard will simply please any enthusiast. For a mainstream board, you usually will not find all of the advanced tweaks that are offered by this board. Usually, you would have to spend at least $250 or more for a high-end board to get all of the voltage tweaks such as CPU PLL, CPU Termination, and MCH reference. In fact, even some of the more expensive boards do not even come with as many tweak as this board. Any enthusiast is definitely going to be spending hours fine-tuning this board to achieve that magical number.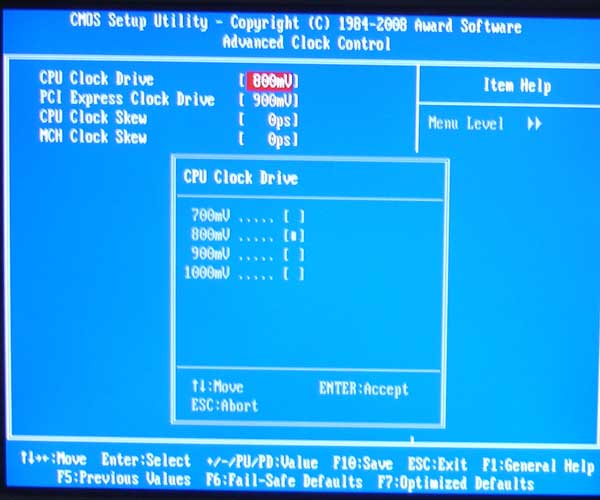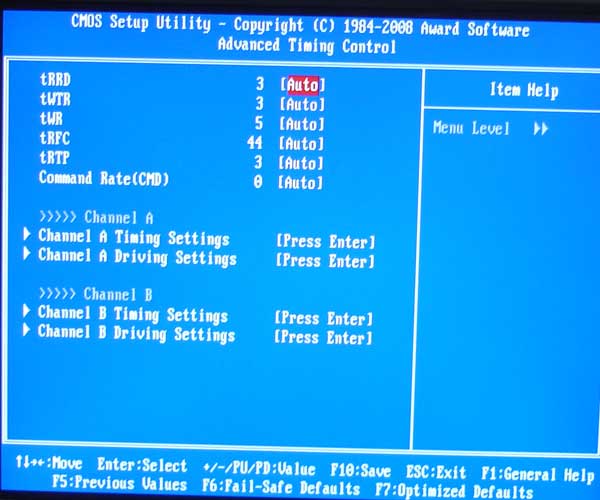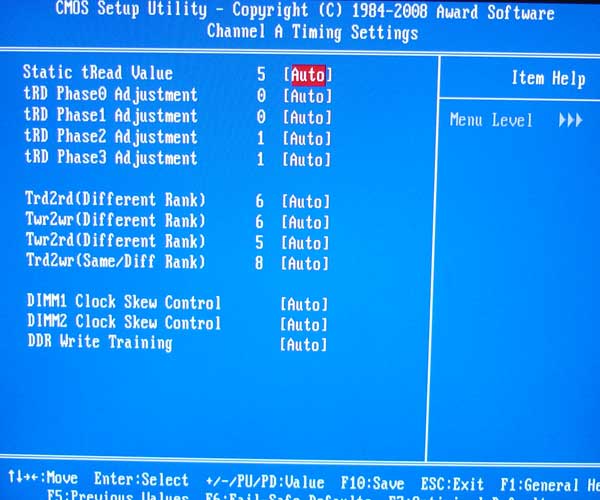 Here is a list of tweaks available:
BIOS Parameter Adjustments
Host Frequency
 Auto, 100 ~ 1200 MHz in 1MHz increments
PCIEX Frequency
 Auto, 90 ~ 150 MHz in 1MHz increments
MCH Frequency Latch 
 Auto, 266, 200, 333,400
System Memory Multiplier

Auto
266:2.5/3/4
200:2.66/3.33/4.00
333:2.00/2.40/3.20/4.00
400: 2.00/2.66/3.33

CPU Clock Drive
700 ~ 1000 mV in 100mV increments
PCIEX Clock Drive
 Auto, 700 ~ 1000 mV in 100mV increments
CPU Clock Skew
0 ~ 750 ps in 50 ps increments
MCH Clock Skew
0 ~ 750 ps in 50 ps increments
CPU Vcore
0.5 ~ 2.3 V in 0.625 V increments
CPU Termination
1.1 ~ 1.7 V in 0.02 V increments
CPU PLL
1.050 ~ 2.810 V in 0.100 V increments
CPU Reference
0.460 ~ 1.010 V in 0.0150 V increments
 
 
MCH Core
0.850 ~ 1.050 in 0.10 V increments and 1.100 ~ 2.000 in 0.020 V increments
MCH Reference
0.500 ~ 1.040 V in 0.020 V increments
MCH/DRAM Reference
0.530 ~ 1.810 V in 0.020 V increments
ICH I/O
1.050 ~ 1.550 V in 0.100 V increments and 1.550 ~ 2.310 V in 0.020 V increments
ICH Core
1.100 ~ 1.400 V in 0.100 V increments
 
 
DRAM Voltage
1.450  ~ 1.800 V in 0.100 V increments and 1.800 ~ 3.040 V in 0.020 V increments
DRAM Termination
0.710 V ~ 0.990 V in 0.020 V increments and 1.000 ~ 1.405 V in various increments
Channel Reference
0.530 ~ 1.000 V in 0.020 V increments and 1.060 ~ 1.810 in 0.100 or 0.050 V increments
TEST SETUP
We decided to test the Gigabyte P45 board along with the EVGA 790i FTW Digital to see if the budget/mainstream P45's performance would be a good choice for those who want a good board without spending too much.
TEST PLATFORMS

Element

EVGA 790i FTW Digital

Gigabyte GA-EP45-UD3P 

Processor

Intel Core 2 Duo E6600 at 2.4 GHz

Intel Core 2 Duo E6600 2.4 GHz

CPU HSF

Thermalright SI-128 with Scythe S-FLEX SFF21F

Thermalright SI-128 with Scythe S-FLEX SFF21F

Motherboard

 EVGA 790i FTWS Z15

Gigabyte EX38-DS4 BIOS F4

Memory

OCZ DDR3 PC3-10666 Gold Edition 9-9-9-20 (2T)
 

Super Talent Super Talent T800UX4GC5 @ 800MHz with 5/5/5/18 timings (2T)

Drive(s)

Western Digital Green Power WD500ABPS

Graphics

Foxcon 9800 GTX

Power Supply

Cooler Master UPC 900W

Case

Tagan A+ Seenium

Operating System

Windows Vista Ultimate SP1, 64bit
Benchmarking Tools:
Futuremark Vantage
Futuremark PCMark Vantage
Cinebench R10
Sisoft SANDRA 2009
Everest Ultimate Edition v. 4.60.1531
Super PI mod 1.5XS
World in Conflict
Crysis v1.21
WinRar v3.71
HD Tach v3.0.4.0
EVEREST
"EVEREST Ultimate Edition is an industry leading system diagnostics and benchmarking solution for enthusiasts PC users, based on the award-winning EVEREST Technology. During system optimizations and tweaking it provides essential system and overclock information, advanced hardware monitoring and diagnostics capabilities to check the effects of the applied settings. CPU, FPU and memory benchmarks are available to measure the actual system performance and compare it to previous states or other systems. Furthermore, complete software, operating system and security information makes EVEREST Ultimate Edition a comprehensive system diagnostics tool that offers a total of 100 pages of information about your PC."
Memory Benchmarks
The faster DDR3 yields a better performance for the 790i board's read performance. We do not see a big difference in the write and copy performance between the boards.

Despite running at higher timings, the faster DDR3 is able to offer slightly better latency than the slower DDR2 running at tighter timing.
CPU Benchmarks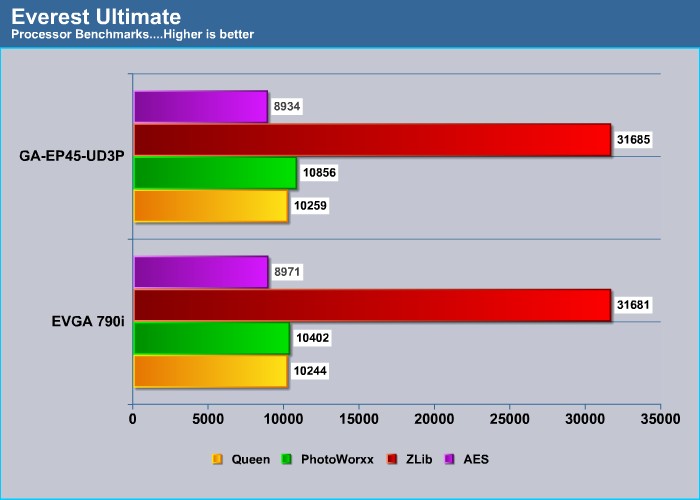 In the first set of the Everest CPU benchmarks, we see that the performance between the two boards is very close to each other. The Gigabyte board is able to out-perform the more expensive EVGA 790i board in three out of the four tests.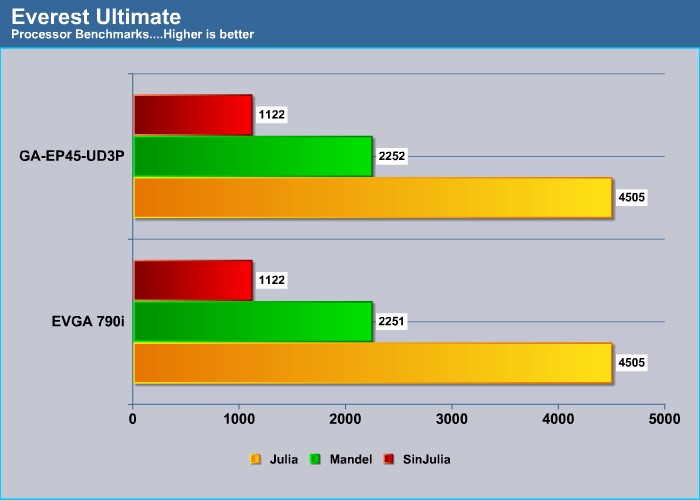 In the second sets of the CPU benchmarks, we see that the benchmarks of both boards are virtually identical.
SISSOFT SANDRA
"SiSoftware Sandra (the System ANalyser, Diagnostic and Reporting Assistant) is an information & diagnostic utility. It should provide most of the information (including undocumented) you need to know about your hardware, software and other devices whether hardware or software. It works along the lines of other Windows utilities, however it tries to go beyond them and show you more of what's really going on. Giving the user the ability to draw comparisons at both a high and low-level. You can get information about the CPU, chipset, video adapter, ports, printers, sound card, memory, network, Windows internals, AGP, PCI, PCI-X, PCIe (PCI Express), database, USB, USB2, 1394/Firewire, etc."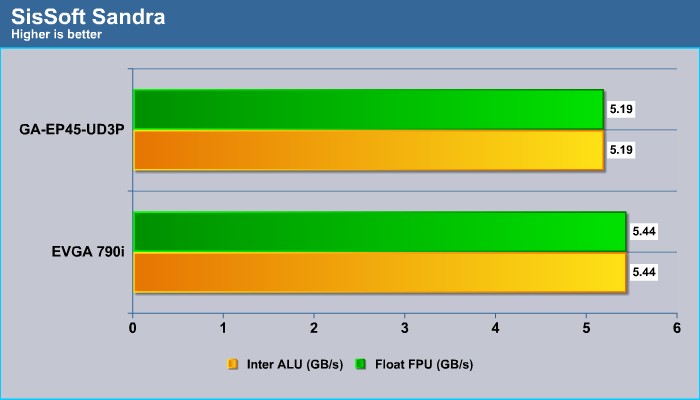 Sandra's memory benchmark once again puts the 790i board ahead of the P45 board due to the faster speed from the DDR3.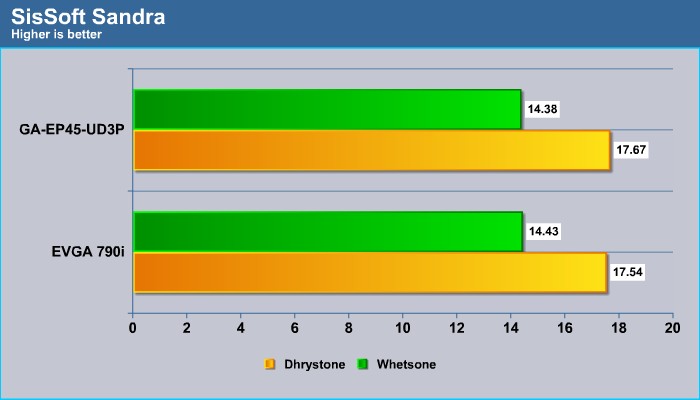 In terms of the CPU performance, we see that P45 board performs better in the Dhrystone benchmark while the 790i board performs better in the Whestone benchmark. However, the results are quite close to each other.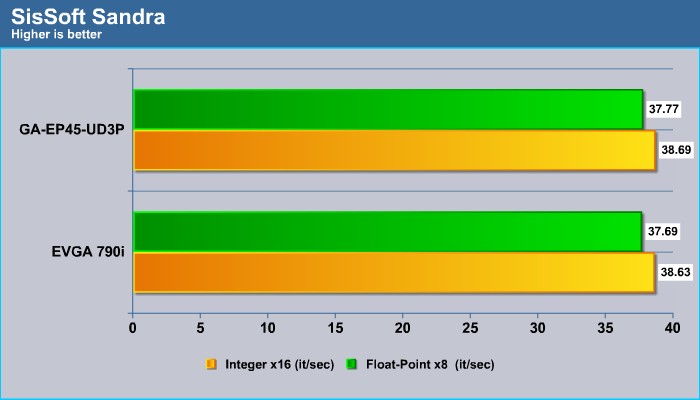 3DMARK VANTAGE

For complete information on 3DMark Vantage Please follow this Link: www.futuremark.com/benchmarks/3dmarkvantage/features/
The newest video benchmark from the gang at Futuremark. This utility is still a synthetic benchmark, but one that more closely reflects real world gaming performance. While it is not a perfect replacement for actual game benchmarks, it has its uses. We tested our cards at the 'Performance' setting.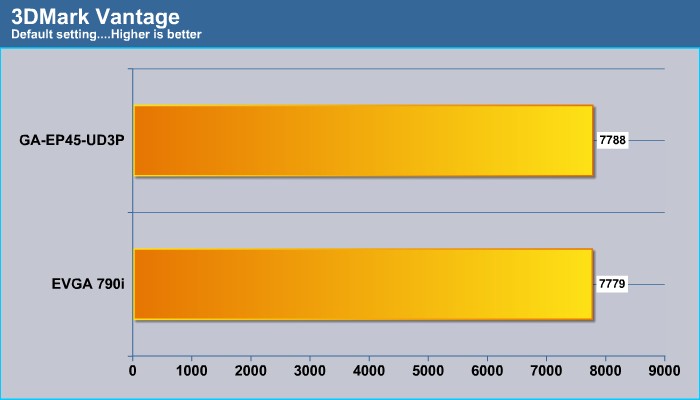 3DMark benchmark puts the P45 board ahead of the 790i board.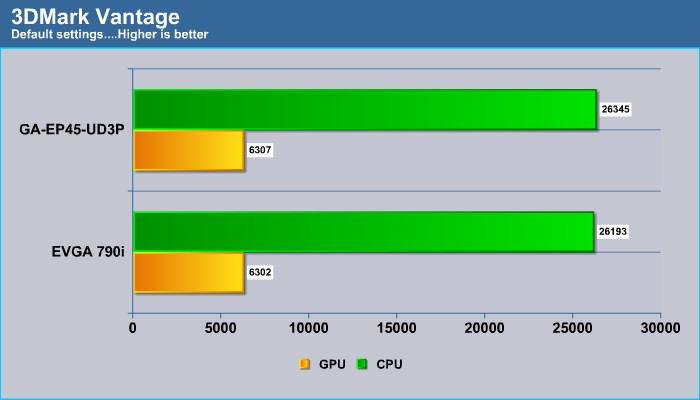 When we look at the CPU and the GPU scores, we see that the P45 is capable of offering better performance in games, as in both cases, the P45 comes in a hair better than the 790i.
PCMARK VANTAGE
"PCMark® Vantage is the first objective hardware performance benchmark for PCs running 32 and 64 bit versions of Microsoft® Windows Vista®. PCMark Vantage is perfectly suited for benchmarking any type of Microsoft® Windows Vista PC from multimedia home entertainment systems and laptops to dedicated workstations and hi-end gaming rigs. Regardless of whether the benchmarker is an artist or an IT Professional, PCMark Vantage shows the user where their system soars or falls flat, and how to get the most performance possible out of their hardware. PCMark Vantage is easy enough for even the most casual enthusiast to use yet supports in-depth, professional industry grade testing."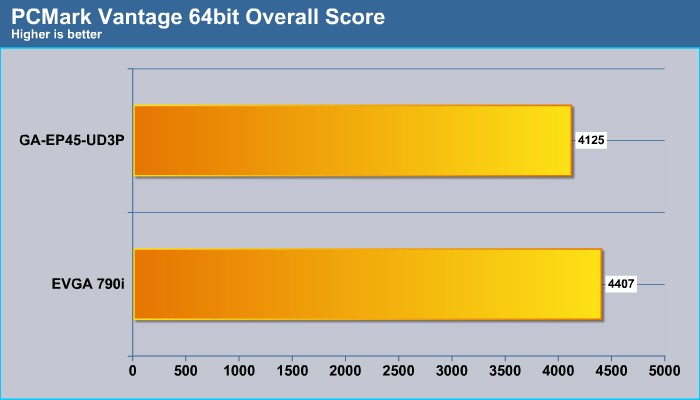 EVGA's board performs quite well in the PCMark Vantage benchmark, scoring 282 more points than the Gigabyte's board.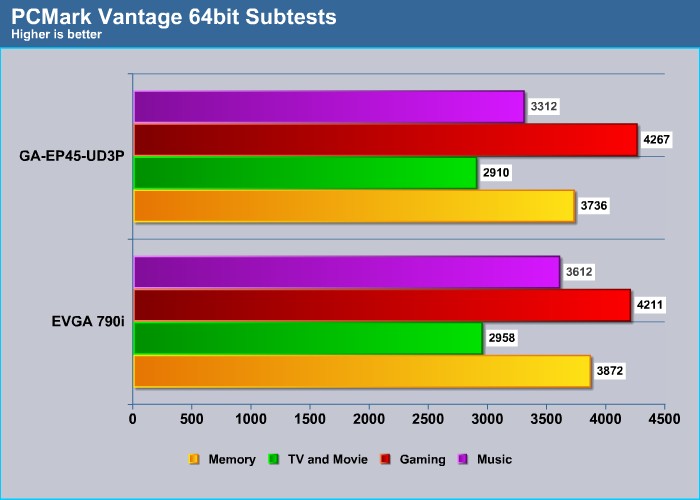 Looking at individual benchmarks in PCMarks can give us a glimpse as to which application the EVGA board excels at. We can see that in terms of gaming, the P45 board has a slight advantage over the 790i board, but for Memory, TV and Movie and Music benchmarks, the 790i board has a slight edge over the P45. The faster memory may play some small role here.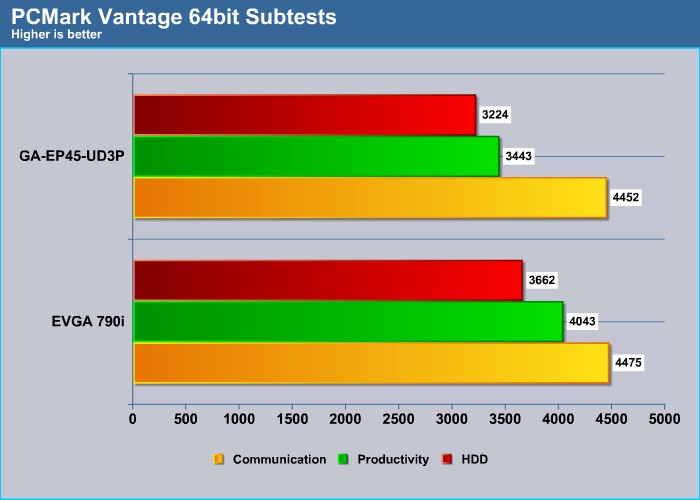 Once again, the 790i simply dominates here, especially with the communication and productivity benchmarks where we see more than 10% of performance gain for the 790i board.
CINEBENCH R10
The test procedure consists of two main components: The first test sequence is dedicated to the computer's main processor. A 3D scene file is used to render a photo-reaslistic image. The scene makes use of various CPU-intensive features such as reflection, ambient occlusion, area lights and procedural shaders. In the first run, the benchmark only uses one CPU (or CPU core), to ascertain a reference value. On computers that have multiple CPUs or CPU cores and on those who simulate multiple CPUs (via HyperThreading or similar technolgies), MAXON CINEBENCH will run a second test using all available CPU power. The second test measures graphics card performance and is run inside the 3D editor window. The project file used can test all graphics cards that support the OpenGL standard. In this scene, only the camera was animated. This scene places medium to low demands on graphics cards and tests the maximum speed with which the scene can be properly displayed.
CineBench shows in single CPU mode that the two boards are virtually running in a tie. However, in terms of the multiple CPU performance, the P45 does have slightly better performance than the 790i board.
WINRAR
This module in WinRar generates random data, which contains specially introduced redundancy, increasing the load to both the processor and memory. Data is the passed through RAR compression and decompression algorithms, and the output of the decompression algorithm is compared to the source data. If any differences are found, WinRAR then reports "Errors found – Yes" in the command window. WinRAR displays a size of processed data and compression speed, current and resulting, in kilobytes per second.
Interesting result from WinRar. Here we see that EVGA board excels at the single thread benchmark while the P45 board dominates over at the multi-thread benchmark. This may explain why, in the PCMark benchmark we see the EVGA board dominate the applications such as productivity, as these applications are sometimes single threaded. It is possible that with the lower latency and better multi-core efficiency of the P45, it gives the P45 the edge over the 790i.
SUPERPI
SuperPi is the "Gold Standard" for many when it comes to judging system performance. We ran 1 and 2 Meg calculations, again running each test three times and reporting the average of the results.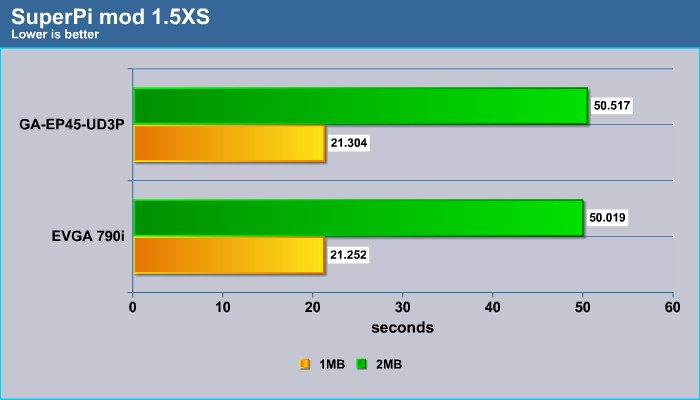 The EVGA board performs better in the SuperPi benchmark. I do not believe SuperPi actually takes into the consideration the multi-core, so that may explain why it performs better here.
CRYSIS

Crysis is the most highly anticipated game to hit the market in the last several years. Crysis is based on the CryENGINE™ 2 developed by Crytek. The CryENGINE™ 2 offers real time editing, bump mapping, dynamic lights, network system, integrated physics system, shaders, shadows, and a dynamic music system, just to name a few of the state-of-the-art features that are incorporated into Crysis. As one might expect with this number of features, the game is extremely demanding of system resources, especially the GPU. We expect Crysis to be a primary gaming benchmark for many years to come.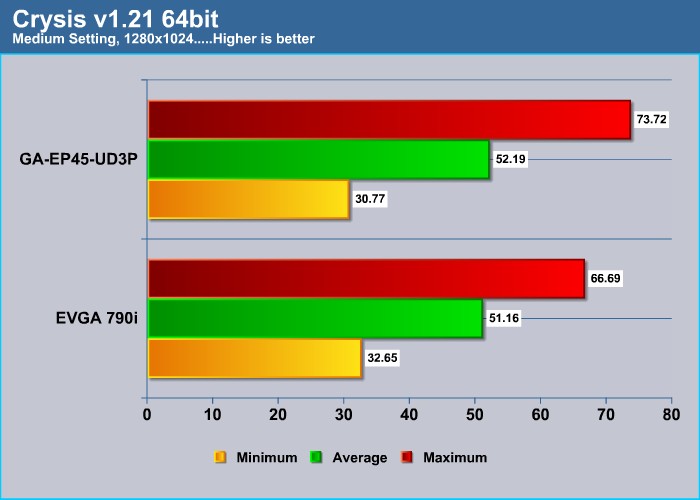 Crysis favors the Gigabyte board for sure. Although EVGA board does offer a higher minimum frame rate per second than the Gigabyte board.
WORLD IN CONFLICT

World in Conflict is a real-time tactical video game developed by the Swedish video game company Massive Entertainment, and published by Sierra Entertainment for Windows PC. The game was released in September of 2007.
The game is set in 1989 during the social, political, and economic collapse of the Soviet Union. However, the title postulates an alternate history scenario where the Soviet Union pursued a course of war to remain in power.
World in Conflict has superb graphics, is extremely GPU intensive, and has built-in benchmarks. Sounds like benchmark material to us!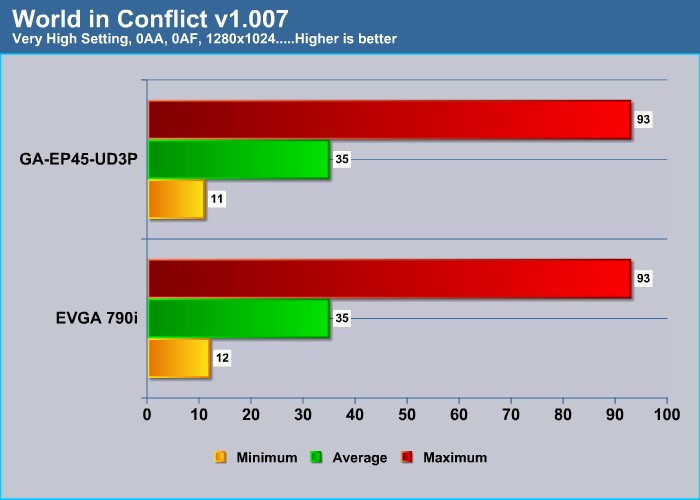 In World of Conflict, both boards' performance are virtually the same.
STORAGE BENCHMARKS
HD TACH performs sequential read and write tests on removable media and fixed disks. HD Tach is also capable of performing the sequential read and write tests on the entire disk instead of the small number of zones in the quick and long test. We opted to use the Short 8 (MB) and Long 32(MB) tests in the sequential read mode only, as sequential writes are covered by other benchmarks.
SATA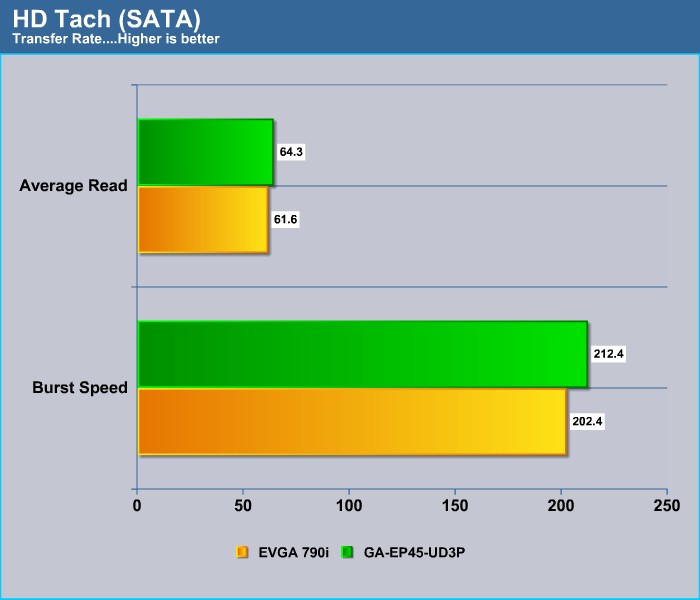 GA-EP45-UD3P has a better SATA transfer rate than the 790i board.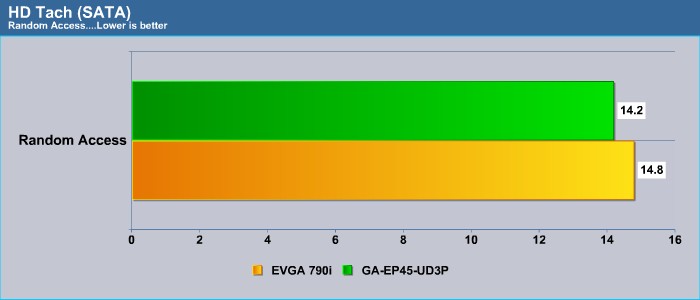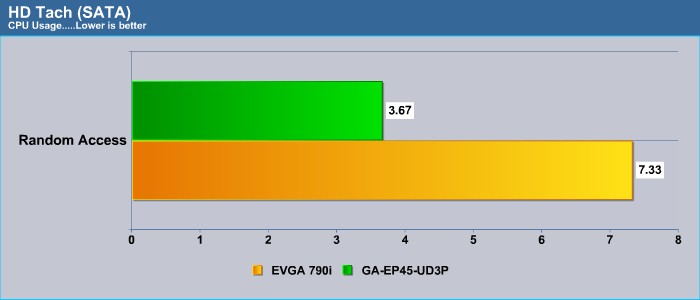 In fact, not only that the transfer rate is better, the latency is lower and what is more important is that it consumes much less CPU power than the 790i board.
FIREWIRE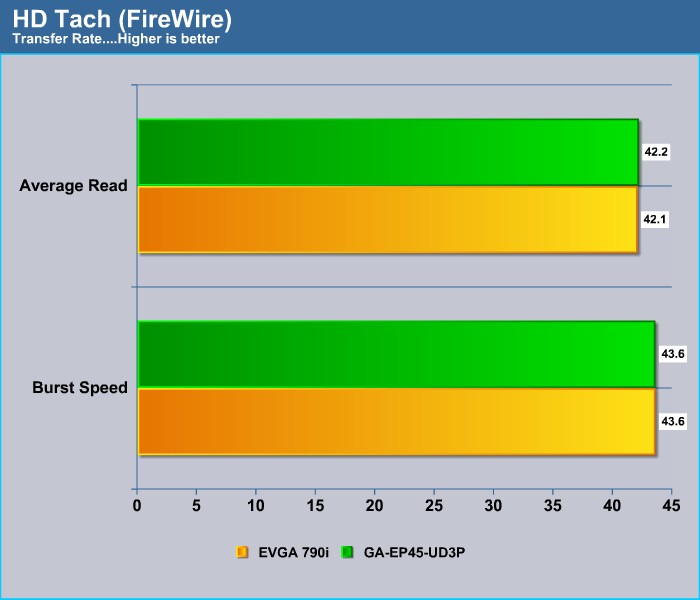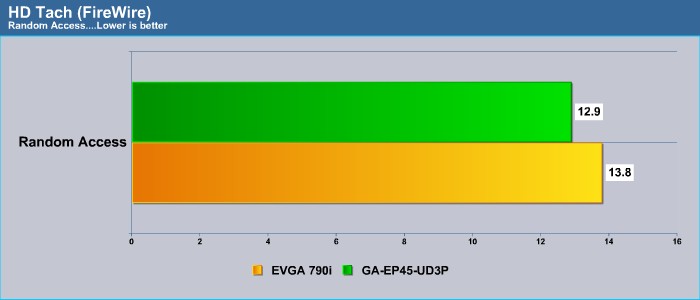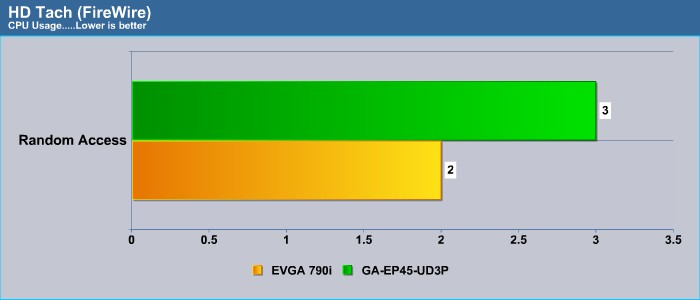 FireWire performance is virtually identical for both board and while the P45 board does offer a tad bit better random access time, it does consumes a bit more CPU cycle. However, both numbers are within the satistical margin of error, so they are essentially identical.
USB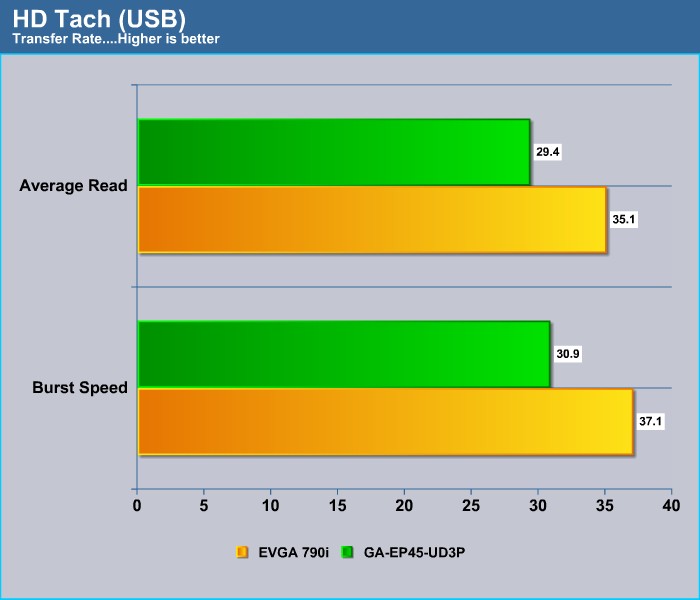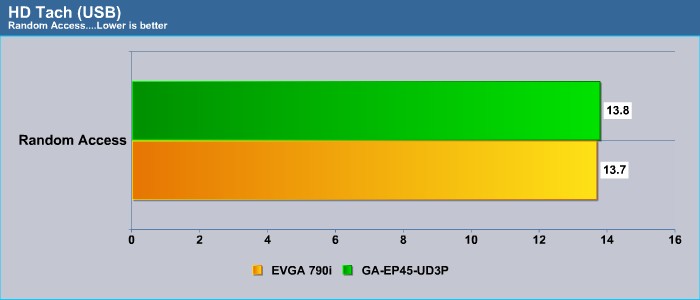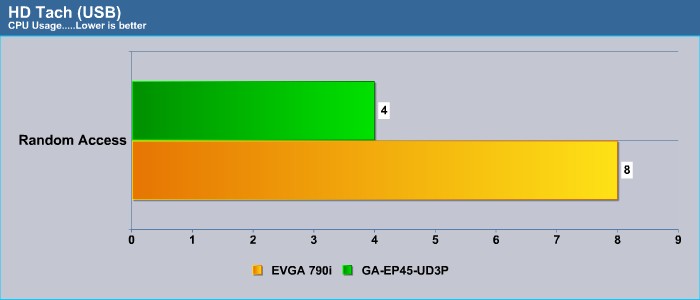 Despite lower SATA transfer rate performance, the EVGA board has a better USB transfer rate. However, the 790i board also consumes slightly more CPU power than the P45 board.
POWER CONSUMPTION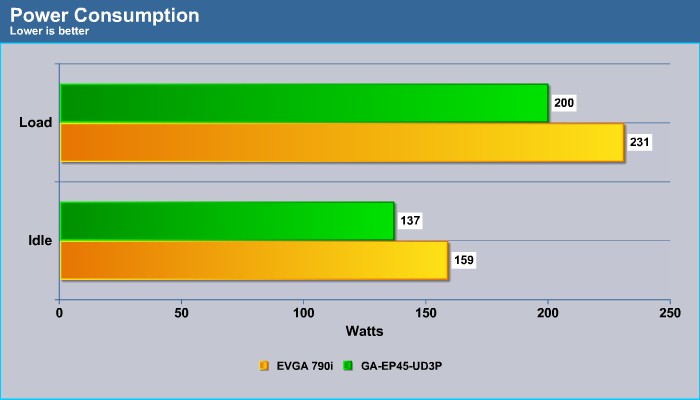 Although the Gigabyte EP45-UD3P may not always be able to perform better than the EVGA 790i, it's  power consumption is undoubtedly far better than the 790i based board. We see a 22W less power consumption at idle and 31W less power consumption at load. We are not even considering the additional power reduction with the Gigabyte's DES feature.
OVERCLOCKING
Given to the fact that this board has so many tweaks and adjustments, I was expecting to achieve some record with the overclocking. In order to better overclock the board, I swapped the memory that was used for the benchmark with the OCZ DDR2 PC2-8500 Reaper HPC 4GB Edition.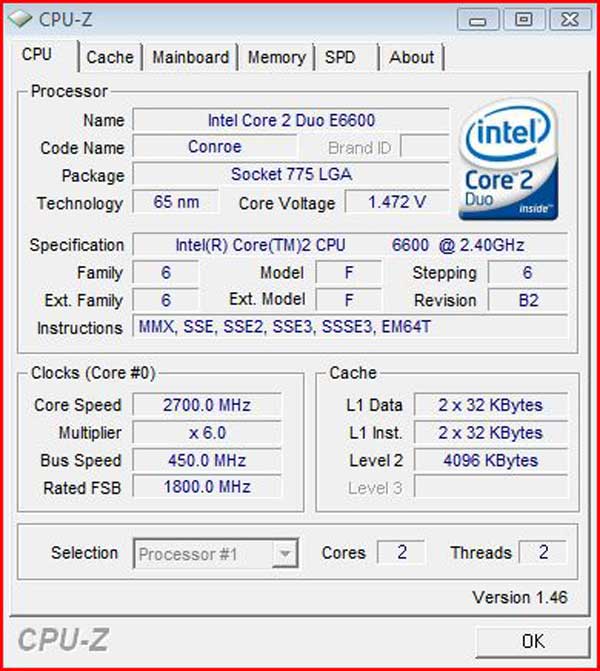 Unfortunately, the result is a bit disappointing to me. I initially set out to find the highest FSB attainable by lowering the FSB to 6x and raising the FSB. I was able to achieve a maximum speed of 450MHz. Increasing the voltage and fine-tuning the different settings did not seem to make much difference. The system simply wouldn't boot.
I believe that the fact I got such "low" result could be a combination of couple of things. First, the processor that I was testing, an E6600, has a front side bus of 266MHz, so that may have played a big role in limiting my overclocking result. I did a search online and it seems like this board can achieve 500MHz or higher on the FSB, but those are usually paired with the E8xxx processor. So, a 45nm based Intel Core 2 Duo with its 333MHz FSB may yield a much better result. It is either this or that the board I received somehow just couldn't pass the 450MHz barrier.
Also, the memory that I was using could also be limiting my overclocking result. Despite the fact that I use the DDR-1066MHz Reaper for the overclocking, maybe the board would work better with DDR2-1200 or higher.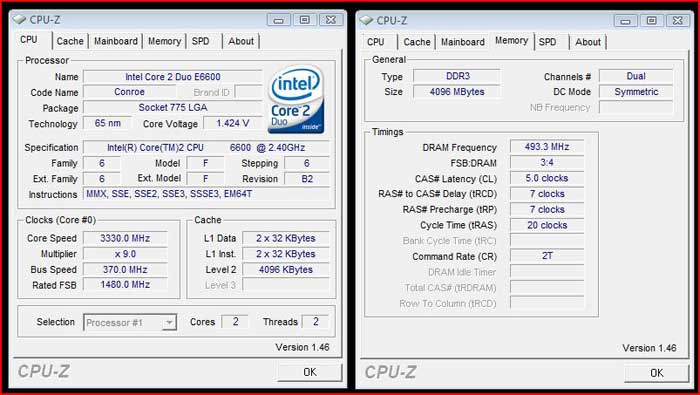 After finding the maximum FSB, I then tried to overclock the E6600. After some tweaking, I got the processor to run at 3.3MHz (9×370). Although not recording breaking, it's better than what I was able to achieve with the X38 board.
CONCLUSION
The Gigabyte GA-EP45-UD3P is probably the best motherboard to date for any penny-pincher enthusiast. Its performance is on par with boards selling at twice of asking price (the EVGA 790i FTW that was tested) and yet it has a much lower power consumption. In addition, the number of overclocking tweaks available on this board marvels the boards that are selling twice the price of what this board is asking. We cannot really verify the effect of the 2 oz copper that was used in terms of cooler components and better performance, as many of the effects are, in fact, internal and not something that can be measured. What we can say is that this board does run quiet cool and it does seem to help out with overclocking. The fact that Gigabyte includes a Dolby capable audio chip and the S/PDIF would make this board an excellent choice for those who wish to have an HTPC.
Of course, there is a small limitation that the motherboard presents, which is the X8 support for the CrossFire. However, in my opinion, this is not a deal breaker at all. Not many penny-pinchers would go for two graphic cards. Even if users wish to have more graphic power, they can always opt for the HD 4870GX2 or GeForce 9800 GX2 or the rumored upcoming GTX 280 dual core card. These cards will satisfy most users out there and generally speaking, having a dual GPU cores on single card is better than running two cards because of the less trouble that one might encounter.
I really like this motherboard, from its design, frugal power consumption, overall layout, and high quality components, to the all important $100 range price tag. It is hard to say no to this board. If you are in the market for an Intel system setup, definitely check out GA-EP45-UD3P. Pairing it with a socket 775 quad or dual core and 4GB DDR2, you can have a very powerful system for less than $500 yet it will perform equivalent to something that is selling for more.
 Pros:
+  Excellent motherboard layout
+  Runs cool and low power consumption
+  Solidly built
+  Ample of tweaks for overclockers
+  Dolby audio
+  Performs well
+  Price
+  Quiet operation—Silent heatpipe
Cons:
–  CrossFire at 2×8 configuration (not really Gigabyte's fault)
–  Overclocking can be limited with older processors or budget memory
The Gigabyte EP45-UD3P will receive a score of 9 (Extremely Good) out of 10 and Bjorn3D's coveted Golden Bear Award for its excellent features and performance at budget pricing.