G.Skill's 3/6GB DDR3 Triple Chanel kit has reached our hands, we're going to drive it like we stole it on the fastest CPU around, on one of the hottest boards.
INTRODUCTION
With Core i7 ready for the vendors, memory vendors are hitting the shelves with Triple Channel DDR3 kits in a big way. We wanted to get a few kits tested and the information out there for early adopters. The early kit we got from Samsung running at 1066MHz was just a glimpse at the future of DDR3. Bandwidth was looking great with the lower speed kit, but we wanted to see how sweet it could get.
It's getting pretty sweet with some kits touching the 29GB/s bandwidth mark. Those will most likely be the expensive high end kits and with the initial investment of Core i7 hitting the pocket hard, what does the average Joe do? G.Skill sent us a 6GB kit of their DDR3 1600MHz Triple Channel RAM. The 6GB kit runs $279.99 right now but they have a 3GB kit that runs $149.99, and a 1333MHz kit that runs $109.99. All the kits are timed at 9-9-9-24 and run at 1.5-1.6v, so they have something to offer every segment of the market.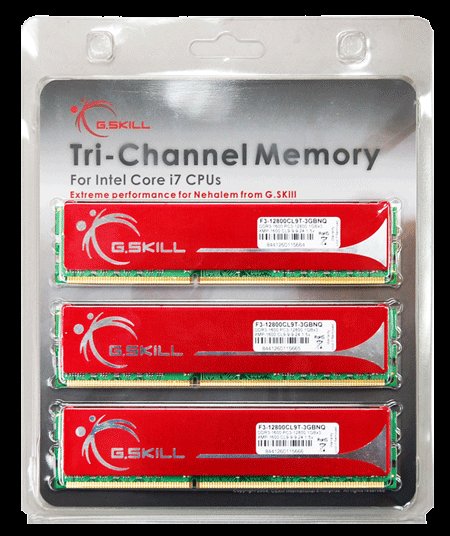 About G.Skill
Established in 1989 by enthusiast, is a leading memory manufacturer based in Taipei, Taiwan. The company's top priority is Quality. All of our products go through a series of the most rigorous tests and strict quality control processes. In addition to a committed, qualified IC testing house to examine its products, all G.Skill products are 100% tested to ensure the highest yield, reliability and quality.
SPECIFICATIONS
G.Skill DDR3 1600 Triple Channel
Main Board
Intel
System
Desktop
System Type
DDR3
M/B Chipset
Intel X58
CAS_Latency
9-9-9-24
Capacity
3GB (1GB x 3) / 6GB (2GB x 3)
Speed
DDR3-1600 (PC3 12800)
Test_Voltage
1.5~1.6 Volts
PCB
6 Layers
Registered/Unbuffered
Unbuffered
Error_Checking
Non-ECC
Type
240-pin DIMM
Warranty
Lifetime
PICTURES & IMPRESSIONS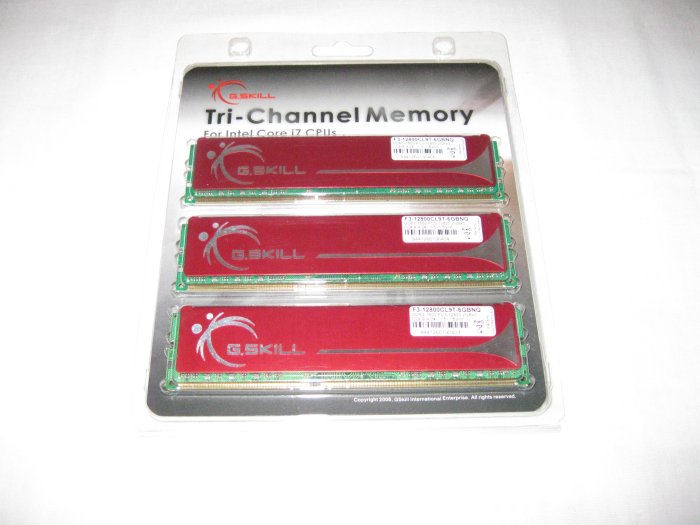 The G.Skill DDR3 1600 Triple Channel Kit comes in a clam shell hang card that most of us are used to when receiving new RAM. It displays the RAM well and allows the RAM specifications sticker to show nicely.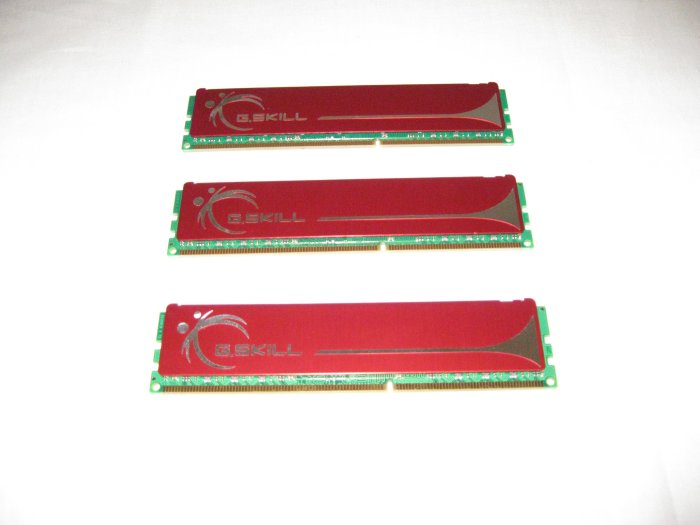 RAM is such an innocuous thing. Sure, it's nice to look at a pretty set, but you wouldn't think by looking at this RAM that it is going to drive previously unheard of bandwidth. The aluminum heat spreader on these is one of the most solid and effective designs we've seen for a while. Even at 1600MHz they remain cool to the touch and show no signs of being delicate or loose.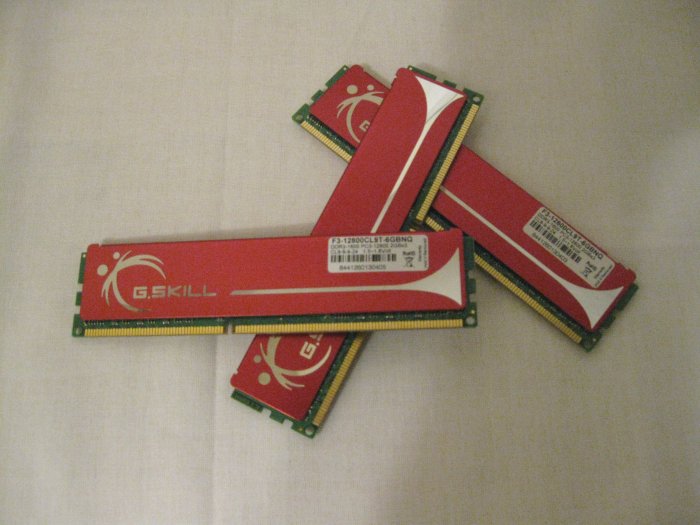 There's just no angle that this kit doesn't look good from. We tried to find an angle that took away from the sharp good looks and couldn't. The look and feel of this kit is quality all the way.
TESTING & METHODOLOGY
As usual, we ran Memtest86 on the kit for 10 complete passes on the G.Skill kit before we started testing to ensure it was error free. It passed with flying colors and it is another Triple Channel Kit that qualifies for the Plug and Play Hall of Fame. Thayt's the second kit in a row that, out of the package, was plug and play on the X58 platform at rated speed and timings. We have to say we're liking the new functionality of properly working XMP's (Extreme Memory Profiles). We did a clean install of Vista 64 on our test rig and ran each test three times, the average of which is reported here. We also drove the kit for about a week to give it some burn in time and get a feel for it.
Lets take a look at the CPU-Z story on this kit before we move on to the test rig and testing suite.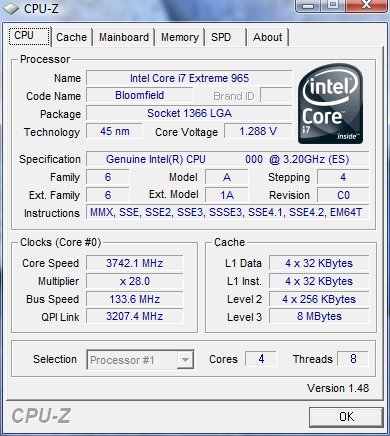 We're testing this RAM on our recently acquired Core i7 965 Extreme that's running at 3.74GHz on air.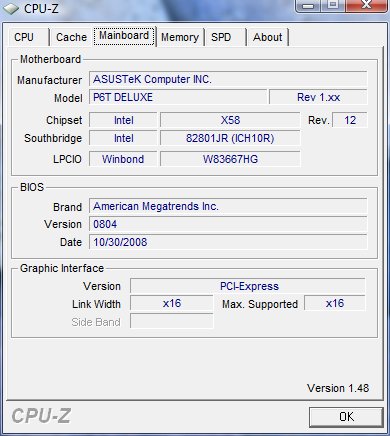 We ran the last kit on our P6T so we thought we'd go ahead and run this kit on the same board (of course). It's quite a nice board and has handled every thing we've thrown at it thus far. It's had more GPU's and RAM on it than most boards see in a long lifetime.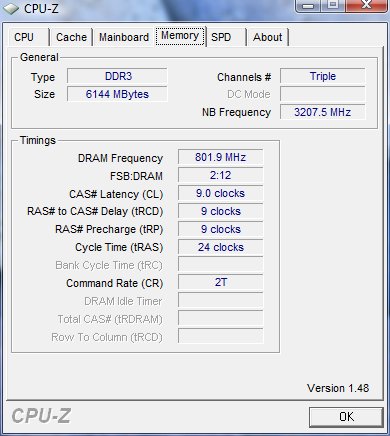 Like we mentioned earlier, the kit was plug and play, which is nice because previous Dual Channel kits on the 775 platform were problematic at best to run at the rated timings and speed.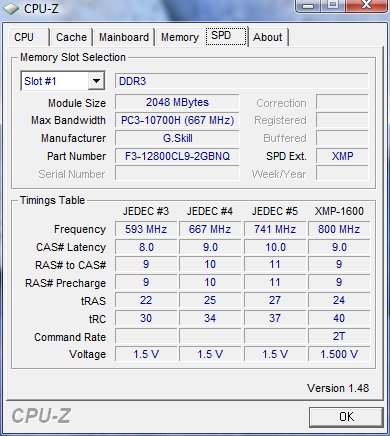 The kit has several SPD rated speeds with different timings. We were able to run the kit at 9-9-9-24 at all of the speeds at 1.5v. We checked the SPD speeds and the 9-9-9-24 that we were able to run this kit at gave us a little better performance and shows the speed scaling a little better, so we ran with that. I might take note we ran the Kingston kit at the same timings at every speed we ran it at to keep the playing field level. The Kingston kit was rated to run 9-9-9-27, but it ran great at 9-9-9-24.
Test Rig
Test Rig
"Quadzilla"
Case Type
Top Deck Testing Station
CPU
Intel Core I7 965 Extreme (3.74 GHz 1.2975 Vcore)
Motherboard
Asus P6T Deluxe (SLI and CrossFire on Demand)
Ram
G.Skill DDR 3 1600 (9-9-9-24 1.5v) 6GB Kit
Kingston HyperX DDR 3 2000 (9,9,9,24 1.64v) 3GB Kit
CPU Cooler
Thermalright Ultra 120 RT (Dual 120mm Fans)
Hard Drives
Intel 80 GB SSD
Optical
Sony DVD R/W
GPU
BFG GTX-260 MaxCore Drivers 180.43
Case Fans
120mm Fan cooling the mosfet cpu area
Docking Stations
None
Testing PSU
Thermaltake Toughpower 1K
Legacy
None
Mouse
Razer Lachesis
Keyboard
Razer Lycosa
Gaming Ear Buds

Razer Moray
Speakers
None
Any Attempt Copy This System Configuration May Lead to Bankrupcy
Test Suite
Synthetic Benchmarks & Games
SANDRA XII Professional
Everest Ultimate Edition v.4.50.1330
SuperPI Mod 1.5XS
WinRar v.3.71 Compression Benchmark
Crysis v.1.2
SISOFT SANDRA 2009 SP1
"SiSoftware Sandra (the System ANalyser, Diagnostic and Reporting Assistant) is an information & diagnostic utility. It should provide most of the information (including undocumented) you need to know about your hardware, software and other devices whether hardware or software. It works along the lines of other Windows utilities, however it tries to go beyond them and show you more of what's really going on. Giving the user the ability to draw comparisons at both a high and low-level. You can get information about the CPU, chipset, video adapter, ports, printers, sound card, memory, network, Windows internals, AGP, PCI, PCI-X, PCIe (PCI Express), database, USB, USB2, 1394/Firewire, etc."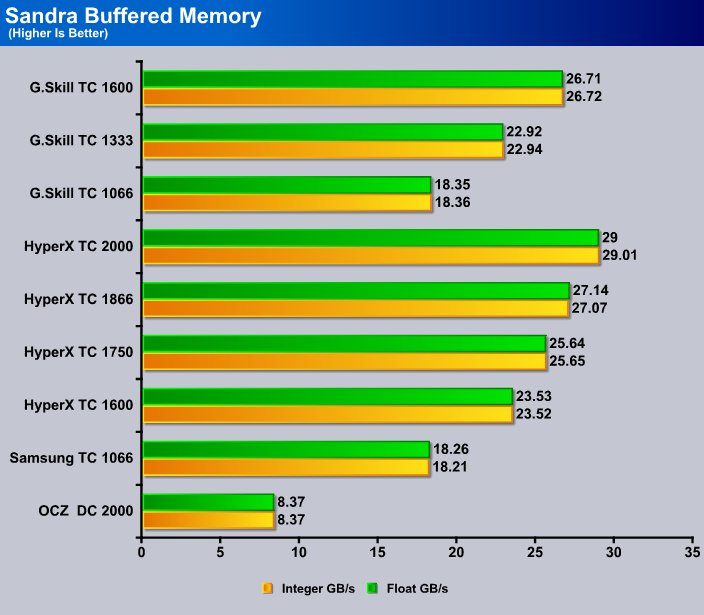 At 1600MHz the G.Skill tested faster than the Kingston at 1750MHz, and almost as fast as the Kingston at 1866MHz. It, of course, is slower than the comparison set running at 2000MHz top end, but that extra 3GB/s performance will cost you double what the G.Skill does. That's not a judgment, that's an observation. It's a choice that each enthusiast has to make. It's whether to get top end performance and spend the big bucks, or step back and get twice as much RAM for less cash, but accept a little bit less performance. Perhaps we'll get a little more info from further testing.
SUPERPI
SuperPi is the "Gold Standard" for many when it comes to judging system performance. We ran 1 and 2 MB calculations, again running each test three times and reporting the average of the results.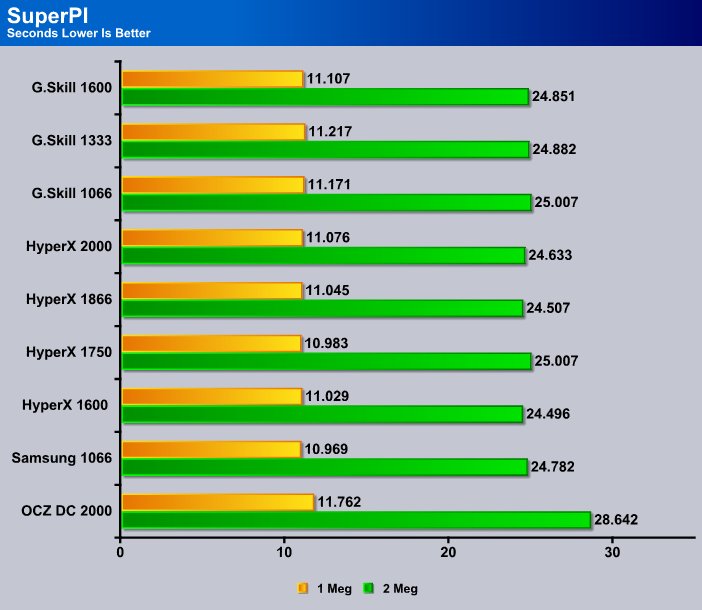 The Triple Channel kits certainly beat out the Dual Channel kit. That's an easy call. How do you make the call with the fastest tested kit being the Samsung Triple Channel kit that runs at 1066MHz? With differences running in the tenths of a single second from the fastest to the slowest, in the 1 MB test there's really not much difference in the kits. In the 2MB test we're seeing differences in the four tenths of a second range. To someone looking for a SuperPi record, that might be enough to affect the selection of a kit, but among the Triple Channel Kits we'd have to call this one a wash. You could draw the conclusion that a 6GB kit for less than the price of the 3GB Kit is a steal, or demanding the utmost in performance, the more expensive kit is the way to go.
WinRar v. 3.71
This module in WinRar generates random data, which contains specially introduced redundancy, increasing the load to both the processor and memory. Data is the passed through RAR compression and decompression algorithms, and the output of the decompression algorithm is compared to the source data. If any differences are found, WinRAR then reports "Errors found – Yes" in the command window. WinRAR displays a size of processed data and compression speed, current and resulting, in kilobytes per second.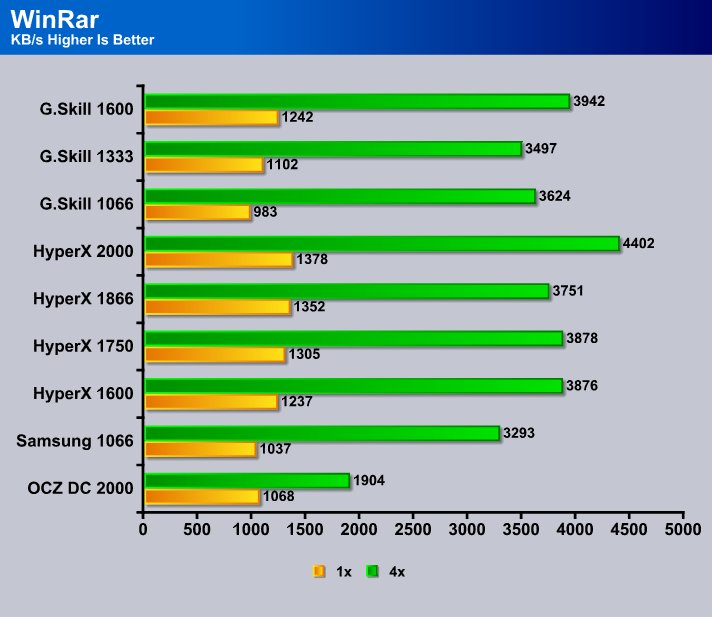 Clock for clock, at 1600MHz, the G.Skill did a little better than the Kingston kit, but moving to the Kingstons higher speed, the HyperX pulls away from the G.Skill. Is it enough of a performance increase to warrant the more expensive kit? That's a choice for you to make. Twice the RAM or a little more performance. Price performance wise, the G.Skill kit is a hard deal to beat. Performance wise, the Kingston HyperX kit is the fastest we've tested this early in the game.
EVEREST ULTIMATE
"EVEREST Ultimate Edition is an industry leading system diagnostics and benchmarking solution for enthusiasts PC users, based on the award-winning EVEREST Technology. During system optimizations and tweaking it provides essential system and overclock information, advanced hardware monitoring and diagnostics capabilities to check the effects of the applied settings. CPU, FPU and memory benchmarks are available to measure the actual system performance and compare it to previous states or other systems. Furthermore, complete software, operating system and security information makes EVEREST Ultimate Edition a comprehensive system diagnostics tool that offers a total of 100 pages of information about your PC."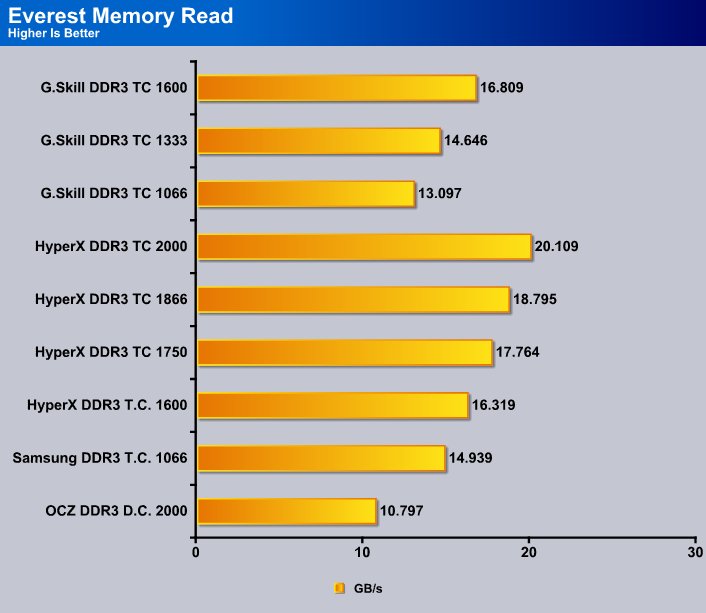 Again at 1600 MHz the G.Skill kit was faster than the Kingston kit, but as the Kingston kit's speed increased it pulled away from the G.Skill kit. We do like the scaling of the Triple Channel kits, unlike Dual Channel as speeds increase the gains are predictable.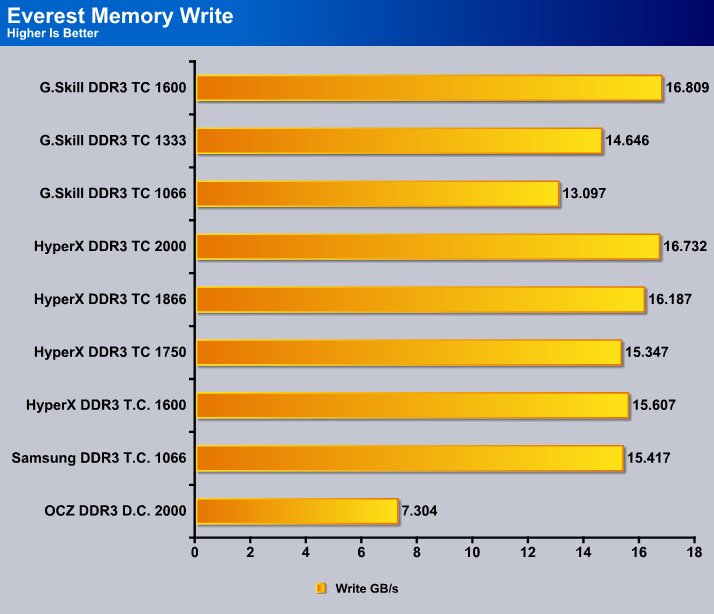 In the Memory Write test, the G.Skill kit at 1600MHz came in on the top of the test. We kept the Test Rig at the same CPU speed, same RAM timings, and the same CPU Multiplier and FSB speed, so it's just the RAM itself pulling ahead there. It's hard to resist playing with the FSB speeds, and CPU speeds on a beautiful test rig like that, but in RAM tests, the settings need to be kept as close as possible for accuracy in testing. The one exception here is that at 1750MHz, on the HyperX kit, we had to change the FSB bus speed to make that speed available. In that case, we kept the CPU speed as close to 3.74GHz as possible, but it was off (lower) by some hundredths of a Gigahertz.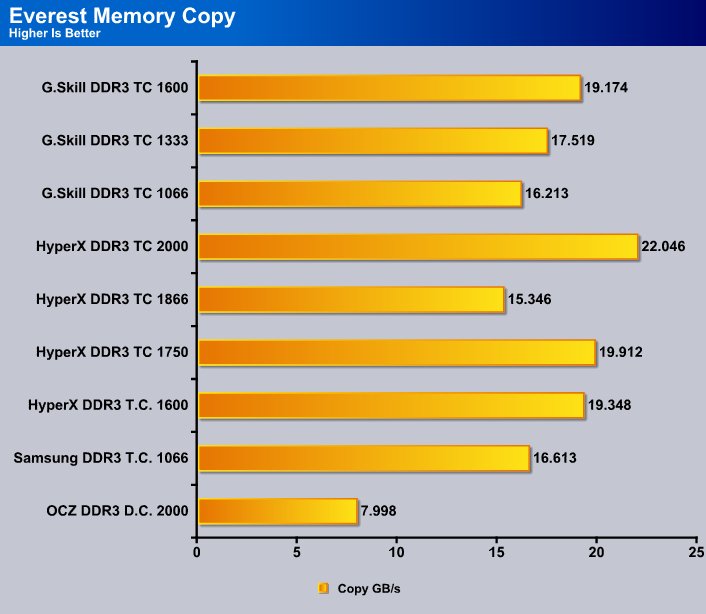 Clock for clock it's been back and forth between G.Skill and HyperX, with results close enough at that level we'd judge the kits equivalent. The Kingston pulls ahead in most tests at its higher capacity speed. The question that plagues us and many other reviewers is, can you really compare a 1600MHz kit to a much faster kit in a fair way? Do you base it on Price Performance, or Raw Speed, or is it just to many apples and oranges? It's like the "Meaning of Life", to which the only reasonable answer is 42. It doesn't make much sense, but it's an answer. We often find ourselves placed in that quandary of a spot, placed between Price and Performance. Placed in that spot we like the performance of the Kingston, and the price performance of the G.Skill.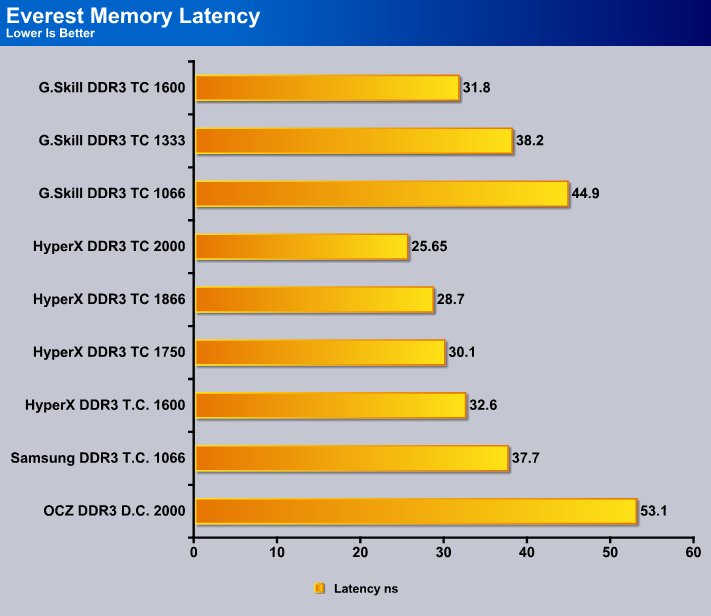 In the memory latency test, clock for clock, the G.Skill beat the Kingston. Then, as we've seen, as the Kingston increases in speed, it pulls ahead. Here we have two sets of memory doing the same job, one catering to high end enthusiasts that demand the absolute best performance, and the other giving good performance for the budget minded enthusiast. We're just glad to see the choices available this early in the Core i7 adventure.
Conclusion
The G.Skill kit did really good for an early release kit. Considering it costs $279.99 for a 6GB kit and the Kingston costs $334 for a 3GB kit, it's twice the memory for less than what the Kingston kit costs. Of course with the Kingston kit, you're running at 2000MHz, which this kit won't do. But for the budget minded, that quantity with more than acceptable performance is important. This kit is a seriously good buy.
The G.Skill kit isn't designed for overclocking and we knew that in advance so we really can't complain about that. With 1333MHz 3GB kits available for just over $100, were sure it's going to be among one of the most popular choices. If you need a little more speed, a 3GB Kit of 1600MHz will set you back $179.99, and if you want the whole ball of wax with no upgrade worries down the line, a 6GB kit for under $300. It's hard to go wrong with selections and prices like that! We are glad to see kits available for the budget minded user. Too often early releases are prohibitively expensive and many users delay migrating to a new platform because no value based components are available.
For the prices you'd pay for the G.Skill DDR 3 1600 Triple Channel Kits, and the performance you get for the price, we're more than happy with the kit. If this generation of ARM is anything like previous generations of RAM, the amount you have is just as, if not more, important than speed. Kudos G.Skill, excellent Value For The Money, and really respectable bandwidth.
We are trying out a new addition to our scoring system to provide additional feedback beyond a flat score. Please note that the final score isn't an aggregate average of the new rating system.
Performance 9
Value 10
Quality 10
Warranty 10
Features 9
Innovation 9
Pros:
+  Good Performance
+  Looks Nice
+  Ran Really Cool
+  6GB and 3GB Kit With 3GB 1333MHz Variant
+  Very Stable
+  Plug And Play
+  Prices And Kits For Every Segment Of The Market
Cons:
–Not Designed For Overclocking
The G.Skill DDR3 1600 6GB (3 x 2GB) Triple Channel Kit is a good choice for people that want blazing speed and ease of use in a budget friendly manner.  For those features it earns it a:
Final Score: 8.5 out of 10 and the Bjorn3D Seal Of Approval.