The Corsair HX1000W is a power supply for some of the most demanding systems, even being able to run 4870 X2's in Crossfire. If your looking to build a new monster rig this may be the PSU you need.
INTRODUCTION
In this age of computers, a power supply unit is often times an overlooked part of the computer, but if you decide to cheap out and your whole system gets fried you will be hating yourself because of that decision. Often times it is hard to decide on a PSU. You don't want to waste money on getting too much wattage if you don't need to use it. But then again, you also don't want to come up short and not have enough juice to run everything in your PC. Today, Corsair brings us a 1000 watt PSU that offers spectacular reliability and plenty of power to run whatever you please. Corsair backs this PSU with an almost unheard of 5 year warranty, so you can be pretty sure that this will most likely not be the component in your system to give out during an intense gaming session.
Just because it performs well doesn't mean it can't look good while doing it. The black finish is a very nice touch that is sure to blend in with any black case. The blue label and plug-ins add to the overall feeling that I got with this PSU because my PC case has blue LED's, but making this PSU look good in any case should not be a problem.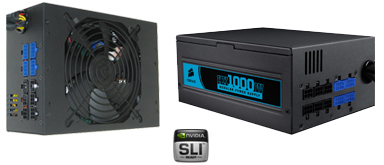 About Corsair
Products to Meet the Demands of Performance Computing
Corsair has been a leader in the design and manufacture of high-speed modules since 1994. Our focus has always been on supporting the special demands of mission-critical servers and high-end workstations, as well as the performance demands of extreme gamers. While maintaining this core focus, in recent years, we've also brought our expertise, technology leadership and legendary quality and reliability to memory and other technology products for the more mainstream consumer.
Memory That Meets The Toughest Demands
As a pioneer in high-speed module design, Corsair is a trusted supplier to many computer manufacturers. In high-density memory solutions, Corsair has always been one of the first suppliers to achieve advanced qualifications on Intel, Tyan and SuperMicro server platforms. We also work closely with other major server platform manufacturers to release product that is 100% compatible with their latest server products.
What Sets Corsair Apart?
With more high-speed experience than anyone in the industry, we know the importance of design features like tightly-controlled trace lengths, controlled impedances, clock trace design, unbroken power and ground planes, and selectively plated gold. Corsair Memory has developed an industry-wide reputation for quality, compatibility and performance.
Performance Memory For Enthusiasts
Our flagship memory products are the DOMINATOR™ line of performance memory, which is designed for the unique demands of the serious enthusiast community. Featuring patent-pending Dual-path Heat Exchange (DHX) technology, the DOMINATOR family maximizes on performance, minimizes on heat, all the while running with heighten reliability and stability. The DOMINATOR line has set world performance records and won numerous awards. Corsair's mainstream performance memory solutions are the XMS family. The XMS family includes XMS2 DHX, featuring innovative DHX technology now in the mainstream; XMS Xpert, the first modules with real-time display of parametric data; XMS Pro Series, gaming memory with real-time activity LEDs; and XMS2, high-performance DDR2 modules with black heat spreaders. The XMS Family also includes DDR1 solutions in XMS, available in either black or platinum heat spreaders.
Our Value Select memory brings our quality and compatibility standards to cost-effective products for today's most popular desktops and laptops. Value Select is available in DDR1 and DDR2.
We also offer a large range of ultra-reliable server memory for mission-critical servers and high-performance clusters.
Flash Memory, Liquid Cooling and Power Supplies
Corsair has expanded beyond memory modules to offer performance liquid cooling units and blocks under our Corsair Nautilus brand and power supplies under our HX Series brand.
In addition, we offer a line of specialty Flash memory. From our ultra-rugged Flash Survivor™ family to the multi-award winning durable Flash Voyager™ family, Corsair has quickly established itself as an industry leader for USB drives.
FEATURES
Guaranteed to deliver 1000W of continuous power at 50°C

80%+ energy efficient under real world load conditions

True independent dual rail design for maximum compatibility

Combined 80A of power on +12V

Multiple GPU ready

105°C solid state capacitors

Active Power Factor Correction (PFC) with PF value of 0.99 to ensure clean and reliable power

Supports the latest ATX12V 2.2 and EPS12V 2.91 Standards. Backwards compatible with ATX12V 2.01

Auto switching circuitry provides universal AC input 90-264V

Over Current/Voltage/Power Protection, Under Voltage Protection and Short Circuit Protection provide maximum component safety

Dimensions: 150mm (W) x 86mm (H) x 200mm (L)

Five year limited warranty with 24/7 on demand customer service

MTBF: 100,000 hours
You can see the build quality of the HX1000W and Corsair's superior support with the different stats shown here. By utilizing 105°C solid state capacitors that are top of the line for a PSU, Corsair has made a wise design decision and this and will undoubtably give more stable power for a longer period of time versus those PSU's without them. Also, having 24/7 tech support is a very nice thing in case you have some issues late at night.
SPECIFICATIONS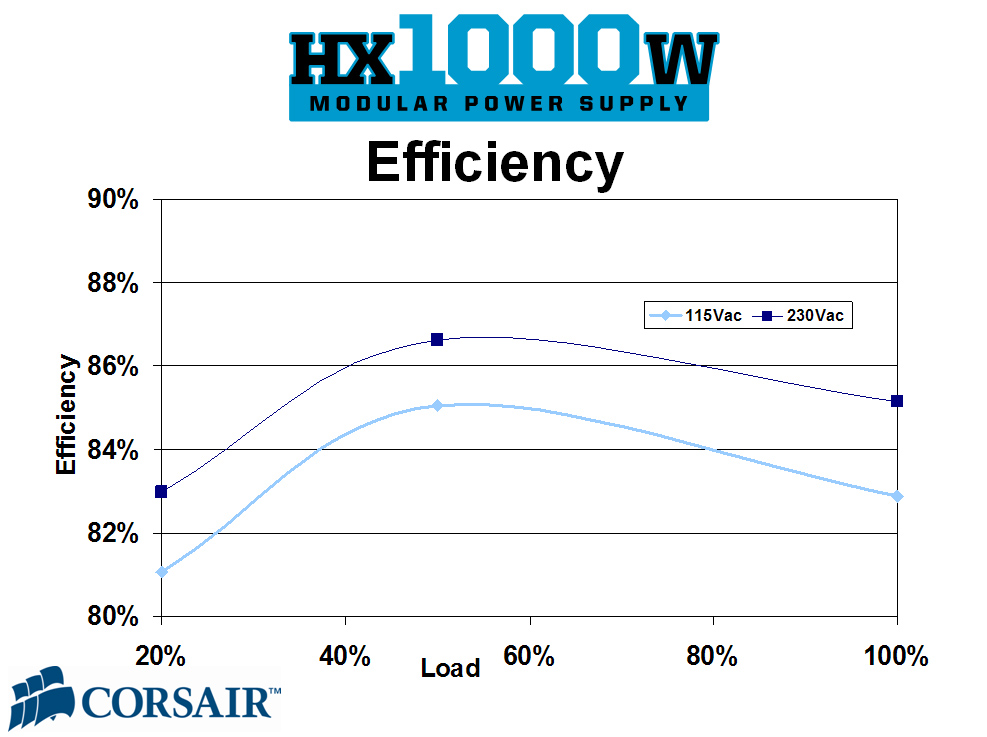 This graph shows the efficency of the Corsair PSU. From a PSU load of 40% – 80% the PSU is over 86% efficient, which is a very good level of efficiency.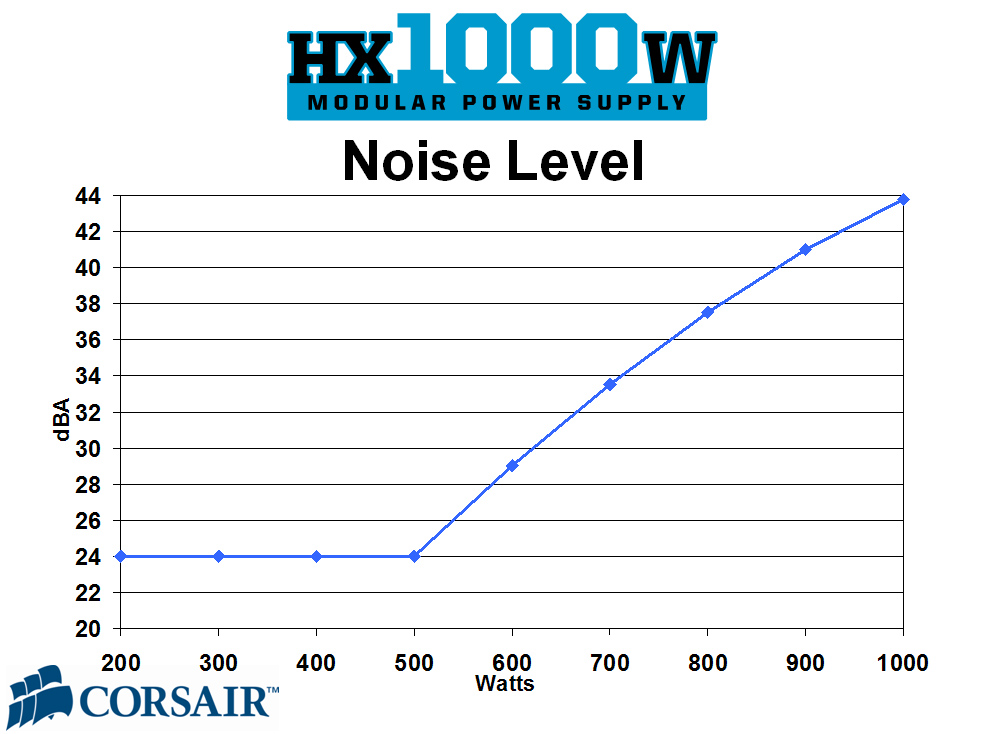 This PSU also has a very low noise level. It doesn't go beyond 24 dBA's untill you use over 500 watts. The most wattage you'll usually need is at startup, but many of us will keep it under 500 watts, so the PSU will stay very quiet. When it stays at a sustained 1000 watts it is quite loud at 44 dBA, but once again, you most likely won't use 1000 watts all the time.
Corsair HX1000W Specifications:

Model CMPSU-1000HX

AC INPUT

100-240V, Current: 13A, Frequency: 50-60Hz

DC OUTPUT

+12V1

+5V

+12V2

+3.3V

-12V

+5Vsb

MAX LOAD

40A

30A

40A

30A

0.8A

3.5A

MAX COMBINED WATTAGE

500W

500W

9.6W

17.5W

 

TOTAL POWER:1000W
In a strange move by Corsair, they have actually under rated this PSU at 1000 watts. It will be able to put out approximately 1027.1 watts, not including the ability to actually exceed the rated 12 volt rail's wattage, something that the Corsair TX750 was able to do.
PACKAGING  
 Click to Enlarge
Front and back of box
This is a one of the bigger PSU boxes I've seen, though it's not uncommon for the larger wattage PSU's to have big boxes. The back has basic information in many different languages, along with a graph that shows the noise level of the PSU at different loads. Something that Corsair points out is the 105°C Japan made solid capacitorss. These are of the highest quality, which will certianly help the life span of the PSU, among other things. These caps will be running at well below the rated temperature, so that also will tremendously help the PSU's life cycle. I feel that Corsair has made a very good move with this addition, as not all PSU manufacturers would be nice enough to include such quality caps.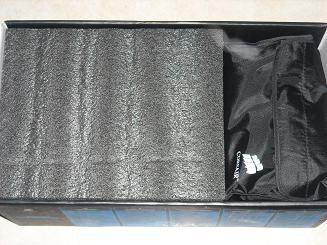 Inside of box
The PSU is packaged in very protective foam. The bag of extra cables sat nicely next to the PSU. With this packaging there should be no worry about receiveing a dead or damaged PSU. I felt that the foam was of very good quality. It was very soft, but didnt feel as if it could be easily broken in your hands. Corsair has certianly done a very good job with the packaging so far.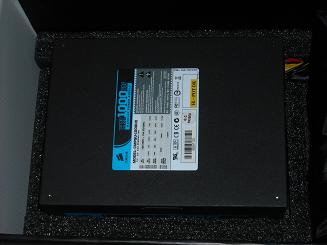 Under the foam
Under the foam cover is what this package is all about, the PSU! Right on the top of the PSU is a guide as to how many amps are on each voltage rail. This is included on every PSU I have seen to date, and I would be very dissapointed with Corsair if it was not included in such a high end PSU. This is helpful to calculate if it will supply enough amps to a certain voltage rail. If you add them up you will see that it is beyond 1000W, but more on that later on in the review.
THE PSU
After looking at Corsair's supurb execution with the HX1000W's packaging, I was quite interested at how Corsair configured this PSU. If the design team and the manufacturing team can show the the same quality traits in the overall build of the HX1000W as the marketing department had with the HX1000W's supurb packaging, Corsair will easily have a winning PSU on their hands. Now let's take a closer look at the layout of the PSU.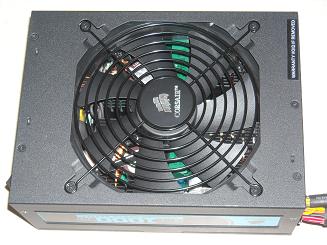 PSU fan
The Corsair HX1000W has a 140mm fan on the bottom of the PSU that sucks in air from your case and blows it on the components inside the PSU to cool them off. It auto throttles, so if the PSU is not supplying a lot of power, the fan will slowdown, thus making the PSU more quiet. This is a nice touch for anyone who is a freak about sound. Personally, I run a 45.9 dBA fan inside my case, so sound is not an issue for me. The fan has a feel of great quality and that's something that not all PSU manufacurers will pay attention to. You don't want bad fan blades on a fan, as they are inefficient at moving air. On top of that, poorly manufacured fan blades have a chance of breaking if something is thrown into the fan accidentally.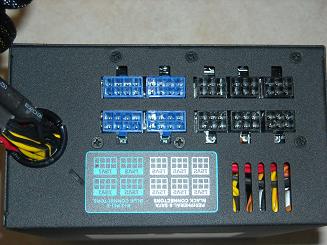 PSU plug in area
Pictured above is the main part of the PSU where you plug in all of the cables. Corsair takes a different approach from what other PSU manufacturers are doing. Instead of having a spot where you can plug in the specific cable, they have a special 6-pin connector for the SATA and Molex power connectors. I personally like this feature as it allows you to more easily connect and disconnect the cables, especially with the Molex connectors. It can be very hard to line up a Molex connector, especially with low light. With this design I had no trouble plugging in cables, even in low light conditions. With this system you can select a cable with as many plug-ins as you need and then route that cable to all of your accessories. The only downside to this is that you might need only one connector, perhaps for a single CD/DVD, but this PSU has no single connectors. All of the cables have multiple connectors. This could interfere a bit with cable management, but it is still modular so it won't be nearly as bad as it would be without a modular PSU.
The HX1000W comes with a variety of cables, all collected and neatly packed into a nice pouch. The pouch had some nice material that felt like it was built to a very high quality standard. It would make a good pouch to use for something else, such as a camera bag.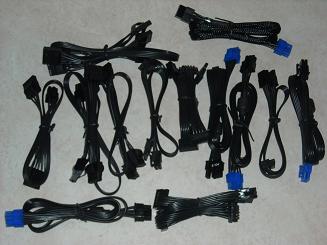 Here is a picture of all of the cables spread out
With this much of a variety on cables, I am sure that you will find plenty of cables here to plug in whatever the power needs in your system. Whether you plan to run a decked out server with a ton of hard drives, or a extreme SLI/Crossfire hard core gaming rig, you should have enough cables to run all of your components. Me, being a gamer, I don't really have a use for all of these cables, as I dont run a ton of HDD's that take up all of the SATA connectors. The cables that Corsair provides include: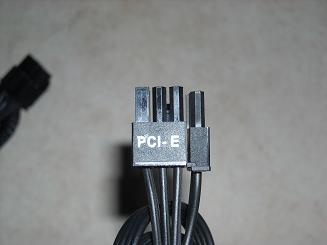 4 extra PCI-E power connectors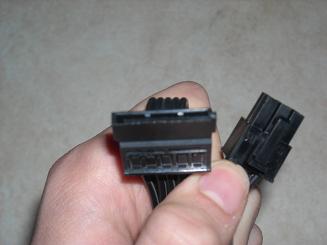 12 SATA connectors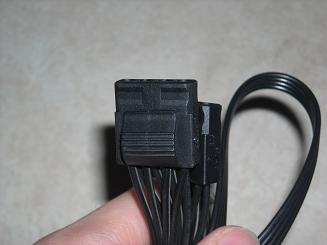 12 Molex connectors
Corsair has made an interesting move in also having a few essential cables built onto the PSU. This could either be a good thing or a bad thing, depending on how you look at it. The cables built into the PSU are only essential, so you wont have a bunch of Molex connectors when you only use SATA drives. I like this design for its ease of use. I was able to unplug the cables even in low light conditions.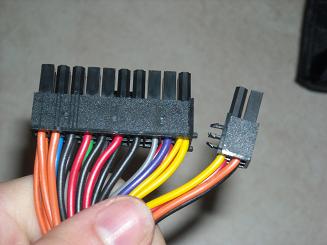 A 20+4 pin motherboard power connector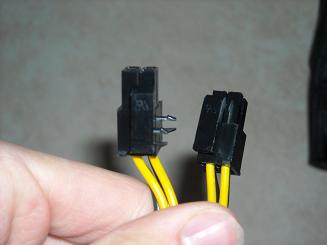 4+4-pin motherboard CPU connector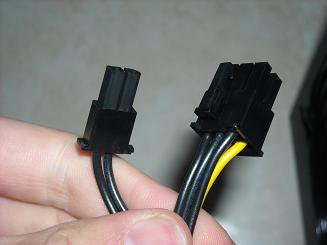 Two 6+2-pin PCIE power connectors
Not pictured are the two floppy connectors. If you still use those, then I'm sure you'll be happy that Corsair has not forgotten about you. Personally, my motherboard has two of these connectors that supply it extra power for more than one video card, so I am happy these are included. Those looking to run an SLI or Crossfire system will be happy to know that this PSU comes with six 6+2-pin PCIE power connectors, so you can run all the graphic cards that your heart desires. With me using a 4870X2 on this PSU, I found that the built in cables were plenty, but if I had more than this card in the system the included extra 6+2-pin connectors would be essential to run more cards.
TEST RIG
 
Test Rig

Case Type
Thermaltake Sword M
CPU
Intel Q6600 @ 2.4, 2.7, 2.8
Motherboard

GIGABYTE GA-EP45-EXTREME LGA 775 Intel P45

Ram

G.SKILL 4GB (4 x 1GB) 240-Pin DDR3 1333 

CPU Cooler
Thermaltake Sword M liquid cooling, Thermalright TRUE Black 120
Hard Drive
Seagate 1 TB
Optical
Lite-On DVD R/W
GPU's Tested

Sapphire 4870 X2 @ 750MHz core/900MHz (Quad Pumped)


Case Fans
Two 120mm  Front/Rear Push/Pull
Two 80mm Blowing on Graphics
Testing PSU

Corsair HX1000W
For the tests I used 3DMark Vantage to achieve a game like experience, which should lead to the maximum load possible. For the idle tests I manually turned the PSU on with nothing attached to it. A Kill-A-Watt watt meter was used to measure the wattage being drawn by the computer from the wall socket. A Craftsman digital multimeter was used to measure the voltages on the connector to ensure that the most accurate result was obtained.
The current ATX 2.2 specifications allow for the following variation in voltage outputs:
3.3 Volt Rail:   3.135 – 3.465V
5 Volt Rail:      4.75V – 5,25V
12 Volt Rail:   11.4V – 12.6V
TESTING & RESULTS
 
Corsair HX1000W Voltages

Rail Voltage

Idle
Load
3.33V
3.33V

 3.325V

5V
5.12V
 5.11V
12V
12.07V
 12.035V
Power Factor Correction
 0.97

 0.98
A Power Factor of 0.98 is extremely hard to beat. All the voltages except the 3.33V were higher than normal, but not too high as to be alarmed. The 3.33 volt rail did dip a little low, but it was still within acceptable limits. It's the 12 volt rail that is what stands out to me. Not once did it drop below 12V, which means it will constantly feed your graphics card the power that it needs. The 5V rail is also a very important voltage. If it dips below 5V, a whole system shut down would most likely happen. It was easily over 5V, so this should not be of concern. Overall, the tests went very well and I am very happy with the results.
For the maximum wattage test I ran 3D Mark Vantage on the PC listed above to try and pull out the most wattage possible. I was able to achieve a maximum outlet power draw of 407 watts. This was lower than I was expecting and it shows that I may have overestimated my PSU power needs. It also shows that a lower watt PSU can still run high-end hardware. However, if I were to Crossfire these cards though, I would definitely need a lot more power, as these cards are quite the power hog.
CONCLUSION
The Corsair HX1000W power supply surely is a very capable PSU for any system that you could think up. It was easily able to handle a 4870X2 and Q6600 with ease. That surely is one of the most demanding system builds that you can do at this point in time. The PSU is one of the most important and often overlooked parts of a build. If you cheap out you may be paying for a whole new system after your old cheap PSU decides to go poof and takes all of your hardware with it. This does not mean that this PSU won't do that, as there are no guarantees in life. There is always the possibility of a massive power surge such as a lightening strike or the even the more remote possibility of getting a defective unit. But you shouldn't worry about the latter too much because the chances of that happening are very unlikely with such a high quality PSU as the HX1000W.
The modular design is a very nice touch that adds value to the PSU, especially if you love cable management. A modular design is often over looked for a PSU that is non-modular, but cheaper. Trust me, it is much better to have a modular PSU so that you won't have a bunch of cables in your case constricting airflow, thus making your case hotter. One problem about the modular design that might turn some people off, is the built in cables. I didn't mind it much, since these cables are needed to run the computer, but some still would rather not have them built-in.
This PSU is very efficient. Most of the time the PSU is operating at 86% efficiency. That is a very high efficiency, a level that very few PSU's can even come close to, even in the best of conditions. With this efficiency comes a lower power bill due to the fact that the less power that the PSU draws from the wall will be turned into heat and noise. It also means that your computer in will be generating less heat in the room you have it in. That's a very big plus to overclockers who are limited because the room that their computer is in becomes too hot. This makes it all the more applealing to an extreme overclocker.
With this PSU being SLI ready you can be sure it will run dual, triple, or quad graphic solutions.  This also means that Nvidia has made sure that the PSU meets their strict standards of what a PSU should be if it were to run in an SLI system, making sure that the PSU has clean stable power. Don't think that this PSU won't run a Crossfire system just because it is SLI ready. That just means that Nvidia decided, after much testing, to endorse Corsair to put on their box that it was SLI ready. Clean and stable power is great to have for a SLI or Crossfire system, as the graphics cards require a huge amount of power to operate.
Pros:
+  Stable power
+  80 Plus efficiency compliance
+  Sleeved cables
+  Quiet performance
+  Runs cool
+  Modular cables
Cons:
–  Some cables build into PSU
–  Noisy if under high load
The Corsair HX1000W will be a great PSU for anyone looking to build a high-end gaming computer or a server chock full of hard drives.
With a score of 9 out of 10 the Corsair HX1000W receives the Bjorn3D Golden Bear Award.