Looking for a case that can handle the largest graphics cards on the market, yet also keep them and the rest of your high-end computer running cool? Well then the Cooler Master HAF-932 should be on your shortlist, offering complete silence, enough airflow, and plenty of space for just about any setup.
INTRODUCTION
Cooler Master is no stranger to the computing realm. With a solid product selection spanning everything from cases, power supplies, and coolers they are not just another small company amongst many. With different models across all of their product lines they are both a recognized name for not just value-oriented products, but also for high-end enthusiast products.
Cooler Master loves to live up to their name, and that may have been precisely the inspiration behind their High AirFlow (HAF) 932 full tower case which we will be taking a look at for this review. Airflow isn't the only thought factored into this case's design, functionality, affordability, and dare we say it, silence, was as well. The Cosmos S may certainly a beauty of a full size tower, but very few people are willing to spend $250 for a computer case and for good reason.
So, where does the Cooler Master HAF-932 get its name from? Probably from the three huge 230x30mm fans built into the front, side, and top of this equally huge case. These aren't cheap, gimmicky fans either that have been commonly used in side panels of cases and will quickly wear out soon after purchase. The three 230mm fans in this case are real computer fans designed to last as long as any other normal case fan, and even when they eventually wear out (as all fans will do), Cooler Master has thought of that too. The case has been designed so that every 230mm fan can easily be switched for two 120mm fans, or (no pun intended) in the case of the side panel fan four 120mm fans can be installed.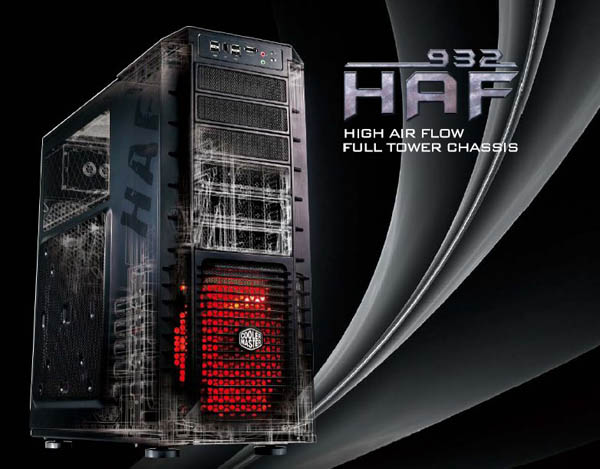 About Cooler Master
Cooler Master was founded with the mission of providing the industry's best thermal solutions. Since its establishment a decade ago, the company has remained faithful to this mission, emerging as a world leader in products and services for companies dealing with devices where heat issues must be resolved.

In pursuing this mission, Cooler Master is absolutely committed to delivering solutions that precisely meet customer requirements for features, performance, and quality. Moreover, we strive to be a reliable long-term partner for our customers that they can truly depend on. It aims to be the first and foremost name that comes to mind for companies around the world seeking thermal solutions, and seeks to build such a reputation through outstanding technology, sophisticated design, and superior service.

Cooler Master's current business encompasses a comprehensive lineup of thermal solutions for a full range of applications. Its products range from heat sinks and fans to component housing, chassis, and ducting for computers, industrial machinery, telecommunications equipment, and many other devices.
SPECIFICATIONS & FEATURES
Specifications
Jumping right in here are the nitty-gritty of the specifications. Some of what is not mentioned is that the case is comprised of large parts steel and plastic, so this case is definitely on the heavier side. They are also missing a disclaimer warning user about the case size! When they say full tower, they mean a full tower. This case is the same height as an Antec P180B yet wide enough to dwarf even a U2-UFO cube case, which is no easy feat.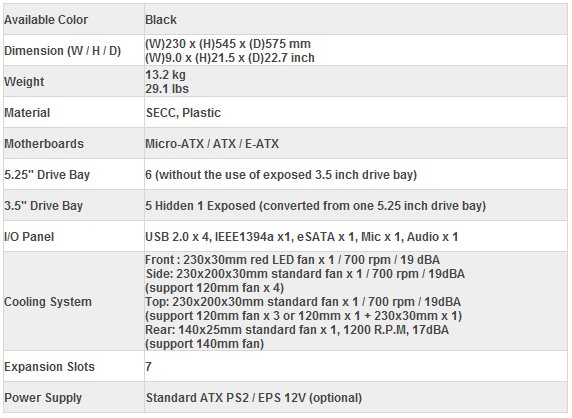 Since the main feature of the Cooler Master HAF-932 is the fans here is a quick photo of the side panel fan. All three 230x30mm fans are identical, except that the front fan is translucent and comes with red LEDs to give the front grill the of case a low, subdued red glow.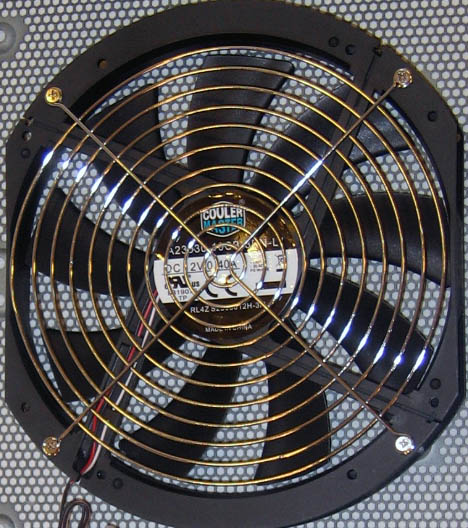 One non-included specifications table lists that the case ships with a 120mm fan mounted in the 140mm fan mount, when in fact the reverse is true. This case includes a 140mm rear fan but provides for the ability for users to install 120mm fan if they prefer.
Before moving on, while not very helpful, the model number for the fans is A23030-10CB-3DN-L1, while the LED version ends in "3DL-L1". We believe these fans are ball-bearing but were unable to definitively confirm this. Ball bearings are preferred for fans (larger fans especially) due to the increased lifespan. The majority of extra-large computer case fans tend to use a sleeve bearing and as such wear out in just a year or two. We will check for noise levels later, after we find a pair of airline-grade ear protection first.
Features
I have left out some of the additional marketing materials provided by Cooler Master as they were simply incorrect or had been changed. In addition to the fans, some of the more notworthy features happens to be a "tool-free" design, giving this case the potential to make for very quick hardware installation or swap outs. No screwdriver will needed beyond attaching the power supply or mounting a motherboard, which is personally fine by us!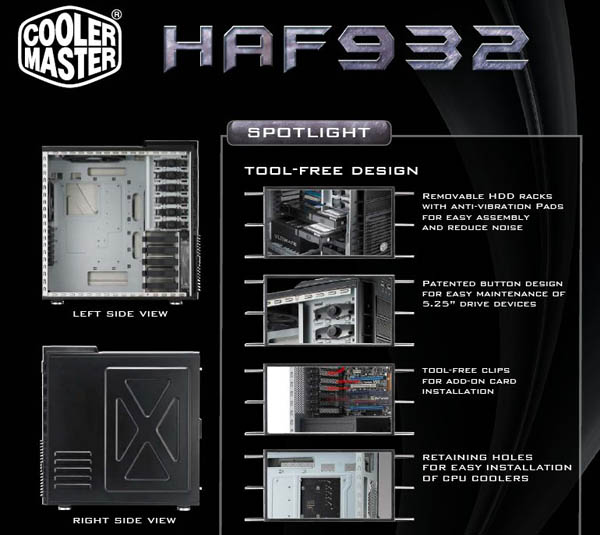 See, those blue PCI slot clips are actually black, but we're digressing… Below you can see the interesting hard drive tray system Cooler Master has developed for this particular case. We will be paying careful attention to this later and seeing if it is a gimmick or a worthy (functional) feature.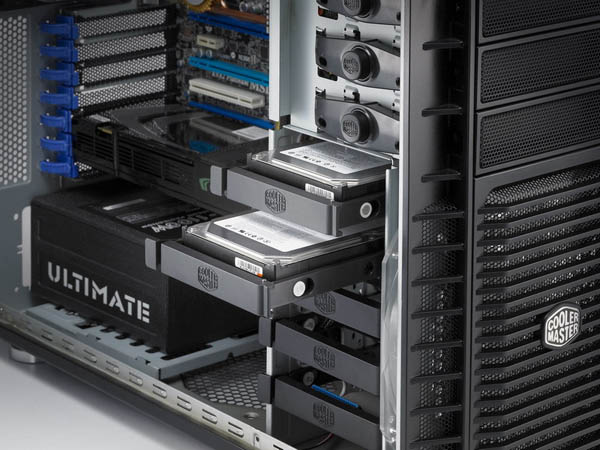 Here's a quick shot showing one possible configuration using a dual 120mm fan radiator setup. We did already mention those 230mm fans are removable, which does allow for quite a few very different system builds with this one case.
Speaking of features, another aspect of the tool-less design is the actual real, mechanical button CD-ROM bay locking mechanisms. These may be plastic on the outside but have a real spring-loaded mechanical switch housed inside. They are not intended to be removed, so no worries of lost bits of kit with these. Simply slide a device into the bay, press a button, and two metal prongs will slide out and lock the device securely into position.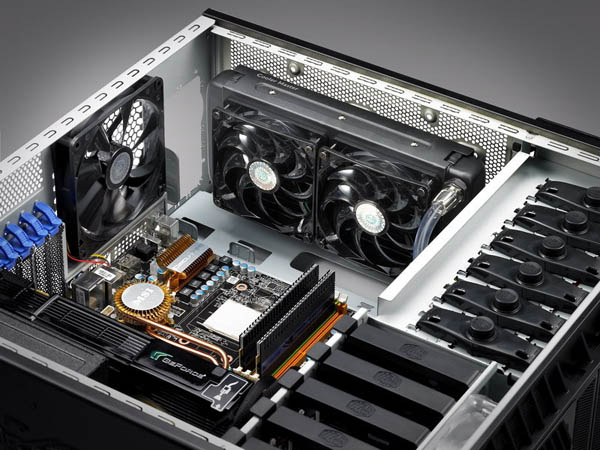 A CLOSER LOOK: PACKAGING, EXTERIOR
Packaging
To get the obligatory postal carrier comment out of the way, it appears this particular postal carrier was having a good day judging by the complete absence of crumpled corners or gouges. Actually the box graphics look pretty sharp and are thankfully not overly cluttered with useless information or badges.
After struggling for a few minutes to get the case out of the package we finally came to our senses and simply turned the box upside-down. Pesto, we have one black case wrapped in plastic and snug within its styrofoam sabot.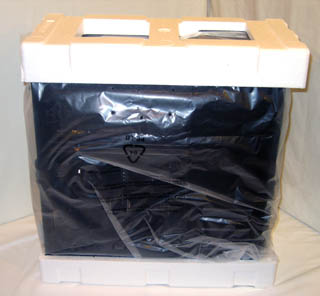 Cooler Master calls the look of this case a "fully-rugged" appearance. Personally the first thought we had was that it was more of an industrial-grade themed design that wasn't feeling the least bit embarrassed about its genetics. With the side vents, the huge visible 230mm intake fan, and general design of the steel side panels this case is not afraid to make a bold statement.
Don't let the images fool you, this case is imposingly large. Just to get a feel for the size place two 120mm fans side-by-side; this happens to be the exact size of the side panel fan seen above. It is also almost the same width as the entire case, which happens to be more than a few millimeters wider than the Antec P182! In far warning this case is approximately 20-30mm wider than most cases, but it actually puts the extra space to good use.
The front of the case is mostly comprised of a black metal mesh facade that blends in well with the plastic bezel. As a nice touch, each drive bay cover is designed to be effortlessly removed by pressing two fingers on either side of the bezel, meaning it only takes seconds to swap devices into different bays and no fighting to remove the cover is necessary. While there are a total of 7 drive bay covers, the lowest one hides a 3.5″ floppy bay and cannot be used as a 5.25″ bay. As long as your 3.5″ device is black, a matching mesh bay cover is provided in the accessories as to not ruin the look of the case.
All of the switches and front-panel connectors are located at the top closest to the user and within  easy reach. There are four USB ports, one firewire port, an eSATA port, mic-in port, and headphones port to choose from.
Just above the power and reset buttons there is a recessed area for holding objects. The mat inside is pure silicone; if you have ever held one of those silicone pot holders before then you know exactly we're talking about. It should keep any objects from rattling against or scratching the plastic underneath, but its purpose is two-fold. If you lift up on the silicone mat there is also a "fill port" which allows direct access to the top 5.25″ drive bay, presumably to allow watercooling users easy access to filling up and topping off a reservoir or T-line.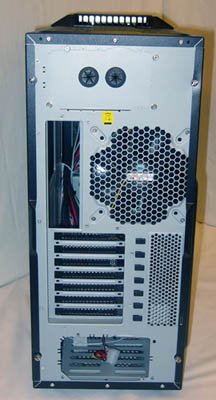 Again the photo really makes the case seem smaller than it is. Here we can see the 140mm fan on the back, with the optional mounting holes drilled for the 120mm fan visible. The most notable feature visible here is that this case can house two power supplies, although both mounting positions come with caveats we will get to on the next page. Besides the black mesh PCI brackets Cooler Master provides a switchable, screw-in plate for the unused PSU cover, complete with two rubber pass-throughs for watercooling enthusiasts.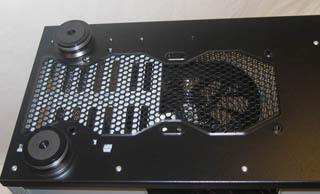 Lastly, flipping the case upside-down we can easily see the feet. The case is supported on nice looking but plastic screw-on feet, the underside of which does have a layer of basic foam applied. What makes these interesting is that beneath them are four pre-drilled holes should the user wish to switch the coaster feet to swivels wheels, which are included in the accessories box.
Also we can see the two honeycomb grills which allow for a bottom mounted PSU to draw in air, or if users prefer two 120mm fans can be installed here instead or the power supply for even more airflow.
A CLOSER LOOK: ACCESSORIES, INTERIOR
Accessories
Before opening up the case lets take a look at the included accessories. In addition to the expected bag of screws, standoffs, and instruction manual, Cooler Master has thoughtfully provided a few extras. The HAF-932 comes with a specially cut front bay cover in case the user needs to use the 3.5″ bay, an EPS 12V extender cable (which will work fine for 4-pin AUX connectors as well), and a bag of optional coaster wheels. After using this case for a short time we can see why both the extension cable and wheels were included!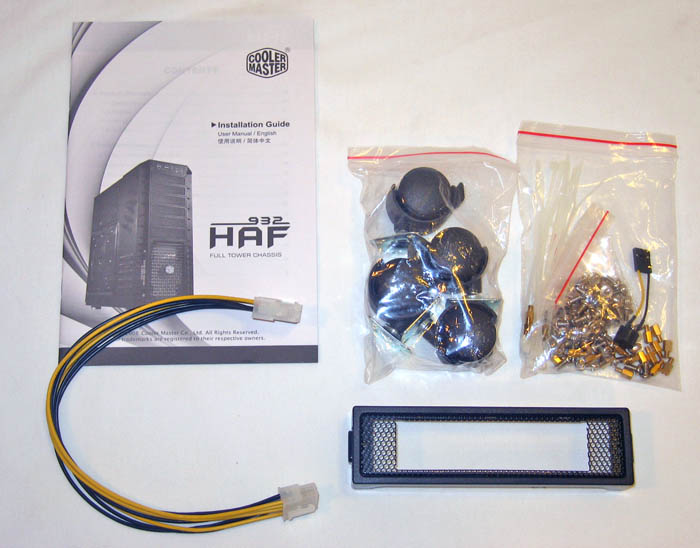 A Closer Look: Interior
The case side panels by themselves comprise a significant portion of the weight of this case due to the thickness of the steel. Some users prefer the use of aluminum for cases due to the lighter weight but we do not really have a preference and leave this up to you.
To gain access to the case two thumbscrews must be removed, then each of the side panels will swing outwards on a hinge. Probably the first noticeable thing is the cutout in the motherboard tray to allow for CPU cooler backplates to be installed and uninstalled without having to remove the motherboard. That is always a very nice feature to have! Additionally thanks to the extra case width there is enough space behind the motherboard tray for easy cable routing, and regardless of whether the PSU is mounted in the top or the bottom of the case cutouts are provided for easy cabling.
The main side panel uses a unique combination of large mesh for airflow and a plexi window for viewing down into the case without requiring the need to open it. Both side panels are a very heavy gauge of steel, and by our estimate comprise a significant portion of the case's weight by themselves.
This is getting to be clichéd, but again we must state the size of the honeycomb holes in the mesh appear much smaller than they actually are due to the sheer size of the 230mm fan! We can say we personally don't feel that they are overly restrictive on airflow, although we still wouldn't mind them being a bit larger for optimum airflow.
Moving on astute viewers may have noticed that the fan can be removed and four individual 120mm fans may be installed in its place. Whether users actually need this much airflow is a completely different question entirely. As a quick note we are happy to see Cooler Master is playing it safe; all three 230mm fans are natively 3-pin but come with an optional 4-pin molex adapter already attached.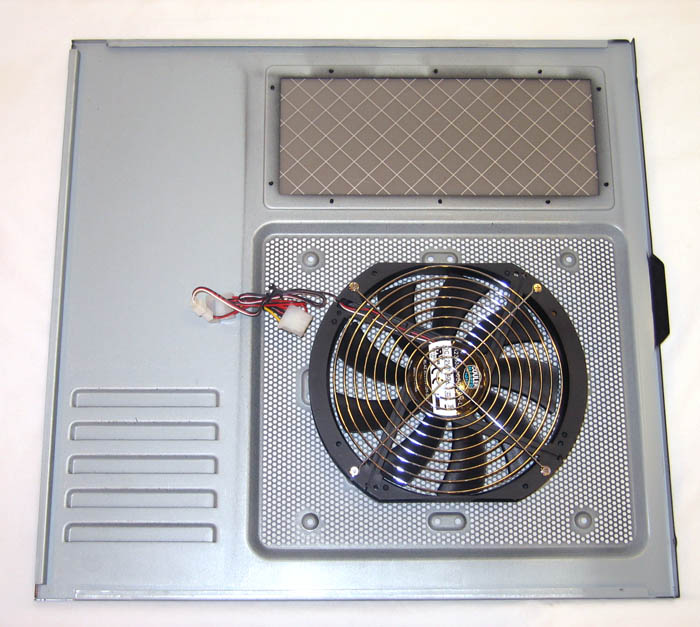 Also included with the manual is a folded standoff guide, because this case ships without any standoffs preinstalled. Make sure to not forget to install them, lest in your zeal to quickly complete that brand new rig you short out the motherboard instead!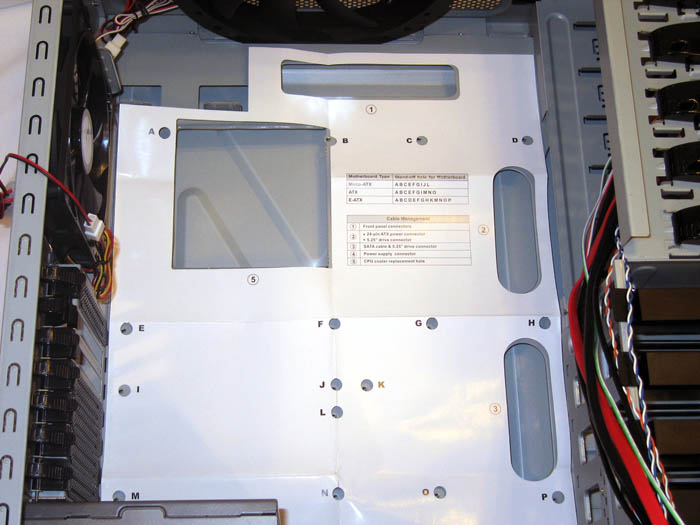 The HAF-932 case allows for five hard drives to be easily mounted thanks to a unique latching system. Each plastic tray uses rubber grommets to isolate the drive and absorb vibration, but they also are configured to allow for very quick drive installation or removal. Each grommet has a metal prong that slips into the screw mounts of the drive, and they surprisingly hold the drive very securely enough to prevent drive vibration.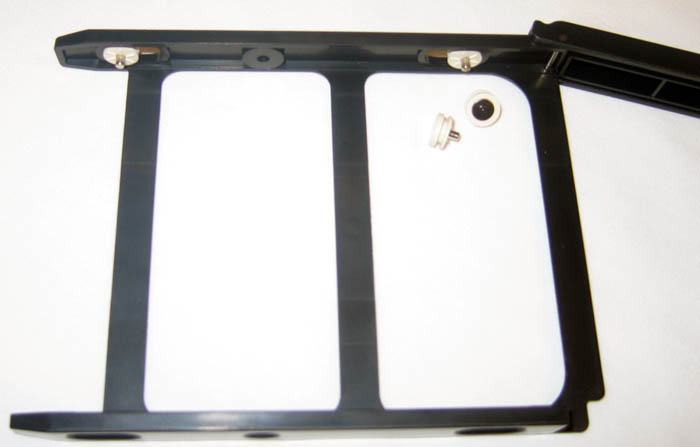 Once installed just slide the tray into the rack, and with a quick turn of the lever the drive can be locked into place in the case. Admittedly we were rather dubious of both the durability and the effectiveness of this system, but after we tried it a few times we have to say we no longer would give it a second thought. It has to be the simplest, yet most elegant tooless solution we have seen to date for installing the hard drive. Our only concern is that due to how the system works plastic is a necessity, so exerting too much force WILL snap the drive tray. For the price of this case we might suggest that Cooler Master include an extra drive tray just to play it safe.
Just visible in the first image is also the locking mechanism that is used to secure CDROM devices in place. Again Cooler Master came up with a viable solution, instead of a gimmicky piece of plastic that clips into the side of the cage these are designed to not be removed. Slide the CDROM or device into position and simply press the very mechnical button, and metal prongs will extend similar to how the HDD's are secured. This button is mechanical and spring-loaded, giving it an overall nice solid feel. If you enjoy pressing people's buttons then you'll enjoy this one too.
In the second image above we can see that the 7th, bottom drive bay is designed for 3.5″ devices only. This 3.5″ tray can be removed to install around the device and then locked back into place.
Despite the excellent forethought Cooler Master has put into the design of the HAF-932, one thing that was overlooked was making a cutout for the front panel cabling! Instead of wrapping around the drive cage users will be forced to route these cables through the cage, although even with a CDROM drive installed in the top bay there is more than sufficient room for the cables.
If users ever did wish to make use of the water fillport feature, we assume you would agree you would rather your cabling not be remotely in the way while you are pouring water into your resovoir! It would not be hard to imagine the cables shifting enough to have water get on them during refilling, and then droplets of water running down the length of the cables directly to your motherboard…
From left to right we have the firewire, two USB, HD audio, AC'97, SATA, and lastly the LED and power switch connectors for the front panel. Interestingly the yellow connector is for HD Audio and happens to be a different pinout than the traditional AC'97 plug. But by providing both, Cooler Master has ensured users have the best choice depending on their sound solution. The SATA connector is for the front eSATA port, which being a standard internal SATA plug is not powered.

Continuing the interesting tooless solutions that actually work (and I wouldn't mind having in my own personal case!) here are the PCI slot latches. After testing with an 8800GTS 320mb we can confirm these allow screwless but secure installation of even dual-slot GPUs. All cards were held fully immobile, and the latches lock solidly into place to prevent an unintended release. For those that prefer old-school methods screws can still be used instead should users wish. The brackets themselves are a black, metal mesh design.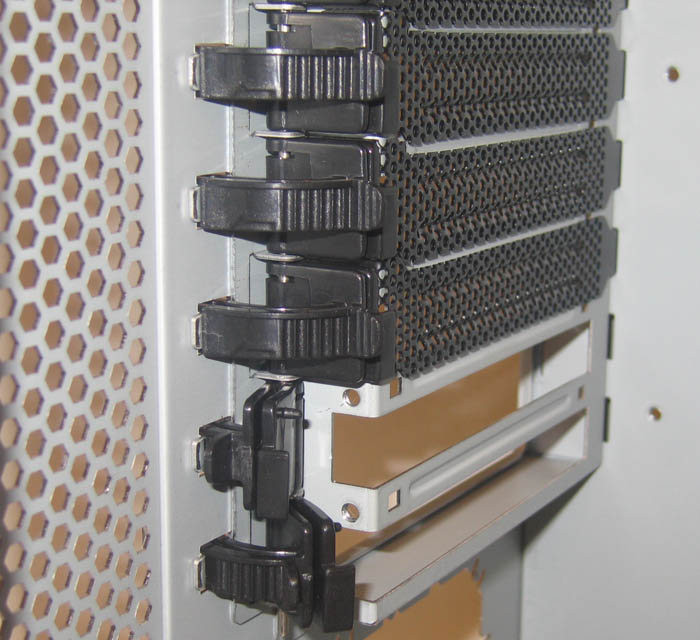 Lastly, in the below image something else we need to mention is if choosing to mount the power supply here verses the top of the chassis, due to the cutout on the case most power supplies will be required to be mounted with the fan pointing down.
Cooler Master built an extendable tray to support a lower mounted PSU or any size, allowing for ample breathing room regardless of the PSU fan's position. We must critique the decision to not invert the PSU cutout or to forgo a reversible plate here, as we certainly wouldn't want our power supplies sucking up the results of last night's gaming marathon let alone dust or bits of carpet. Use of a filter would mitigate most of this but no filter is included, and even if it was the effort of a PSU fan to draw in filtered air would create fan noise and raise the PSU's temperatures.
Considering the limitations on PSU positioning we just mentioned, this is probably one of the largest issues that will irk unwary customers. As mentioned before users do have the option to remove this tray in order to install two 120mm fans, should they choose to mount the power supply at the top of the chassis.
But of course if you mount the PSU at the top of the case, then the top 230mm fan must be uninstalled, hardly an ideal solution. So our advice if purchasing this case users will likely be happier using a power supply that places the fan at the front or back of the PSU rather than a large fan located on the underside of the PSU.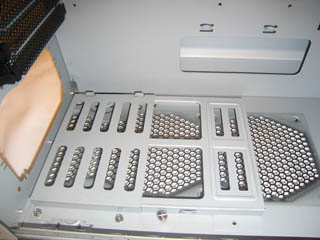 INSTALLATION, ACOUSTICS
Installation
For testing here is the following setup we installed into the Cooler Master HAF-932 chassis:
Test Platform

Processor

Intel Core 2 Duo E6300 1.86GHz @ 2.8ghz

Motherboard

Gigabyte GA-965P-DS3 Rev 1

Memory

Corsair DDR2-800mhz 2x1GB

Drive(s)

Hitachi Deskstar 200GB IDE

Lite-On  DVD+/-RW SATA

Graphics

FOXCONN 8800GTS 320MB

Cooler

Arctic Freezer 7 Pro

Power Supply

Antec NeoHE 550watt
First thing we noticed during the install is that the included standoff chart didn't align correctly with our specific choice of motherboard. It doesn't hurt to say again individuals will need to be careful when installing those standoffs!
This is a live shot as evidenced by the glowing front fan. As can clearly be seen there are still gads of room left. Any length GPU is going to fit in this case beyond a doubt. Also side panel fan clearance has typically been an issue with super-large side panel cases, but the additional width of this case ensures this is not an issue here. Several inches of space left between the side panel fan and the graphics card should users wish to use aftermarket coolers or need room for watercooling hoses for the graphics card.
Cable management is very easy with the HAF-932 so even I had to give it a try (viewer discretion is advised). Even the troublesome EPS12V connector was able to just reach without requiring the included extender cable. Our only issue was no cutout was provided to route the front panel connectors around the front bay cage instead of through it, as you can see.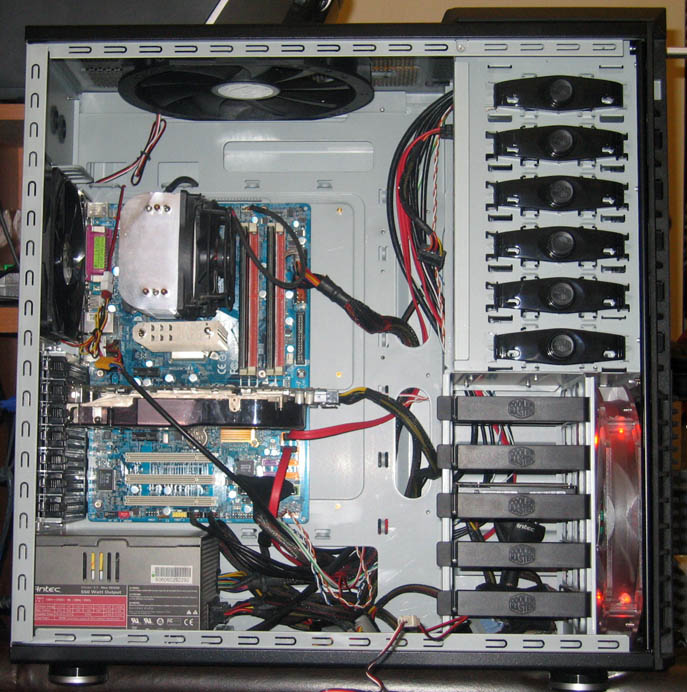 Such a tiny motherboard…
This cutout in the motherboard tray is almost a must have feature for anyone that forgoes using Intel's stock cooler, because most high performing aftermarket coolers are going to require access for a  backplate.
While this specific motherboard doesn't quite line up, the overall majority of LGA775 motherboards should have no issues matching with this large cutout. The soon to launch X58 boards should also work fine, but we certainly wouldn't bet on Intel's DX58SO Smackover board lining up.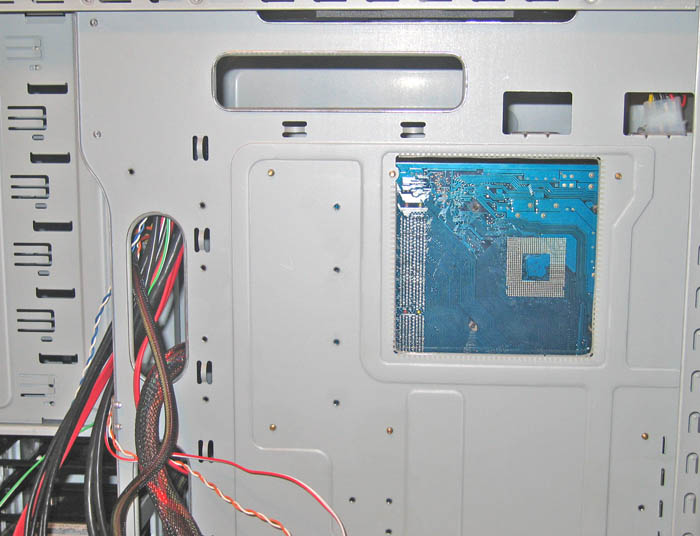 Front panel connectors must be routed through the drive bay cage.
Acoustics
No case review would be complete without a section on acoustics. Unfortunately as we lack a decibal meter the results here are going to be purely qualitative instead of quantitative. In other words, you are going to have to take our word for it!
Due to the sheer size and number of fans we were reluctant to power on the case without donning any sort of areospace-grade ear protection first, but a push of a button later we were surprised to find out our fears were completely unfounded. This case may have "high airflow" in the name but it does not require high-speed fans to accomplish this feat. As these 230mm fans are so large they only need to turn around 700rpm, about half or even less RPM than a comparable 120mm fan would require to generate the same airflow (CFM). 
As the old adage goes nothing is perfect, and the large mesh along the top of the case comes with two drawbacks. If you install a noisey CPU cooler or GPU you are going to hear it clear as day. This case is designed to maximize airflow in silence, which means it will be unable to muffle any loud components you choose to install. This case is best those those users specifically wishing to build a silent computer with silent components, or those that don't care about noise much at all.
CONCLUSION
So, how does the Cooler Master HAF-932 stack up? Surprisingly well, we are admittedly impressed with how thought out and implemented many of the tooless features are and how well they function. A tooless design is not advertised as the main attraction of this case, but we strongly feel Cooler Master has done a much better job with their design than most purported "tooless" cases!
Not everything about this case is as carefully thought out though. No holes were cut in the drive bay cage to allow proper front panel cabling management. This forces anyone that plans to use a resovoir and the case fillport to be extremely careful during refilling, and everyone else to route these cables over installed drives into clear view before they can be tucked behind the motherboard tray out of the way. Also the bottom power supply mount is configured as to force most power supplies to point their large-fans down, literally breathing carpet or dirt from the floor. Users still can elect to mount PSU in the top mount instead, but only if they are willing to uninstall the top 230mm fan! We feel this design issue could of easily been avoided with a little placement shuffling, a reversed PSU cutout on the bottom, or even just an extra inch of case height.
One thing we have waited to mention till now is the price. As of this writing this case can be found at $160 online. While not everyone will agree on prices we feel this is a little on the high side of the scale, but we will mention that unlike most cases this particular case comes with everything you need. Specifically not a single additional fan is needed or even possible without uninstalling something.
The maximum number of 120mm fans this case is designed to hold is 11. If you consider that this case does not ship with a single 120mm fan and does not need any fans added, we think it makes this figure amazing. Cooler Master has endeavored to address the shortcomings with most large fan-based case designs by both using better quality fans, yet still allowing the customer to choose from many different fan configurations.
One of the largest strengths with the Cooler Master HAF-932 is the airflow, and the silence. This case is dead silent except in the quietest environments, yet there is still plenty of airflow to keep even a high-end enthusiast computer well cooled. This case will not muffle loud hardware, so if the hardware sounds loud in an open-air testbed then it is going to be just as loud inside this case. Even so with a little prior planning this should not be an issue.
The hybrid plastic and steel construction does leave this case with a slight cheap feeling, but that is it. The plastic components are well designed, nothing rattles, and all of the tooless features work exceptionally well and should hold up fine under normal use. The Cooler Master HAF-932 is a solid, well-built case that we do not hesitate to recommend on the sole condition none of the few shortcomings pose a problem with your expected build!
Pros:
+ Working Tooless Design
+ Good Airflow
+ Silent Operation
+ Better Quality Fans / Option to Switch with 120mm Fans
+ Easy Hardware Installation/Maintenance
Cons:
–  Lower PSU Mount Fan Positioning
–  Top PSU Mount / 230mm Fan Issue
–  Front Panel Cable Routing
–  Price

Final Score: 8 (Very Good) out of 10 paws and the Bjorn3D Seal of Approval!