Swiftech has been a leader in Watercooling for a very long time, we're lucky enough to bring you the Swiftech MCP655 12v DC adjustable Pump.
INTRODUCTION
Central Processing Units tend to run really hot when you're overclocking. There are some really good air cooling solutions available out there, but for some of us it's just not good enough. Wanting to squeeze every last drop of performance out of a piece of equipment drives us. Running thermoelectric solutions leads to really exhaustive moisture prevention control methods that most of us just don't want to deal with. A viable alternative to air cooling and thermoelectric cooling is water cooling.
Water cooling is a little more expensive than air cooling, but with that extra expense comes extra performance. Having tested a lot of "out of the box" solutions, we've never found an out of the box solution that can match the performance of a "Do it Yourself" water cooling setup. One of the most critical components of water cooling is the pump. Too small of a pump and the coolant moves too slowly and heat builds up. Too large a pump and the water moves too fast and the radiator doesn't get a chance to remove the heat. So how do you find a pump that fits your needs without going through a stack of pumps?
Swiftech solves that dilemma with the MCP655 12v adjustable pump. Capable of blasting 1200 L/hr through your cooling system, you have the capability to scale that down to meet your specific needs.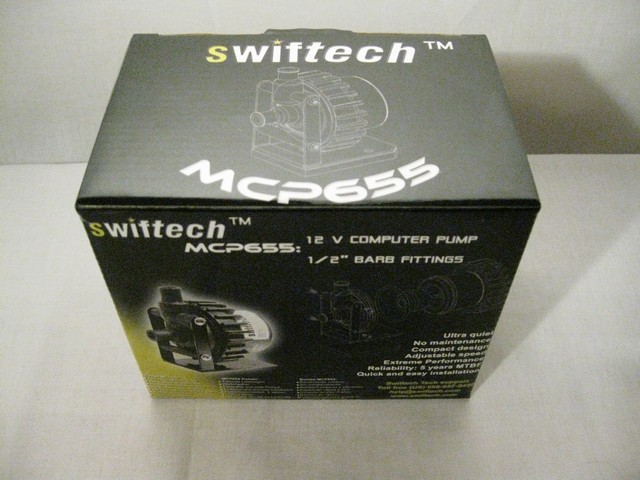 About Swiftech
Founded in 1994 by Gabriel Rouchon, Swiftech™ has emerged in the last seven years as one of the leading forces driving the high-end thermal management scene in the personal computer industry.
Pioneering work, innovation, and an uncompromising dedication to high performance and quality have resulted in award winning products setting standards for others to follow.
Swiftech was established in 1994 and incorporated in 2001. Its sales skyrocketed in early 2001 following the release of the MC370 line of heatsinks. Reviews of the heatsink in the Internet Press propelled Swiftech into the limelight as the number one source for high-performance heatsinks in the aftermarket computer parts Industry.
FEATURES & SPECIFICATIONS
Features
50,000 hours MTBF (Mean Time Between Failure) equivalent to 5 years lifetime.
Superior 12 Volts DC convenience: plugs into the computer power supply
The MCP655™ can be used with full confidence in any MP servers, and high-end workstations.
Superior real world performance
High pressure capability of the MCP655™ is particularly well adapted to high-flow systems using 1/2″ ID tubing
Pump speed can be adjusted to yield top performance or virtually silent operations (model MCP655 only)
Compact Design.
Quiet operations even at high speed thanks to new chipset controller
½" Barb fittings.
No maintenance when used with de-mineralized water, and anti-fungal additives (Our HydrX™ additive is recommended)
Quick installation with adhesive neoprene pad, or permanent installation with thru-bolts.
Specifications
Technical Specifications
Swiftech MCP655 Pump
Nominal voltage
12 V DC
Operating voltage range
8 to 24 VDC
Nominal power (@ 12 V)
24 W
Nominal current (@ 12 V)
2 amps
Motor type
Brushless, microprocessor controlled
Maximum head
10 ft (3.1 m)
Maximum discharge
~ 317 GPH (1200 LPH)
Connection size
½" barbs
Maximum pressure
50 PSI (3.5 BAR)
Temperature range
32 °F to 140°F (0 °C to 60 °C)
Electrical connector
Molex 4 pin
Weight
1.4 LB (650 gr.)
Impeller Housing material
Noryl®
Adjustable Flow Chart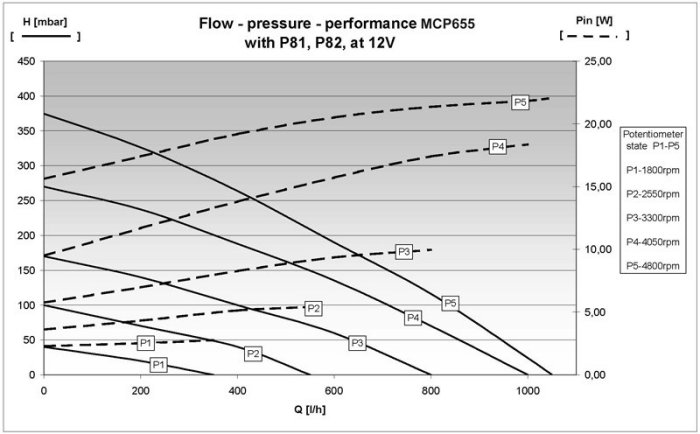 To make the chart a little easier: (Approx Amounts)
Setting 1 – 380L/hr
Setting 2 – 550L/hr
Setting 3 – 800L/hr
Setting 4 – 1000L/hr
Setting 5 – 1200L/hr
It's easy to see how flexible the Swiftech MCP655 is, scaling from 380L/hr for light surfing to 1200L/hr for heavy duty gaming and benching. It offers the flexibility of multiple pump setups all in one compact package.
PICTURES & IMPRESSIONS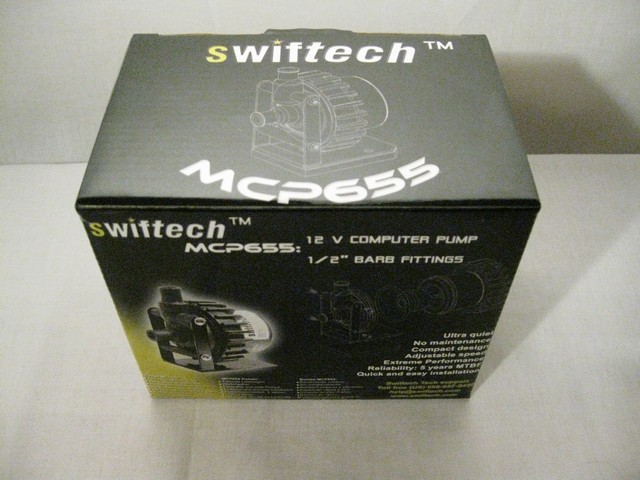 The Swiftech MCP655 comes in a small black box with more features and technical specification than we thought possible to fit on that small of a package.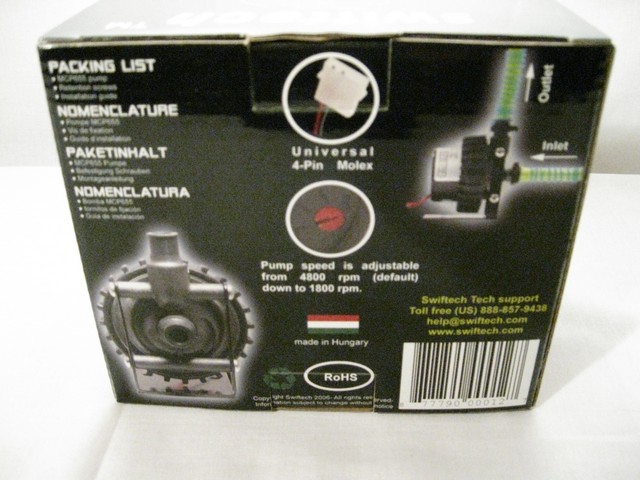 Swiftech is, of course, an internationally renowned company, so the information is presented in multiple languages.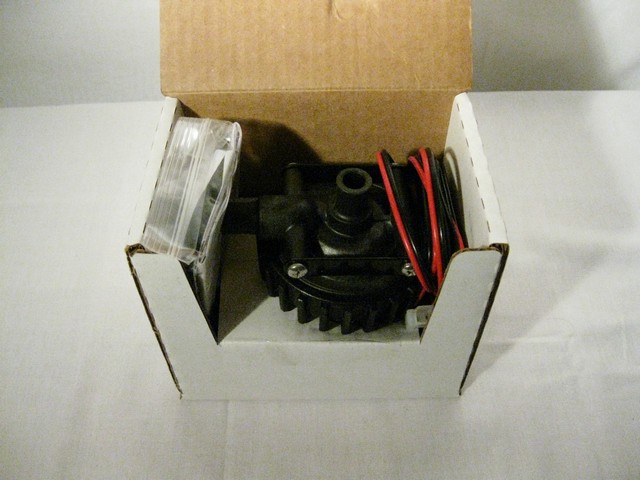 Inside the box you'll find the MCP655 and a neoprene pad and a couple of bolts suitable for mounting the pump. Take note though, we installed the pump initially with it just setting on the bottom of the chassis and ran it as high as 1000L/hr. It was whisper quiet and operated with no vibration or other pesky noise.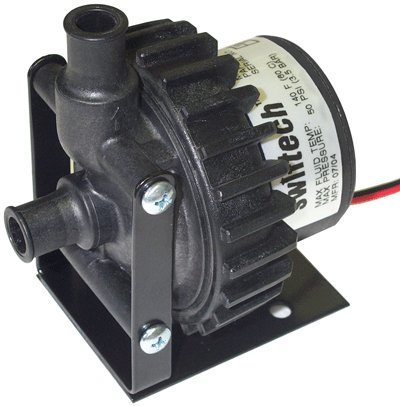 The minute you take it out of the box the pump's looks tell you that its no pump to be taken lightly. As soon as we saw it we tossed our quick clamps into a baggie and headed out to the hardware store for some high quality worm drive clamps.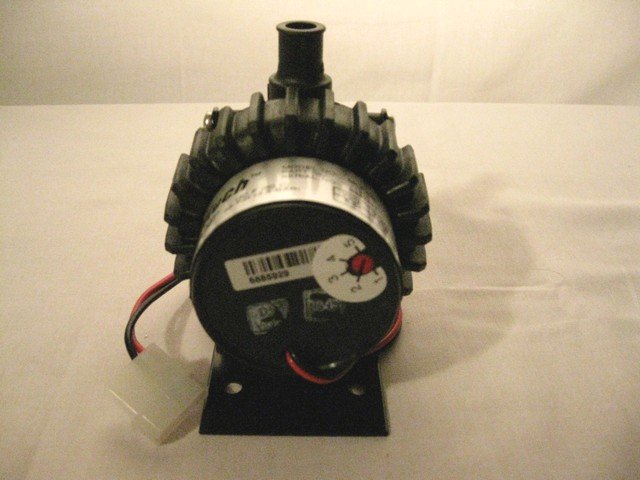 On the back of the pump you can get a look at the adjustment screw. You also get a look at the standard molex connector used to power this water moving marvel.
TESTING & METHODOLOGY
To test the Swiftech MCP655 we had to break out the big guns. We broke out our Thermalright Ultra 120 with an 83CFM high pressure Yate-Loon fan on it and we used our Swiftech MCP350 500L/hr pump with an identical Swiftech MCR360 triple 120mm fan radiator. Both setups used the Swiftech Apogee GT Extreme Performance CPU water block. The only difference in the two setups are the pumps and that the MCP350 setup requires 3/8 inch inner diameter hose and the MCP655 requires 1/2 inch inner diameter hose. All the fittings on the MCP350 were 3/8 inch barb high flow fittings from Swiftech, and all the fittings on the MCP655 setup were Swiftech high flow 1/2 inch barbs.
We ran Prime95, looping continuously driving all four cores on the Q6600 (vcore 1.4875) for a half hour, then took temperature readings using the latest version of Core Temp and CPUID HWMonitor (which matched almost exactly). We continued to run the system another 30 minutes, and recorded the temperature again. This was repeated three times for each cooling setup with a cool down time of 30 minutes between each test. The results of those three readings were then averaged and reported here.
Test Rig
Test Rig
"Quadzilla"
Case Type
Thermaltake Armor ESA
CPU
Intel Q6600 @ 3.6 Voltage 1.4875 vcore
Motherboard
EVGA 790i
Ram
OCZ DDR3 2000 MHz
CPU Cooler
Swiftech DIY Watercooling
Pump – 1 – MCP350
Pump – 2 – MCP655
Radiators – 2 – Swiftech MCR360
Reservoir – 2 – Swiftech Micro Res
Water Block – 2 – Swiftech Apogee GT
Appropriate 3/8 and 1/2 inch hoses and fittings
Thermalright Ultra 120 Extreme 83CFM Fan
Hard Drives
WD 250 Gig Sata 2
Two Maxtor 160 Gig Sata2
Optical
Sony DVD R/W
GPU
Leadtek GTX-260
BFG GTX-260 OCX MaxCore
In SLI
Case Fans
Two 120mm Thermaltake Front/Rear Push/Pull
250mm Side fan
90mm Rear Exhaust
90mm Top Exhaus
Docking Stations
Tagan IB290 W/Deskstar 2 1/2 Inch 80 Gig Sata 2
Tagan IB390 W/Maxtor 160 Gig Sata 2
Thermaltake BlackX USB W/Seagate 80 Gig Sata 2
Testing PSU
Thermaltake Toughpower 850 ESA Modular
Legacy
Floppy Drive
Mouse
Razer Lachesis
Keyboard
Razer Lycosa
Gaming Headset
Razer Piranha
Speakers
Logitec Dolby 5.1
Any Attempt Copy This System Configuration May Lead to Bankrupcy
TESTING RESULTS & CONCLUSION
Testing Results
CPU Temperatures
Q6600 3.6 GHz Vcore 1.4875
Maximum Setting
Idle
Load
30 Minutes
Load
1 Hour
TRUE 120
40°C
51°C
55°C
MCP350
36°C
49°C
51°C
MCP655
32°C
41°C
42°C
MCP655 Settings
Q6600 3.6 GHz Vcore 1.4875
MCP655 Settings
Idle
Load
30 Minutes
Load
1 Hour
1
38°C
51°C
53°C
2
37°C
50°C
52°C
3
36°C
48°C
48°C
4
34°C
44°C
45°C
5
32°C
41°C
42°C
As you can see, the MCP350 pushing 500L/hr with its 3/8 inch hose and fittings were beating the Thermalright Ultra 120 and the MCP655 with the MCP655 set on setting #1. That quickly changed.
Turning our attention to the Swiftech MCP655, it was beating the idle temperature of the Thermalright Ultra 120 Extreme but only matching it on setting #1. As soon as we started kicking the pump up though, its settings took and maintained the lead easily. By the end of the test, we were 13°C lower than the TRUE 120 and 11°C lower than the MCP350. The numbers might seem small, but that's extra headroom for overclocking. We like extra headroom.
Conclusion
There will always be a debate between air cooling people and water cooling people. Air people will always say they're afraid of the coolant. Water people will always say that non-conductive cooling fluids are available. Air cooling people will say that air is good enough. Water cooling people will say that air is never good enough.
It's not a debate we are going to engage in. It is what it is. We got better results with an entry level water cooling setup with a 500L/hr pump on a triple radiator than with one of the best (if not the best) air coolers out there. When we moved to the Swiftech MCP655 adjustable pump, things got even sweeter. At the lowest setting it almost matched the MCP350. As soon as we kicked things up a notch, it outperformed the MCP350 and never looked back.
Operation of the MCP655 was vibration and, almost, noise free. With the side on the chassis, we couldn't hear the pump. And with the side off of the chasis and with Velcro the only thing holding the pump in place, we could barely hear it at all.
We did manage to kick the MCP655 up to setting #5 a little too soon and created some green latte foam in our reservoir. As soon as we got all the air out of the system that problem quickly went away. Setting #5, if you're planning on going that high, requires a little design forethought in keeping the curves smooth. We've had experience with high pressure pumps so that wasn't an issue for us.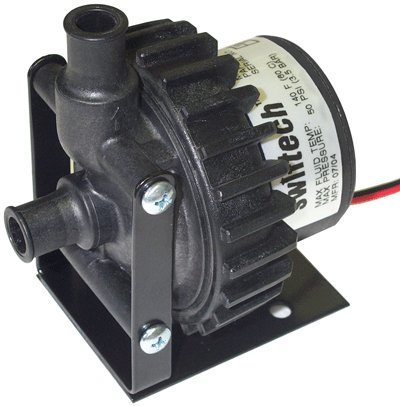 Pros:
+  Great Performance
+  Extra Headroom For Overclocking
+  Vibration Free
+  Looks Like It Means Business
+  Coolness Factor
+  Green Latte Foam Looked Cool
Cons:
–  Not Getting One Sooner
The Swiftech MCP655 took a good water cooling setup and made it a fantastic water cooling setup. It gave us a respectable amount of extra overclocking headroom!
With the performance that the Swiftech MCP655 offers, we have to give it:
Final Score: of 9 out of 10 and the Bjorn3D.com Seal Of Approval.