This is a Sapphire ATI 4850 with a dual slot cooler. It has 512 MB of lightning fast GDDR3, along with 800 stream processors to deliver graphics that are unparalleled in its class.
INTRODUCTION
Long removed from the days of the 2900XTX, ATI has had a rebound, starting with the 3800 series and now with the 4800 series. ATI has done a turn-around that hasn't been seen since the GeForce 6 days. They have even gone so far as to take back the performance crown from Nvidia. Today, we are privileged enough to have the Sapphire HD 4850 Dual Slot Fansink, which goes head-to-head with the Nvidia 9800 GTX. The HD 4850 takes the place of the 3870 from ATI and the 8800 GT from Nvidia in the lower high-end market.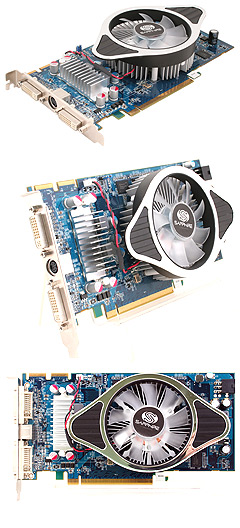 About Sapphire
Welcome to the SAPPHIRE Family

Pioneers in a new era of how data is displayed and games are played, Sapphire shepherds the performance oriented with ground-breaking solutions to an environment that remains in a constant state of flux and ultimate evolution. For over ten years Sapphire has held true to its unwavering commitment, the commitment to deliver the most feature rich and soundly engineered products. Because of Sapphire's firm position on achieving excellence with each product that leaves our ISO9001 and ISO14001 certified factories, you can rest assured that your customers will recognize YOUR commitment to selling only the highest of quality components.

Since ATI announced its manufacturing & distribution relationships with ODMs and AiBs in June of 2001, SAPPHIRE has been THE key ATI Graphics Boards Supplier worldwide and now stands poised and ready to capture the mainboard audience of those who seek a stable platform for their mission critical operations.

All SAPPHIRE ATI video boards are manufactured under 100% ATI production criteria including QC and outgoing system. Our monthly video board production capacity can reach a lofty 1.8 million and often topples this landmark figure. Our factory has always been the major manufacturer on ATI boards for most of the top ten tier 1 OEMs worldwide. With this background, you should undoubtedly be guaranteed of the impeccable quality, production capacity and product reliability of all ATI video boards and mainboards from SAPPHIRE. Be they business oriented or something just off center of the crosshairs, Sapphire has a solution for you and we look forward to an exciting and prosperous relationship with you!
FEATURES & SPECIFICATIONS
Specifications
This table shows the GPU's in the same general segment and the different stats of these cards.
GPU

GPU Frequency

625 MHz

777 MHz

625 Mhz

Memory Frequency

900 Mhz

2400 Mhz

993 Mhz

Memory Bus Width

256-bit

256-bit

256-bit

Memory Type

GDDR3

GDDR4

GDDR3

# of Stream Processors

112

320

800

Texture Units

56

16

40

ROPS

16

16

16

Bandwidth

57.6

72

63.6

Process

65nm

55nm

55nm
If you just look at the table it looks like the HD 4850 would be the winner, followed by the HD 3870. We will see what card wins when we start the testing.
We like to do a GPU-Z screen shot so we can verify that the card matches the manufacturers stated specifications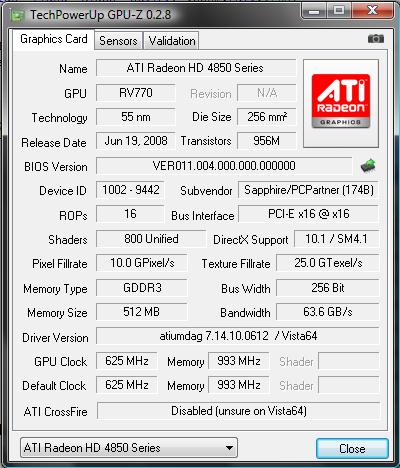 The manufactures specifications are right.
FEATURES
Redefine HD Gaming
The ATI Radeon HD 4850 Series GPUs deliver a cinematic gaming experience with unprecedented performance. The powerful new TeraScale graphics will propel you deep into your gameplay with seamless frame rates and high resolutions. Enhanced anti-aliasing (AA) and anisotropic filtering create striking graphics with unparalleled realism so you can max out the settings of the most demanding next-generation games or revitalize your favorite titles. Play today while preparing for tomorrow with tessellation, support for DirectX® 10.1 and scalable ATI CrossFireX™ technology.
TeraScale Graphics Engine
The powerful new TeraScale graphics engine features deliver high resolutions and fast frame rates.
Enhanced Anti-Aliasing & Anisotropic Filtering
High performance anisotropic filtering and 24x custom filter anti-aliasing (CFAA) smooth jagged edges and create true-to-life graphics, for everything from grass to facial features.
DirectX 10.1
Play today while preparing for tomorrow with state-of-the-art DirectX 10.1 graphics capabilities.
ATI CrossFireX™ Technology
ATI CrossFireX™ technology with up to quad GPU support offers superior scalability so your system is ready to level up when you are.
PCI Express 2.0
Support for PCI Express 2.0 will prepare you for bandwidth-hungry games and 3D applications.
Power to Spare
This GPU has the brute processing power needed for physics, artificial intelligence, stream computing and ray tracing calculations.
Go Beyond HD Video
Add an ATI Radeon HD 4850 Series GPU to your PC and watch the latest Blu-ray and HD movies play with incredible fidelity –upscale to nearly twice the display resolution of HD content.* Take full advantage of Blu-ray functionality with dual-stream, picture in picture (PIP) capabilities. Sophisticated new features within ATI Avivo™ HD technology provide a truly responsive experience. Support for the latest audio visual interconnects ensures you can take advantage of the latest display technology.
Unified Video Decoder 2
Unified Video Decoder 2 frees up your CPU for other tasks so you get The Ultimate Visual Experience™ for even the most processing-intensive content, including VC-1, H.264 and now MPEG-2. Also, take full advantage of Blu-ray functionality with dual-stream, picture in picture (PIP) capabilities.
Upscale Beyond 1080p
Watch the hottest Blu-ray movies or other HD content at full 1080p display resolution and beyond.
On-chip HDCP
On-chip HDCP (High-Bandwidth Digital Content Protection) makes life easier by allowing you to playback HDCP protected content.**
HDMI
Enjoy the latest audio technologies using HDMI with 7.1 digital surround sound support. Also, xvYCC support allows the user to enjoy a wider range of color when connected to a capable HDTV.

*Note: HD capable monitor required
** Note: Playing HDCP content requires additional HDCP ready components, including but not limited to an HDCP ready monitor, Blu-ray or HD DVD disc drive, multimedia application and computer operating system.
Break-through Efficiency
Like its predecessors, the ATI Radeon HD 4850 Series GPUs offer optimal performance and break-through efficiency with platform-independent intelligent power management. ATI PowerPlay™ delivers the power needed to blaze through even the most intense games while intuitively conserving energy at idle or when demand is low.
ATI PowerPlay™ Technology
ATI PowerPlay™ Technology delivers high performance when needed and conserves power when the demand on the graphics processor is low.
Energy Efficient Manufacturing Process
Second generation 55nm chip uses the industry"s most energy efficient manufacturing process.
PACKAGING & BUNDLE
Packaging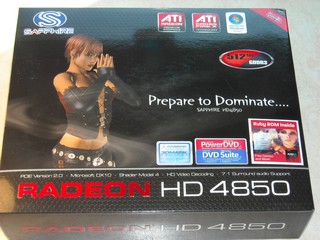 Front of HD 4850 box
One thing to note on the package is that Sapphire only mentions DX10. Sapphire, for some reason, decided to not include that the HD 4850 features DX10.1, which isn't currently supported by Nvidia cards, but drasticaly improves AA performance.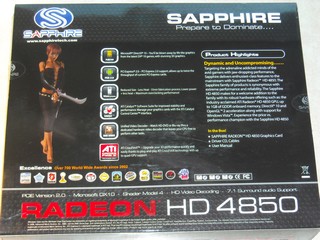 Back of HD 4850 box
Once again, no mention of DX10.1, but they show a variaety of the cards features. This includes the basic features such as the die size of 55nm and PCIe 2.0.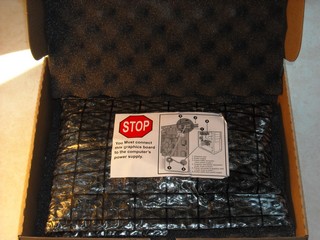 Inside of HD 4850 box
The card is padded very nicely with foam, but it also has non static bubble wrap to keep it extra safe.
The Bundle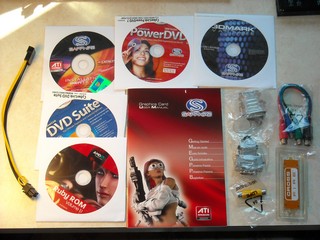 Extras
The HD 4850 came with a variety of software, includeing 3DMark Vantage. For those of us who don't have a PSU with a 6-pin PCIe power connector, Sapphire provides a 4 to 6-pin adapter.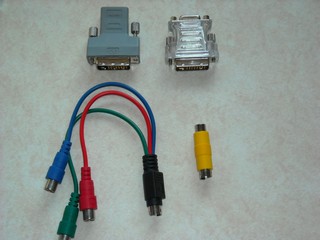 Wires & Adapters
Sapphire also included a assortment of different adapters so you can use a monitor or TV with HDMI, Component, VGA, or Composite Video.
Also a part of the packaging is the company's warranty. This is Sapphire's warranty as stated by the company:
Sapphire VGA products carry a 2 year warranty with all enquires carried out through your initial place of purchase. This can only be carried out by the original purchaser Please contact your Dealer/Reseller for Warranty / RMA service. They will require proof of purchase which includes the original invoice/documentation.

 
 

1.

Product Warranty will not be valid  even if returned after purchased for the following cases:

 

 

Products  that are defaced or physically damaged and modified by customer.

 

Products  that become non-functional due to customer improper use.

 

Products  that cannot be verified as Sapphire products.

 

Products  that do not have a matching serial number between the product and the original receipt.   

 

Products  not sold from our official distributors or resellers.

 

2.

GPU or ASIC device (VGA) is sensitive to thermal (heat) issue. The heat sink or fan is designed to meet the requirements for reliability of the product and the  warranty is rendered invalid if the product is dismantled or the heat sink or cooler fan are removed as this may causes damage to the GPU or ASIC device . Non-compliance will cause the warranty of the product to be void and repair will be at the users cost.

 

3.

Currently Sapphire does not directly provide any warranty extensions. Please contact your reseller or distributor for any 3rd party warranty extensions that may be available through them. Any extensions provided by the reseller are independent of Sapphire.

 

4.

All replacement product may include new, reworked or refurbished product and parts.

 

5.

Any repaired, replaced or exchanged products will be covered for the period  of the original warranty.

 

6.

Sapphire  reserves the right to change this policy without advance notice.

 

General Card Specifications can vary due  to component availability.

NB: Warranty may vary from Country/Region and the customer must verify directly with the Sapphire Authorised Dealer/Reseller from where the product was purchased.
For any overseas return on RMA outside their normal warranty with their local supplier, the local RMA centre will apply a basic administration fee to cover the logistics return of the RMA items back and forth from Hong Kong.
PICTURES & IMPRESSIONS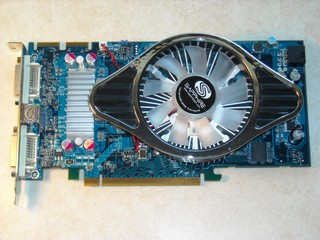 Top of HD 4850
At first glance you will notice that the layout of the card is different from a normal HD 4850. The mosfet has been moved towards the front and the GPU has been moved towards the back. This may have been done to allow a small sound card to be plugged into the slot that a dual slot cooler would normaly block. If you look real close, you can see that there is a copper block right over the GPU, which should help disipate heat.
Side of HD 4850
As you can, see this is a dual slot cooler, so make sure you dont have a card right below the HD 4850 that will interfere with the cooler. Since this cooler is a dual slot cooler, I beleive that we will see a higher overclock than what a normal 4850 can do.
Bottom of HD 4850
The back of this card looks standard. I checked the screws for the heat sink and they are tight and secure, so it should have perfect contact for optimal cooling.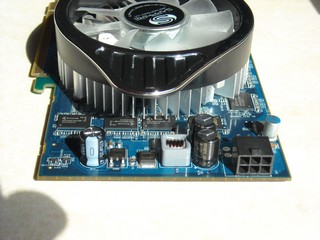 Back of HD 4850
This HD 4850, like all other HD 4850's has a single 6 pin PCIe power connector. One thing I would like to point out is that the RAM doesn't have heat any sinks, which could limit the overclock on the RAM.
Front of HD 4850
Two DVI ports have been a standard in all higher end video cards for awhile now, so it is only fitting that the HD 4850 has twin DVI ports. The card also has two Crossfire connectors, so you can hook up 4 of these cards if you so please.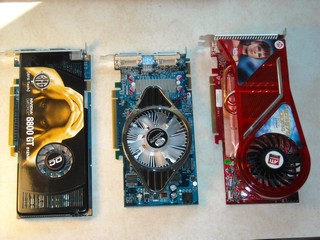 Comparison of HD 4850, 8800 GT, and HD 3870
Size wise, this card is a tad smaller than the 8800 GT and HD 3870. It also happens to be the lightest card of the bunch, probably due to the cooler not covering the whole card.
SYSTEM & METHODOLOGY
All the tests were done in 1280 x 1024 (1280 x 960 was used in F.E.A.R.) and 1600 x 1200. All of the tests were performed five times to ensure accuracy. Crysis was run with all settings on Very High with no AA or AF due to its huge demands. Company of Heros was tested with all settings maxed and Model Detail was set all the way to the right. F.E.A.R. was run with auto settings. The CPU was set to High and the Graphics option was set to Maximum. In World in Conflict the Graphic Detail was set to Very High. I used the Performance preset in Vantage, and the default settings for 3DMark06.
The Test Rig
 
Test Rig

Case Type
InWin B2 Bomber
CPU
AMD Opteron 170 @ 2,800 MHz
Motherboard
DFI NF4 SLI-DR Extreme
Ram
OCZ Platnium PC3200 @ 466 MHz, 2.5-3-2-5-1T
CPU Cooler
Ultra Chilltec
Hard Drive
WD SE16 500 Gig 7200k RPM
Optical
Lite-On DVD R/W
GPU's Tested
Sapphire HD 4850 Dual Slot @ 625/993 Drivers – Catalyst 8.9


Diamond HD 3870 @ 777/2400

Drivers – Catalyst 8.9


BFG 8800 GT OC @ 625/900

Drivers – 178.13
Case Fans
Two 120mm  Front/Rear Push/Pull
Two 80mm Blowing on Graphics
Testing PSU
Corsair TX650
Synthetic Benchmarks & Games
 
Synthetic Benchmarks & Games
3DMark06 v. 1.10
3DMark Vantage v. 1.0.1
Company of Heroes v. 1.71 DX 10
Crysis v. 1.2 DX 10
World in Conflict Demo DX 10
F.E.A.R. v 1.08 DX 9

3DMark06 developed by Futuremark is a synthetic benchmark used for universal testing of all graphics solutions. 3DMark06 features HDR rendering, complex HDR post processing, dynamic soft shadows for all objects, water shader with HDR refraction, HDR reflection, depth fog and Gerstner wave functions, realistic sky model with cloud blending, and approximately 5.4 million triangles and 8.8 million vertices; to name just a few. The measurement unit "3DMark" is intended to give a normalized mean for comparing different GPU/VPUs. It has been accepted as both a standard and a mandatory benchmark throughout the gaming world for measuring performance.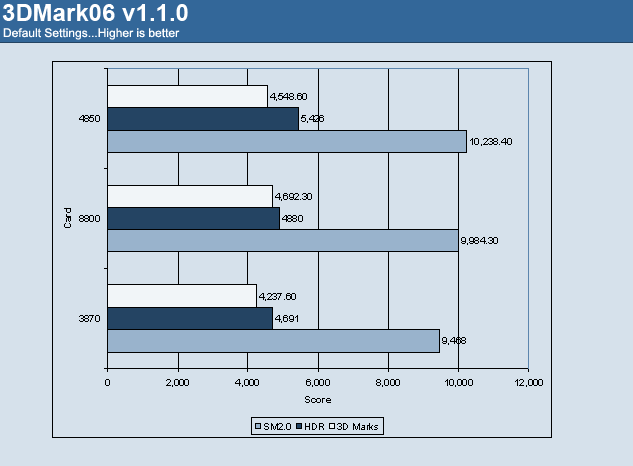 The results were a little bit of a surprize to me. The 8800 GT was pretty close to the HD 4850, but this is only a synthetic benchmark and does not reflect real game performance.

3DMark® Vantage is the new industry standard PC gaming performance benchmark from Futuremark, newly designed for Windows Vista and DirectX10. It includes two new graphics tests, two new CPU tests, several new feature tests, and support for the latest hardware. 3DMark® Vantage is based on a completely new rendering engine, developed specifically to take full advantage of DirectX10, the new graphics API from Microsoft.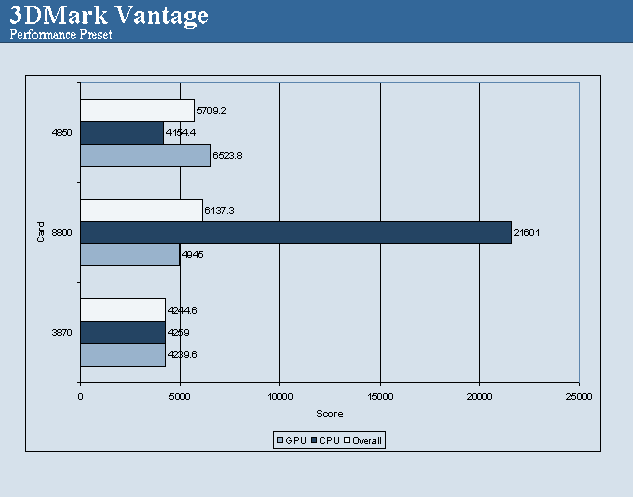 The 8800 GT has a very inflated CPU score because Nvidia has bought Ageia, and PhysX will now run on Nvidia cards. The HD 3870 is the clear loser here with a much lower GPU and overall score. The HD 4850 easily beat the 8800 GT's GPU score by quite a bit.

Company of Heroes(COH) is a Real Time Strategy(RTS) game for the PC, announced on April, 2005. It is developed by the Canadian based company, Relic Entertainment, and published by THQ. COH is an excellent game that is incredibly demanding on system resources thus making it an excellent benchmark. Like F.E.A.R. the game contains an integrated performance test that can be run to determine your system's performance based on the graphical options you have chosen. It uses the same multi-staged performance ratings as does the F.E.A.R. test. Letting the games benchmark handle the chore takes the human factor out of the equation and ensures that each run of the test is exactly the same producing more reliable results.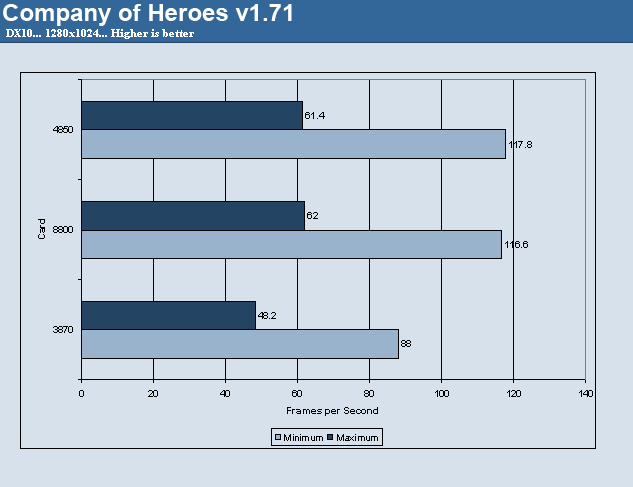 The HD 4850 just barely edges out the 8800 GT in this test, while the HD 3870 falls far behind.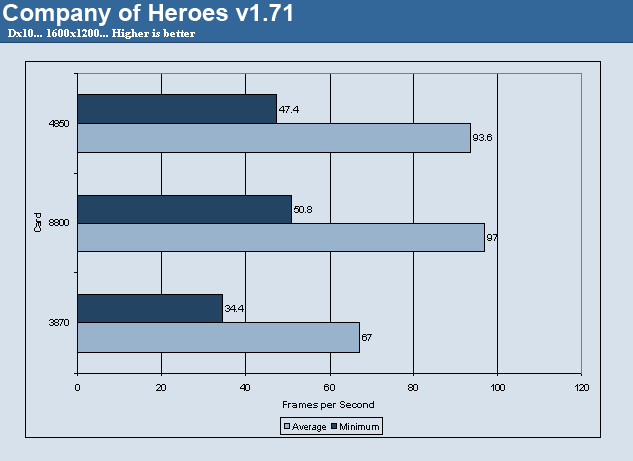 The HD 4850 comes very close to the 8800 GT but falls a little short. One thing to note about Company of Heros though is that you will see better results with more RAM. I believe we would see the HD 4850 on top if more RAM were used in the system.

Crysis is the most highly anticipated game to hit the market in the last several years. Crysis is based on the CryENGINE™ 2 developed by Crytek. The CryENGINE™ 2 offers real time editing, bump mapping, dynamic lights, network system, integrated physics system, shaders, shadows and a dynamic music system just to name a few of the state of-the-art features that are incorporated into Crysis. As one might expect with this number of features the game is extremely demanding of system resources, especially the GPU. We expect Crysis to be a primary gaming benchmark for many years to come.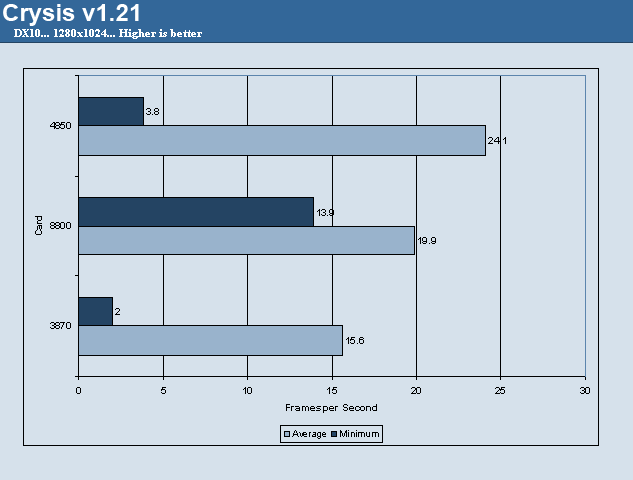 The HD 4850 is the clear winner here with just over 4 frames more on average than the 8800 GT. Both the HD 3870 and HD 4850 had quite a low minimum frame rate though.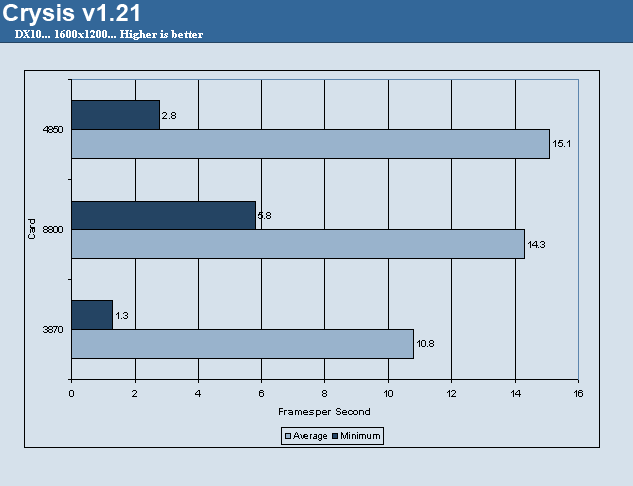 Once again, the HD 4850 comes out on top over the 8800 GT, but by a much smaller margin this time. The 8800 GT still manages to hold the better minimum frame rate.
Crysis is notorious for not giving good scores to ATI cards, but with brute force the HD 4850 manages to just beat out the 8800 GT.

World in Conflict is a real-time tactical video game developed by the Swedish video game company Massive Entertainment and published by Sierra Entertainment for Windows PC. The game was released in September of 2007
The game is set in 1989 during the social, political, and economic collapse of the Soviet Union. However, the title postulates an alternate history scenario where the Soviet Union pursued a course of war to remain in power.
World in Conflict has superb graphics, is extremely GPU intensive, and has built-in benchmarks. Sounds like benchmark material to us!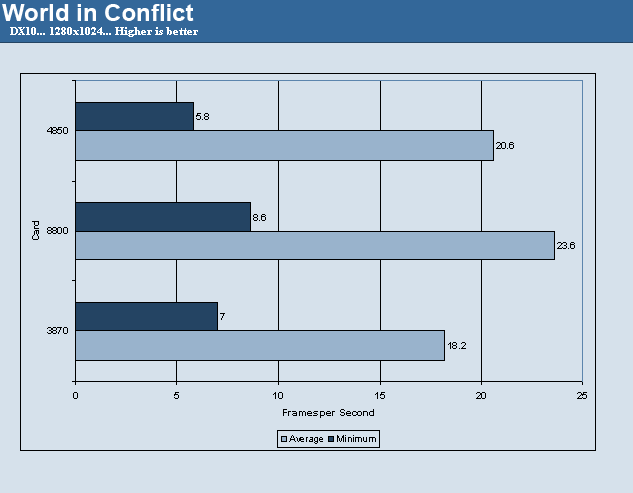 I was quite surprized at the results I got. I thought that the HD 4850 would come out on top but it was the 8800 GT on top this time.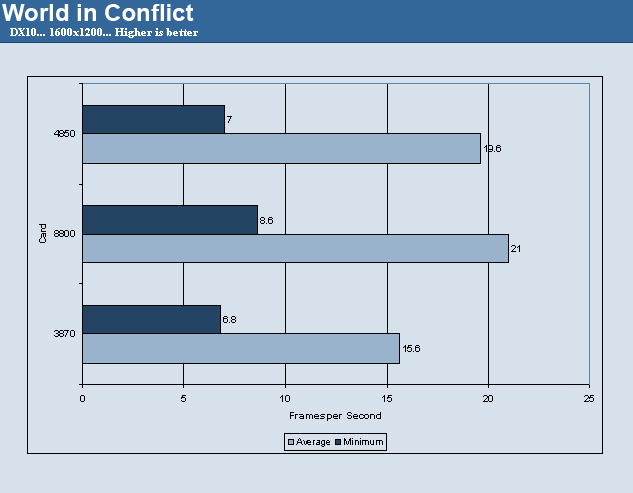 Once again the 8800 GT comes out on top. World in Conflict is also an RTS like Company of Heros. This genre generaly sees a improvement with more RAM because of all the units on screen. Perhaps RAM is the limiting factor for these cards.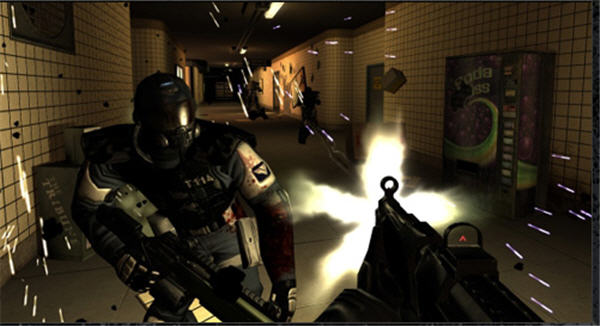 F.E.A.R. (First Encounter Assault Recon) is a first-person shooter game developed by Monolith Productions and released in October, 2005 for Windows. F.E.A.R. is one of the most resource intensive games in the FPS genre of games ever to be released. For this test I played the first section of the first level and did the same multiple times for all of the cards to insure accuracy.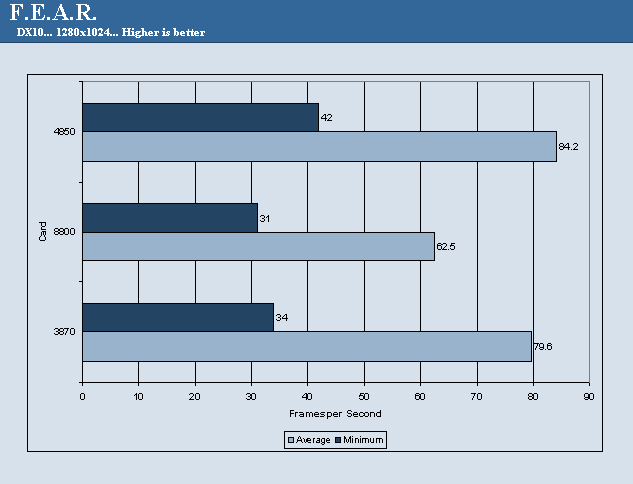 In this test the HD 4850 really shows its power. It really showed up the 8800 GT as did the HD 3870.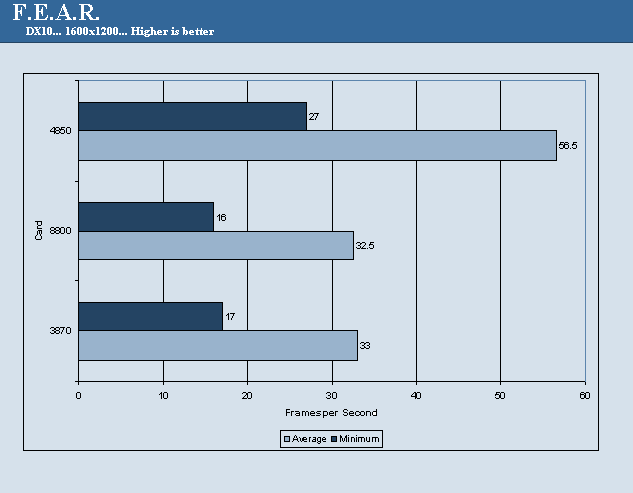 As in the lower resolution, the HD 4850 handed out a beat down to the 8800 GT. While the HD 3870 was just slightly better than the 8800 GT.
TEMPERATURES & OVERCLOCKING
Temperatures
| | |
| --- | --- |
| Idle Temp | 43°C |
| Load Temp | 69°C |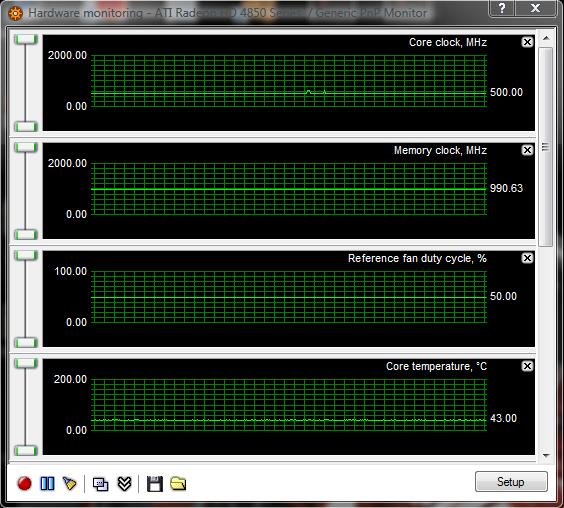 As you can see, the card throttles down its core and memory a little bit to make the card run even cooler.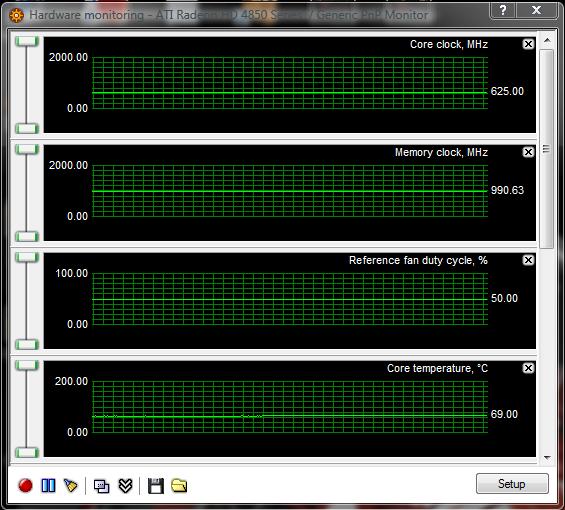 It also has a very impressive load temperature. Many high end cards on the market today run at 80°C+. 69°C is very low for a load temperature.
Overclocking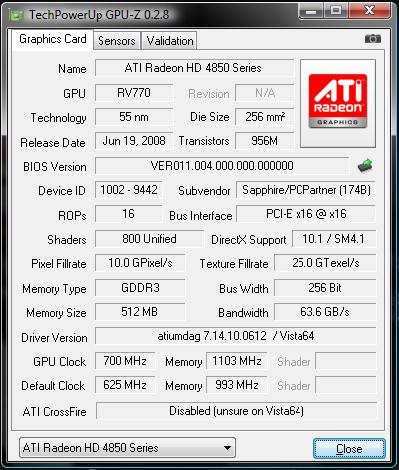 Useing ATI Catalist, I was able to get 700MHz core (up from 625MHz) and 1103MHz memory (up from 993MHz). An overclock of 75MHz on the core and 100MHz on the memory is quite impressive. There was a core clock limit of 700MHz in Catalist but I was able to push the card to 720MHhz.  However, I will test it at 700MHz since most people will use Catalist Overdrive to overclock.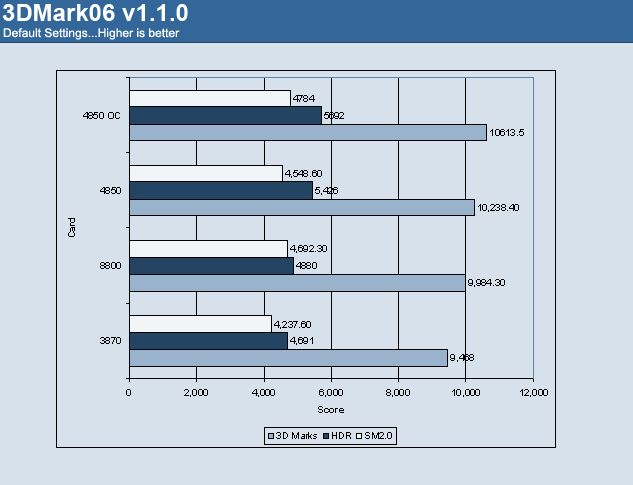 With this overclock I was able to get a decent increase of about 400 points in 3D Marks. The card reached a max temperature of 72°C, which is pretty impressive for this much of an overclock.
CONCLUSION
The Sapphire HD 4850 Dual Slot Fansink is a another great card from Sapphire. The performance to dollar ratio is almost unbeatable. Right now these are going for as little as $159.99. For the price you pay you get awesome performance. It is almost like the 8800 GT of its time.
This card also comes with DX10.1. This is a feature that Nvidia currently doesn't support. It can lead to much higher frame rates in games with AA inabled, and it is really a revolutionary technology. Hopefully, more games will take advantage of it in the near future.
The cooling on the card is also a very nice feature. It allows the card to run much cooler than any stock air cooled single slot solution. Its load and idle temperatures are simply amazing. The lower temps help a lot in overclocking, which I am sure many of us will want to do right when we get it in the computer.
With the ability to run four of these GPU's at the same time, you can get huge numbers in your frame rates in games like Crysis and F.E.A.R. and this only adds to the value that is the Sapphire HD 4850 Dual Slot Fansink graphics card.
Pros:
+  Great performance
+  Overclocking Ease
+  DX 10.1
+  Nice Bundle
+  Ease of Install
+  Crossfire Ready
+  Good Price/Performance
+  Dual Slotted Cooling
+  Quality Construction
+  Good Warranty
Cons:
–  No Heat Sinks On The RAM
–  No Game in Bundle
The Sapphire HD 4850 Dual Slot Fansink video card has excellent cooling, great features, and a nice warranty to back it up. All in all, this is a great buy!
Final Score of 9.5 out of 10 and the coveted Bjorn3D Golden Bear Award.