In addition to the GTX280, XFX also sent us their latest and greatest XXX version of the card for review. We decided to embrace this as an opportunity to compare the two cards in a head to head along with a number of other popular graphics solutions. Our intent is not to rehash the plethora of features already covered in great detail in the aforementioned article, but more to concentrate on serious testing and expound on those features that prove noteworthy with the more mature drivers we will be using.
INTRODUCTION
Well the smoke has settled, the dust cleared and most of the rumors put to rest on the first phase of NVIDIA's launch of the their GTX 200 series of graphics solutions. Many of you may have read our initial article entitled:  XFX GTX280: A Preview of What's to Come back in early June, 2008. In that article we not only presented an initial product review of the XFX GTX280. We also delivered an in depth overview of all the new features cards based reference version of the NVIDIA GTX280 & GTX260 would bring to the table. We went on to say that the test sample we received had some issues with a discernible electronic component hum and immature product drivers and we would refrain from scoring it at that time to be both fair to NVIDIA and XFX.
Just over two months have passed since the release of our initial article. XFX has sent us a replacement sample for the GTX280 which is completely free of from the electronic component hum we initially experienced. In addition to the GTX280, XFX also sent us their latest and greatest XXX version of the card for review. We decided to embrace this as an opportunity to compare the two cards in a head to head along with a number of other popular graphics solutions. Our intent is not to rehash the plethora of features already covered in great detail in the aforementioned article, but more to concentrate on serious testing and expound on those features that prove noteworthy with the more mature drivers we will be using.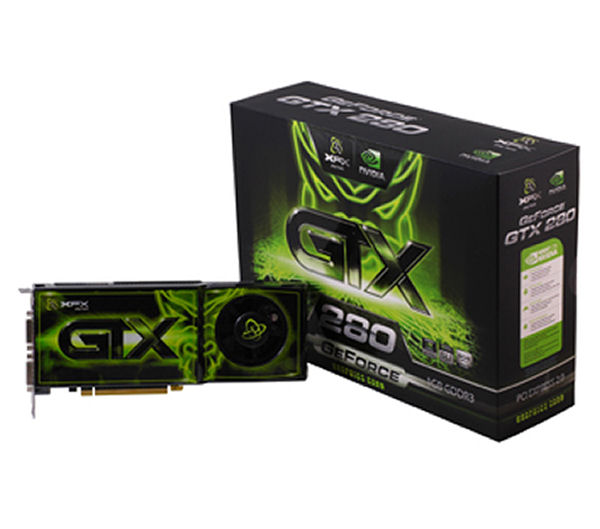 SPECIFICATIONS
XFX GTX280 XXX & GTX 280 GPU
Detailed Specifications
 
GTX280 XXX
GTX280
Fabrication Process
65nm
65nm
Transistor Count
1.4 Billion
1.4 Billion
Core Clock Rate
670 MHz
602 MHz
SP Clock Rate
1,458 MHz
1,296 MHz
Streaming Processors
240
240
Memory Clock
1,250 MHz (2,500 MHz)
1,105 MHz (2,210 MHz)
Memory Interface
512-bit
512-bit
Texture Fill Rate
(Billion/Sec)
80.4
80.4
Memory Size
1024 MB
1024 MB
ROPs
32
32
Texture Filtering Units
80
80
Texture Filtering Rate
48.2 GigaTexels/sec
48.2GigaTexels/sec
RAMDACs
400 MHz
400 MHz
Bus Type
PCI-E 2.0
PCI-E 2.0
HDCP Outputs
1
1
Power Connectors
1 x 8-pin & 1 x 6-pin
1 x 8-pin & 1 x 6-pin
GPU Thermal Threshold
105º C
105º C
Dimensions
10.5″ x 4.378″ x 1.5″ (LxWxH)
10.5″ x 4.378″ x 1.5″ (LxWxH)
PACKAGING
XFX chose to use the same identical packaging for the GTX280 XXX as they did for the GTX280. When we say identical we mean identical as there is nothing on the box that differentiates the standard GTX280 from the XXX version with the exception of the product code. We see this is being a potential embarrassment for the consumer purchasing one of these at a large retail outlet should they mistakenly take the wrong box to the cashier. Most of you will recognize the package's design as the same as has always been used with the larger, dual slot cards marketed by XFX. The packaging is extremely sturdy with extreme cellular foam protection inside that should easily survive the lunchtime soccer games the delivery guys sometimes have.
PHOTOS & IMPRESSIONS
At first glance the XFX GTX280 XXX is the spitting image of the GTX280. As with the packaging, we mean that the graphics are the same, the color scheme is the same, and the location of all the major parts and pieces are the same. Even under close scrutiny we found that the only way to tell the two apart was to read the product ID located on the underside of the card.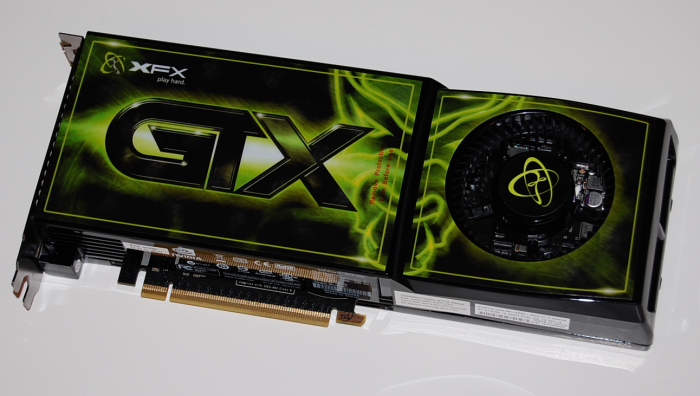 XFX GTX280 XXX
Depending on whose review you read you will get differing opinions on power input placement. Some feel that placing the power inputs on the top of the card, as with the GTX280 XXX, can cause issues with the larger, thicker fans mounted on the side panel of some cases. Others feel that mounting the inputs on the end of the card that faces the front of your case can wreak havoc with mounting hard drives. We have experienced both of these scenarios over the last few years and concur there's actually no truly foolproof place to mount the power inputs. We are wondering when the day will come that an external power supply is included with high end graphics cards that will plug into the rear bracket of the card.


Side View Showing Power Inputs
As we alluded to in our initial article, the dimensions of the GTX 280 are exactly the same as the 8800 GTX, 9800 GTX, and all other cards housed in the longer NVIDIA designed chassis. We keep hoping for flagship, ultra high-end performance in a budget sized encasement. The top, rear and sides of the GTX 280 all have excellent venting for improved air intake which should aid the traditional squirrel caged fan in helping to cool this behemoth.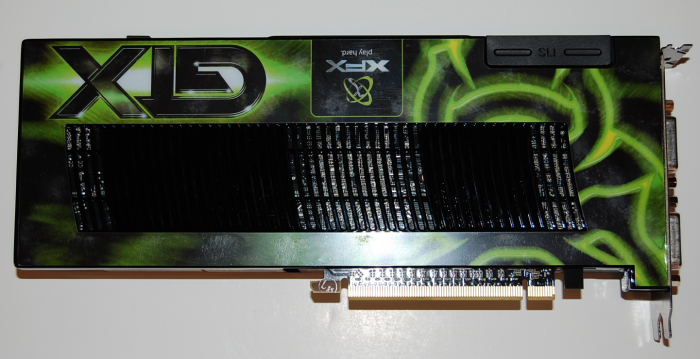 XFX GTX280 XXX Rear View
Before moving on to the more interesting stuff, we felt it incumbent upon us to make a one final aesthetic statement concerning the graphics used on the card's exterior. We realize that the early release versions of the XFX GTX280 were somewhat rushed to get the product on the market by its release date. We were hoping that later iterations of the card just might adorn graphics that were more in keeping with previous cards released by XFX. Even though graphics have nothing to do with the performance of the card and generally go unseen, users generally feel better spending their hard earned cash on something a bit more appealing than the "GTX" graphic used on both the GTX 280 and XXX. The only thought that comes to mind for us when we view the both cards' graphics is BORING.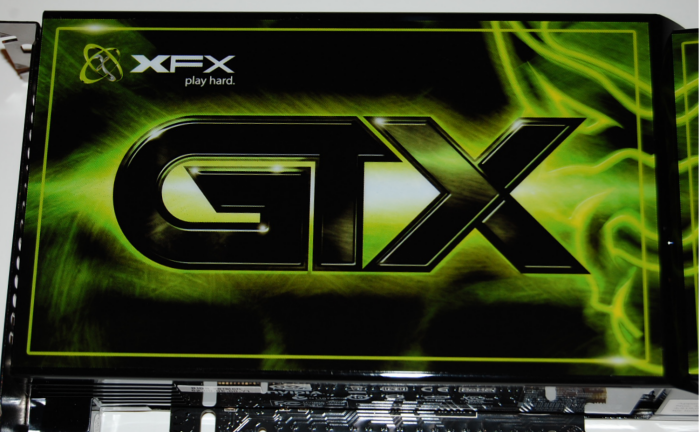 XFX GTX280 XXX Graphics
CONTENTS
Back in the day it was not unusual to get everything supplied today but also as many as two full edition games. With energy and production costs skyrocketing its not hard to understand that some of the opulence needed to go by the wayside to keep prices in check. The accessories included with the XFX GeForce GTX280 XXX are not quite as lavish as they once were, but they certainly are a vast improvement over the minimalist approach used with base model cards and provide almost everything you need. Probably the most disappointing element left out of the bundled accessories is a Molex to PCI-e 12V 8-pin power adapter. There are still a number of consumers, enthusiasts included, that don't own a power supply equipped with an 8-pin PCI-e adapter. The inclusion of this $5.00 part would have helped a number of prospective consumers.
The only real change in the supplied contents with the GTX280 XXX is the title of the game that is included. With the GTX280 you receive a full version Assassin's Creed and with the XXX you receive Call of Duty 4 … Modern Warfare. We salute XFX for including full titles of games that are currently in vogue and will let you be the choice of whether the change was beneficial or not.
1 – XFX Model GX-280N-F9 GTX 280 Graphics Card
1 – VGA to DVI Adapter
1 – HDTV (YPrPb) Dongle
1 – Molex to PCI-e 12V 6-pin power adapter
1 – HDMI SPDIF cable
1 – Quick Start Manual
1 – "I'M GAMING DO NOT DISTURB" Door Sign
1 – Driver CD
1 – Call of Duty 4 … Modern Warfare (full version)
TESTING REGIME
We will run our captioned benchmarks with each graphics card set at default speed. Our E8500 will be overclocked to 3.52 GHz to overcome any bottleneck the CPU might present. 3DMark06 will be run at default settings as with 3DMark Vantage but in Performance Mode. All of our gaming tests will be run at the 1280 x 1024, 1680 x 1050 and 1920 x 1200 with 4x Antialiasing and 16x Anistropic Filtering. For Crysis, we will be testing the game both without any image enhancements with all settings at high. For those games that offer both DX9 and DX10 rendering we'll test both. Each of the tests will be run individually and in succession three times and an average of the three results calculated and reported.
Test Platforms

Processor
Intel Core 2 Duo E8500 at 3.52 GHz
Motherboard
ASUS P5E3 Premium WIFI-AP @n, BIOS 0503
Memory
2GB Patriot Viking DDR3 PC3-1500, running at 8-8-8-24
Drive(s)
2 – Seagate 1 TB Barracuda ES.2 SATA Drives
Graphics
Test Card #1:  XFX GeForce® GTX 280 XXX running ForceWare 177.83
Test Card #2:  XFX GeForce® GTX 280 running ForceWare 177.83
Test Card #3:  PowerColor HD 4870 running Catalyst 8.7
Test Card #4:  Visiontek HD 4850 running Catalyst 8.7
Test Card #5:  XFX GeForce® 9800 GTX+ running ForceWare 177.39
Test Card #6:   ASUS 8800GT TOP running ForceWare 175.16
Cooling
Noctua NH-U12P
Power Supply
Thermaltake 1000 Watt Toughpower
Display
Dell 2407 FPW
Sound Card
Onboard ADI® AD1988B 8-Channel High Definition Audio CODEC
KVM Switch
ATEN CS1782 USB 2.0 DVI KVM Switch
Case
Lian Li PC-A7010
Operating System
Windows Vista Ultimate 64-bit SP1
Synthetic Benchmarks & Games
3DMark06 v. 1.10
3DMark Vantage v. 1.01
Call of Duty 4
Company of Heroes v. 2.301 DX 9 & 10
Crysis v. 1.21 DX 9 & 10
World in Conflict Demo DX 9 & 10
OVERCLOCKING
When it comes to overclocking, one can usually choose from a few different applications that assist in overclocking their video card. When it comes to the new XFX200 series of cards, we generally turn to Riva Tuner, in this case version 2.09. Most cards that are overclocked from the factory generally don't have a huge amount of head room for additional overclocking. We were able to push the GPU clock to 700 MHz, the shader clock to 1,533 MHz, and the memory clock to 1,3000 MHz (2,600 MHz effective). These were the absolute highest settings we were able to attain where our sample of the GTX 280 was completely stable. This overclock resulted in a small improvement in 3DMark2006 but then again to the gaming enthusiast every point or FPS gained is cherished.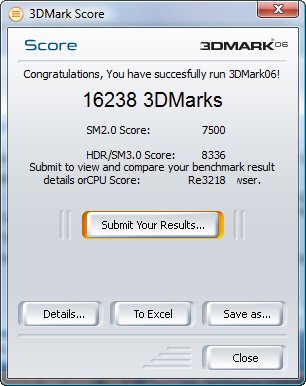 For the record we also tested the GTX280 and were able to reach within a few MHz of the XXX; complete stable. This is a much better showing than we experienced in our initial article, but then again we're using a much newer, significantly more mature driver which we will expound on more later.
TEST RESULTS

An old favorite of benchmarkers. 3DMark 2006 is a fun tool to have if you want to brag to your friends but when it comes to representing real world performance it falls far short of the mark. We include the scores here only to be thorough.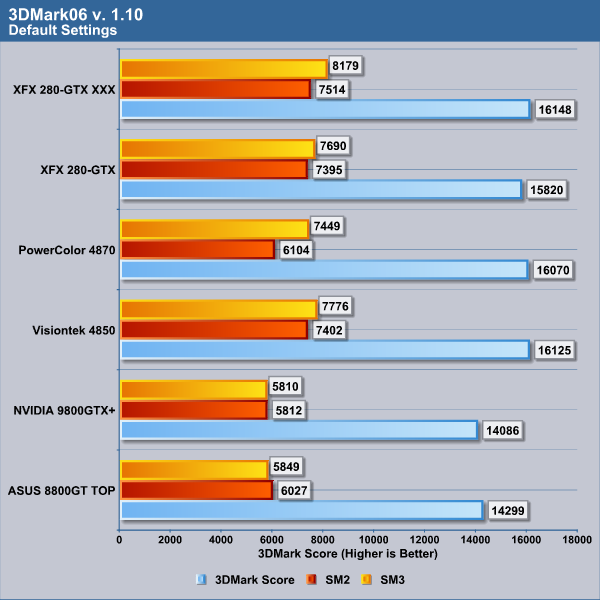 The newest video benchmark from the gang at Futuremark. This utility is still a synthetic benchmark but one that more closely reflects real world gaming performance. While it is not a perfect replacement for actual game benchmarks it has its uses. We test our cards at the 'Performance' setting as this will be the most widely used setting.
Currently, there is a lot of controversy surrounding NVIDIA's use of a PhysX driver for its 9800 GTX and GTX 200 series cards. Whereby installing the PyhsX driver, 3DMark Vantage uses the GPU to perform PhysX calculations during a CPU test and this is where things get a bit gray. If you look at the Driver Approval Policy for 3DMark Vantage it states:
Based on the specification and design of the CPU tests, GPU make, type or driver version may not have a significant effect on the results of either of the CPU tests as indicated in Section 7.3 of the 3DMark Vantage specification and white paper.
Did NVIDIA cheat by having the GPU handle the PhysX calculations or are they perfectly within their right since they own Ageia and all their IP? I think this point will quickly become moot once Futuremark releases an update to the test. For now, we will show ONLY the GPU score since this is much less influenced by the inclusion of PhysX.
At this juncture it is necessary to point out that we are using NVIDIA's newest, just released drivers; Forceware 177.83. These drivers are the only change we have made since our initial article was published. They are producing an increase in the neighborhood of 30%. We'll refrain from making a comment at this point until we see if there are like increases in the balance of our benchmarks.
TEST RESULTS
We start off our gaming portion by looking at how the XFX GTX280 XXX performs in DirectX 9 mode.

---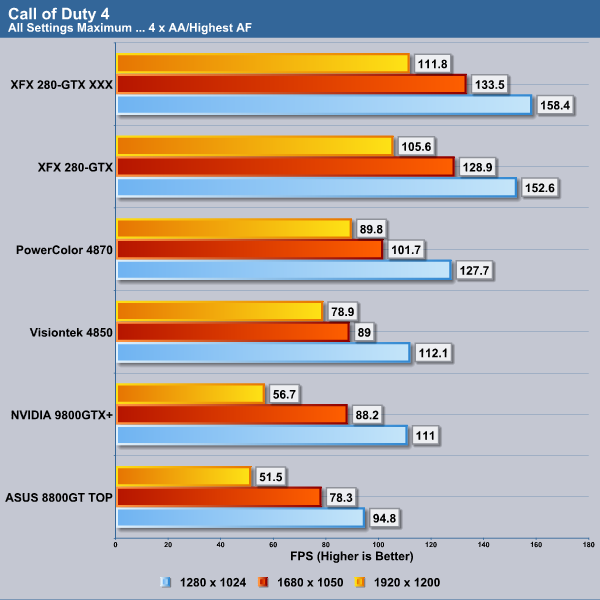 ---

---
For these tests of CoH, we ran the game using the DirectX 9 path with the maximum in-game settings applied. Both minimum and average scores are shown.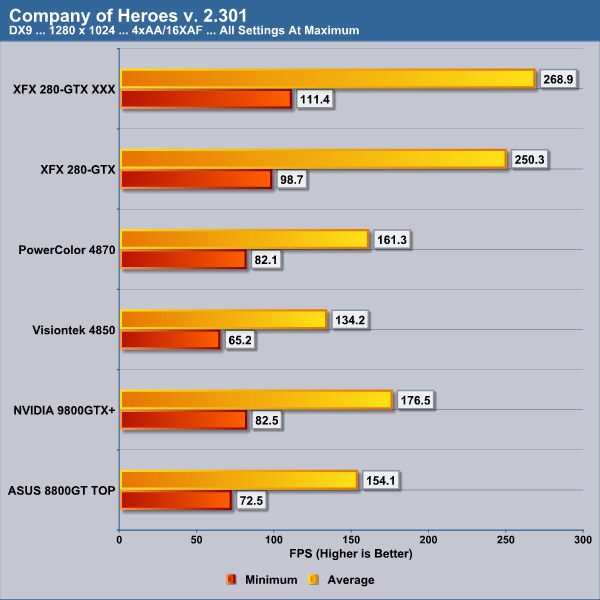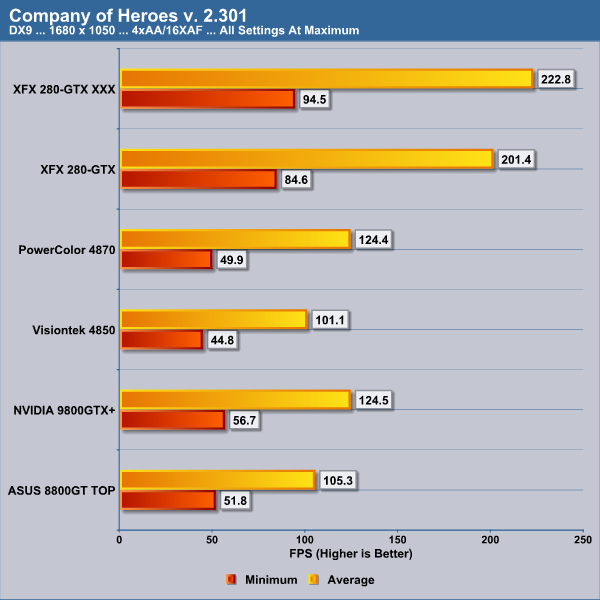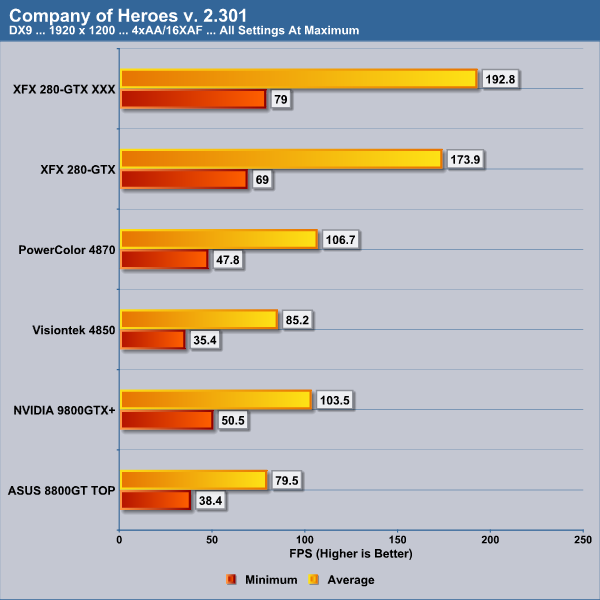 ---

---
For World in Conflict we set everything to their maximum allowed under DirectX 9.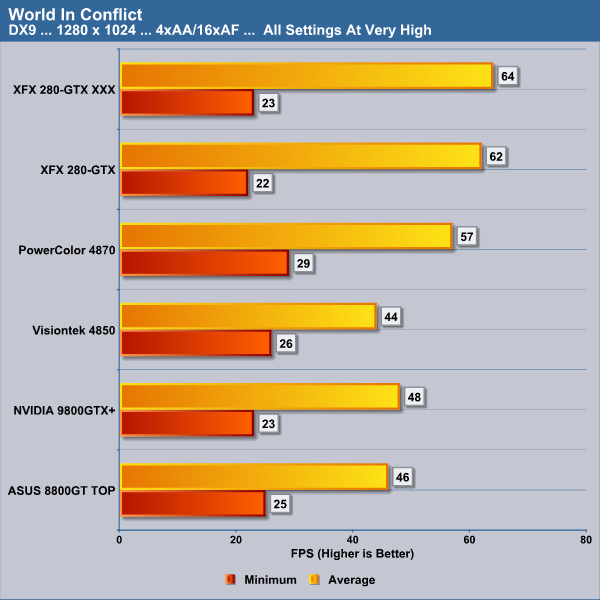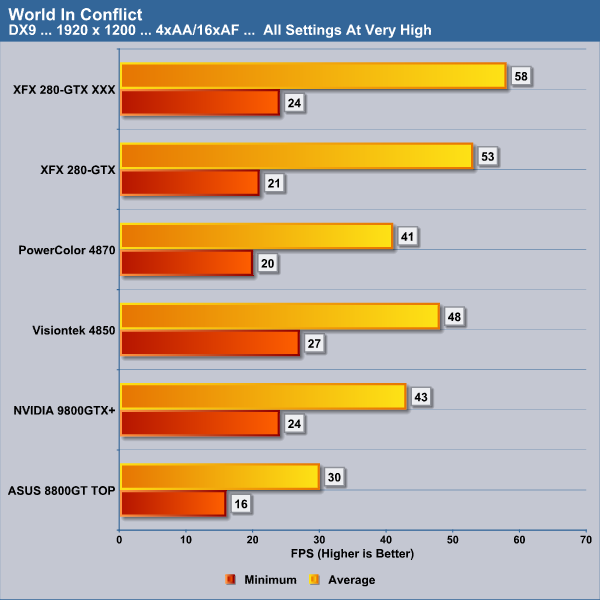 ---
TEST RESULTS

---
Even though we are running this game with DirectX 10 all in-game settings have been kept the same. CoH, when run with DirectX 10, enables a higher setting for textures labeled as 'Ultra'. We did not enable any extra features so that the only difference between the tests is which DirectX version was used. This enables us to compare the two if we wanted to see any performance gain/loss between the two render paths.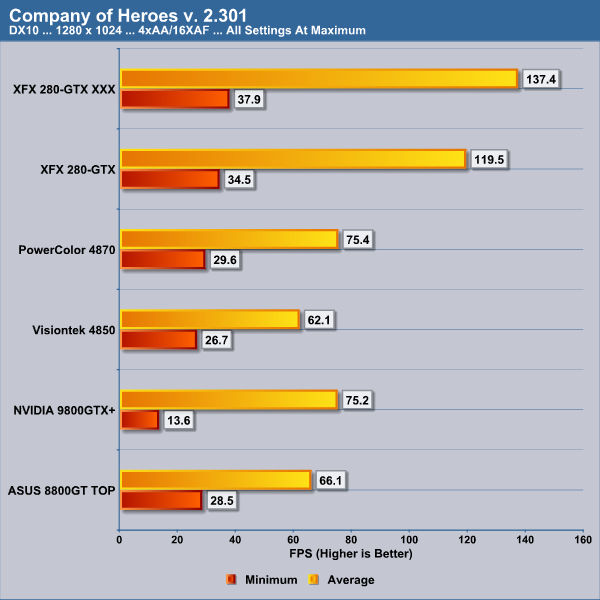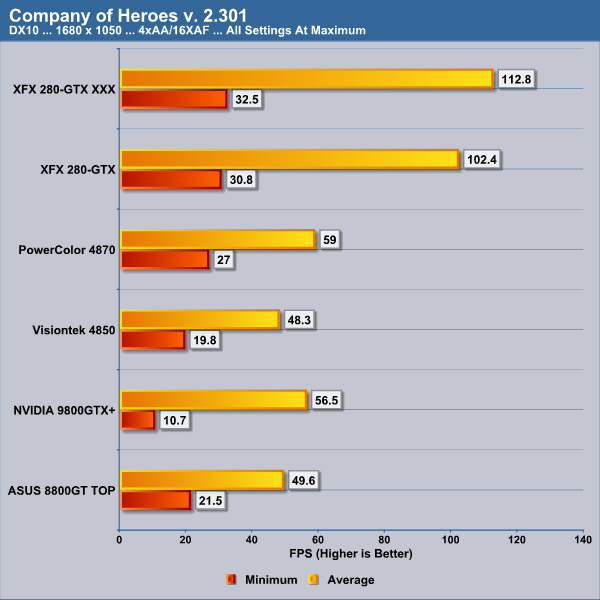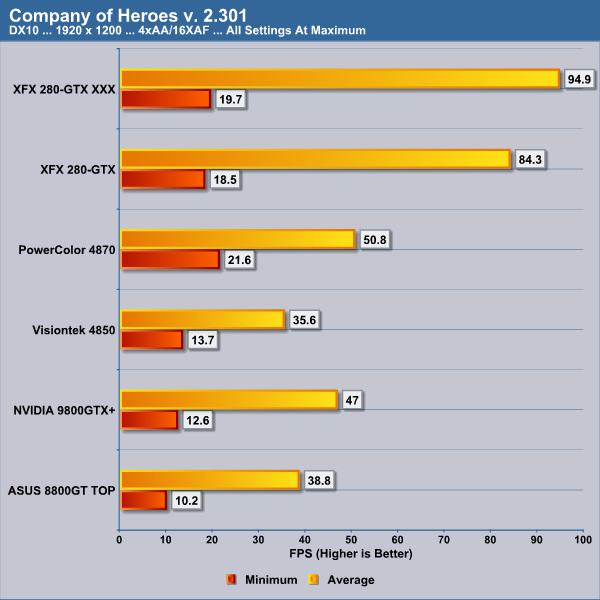 ---

---
Similar to CoH, Crysis is run in DX 10 with all settings kept the exact same.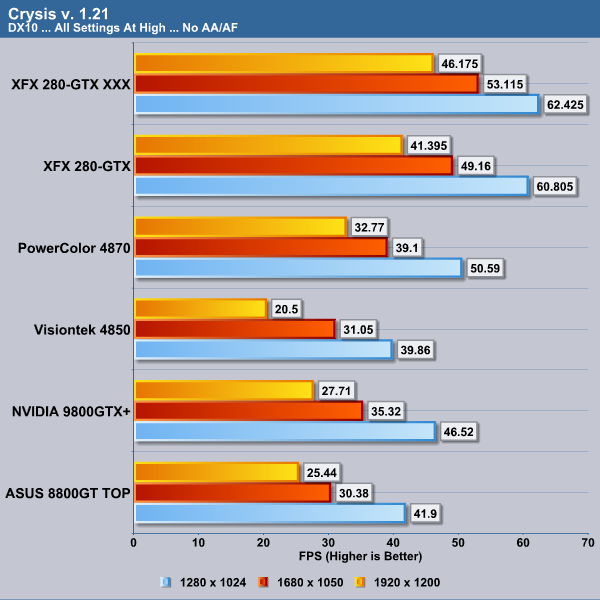 ---

---
For World in Conflict we would do things a bit differently. This time for DX 10 we enabled the only extra setting that is available by using DirectX 10, Volumetric Light (aka God Rays).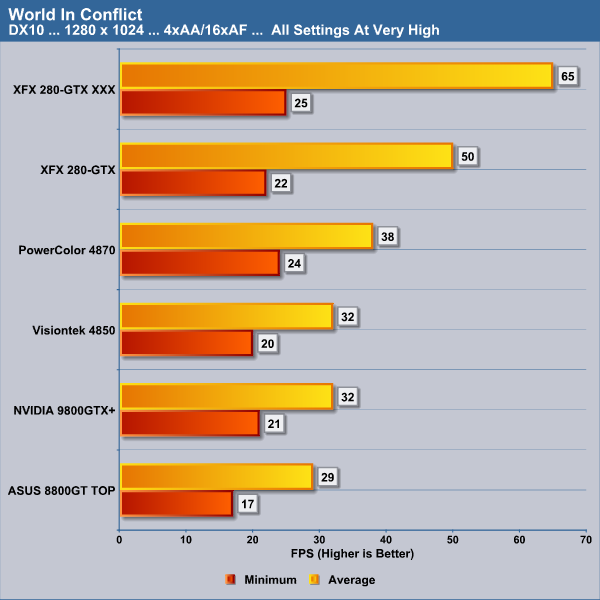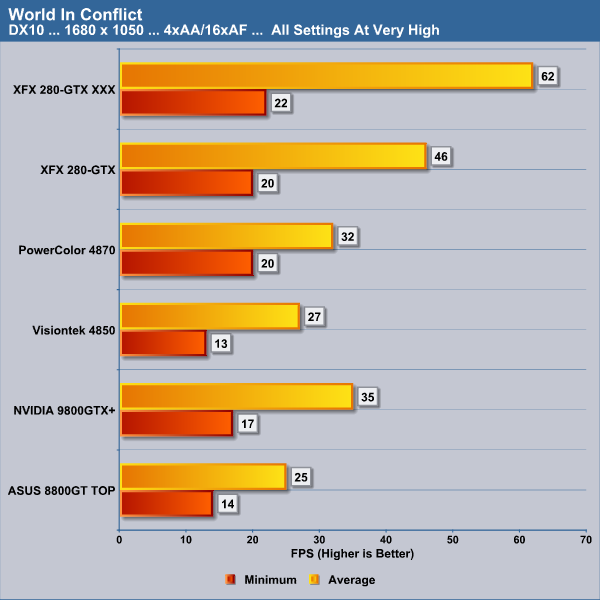 ---
POWER CONSUMPTION

To measure power we used our Seasonic Power Angel a nifty little tool that measures a variety of electrical values. We used a high-end UPS as our power source to eliminate any power spikes and to condition the current being supplied to the test systems. The Seasonic Power Angel was placed in line between the UPS and the test system to measure the power utilization in Watts. We measured the idle load after 15 minutes of totally idle activity on the desktop with no processes running that mandated additional power demand. Load was measured taking extended peak power measurements from the entirety benchmarking process.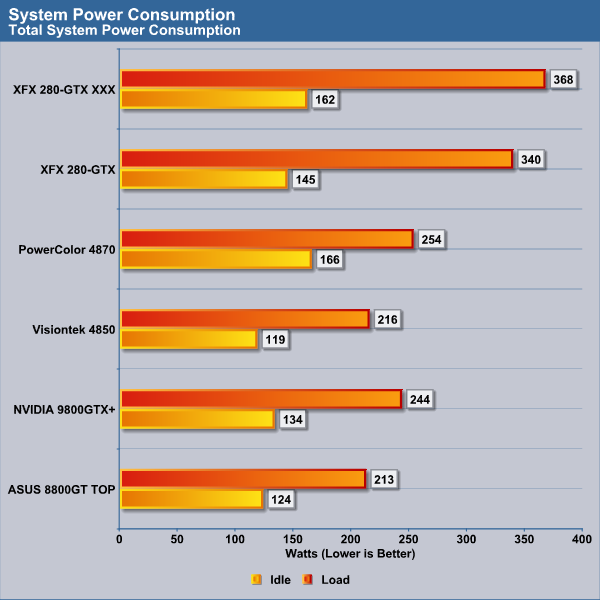 Given the power utilization of the XFX GTX280 XXX at load, we don't think it will be a number one seller amongst energy conservationists, but then again how many gaming enthusiasts fit in that category. When in 2D mode or low performance 3D mode the power consumption is very reasonable. When you switch to 3D high performance mode (games) the card exhibits a very healthy appetite for power. A number of our forum members as well as members on other forums have also commented about their love-hate relationship with the GTX280 when Folding. Those that are involved with Folding at Home are seeing the highest point outputs ever by utilizing the GPU in lieu of the CPU to perform their folding tasks. The hate comes in when they receive their monthly power bill. Depending on the number of computers and GPUs involved we have heard of monthly increases ranging from $10.00 to over $100.00. Let us not forget it's summer and very hot so the exact cost attributed to Folding at Home may in fact be exaggerated.
TEMPERATURE

The temperatures of the cards tested were measured using Riva TUner v. 2.09 to assure consistency and remove any bias that might be interjected with the respective card's utilities. The temperature measurements used the same process for measuring "idle" and "load" capabilities as we did with the power consumption measurements.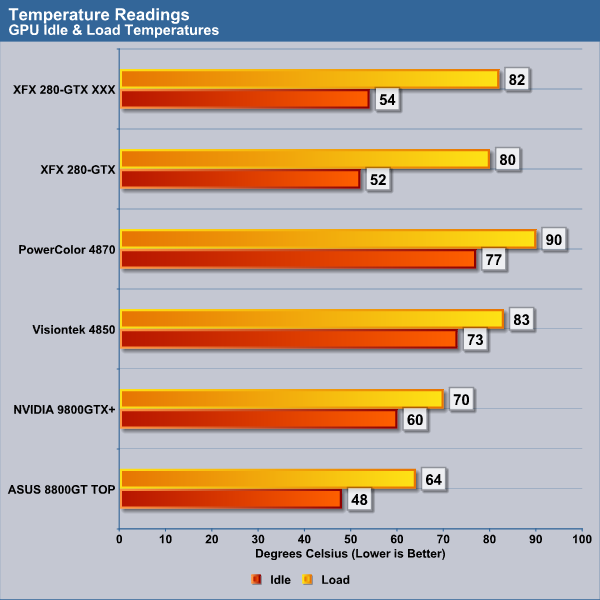 Using Forceware 177.83 drivers caused an average temperature increase of 5 – 6° Celsius at both idle and load for both the GTX280 and XXX. We were a bit surprised at how low the temperatures were in our initial article and feel given both the power utilization and GPU the temperatures we recorded in this review are more commensurate with both cards true core temperatures.
XFX sets the fan on their GTX280 XXX to operate at 40% of its maximum capacity to both maintain reasonably quiet operation of their cooling fan and establish a reasonable thermal environment. Manually changing the fan's operation threshold to 60 – 65% will not increase the fan noise to an objectionable level and will also serve to decrease both idle and load temperatures 3-5° Celsius. The temperatures we show on the above captioned graph are with the fan at its stock setting and we also need to remember that the thermal threshold for these cards is 105° Celsius. Many gaming enthusiasts however prefer to keep their precious GPU's temperature below the 80° Celsius mark.
CONCLUSION
There is no doubt that NVIDIA's GTX280 GPU is the fastest and most elegant single GPU based graphics solution currently available. The XFX GTX280 XXX is arguably one of, if not the fastest of this breed. The features this card brings to the table are gigantic in scope and have given a new meaning to vibrant, life-like graphics. PhysX is one of the most exciting new features for gamers and as this technology becomes more pervasive in the mainstream games; we feel enthusiasts will be completely taken back by the additional realism it adds to your gaming experience.
The XFX GTX280 XXX unlike its predecessors that held the XXX moniker only sells for about $20 more than its standard GTX280 counterpart. A quick check with Price Grabber showed the best deal currently on the XFX GTX280 XXX in the $569 USD range. While not cheap by any stretch of the imagination, the GTX280 XXX is aimed at the high end gaming aficionado or the enthusiast that is looking to kick some major butt Folding at Home. We feel if you are torn between buying standard GTX280 and overclocking it or the XXX version of the card, the XXX is certainly the way to go. We say this because generally manufacturers that produce factory overclocked graphics cards use a higher binned chip capable of handling the load and should it fail there's always the warranty that will cover it. For 20 bucks difference the decision is a no-brainer!
The driver we used in our testing, Forceware 177.83 obviously brings the power of PhysX to bear, as exhibited in the 30% increase we experienced in 3DMark Vantage. We also increases in some of our gaming benchmarks but no where near the degree we saw in 3DMark Vantage. For some, the fact that 3DMark Vantage utilizes PhysX coupled with the fact that NVIDIA now owns that technology is a dilemma. We see it as a technological advancement and believe that as more games incorporate PhysX into their design we'll see similar increases coupled with the unbelievable realism we've seen in some of the PhysX samples on the NVIDIA site. We applaud NVIDIA for having the foresight to purchase this technology and incorporate it into their graphics solutions in lieu of continuing to provide it as a separate card. We must also caution that both synthetic benchmarks and even some gaming benchmarks do not always equate with real world results, so your mileage may vary depending on your choice of components.
We found the XXX to be extremely quiet even under load where the fan did ramp up to almost 50% of capacity. At peak levels the fan was not audible over the case fans in our test rig which are extremely quiet. How can we not be extremely impressed with a card that is currently the fastest on the market and also brings a plethora of exciting features to the table. We highly recommend it to anyone wanting the best gaming experience currently available or having need of any or all of the features the XFX GTX280 XXX offers.
FINAL WORDS
Performance: 10/10 – As previously stated the GTX280 is the fastest single GPU based card on the market today and the XFX GTX280 XXX is in that upper echelon.
Bundle: 8.0/10 – The accessories offered are quite good. The only exception to this is the lack of a Molex to PCI-e 12V 8-pin power adapter which would have been of considerably more useful to XFX's customers than the supplied Molex to PCI-e 12V 6-pin power adapter.
Value: 8.0/10 – We cannot in good conscience give a graphics card costing greater than $500 a higher score on value even though this is one of the fastest cards currently available.
Pros:
+  Extremely quiet
+  The fastest single GPU based card on the market today
+  SLI™ & Tri-SLI certified
+  Provides the best performance in Folding at Home currently available
+  Incorporates PhysX technology
+  Low power consumption in all but performance 3D applications
+  Comes from the factory HDMI and HDCP ready
+  Double lifetime warranty
 
Cons:
–  Price may be a deterrent to some potential consumers
–  No Molex to PCI-e 12V 8-pin power adapter
–  The 10.5 inch length may cause issues in some mid-tower cases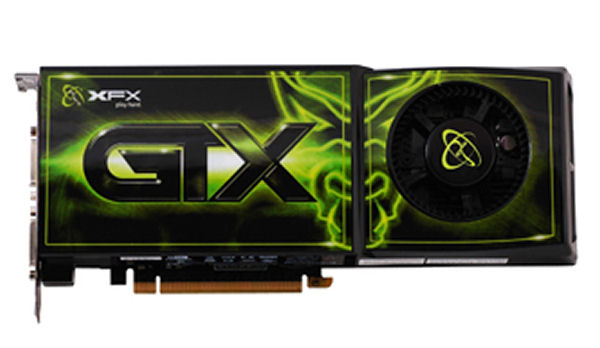 The GTX280 XXX from XFX scores an 8.5 out of 10 and the Bjorn3D Seal of Approval