Both of these products were used in our recent review of the ASUS P5E3 Premium motherboard. We saw some rather interesting phenomena with both of these memory kits in that review so we have decided to review both of these kits comparatively in much more detail using the same test rig. Our goal is not only to give you a complete review of these two memory products, but to also answer the questions we alluded to in the beginning of this introduction.
INTRODUCTION
One of the pressing questions on many of the computer enthusiast forums today is: "How much memory should I buy for optimal performance on my rig?" To answer this question properly we need to take into account a few variables such as: 1) Whether the consumer is using a 64bit or 32bit OS; 2) The speed of their CPU and mother board coupled with the memory speed to be used; and 3) Just what is meant by optimal performance? We have read some articles by excellent authors that attempted to detail in highly technical terms their findings with regard to this looming question. In many cases the degree of the information presented was beyond the realm of comprehension by those not having a strong electronics background.
Recently we received two DDR3 kits, one from OCZ Technology and one from Patriot Memory. The kit from OCZ was their 4GB DDR3 12800 (DDR3 1600) Platinum Enhance Bandwidth product and Patriot sent us their 2GB Viper DDR3 15000 (DDR3 1866) kit. Both of these products were used in our recent review of the ASUS P5E3 Premium motherboard. We saw some rather interesting phenomena with both of these memory kits in that review so we have decided to review both of these kits comparatively in much more detail using the same test rig. Our goal is not only to give you a complete review of these two memory products, but to also answer the questions we alluded to in the beginning of this introduction.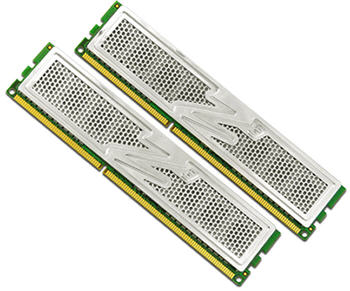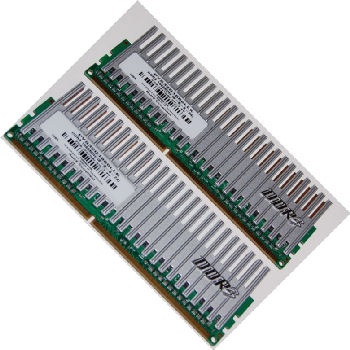 OCZ Technology:  The Company

Entering the memory market in August 2000, OCZ Technology was built around the determination to manufacture the best high speed DDR and RDRAM. OCZ was founded by enthusiasts, for enthusiasts, and our commitment to the end-user has not digressed. OCZ Technology has been an innovator in many areas. We were the first manufacturer to make Dual Channel optimized memory available to the public, which originally took advantage of nVidia's Twinbank or Dual DDR architecture, found in their nForce chipset. We have now taken that technology and tailored it for the Canterwood, and Granite Bay chipset's. OCZ developed and was the first to implement ULN technology, which has been a critical element in our manufacturing process for some time. We at OCZ diligently work to improve communication with CPU and motherboard chipset manufacturers prior to the release of their products. Only in this manner can we fine-tune our memory's SPD settings, ensuring a synergistic relationship between the memory module, memory controller, and microprocessor. In today's rapidly evolving semiconductor industry, such communication is not simply research, but a necessary component of our manufacturing process.
At OCZ we have one primary goal, and it is to make sure that every customer is 110% satisfied. Every employee at OCZ is dedicated to accomplishing this goal. Our engineers are constantly developing the fastest and best performing products. Our finance department works every angle to bring customers our product at the best price. Our marketing department ensures all the information needed to make an informed purchase is available and presented in an easy to understand format. The technical support department constantly studies and tests the latest hardware to be as informed as possible to help you with any issue you may have. Our customer service department is filled with customer satisfaction fanatics who will refuse to let you be unsatisfied.
OCZ offers a Lifetime warranty on every memory module we sell. We back this warranty with friendly, courteous staff that is willing to answer any question. At OCZ, if a staff member cannot answer your question, they will be forthright and put you in touch with a technician or engineer who can properly assist you. OCZ Technology is in tune with the needs of enthusiasts and overclockers alike, because we are just like you. Chances are you may have already spoken with an OCZ employee in a hardware forum, as we do bring our work home. We seek motivated, qualified applicants, whom already have a firm grasp, and a passion for the PC. Our technicians are available to answer your questions anytime, and our "technical" section can be referenced at anytime.
We have come from the grass-roots to bring you to new heights, and our products speak for themselves. There is a reason OCZ is considered the best memory on the market and that reason is that we will not settle for anything less then perfect.
Patriot Memory: The Company

Mission Statement – To be the vendor of choice for the computer and consumer electronic industries with a commitment to service and quality.
Vision – Commitment, focus on innovation in technology, product quality, and customer satisfaction are the key enablers of our future success.
Company Profile – Established in 1985, Patriot Memory builds a full range of memory module and flash memory products, offering a perfect blend of quality and value. Patriot products include Extreme Performance (EP), Signature Lines (SL) and Flash Memory solutions (FM).
Product Design – We understand the value of designing and responding quickly and intelligently to the rapid changes inherent in the memory module industry. This commitment to R&D enables us to deliver the best quality memory modules powered by the latest innovative technology.
Manufacturing and Operations – Patriot's development and manufacturing facility are located in Fremont, California USA. Our manufacturing segment is composed of a highly skilled production staff and multiple production lines optimized for modules, giving Patriot the ability and resources necessary to provide a full line of memory module solutions.
Manufacturing Process – To meet the growing global demand for its products, Patriot manufactures its Extreme Performance (EP), Dual Channel (DC) and Signature Line (SL) products in it own state-of-the-art manufacturing facility with highly skilled staff in Fremont, California USA. Patriot is a member of JEDEC. You can feel confident that your Patriot modules are of the highest quality available.
QA/QC Testing – Patriot Memory ensures that every module meets or exceeds industry standards. The manufacturing process begins with high-quality components and ends with rigorous functional testing to ensure each module's reliability and compatibility. Patriot Memory modules are approved by leading motherboard and system manufacturers such Intel, Tyan, Supermicro and Iwill. Patriot Memory is a member of Apple Developer Connection. Awards from such leading product review sites as XBit Labs, Anandtech, Tom's Hardware and Hot Hardware.com demonstrate Patriot EP and DC+XBLK memory modules set the standard for performance and reliability.
Product Support – Patriot's goal is to be your memory solutions provider with high quality products and services that are value priced. With our courteous and knowledgeable sales and technical support staff, industry leading warranty terms, and customizable logistic services; we feel there is no requirement we can not satisfy.
OCZ 4GB DDR3-12800 PLATINUM ENHANCED BANDWIDTH
Specfications
Frequency:   1600MHz DDR3
Latency:   CL 7-6-6-24 (CAS-TRCD-TRP-TRAS)
Parity:   Unbuffered
Voltage:   1.9V
Platinum Z3 XTC Heatspreader*
Lifetime Warranty
Optimized for ASUS boards
Available in 1 or 2GB modules
Special Features
* XTC (Xtreme Thermal Convection) heatspreaders optimize the thermal management of memory modules by promoting greater airflow by means of micro-convection throughout what is usually the dead air space inside conventional heatspreader designs. In this manner, build-up of heat is avoided and thermal dissipation of the memory components is offloaded more efficiently through the honeycomb design. At the same time, mechanical stability is maintained.
**OCZ EVP (Extended Voltage Protection) is a feature that allows performance enthusiasts to use a VDIMM of 1.95V without invalidating their OCZ Lifetime Warranty.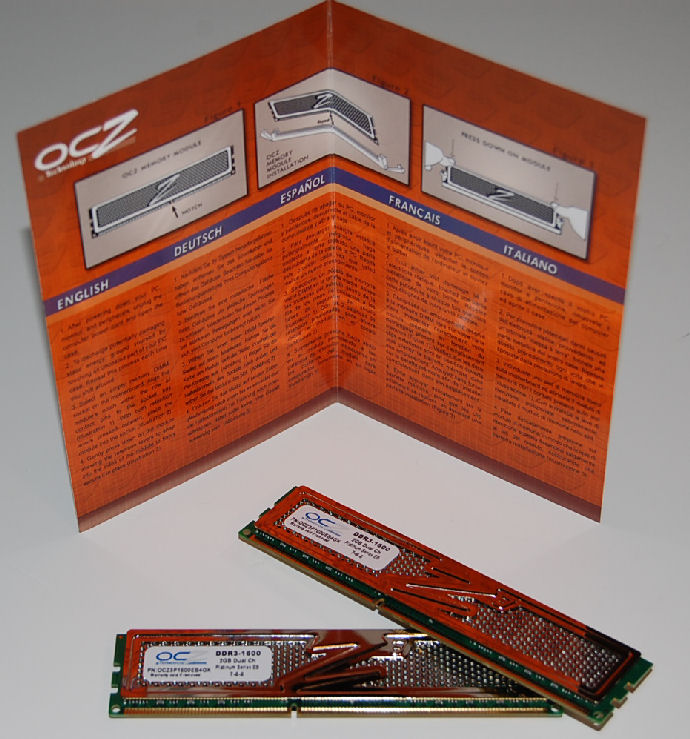 OCZ 4GB DDR3-12800 Platinum Kit & Instructions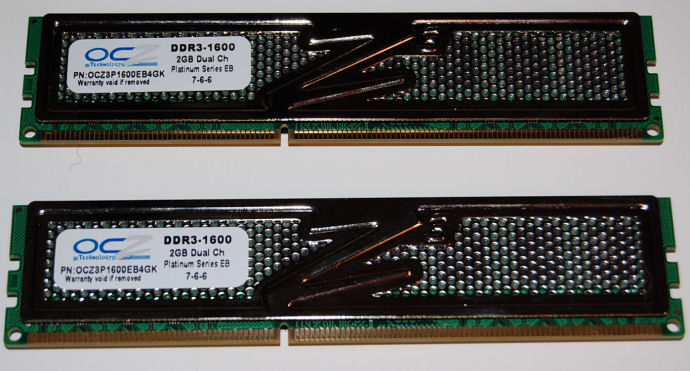 OCZ 4GB DDR3-12800 Platinum Kit … Closeup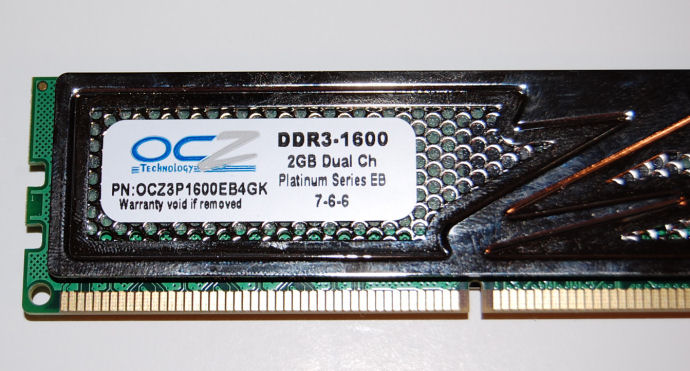 OCZ 4GB DDR3-12800 Platinum … Timing
With the OCZ 4GB kit we see the familiar platinum heat spreader that we have grown to know over the years. The Platinum series of memory has been in existence since heat spreaders for memory modules first became popular shortly after the initial launch of DDR (Yes, DDR1). Even though OCZ has many other memory kits, the Platinum series has always been synonymous with both quality and performance.
PATRIOT 2GB DDR3-15000 VIPER
Specfications
Extreme Performance PC3-15000 (1866MHz)
Low Latency (8-8-8-24)
Patriot Aluminum Bladed Heat Shield Technology to improve module stability
100% Tested and Verified
Lifetime Warranty
RoHS Compliant
Tested and compatible with Itel P35 and X38 chipsets
Patriot 2GB DDR3-15000 Viper Kit & Instructions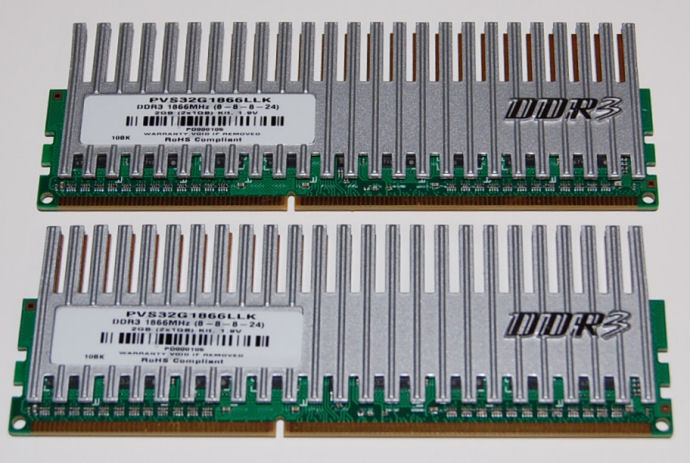 Patriot 2GB DDR3-15000 Viper Kit … Closeup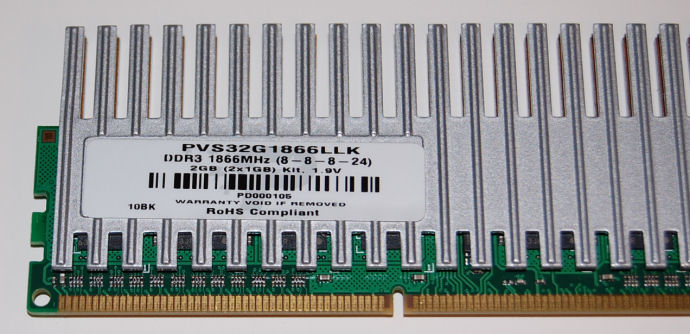 Patriot 2GB DDR3-15000 Viper Kit … Timing
The Viper series of memory modules has a relatively new styling for Patriot. The primary difference are the aluminum finger-like projections at the top of each heat spreader. As with any passive cooling solution these projections are set to dissipate heat by channeling it upward into each finger where air flowing through your system's enclosure can continuously carry the heat away from each memory module.
TESTING REGIME & METHODOLOGY
Prior to performing any benchmarking we always run MemTest 386 for a minimum of 10 complete cycles to ascertain that the memory product is completely error free prior to proceeding. Next, we allow the memory to run in the system for a few days in activities ranging from surfing the WEB to intensive gaming sessions, in other words my general day to day activities. I view this as a break-in period for the memory product. While many of my peers feel this break-in time is no longer necessary with modern day RAM; I feel it allows me to get a feel for what the memory being tested is capable of, and old, deeply engrained habits die hard.
Test Platform

Processor
Intel X3350 Core 2 Quad
Motherboard
ASUS P5E3 Premium WIFI-AP @n, BIOS 0151
Memory
4GB OCZ DDR3 PC3-12800 Platinum, 7-6-6-24
2GB Patriot Viper DDR3-15000, 8-8-8-24
Drive(s)
2 – Seagate 1TB Barracuda ES SATA Drives
Graphics
XFX GeForce® 8800 GT XXX running ForceWare 169.25 64-bit WHQL
Cooling
Enzotech Ultra w/ 120mm Delta Fan
Power Supply
Antec 650 Watt Neo Power & Antec 550 Watt Neo Power
Display
Dell 2407 FPW
Case
Antec P190
Operating System
Windows Vista Ultimate 64-bit SP1
As previously stated, we're running Vista 64 Ultimate, an operating system that will take full advantage of 4GB of memory. Our goal is to determine whether the 4GB OCZ DDR3-12800 Platinum kit, with lower latencies and double the size, will perform in the same league as the Patriot 2GB DDR3-15000 kit which should run faster at maximum settings. We intend to test each of these products at all popular DDR3 memory frequencies running the lowest timings possible to achieve the results. We also plan to overclock each of the kits to ascertain just how much headroom each product brings to the table. To do so we plan the use the synthetic benchmarks and game captioned in the table below.
Synthetic Benchmarks & Games
SANDRA XII Professional
Everest Ultimate Edition v. 4.50.1330
SuperPI Mod 1.5XS
F.E.A.R. v. 1.08
Crysis v. 1.2
In lieu of having extremely convoluted graphs by trying to list each of the minute settings we used to achieve our results, we have prepared a detailed table below that outlines each of the settings used for each memory frequency tested. As the chart reveals we ran both memory kits at the same identical settings as far as we could to present the most accurate comparison possible.
Memory Test Settings

OCZ Platinum DDR3-12800 (1600)

DDR3 Speed

1333 MHz

1600 MHz

1684 MHz

1864 MHz

Memory Timings

7-6-6-20-2T

7-6-6-20-2T

8-8-8-24-2T

N/A

VDimm

1.8V

1.8V

1.95V

N/A

CPU Clock

3.2 GB

3.2 GB

3.369 GB

N/A

FSB

400 MHz

400 MHz

421 MHz

N/A

Multiplier

8

8

8

N/A

Memory Strap*

1333 MHz

1333 MHz

1333 MHz

N/A

Patriot Viper DDR3-15000 (1866)

DDR3 Speed

1333 MHz

1600 MHz

1684 MHz

1864 MHz

Memory Timings

7-6-6-20-1T

7-6-6-20-1T

8-8-8-24-1T

8-8-8-24-1T

VDimm

1.80V

1.80V

1.90V

1.90V

CPU Clock

3.2 GB

3.2 GB

3.369 GB

3.262 GB

FSB

400 MHz

400 MHz

421 MHz

466 MHz

Multiplier

8

8

8

7

Memory Strap*

1333 MHz

1333 MHz

1333 MHz

1333 MHz

*  With the P5E3 Premium the 1333 MHz memory strap is the fastest manual strap available. The 1600, 1800, & 2000 MHz memory straps all require the motherboard to be set in auto mode.
MEMORY MODULE SPD
As computer enthusiasts most of us have learned not to pay any attention to the SPD settings of the memory that we utilize. This is do in no small part to the fact that most memory will run quite well at somewhat lower timings than expressed in the SPD, and is generally rated lower by the manufacturer. We, however, still feel it incumbent upon us to present this data and you may take it with whatever degree of importance that you wish.
OCZ 4GB DDR3-12800 Platinum Kit SPD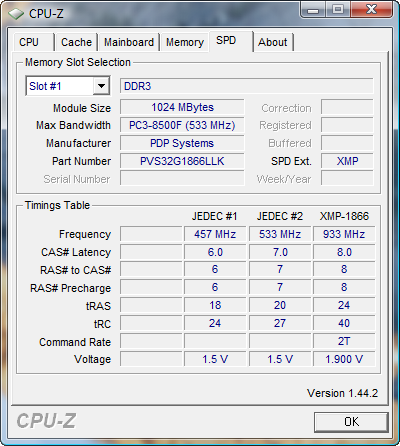 Patriot 2GB DDR3-15000 Viper Kit SPD
We'd like to present another very interesting tidbit of information before we show you our test results. The Patriot 2GB DDR3-15000 Viper Kit defaults at all memory frequencies to a command rate of 1T with the command rate control left on auto. We were unable to force the OCZ 4GB DDR3-12800 Platinum Kit to run at 1T at any of the memory frequency settings. As it turned out this made little difference in the outcome of the testing, but is still a fact that you should be aware of.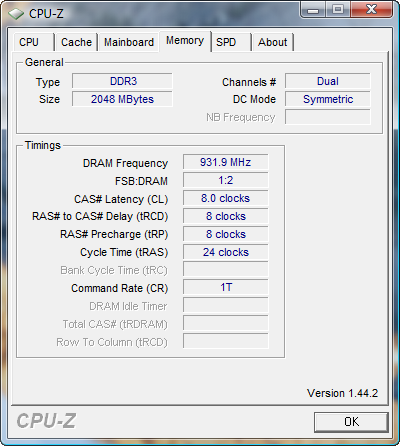 Patriot 2GB DDR3-15000 Viper Kit … 1T @ 1864 MHz
SANDRA PROFESSIONAL
"SiSoftware Sandra (the System ANalyser, Diagnostic and Reporting Assistant) is an information & diagnostic utility. It should provide most of the information (including undocumented) you need to know about your hardware, software and other devices whether hardware or software. It works along the lines of other Windows utilities, however it tries to go beyond them and show you more of what's really going on. Giving the user the ability to draw comparisons at both a high and low-level. You can get information about the CPU, chipset, video adapter, ports, printers, sound card, memory, network, Windows internals, AGP, PCI, PCI-X, PCIe (PCI Express), database, USB, USB2, 1394/Firewire, etc."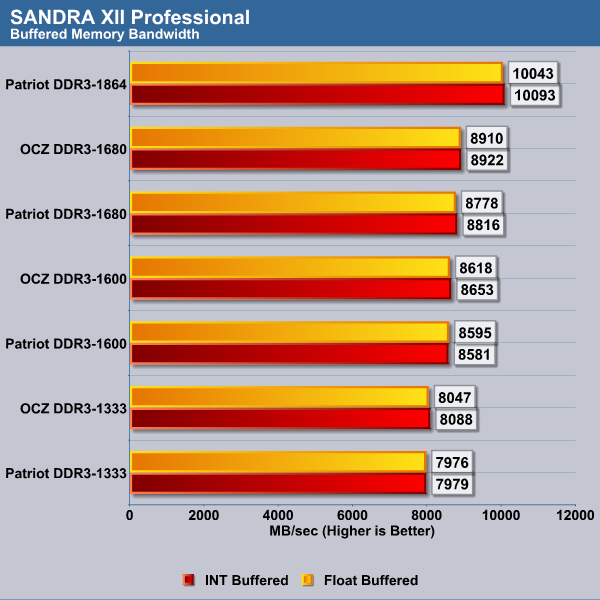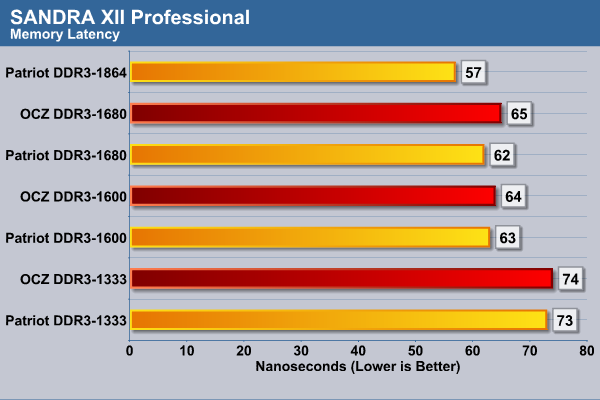 SUPERPi
SuperPi is the "Gold standard" for many when it comes to judging system performance. We ran 1 and 2 Meg calculations again running each test three times and reporting the average of the results.
Super Pi is used by most computer enthusiasts to test the performance and stability of their computers. In the overclocking community, it provides a benchmark for enthusiasts to compare "world record" pi calculation times and demonstrate their overclocking abilities. The program can also be used to test the stability of a certain overclock speed. If a computer is able to calculate PI to the 32 millionth place after the decimal without mistake, it is considered to be moderately stable in terms of RAM and CPU. However, longer tests with other CPU/RAM intensive calculation programs will run for hours instead of minutes and may better stress system stability.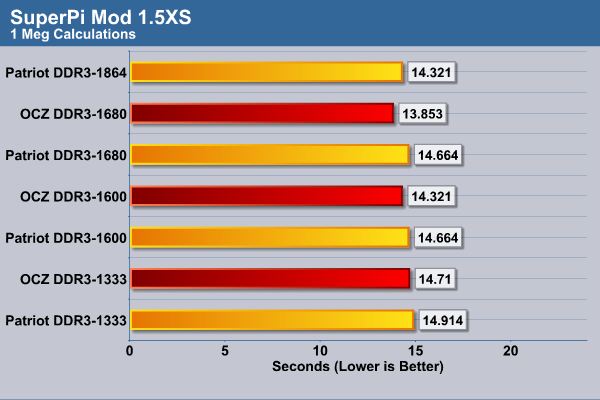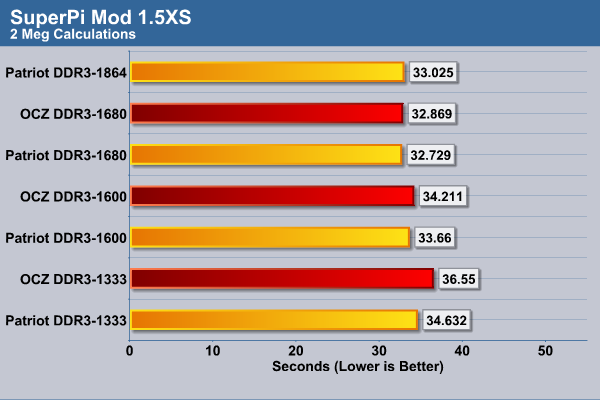 EVEREST ULTIMATE
"EVEREST Ultimate Edition is an industry leading system diagnostics and benchmarking solution for enthusiasts PC users, based on the award-winning EVEREST Technology. During system optimizations and tweaking it provides essential system and overclock information, advanced hardware monitoring and diagnostics capabilities to check the effects of the applied settings. CPU, FPU and memory benchmarks are available to measure the actual system performance and compare it to previous states or other systems. Furthermore, complete software, operating system and security information makes EVEREST Ultimate Edition a comprehensive system diagnostics tool that offers a total of 100 pages of information about your PC."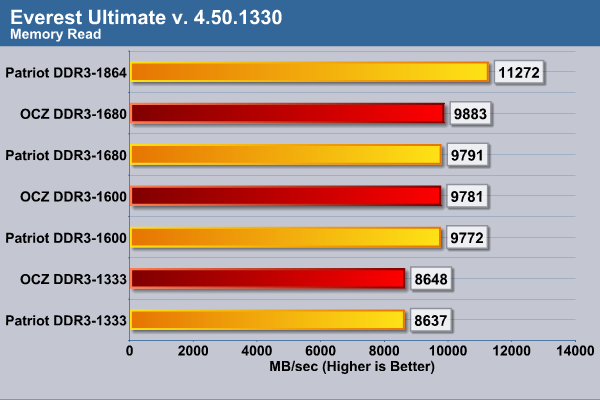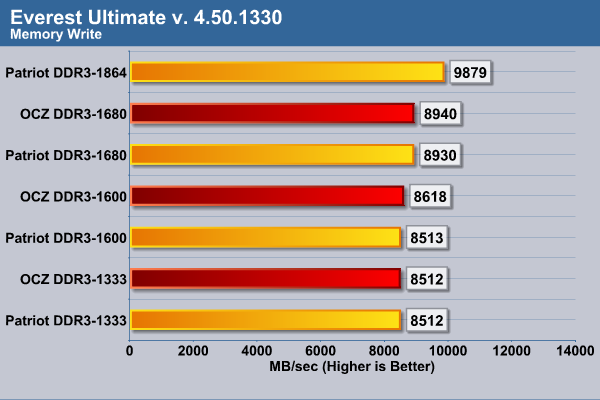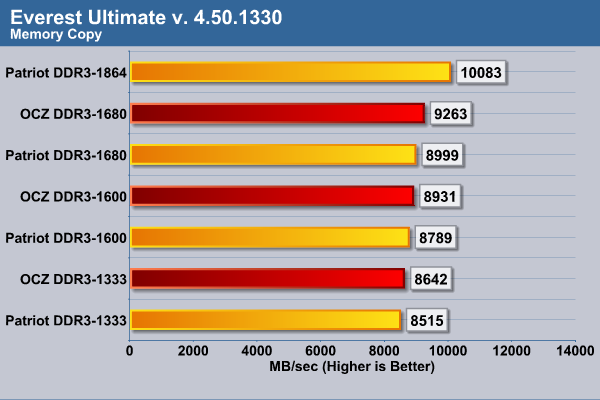 F.E.A.R v. 1.08
F.E.A.R. (First Encounter Assault Recon) is a first-person shooter game developed by Monolith Productions and released in October, 2005 for Windows. F.E.A.R. is one of the most resource intensive games in the FPS genre of games ever to be released. The game contains an integrated performance test that can be run to determine your system's performance based on the graphical options you have chosen. The beauty of the performance test is that it gives maximum, average, and minimum frames per second rates and also the percentage of each of those categorical rates your system performed. F.E.A.R. rocks both as a game and as a benchmark!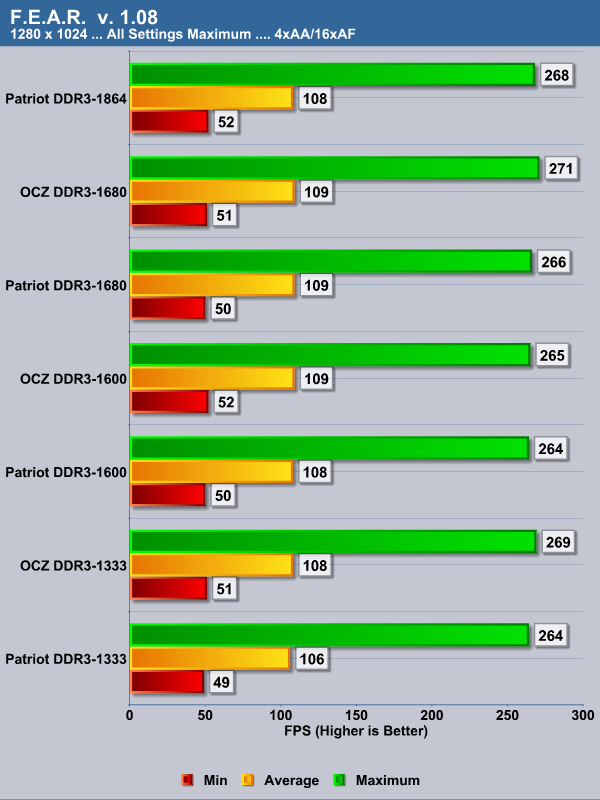 CRYSIS v. 1.2
Crysis is the most highly anticipated game to hit the market in the last several years. Crysis is based on the CryENGINE™ 2 developed by Crytek. The CryENGINE™ 2 offers real time editing, bump mapping, dynamic lights, network system, integrated physics system, shaders, shadows and a dynamic music system just to name a few of the state of-the-art features that are incorporated into Crysis. As one might expect with this number of features the game is extremely demanding of system resources, especially the GPU. We expect Crysis to be a primary gaming benchmark for many years to come.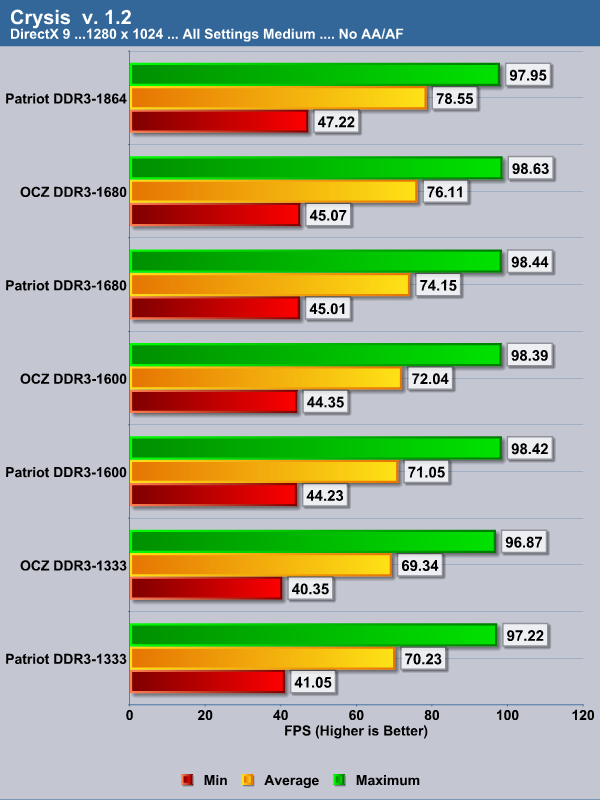 A WORD ON OVERCLOCKING
As the results of this initial phase of testing show we were able to push the OCZ to a maximum overclock of DDR3 1684 MHz. Even though we could get this kit to boot into Vista 64 at at frequencies up to 1800 MHz all attempts to make it stable at any frequency higher than 1684 MHz failed. We spent almost two hours trying every trick we know but a higher clock was not to be had. This 4GB kit differs greatly from results we have witnessed on other review sites where its 2GB counterpart was able to reach a stable frequency of 2 Ghz. We've always heard that no 4GB memory kit would run as fast as an exact 2GB twin, and I guess this proves it. At least we were able to get an overclock with the OCZ product, the Patriot 2GB DDR3-15000 Viper Kit was completely stable at 1864 MHz would not boot at a frequency over 1900 MHz.
WAIT! Before judging either of these kits too harshly because of our statements in the previous paragraph please read on. We alluded to some weird phenomena in the introduction and now it's time to spill the beans. We are testing this memory with a new Intel® X3350 Xenon Core 2 Quad 45nm processor that is said to be the twin of the just released Q9450. In our review of the ASUS P5E3 Premium motherboard we also used this processor and both of these memory kits. We experienced some idiosyncrasies with the processor especially when it came to booting at a high FSB (>480 MHz) when using a multiplier lower than 7.5. To prove this we dropped our Core 2 Duo E6850 in this system and were able to reach 1800 MHz with the OCZ 4GB DDR3-12800 Platinum Kit and just over 2GHz with the Patriot 2GB DDR3-15000 Viper Kit. The test results were significantly slower using this processor; as much as 2 seconds slower running SuperPi and up to 1,000 MB/sec slower running the synthetic benchmarks. Talk about an conundrum! Is the issue with the processor or the motherboard? Or a combination of the two. At present we can't answer that question, but fully intend to keep testing until we can.
REAL WORLD TESTS
While doing some research for this review and preparing to do a fresh install of Vista 64 with the recently released SP1, we had an epiphany. We felt as though we should see some level of speed increase installing each of these products using 4GB of DDR3 as opposed to 2GB. To eliminate any bias we ran both sets of memory at a frequency 1333 MHz and the processor at stock speed of 2.66 GHz. All other controls in the motherboard's BIOS were set to auto. If our hypothesis is correct we should see some improvement in the speed of these two operations. We measured the speed using an electronic stopwatch which was started and stopped manually at as close to the same point as humanly possible. Our results follow in the table below:
Memory Real World Tests

 

Load Vista 64

Load Vista SP1

OCZ DDR3-12800 4GB Kit

18 mins 22 secs

37 mins 15

Patriot DDR3-15000 2GB Kit

20 mins 34 secs

40 mins 35

4GB Speed Variance

+2 mins 12 secs (12.02%)

+3 mins 20 secs (8.94%)
FINAL WORDS & CONCLUSION
This has been a very informative review for the Bjorn3D staff as several of us played a role in interpreting the results ascertained from reviewing these two fine memory products. The OCZ 4GB DDR3-12800 Platinum Kit has a slight upper hand in memory intensive tasks, especially when using a 64 bit operating system such as Vista 64 than can fully utilize the additional memory. If you're looking for sheer speed then the Patriot 2GB DDR3-15000 Viper Kit takes a leading role when using memory frequencies in excess 1684 MHz. Below the 1680 MHz mark where the both products are tested in a mano-a-mano fashion in the synthetic benchmarks the OCZ Platinum Kit has a slight edge in all tests with the exception of the 2 Meg calculations in SuperPi. In gaming there are generally only 1 or 2 FPS separating the two products.
As far as value is concerned the OCZ 4GB Platinum kit gets the winning nod as it is priced very reasonably in the $400 – $420 USD range as opposed to the Patriot 2GB Viper kit which tips the cash register in the $260 – $280 USD range. There is, however, currently a $25 rebate on the Patriot Viper memory lessening the margin a bit. If you've checked the current pricing on most high-end DDR3 kits recently you'll see that both of these kits are reasonably inexpensive.
We at Bjorn3D have always believed it prudent to buy as much memory as you can afford as long as there isn't a huge difference in performance. We saw the benefit of 4GB vs 2GB in our real world tests even though the test's methodology might have some room for question as with any new benchmark. For the average user that isn't into extremely memory intensive apps, the 2GB Patriot Viper DDR3-15000 kit is certainly more than adequate.
When it comes to recommending these two fine DDR3 memory kits we've already stated a case for each one. Due to the issue we described in the review with the processor and/or motherboard we will score these two products equally when it comes to overclocking and will not list it as either a strength or weakness. We feel both of these kits are quite capable of overclocking quite well given the proper set of components. When it comes to scoring the two products they are almost equal with the OCZ 4GB DDR3-12800 Platinum, receiving a slighter higher score due to better performance when compared equally with the Patriot 2GB DDR3-15000 Viper Kit. Neither of these products are what you might consider a slouch; both, depending on your needs, are certainly worthy of consideration.
Patriot 2GB DDR3-15000 Viper Kit
Pros:
+  Excellent design for improved heat dissipation
+  Very good timings and latencies for a product this fast
+  Very fast above 1684 MHz
+  Lifetime warranty
+  Kits are hand tested and verified
+  Priced reasonably compared to its competitors
 
Cons:
–  Not the speed we would have hoped for at lower frequencies
 
Final Score: 7.5 out of 10 and the Bjorn3D Seal of Approval.

OCZ 4GB DDR3-12800 Platinum EBW Kit
Pros:
+  Exceptional timings and latencies at all speeds
+  Very fast up to 1684 MHz
+  Lifetime warranty
+  Kits are hand tested and verified
+  Priced exceptionally for a 4GB kit as compared to its competitors
 
Cons:
–  Not as functional of a heat spreader as some of its competition
 
Final Score: 8 out of 10 and the Bjorn3D Seal of Approval.