CoolIT Systems is back with their ESA certified Freezone Elite. Is water chilled cooling the way to go? Can the Freezone Elite justify its lofty price tag? There is only one way to find out.
INTRODUCTION
The art of overclocking has led to many advancements throughout the computer industry. From higher quality components used on motherboards to faster RAM capable of keeping up with the CPU, overclocking is at the very heart of advancement. It is because of overclocking that we have after market coolers that can cope with the extra heat output from CPUs which brings me to the point of this article. There are many different methods for removing heat from your CPU which helps to lengthen the processor's life as well as increasing your overclocking headroom. There are high-end air coolers for the enthusiasts, water-cooling for the hardcore crowd and phase-change cooling for the extreme users. Each of these methods have distinct advantages and disadvantages. While water cooling offers lower temps than air cooling it is often an order of magnitude harder to setup and maintain. The same goes for phase-change cooling over water cooling, which brings us to the Freezone Elite from CoolIT systems. The Freezone Elite promises better cooling than water while being as easy to setup as a high-end air cooler. Trying to be all things to all people is always a risky path to take but one that can prove to be extremely lucrative if implemented properly. Does the Freezone Elite have what it takes to earn a spot in your gaming machine or is it just smoke and mirrors? I intend to find out.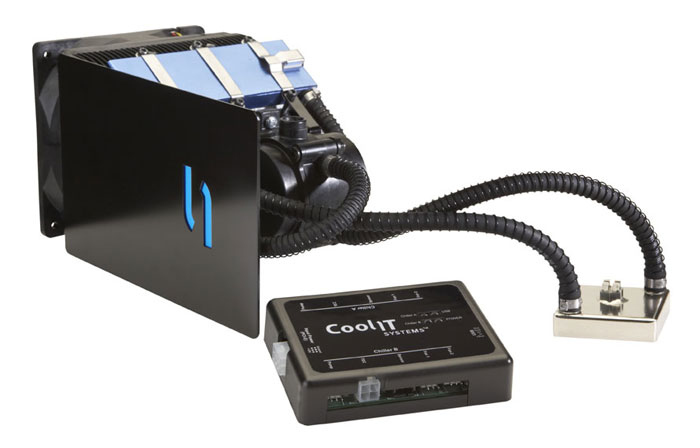 We would like to take a moment and thank the mentally unstable crew at CrazyPC.com for sending us this unit to destroy test.
SPECIFICATIONS
Technical Specs
CPU FHE (Fluid Heat Exchanger)
Design: Monolithic copper, multi-cell
Dimensions: 43 x 42 x 16.5 mm
Weight: 175g  
TCM (Thermal Control Module)
See TCM and MTEC Datasheets for full detailsTCM Options
Basic TCM
Control module that offers basic control functionality.
MTEC Control Center Module
Full featured system status monitor and control module.
Please see MTEC Control Center Data Sheet.
Chiller and Pump Module  
Heatsink

Design: Dual dissipation plate, anodized alloy
Dimensions: 121 x 92 x 65 mm
Weight: 800g
 TECs (6)
Power usage: Max total 72 Watts
Design: Six solid-state heat pump wafers
Dimensions: 40 x 40 x 3.5 mm (each)
Weight: 20g (each)
Chiller FHE's (2)

Design: Dual anodized alloy distribution, multi-channel
Dimensions: 121 x 41 x 12 mm (each)
Weight: 80g (each)
Fan
Power usage: Max 8 Watts
Airflow: 120 CFM
Noise: Max 40 dBA
Bearing Type: Dual ball
Life Cycle: 50,000 hrs
Dimensions: 120 x 120 x 38mm
Features: 3rd Wire Tachometer
Pump
Power usage: 8W +/- 0.5W
Design: 12VDC coreless outrunner pump with integrated expansion vessel
Noise: <15dBALife Cycle: 50,000 hrs
Dimensions: 50 x 50 x 75 mm
Flow: 3.5 L/minWeight: 205g
PACKAGING
When it comes to packaging the Freezone Elite, CoolIT Systems leaves nothing to chance. The unit itself is fairly heavy and would destroy a simple cardboard enclosure. To prevent the unit from being damaged it is placed in thick styrofoam padding with separate compartments for the accessories and control module.
Click a picture to see a larger view
---
---
PHOTOS
Our first photo shows the base of the Freezone Elite and how it comes with pre-applied thermal paste. Normally this would be a great time saver but CoolIT Systems tends to use a lot of thermal paste making a big mess of your CPU. This thermal paste will also be removed and replaced with some Noctua NT-H1 paste as our paste of choice.
The next photo shows off the TEC block interfacing with the air cooled heat sink. This is where the magic happens. Inside of that blue block are a total of three TECs and with two blocks we arrive at a total of six TECs ready for duty.
Click a picture to see a larger view
---
---
The last photo is of the rear of the unit and gives us a better understanding of what's going on. Beginning with the upper most tube connected to the pump, the water travels to the first FHE (Fluid-Heat Exchanger) where it is cooled before exiting out the other side (Lower right side of the bottom block). The water then travels up the tube on the right side of the photo to the second FHE where it is further cooled before finding its way to the CPU.
In ordinary water cooling we use fans blowing over a radiator to cool the water down as close to ambient (but never below ambient). Thanks to the extreme cooling power of the TECs we are able to cool the water below ambient temperatures. Of course the trade off is that while one side of the TEC gets very cold the other side gets very hot and this is why we have the two blue blocks attached to a big heat sink and fan unit. The fan helps keep the TECs from melting themselves and your CPU.
CONTENTS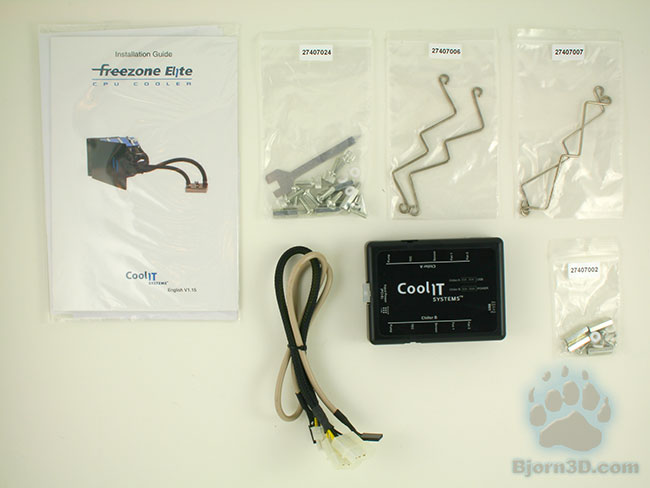 User manual
Retention clamps
Screws and fasteners
Power cables
Control module
This is one area where CoolIT Systems really shines. Given how complicated the technology employed by the Freezone Elite is, it is surprisingly simple (as shown by the few pieces of hardware) to setup when compared to a custom water cooling kit.
TEST SETUP
All tests were conducted on the following platforms. A format of the hard drives followed by a fresh install of the OS was done. The latest drivers were then installed and all non-essential applications were halted.
Test Platform
Processor
Intel QX9650
Motherboard
Foxconn X38A Digital Life
Memory
2 GB (2 x 1 GB) Aeneon DDR3-1333
Drive(s)
1 – Seagate 80GB Barracuda SATA
1 – Samsung HD501LJ SATA
Graphics
ASUS 8800GT TOP
Sound
On board
Cooling
Cooler 1 – CoolIT Freezone Elite
Cooler 2 – Noctua NH-U12P
Cooler 3 – Big Typhoon VX
Cooler 4 – Intel Stock cooler
Cooler 5 – Custom water cooling
Power Supply
OCZ GameXStream 850 watts
Display
Westinghouse 37″ LVM-37W3
Case
No case
OS
Windows XP Pro SP2
The custom water cooling setup listed above consists of a Laing DDC-1T with Petra Top, Swiftech MCR-220 radiator, Danger Den TDX CPU block, Swiftech MicroRes and 1/2 inch tubing. The setup is cooled by two Noctua NF-P12 fans.
Test Methods
To test the CoolIT Freezone Elite we will be using the following methods.
All scores are recorded using the SpeedFan utility. Ambient temperature is 25ºC and is measured using a non-contact digital thermometer and our measurement spot is two feet from the CPU socket area.
We will be using Prime95 to load the CPU and will run the Small FFTs torture test to ensure maximum heat load. The CPU will be tested at stock settings and again at overclocked settings of 3.8GHz with 1.4625 volts.
INSTALLATION
Installing the Freezone Elite will require you to remove your motherboard but thankfully is not as painful as some water cooling kits can be. There is no leak testing required as everything has been pre-plumbed from CoolIT before leaving the plant.
Once your motherboard is removed you will screw the standoffs into the motherboard making sure to use the plastic spacers for added insulation from shorts. Then place the FHE (Fluid Heat Exchanger) on the CPU. Finally, using the appropriate retention clips (We used the LGA775 clips) tighten the screws in an alternating fashion to insure even pressure across the CPU.
Click a picture to see a larger view
---
| | |
| --- | --- |
| | |
|   |   |
---
Once the unit is physically installed you can then proceed to install the control software that comes with the Freezone Elite. This is also what differentiates the Freezone Elite from the other CoolIT products. While the Feezone Elite and the Freezone are identical in their design the Elite is the only one that can be controlled through software. EDIT: It has been brought to our attention that the Freezone can also be controlled through the MTEC control center. Below are a few screen shots of the software once it has been installed. Oddly enough when you turn on the PC and enter Windows, the Freezone Elite will only run at a default level until you load the software. Once loaded the Elite will kick into action and begin cooling to your preset levels. I would like to see this software set to auto-load by default since the Freezone Elite only cools at basic levels until the software has been started. EDIT: The Freezone Elite is designed to run at whatever settings you have set it to upon entering Windows. To be perfectly clear this is NOT what we experienced and no matter what settings were entered the Freezone Elite would always run at lower settings until the software was loaded.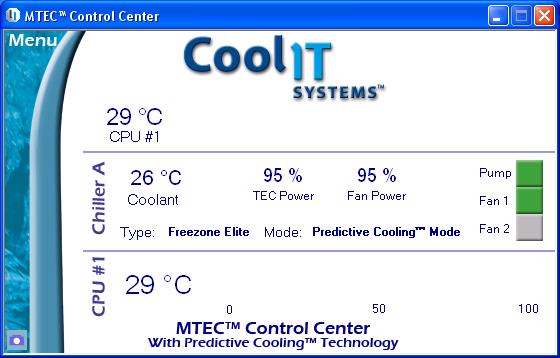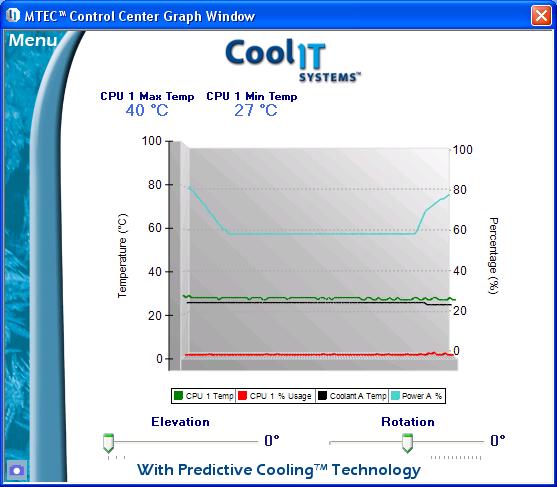 TEST RESULTS
Stock
For stock testing I took two measurements of the CoolIT Freezone Elite. The first measurment was taken at the default setting of 25ºC for the coolant. The control unit will automatically adjust the TEC and fan power to maintain the coolant temperature of this setting. It is listed below as Freezone Elite 25ºC.
The second measurement I took was to see how cold I could get the coolant and thus the CPU. After some tweaking the coldest temp I could get was 20ºC on the coolant. This came at the cost of 100% power to the TEC and the fan which is downright loud. It is listed below as Freezone Elite 20ºC.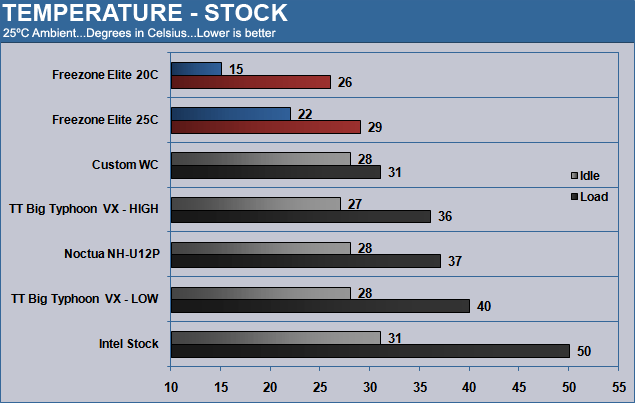 Overclock
It is now time to turn up the heat on this beast. With a voltage setting of 1.4625v (1.25v Stock) the CPU is putting out enough heat to warm up the immediate area and push most coolers to their breaking point. I attempted to take the same two measurements as before but it quickly became apparent that the heat output is just too much. The unit is unable to reach a low level of 20ºC on the coolant and even 25ºC was out of our reach. In the end the coolant settled at 31ºC.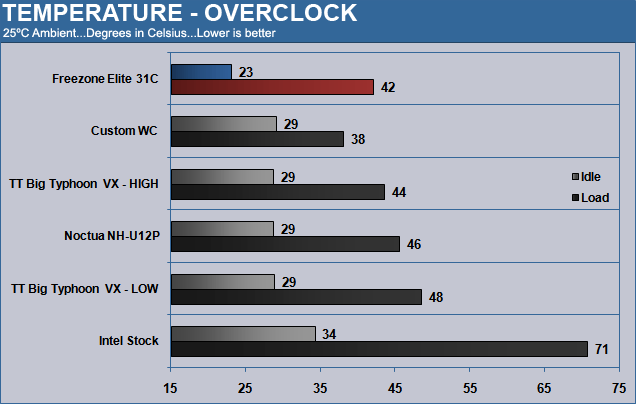 CONCLUSION
We have attempted to test the Freezone Elite against some other common coolers people use to show how it stacks up against the competition. Basically the Elite is a software controlled, more expensive version of the Freezone. There are no differences in design of the two outside of the software and the sort of money this unit is going for is very hard to justify for the performance gained. I don't see people buying this kit to use at stock speeds. People will undoubtedly want to overclock their CPU's We used a 45nm quad-core which doesn't put out the same levels of heat as the 65nm versions until overclocked. This is where things really fall apart. As shown in our testing even a basic water cooling kit can hold the temps to a lower level at load and the added noise from the Freezone Elite is frankly too loud to be used without headphones. Not to mention that even a mid-range air cooler like the Big Typhoon VX can almost match the performance of the Elite at load when overclocked. At the end of the day it is hard to reccomend such an expensive unit with such a low level of performance. Let's wrap it up.
FINAL WORDS
Performance: 5.0/10 – The CoolIT Freezone Elite offers performance on par with high end air coolers when overclocked. This is a bit disappointing when you consider the effort required to install this unit over a basic air cooler. At stock settings though it is a different story and this unit defeats all contenders easily though make sure you are wearing ear plugs if you crank it to the max.
Bundle: 6.0/10 – CoolIT makes sure you have everything you need to install and run this unit. There isn't much to the bundle considering its hefty price tag which is unfortunate. Even a CoolIT t-shirt would be a nice gesture but in the end you aren't buying this unit for the goodies, you're buying it for its performance.
Value: 5.0/10 – A quick check on price lists this unit at over $400.00 USD. You can make the arguement to some degree that you are paying for the ease of installation you don't get when building your own water cooling kit. The only problem here is that this is a large premium and when you have pre-built water cooling kits that perform similarly for half the cost it makes this an even harder sell.
Pros:
+  Strong performance at stock
+  ESA certified
+  All black design
+  Easy to install
Cons:
–  Overclock performance is lacking
–  Costly
–  Loud when used at full speed
Final score: The CoolIT Systems Freezone Elite scores a 5.5 (acceptable) out of 10.
Thank you again to the crew at CrazyPC.com for sending us this unit.