When we at Bjorn3D are contacted by any vendor touting the merits of any new product we've learned through experience to take their words with a grain of salt. Likely as not these words are simply marketing hype and only through extensive testing is the truth revealed. In the case of the Honeywell 80 GB SecuraDrive™ the marketing was aimed more at the size of the drive(s), their construction, and durability.
INTRODUCTION
We at Bjorn3D over the years have repeatedly touted the benefit that could be provided by a portable drive to almost anyone that uses a computer. This is highly evidenced by the sheer need to make information available to the masses and highly transportable. The types of information we are referring to can vary in form from something as simplistic as a few photos or simple files to files that are vastly more complex like highly detailed programming or encrypted security scripts. Movies and other extremely large graphical files are also now readily available to the consumer for purchase and download.
It is certainly no secret that many of the larger companies in a quest to keep their computer systems secure have chosen to give their personnel portable drives. These drives can vary in format from a small flash style drive to their larger mini hard drive counterparts. These drives can be programmed to allow everything from minimum to full access to the company's network. Larger capacity mini drives are becoming more and more popular as they allow their owner to readily transport vast amounts of data from their office workstation to their home office without the need of additional resources.
We were recently contacted by SOYO, a company that has its hand in designing and manufacturing many products in the consumer electronics field. It seems SOYO and Honeywell, a household name in consumer electronics, have partnered to manufacture a series of portable drives, ranging in size from 80GB to 160GB. These drives are of the mini hard drive variety as opposed to flash drives which have no moving parts and are marketed using the Honeywell name. They utilize a 1.8″ drive operating at 4200 RPMs. After reading the specs we were quite anxious to review one of these little treasures. Today, after extensive testing, it is our pleasure to present our findings regarding the Honeywell 80 GB SecuraDrive™.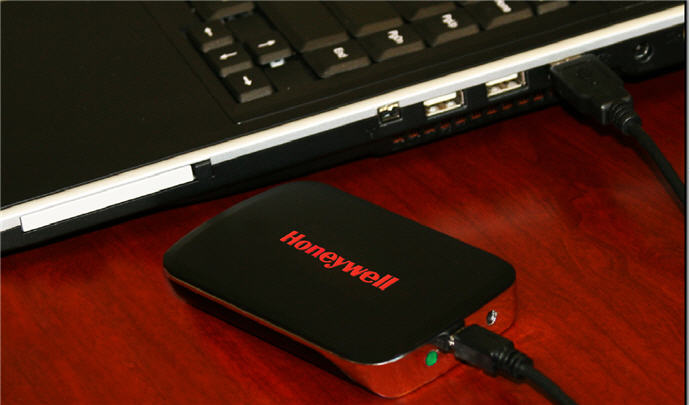 Honeywell & Soyo:  The Companies
The Honeywell Trademark is used under license from Honeywell International Inc. by SOYO Inc.  The Honeywell Consumer Electronics line is designed using only the most cutting-edge technology delivering long-lasting, quality products.  Although we at SOYO are strongly focused on our products, our primary goal is to develop a lifelong relationship with each of our customers by providing excellent reliability and customer support through a variety of accessible brands.

The SOYO® brand name is synonymous with quality, performance and value. Established in 1987 with headquarters in Ontario, California, SOYO Inc. (OTCBB: SOYO) is a leading global provider of computer motherboards, computer peripheral devices, consumer electronics, networking, portable storage and broadband telecommunication products and services that meet the needs of all markets – from the end-user to the enterprise.

Best known as a manufacturer of designer motherboards, SOYO provides a robust line of consumer electronics and computer peripherals to meet the needs of every quality conscious consumer.  With their opening price point brand, Privé, LCD TVs and monitors are offered at affordable values.  For those looking to find more bang for their buck, SOYO brand products deliver higher performance while at a competitive price.  The Honeywell Consumer Electronics line represents our top of the line products designed for high-end applications.

Over the years, SOYO has established strategic relationships with major global manufacturers, and through our extensive sales channels, we deliver a wide range of cutting-edge, cost-effective products. With sales offices in California and Sao Palo, Brazil, SOYO sells its products through an elaborate network of authorized distributors, resellers, system integrators, VARs, retailers, mail-order catalogs and e-tailers.
FEATURES & SPECIFICATIONS
Honeywell SecuraDrive Series
Comparative Specifications
Model
FM-HWS80U2
FM-HWS120U2
FM-HW160U2
Capacity
80GB
120GB
160GB
Interface
Hi-Speed USB 2.0
Rotational Speed
4200 RPM
MTBF
300,000 POH
2Disk
1.8 Bel
Interface Transfer Rate
Up to 480Mbits/s
Buffer Size
8 MB
Linear Shock
(Non-operating 1.0 ms)
1500G
Software
SecuraDrive™ Software (Windows only)
Driver for Windows 98 SE
Size
3.8 x 2.4 x 0.6 inches
Weight
5.1 oz
System Requirements
Pentium III 350 MHz or higher
iMac®, Apple G3/G4/G5/Intel processor
Windows 98SE, ME, 2000, XP, Vista
MAC OS X 10.2.8 or higher
64MB RAM, 128MB or higher recommended
USB 1.1 / 2.0 port
Assembled In
USA
Warranty
1 Year
MSRP
$199.00
$299.00
Pending
It is our understanding that the 160 GB SecuraDrive™ is currently in production and will be available in the very near future.
Features
Protect your critical files from theft
Uses hardware & software password protection
Metal alloy case dissipates heat and adds shock resistance
Bus-powered; No need for external power supply
Backup your confidential files, photos, or videos
PACKAGING
Our Honeywell 80 GB SecuraDrive™ arrived securely packaged in a thick cardboard box with plenty of foam protection. Inside was the factory packaged drive which was housed in a typical medium sized cardboard box.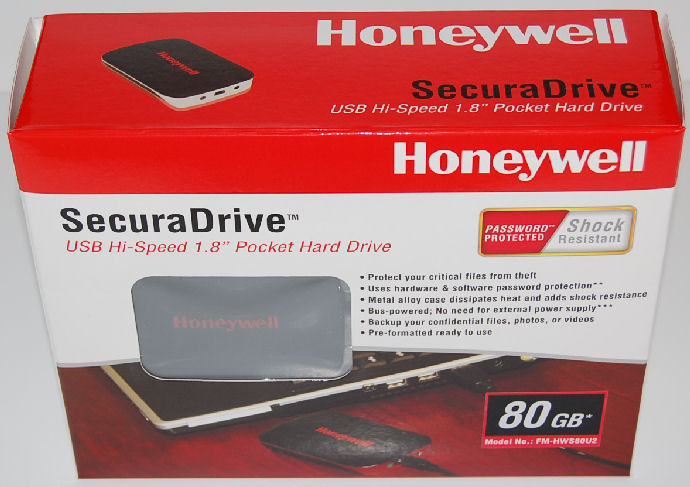 Honeywell SecuraDrive™ Exterior Package
The factory box encased an additional plastic housing which both holds securely and suspends the drive during shipping. We can't think of a computer product we worry more about in transit than a hard drive due to their susceptibility to damage from being dropped or extreme vibration. The design team for this products packaging did a wonderful job as the drive arrived in pristine condition and the interior packaging and products it housed looked as fresh as the day they were made.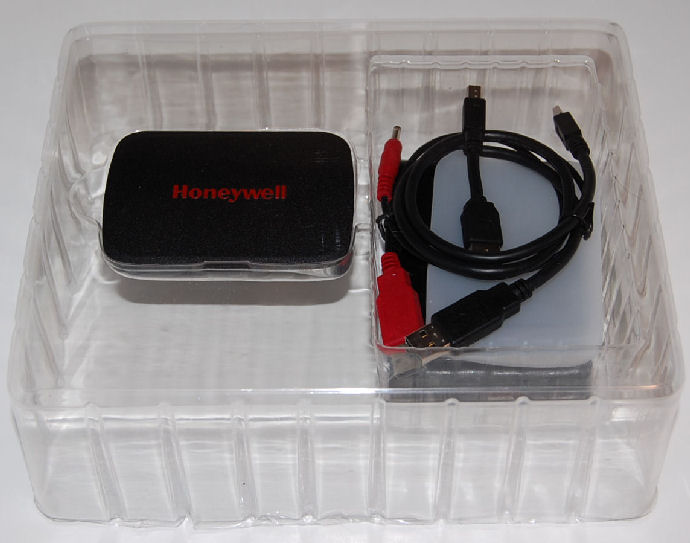 Honeywell SecuraDrive™ Interior Package
THE DRIVE
The size (3.8″ x 2.4″ x 0.6″) and shape of the Honeywell SecuraDrive™ are unique. The drive is black in color with silver aluminum trim and has a red inscription of the Honeywell on top. There are those aesthetically minded individuals that might call this drives housing flashy. IMHO aesthetics, including flames and colorful logos, are only eye candy! If the drive functions as well or better than advertised I could care less how it looks.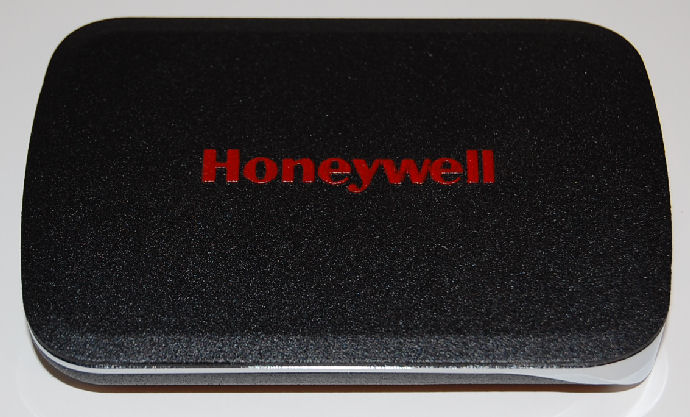 Honeywell SecuraDrive™
The images below show the Honeywell SecuraDrive™ show the dimensions of the product and reference it in a size comparison to a normally sized Seagate 3.5″ drive.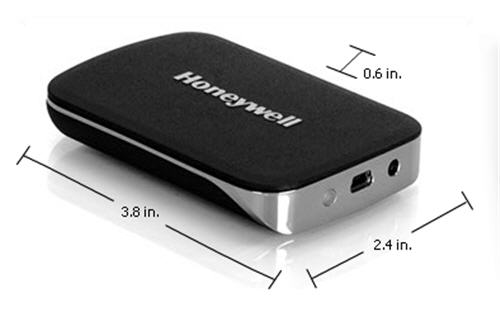 Honeywell SecuraDrive™ Dimensions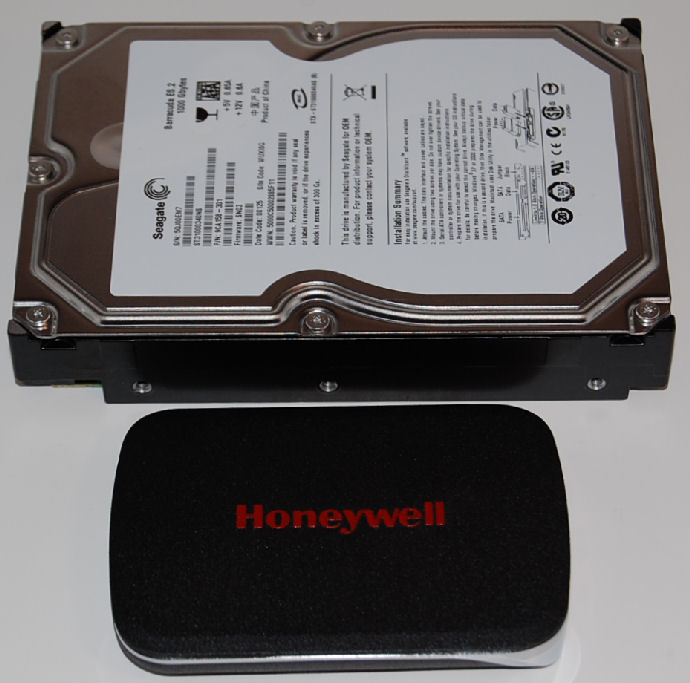 Honeywell SecuraDrive™ vs. Seagate 3.5″ Drive
The chasis of the SecuraDrive is aluminum and houses a Samsung Spinpoint N2 4200 RPM, 1.8 inch drive. SOYO and Honeywell rate the shock resistance of this drive at 1500G when non-operational. A closer look at the connection panel reveals a HD activity LED, a USB connection, and a power connection. The power connection is only necessary if you are using the drive with a non-powered USB hub and a separate cable allows you to power the drive from a powered USB port.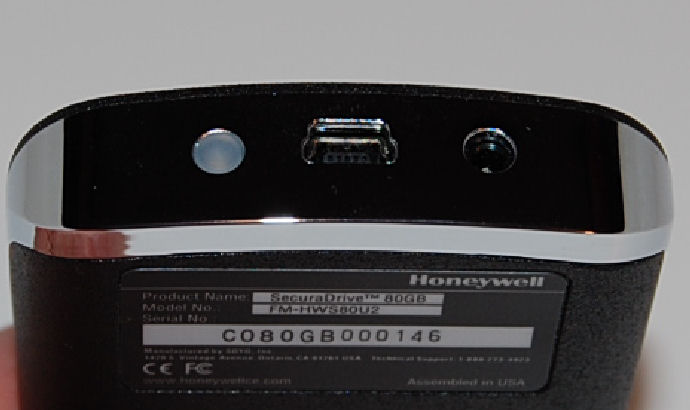 Honeywell SecuraDrive™ Control Panel
A side view of the drive shows it to be very sleek and non-obtrusive and suggests it should easily fit in any shirt pocket or other similar sized container.

Honeywell SecuraDrive™ Control Panel
BUNDLED ACCESSORIES
The accessories bundled with the SecuraDrive are far and above the best we've seen with a drive of this type. They include:
1 – Honeywell 80 GB SecuraDrive™
1 – 22″ USB cable
1 – 2″ USB cable
1 – 19″ USB power cable
1 – Silicone rubber protective case
1 – Leather protective case
1 – Mini CD with Windows 98SE drivers
1 – Owner's manual
1 – Quick Start guide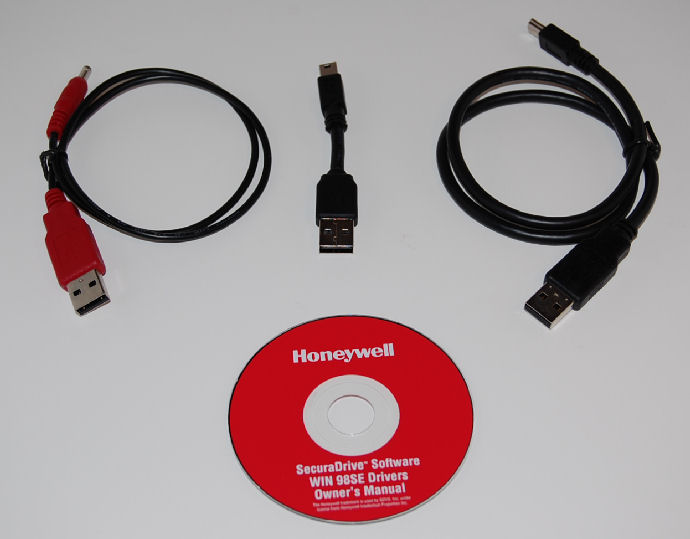 Honeywell SecuraDrive™ Accessories
Honeywell & SOYO provide two exceptional protective cases for transporting your drive. One is made of Silicone while the other is very nicely tailored leather. The two can be used separately or in conjunction with one another.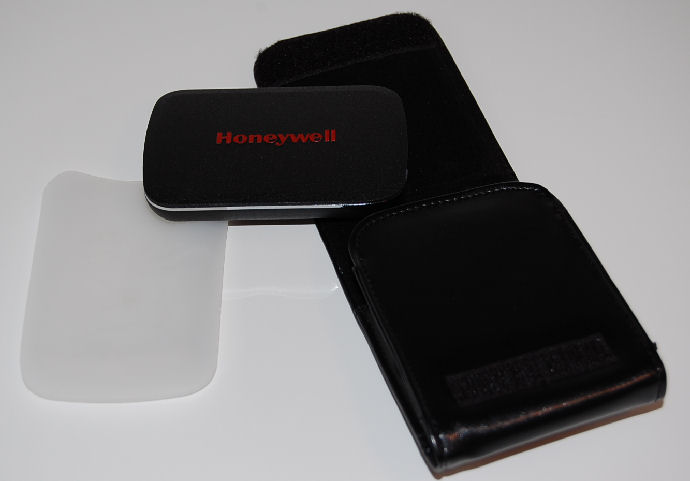 Honeywell SecuraDrive™ & Protective Cases
SECURITY
When you first use the SecuraDrive™ you will be presented with a screen that will ask you if you want to set up a secure partition on the drive.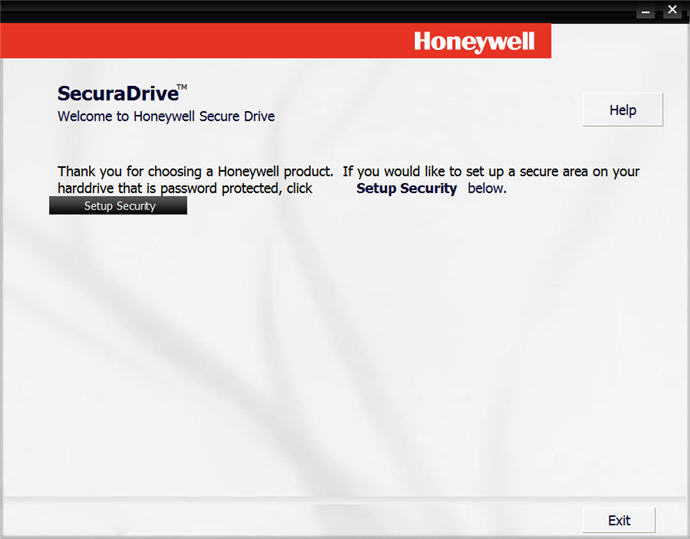 Should you opt to setup this partition you will be directed to the next screen which gives you an option for the size of the secure partition, which must be greater than 2 GB. You will also be have the typical password entry area where you must enter and then confirm your password. You will also have an are to type in a hint should you forget your password. For test purposes we setup a 4 GB partition only as we wanted the majority of the drive security free for performance testing..
If at anytime you wish to change your previous choices you will have the ability to do so by simply clicking on the the Secure icon in when opening the drive. If you decide to change the size of your secure partition you should remember to save your data as the complete drive will be repartitioned and formatted.
A rather nifty little feature if you attempt to log in more than three times using the wrong password, you will get a pop-up screen directing you to unplug the drive and plug it in again before you can attempt to login again.
TESTING METHODOLOGY
We will be testing the Honeywell SecuraDrive in comparison to AVB USB 2.0 Mobile 4GB flash drive, the fastest portable drive we've tested to date. We will be using the tests/benchmarks captioned below. Each test will be run three times and the highest reported results will be reported. In addition to the synthetic benchmarks we will be doing real-world testing in the form of copying a 664 Megabyte file from the system's main drive to each of the reference drives and measuring the time and calculating actual speed.
Test Platform

Processor
Intel Q6600 Core 2 Quad @ 2.4GHz
Motherboard
ASUS Maximus Formula(Non-SE) X38, BIOS 0907
Memory
4GB of Mushkin XP-2 6400 DDR-2 4-3-3-10
Drive(s)
2 – Seagate 1TB Barracuda ES SATA Drives
Graphics
GIGABYTE™ GeForce® 8800GT TurboForce running ForceWare 169.25 64-bit WHQL
Cooling
Enzotech Ultra w/ 120mm Delta Fan
Power Supply
Antec 650 Watt Neo Power & Antec 550 Watt Neo Power
Display
Dell 2407 FPW
Case
Antec P190
Operating System
Windows XP SP2
Synthetic Benchmarks
HD Tach RW v. 3.0.1.0
HD Tune v. 2.52
ATTO Disk Benchmarks
HD TUNE v. 2.52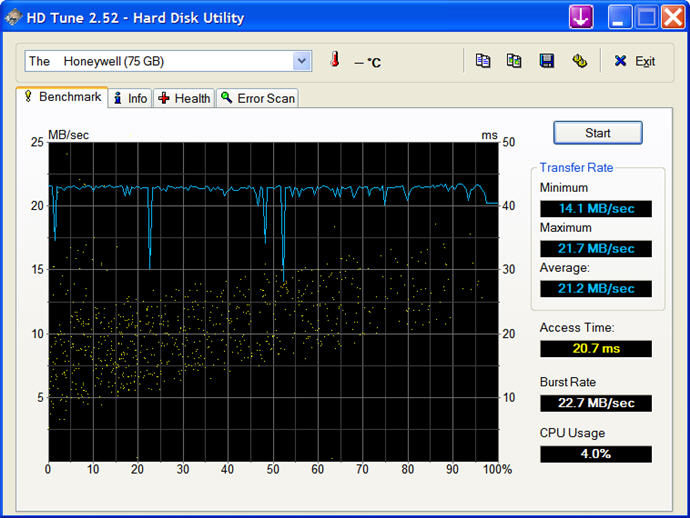 Honey 80 GB SecuraDrive
AVB USB 2.0 4GB Flash Drive
HD TACH RW v. 3.0.1.0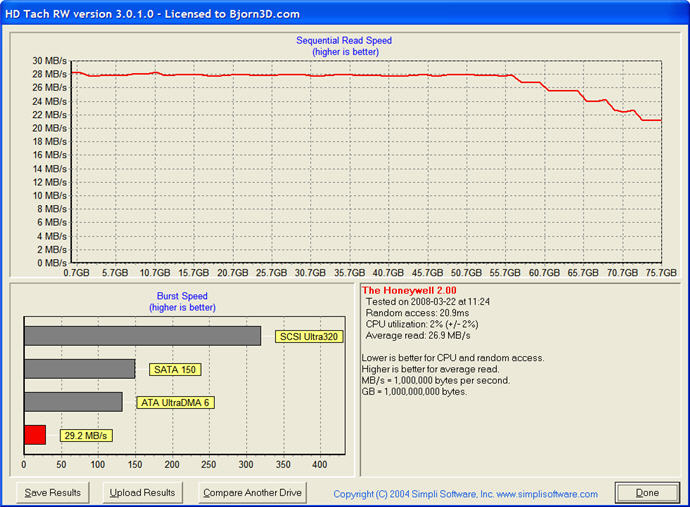 Honeywell 80 GB SecuraDrive Short Test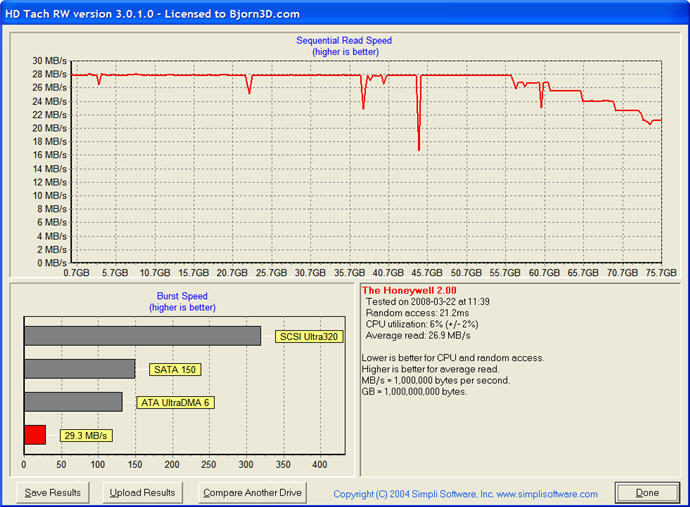 Honeywell 80 GB SecuraDrive Long Test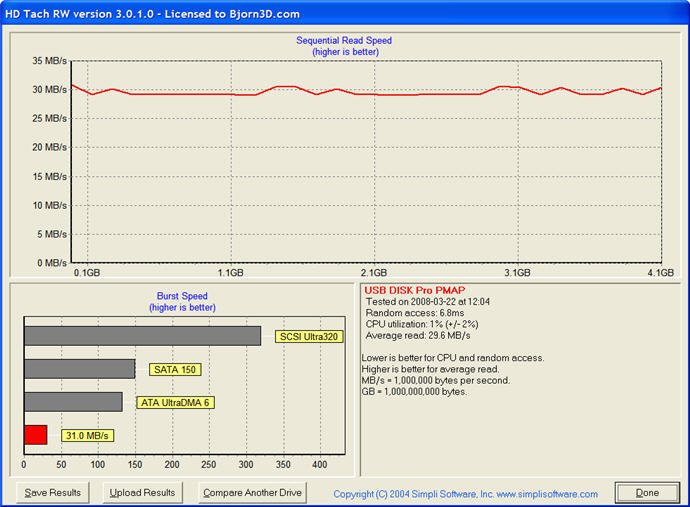 AVB USB 2.0 4GB Flash Drive Short Test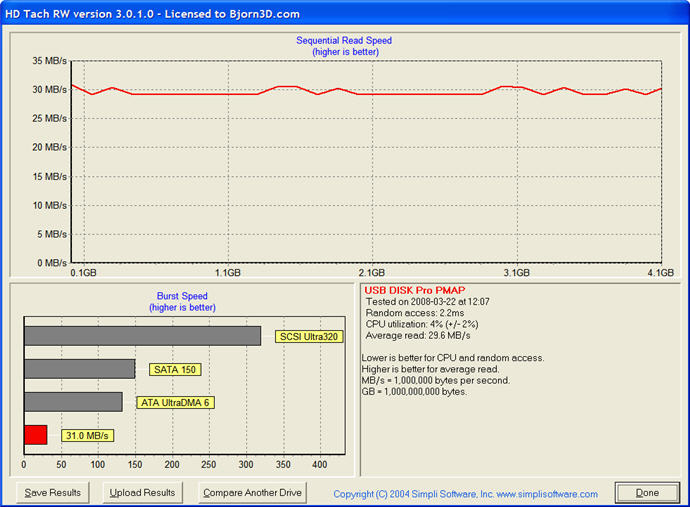 AVB USB 2.0 4GB Flash Drive Long Test
ATTO BENCHMARK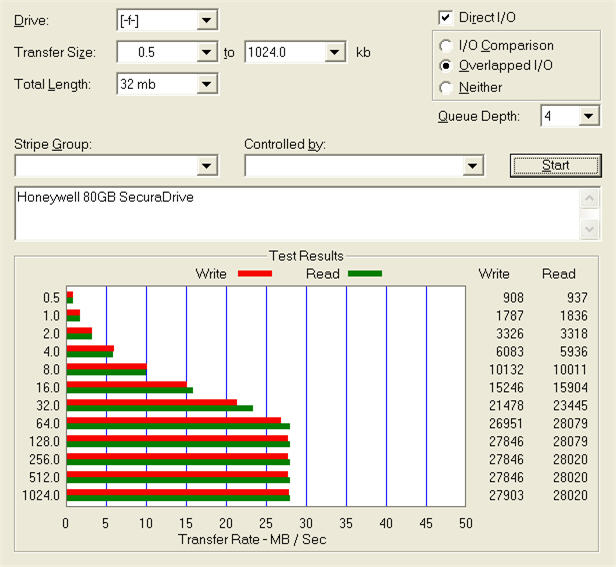 Honeywell 80 GB SecuraDrive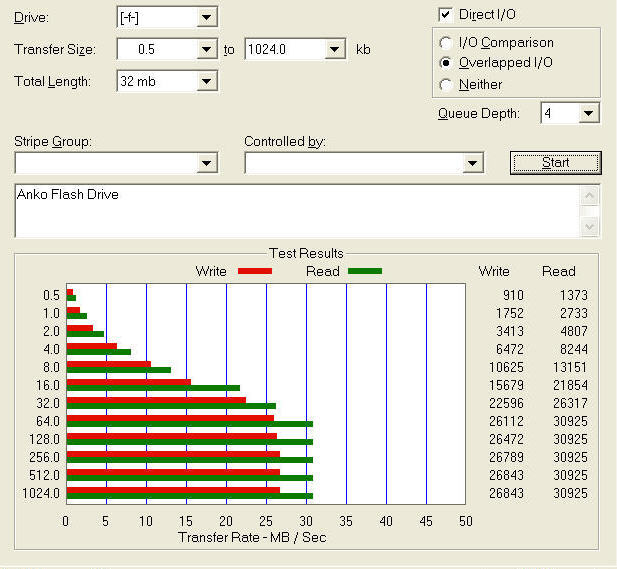 AVB USB 2.0 4GB Flash Drive
REAL-WORLD TEST
Real-World Comparative Testing
Copy 664 Megabyte FIle
Specification
Honeywell SecuraDrive
AVB USB 2.0 4GB Flash Drive
Time
27.8 seconds
29.1 seconds
Calculated Speed
23.885 MB/sec
22.818 MB/sec
FINAL WORDS & CONCLUSION
When we at Bjorn3D are contacted by any vendor touting the merits of any new product we've learned through experience to take their words with a grain of salt. Likely as not, these words are simply marketing hype and only through extensive testing is the truth revealed. In the case of the Honeywell 80 GB SecuraDrive™ the marketing was aimed more at the size of the drive(s), their construction, and durability. They neglected to tell us how fast they were! For a portable, mini-disk based drive the SecuraDrive is extremely fast and in our real-world test actually exceeded the performance of our previous champion.
Two other issues we always pay close attention to with any storage device with moving parts is the noise level it produces while in operation and how hot the device becomes during heavy utilization. In the care of the SecuraDrive™ the drive was totally inaudible during operation and even though the temperatures were unable to be measured the case never exceeded what we would call "luke warm".
The styling of the Honeywell SecuraDrive™ series is built around functionality and durability. We can attest to the durability as prior to beginning testing we dropped the drive (intentionally) from a height of six feet onto a wooden floor and not so much as a scratch or a hiccup during operation, this test is referred to as our "break in". We feel this type of stress test is necessary for any portable drive before we can truthfully say it is durable.
The only little niggle that may cause a potential consumer to think twice about purchasing this drive is its price. Consider this before you balk, for the $199.00 you are getting 80 GB of storage. A similarly priced FLASH drive will only net you 32 GB of storage, so it will cost over twice as much per Gigabyte as the SecuraDrive. We can in good conscience highly recommend this drive to anyone looking for a portable means of containing large amounts of data.  There are cheaper drives of this type to be had with larger storage capacities but none of them appear to be as ruggedly constructed or as small and conventient to transport.
Pros:
+  A very fast mini disk drive
+  Exceptional bundle of accessories
+  Highly shock resistant enclosure and drive
+  Inaudible during operation
+  Case only gets luke warm during heavy operation
+  Built in security features
 
Cons:
–  Price may be a limiting factor for some
–  A longer warranty would be nice
 
Final Score: 8.5 out of 10; and the BJorn3D Seal of Approval.