Today we are taking a look at the 750 watt version from the Corsair TX line of power supplies, designed for PC enthusiasts looking for a great product at a great price.
INTRODUCTION
2007 seemed to be the year of the power supply here at Bjorn3D. 2008 may end up being much the same.  Today we are taking a look at the 750 watt version from the Corsair TX line of power supplies.  According to Corsiar, the TX series is designed for PC enthusiasts looking for a great product at a great price.  In our previous review of the 450 watt model from Corsair's VX line, we found that Corsair lived up to it's claims of a price-conscious product.  Let's see if they keep with that trend with the TX750W.
ABOUT CORSAIR
If you hadn't heard of them by now, here is a quick overview of Corsair, right from their site:
"Corsair has been a leader in the design and manufacture of high-speed modules since 1994. Our focus has always been on supporting the special demands of mission-critical servers and high-end workstations, as well as the performance demands of extreme gamers. While maintaining this core focus, in recent years, we've also brought our expertise, technology leadership and legendary quality and reliability to memory and other technology products for the more mainstream consumer."
FEATURES
Let's get right into the nitty-gritty and take a look at the standard features and specifications of the Corsair TX750W.  Aside from some minor differences in physical dimensions, the 650 watt version of the TX offers the same features.  As you will see, there are plenty of features worth pointing out.
Supports ATX12V v2.2 standard and older ATX12V 2.01 spec
Ultra-quiet 120mm (140mm on TX750W) double ball-bearing fan delivers excellent airflow
80%+ energy efficiency at 20%, 50% and 100% load condition for less heat generation and lower energy bill
99% Active Power Factor Correction provides clean and reliable power to your system
Universal AC input 90~264V automatically scans and detects the correct voltage
Dedicated single +12V rail offers maximum compatibility with latest components
Over Current/Voltage/Power Protection, Under Voltage Protection, and Short Circuit Protection provide maximum safety to your critical system components
High quality Japanese capacitors provide un-compromised performance and reliability
Extra long cables support full tower size chassis
In addition to the long list of features that Corsair provides, here is a list of the available plugs on the TX750W.  As you can see, there are plenty of connections for all of your power needs.

1 x 20+4-pin ATX 
1 x EPS/ATX 8/4-pin  

4 x PCI-E 8-pin

8 x SATA 

8 x 4-pin Peripheral  

2 x Floppy
SPECIFICATIONS
Corsair TX750W
Specifications
Output Voltage
Output Current Max
Max Combined
Total Combined
+3.3V
30A
180W
750W @ 50C
+5V
28A
+12V
60A
720W
-12V
0.8A
9.6W
+5Vsb
3A
15W
Voltage

90-264 VAC

Frequency

47 – 63Hz

Input Current

60A for 115V; 5A for 230V

Efficiency

80%+ under 20%, 50%, and 100% load

MTBF

100,000 hours @ 25C

Approvals

UL, CUL, TUV, CE, FCC, CCC, CB, C-tick

Dimensions

3.4″ (H) x 5.9″ (W) x 6.3″ (D)
CLOSER LOOK: PACKAGING
Corsair did a great job making sure the TX750W arrived safely.  Not only is the box highly informational, with the features and specifications clearly printed on it, it also contains a form-fitting foam insert to keep the power supply in place during transportation.  Once you have removed the foam covering the power supply, you will see that it is covered by yet another protective layer.  This time it is not foam or cardboard, but a nice felt bag.  The bag sports a silk screened Corsair logo and is nicely fitted to the TX750W.  Unfortunately the bag is not quite large enough to contain the attached cables, but this is no major problem by any means.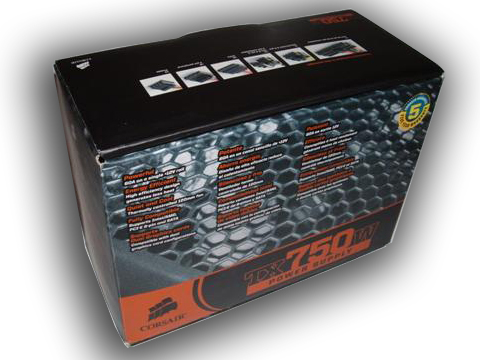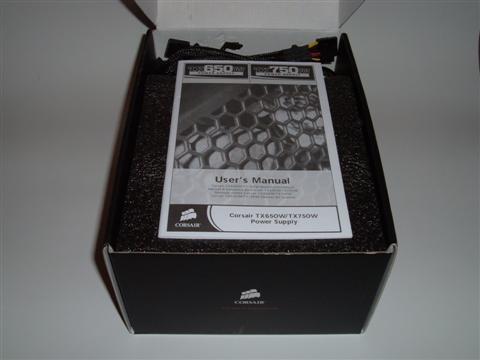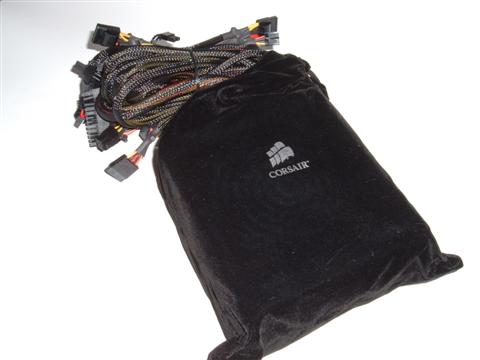 Also contained in the packaging are a standard power cord, a user's manual, zip-ties, installation screws, and a nice case badge to show off your Corsair love.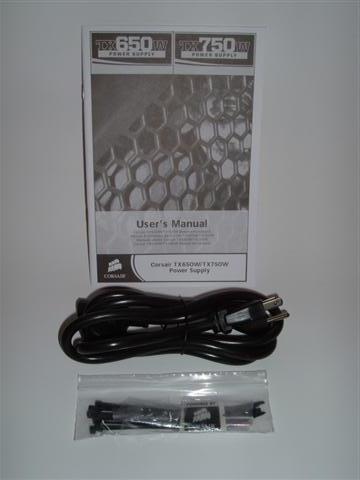 CLOSER LOOK: EXTERNAL
Once removed from its bag, the TX750W just looks great.  The case of the power supply is painted with a nice matte-like black texture, and is adorned with multiple orange stickers telling you exaclty what the product is and some of the basic specifications of the unit.
At the rear of the unit is a standard power plug connection as well as an ON/OFF switch.  The back panel is perforated to act as the exhaust area of the power supply.  This is a pretty standard configuration that many current manufacturers are utilizing.
The sides of the TX750W are standard panels with stickers that designate the model of power supply.  The front panel is also a standard panel, other than the single opening used to transport all of the power leads from inside the case to the outside of the case.  That's right, this is a non-modular power supply.  I have become so accustomed to newer power supplies coming with partially or fully modular cables that the TX750W took me a bit by surprise.  While hard-wired power supplies function just as well as modular units, they are by-far much, much more time consuming and painstaking to install when compared to their modular brethren.  More on this subject later.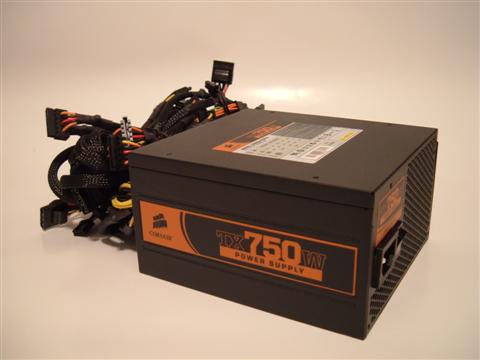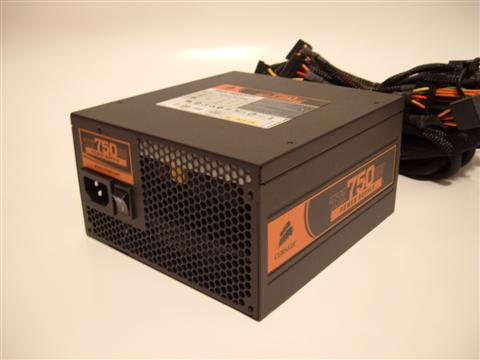 The great thing about the cables of the TX750W is that they are fully sleeved from the power supply itself to the end of each cable.  Each standard 4-pin peripheral plug also features a squeezable design that aids in the removal of the plug when necessary.  No more pulling and prying on stubborn plugs just hoping you don't ruin the hardware they are powering.  A great addition in my book.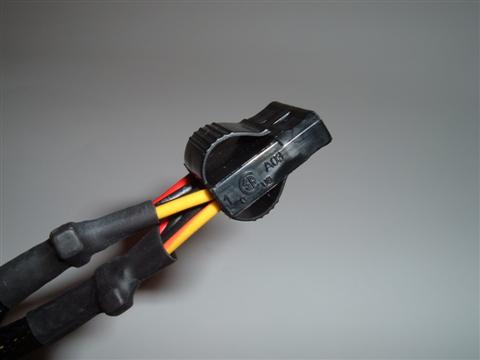 CLOSER LOOK: INTERNAL
There is nothing like taking a perfectly good product, cracking it open and voiding the warranty.  Let's see what's inside the TX750W, shall we?
With a single +12V rail capable of providing up to 60A, the TX750W is designed to be compatible with all of the power-hungry components you would want to throw at it.  No longer do you need to worry about over-committing a +12V power rail that may have a lower amperage rating.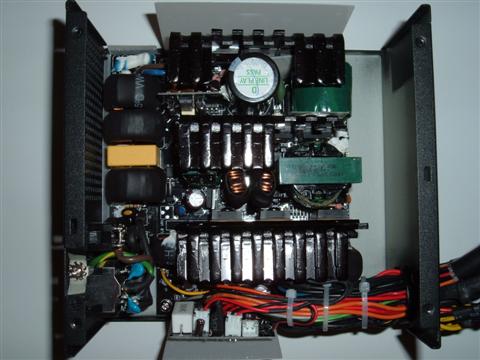 Three heat sinks help to radiate heat away from the heat-producing components, and a quite large double ball-bearing fan moves air across the heat sinks and out the back panel.  When I say "quite large", I mean it.  Corsair managed to stuff a 140mm Yate Loon fan in the TX750W, with a little room to spare.  This fan nearly takes up the entire bottom panel of the power supply.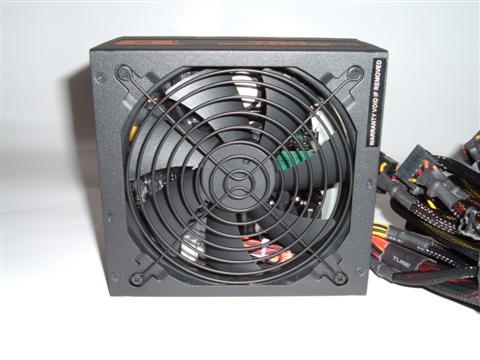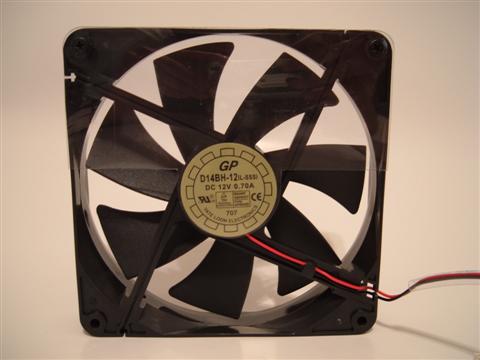 INSTALLATION
Like I stated earlier, the TX750W is a non-modular power supply.  Although I am only utilizing 5 cables to power my entire computer, I still have to find room in my case for all of the unused cables.  While it is usually not too hard to find a spot for all of the cables, some cases may not be as forgiving as others.  Another highlight of modular power supplies is that they can help improve the air flow in a case, promoting proper cooling.  At least Corsair has done a great job sleeving the cables and this definitely helps when trying to find a place to store the unused ones.  After carefully sliding the TX750W into my roomy Antec P182B case, I routed the extra cables above and below the power supply.  Of course, this task really is not that horrible, but modular power supplies sure do make installation much easier.
TESTING
Test Platform

Processor
Intel E4300 Core 2 Duo
Motherboard
EVGA 680i 122-CK-NF63-TR
Memory
2GB OCZ PC2-6400
Hard Drive (internal)
250GB Western Digital SATA 3.0Gb/s 16mb cache
Hard Drive (external)
250GB SimpleTech SimpleDrive
Video Card
XFX GeForce 8600GT
Power Supply
Corsair TX750W
Case
Antec P182
Operating System
Windows XP Pro SP2
TESTING METHOD
Without a dedicated power supply load simulator, it is tough to know exactly how much load you are putting onto a power supply at any given time.  In order to create a somewhat significant load for the TX750W, I copied a large DVD ISO between my internal hard drive and my USB-powered external hard drive, while looping the 3DMark06 demo from the primary hard drive.  I also fired up a few games like World of Warcraft, Call of Duty 4 and Unreal Tournament 3 to see how the power supply stood up in an environment much like it will be used in.  Idle readings were taken 15 minutes after a fresh boot into Windows XP.  All voltages were taken using an Equus Innova 3320 auto-ranging digital multimeter.
TESTING RESULTS
Corsair TX750W

Test Results

Parameter

Idle

Load

+3.3V
+3.29
+3.29
+5V
+4.99
+4.98
+12V
+12.04
+12.04
Corsair allows for a 5% voltage fluctuation for both the +3.3V (3.135V – 3.46V) and +5V (4.75 – 5.25V) rails, and a 3% fluctuation for the +12V (11.64 – 12.36V) rail.  The TX750 was well within the operating specifications that Corsair has provided as acceptable.
As the table above shows, the Corsair TX750W showed little to no sway in the voltages between idle and load conditions.  I mentioned earlier in the testing method section on the previous page that no dedicated power supply load simulator is available for our reviews at this time, so results will surely vary with different installations.  However, with the reputation Corsair has earned here at Bjorn3D from previous reviews, I am sure that the TX750W is more than capable of powering today's most demanding rigs.
Another result that is not as easily measured is the noise output of the TX750W.  Throughout the testing process, I was simply unable to hear the 140mm fan above any of the other components in my computer.  Even will all of my fans on their lowest settings, I was still not able to coax the TX750W to make any noise.
CONCLUSION
Corsair has once again provided Bjorn3D with a high quality review sample.  The TX750W lived up to all of the claims put forth by Corsair.  They have provided a highly efficient power supply that will power today's most demanding components, all while keeping quiet.  Corsair also took the time and effort to make sure all of the cables were covered in loom to aide in the installation and organization of the power supply.  The one drawback to the TX750W is the lack of modular cables.  In a world where this new technology is taking over, it is very noticeable when your product does not feature the latest and greatest implementation methods.  However, that one drawback will not keep the Corsair TX750W from providing ample power to even the most power-hungry videocards and CPUs.  By providing up to 60A of current on the +12V rail, PC enthusiasts are sure to have enough power for their multi-GPU, quad-core processor rigs.  On top of all that Corsair provides in the TX750W, a 5 year warranty comes with the unit, as well as access to the 24/7 on-line customer support.
PROS:
Stable voltage test results
60A of current on a single +12V rail
Fully sleeved cables with easy to remove plugs
Tons of plugs to choose from
140mm fan for optimal cooling
5 year warranty
CONS:
The Corsair TX750W earns an 8 out of 10 and the Bjorn3D Seal of Approval.