In the sea of similarity, one company strives to break free. With factory overclocks, rock solid support and a double lifetime warranty, that company is XFX and this is the 8800GT 256MB XXX Alpha Dog.
INTRODUCTION
There's a saying that goes 'The best things in life are free'. While that may be true, the best performing video cards are the exact opposite of free. They are downright expensive. So when a video card that performs every bit as fast as the big boys has a sticker price close to half of what they cost, it gets a lot of attention. In case you don't know I am referring to the 8800GT from Nvidia. This amazing card has brought performance levels never before seen in the sub $300 price range. But even that is out of the reach for many people. For the rest of us our boat has arrived! Introducing the XFX 8800GT XXX 256MB Alpha Dog video card. Difficult to pronounce in one breath name aside, this is the video card you want to own. With its single slot cooling design and smaller, more energy efficient 65nm design this card has everything a gamer could want. Now let's see if it's as good in real life as it is on paper.

Say hello to the Alpha Dog
XFX

XFX®, is a company that is well known to the gaming community as they produce some of the most extreme graphic products around. As a company they operate on the following corporate philosophy:
"XFX® dares to go where the competition would like to, but can't. That's because, at XFX®, we don't just create great digital video components–we build all-out, mind-blowing, performance crushing, competition-obliterating video cards and motherboards." "Oh, and not only are they amazing, you don't have to live on dry noodles and peanut butter to afford them."
XFX is a division of PINE Technologies, a leading manufacturer of state-of-the-art processing components. To learn more about PINE, click here.
SPECIFICATIONS
Looking at the specifications of this card we see that XFX keeps with their tradition of clocking the XXX edition a step above the rest. Take note of how much memory the card carries. The 8800GT is a fast card, no one disputes that. How will having half the usual amount of memory impact its performance? I intend to find out.
XFX 8800GT
Specification
XFX GeForce 8800 GT
256MB XXX
XFX GeForce 8800 GT
256MB
RAMDACs
Dual 400 MHz
Dual 400 MHz
Memory BUS
256 bit
256 bit
Memory Bandwidth
51.2 GB/sec
44.8 GB/sec
Memory
256 MB
256 MB
Memory Type
DDR3
DDR3
Memory Clock
800 MHz (1600 MHz effective)
700 MHz (1400 MHz effective)
Pixel Processors
28
28
Vertex Processors
16
16
Stream Processors
112
112
Shader Clock
1600 MHz
TBD
Clock Rate
650 MHz
600 MHz
Chipset
GeForce™ 8800 GT (G92)
GeForce™ 8800 GT (G92)
Bus Type
PCI-E 2.0
PCI-E 2.0
Fabrication Process
65nm
65nm
Highlighted Features
HDCP Ready
Dual DVI Out
RoHS
HDTV ready
SLI ready
TV Out
HDCP Ready
Dual DVI Out
RoHS
HDTV ready
SLI ready
TV Out
FEATURES
NVIDIA Quantum Technology: Advanced Shader Processors designed for physics computation
NVIDIA® Lumenex™ Engine:   Delivers stunning image quality and floating point accuracy at ultra-fast frame rates.
NVIDIA PureVideo HD technology: Essential for the Ultimate HD Movie Experience on a PC
Full Microsoft® DirectX® 10 Support:   World's first DirectX 10 GPU with full Shader Model 4.0 support delivers unparalleled levels of graphics realism and film-quality effects.
Dual Link DVI:  Capable of supporting digital output for high resolution monitors (up to 2560×1600).
NVIDIA® SLI™ Technology:  Delivers up to 2x the performance of a single GPU configuration for unparalleled gaming experiences by allowing two graphics cards to run in parallel. The must-have feature for performance PCI Express graphics, SLI dramatically scales performance on over 60 top PC games.
PCI Express™ 2.0 Support:  Designed to run perfectly with the next-generation PCI Express bus architecture. This new bus doubles the bandwidth of PCIe x16 delivering over 4 GB/sec. in both upstream and downstream data transfers.
OpenGL™ 2.0 Optimizations and Support:  Ensures top-notch compatibility and performance for all OpenGL applications. NVIDIA® nView® Multi-display Advanced technology provides the ultimate in viewing flexibility and control for multiple monitors.
NVIDIA® nView® Multi-Display Technology:  Advanced technology provides the ultimate in viewing flexibility and control for multiple monitors
PACKAGING
The front of the box has our old lovable friend Outlaw looking as happy as ever. Just in case you were wondering who's in charge, Outlaw is here to remind you. The back side of the box has a panel where you see your prize and read up on some of the key features of the card. Overall the box is fairly small as boxes go and upon opening it up I can see why. With thick foam padding protecting the card, there is no need for an oversized box.
Click a picture to see a larger view
---
| | | |
| --- | --- | --- |
| | | |
| "This is me smiling" | Box Rear | First look |
---
CONTENTS
XFX includes a very nice bundle. At a time when the word bundle usually means a driver CD and one DVI to D-SUB adapter, XFX ups the ante by including two adapters, and s-video cable, a HDTV adapter, a 'Do Not Disturb' doorknob sign, driver CD, installation manuals and a copy of Lost Planet. A very impressive bundle save for the lack luster game included to show off the card's potential. But we can look past that little oversight.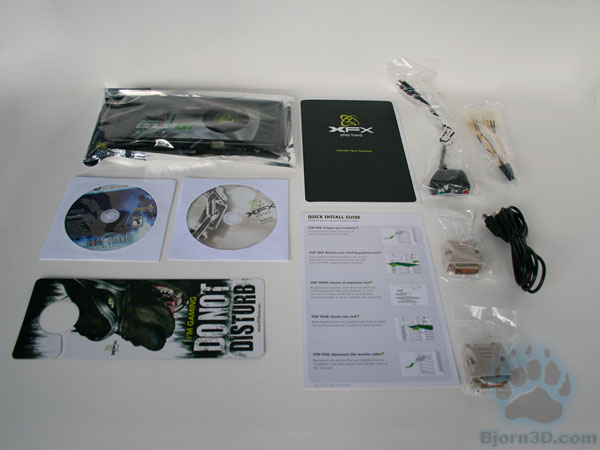 PHOTO SHOOT
This card is just begging to be shown off and who am I to deny it.
The top of the card sports the XFX logo and mascot along with the larger 70mm fan. This will go a long way to improving the cooling and sound levels of the card. Flipping the card over we see the black PCB in all of its glory. This card just wouldn't be the same on a green PCB. Don't you agree? The last photo in the series shows off the green DVI connectors. Very cool color scheme all around.
Turning to the rear of the card we see the one and only power connector. That's right, only one. The amount of power this card possesses and it only requires one 6-pin power cable. Simply amazing. Next we have a clear shot of all the connectors on the card. Lastly we see the SLI connector along with the stabilizer bar. A great card with a high quality look and feel to it.
Click a picture to see a larger view
---
---
Sure does look at home installed in a motherboard ready for work.
TEST SETUP
To test the performance of these video cards properly, the CPU will be overclocked to 3.2GHz to ensure it does not hold any of the cards back. We will test all the cards first without any image quality enhancements (Anti-Aliasing and Anisotropic Filtering) and then again with the image enhancements turned on. This will help give us a clear picture of how these cards perform as the intensity increases.
Test Platform
Processor
Intel Core 2 Duo E6420 @ 3.2 GHz
Motherboard
XFX 650i Ultra
Memory
2 GB (2 x 1 GB) of G.Skill DDR2-800
Drive(s)
1 – Seagate 7200.9 Barracuda SATA
1 – Samsung HD501LJ SATA
Graphics
GPU 1 – MSI 7900GTX
GPU 2 – Nvidia 8800GT 512MB
GPU 3 – XFX 8800GT XXX 256MB
Sound
Creative Soundblaster Audigy2 ZS
Cooling
CPU – Thermaltake Big Typhoon
Power Supply
OCZ GameXStream 850 watts
Display
Westinghouse 37″ LVM-37W3
Case
Outside case
OS
Windows XP Pro SP2
Test Applications
3DMark06
Company of Heroes v1.71
Crysis
F.E.A.R. v1.08
Quake 4
Serious Sam 2 v. 2.068
The Elder Scrolls IV: Oblivion
World in Conflict
OVERCLOCKING
This is my favorite part of these reviews so I hate to wait until the end to do it. Like having your dessert before your dinner here are the results from my overclocking expedition.
| | |
| --- | --- |
| | |
| Stock | Overclocked |
!!! WOW !!! I was able to overclock the core a full 110 MHz higher and push the memory to the limits at 330 MHz over spec. At these settings not even ATITOOL could keep up. I had only one program that would let me unleash this card's potential; RivaTuner 2.06. I was able to receive an additional 21 GB/s of memory bandwidth and a fill rate of an additional 1.8 billion more pixels and texels per second. Simply amazing.
*Overclocking results shown here should not be taken as the standard but rather as one possible outcome. As always, your mileage may vary.*
TEST RESULTS
3DMark 2006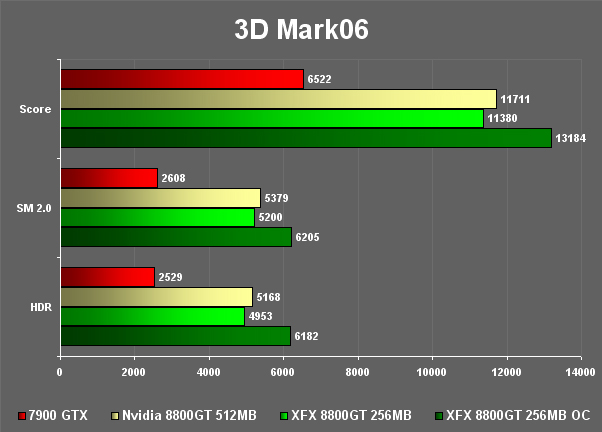 Serious Sam 2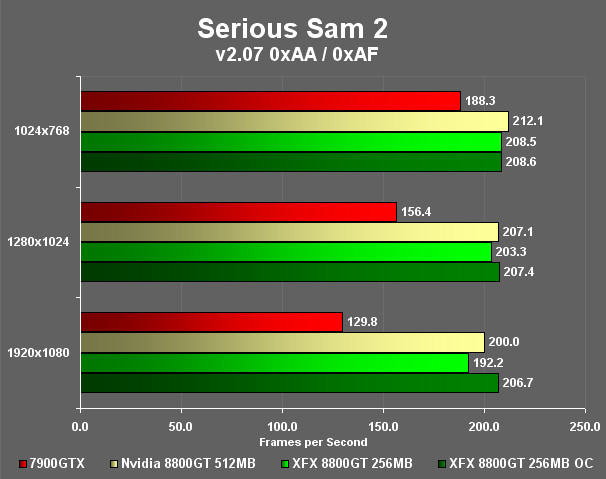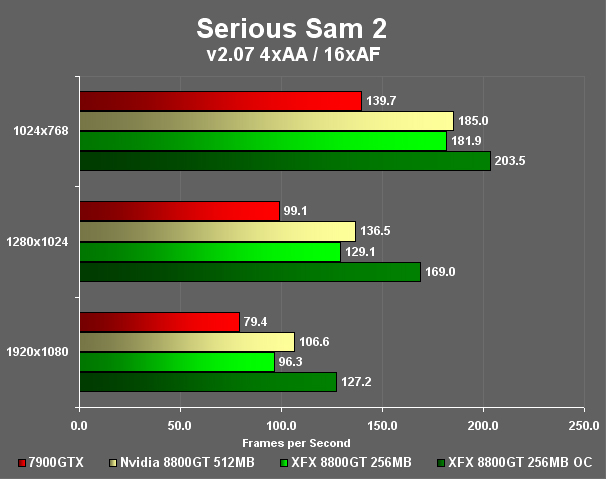 TEST RESULTS
F.E.A.R.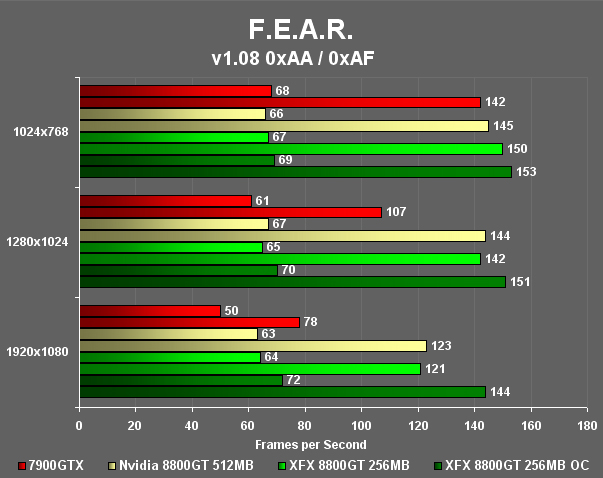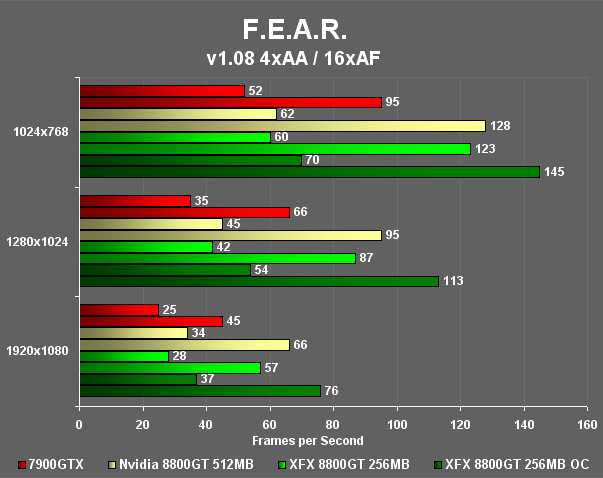 The Elder Scrolls IV: Oblivion
Testing for this game would be handled a bit differently. Having no in-game benchmark I set out to create a reproducible method for testing performance. I would start outside the town of Cheydinhal on horse back and taking the same route each time I would travel to the Imperial City. The trip would take a full six minutes and encompass long view distances, water, forest, Oblivion gates and NPC's. Being such a long trip any changes from one run to the next (e.g. a wandering NPC) would have an effect equal to less than 1% on frame rate. This method would give me great insight into the real world performance of each card tested.
All settings have been set to their highest values. HDR lighting was turned off.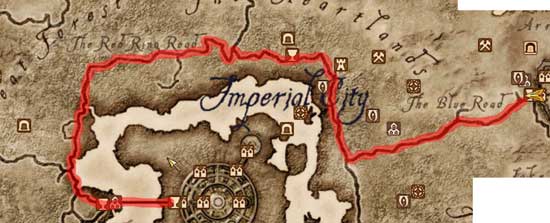 This game refused to cooperate with any overclock on the card. Lowering the overclock to just a hair above stock resulted in the game locking up. After repeated hard-resets I removed, cleaned, and installed a different set of drivers. Same situation. Even reinstalling the game did not fix the problem. In the end this game just would not work at any speed but stock. Disappointing given the performance boost seen by overclocking this card.
TEST RESULTS
Company of Heroes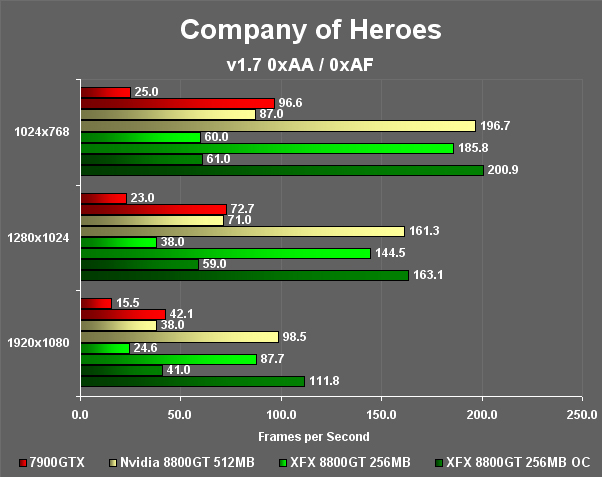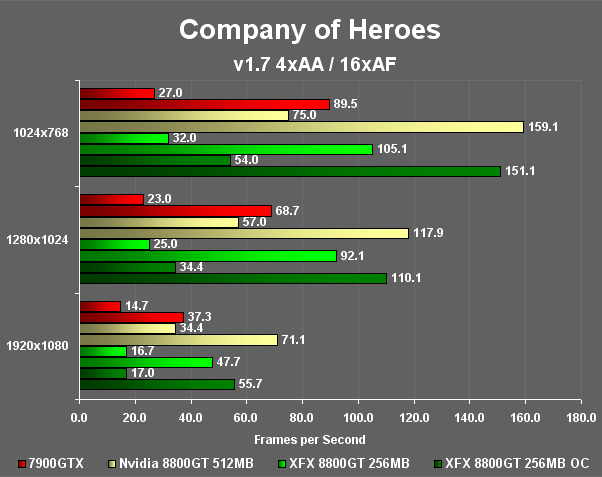 World in Conflict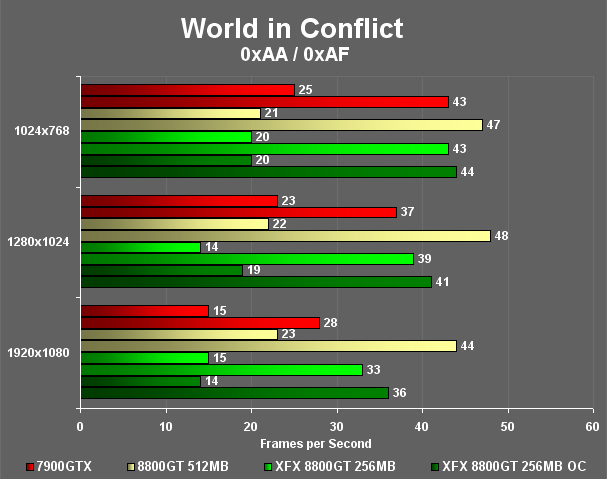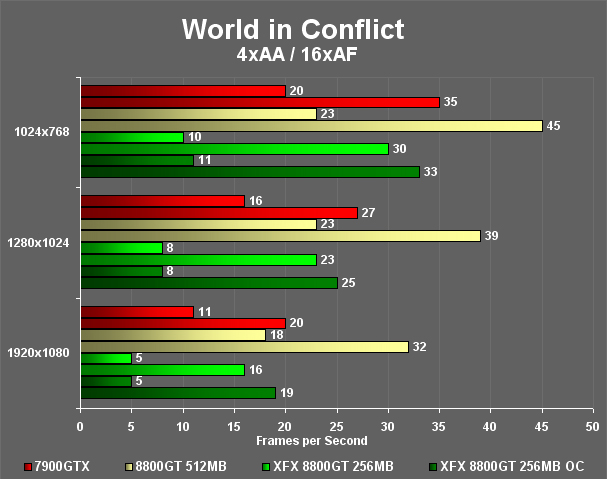 TEST RESULTS
Crysis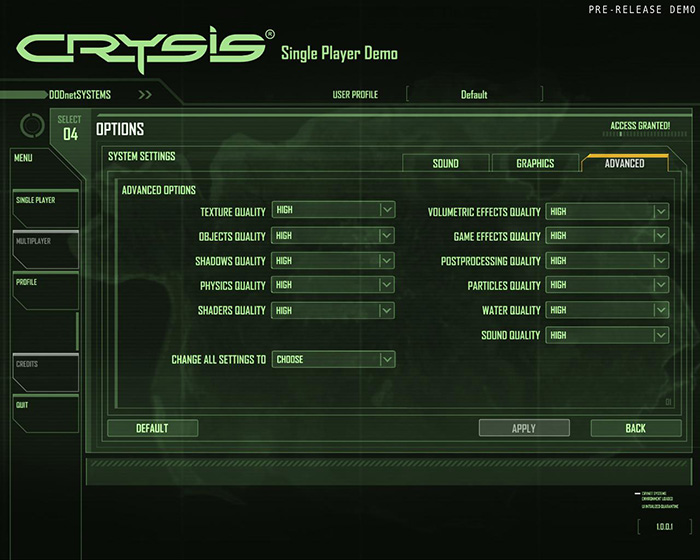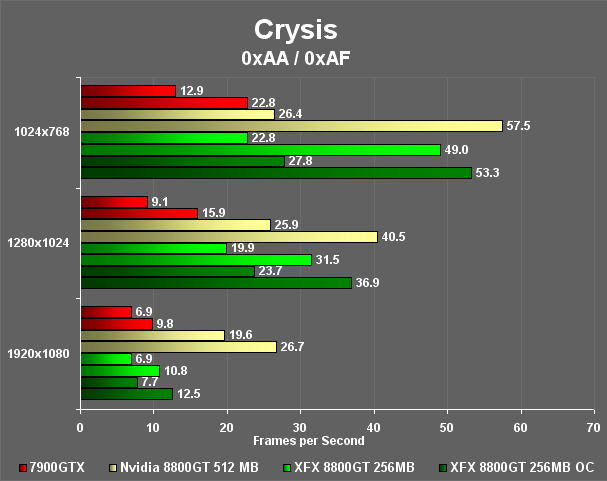 Power Consumption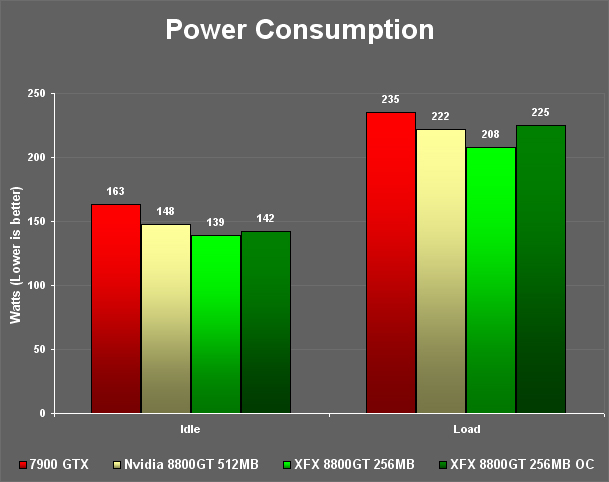 CONCLUSION
When this card arrived on my doorstep I was cautiously optimistic. An XFX card is always a great card thanks to the support the company offers. But what about the memory? I was pleasantly surprised to see just how well this card could handle the games I threw at it. While some games just flat out require more memory, many of the games responded very well to overclocking and that more than made up for lack of additional memory space. Looking at the power consumption shows how well this card is designed. A good bundle and a great warranty also come with this card which just serves to seal the deal for me.
FINAL WORDS
Performance: 9.0/10 – In many of the games this card was able to keep pace with its bigger 512 MB brother. In some cases, overclocking the card helped it to surpass the 512 MB version completely. In the newer games though the lack of additional memory could not be overcome with a hefty overclock.
Bundle: 9.0/10 – Plenty of adapters, a doorknob sign and a free game help to round out the bundle with this card. A great setup for people who may not have a lot of games in their library. One point off for the choice of game.
Value: 10/10 – This card is an amazing value. At the price point this card will be sold at and the performance it offers, this card will fly off the shelves this holiday season. Throw in XFX's double lifetime warranty and you have yourself a rock solid deal. Just make sure you get yours before they are all gone.
Pros:
+  Overclockability
+  More efficient fan design
+  Runs cooler than other 8800GT's
+  Value
+  Performance
Cons:
–  Availability
The XFX 8800GT XXX 256MB Alpha Dog scores a 9.5/10 and receives the coveted Golden Bear award.