We all like kicker SKUs. They are much cheaper than previous generations of products and bring at least one new feature — be it speed improvement or architectural change. This is exactly what PowerColor HD 3850 is about, but on top of it it's Xtreme.
INTRODUCTION
The last few months were very uncomfortable and stressing for AMD. It seems the $5.4 billion dollar merger with ATI did not do any good for now. Even worse, the current products are inferior to the competition in terms of performance. Because we can't do a damn thing about it we have to watch and monitor what happens next. This particular transaction made a lot of strategical and operational changes to the company. Many wonderfully performing engineers were let go or simply moved elsewhere which in my opinion created chaos and distraction in the departments. Whatever positive things AMD says about the merger and the wonderful products they are just trying not to scare away the investors and potential OEM customers.
Pardon the above prologue, but it's necessary to explain why AMD products fall behind NVIDIA and Intel — and that's across all levels. Price wise however, AMD gets the kudos and that's certainly an important factor for a lot of customers. Again, AMD needs to calm down, take a few chill pills and let ATI do what they do best — Graphics Processing Units. The coordination between both companies is as important as their isolated actions.
Before we proceed, check out what Björn cooked for you while being in Warsaw.
Going back to reality, I have another graphic card for you to check out. It's AMD's second attempt to convince you to their high-end Radeon HD models. The ever wonderful PowerColor aka Tul, shipped a surprise package to my doorstep with the PowerColor HD 3850 512MB Xtreme inside. I would like to apologize to Raymen and you guys for not releasing the article as planned, but Leadtek WinFast PX8600 GT SLI article had been in the works.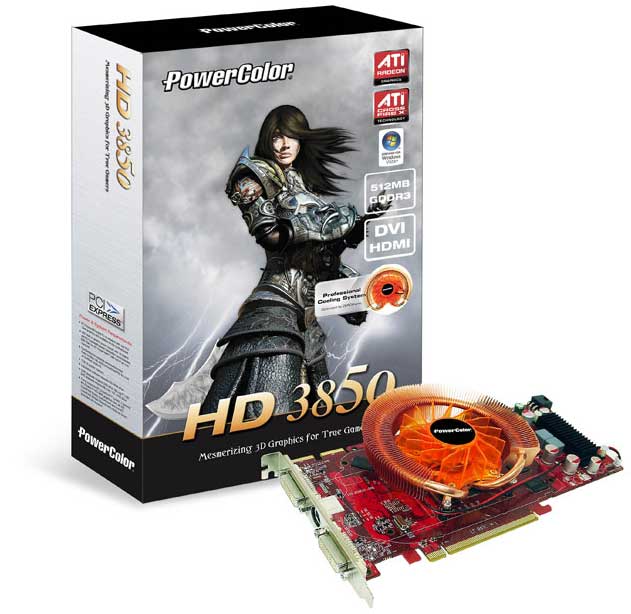 KEY FEATURES
DirectX 10.1 support
Shader Model 4.1
UVD video decoder
PCI-Express 2.0 interface
CrossFireX support
Factory overclocked
VPU SPECIFICATIONS
Technology wise, the HD 3800 series doesn't bring much except for few little things. First, 55nm fabrication process hence lower price. It's basically a die shrink from 80nm and reduced transistor count to 666 million (now that's weird eh?). The other thing that  differs the RV670 from the R600 is the memory controller; the high-end HD 2900 came with 512-bit memory while HD 3800 series is equipped with 256-bit controller with preserved 512-bit internal ring bus. As far as rasterizer is concerned nothing has changed: 16 ROPs, 64 shader processors, 320 stream processors, 16 texture filtering units and outputting 32 Z samples. Although RV670 now supports DirectX 10.1 API, I won't delve into a lot of details here. Basically the updated API comes with a lot of fixes, including Antialiasing which may be implemented by game developers themselves. Additionally we will see mandatory 32-bit floating point filtering and shader model 4.1 support.
The other thing that lacked in R600 was UVD processor which was part of AVIVO HD technology. Funny it was only available on HD 2600s and lower-end cards. With HD 3800 series you will now be able to decode H.264 and VC-1 content directly via hardware. Last but not least is CrossFireX support for more than just two GPUs.
Video card


PowerColor HD 3850 Xtreme




PowerColor X1950 PRO

PowerColor HD 2600 XT

GPU (256-bit)
RV670

 RV570
RV630
Process

55nm (TSMC fab)

80nm (TSMC fab)
65nm (TSMC fab)
Transistors
~666 Million

~330 Million
~390 Million
Memory Architecture
256-bit

 256-bit
128-bit
Frame Buffer Size
512 MB GDDR-4

256 MB GDDR-3
256 MB GDDR-3
Rasterizer


Shader Processors: 64




Stream Processor

s:

320
Precision: FP32
Texture filtering units: 16
ROPs: 16
Z samples: 32
Pixel Shader Units: 36 (3 ALUs)
Pixel Pipelines: 12


Precision: FP32


Texture filtering units: 12
ROPs: 12
Z samples: 24

Shader Processors: 24
Stream Processors: 120
Precision: FP32
Texture filtering units: 4
ROPs: 4
Z samples: 8


Bus Type
 PCI-e 2.0 16x
PCI-e 16x
PCI-e 16x
Core Clock
 

720 MHz

575 MHz
800 MHz

Memory Clock
1800 MHz DDR3

 1200 MHz DDR3
1400 MHz DDR3

RAMDACs
 2x 400 MHz DACs
2x 400 MHz DACs
2x 400 MHz DACs
Memory Bandwidth

57.6 GB / sec

38.4 GB / sec

22.4 GB / sec

Pixel Fillrate

11.5 GPixels / sec

6.9

GPixels / sec
3.2 GPixels / sec

Texture Fillrate

11.5

GTexels / sec

 6.9

GTexels / sec
3.2 GTexels / sec
DirectX Version
 10.1
9.0c
10
Pixel Shader
 4.1
3.0
4.0
Vertex Shader
 4.1
3.0
4.0
ATI Radeon™ HD 3800 Series – GPU Specifications
666 million transistors on 55nm fabrication process
PCI Express 2.0 x16 bus interface
256-bit GDDR3/GDDR4 memory interface
Ring Bus Memory Controller

Fully distributed design with 512-bit internal ring bus for memory reads and writes

Microsoft® DirectX® 10.1 support

Shader Model 4.1
32-bit floating point texture filtering
Indexed cube map arrays
Independent blend modes per render target
Pixel coverage sample masking
Read/write multi-sample surfaces with shaders
Gather4 texture fetching

Unified Superscalar Shader Architecture

320 stream processing units

Dynamic load balancing and resource allocation for vertex, geometry, and pixel shaders
Common instruction set and texture unit access supported for all types of shaders
Dedicated branch execution units and texture address processors

128-bit floating point precision for all operations
Command processor for reduced CPU overhead
Shader instruction and constant caches
Up to 80 texture fetches per clock cycle
Up to 128 textures per pixel
Fully associative multi-level texture cache design
DXTC and 3Dc+ texture compression
High resolution texture support (up to 8192 x 8192)
Fully associative texture Z/stencil cache designs
Double-sided hierarchical Z/stencil buffer
Early Z test, Re-Z, Z Range optimization, and Fast Z Clear
Lossless Z & stencil compression (up to 128:1)
Lossless color compression (up to 8:1)
8 render targets (MRTs) with anti-aliasing support
Physics processing support

Dynamic Geometry Acceleration

High performance vertex cache
Programmable tessellation unit
Accelerated geometry shader path for geometry amplification
Memory read/write cache for improved stream output performance

Anti-aliasing features

Multi-sample anti-aliasing (2, 4, or 8 samples per pixel)
Up to 24x Custom Filter Anti-Aliasing (CFAA) for improved quality
Adaptive super-sampling and multi-sampling
Temporal anti-aliasing
Gamma correct
Super AA (ATI CrossFire™ configurations only)
All anti-aliasing features compatible with HDR rendering

Texture filtering features

2x/4x/8x/16x high quality adaptive anisotropic filtering modes (up to 128 taps per pixel)
128-bit floating point HDR texture filtering
Bicubic filtering
sRGB filtering (gamma/degamma)
Percentage Closer Filtering (PCF)
Depth & stencil texture (DST) format support
Shared exponent HDR (RGBE 9:9:9:5) texture format support

OpenGL 2.0 support
ATI Avivo™ HD Video and Display Platform

Dedicated unified video decoder (UVD) for H.264/AVC and VC-1 video formats

High definition (HD) playback of both Blu-ray and HD DVD formats

Hardware MPEG-1, MPEG-2, and DivX video decode acceleration

Motion compensation and IDCT

ATI Avivo Video Post Processor

Color space conversion
Chroma subsampling format conversion
Horizontal and vertical scaling
Gamma correction
Advanced vector adaptive per-pixel de-interlacing
De-blocking and noise reduction filtering
Detail enhancement
Inverse telecine (2:2 and 3:2 pull-down correction)
Bad edit correction

Two independent display controllers

Drive two displays simultaneously with independent resolutions, refresh rates, color controls and video overlays for each display
Full 30-bit display processing
Programmable piecewise linear gamma correction, color correction, and color space conversion
Spatial/temporal dithering provides 30-bit color quality on 24-bit and 18-bit displays
High quality pre- and post-scaling engines, with underscan support for all display outputs
Content-adaptive de-flicker filtering for interlaced displays
Fast, glitch-free mode switching
Hardware cursor

Two integrated dual-link DVI display outputs

Each supports 18-, 24-, and 30-bit digital displays at all resolutions up to 1920×1200 (single-link DVI) or 2560×1600 (dual-link DVI)2
Each includes a dual-link HDCP encoder with on-chip key storage for high resolution playback of protected content3

Two integrated 400 MHz 30-bit RAMDACs

Each supports analog displays connected by VGA at all resolutions up to 2048×15362

DisplayPort output support4

Supports 24- and 30-bit displays at all resolutions up to 2560×16002

HDMI output support

Supports all display resolutions up to 1920×10802
Integrated HD audio controller with multi-channel (5.1) AC3 support, enabling a plug-and-play cable-less audio solution

Integrated AMD Xilleon™ HDTV encoder

Provides high quality analog TV output (component/S-video/composite)
Supports SDTV and HDTV resolutions
Underscan and overscan compensation

MPEG-2, MPEG-4, DivX, WMV9, VC-1, and H.264/AVC encoding and transcoding
Seamless integration of pixel shaders with video in real time
VGA mode support on all display outputs

ATI PowerPlay™

Advanced power management technology for optimal performance and power savings
Performance-on-Demand

Constantly monitors GPU activity, dynamically adjusting clocks and voltage based on user scenario
Clock and memory speed throttling
Voltage switching
Dynamic clock gating

Central thermal management – on-chip sensor monitors GPU temperature and triggers thermal actions as required

ATI CrossFireX™ Multi-GPU Technology

Scale up rendering performance and image quality with two, three, or four GPUs
Integrated compositing engine
High performance dual channel bridge interconnect1
THE CARD
PowerColor was one of the first companies to introduce a non stock version of the HD 3850. Clocked at 720 MHz (715 MHz actual) core and 1800 MHz DDR3 it comes with custom cooling system from ZEROtherm. When unpacking, I noticed the HSF was protected with foam pieces to support the sides in case the delivery guy started throwing the package around.

Click a picture to see a larger view
---
---
The flip side sports nothing unusual. There are four screws in case you need to take off the cooling system. One interesting bit, the card is now rigged with PCI Express 2.0 interface (more bandwidth). The back of the card is equipped with additional 6-pin PCI-e power connector which is to be expected of higher-end GPUs. The black heat sink on the third picture is there to cool voltage regulation circuitry. An interesting move from PowerColor was inclusion of direct HDMI output on the cards I/O plate. This solution eliminates the need for DVI-HDMI dongle.
As mentioned few lines above, this HD 3850 is fitted with a custom cooling system from ZEROtherm. To summarize: it cools, it glows and it performs. It's built using copper heat pipes which are encased around fins. In the middle is the fan which blows the hot air outside — or so it should at least. The design doesn't appeal to me as the air seems to be circulating instead of dissipating.
The last two pictures show CrossFire support with the ability to run as many as four cards in tandem — but that's to be determined. The last picture shows RAM chips being used: SAMSUNG K4J52324QE-BJ1A 1.0ns
BUNDLE
The artwork had changed with the new HD 3800 models. The box is no longer horizontal which makes the overall look more than average. On the back you'll find standard information regarding the card, features and short notes in six languages.
Click a picture to see a larger view
---
---
The sides of the box are embedded with power and system requirements. As for bundle, it's rather standard for PowerColor and includes only the most important things.
Quick Installation guide
Quick installation guide
Set of cables
CrossFireX bridge
DVI-VGA adapter
TESTING METHODOLOGY
Gaming tests were performed using various image settings depending on game defaults: 0aa0af, 0aa4af, 0aa8af and 4aa8af. This is a semi high-end card so we will use the following resolutions: 1024×768, 1280×1024 and 1600×1200. As far as driver settings are concerned, the card was clocked at 720 MHz core and 1800 MHz DDR3 for memory. High quality AF was used for anisotropic filtering. All other settings were at their default states.
PLATFORM
All of our benchmarks were ran on an Intel Core 2 Duo platform clocked at 3.0GHz. Performance of PowerColor HD 3850 Xtreme was measured using ASUS P5N-E SLI motherboard. The table below shows test system configuration as well benchmarks used throughout this comparison.
I haven't experienced any issues when installing HD 3850 from PowerColor. All processes were completed successfully without any side effects. Preliminary testing concluded the card to be healthy i.e no screen corruption, no random restarts or overheating.
Testing Platform

Processor
Intel Core 2 Duo E6600 @ 3.0 GHz
Motherboard
ASUS P5N-E SLI
Memory
GeIL PC2-6400 DDR2 Ultra 2GB kit
Video card(s)
PowerColor HD 3850 Xtreme
Leadtek WinFast PX8600 GT TDH 512MB GDDR2 SLI
PowerColor X1950 PRO
Hard drive(s)
Seagate SATA II ST3250620AS
Western Digital WD120JB
CPU Cooling
Cooler Master Hyper 212
Power supply
Thermaltake Toughpower 850W
Case
Thermaltake SopranoFX
Operating System

 Windows XP SP2 32-bit
Windows Vista Business 32-bit

API, drivers

DirectX 9.0c
DirectX 10
NVIDIA Forceware 169.04
ATI CATALYST 7.11 BETA
Other software
nTune, RivaTuner

Benchmarks

Synthetic
3DMark 2006
D3D Right Mark
Games

Bioshock / FRAPS
Company of Heroes / ingame benchmark
Half-Life 2: Episode 1 / Bjorn3D custom timedemo
Crysis SP demo / ingame benchmark
Colin McRae: DiRT / FRAPS
Unreal Tournament 3 demo / vCTF-Suspense flyby
World In Conflict / ingame benchmark
3DMark06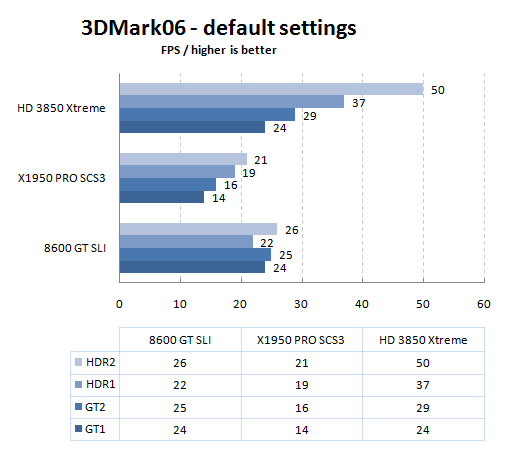 PowerColor HD 3850 does well across all game tests however it's nothing extraordinary when comparing to 8600 GT SLI — especially with GT1/GT2.
RightMark
Geometry processing (vertex processing) is much stronger on HD 3850.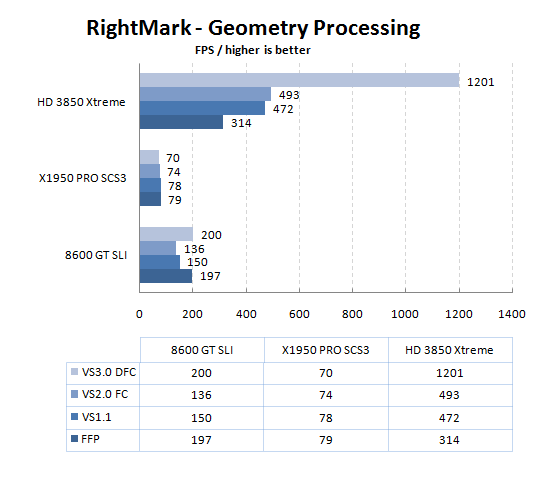 DirectX 9: BIOSHOCK
Standard settings were used with texture detail slider notched down to medium, rest at high.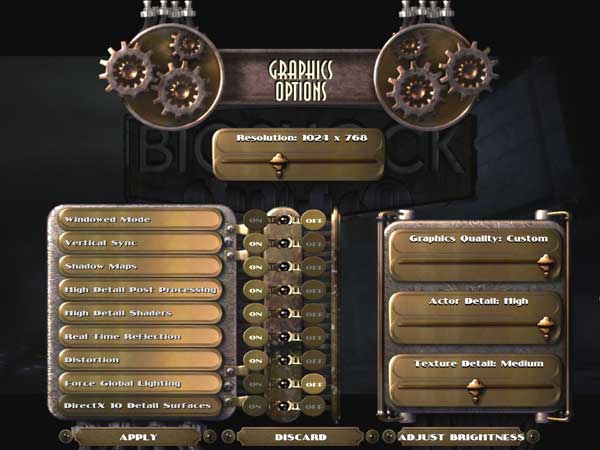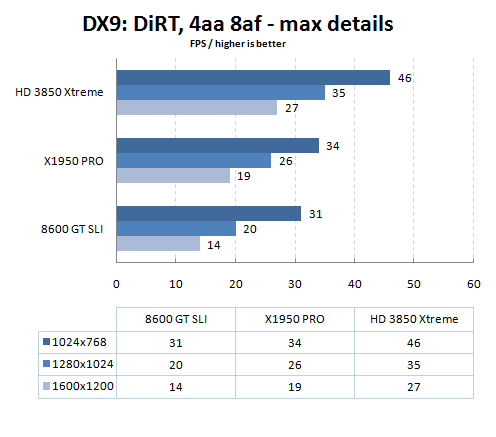 DirectX 9: COMPANY OF HEROES
Most of the settings were set to high; vsync was turned off with -novsync flag. PowerColor HD 3850 performed really well though this game isn't so graphic intensive.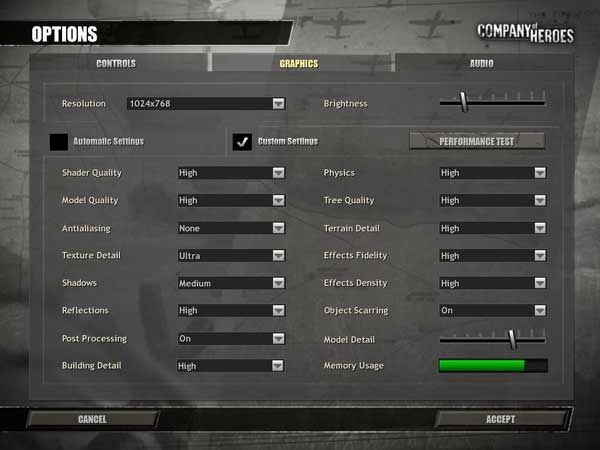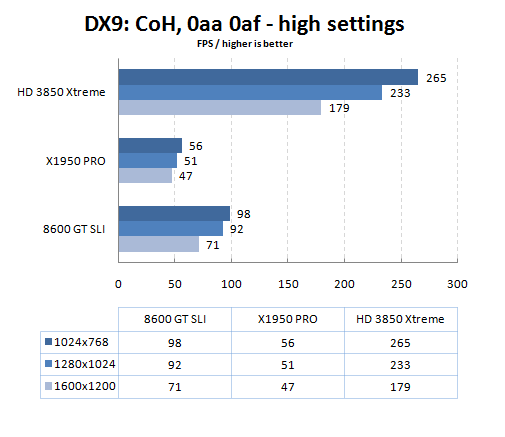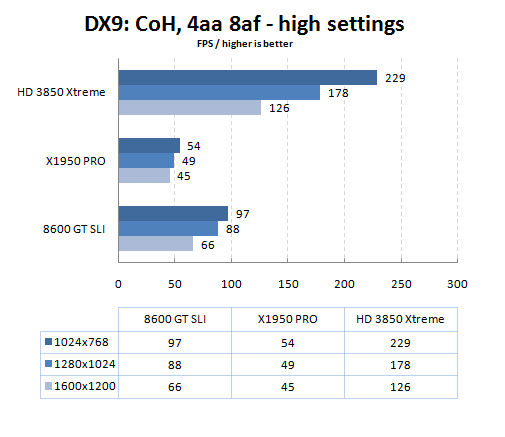 DirectX 9: CRYSIS
All tests were ran with medium settings and high shader quality (DX9 effects). Because the demo does not support SLI, a single 8600 GT was running instead. It seems HD 3850 lacks serious driver support for this title. We will conduct more tests when newer drivers are released.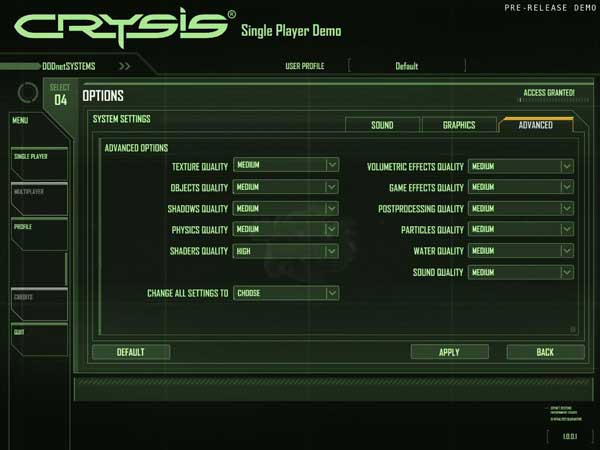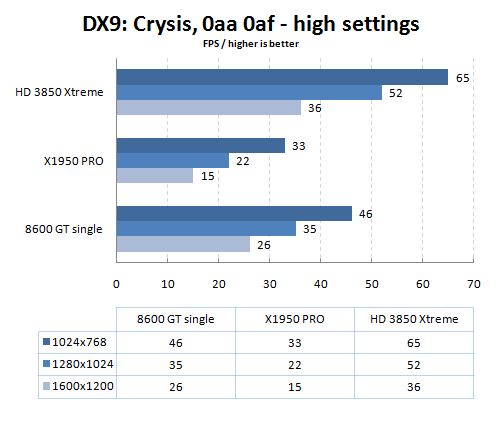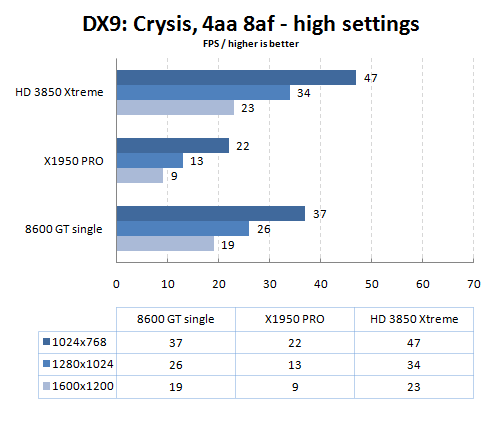 DirectX 9: COLIN MCRAE DIRT
HD 3850 performed as expected. The older RADEON, X1950 PRO holds its scores tight and is on par with 8600 GT SLI.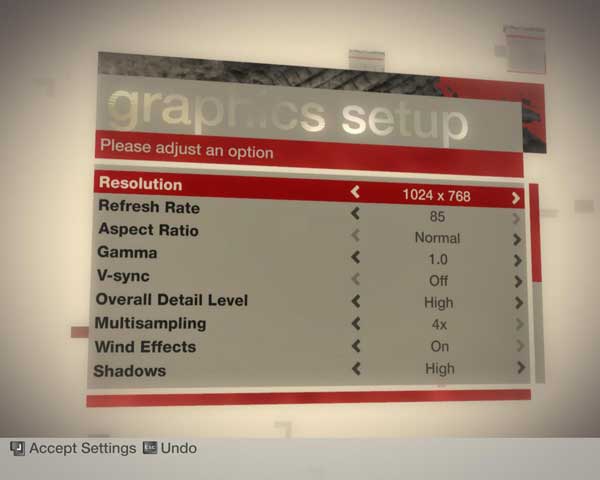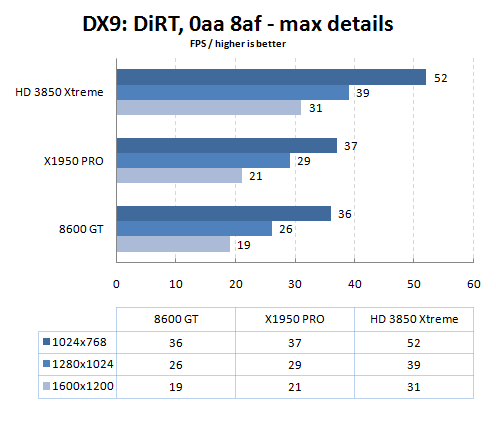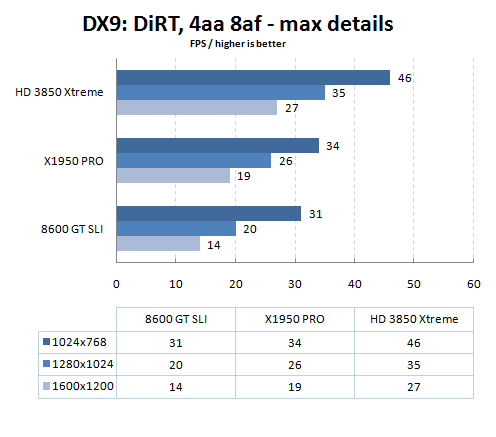 DirectX 9: HALF-LIFE 2 EPISODE ONE
Benchmarks were performed under maximum settings with additional 4AA and 8AF. I might be quite CPU limited in this title at 10×7 though. Both HD 3850 Xtreme and 8600 GT SLI go head to head while the X1950 PRO wonders behind a bit.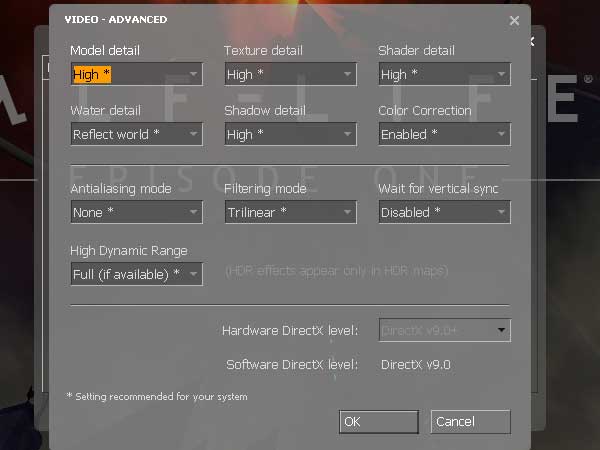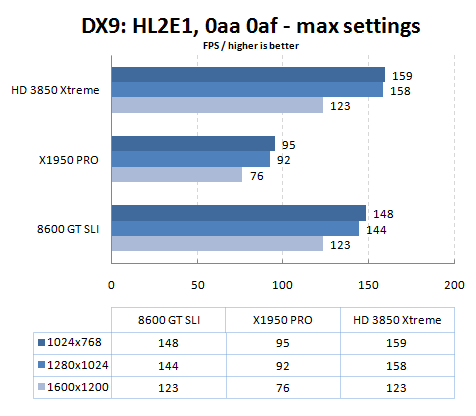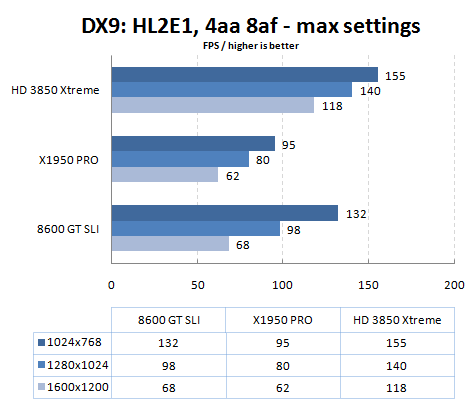 DirectX 9: UNREAL TOURNAMENT 3
The texture and world detail sliders were pushed down to level 4, but that's still considered high settings. I didn't bother forcing Antialiasing in this game as it required some .inf hacking. Also note that a frame limiter of 62 FPS was present during the testing.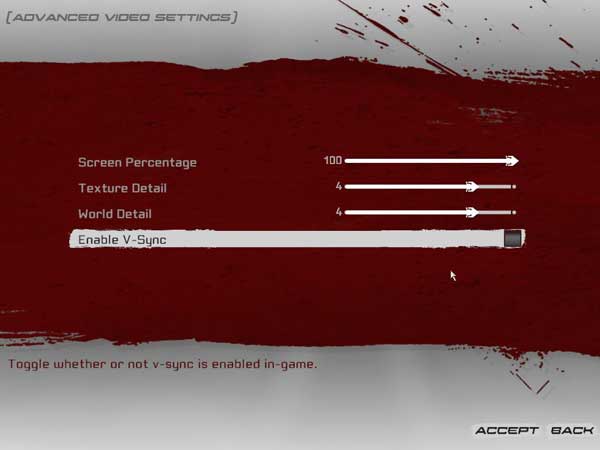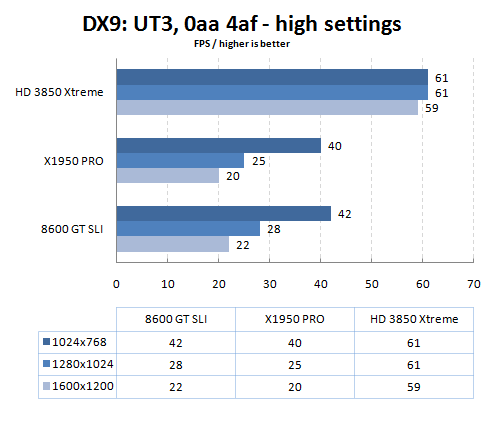 DirectX 9: WORLD IN CONFLICT
As you can see below, there were quite a few settings to play with. In the end, high quality options were chosen. Framebuffer seems to be the culprit for X1950 PRO in this title. While HD 3850 from PowerColor does really well, Leadtek 8600 GT SLI doesn't stay behind so much — not until we turn on AA/AF at least.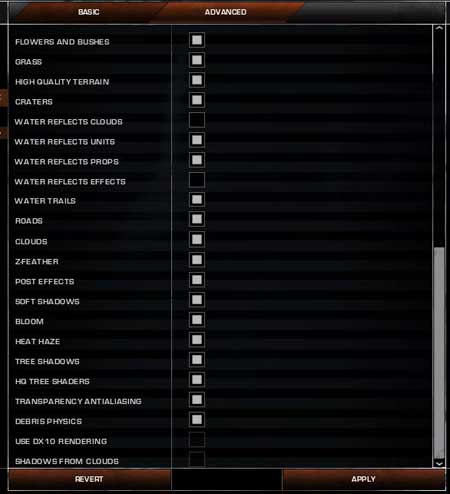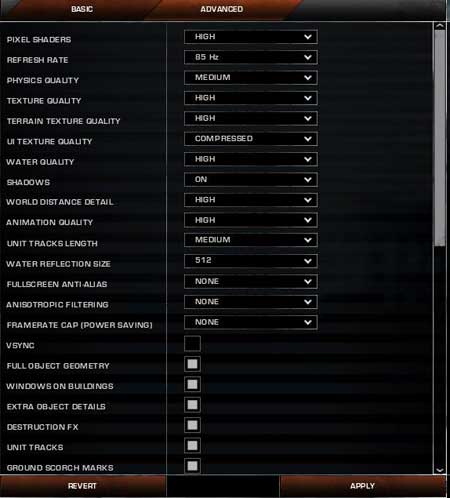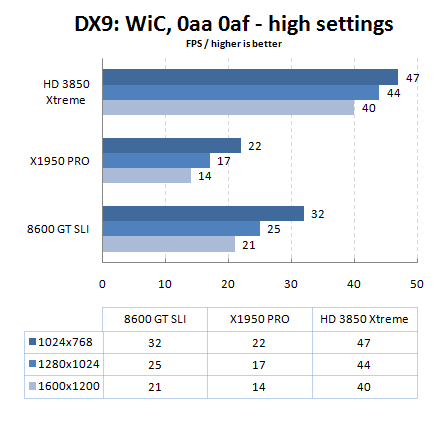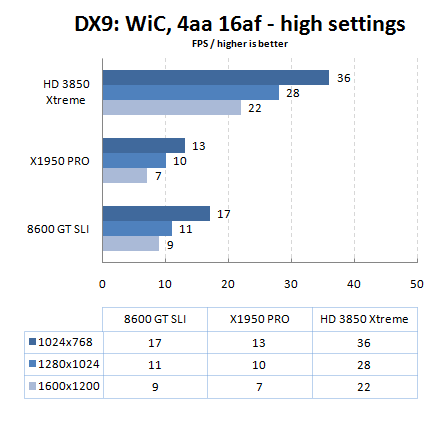 DirectX 10: BIOSHOCK
Standard settings were used with texture detail slider notched down to medium, rest at high and DirectX 10 options set to ON. PowerColor HD 3850 Xtreme is a no no when it comes to DX10 performance. Hands down for a pair of 8600 GTs.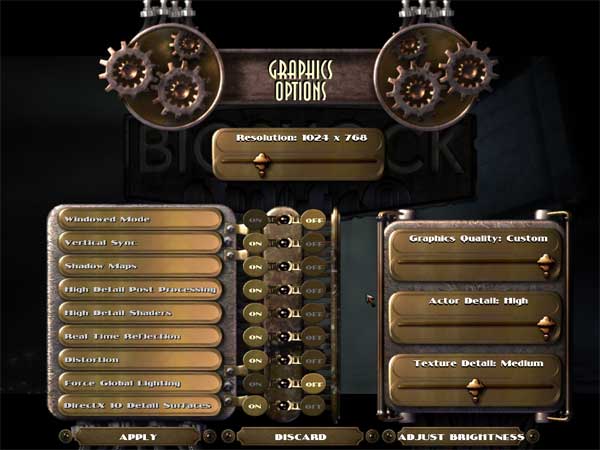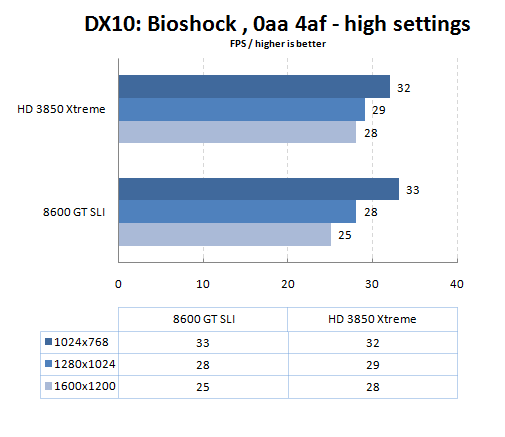 DirectX 10: COMPANY OF HEROES
Although this isn't a very graphic intensive game, I left most of the settings at high. Note that vSync was turned off with -novsync flag. Even though 3850 manages to outperform 8600 GT SLI it certainly isn't doing its best.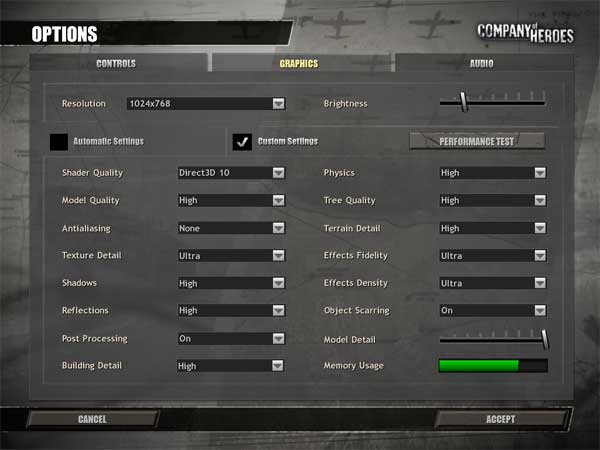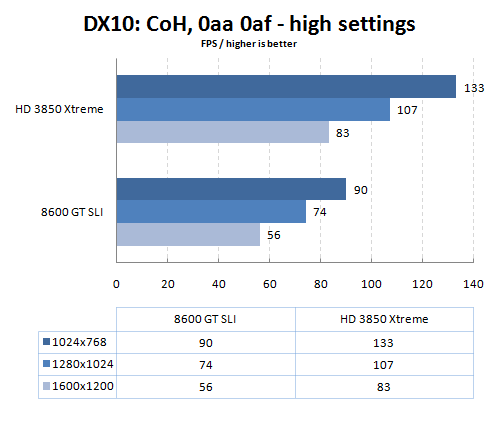 DirectX 10: CRYSIS
All tests were ran with medium settings and very high shader quality (DX10 effects). Because the demo does not support SLI, a single 8600 GT was running instead. Again, HD 3850 doesn't seem to be doing a lot of damage to a single 8600 GT. No eye candy here either as it would require my intervention or worst it would simply not work.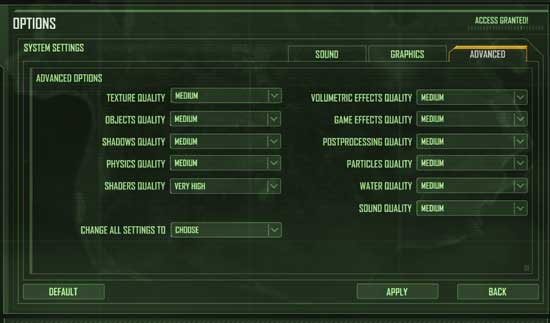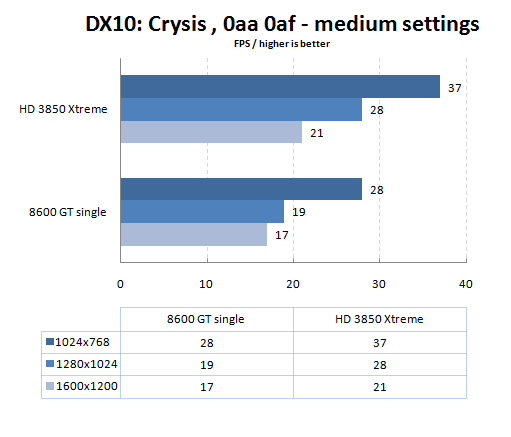 DirectX 10: UNREAL TOURNAMENT 3
The texture and world detail sliders were pushed down to level 4, but that's still considered high settings. I didn't bother forcing Antialiasing in this game as it required some .inf hacking. Also note that a frame limiter of 62 FPS was present during the testing. DirectX 10 effects were automatically turned on.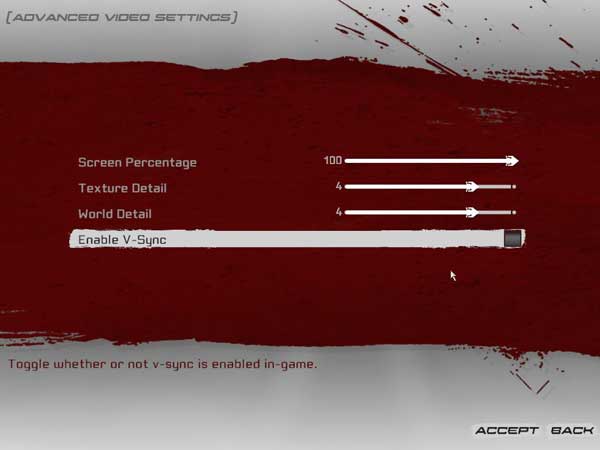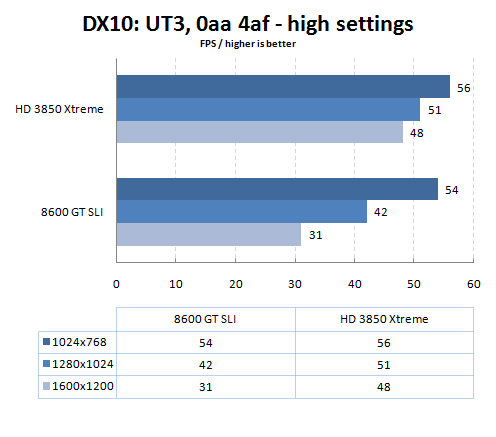 DirectX 10: WORLD IN CONFLICT
There were quite a few settings to play with in WiC. In the end, high quality options were chosen. This is probably the only DX10 title where 8600 GT SLI had nothing to say to HD 3850 in terms of performance. A much appreciated frame rate and great scalability.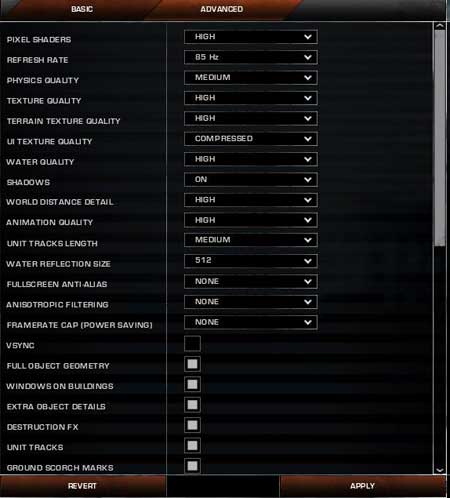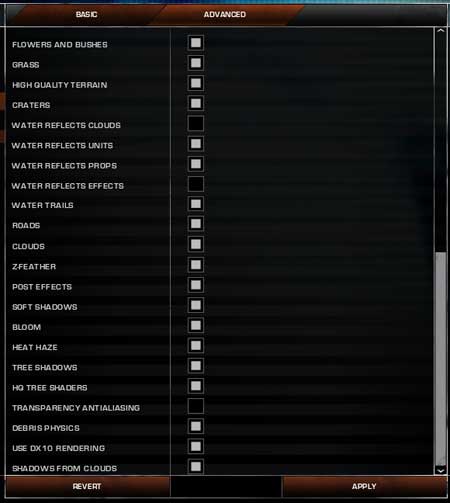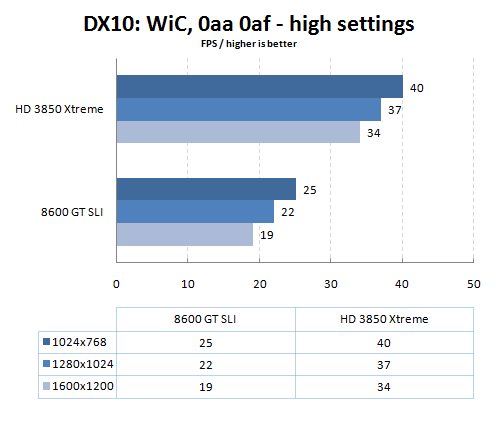 POWER & TEMPERATURE
It's always good to know the amount of power that is needed to run a decent gaming rig these days. Usually refresh products such as HD 3850 are sized down to a smaller process making it less Watt-hungry than its predecessor. It's pretty simple math if you look at it logically. The better the card performs, the more expensive it is and the more Watts it burns. Simple as that. Obviously this isn't true when comparing two unlike generations of chips as they are built using totally different process.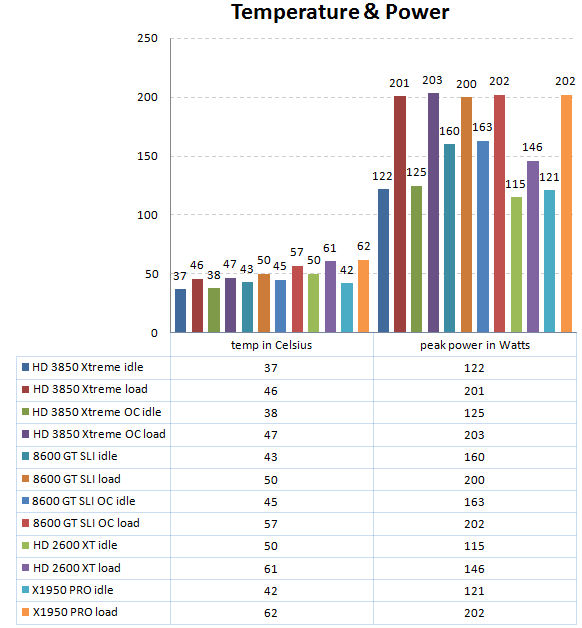 What we have above is a graph consisting of two different sets of information: temperature (in Celsius) and peak power (in Watts). These are the highest numbers I was able to achieve, not average as with frames per second. Even though our PowerColor HD 3850 Xtreme is a raisin in its class (factory overclocked) it does produce acceptable results. Within in idle state we get around 122 Watts. That is very low considering it's an overclocked Core 2 Duo platform with not so shabby equipment. The reported temperature does not go over 37C. Running a game in the background automatically raises the power consumption over 200 Watts. During overclocking, I haven't noticed massive power fluctuation — did not exceed 203W and 47C.
OVERCLOCKING
The fact that PowerColor HD 3850 Xtreme comes factory overclocked doesn't mean we can't take it higher. Clocked at 720 MHz core and 1800 MHz DDR3 already makes it a preeminent product amongst the competition. We've already seen how temperature and power consumption stacks up for this card. It's now time to check out what it can do besides the already upped clocks.
Using ATITool 0.27 I was able to find out the highest clocks for both core and memory. W1zzards application allows you to seek those maximum values automatically. Without any hesitation, I launched the application and as usual started testing. The results were  there after around forty five minutes. Our core was able to reach maximum of 742 MHz while memory ran at 2016 MHz DDR3 — all artifact free. Anything beyond these numbers resulted in either screen corruption or random freeze-up.
Core clock difference (720 MHz stock): 3%
Memory clock difference (1800 MHz stock): 11%
CONCLUSIONS
All wonderful things come to an end, including this article which is slowly approaching a conclusion. We all like kicker SKUs. They are much cheaper than previous generations of products and bring at least one new feature — be it speed improvement or architectural change. This is exactly what PowerColor HD 3850 is about, but on top of it it's Xtreme. The seven most important aspects when looking at the HD 3800 series are: price, DirectX 10.1 support, Shader Model 4.1, PCI-e 2.0, UVD, CrossFireX (quad GPU support) and rasterizer taken from R600.
In terms of performance, well, it's a mixed bag where the HD 3800 series resembles AMDs high-end parts while not being able to take the crown away from NVIDIA. As far as DX10 is concerned, I'm disappointed with the overall operation. Drivers should have matured by now so that argument is out of the league. We've seen quite a few performance charts where the card simply hiccupped and it felt like a mid-range product, hence Bioshock and Crysis.
Overall I'm satisfied with the product despite the fact the HD 3800 is late. Not only that, it should be the sole replacement for the HD 2900 series by now. However, I'm not judging the GPU per se, but PowerColor model which in my subjective opinion is simply solid. Although the cooling system might be unforgiving to some (2 slot solution), it's a nice addition both design and performance wise. The other freebie is higher clocked core and memory which a lot of you will enjoy, likewise not so dingy overclocking potential.
Pros:
+ Factory overclocked
+ DX10.1 / SM 4.1 ready
+ CrossFireX support
+ UVD
+ Low power draw
+ Runs cool & quiet
+ Overclocking potential
+ Direct HDMI output
+ Good price
Cons:
– Questionable DX10 performance
For great performance / price ratio as well as factory overclocked clocks, PowerColor HD 3850 Xtreme receives the rating of 9 out of 10 (Extremely Good) and Bjorn3D Golden Bear Award