What do you do when you have a successful product designed for enthusiasts? You redesign it and make it better of course! Enter the NH-U12P and NF-P12 from Noctua.
INTRODUCTION
As we move into the age of multi-core CPU's the importance of using a quality heatsink increases exponentially. The days of sticking any old hunk of metal on top of your CPU are long gone. CPU's have begun to put out enough heat to warm a small room and you need a serious cooler to dissapate that heat. This is where Noctua comes in. Noctua may not be a household name here stateside but they posses a lot of expertise when it comes to keeping PC's cool and quiet. Working in cooperation with the Austrian Institute of Heat Transmission and Fan Technology, Austrian Rascom Computer distribution Ges.m.b.H and the Taiwanese Kolink International Corporation, Noctua has positioned themselves to establish a new level of quality and performance. Today's offering comes in the form of the NF-P12 120mm fan and NH-U12P heat sink. The NF-P12 brings full-sized fins complete with turbulence reducing notches and low noise adapters while the NH-U12P packs plenty of kick with its hybrid copper and aluminum design and high density array of fins.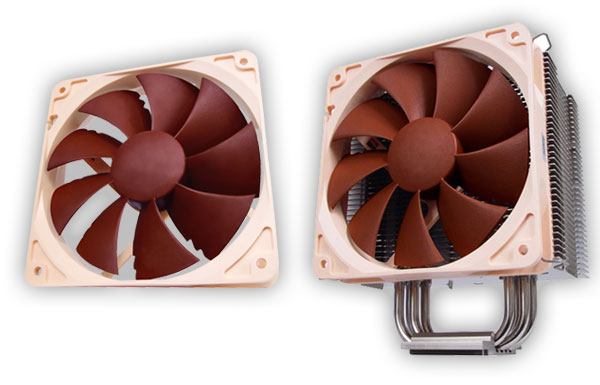 Noctua NF-P12 & NH-U12P
Noctua: The Company

Noctua arises from a cooperation between the Austrian Rascom Computer distribution Ges.m.b.H and the Taiwanese Kolink International Corporation and entertains a development partnership with the Austrian Institute of Heat Transmission and Fan Technology (Österreichisches Institut für Wärmeübertragung und Ventilatorentechnik, ÖIWV). These connections form the key to the achievement of our goal: The partnership with the ÖIWV permits the application of scientific measurement instrumentation, methods of calculation and simulation technology in the R&D process. Rascom's long, customer-oriented experience in developing and distributing sound-optimised high-end products ensures a clear focus on the users' needs. The use of Kolink's advanced manufacturing technology and ultra-modern production plants allows us to efficiently implement our technical edge and provide solutions of the highest standard in quality and performance.
What does Noctua mean?
The little owl, Athene noctua, is the symbol of the Greek goddess Athene, who represents wisdom, science and strategy. She has a marked preference for the most clever among the Greek heroes, like Odysseus, who endure their adventures by the use of savvy consideration instead of mere force.
PACKAGING
Dealing with an item as sensitive to scratches and dents as a heat sink, it is important to check the packaging of the product. Poor packaging can lead to a massive amount of problematic coolers for the end users. Taking a look at the images below I think it is safe to say that without direct and intentional abuse of the box there should be no chance of this puppy getting hurt. Kudos to Noctua for taking the extra step. Better yet, even after the package arrives to you safely, should something go wrong with the heat sink Noctua covers you for six years.
Click a picture to see a larger view
---
NH-U12P
| | | |
| --- | --- | --- |
| | | |
| Box Front | Box Rear | Extra Packaging |
NF-P12
| | | |
| --- | --- | --- |
| | | |
| Box Open | Box Rear | Extra Packaging |
---
PHOTO SHOOT
The design of the NH-U12P gives it a certain quality look to it. The attention to every last detail is apparent throughout the cooler right down to the rounded tips of the fins to prevent scrapes from handling. When we compare it to its predecessor some of the changes are obvious while others are not.
The first thing you'll notice is the change to a nickel plated design. Also this cooler somewhat lighter than the previous version (600g vs 640g) due to less fins on the bottom. The are still the same number of heatpipes, though I would have liked to have seen a jump to six pipes as with certain other heat sinks. I can only assume Noctua thought of this and figured it better to stick with four. Lastly, and possible the most important change, is the bottom height of the cooler. By removing some fins on the bottom Noctua has opened up the possibility to use this cooler on motherboard with tall Northbridge heat sinks or capacitors. A very nice change that many people will certainly welcome.
Click a picture to see a larger view
---
NH-U12P
| | | | |
| --- | --- | --- | --- |
| | | | |
| Full Frame | Base | Top | With Fan |
Side by Side
| | | |
| --- | --- | --- |
| | | |
| New & Old | Aluminum v. Copper | Key Difference |
NF-P12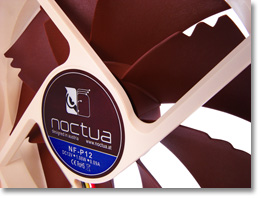 ---
CONTENTS
NH-U12P
More and more these days I see products that come bundled with so few accessories you can hardly use the word bundle at all. Well once again, Noctua seems immune to the forces of economics. They bundle their cooler with everything you could possible need to not only use this heat sink but to also keep it nice and silent. They even include their newest premium fan and a syringe of their newest high quality thermal paste NT-H1.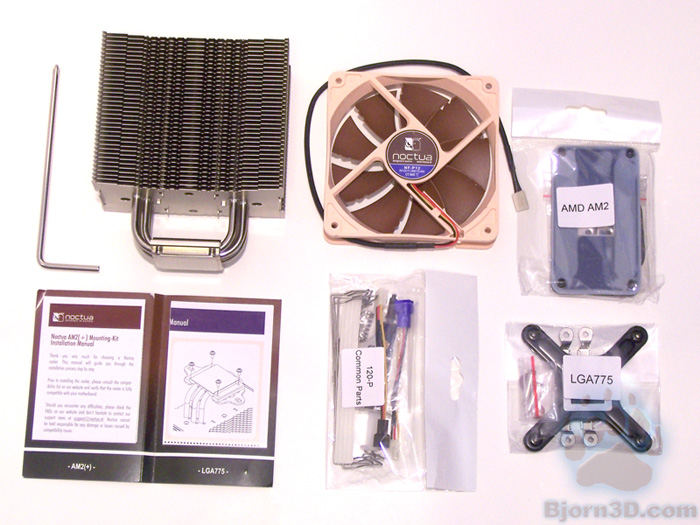 NH-U12P
NF-P12 premium fan
Mounting-clips for 2 fans
Low-Noise-Adapter (L.N.A.)
Ultra-Low-Noise-Adaptor (U.L.N.A.)
NT-H1 high-grade thermal compound
SecuFirm™ mounting kits for LGA & AM2(+)
Four anti-vibration strips
Installation manual
NF-P12
Following in step is the NF-P12 fan which includes everything needed for quiet cooling.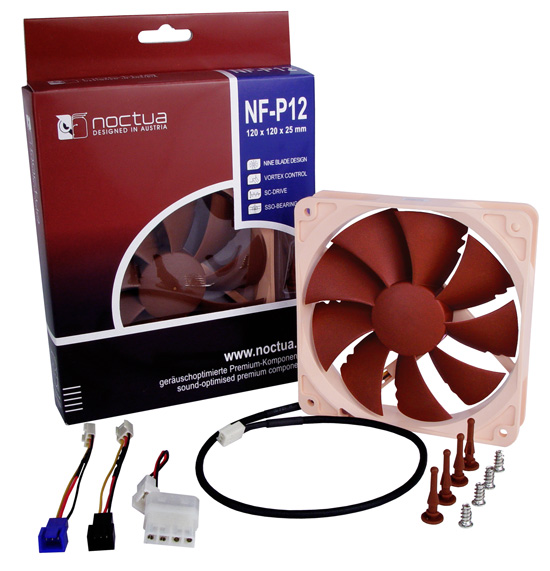 NF-P12 fan
Fans screws x 4
Rubber fan screws x 4
3-pin to 4-pin adapter
Low-Noise-Adapter (L.N.A.)
Ultra-Low-Noise-Adaptor (U.L.N.A.)
SPECIFICATIONS
Since the heatsink can accommodate different fans and the included fan can run at varying speeds, I have gone ahead and included all the data for any given setting. The fan looks to be an amazingly quiet fan should it live up to Noctua's claimed sound level.
Noctua NH-U12P Heatsink
 
With Fan
Without Fan
Height
158 mm
158 mm
Width
126 mm
126 mm
Depth
95 mm
71 mm
Weight
770 g
600 g
Material
Copper (base & heat-pipes, nickel plated), Aluminum (cooling fins) , soldered joints
Fan compatibility
120x120x25mm / 120x120x38mm (2 fans can be installed)
Socket Compatibility
Intel Socket LGA 775, AMD AM2 & AM2+, Intel Xeon on request
*EDIT: As of December 13th, Noctua is offering K8 and Socket F mounting kits for free due to overwhelming demand from the community.*
Warranty
6 years
Noctua NF-P12 Fan
 
Without Adapters
With L.N.A.
With U.L.N.A.
Airflow
92.3 m³/h
(54.3 CFM)
78.5 m³/h
(46.2 CFM)
63.4 m³/h
(37.3 CFM)
Noise
19.8 dB(A)
16.9 dB(A)
12.6 dB(A)
RPM (+/- 10%)
1300
1100
900
Bearing
SSO-Bearing
Blade Geometry
Nine Blade Design
Input Power
1.08 Watts
Voltage Range
12 V
MTBF
> 150,000 H
4 dual heat pipes
4 dual heat pipes, soldered joints and 36 widely-spaced aluminum cooling fins guarantee optimal heat dissipation even at low fan speeds.
Award winning NH-U design
Noctua's NH-U coolers allow for perfect airflow direction and have received more than 150 awards and recommendations from leading international web sites and magazines.
NF-P12 premium fan
The NF-P12 has been specifically developed for applications like CPU cooling and brings the performance of the NH-U12 to a whole new level. Thanks to psycho-acoustic optimizations and Noctua's premium-grade SSO-bearing, the NF-P12 achieves exceptional quietness and long-term stability.
Improved compatibility
Thanks to its raised fin-stack, the NH-U12P offers improved compatibility with main boards featuring very high chipset coolers.
SecuFirm™ multi-socket mounting system
Noctua's professional SecuFirm™ mounting system for LGA 775, AM2 and AM2+ provides superior reliability and contact pressure.
Incl. Noctua NT-H1 high-end thermal compound
Noctua's NT-H1 is a pro-grade TIM solution that provides minimum thermal resistance, excellent ease-of-use and long-term stability.
FLATNESS
Here is a simple method to determine how flat the base of the heatsink is. By holding the base at a sharp angle to the camera it will reflect the pattern. This is easier on polished bases but also works on non-polished bases. What we are looking for are ripples or waves in the lines. If the lines remain true then there is no (or very little) bumpiness to the base and this is ideal for conducting heat.
56 KB/s WARNING: To see this image better I have included the full image that is over 1.0 MB in size.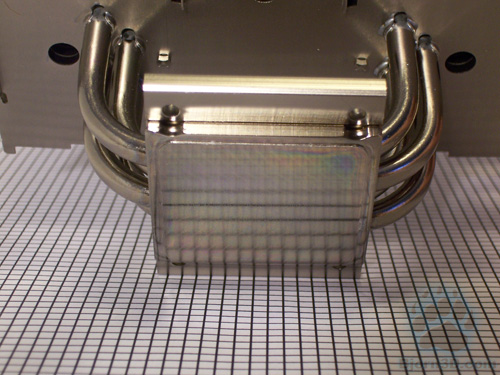 Looks flat to me. Click HERE for the LARGE view
I have looked at this image very hard and could not notice any ripples or waves. While this is by no means a 'perfect' test, it does show that this base is very flat and should perform well.
TEST SETUP
Test Platform
Processor
Intel Core 2 Duo E6420
Motherboard
XFX 650i Ultra
Memory
2 GB (2 x 1 GB) of G.Skill DDR2-800
Drive(s)
1 – Seagate 7200.9 Barracuda SATA
1 – Samsung HD501LJ SATA
Graphics
Albatron 8600GTS
Sound
Creative Soundblaster Audigy2 ZS
Cooling
Cooler 2 – Thermaltake Big Typhoon
Cooler 3 – Noctua NH-U12F
Cooler 4 – Noctua NH-U12P
Thermal Paste
Noctua NT-H1

Power Supply
OCZ GameXStream 850 watts
Display
Westinghouse 37″ LVM-37W3
Case
Outside case
OS
Windows XP Pro SP2
INSTALLATION
The procedure to install the heat sink has not changed in this new iteration from Noctua. I was really hoping they had updated the method. That is not to say the procedure is flawed in any way because it is rock solid. It is just very involved and anyone looking to slap this cooler on their CPU in under two minutes will be disappointed. It takes a bit of time and patience, but in the end you are rewarded with solid contact and no fear of it coming loose.
When installing the fan it is important to remember that the orientation of the fan can have a large impact on the performance of the heat sink it is attached to. For optimum performance you should install the fan so that it is blowing into the heat sink.
Click a picture to see a larger view
---
Motherboard preparation
Heat sink preparation
Final installation
 
 
Proper fan orientation
 
---
TEST PROCEDURE
In order to accurately test this heat sink we have devised the following protocol. The ambient temperature of the room will be kept at 24C and monitored with a MicroTemp EXP non-contact infrared thermometer. Any more than a 0.2 C change in temperature will halt the testing until temperatures return to normal. The thermal paste of choice will be Noctua's NT-H1. The Noctua heat sinks perform better when used with a viscous paste which is important to remember when installing yours. Should you use a thin paste like Zalman's STG1, you may see a decrease in performance.
Load temperatures will be taken after a fifteen minute period of running Intel's Thermal Analysis Tool (TAT). It has been shown to heat up a CPU greater than any other programs today, which will give us a very clear picture of the heat sink's performance.
Idle temperatures will be taken after a fifteen minute period of inactivity. There will be no windows open and no programs running at this time.
For an apples to apples comparison I will test each heat sink with a standard 120mm fan ( 78 CFM @ 2000RPM ). This will remove the fan as a variable and we can determine the efficiency of the heat sink. For an off-the-shelf test I will then use the NF-P12 120mm fan and test it with each of its adapters to extrapolate exactly how well this heat sink/fan combo works. It will be tested against its predecessor the NF-S12 120mm fan.
TEST RESULTS
No need for me to go on and on about the images here. They speak for themselves. Remember, all heat sinks are using the same generic fan for an apples-to-apples comparison. First up are the results at stock speeds.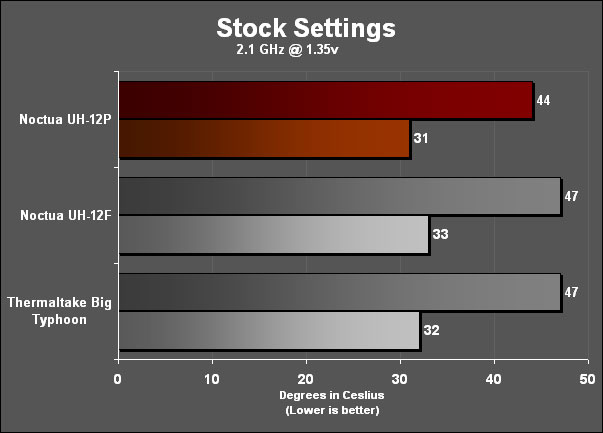 Overclocking helps make small differences bigger like a magnifying glass. Here are the results.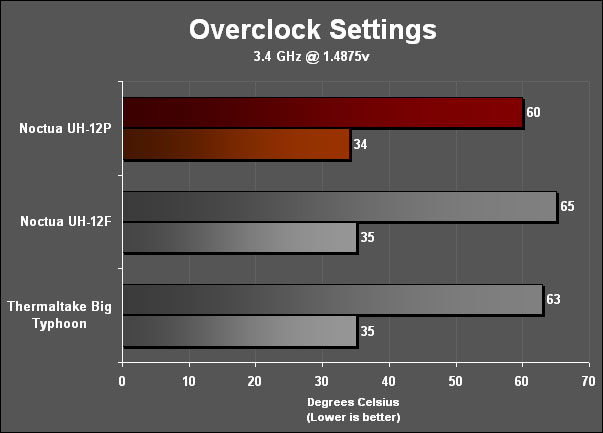 Now for an out of the box test using the included fan. We are pitting the NF-P12 fan against its predecessor the NF-S12 fan. I want to point out something that caught my attentions right away. The fan used in the apples-to-apples comparison is very, very loud. The P12 fan used here is near silent and comes within one degree celsius of its performance. Just astonishing the level of performance these fan's have.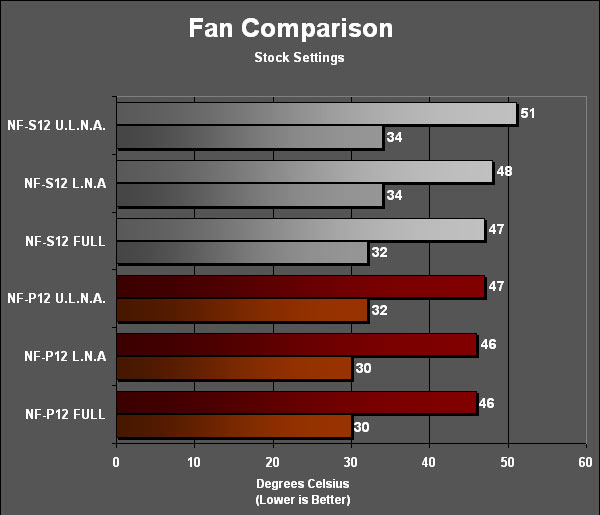 The new fan beats the previous design by a few degrees at every step. At stock speed the noise reducing adapters work well to keep the CPU cool while keeping what little noise existed before to a minimum.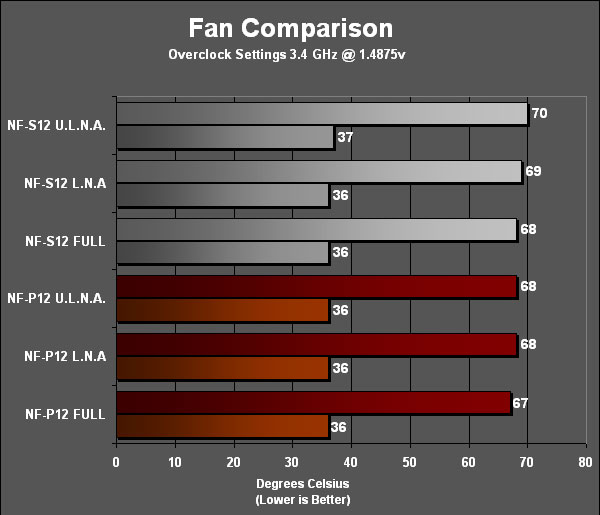 Overclocking the CPU puts more pressure on the fans and the NH-P12's new design helps it to maintain its lead over the older NF-S12 fan. Both fan are incredibly quiet though you can see that with the same RPM's the P12 pushes more air resulting in lower temps. Time to wrap things up.
CONCLUSION
Noctua is a company that is dedicated to low noise computing. With increased power demands comes an increase in heat levels. Conventional methods worked for a while but for today's PCs they would result in too much noise to be practical. Noctua has answered the problem with a solid heat sink and a newly redesigned fan. This new design seems to really get the job done. Beating out its predecessor by upwards of five degrees is no easy feat, but that is exactly what the U12P has done. I could only image the impact adding some additional heat pipes might have. Perhaps in the next revision. Also, this heat sink is designed for the newest CPUs so anyone with an older socket 939 or Pentium IV system will need to look elsewhere. Turning to the fan, Noctua has a winner on their hands here. Not only is it the quietest fan I have come across but it was able to offer performance of a fan much louder. This is a blessing to my ears. Silent PC users everywhere rejoice! Noctua has a fan for you.
FINAL WORDS
NH-U12P
Performance: 8.0/10 – Higher clearance means a broader range of support for motherboards along with improved performance.
Bundle: 10.0/10 – With everything you need to install this heat sink and run it nice and quiet the bundle for this cooler is excellent. Assuming, of course, your CPU is compatible. *EDIT: As of December 13th, Noctua has increased the compatibility by offering free mounting kits for the K8 and Socket F platforms. As such, the score has been revised from a 9.0 to a 10.0.*
Value: ??/10 – Value is largely determined based on the product's performance and bundle divided by its MSRP. I have not been able to find this heat sink for sale on any sites here stateside. With slightly better performance than the NH-U12F, the U12P is a strong value if you can find it for about the same price.
NF-P12
Performance: 9.0/10 – Excellent performance with very little noise. The only thing I would like to see is the ability to run it at faster RPMs should the need arise.
Bundle: 10.0/10 – With everything you need to install this fan and run it nice and quiet the bundle here is excellent.
Value: 8.0/10 – Value is largely determined based on the product's performance and bundle divided by its MSRP. I have not been able to find this fan for sale on any sites here stateside. These fans generally fetch a hefty price tag upwards of $20 USD. Should I find them for sale at a lower price then I will revise my score accordingly.
Pros:
NH-U12P
NF-P12
+  Excellent bundle
+  Improved performance
+  6 year warranty
+  Quiet fan
+  Superior performance
+  Low noise
Cons:
NH-U12P
NF-P12
–  Compatibility
–  Lesser performance with thin TIM's
–  Still only four heat pipes
–  MSRP
The Noctua NH-U12P scores a 9.0 out of 10 and receives the Bjorn3D seal of approval.

The Noctua NF-PU12 scores a 9.0 out of 10 and receives the Bjorn3D seal of approval.