Aten-hut! Toughen up with Ultra's new m998 aluminum case and get organized with their exclusive Power Bar. Wheel-in some Humvee-inspired might at your next LAN party, and roll over the competition with some uniquely useful features.
Thoughts About PC Aesthetics
Perhaps the definitive element of a computer's self-expression is the case.
Think about peripherals. A monitor is a portrait of how people organize their GUI. It acts as a frame for someone's choice of OS, apps, artwork, and icons. It's also a blank canvas for system performance and a way for hardware to showoff Aero's glass effects. On its own – without first-rate components to make it shine – a monitor is only distinguished by size and logo, and it sits smugly on a desk talking about how expensive it was two years ago.
The mouse and keyboard are defined by feel and functionality, and are an expression of efficiency. When you go wireless you get less clutter. When you choose keyboards with shortcut keys you speed up workflow. The beauty here is a mix of pragmatism and simplicity that doesn't even matter until you sit down to interact. Keyboards are often hidden in slide-outs under desks, so appearance is irrelevant. Truly, interface devices have an active, singular appeal that owners don't fully appreciate until they're using someone else's setup.
An audio solution simply cannot be enjoyed until it's kicking out the jams like MC5. By definition, a sound device has to sound good to be good – and although some speaker manufacturers are getting quite fancy with their modern models, listeners will always be persuaded by what they hear instead of what they see.
But the desktop case is special. It's a completely different and independent entity that fulfills its function just by existing around other stuff. It's a sculptural centerpiece that everyone notices, and it's always flaunting some visual personality for your rig. For the artistically inclined modder, a Dremel can often chisel 1980s NEC Beige into Super-Ironic Water-Cooled Vintage-Inspired Mega Machine; but for the less savvy DIYer prone to slicing off some fingers along with lightweight aluminum, finding an appealing stock case can be a daunting chore.
Enter Ultra Products' m998 – an oddly enticing mix of Lian Li-style industrial minimalism and Humvee's classic military vehicle, the M998. Throw in a healthy dose of Global WIN and Akasa inspiration circa 2001, some awesome innovations in modular tech, and you've got a rock solid mid-ATX case that earns the title of "feature rich."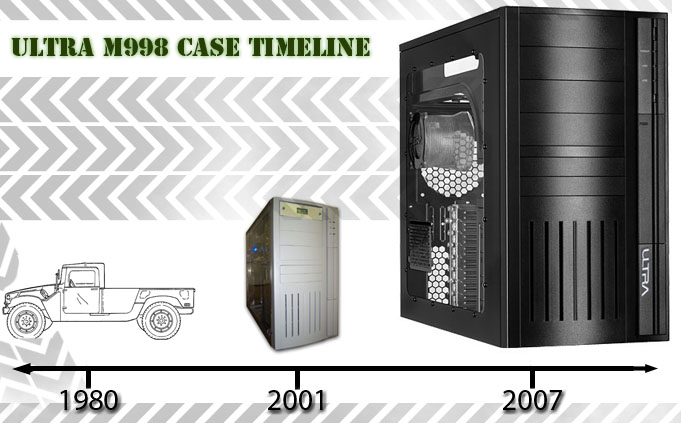 Sound interesting? It is. And it's a surprisingly superb solution for system builders looking to blast clutter, keep temps down and look good doing it – as long as you're not going in there too often.

According to Ultra's website, the Fletcher, Ohio company is striving to become "the best provider of technology-solutions in the global market," which is a bold goal. Their idea is to provide quality products with great warranties, and that's a classic strategy that works for a lot of customers. Time will tell if their R&D can consistently hit the target and if they can hook up with larger partners.
Ultra currently manufactures tons of random tech; things like batteries, Bluetooth devices, mp3 players, every kind of cable in the world, Flash memory, HD coolers, LCD alarms, power inverters, projection screens, power supplies, and much more. The company keeps their hands in everything, and this ambition is typically a blessing and a curse for a business which does it all, yet specializes in nothing. Luckily for Ultra, their diversity has helped them cross-departmentalize to produce an amazing take on a legacy case that adds some very unique features.
Ultra's Great Warranty
Ultra calls their warranty The Ultra Advantage. Power supplies and cases carry a three-year manufacturer's guarantee, which is upgradeable to a lifetime warranty should you decide to register. It's a simple step that secures many years out of a purchase, and Ultra describes their warranty like this:
"To ensure your complete satisfaction, all Ultra Power Supplies and Cases now carry a three-year warranty that they will be free from defects in materials or workmanship. In addition, that warranty can be upgraded to a LIFETIME warranty by simply registering online for the Ultra Advantage. The incomparable Ultra Advantage provides the most comprehensive warranty coverage possible. If you opt for the Ultra Advantage, all power supplies, cases and memory products are protected by our Lifetime Warranty, upgraded from three year. Under Ultra Advantage, all our other products are upgraded from the standard one-year to 3-year coverage! No other company delivers a consumer care package that can top ours. At Ultra, customer service is our most important mission. That's why every Ultra product must meet the highest industry standards for quality and reliability. And our warranty program is second to none."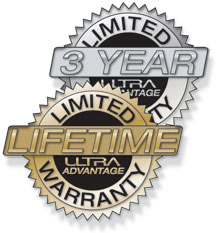 It's a nice deal.
Before we get into usability and design of the m998, check some hard specs to get an idea of what's gone into the engineering.
Ultra's m998 is a mid-tower ATX named after the classic military Humvee, which seems like an unusual place to acquire a muse; however, I believe the goal of the metaphor is to evoke the case's versatility, power, and robust construction, and the image does the job. Ultra's description of the case follows:
"Named after one of the world's toughest and most versatile military vehicles, our new m998 ATX Mid-Tower PC case will become your ultimate gaming weapon, as well as a dynamic multimedia chassis that promises years of digital entertainment. Striking a commanding presence with its sleek design and durable 1.5mm aluminum construction, the m998 offers 11 drive bays, along with front eSATA, Firewire, and USB audio ports. Two powerful yet quiet front and rear 120mm fans, plus Ultra's superior airflow architecture, keep even the most heat-intensive components cool and at optimum performance.
This superb new case also features removable panels for easy, tool-free access, and Ultra's exclusive Power Bar power distribution system. Component installation and maintenance is a snap, because you can remove all the m988's panels for simple, tool-free access. And you can replace the front Firewire/audio/microphone/eSATA bracket with virtually any PCI slot-type bracket. Whether you're a gamer, movie buff, or someone building an extremely powerful system – the m998 is the perfect fit. A rugged and versatile warrior that's ultra-sophisticated and military tough."
The case certainly is tough, but it's not necessarily the brawn that helps the m998 excel; theoretically, there is ample finesse here, along with some very good ideas.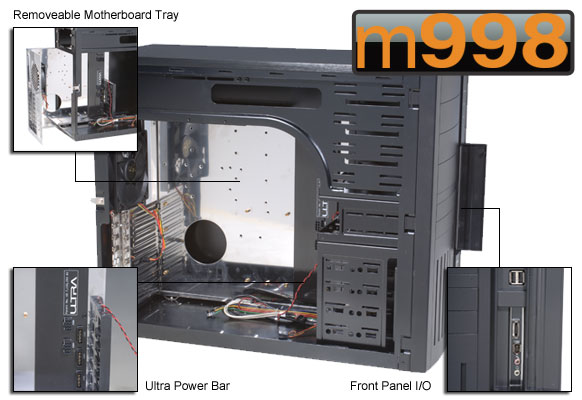 But first – the hard specs: 
Ultra m998 Specs
Color: Black
Material: 1.5mm High Grade Aluminum
Weight: 17.00 lbs.
Dimensions:
Depth: 20.47″
Width: 9.45″
Height: 18.11″
Drive Bays & Expansions:
4 – 5.25″ Bays
5 – Internal 3.5″ Bays
2 – External 3.5″ Bays
Expansion Slots: 7 Standard Slots
Form Factor:
ATX
EATX
Micro ATX
Case Fan Mounts (Fans Included):
2 – 120mm Fan Mounts
LEDs:
Green – Power
Orange – Hard Drive Access
Switches:
Power
Reset
Features:
All panels removable for easy, tool-free access
Stainless steel finished removable Mainboard tray
Includes Ultra's Power Bar power distribution system
Front eSata/Firewire/USB Audio ports
Interior and Exterior finish
Replace front Firewire/Audio/Microphone/eSata bracket with virtually any PCI slot-type bracket.
Easy access front panel:
2 – USB 2.0
1 – Firewire
1 – Headphone
1 – Microphone
1 – eSATA
Everything sounds roomy and practical on paper, but let's check out the m998's appearance, usability, and general design in application.
First Impressions
The Box
We've got some large-Marge brand-heavy design that doesn't quite fit in the Bjorn3d DIY product photography studio. Major features are listed on the side, and the cardboard is par for the course with some nice foam packing to keep things from jiggling around.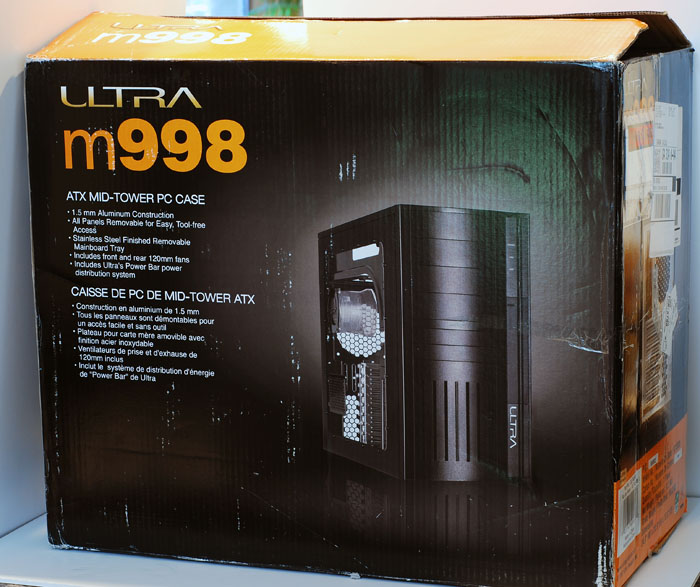 The Bundle
Included in the box we've got an I/O shield plate, miscellanious screws, brass motherboard standoffs, casters, Flex Force cables, and one SATA cable to hook up to your eSATA from the front panel.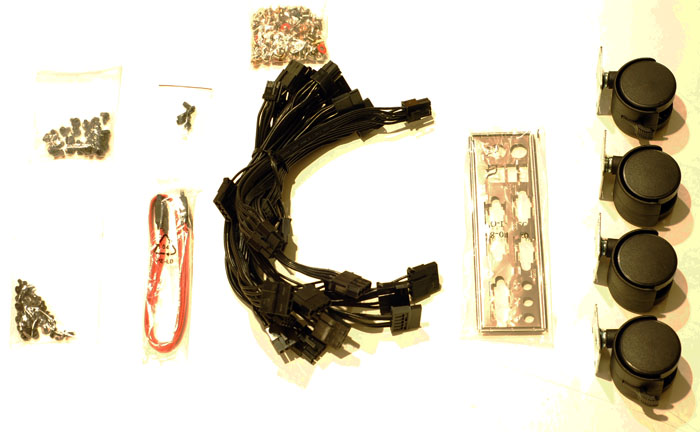 The Case Front
I'm a big fan of Lian Li's designs, and my PC65b feels right at home next to the m998, but Ultra's case is considerably larger in true Humvee style, pushing a good inch of girth over the Lian Li. Both cases have lots of right angles, industrial fonts, rivets, anodized grids – and everything conveys minimalism, stability, and subtle boxy understatement.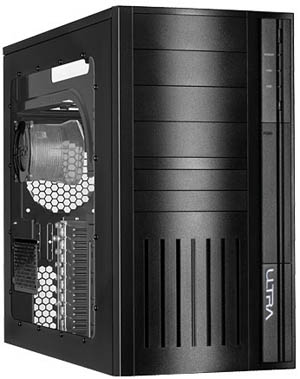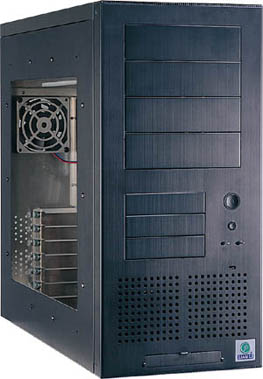 But why did Ultra keep the cheaptastic plastic front panel from this classic case design?
First, the bright side: if you consider the general theme of internal components, a basic plastic front panel will match 99% of all black burner bezels closer than metal. The hinged door that reveals the front panel I/O works just dandy, and that's all the good news.
The bad news comes in the form of a question, and goes like: "For an MSRP of $199.99, where is the carbon fiber Ultra is putting in their upcoming flagship model and why is it not on my new case? Where is the 1.5mm brushed aluminum I'm enjoying on the rest of the product?!"
The plastic panel also uses an irritating snap system for removal, and while this is ultimately not a make-or-break point of purchase, my fingers are still bleeding from installation.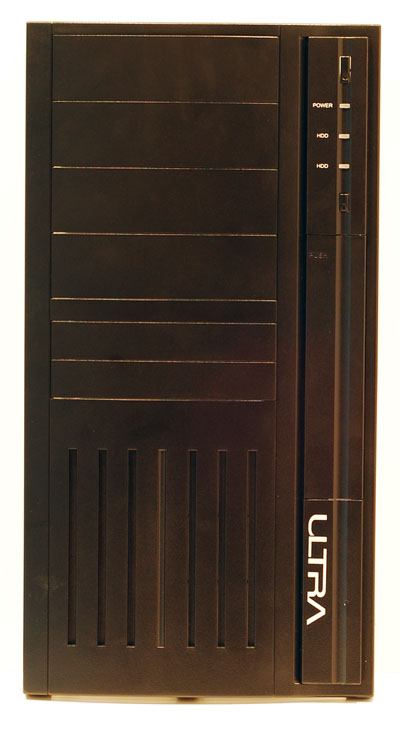 The Sides
The traditional single window comes standard, with a simple video card vent and more functional CPU duct behind the Ultra logo. The duct adds visual dimension to the inside of the case along with some extra cooling capability that can really help under load.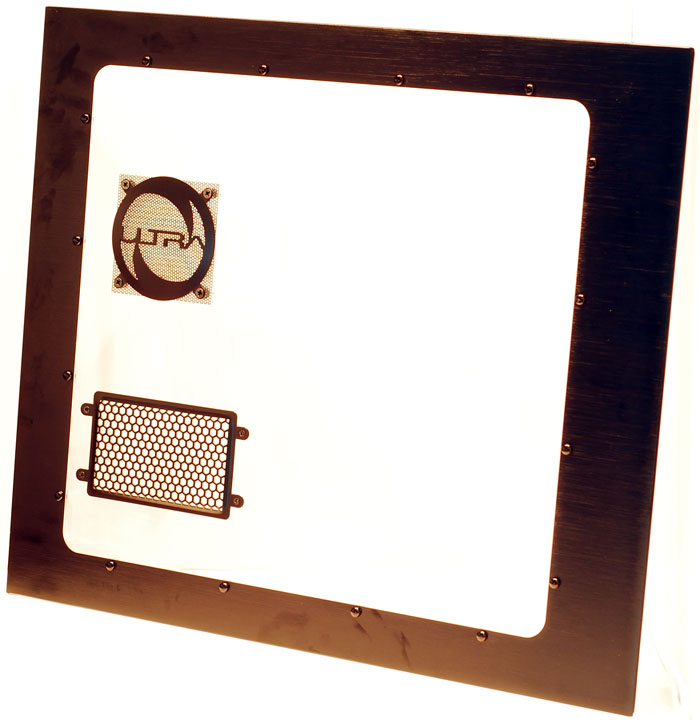 Below is a picture of the m998 all decked out with gear, on included casters. Notice the CPU duct; it fits a stock heatsink from a Quad Core Q6600 perfectly, and pulls enough cool air straight onto the processor to discourage water cooling for another few months.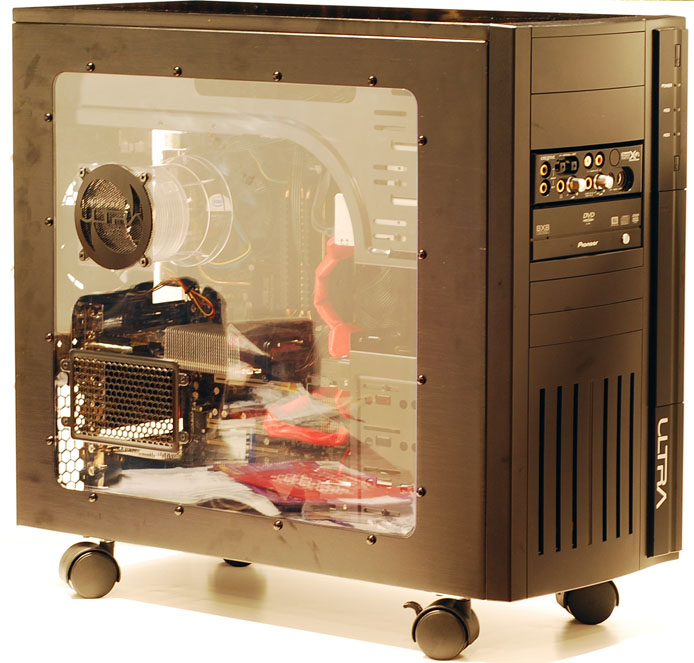 The Top
No blow hole; solid black aluminum. Nothing to see here folks, move along.
The Back
A typical take on the mid-tower rump: I/O panel, vents, 120mm fan mount, thumb screws, and (7) expansion slots.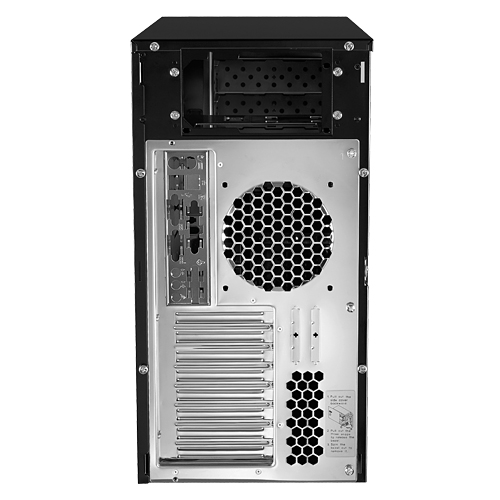 If you enjoy the geometric monolith design as much I do, you'll find the m998 to be a good-looking case; but of course, aesthetics aren't everything, and the proof is in the internal features and performance!
Usability and Common Sense
The Manual
The manual doesn't tell you anything other than where to put your hands; and what direction to push, yank, or pry something. What it's really lacking is a solid explanation of the Power Bar feature, but if you want to guarantee functionality, it's actually very easy to figure out.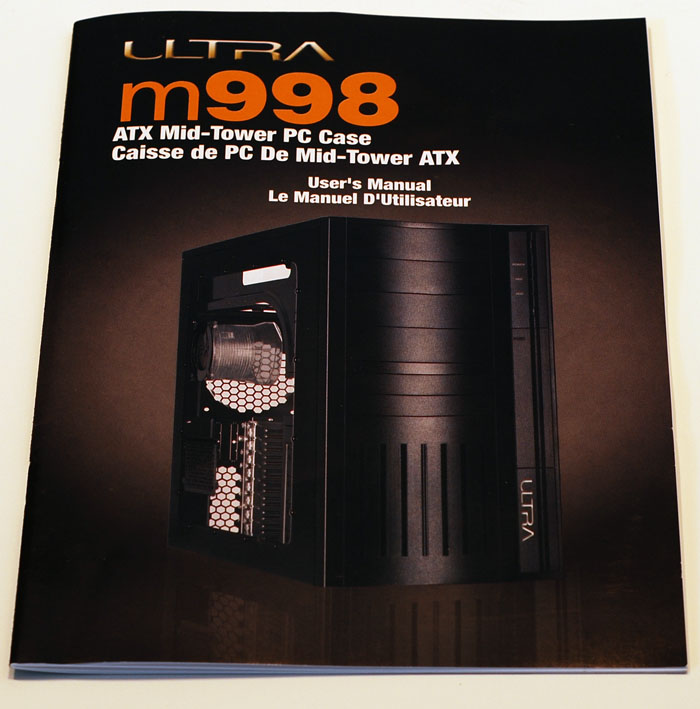 Case Structure
There is nothing more frustrating than digging away in a poorly-planned mid-size ATX case as you build your system, and Ultra has designed the m998 to tear down almost completely so you can really get in there. The strippable chassis, slide-out mother board tray, and removable 3.5″ drive bays are functional and easy to manipulate, and give big hands plenty of space to maneuver.
There is some minor annoyance, however, in getting here. Ultra has added two Phillips head screws to the motherboard tray to secure it in place.  Even though the tray is larger than what you're used to seeing on a mid-ATX case, this is unnecessary for its stability, considering that you've already removed five thumbscrews that feel like they've been put in sideways because the holes line up worse than third-graders during recess.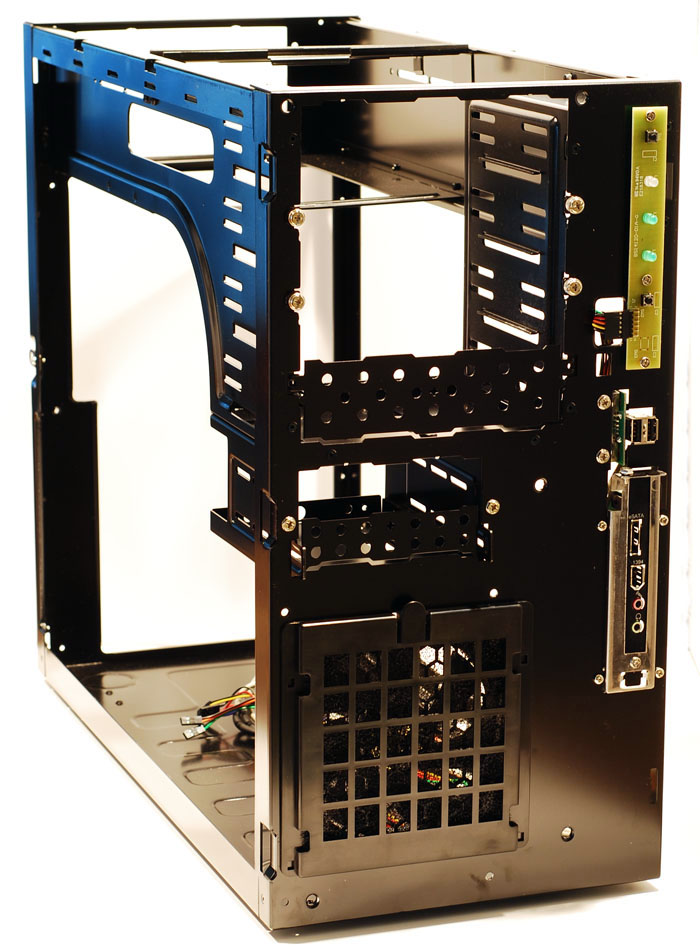 On the front we've got our (4) 5.25″ bays with (2) internal 3.5″ bays under them, followed by a nice 120mm intake with dust filter. On the right are the ever-present switches and power/hard drive LEDs, followed by the front I/O panel with USB, Firewire, eSATA, headphone and mic connectivity. These could be replaced in a snap with any PCI slot-type bracket you'd prefer.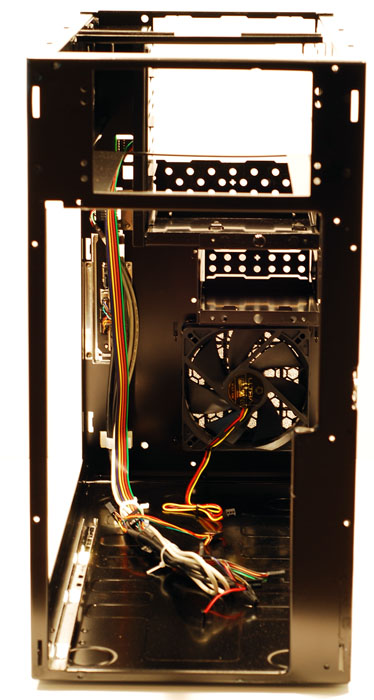 After removing the 3.5″ bracket, looking in from the back gets us a view of that 120mm front intake, which is going to be pulling sweet coldness over your hard drives – assuming there's a chassis fan connection on your motherboard in a position to accommodate the shortest cord ever.
Notice also that larger power supplies can be dropped in from the top instead of being slid in from the back of the case. I'm testing the m998 using Ultra's own monstrous X3 800-watt modular power supply, and it won't fit through the back, so popping the top here became more than a nice convenience.
The m998's Key Feature: Ultra's Power Bar
This is what sets the case apart. The Power Bar is a great idea that Bjorn3d hasn't come across before on a stock chassis, and we hope other companies follow suite.
Some users have expressed confusion with installation, but everything is relatively easy to understand: plug (2) molex and (2 ) 8 pin PCI-Es into the top inputs. Run only the Flex Force cables you need from the bottom outputs to your devices, and voilà, the m998 has cleaned up your cluttered case and increased airflow.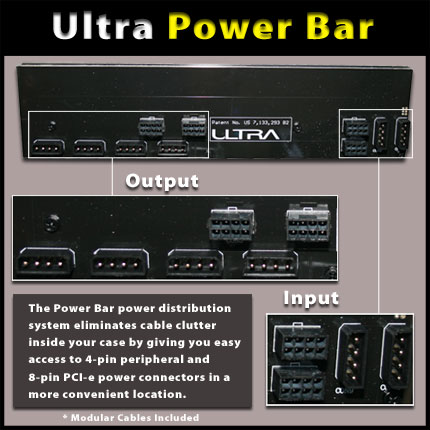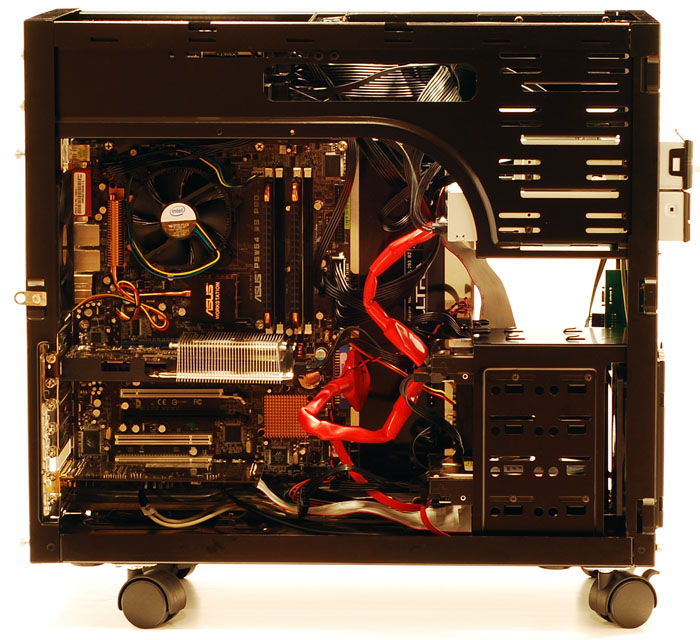 Of course, all the sleekness goes away if you're running PATA and need that proprietary X-Fi ribbon cable, but Ultra's Power Bar is still amazingly easy to work with, and it puts everything right where you need it.
Let's run some tests and get some hard numbers to compare potential cooling gains of the case as a whole.
Testing
Comparisons were made between the Lian Li PC65b and the Ultra m998 in a real-world test environment. Test conditions follow:
Temperatures were measured in both cases with Everest Ultimate Engineer Edition v4.
Idle temps were taken 24 hours after initial bootup.
Load temperatures were measured an hour after stressing began.
Stressing was achieved by running the Crysis demo at 1024 x 768 on High settings while copying a 4GB DVD ISO across hard drives. Adobe Flash CS3 and Adobe After Effects CS3 were also used simultaneously for content production. All tasks were run at once, and were tabbed between regularly.
Test Platform

Processor

Intel Core 2 Quad Q6600 2.4GHz @ 3GHz

Motherboard

Asus P5W64 WS Pro | Rev 1 | BIOS 903

Memory

OCZ RPR-1066 DDR2 2 x 1GB @ 5-5-5-15

Drives

WDC WD2000JB-00GVA0 PATA

WDC WD5000AAKS-22YGA0 SATA

PIONEER DVD-RW  DVR-107D PATA

Graphics (Driver)

XFX GeForce 7950 GT (169.09 Beta)

Case

Test Case 1: Lian Li PC65b

Test Case 2: Ultra m998

Power Supply

Ultra X3 800-Watt Modular PSU

Operating System

Windows Vista Home Premium 64-bit
Results
Temperature Comparison Chart in Celsius

Lower Temperature Indicates Better Performance

Lian Li PC65b

Ultra m998

Idle

Idle
Lian Li's PC65b is a great mid-ATX case with (4) 80mm fans, but Ultra's m998 takes it out by several degrees in each category, except on the stressed GPU. The most noticeable gains come from the CPU duct, which really shines under load.
Conclusion
Ultra's m998 case is certainly an excellent revision of an old standard. The Power Bar feature alone will interest users enough to warrant an upgrade, as it makes modding that much easier. If you are still air cooling, the case will also significantly reduce certain temperatures under load, as the 120mm fans move quite a bit of air and do so with admirable silence. If your rig is currently living in a cheap steel case, you will notice a big difference immediately; but coming from a quality Lian Li or equivalent, you'd be pressed to find a reason to switch considering the similarities in temperature.
The extra space in the m998 is nice and helps free up motion to make connections. Removing the top provides a lot of additional real estate as well.
Specifically, the m998 makes a great box if it's going to be making a public appearance in your computing space. It's very quiet, and cleans up well inside with its Power Bar feature, which adds significant "ooh and ahh." The case is based around a completely aesthetic idea, and this is what's so puzzling: seeing as Ultra has gone through so much trouble to make the case quiet and well groomed from the side, why keep slapping on that plastic bezel and kill the view up front? $200 is a healthy investment for any mid-size ATX, and builders who buy this case probably already know that they want the stock modding features instead of air-tight engineering and unmistakable beauty.
The m998 is a clever and intuitive step forward that suggests a strong future of stock cases from Ultra; however, it is not a value purchase, or assembled to $200 standards.
Perhaps that's the point. Ultra isn't channeling the polished nuance of Mercedes Benz; the design references Humvee, which uses the four-on-the-floor philosophy of high-performance utility.
And that's exactly where this case delivers.
Pros:
+ Stock Power Distribution System!
+ Nice front PCI connectivity
+ 1.5mm aluminum
+ Nearly silent
+ Roomy for a mid-ATX
+ Removable everything
+ Good temperature control
+ CPU duct
Cons
–  MSRP is too high
–  Thumbscrews often require screwdrivers because of case build
–  Subpar plastic front panel
Final Score: 7.5 out of 10, a nod to innovation, and the Bjorn3D Seal of Approval