With the AluBoxTFX A.C. Ryan has taken a good enclosure (AluBox eSATA) and made it even better. With slightly better performance and (finally) the ability to install a hard drive without using any tools, the AluBoxTFX is a very good and flexible eSATA/USB2 enclosure for both IDE and SATA drives.
INTRODUCTION
Not long ago I reviewed the A.C. Ryan eSATA external enclosure. One of my few gripes with it was that it was quite complicated to install/change hard drives in it, at least compared to many of its competitors. Little did I know when I wrote the article that A.C. Ryan already had taken care of this in their newest enclosure, the AluBoxTFX. This enclosure not only has all the features of the original AluBox eSATA (USB2.0 and eSATA support) but also offers a few other benefits over the original AluBox eSATA.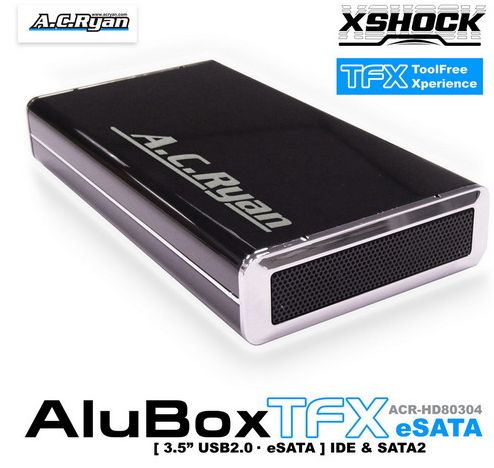 ABOUT A.C. RYAN
A.C. Ryan is a company mainly known for their modding products. They sell everything from UV Reactive cable sleeves to special limited edition reservoirs for water cooling. They are very active in the modding world and even run a contest each year for the coolest modded computer.
In addition to their modding products they now also sell various storage related products including the AluBox hard drive enclosures that we are reviewing today
FEATURES AND SPECIFICATIONS
The AluBoxTFX is an enclosure that can hold one SATA or IDE drive and connect them to a computer through either USB2.0 or eSATA.
The specifications are:
USB2.0 480mbps. Also compatible with USB 1.1
eSATA interface (enables a longer max. cable length of 2m) up to 3Gbps with SATA2 harddisk
Internal connection: SATA or IDE 3.5"
Supports up to 1024 MB and 10000RPM
Material: 1.8mm aluminium
Dimensions : 205 x 125 x 30mm
Weight : 545g
The main features of the AluBox TFX are:
TFX ToolFree Xperience
No screwdrivers / tools needed to install harddisk
Simple and fast
Harddisk is firmly and securely mounted
Patented ToolFree design
XSHOCK
Advanced Shock absorbers
Extra protectection for your harddisk
Patented shock absorption design
Advanced passive cooling
Full surface contact between harddisk and AluBoxTFX's solid aluminum top
Entire AluBoxTFX's massive aluminum acts as a large heatsink cooler
Absorbs heat from harddisk and keeps harddisk cools without need for fan
USB2.0 480mbps. Also compatible with USB 1.1
eSATA interface (enables a longer max. cable length of 2m) up to 3Gbps with SATA2 harddisk
Internal connection: SATA or IDE 3.5"
Supports up to 1024 MB and 10000RPM
Material: 1.8mm aluminium
Dimensions : 205 x 125 x 30mm
Weight : 545g
The main features of the AluBox eSATA are:
connect to PC via USB2.0 or eSATA
USB2.0 480mbps / compatible with USB1.1
eSATA interface (enables a longer max. cable length of 2m) up to 3Gbps with SATA2 harddisk
for both IDE or SATA / SATA2 harddisk
use SATA harddisk on eSATA or USB
use IDE harddisk on USB
enjoy the blazing speed of SATA as fast as an internal harddisk!!
supports all 3.5″ harddisk up to 10000RPM
supports all 3.5″ harddisk max capacity 1024GB
True HotSwap Plug-n-Play
Simply Plug n Play even while your system is on
1.8mm solid aluminium
keeps harddisk cool
Ultra lightweight solid construction
shock resistance up to 90cm freefall
high quality mirror polish
sleek & slim 30mm height
Horizontal Stackable or Vertical designed for horizontal or vertical placement
vertical placement with vertical stand
multiple box can be stacked on each other
Front BlueLED light indicates HDD activity
 
A CLOSER LOOK AT THE ALUBOXTFX
Just as with all their AluBox enclosures, the AluBoxTFX comes in a Blue-White-Black box. On the front and back you get the most relevant information about the enclosure, including a large sign with a crossed-over screwdriver advertising the "tool free experience".
Inside the box we find:
AluBoxTFX
Vertical Stand
AC Power Adaptor
AC Power Adaptor Power Cord*
USB2.0 cable 1m
eSATA to eSATA cable 1m
User Manual
Driver CD for Windows 98SE*
* no drivers needed for Windows Me/2000/XP/Vista
* no drivers needed for Mac OS 9.0 or above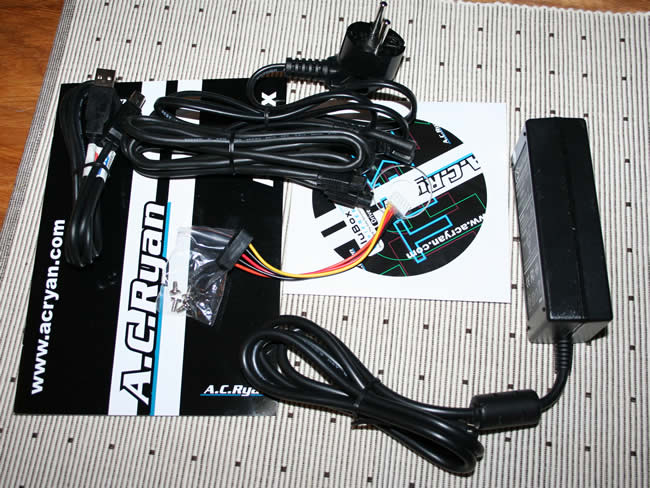 I was surprised when I looked in the box to find a bag with screws. As this is supposed to be a enclosure that do not need any tools to be installed I could not figure out where the screws would fit in. In the end they didn't. I have a feeling that whoever packed the box automatically put in screws even though they ultimately were not needed.
While the enclosure looks similar to the AluBox eSATA there are some minor differences. The biggest difference is the front which now has a mesh instead of the smooth front of the eSATA. Behind the mesh is a small led that will light up when the enclosure is powered up.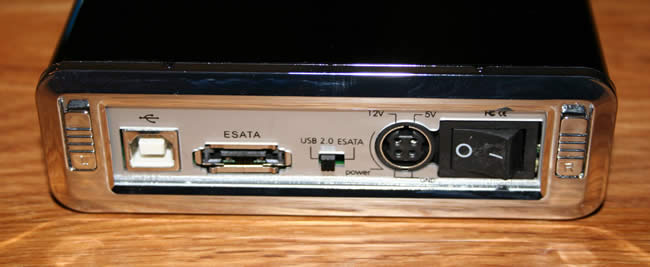 The back of the AluBoxTFX houses no surprises. You get a USB-port, a eSATA port, a switch to switch between the two, a connector for the power and a on/off switch. Some enclosures have started to omit the on/off switch, instead turning on/off with the computer but I still prefer being able to decide myself when I want to have my enclosure turned on.
INSTALLATION
As we open up enclosure we notice all the new features. To open the enclosure you have to move two plastic sliders, one on each side, up at the same time to release the lock and then slide the top part of the aluminium chassis away.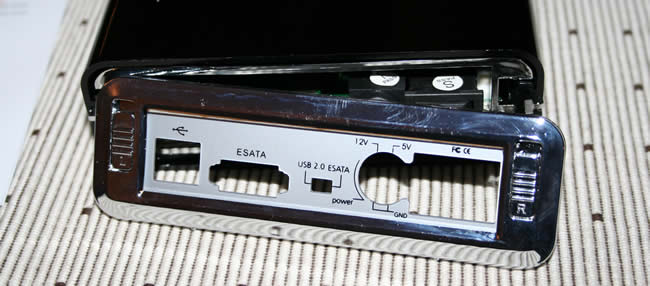 The whole back is made out of plastic and the sliders do not feel very sturdy.
The whole locking mechanism feels flimsy and is made out of plastic. Considering the rest of the enclosure is made of aluminium and feels very classy it is strange that A.C. Ryan has not made the locking mechanism of better quality.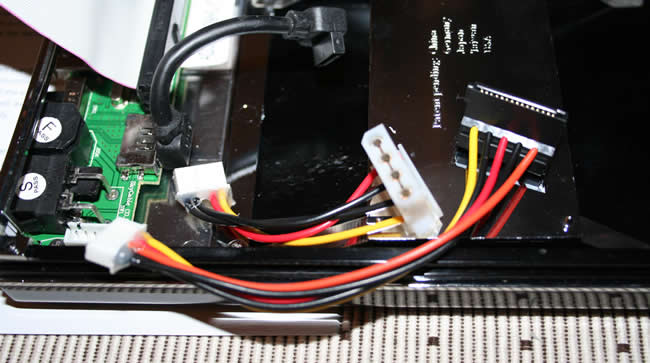 You still can choose between a Molex or SATA power connector.
If I was disappointed by the quality of the locking mechanism I was more impressed with the improvements that A.C. Ryan has made to the rest of the enclosure. With the other "non-tool-less" AluBox enclosures you had to slide the whole external shell away from an internal steel skeleton. It was also quite tricky to get everything to fit and then to re-attach a cable for the front led-light. With the AluBoxTFX things have become much simpler.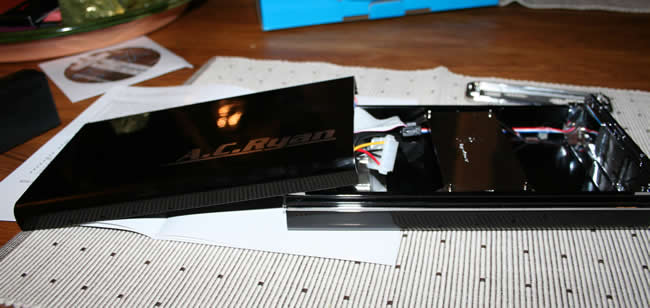 All you have to do is slide off the top half of the external aluminium shell; hook up the hard drive to either the SATA-cable or the IDE-cable (I recommend removing the IDE-cable if you do not need it), place the hard drive on the hard drive-holder and then slide the top half back.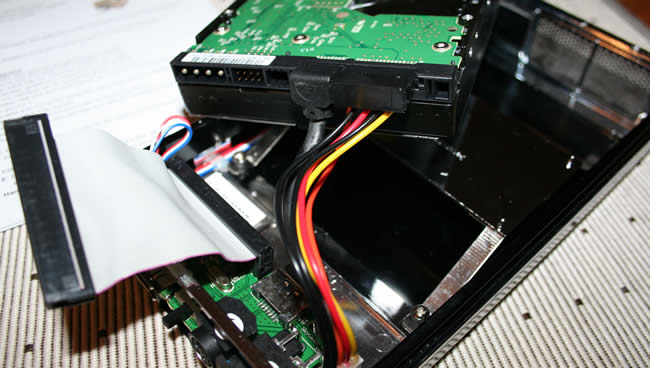 Notice the drive holder with the 4 pins to the right of the HDD. The four "arms" make it feel like it 
sits on springs and this helps absorb some of the shock if you manhandle the enclosure.
The hard drive holder has 4 pins which align into the screw holes on a hard drives. It also sits on a spring which means that not only does the holder absorb some shock if you drop it on the ground but it also presses the hard drive back to the top half of the aluminium shell improving the heat-transfer from hard drive to the aluminium shell.
Except for the flimsy locking-mechanism the tool-less design works very well.
HOW WE TESTED THE ALUBOXTFX
The AluBoxTFX was tested with the following system:
Review System
CPU 
Intel Quad-Core Q6600 @ 2.4 GHz

Motherboards

ASUS P5K3 Deluxe

Memory

Corsair TWIN3X2048-1800C7DF

Storage

1×320 GB SATA
1x 80 GB SATA
1×80 GB SATA in A.C. Ryan AluBoxTFX enclosure

Video cards

ASUS 8800GTS

Optical

Toshiba HD-DVD drive

Operating System

Windows Vista (32-bit)
It was hooked up to the computer, both using the USB and eSATA connections. The same drive used in the enclosure also was tested hooked up directly to one of the SATA ports on the system.
We used the following two benchmarks to test the drive performance:
HDD tests in PC Mark Vantage
HDTune
TESTING: PCMARK VANTAGE, HDTUNE
I choose to use two different programs to test the performance of the enclosure. HD Tune is a program that will test the theoretical speed of the hard drive, whether it is in the computer or in an enclosure. It provides us with a theoretical min/average/max and burst speed.
PCMark Vantage (read our review of this benchmark) on the other hand takes a different approach in testing the HDD. It tests the HDD in a bunch of tests which are meant to mimic different typical real-world situations including Vista startup, importing media to Windows Media Player as well as HDD performance in gaming and video editing.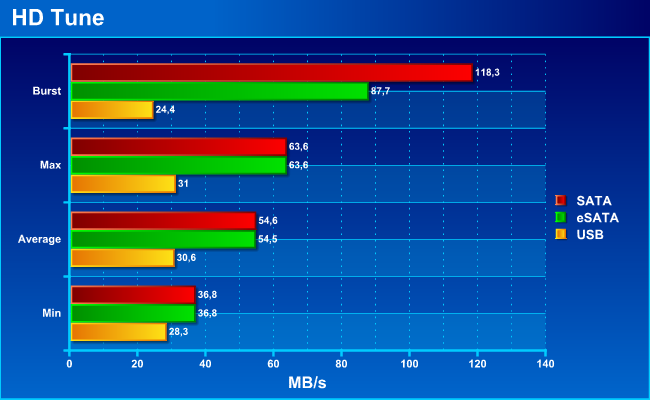 Except for worse Burst speed, the drive in the AluBoxTFX enclosure managed to perform just as well inside the enclosure through the eSATA port as hooked up to a SATA-port on the motherboard. As expected the USB 2.0 performance falls far behind the SATA performance.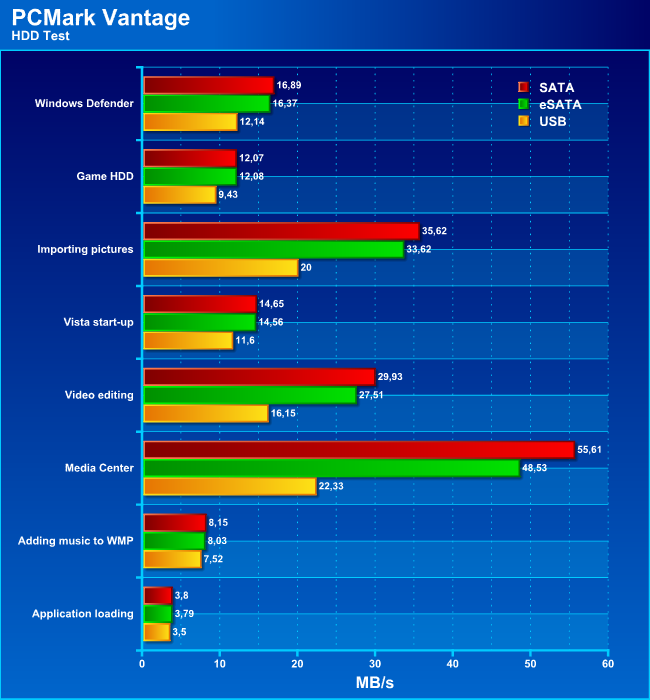 While the drive is performing slightly worse when sitting inside the AluBoxTFX and hooked up through eSATA compared to being hooked up to the SATA port on the motherboard, the difference isn't huge in most tests. I'm pretty sure that a normal user will not notice any big differences. Compared to USB 2.0 it is clear it is much better to use the eSATA interface if possible.
CONCLUSION
Overall I think the AluBoxTFX is a definite improvement over the AluBox eSATA. It retains the benefits of that enclosure while improving on the few weak spots like a bit better performance and much easier installation. Having the ability to use both IDE and SATA drives is extremely usefull. Just as I was finishing this review my mother asked for help in saving some stuff from an old IDE-drive that seemed to have ceased working. I quickly was able to install it in the enclosure and then remove the stuff she needed to a separate USB-stick. I probably am also not alone in having a bunch of smaller IDE-drives in my shelf that have no space now in my computer. Put one of them into one of these enclosures and you hve some cheap backup-storage ready to be used.
At around $50 it is a bit more expensive than the AluBox eSATA but I think the extra 10$ is well worth it, especially if you plan on upgrading the hard drive in the enclosure from time to time.
Pros
+ Looks great
+ Good cooling without a fan
+ Good performance
+ Both eSATA and USB2 interface
+ Supports both EIDE and SATA drives
+ Simple installation
Cons
– Even with good performance it still is a bit below "true" SATA-performance
–
The A.C. Ryan AluBox TFX gets a rating of 8 paws out of 10 and a Bjorn3D Seal of Approval.