Today it is our pleasure at Bjorn3D to continue our reviews of the Seagate storage review saga. Because we were fortunate enough to receive both the Seagate Barracuda 1TB 7200.11, aimed at the mainstream consumer market and the Seagate Barracuda 1TB ES.2, designed more for enterprise networking solutions; Scott and I will split this review into two separate parts. Part 1 will feature the Barracuda 7200.11 and Part 2 will concentrate on the Barracuda ES.2.
INTRODUCTION
Last year Seagate launched a 750GB 1st Generation Perpendicular hard drive to the world. When released the Barracuda 750GB 7200.10 was the largest hard drive was the largest drive available, notice we say was. This 750GB drive at the time was only bettered in performance by the Western digital Raptors, which only held 20% of the Barracuda's capacity. So now with people storing more music, videos and in Scott's case games and game demos even larger drives have become necessary. Seagate seeing that need has seen fit to drop a 1TB hard drive on us. This new drive is 2nd Generation Perpendicular technology based and has its CACHE upgraded from 16MB to 32MB.
Today it is our pleasure at Bjorn3D to continue our reviews of the Seagate storage review saga. Because we were fortunate enough to receive both the Seagate Barracuda 1TB 7200.11, aimed at the mainstream consumer market and the Seagate Barracuda 1TB ES.2, designed more for enterprise networking solutions; Scott and I will split this review into two separate parts. Part 1 will feature the Barracuda 7200.11 and Part 2 will concentrate on the Barracuda ES.2.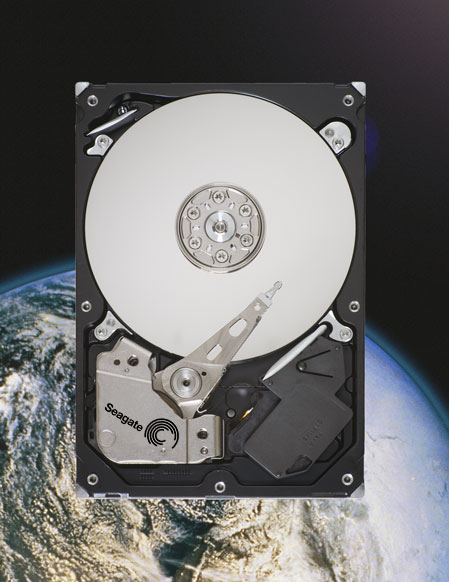 Seagate:  A Brief Overview
Seagate was founded in 1979 and was the first company to build 5.25-inch hard disc drives for the PC. And while it may have seemed like a minor milestone at the time, today this hard disc drive introduction is regarded as one event that helped fuel the PC revolution. Suddenly, people could access unprecedented amounts of information, which eventually gave rise to the Internet and other developments. And for nearly a quarter of a century, Seagate has been developing the technology and manufacturing the products that helped make it all happen.
25 years later, the world runs on information. Every time you access the Internet, use an ATM, watch TV, listen to digital music, enjoy a movie with computer-generated special effects, or use a consumer-electronics device, you access and share large amounts of digital information on disc drives — the core of Seagate's business.
Seagate also has its sights set years into the future. From hand-held computers and web phones, to intelligent storage that knows what information you want and when you want it, to home networks that deliver entertainment, education and services on demand — Seagate has the knowledge and resources to develop the technologies required for tomorrow. The company is committed to developing new solutions and technologies, pushing storage further than anyone could have imagined in 1979.
At the core of Seagate's success is its advanced development of hard disc drive products. Seagate is the market leader with products in 1-inch, 2.5-inch and 3.5-inch form factors in internal and external formats. In capacities ranging from 2.5 gigabytes to 750 gigabytes, this comprehensive line includes products for the price-sensitive desktop market, consumer electronics devices (hand-held to in-home audio/video), pocket and portable storage, notebook computers and enterprise-class network servers.
FEATURES & SPECIFICATIONS
Features
Designed with four 250GB disks to provide the optimal balance of advanced technology and low total cost of ownership
Eleventh-generation drive in the successful, award-winning Barracuda® productfamily
Enables up to 1TB of storage capacity (other capacities at 500GB and 750GB
Industry's most reliable hard drive with proven second-generation perpendicular magnetic recording(PMR) technology
Leverages best combination of technology (areal density, PMR) and proven components for volume shipping
Industry-leading acoustics and power consumption levels
105-MB/s sustained data rate
32-MB cache
7200.11 Family Specifications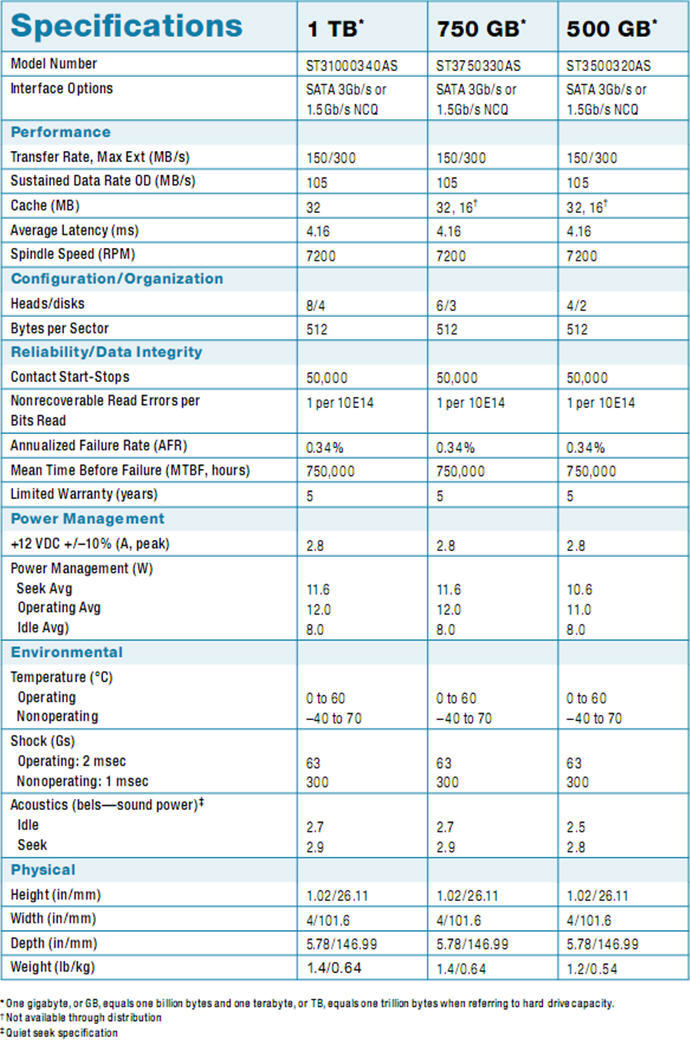 PERPENDICULAR MAGNETIC RECORDING
The following information was detailed in our review of the Seagate 7200.10 750GB drive, but we feel it is essential to understanding the technology behind just how Seagate and other licensed manufacturers are able to produce drive with such a gargantuan capacity and performance. We decided to include it once again in this review as a reference on how Perpendicular Recording works. It should be noted that the current generation of Seagate drives (7200.11 & ES.2) use second generation Perpendicular recording which to our understanding significantly increases Areal Density over its first generation counterparts.
First, and foremost, how did Seagate increase the volume of their drives so radically? To answer that question we must first understand areal density. To paraphrase Webopedia's definition: "Areal Density also called bit density is the amount of data that can be packed onto a storage medium. Areal densities are generally measured in gigabits per square inch. The term is useful for comparing different types of media, such as magnetic disks and optical disks. Current magnetic and optical disks have areal densities of several gigabits per square inch."
Next we turned to Seagate for their technical comments on areal density:   "To increase areal densities in longitudinal recording and boost overall storage capacity, the data bits must be shrunk and packed more closely together. However, if the bit becomes too small, the magnetic energy holding the bit in place may also become so small that thermal energy can cause it to demagnetize, a phenomenon known as superparamagnetism. To avoid superparamagnetism, disc media manufacturers have been increasing the coercivity (the field required to write a bit) of the media. However, the fields that can be applied are limited by the magnetic materials making up the write head."
It would seem from that technical comment that areal density is approaching a limit in its expandability. We learned by reading further that a new process call "perpendicular recording" had been implemented to help augment the maximization of areal density. What is "perpendicular recording"? Even though we are pseudo geeks we had to rely on Seagate again to clarify that term:   "In perpendicular recording, the magnetization of the disc, instead of lying in the disc's plane as it does in longitudinal recording, stands on end, perpendicular to the plane of the disc. The bits are then represented as regions of upward or downward directed magnetization. (In longitudinal recording, the bit magnetization lies in the plane of the disc and flips between pointing in the same and opposite directions of the head movement.) The media is deposited on a soft magnetic under-layer that functions as part of the write field return path and effectively produces an image of the recording head that doubles the recording field, enabling higher recording density than with longitudinal recording."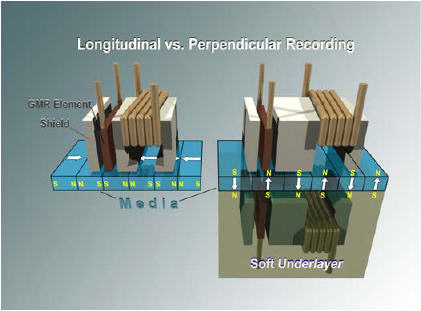 "Seagate has demonstrated a recording areal density with perpendicular recording of 245 Gbpsi (Gigabits per square inch) with a data rate of 480 Mbits per second – more than double the 110 Gbpsi used in today's highest areal density disc drives – and 500 Gbpsi, which will increase the capacity of today's drives 5-fold, is possible with the new technology. At 500 Gbpsi, a 3.5-inch disc drive could store two terabytes of information, a 2.5-inch drive in a laptop could hold 500GB and a 1-inch drive, such as those in MP3 players, could store as much as 50GB of data. This explanation, although somewhat simplified, not only answers our questions regarding the radical increase in capacity; but also the noticeable speed increases with each new drive. Ain't technology just grand?
THE DRIVE
When looking at the exterior of the vast majority of hard drives today it is virtually impossible to tell one from another were it not for the manufacturer's label. In the case of the Seagate Barracuda 7200.11 1 TB drive there are essentially no changes to the top of the drive from those that preceded it.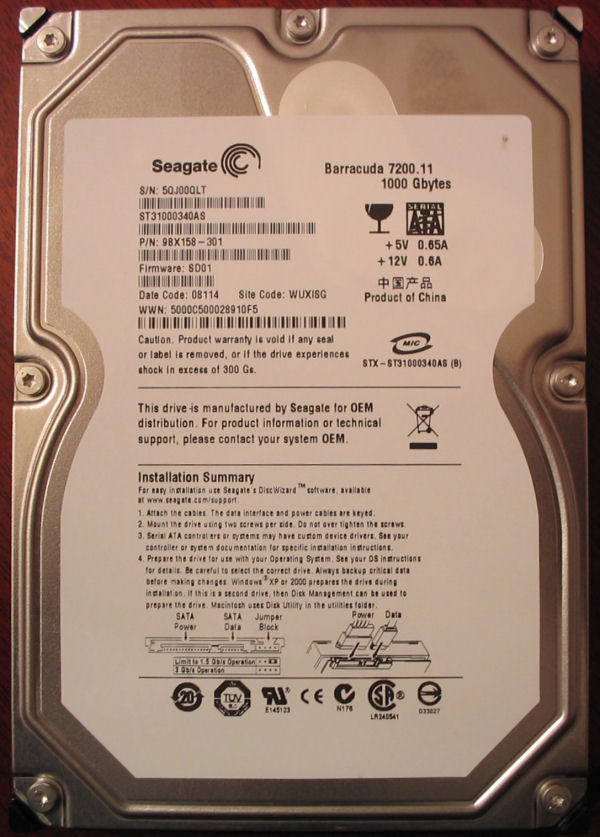 Barracuda 7200.11 1TB … Top View
Such is not the case when looking at the bottom of the drives! You can see from the images below that much of the 7200.11 drive's controller circuitry has either been miniaturized or moved to a less conspicuous location inside the drive, as opposed to the 7200.10.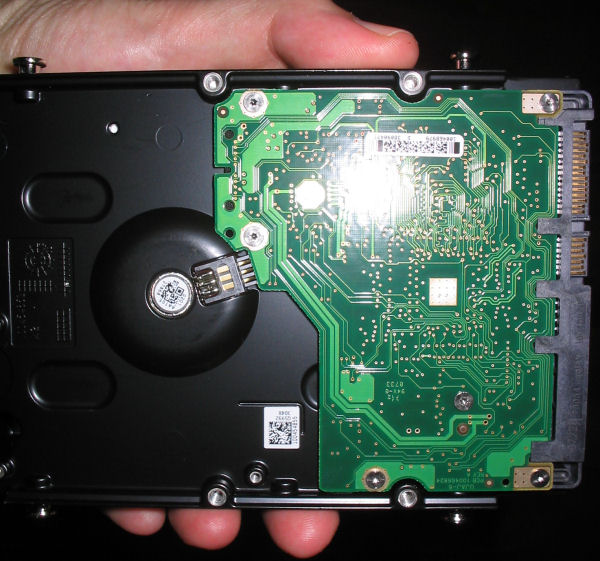 Barracuda 1TB 7200.11 … Bottom View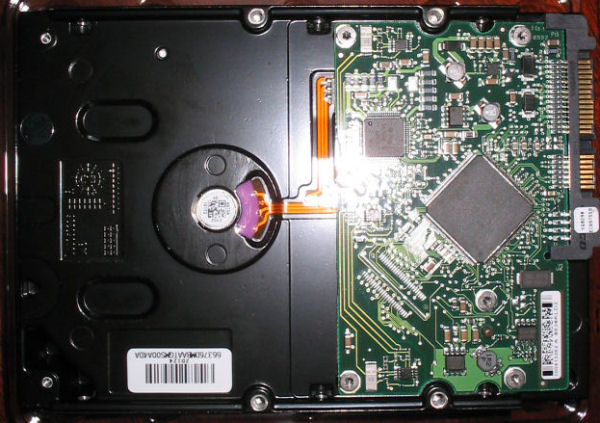 Barracuda 750GB 7200.10 … Bottom View
Looking at the drive from the side view there are again no visible changes between the two models.

Barracuda 1TB 7200.11 … Side View
TESTING
Test Platform

Processor

Intel E6850 Core 2 Duo @ 3.3 GHz

Motherboard

EVGA NVIDIA 680I Motherboard

Memory

2x2GB Mushkin XP2-6400

Drive(s)

Test Drive # 1:  Seagate 7200.11 1TB SATA drive
Test Drive # 2:  Seagate 7200.10 750GB SATA drive

Graphics

XFX 8800 GTX Ultra XXX

Power Supply

PC Power and Cooling 1KW-SR, 1 KW Power Supply

Case

Lian-LI V2000 Case

Operating System

Windows Vista Ultimate 32
Tests/Benchmarks
SANDRA 12 Profesional
HD TACH RW version 3.0.1.0
HD Tune version 2.52
ATTO Bench 32
Test Methodology
We decided to do a side by side comparison of the Seagate 1TB Barracuda 7200.11 SATA drive and its older counterpart the 750GB 7200.10. Each of the drives will be run at its fastest throughput speed, 3.0 gigabits/sec (jumper removed). Since the Barracuda 7200.11 1TB drive is aimed more at the mainstream consumer we ran all tests using Vista 32-bit Ultimate. We also used the four most popular benchmarks for clarity of results. Before running each benchmark we rebooted the test system to clear system caches and unload any unnecessary programs.
TEST RESULTS
Sandra 12 Professional Benchmark
SiSoftware Sandra is a 32 and 64-bit Windows system analyzer that includes benchmarking, testing and listing modules. It tries to go beyond other utilities to show you more of what is really going on under the hood so you draw comparisons at both a high and low-level in a single product.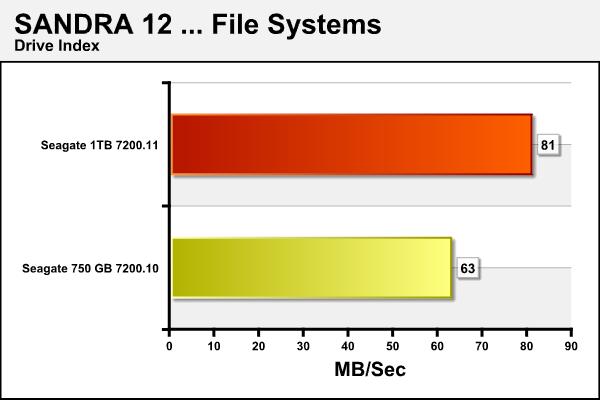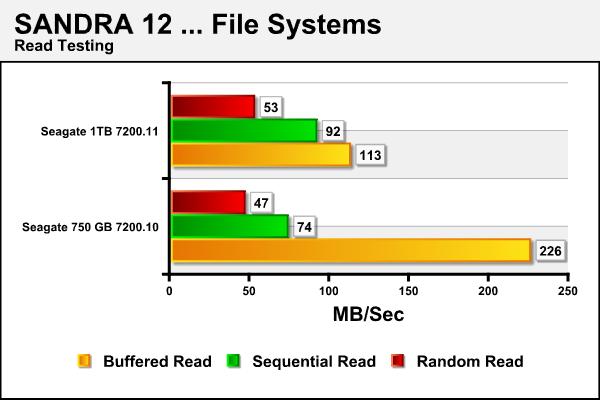 TEST RESULTS cont.
HD Tach Quick Benchmark (8MB Zones)
HD TACH RW performs sequential read and write test on removable media and non-partitioned fixed disks. HD Tach RW is also capable of performing the sequential read and write tests on the entire disk instead of the small number of zones in the quick and long test. We opted to use the Quick (8MB) test in the sequential read mode only as sequential writes will be covered by other benchmarks.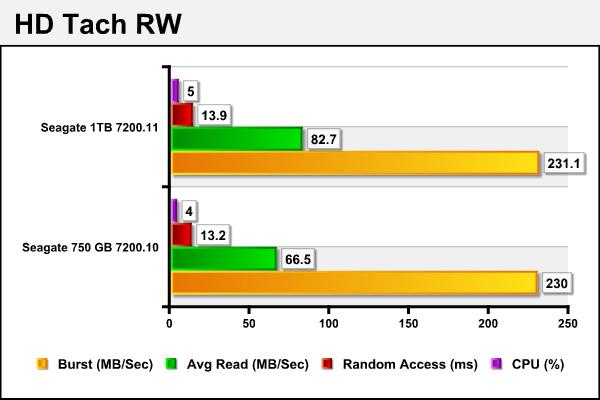 ATTO Bench32 Test
This area graphically displays the results of the benchmark test. The y-axis of the graph represents the transfer sizes in the selected range. The x-axis represents the transfer speeds in MB/sec. I/O speeds for each transfer size are also displayed texturally to the right of the graph in kb.
Barracuda 1TB 7200.11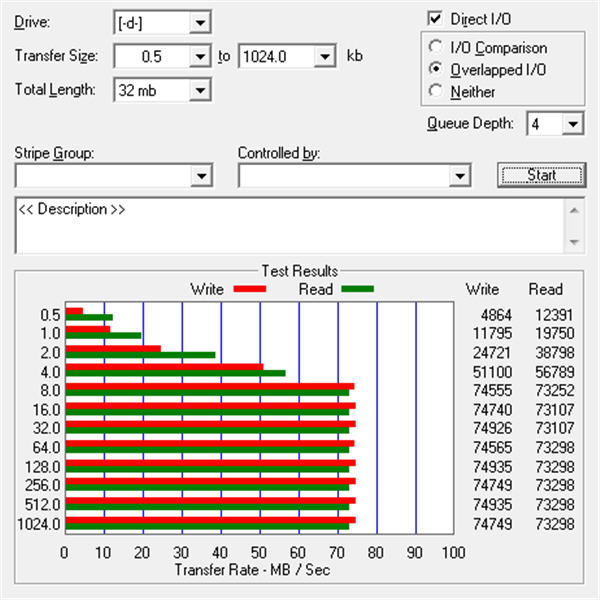 Barracuda 750GB 7200.10
HD Tune Benchmark
The HD TUNE Benchmark measures the raw performance of the following parameters: Transfer Rate, Access Time, CPU Usage, and Burst Rate.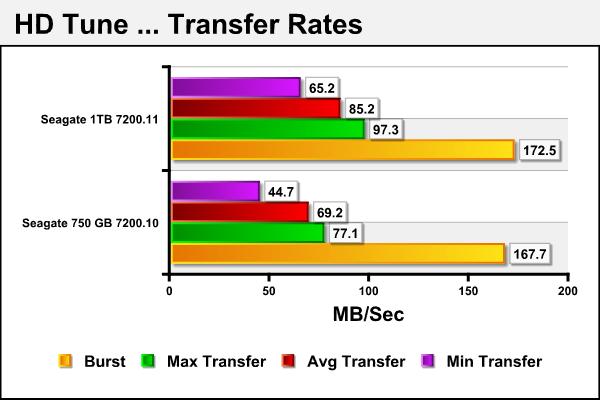 CONCLUSION
We were a little worried that a drive the size of Barracuda 7200.11 1TB would not perform well. So much for those thoughts the 1TB Seagate is a fast drive with a good sustained throughput and very good access times. Even though a few of the benchmarks for this drive are on a par with its 750GB counterpart one thing to keep in mind is that it has 33% more storage capacity. Scott has this drive in his machine and remarked that it made his system perform even better than RAID 0+1 using Seagate 320GB drives that he had been using for the last year. "The machine is just snappier in getting things done."
When the Barracuda 750GB 7200.10 was released to the public a little over a year ago its retail price was 499.00. The Barracuda 7200.11 1TB has an MSRP of 399.00 which makes it obvious to us that Seagate is striving to give the end user good performance and storage for their money. Current pricing for this drive is in the $330 to $370 USD range.
We heartily recommend this this product to anyone looking for a huge storage capacity and excellent performance all rolled up into one sweet drive.
Pros:
+  1 Terabyte of storage
+  32MB cache
+  Better cost/GB ratio than SCSI
+  5 year warranty
+  3.0 gigabits/sec I/O threshold, with the option to decrease to 1.5 gigabits/sec
+  Generation 2 Perpendicular Recording technology
 
Cons:
–  Price may be of concern to some general consumers 
 
Final Score: 9.0 out of 10, and the coveted Bjorn3D Golden Bear Award