Combining up to 85% efficiency, a 135mm fan, Flex-Force modular connections, and a great warranty, Ultra has given you more than enough reasons to put the X3 in your next rig.
INTRODUCTION
With the recent onslaught of 1000-watt and higher power supplies from various manufacturers, it is nice to see that many still take the time to cater to the PC enthusiasts that demand quality power, maybe just not so much of it.  Sure, a 1000+ watt power supply may power just about anything a power-user can throw at it, many times this amount of power is just plain over-kill.  If you aren't running top-of-the-line video cards in a linked configuration, quad-core processors and terabytes of hard drive space, a power supply of 600-watt proportions may be more up your alley.  If that is the case, then the 600-watt version from the Ultra Products X3 line may be just what you are looking for.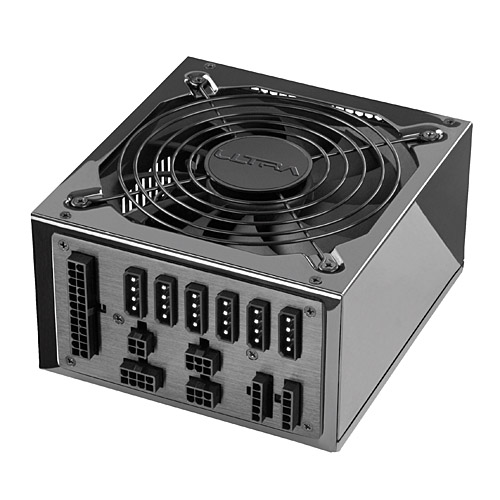 FEATURES
Supports AMD and Intel Motherboards
Low Acoustic Noise
135mm Fan
Modular Design
Flex-Force Cables
Meets ATX Version 2.2, v1.3, and ATX 12V Version 2.2 Specifications
Short Circuit Protection
In-Rush Current Protection
Thermal Overload Cutoff Protection
MTBF > 100,000 Hours at Full Load, 110V AC and 25C Ambient Condition
FCC and UL Recognized
SPECS
Dimensions:  6″ x 5.75″ x 3.25″
Weight:  7lbs
600 Watts (Full Load, Nominal Input Voltage)
85% Efficiency at Typical Load
AC Input Voltage: 115V/230V
CLOSER LOOK: EXTERNAL
A smooth complexion.  That is how I would describe the looks of the X3 unit.  Ultra spared no expense when designing the external surfaces of this power supply.  The gunmetal coloring of the power supply is simply stunning, especially since it is able to reflect the various pieces of hardware in your rig.  Although the mirror-like surfaces of the X3 look great, they are very prone to the "fingerprint effect".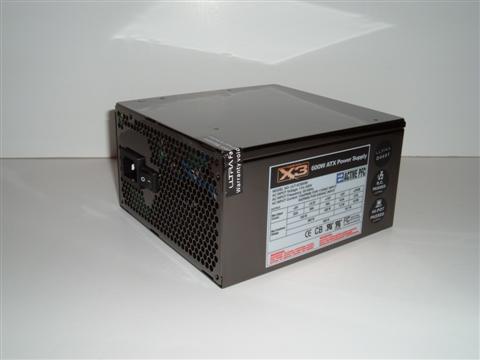 The perforated back of the unit serves as the exhaust area and is home to the power cable connection and power switch.  Moving to the front of the power supply gives us a look at the various connections available to utilize with the Flex-Force cables.  More on the cables later.  There are a total of 13 connections available, including a single 24-pin motherboard connector, six 4-pin Molex connections, two 6-pin PCI-E connectors, two SATA power connectors, a single 12V 8-pin EPS connector and one 4-pin motherboard connectors.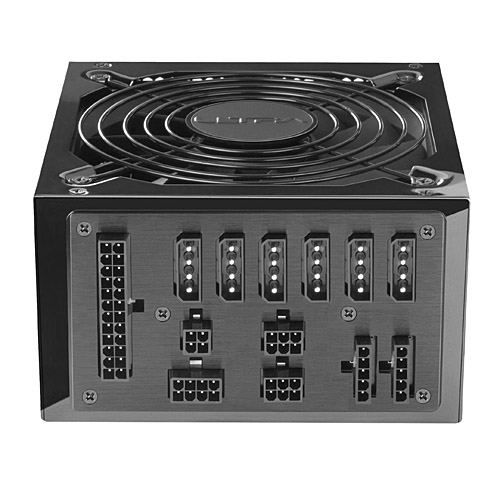 Cooling duties are taken care of by a 135mm ball-bearing fan that is nearly silent even when right up next to the power supply.  A simple grill with the Ultra name keeps unwanted items such as fingers or stray cables from becoming the fan's next meal.
CLOSER LOOK: FLEX-FORCE CABLES
Ultra has taken the idea of modular cabling a step further with the use of their Flex-Force cables.  These cables are not only good looking and help make your PC's insides look tidy, according to Ultra they also provide up to 30% better airflow as opposed to ordinary cables.  The Flex-Force cables were very handy when installing this power supply, as they are very flexible and make it very easy to run the cables exactly how you want them.  The Flex-Force cables are the best modular-style cables I have seen yet.  The only note of concern with the Flex-Force cables is that the 24-pin motherboard connector is a solid unit, not a 20-pin and 4-pin combination.  This may pose a slight problem with older motherboards that only require the 20-pin connection, depending on the layout of this connection.  Below is a list of the huge variety of cables that comes with the X3 power supply.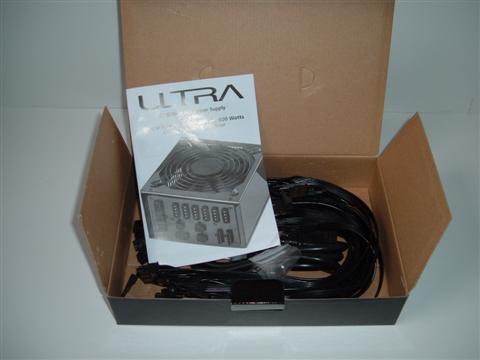 1 x 24-pin Motherboard Connector
1 x 4-pin +12V Motherboard Connector
1 x 8-pin EPS Connector
2 x 6-pin PCI-E Connectors
2 x 5-pin SATA Power Cables (3 Devices)
2 x 5-pin SATA Power Cables (2 Devices)
1 x 4-pin Power Cables (2 Devices)
2 x 4-pin Power Cables (2 Devices + 2 Floppy)
1 x 4-pin Power Cable (3 Devices)
1 x 4-pin Power Cable (1 Device)
1 x 3-pin Fan Connector (3 Devices)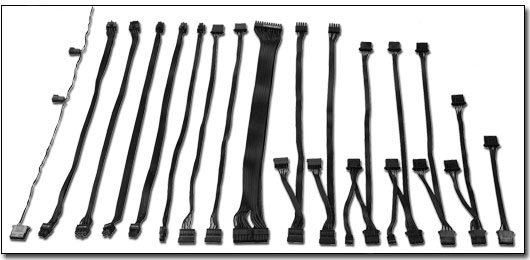 INSTALLATION
Installing the X3 was a nice retreat from the typical task of installing a non-modular power supply.  After installing the power supply itself in my Antec P182, I simply connected only the cables I needed and put the extras back in the box.  Instead of having a rat's nest of cables that I had to try to hide in the nooks and crannies of my case, I was pleasantly left with no such mess.  And not only does the missing mess of cables look better, it ensures that air is able to flow more smoothly throughout my case.  Ahhh, the joys of modular power supplies.  How did we ever survive before they came along?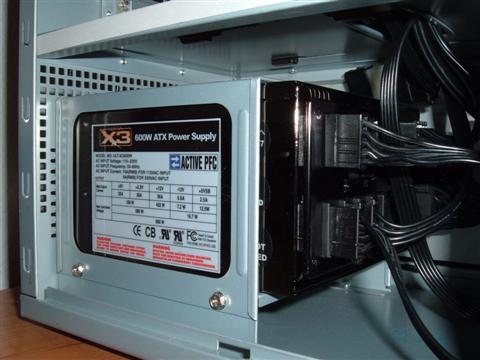 TESTING
Test Platform

Processor
Intel E4300 Core 2 Duo
Motherboard
EVGA 680i 122-CK-NF63-TR
Memory
2GB OCZ PC2-6400
Hard Drive (internal)
250GB Western Digital SATA 3.0Gb/s 16mb cache
Hard Drive (external)
250GB SimpleTech SimpleDrive
Video Card
XFX GeForce 8600GT
Power Supply
Ultra X3 600-watt
Case
Antec P182
Operating System
Windows XP Pro SP2
TESTING METHOD
Without a dedicated power supply load simulator, it is tough to know exactly how much load you are putting onto a power supply at any given time.  In order to create a somewhat significant load for the X3, I copied a large DVD ISO between my internal hard drive and my USB-powered external hard drive, while looping the 3DMark06 demo from the primary hard drive.  I also fired up a few games like World in Conflict and the brand new Unreal Tournament 3 demo to see how the power supply stood up in an environment much like it will be used in.  Idle readings were taken 15 minutes after a fresh boot into Windows XP.  All voltages were taken from the power connector, closest to the powered hardware, using an Equus Innova 3320 auto-ranging digital multimeter.
RESULTS
Test Results

Parameter

Idle

Load

+3.3V
+3.37
+3.36
+5V
+5.01
+4.96
+12V
+12.09
+12.02
The X3 did a great job when put to the test.  Keeping voltages in check at all times is essential to a healthy computer, no matter if it is a gaming PC or just a standard desktop.  I have seen many instances of the most random computer problems that have come down to bad power supplies.
I am pleased to say that the 135mm fan that Ultra uses to keep the X3 cool not only does that, but it also helps keep things quiet in the PC.  With thermally-controlled CPU and videocard fans, some modern PCs can create quite the racket, but the X3 definitely does not subscribe to this way of operating.  Kudos to Ultra.
CONCLUSION
From the start of the review, I have been very impressed by the 600-watt Ultra X3.  Coming from a family of highly efficient power supplies ranging from this unit's 600 watts all the way up to 1600 watts, the X3 has been a great contender in many fields.
First there is the great visual aspect of the X3's mirrored external surfaces that really make this power supply look great in any case.  Then there is the 135mm fan that, while running nearly silent, keeps the unit running cool no matter what load is being thrown at it.  Another great feature are the Flex-Force cables that help keep the inside of your case clean and cool.  A myriad of cable lengths and connectors ensures that you will be able to adequately power all of your PCs components.  The only drawback to the Flex-Force cables is their use of a solid 24-pin motherboard connector.  And really, this isn't even that big of an issue, as most all new motherboards utilize this connector over the older 20-pin standard of the past.
Add to these great features and test results the lifetime warranty that Ultra provides, and you have a great product at a great price.  At around $120, this power supply is tough to beat, and the Bjorn3D staff would definitely recommend this power supply to anyone in need of an upgrade.
Pros:
+ Great looks
+ Modular design for ease of installation, less clutter and better cooling
+ Flex-Force cables are a joy to work with
+ 135mm fan
+ Lifetime warranty
+ Great price
Cons:
– Solid 24-pin motherboard connector
Final Score: 8.5 out of 10 and the Bjorn3D Seal of Approval.