Today, we at Bjorn3D are going to be reviewing one of the latest solutions reputed to satisfy the needs of these power hungry systems; the Tagan TG1300-U33 ITZ 1300 Watt power supply. Our pre-review enthusiasm for this product went through the roof when we learned that the engineers at ABS Gaming Labs certified this power supply for the most extreme gaming rigs needing ultra performance. By the way ITZ is an acronym for "In the Zone" and suggests the level of performance the extreme gamer and/or enthusiast should be able to enjoy with the ITZ 1300. Please join us as we explore this product's features and capabilities in great detail and determine whether this product truly brings the goods to the table.
INTRODUCTION
Over the last two years the power supply for the computer enthusiast's most prized possession has moved from a level of virtual obscurity to an element of key importance. No longer will a reasonably inexpensive 400 Watt power supply that produces relatively clean power satisfy the insatiable appetite of all your system's components. This is due in no small part to the major changes in architecture that both the current day CPU and GPU have undergone.
The vast majority of enthusiasts are running at minimum a single dual core processor and quite a few are utilizing quad core variants. This processing power is complemented by anywhere from one to as many as four GPUs each requiring higher levels of power to function at optimal capacity. For good measure toss in up to half a dozen SATA or SCSI drives running in one or more RAID arrays, a couple of other PCI or PCI-e cards, four to eight 120mm fans for optimal cooling, miscellaneous USB devices, and a few other unmentioned goodies. Mix all these components together and you've got one power hungry monster on your hands.
Today, we at Bjorn3D are going to be reviewing one of the latest solutions reputed to satisfy the needs of these power hungry systems; the Tagan TG1300-U33 ITZ 1300 Watt power supply. Our pre-review enthusiasm for this product went through the roof when we learned that the engineers at ABS Gaming Labs certified this power supply for the most extreme gaming rigs needing ultra performance. By the way ITZ is an acronym for "In the Zone" and suggests the level of performance the extreme gamer and/or enthusiast should be able to enjoy with the ITZ 1300. Please join us as we explore this product's features and capabilities in great detail and determine whether this product truly brings the goods to the table.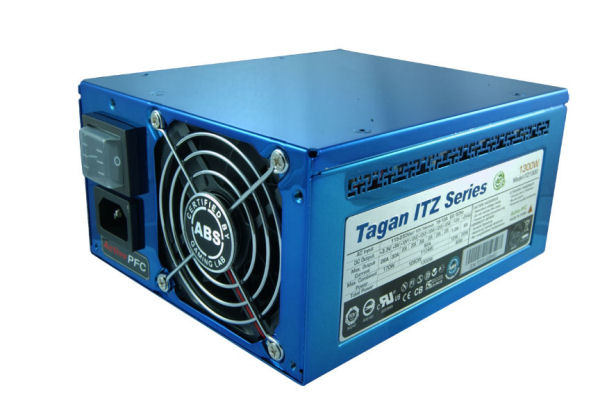 Tagan: The Company
The spirit and philosophy of TAGAN´s birth: To carry out state-of-art technologies for the best quality power supplies and to offer them to all users.

Our simple reason to give TAGAN's birth:

We are a group of professional technical guys living in different countries –Germany, Japan and Silicon Valley (USA). All of us have had a couple of negative experience implementing Power Supply (PS) into systems. It is frustrating, time consuming and risky! By a very valuable opportunity, 2001 in Taipei`s Computex show, all of us met each other at a dinner party, we occasionally sat together and discussed about the power supply problems.

Based on our professional background and know-how, we suddenly all decided to study more about power supply and conduct some testing for finding out the best one. After almost a year`s teamwork in discussion, design, and developing, our team of international experts have designed some of the best and reliable power supplies for the PC as well as all the various systems. Consequently, all of us have become the founders of TAGAN. We are more than happy to share these products and experiences with you.

TAGAN´s strongest foundation – The best international professionals

The best power supply thermal-cooling and low-noise professional from Germany
The best power supply design professional from Japan
The best system-level power supply technical advisor from Silicon Valley (USA)
The best power supply manufactures from Taiwan and China

TAGAN offers – The power supplies state-of-art technologies

Quiet enough! To make you sometime forget a power supply is working in your system
Cool enough! Not only cool the power supply itself also cool your system
Durable enough! So we can grant 36 month of warranty without problems
Efficient enough! To save your cost and energy
Low radiation emission! To protect your health and environment.
Value for your money! EMI Shield, PCI-Express socket capacitor, and many extras.

That is why TAGAN is coming to serve you!!
FEATURES & SPECIFICATIONS
Features
Compatible with Intel EPS12V Ver.2.92 and ATX Ver.2.2 downward versions with six independent +12V rails.
Six independent +12V rails provide different devices individual power thus making the system stable.
Compliant with high-end motherboard due to 12V 4PIN and 12V 8PIN CPU power
Universal motherboard compatibility due to 20+4 pin main power as well as 4-pin & 8-pin +12V power connectors.
>80% efficiency means power supply produces less heat and emits less noise. An economical and ecological solution.
Two 6PIN & two 6+2PIN PCI Express connectors support NVIDIA SLI and Quad-SLI technologies as well as ATI Crossfire graphic cards.
PCI-Express 6PIN and 6+2PIN cables with REMI technology reduce EMI ripples and noises. This prelongs the lifetime of devices and enhances display performance.
PCI-Express 6PIN & (6+2)PIN connector with numbered stickers is a smart design to avoid incorrect connection.
Two physic card power connectors included for higher-end users to achieve extreme display performance.
Combo-S2M (SATA to IDE) connectors empower all types of hard drives and allow easy management between SATA and IDE devices.
Six Molex 4PIN and twelve SATA 5PIN with Combo-S2M connectors result in a total of eighteen available Molex 4PIN connectors.
Support high-end motherboard with VGA 4pin socket for graphic card electricity.
Total 18 IDE and SATA hard disks are available for top end users.
Automatic +12V rails in combine mode can integrate four rails into single rail with more DC output.
TSCT (Tagan Silence Control Technology) keeps the power supply running, even at full-load under 30dBA. Extremely silent!
Best cooling system offered through dual 8cm push-pull extreme high speed fans and still functioning extremely silent.
Thermal Fan Control automatically adjusts fan speed thus controlling the temperature inside the power supply. (Fan speeds up when temperature rises.)
Super-big heat sink inside the power supply releases heat with optimal efficiency.
Titanium blue mirror chassis for fancy gaming system.
Black mesh and copper-shielded cables help user to optimize airflow and makes the cables short-circuit-proof.
Internal OVP (Over Voltage Protection) and OCP (Over Current Protection) functions avoid sudden power surge which cause damages to peripherals.
Anti-vibration rubber avoids vibration and reduces noise.
Embeded AC input socket avoids interference with PC case.
Big I/O switch with water and dust proof rubber covering.
Universal AC input range for all countries: 115~230VAC(±10% tolerence) with active PFC for better power performance.
Including cable ties for cable management.
Unique ground wire with golden pin can release static electricity from power supply to avoid damages.
Specifications
Tagan ITZ 1300 … 1300 Watt PSU
Specifications

Output Voltage

Output Current Max

Max Combined

Total Combined

+3.3V

26A

170W

1280W

+5V

30A

+12V1

20A

1104W

+12V2

20A

+12V3

20A

+12V4

20A

+12V5

20A

+12V6

20A

-12V

1A

12W

40W

+5Vsb

6A

30W

Voltage

115-230 VAC (±10% tolerance)

Frequency

50 – 60Hz

Current

18A – 10A

Efficiency

>80%

Power-on Time

100ms

Rise Time

25ms – 100ms

Power-OK Delay

500ms

Power-OK Rise Time

10ms

Power-down Warning

1ms

MTBF

>100,000 hrs at full load and 25°C
>30,000 hrs at full load and 50°C

Approvals

TUV, UL, CE, CB, FCC, Semko, Nemko, Demko, and Fimko

Total Wattage

1300 Watts

Actual Dimensions

5.875″(W) x 3.875″(H) x 6.875″(D)
Let's Talk Auto Combine
If you keep up with the latest information about power supplies you're certainly aware of the ongoing discussions that have been taking place recently concerning the benefits and limitations of power supplies designed with multiple 12V rails as opposed to those with a single 12V rail. Some enthusiasts have reported situations where the ability of the one or more of the multiple 12V rails was compromised and could not meet the power needs of the attached components. In some cases these individuals had to procure a power supply with a single 12V rail and higher power output to meet their needs. Other equally extreme users have never experienced the aforementioned scenario using a multiple 12V railed power supply.
Tagan took these issues to heart and has attempted with the ITZ 1300 to give the computer enthusiast the best of both worlds by implementing what is called Auto Combine. Auto combine recruits the power of all six 12V rails into a single rail for uninterrupted stability with up to 1104 Watts and 92 Amps of power. On the ITZ 1300 this features is seamless, once the 12V1 power demand exceeds 28A the Auto Combine feature is automatically implemented. On other models in the ITZ series there is a manually operated Turbo mode button on the rear of the power supply adjacent to the power switch that implements the auto combine feature manually.
To better understand why the Tagan ITZ 1300 rates each of its 12V rails at a maximum current rating of 20A as opposed to 28A, we asked Tagan. It seems that in Germany if a PSU exceeds 20A per rail, a certified engineer is required to install the PSU. We can only imagine the indignation of having to call an engineer every time we wanted to switch our PSU from one case to another, so this makes perfect sense.
Other Features We Questioned
Having an extremely inquisitive nature we had two more questions for Tagan concerning the features included on this PSU.
Question 1:   Why two 80mm Fans instead of a single 120mm or 140mm? Answer:   Two 80mm fans arranged in push/pull fashion gives the maximum cooling without a substantial increase in noise.
Question 2:   Please tell us more about the design of your PCI-Express cables, as they are the first we have seen with EMI shields of the type used? Answer:   The PCI-Express cables are copper shielded with EMI shield to reduce noise level, radiation from video. The patented EMI shield has over voltage, over current, and short circuit protection. To prevent the VGA from being fried in case lightning or short circuit.
CLOSER LOOK
Packaging
The Tagan TG1300-U33 ITZ 1300 Watt power supply arrived at our doorstep in excellent condition due primarily to the excellent packaging that Tagan affords this product. The image below depicts the outer package which was shipped in a very solid cardboard box with plenty of packing material to dampen any mishaps along the way.
Tagan TG1300-U33 ITZ Outer Container
Inside the outer package are two much thicker cardboard containers. One contains the power supply and is depicted below and the second holds all the included accessories.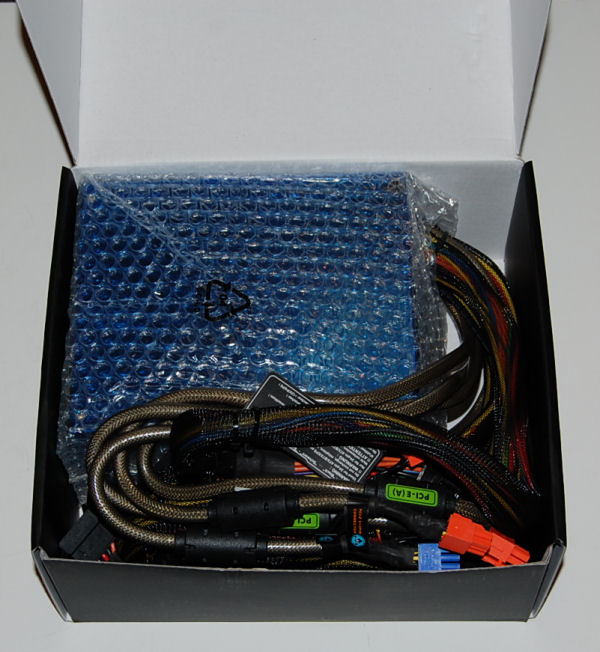 Tagan TG1300-U33 ITZ Inner Container
External View
Normally as most of you know we don't dwell on aesthetics in our reviews of power supplies as they are usually somewhat removed from the focus of your system. We generally spend the vast majority of our words catering to the positives and negatives of the device's performance. We were so taken back by the titanium blue that Tagan used with the TG1300-U33 ITZ and its lustrous mirror finish that we decided to make this review an exception to the rule.
To do justice to the photographs of this product we had take it outside in the sunlight as otherwise the colors in our indoor studio were dull and bordering on black even using external lighting and several different lenses on our Nikon D40. Below are a number of different images of what we feel is currently the best looking power supply on the market. Performance will be examine in detail later in the review.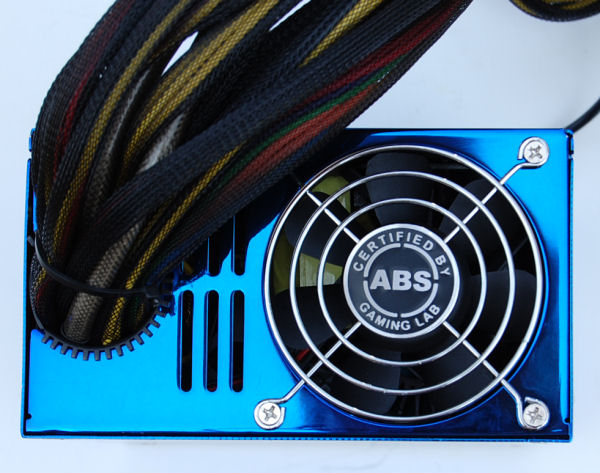 Tagan TG1300-U33 ITZ … Rear View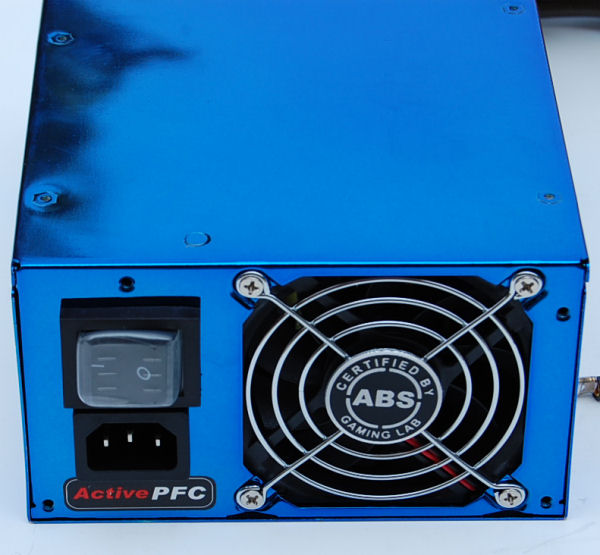 Tagan TG1300-U33 ITZ … Front View
Tagan TG1300-U33 ITZ … Right Side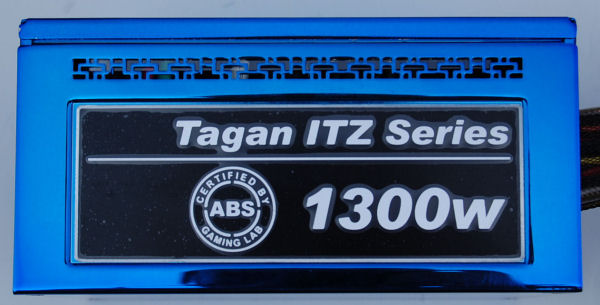 Tagan TG1300-U33 ITZ … Left Side
We alluded to the mirror image of the product's finish. I think you'll see what we mean! In most images above you'll notice there are very where we didn't capture a small reflected image on the power supply's surface.
Another extremely impressive feature of the physical build of the Tagan TG1300-U33 ITZ is its size and dimensions. Most of the new "super power supplies" (those 850 Watts and greater) have opted to use much larger cases for their designs. Some of these variant cases extend to over 9 inches in length making it very difficult to mount them in the average mid-tower and even some full-tower cases. Tagan has designed this product so that it's only slightly larger than the "normal sized" power supplies that we all cut our teeth on. The dimensions are 5.875″(W) x 3.875″(H) x 6.875″(D).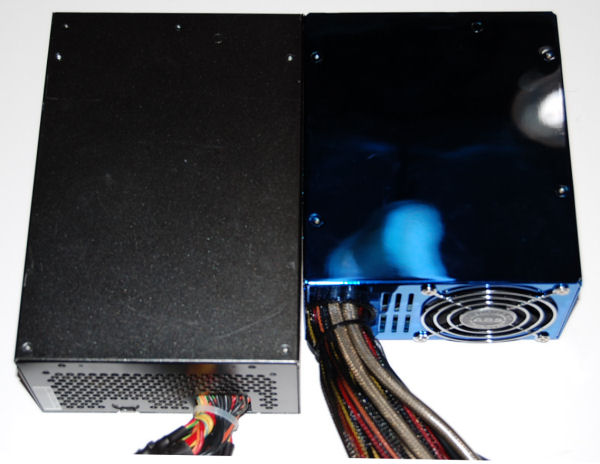 Zippy Emacs G850 (left) vs. Tagan ITZ 1300 (Right)
CLOSER LOOK
Internal View
Inside the case we see a component view of the Tagan TG1300-U33 ITZ 1300 Watt power supply. There are two round large aluminum heat sinks each horizontally configured for optimal heat dissipation. Tagan describes all of their internal components as "industrial grade".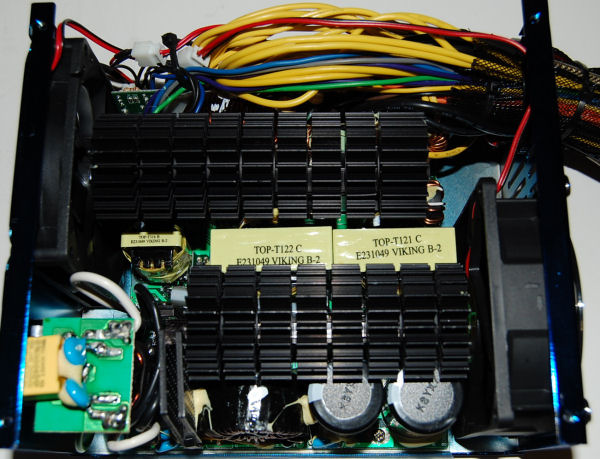 Tagan TG1300-U33 ITZ … Inside View
We were especially interested to see what type of 80mm fans Tagan used to cool this behemoth with. As the image below illustrates that fans carry the Tagan label but are most likely OEM from some other manufacturer. The reason for our extreme curiosity will become evident later in the review in the testing phase where we look at the noise levels output of this power supply. If you look closely you can see that Tagan also uses rubber washers with each of the 80mm fans to minimize vibration.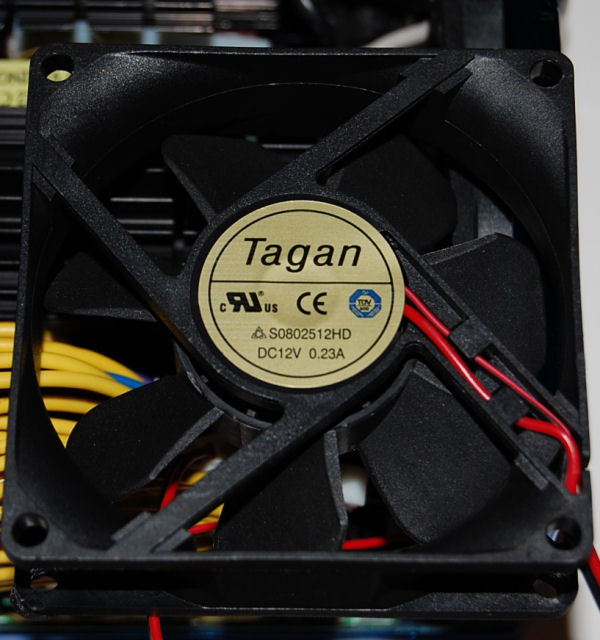 Tagan TG1300-U33 ITZ … 80mm Fan
Included Components
The Tagan ITZ 1300 includes the basic complement of supplies you would expect to find with any power supply plus a few extras.
1 – Tagan ITZ 1300 Watt power supply
1 – Users Manual
5 – Velcro cable bands
2 – Wire ties
1 – Rubber anti-vibration mask
5 – Chasis Screws
4 – SATA to Molex connectors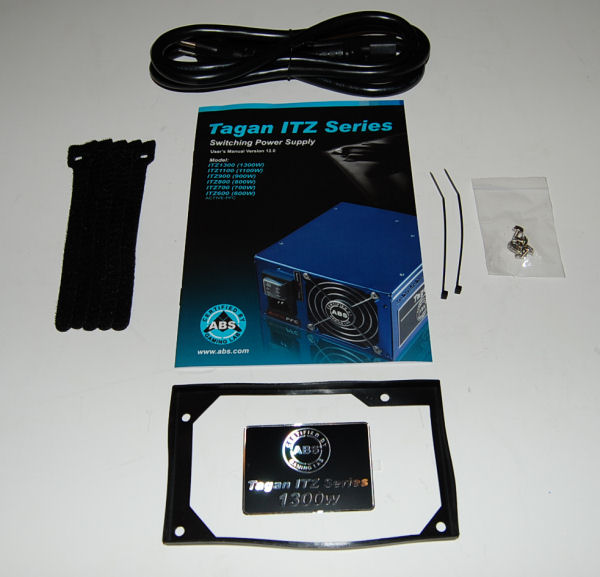 Tagan TG1300-U33 ITZ … Included Accessories
Tagan takes a distinctly different approach with the available connectors on this product. Most manufacturers of power supplies in this class give you more 12V Molex connectors than you will ever need and just enough SATA power connectors to meet the most basic requirements. Tagan includes a whopping twelve SATA power connectors and seven 12V Molex connectors. Also included are four SATA to Molex adapters pictured in the image below which allow you power up to 19 drives or other 12V devices. Also pictured is the Y-cable with two floppy drive power connectors just in case you still have the need for one of these ancient products.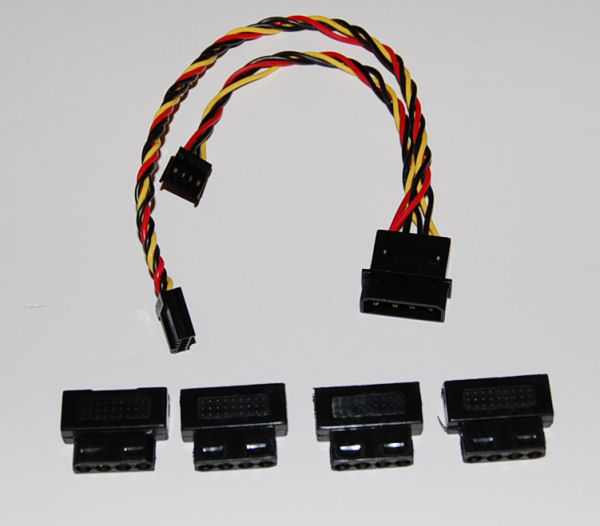 SATA to Molex Adapters & Floppy Power Cable(s)
Cabling:
All cable is fully sleeved with high quality mesh sleeves except for the PCI-E cables which are sleeved with thick solid vinyl sleeves.
1 – 500mm 24 pin main power connector
1 – 550mm +12V 8 pin EPS cable
1 – 550mm +12V 4 pin cable
2 – 550mm 6 pin PCI Express cables
2 – 550mm 6+2 pin PCI Express cables
1 – 550mm cable with two 6 pin Physic Card power adapters
3 – 550mm cables each with 4 SATA power adapters
2 – 500mm cables each with three 4 pin Molex power adapters
1 – 500mm ground wire
1 – 250mm cable with a single 4 pin Molex power adapter … this cable is to be combined with the included 150mm FDD Y-cable for powering up to two Floppy drives
As modular cabling connectors have vastly improved in the last year, I have developed a personal preference for power supplies with a modular design, as it greatly aids in cable management. The proper modular design prevents the user from having to bundle unnecessary cabling within the case making for a much cleaner and easier install. As stated this is a "personal preference" and due to some of the "power supply gurus" making a case that some modular designs can be a detriment resulting in power leakage and efficiency loss.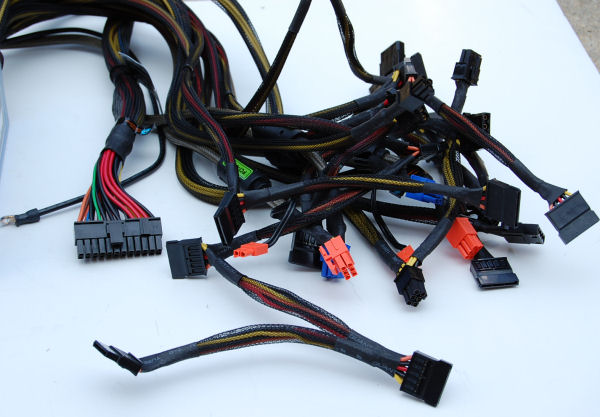 The Mass of Power Connectors on the ITZ 1300
As the next image shows all of the PCI-e power cable are sleeved in a high-grade vinyl. The Tagan TG1300-U33 ITZ comes with two sets of PCI-e cables labeled "A" and "B". In each set there is a standard 6 pin PCI-e cable and the newer 6+2 pin cable that can facilitate the needs of the newer AMD Radeon graphics solutions.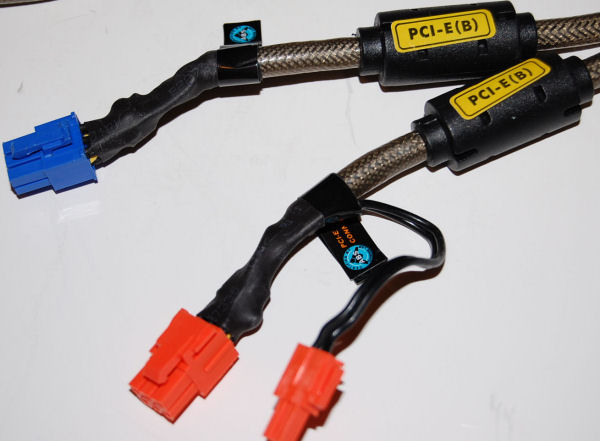 Tagan also includes a single ground wire that when connected to the case will help dissipate static electricity preventing the loss of a component from a high level static electrical discharge.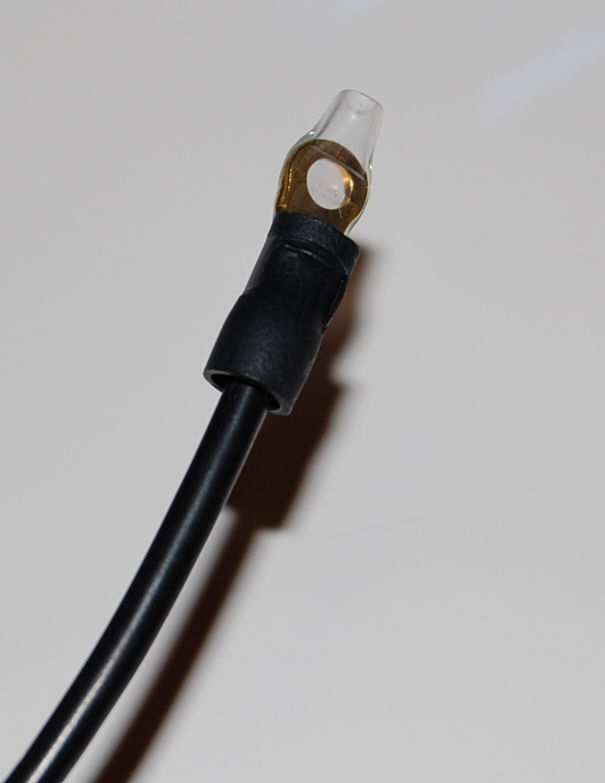 TESTING
Test Platform

Processor
Intel E6850 Core 2 Duo @ 3.6 GHz
Motherboard
EVGA 680i SLI
Memory
4GB of Mushkin XP2-6400 DDR-2
Drive(s)
3 – Seagate 750GB Barracuda ES SATA Drives
Graphics
XFX 8800 GTX XXX & Foxconn 8800GTX in SLI (Both fans @ 100%)
CPU Cooling
Enzotech Ultra w/Delta 120mm 90CFM fan
Case Cooling
6 – Scythe 120mm 1200 RPM fans all at 12V
Power Supply
Test Item # 1:  Tagan ITZ 1300 Watt Power Supply
Test Item # 2:  PC Power & Cooling 1KWSR 1000 Watt Power Supply
Case
Lian Li G70 (Highly Modded by Performance-PCs)
Operating System
Vista Ultra 32 Bit
Test Methodology
Let's face it, with a power supply this is the real meat of any review. Power supply pictures and verbose descriptions mean absolutely nothing without the ability to produce the desired results. We decided to compare our test results for the Tagan ITZ 1300 Watt power supply against the PC Power & Cooling 1KWSR 1000 Watt power supply. We are planning to really try and drive the Tagan ITZ 1300 to the limits our test rig will provide, for that reason none of our previous test results will be used.
To act as a break-in period for the Tagan ITZ 1300 Watt power supply I ran it for several days in the above described test system case and allowed it to run virtually undisturbed during normal everyday use ranging from surfing the Net to some hard-core gaming. To establish load conditions we ran a variety of different processes on our test system to create as much power demand on the Tagan ITZ 1300 as the components of the test system will allow.
Because of the complexity of changing out a power supply 6 different times we decided to test the components using a recently acquired large HSPC Tech station. While this test environment doesn't completely simulate the results in a case we feel that using it uniformly with all test components should make the results relative. All electrical measurements were measured using a Velleman digital multimeter and a Seasonic Power Angel. Sound/noise measurements will be acquired using a new Omega HHSL-1 digital SPL meter.
As most of you are aware it is virtually impossible to drive a 1300 Watt PSU to its maximum load capabilities using even the most sophisticated test rig even with the number of components we have added to increase power draw. Unfortunately, at present Bjorn3D doesn't presently own an electronic load simulator to drive these devices to their maximum output. Hopefully we'll have one of these devices in the not to distant future. While measurements taken using one of these devices show the true and ultimate capabilities of the power supply being tested, it's not "real world". By this I simply mean other than for bragging rights, why measure something you'll probably never practically attain. The question then arises why buy a power supply that provides more than you need? Most computer enthusiasts subscribe to the premise that a power supply should never be driven in a real life environment to more than 75% – 80% of it's capable output for obvious system performance reasons. I personally feel the 60% – 70% range gives you more of a performance comfort zone not to mention keeping your system nice and cool which also translates into quiet.
With our system tuned and ready to go we did initial power consumption measurements at both idle and full system load. With every component tweaked to draw the maximum power possible we were able to achieve power consumption levels of 350 Watts (± 5%) at idle and 500 Watts (± 5%) at load. The demand would have been higher if we had been able to run our SLI configuration with two XFX 8800GTX XXX graphics cards. Since we only have one and had to substitute a Foxconn 8800GTX that was clocked at normal speed as the second card in our SLI configuration. As you are probably well aware when running SLI with cards of two different speeds the system will default to the clock speed of the lowest clocked card.
TEST RESULTS
Power Test Results
Power Consumption Results(V)
Measured with Velleman DVM850BL Multimeter

Power Supply
PC Power and Cooling
1KWSR 1000 Watt PSU
Tagan ITZ 1300
1300 Watt PSU
Idle
Load
Idle
Load
3.3v
3.355
3.354
3.345
3.340
5v
5.10
5.055
5.15
5.125
12v1
12.10
12.04
12.15
12.10
12v2
–
–
12.12
12.10
12v3
–
–
12.14
12.12
12v4
–
–
12.08
12.06
12v5
–
–
12.06
12.04
12v6
–
–
12.06
12.04
Wattage Used
350W(± 5%)
500W(± 5%)
350W(± 5%)
500W(± 5%)
Power Factor Test Results
Power Factor Percentage
Measured with Seasonic Power Angel

Power Supply
Idle
Load
PC Power and Cooling
1KWSR 1000 Watt PSU
.96
.97
Tagan ITZ 1300
1300 Watt PSU
.97
.985
Noise Test Results

Sound Pressure Measurements from Tagan Lab
Sound Pressure Level dBA @ 1 Meter
Measured with Omega HHSL-1 Digital SPL Meter

Power Supply
Idle
Load
PC Power and Cooling
1KWSR 1000 Watt PSU
30
38
Tagan ITZ 1300
1300 Watt PSU
28
28
CONCLUSION
We suggested in the introduction to this review that we would determine whether the Tagan TG1300-U33 ITZ 1300 Watt power supply brings the goods to the table. I think the results of the testing unequivocally speak for themselves. This is one of if not the best power supplies in its class that we have tested to date at Bjorn3D. The power output of the Tagan is not that surprising considering we only stress it to about 40% of its full load potential with our test rig. What is surprising is minute variances we observe between idle and load, in all cases we saw no more than 2% on all rails.
We were also extremely impressed with noise levels or should we say lack of noise levels that this power supply produces. During the entire course of our testing, we never heard an audible difference in the fans; this was confirmed by our sound pressure meter showing no change in level between idle and load. Out of all the highly impressive features this unit brings to the market, we were most impressed with the Auto Combine feature. This element automatically balances the load and will convert the unit from six 12V rails to one monster 12V rail should the need arise.
The average consumer might balk at the current $400 USD price tag, but then again our reviews are not slanted toward the needs of the average consumer. The computer enthusiast on the other hand would probably find this price to be a bargain given the power level and feature set the ITZ 1300 provides. If this power supply had modular cabling it would have been probably that it would have received an even higher score. Fear not ye of modular mentality, Tagan has informed me that in late September we can expect to see this power supply as well as others available in a modular configuration.
Tagan pulled out all of the stops with its ITZ series of power supplies. This is further affirmed by the certification for use of the TG1300-U33 ITZ in the most extreme gaming ayatem by ABS Labs. We at Bjorn3D highly recommend this power supply to anyone looking for an extremely powerful power supply that looks great and is so quiet it's barely audible.
Pros:
+  1300 watts of clean, solid, and stable power
+  Six independent & dedicated +12V rails
+  Active PFC
+  High efficiency rating > 80%
+  Quad SLI/GPU ready
+  Compact case dimensions
+  Dual Core/Quad Core CPU ready
+  Next Generation 8-pin PCI-E connectors
+  All cables fully sleeved
+  Extremely quiet operation
Cons:
–  A modular design would make cable management easier
–  The price may be too steep for the average consumer
Final Score: 9.5 out of 10 and the Bjorn3D Golden Bear award.