SimpleTech has just released the SimpleDrive Portable Hard Drive, a sleek, stylish and effective means of providing plenty of storage in a highly portable configuration.
INTRODUCTION
Many times a simple USB flash drive just isn't the right tool for the job.  Other times, writable optical media isn't the best choice either.  Sometimes you need something a little more robust; a little more refined.  Sometimes you need an external hard drive.  SimpleTech, recently aquired by Fabrik Inc., has just released the SimpleDrive Portable Hard Drive, a sleek, stylish and effective means of providing plenty of storage in a highly portable configuration.  Here is what SimpleTech has to say about their SimpleDrive Portable Hard Drive:
"Designed by Pininfarina, the very same design firm that gives Ferrari sports cars their stylish lines, SimpleDrive Portable hard drive is the easiest way to add fast, reliable storage to any desktop, laptop or notebook computer. With USB 2.0 setup is a snap and data transfer speeds up to 480Mb/second."
The SimpleDrive is available in multiple storage sizes ranging from 60Gb to 250GB.  All models utilize an 8MB cache 5400 RPM hard drive, and USB 2.0 connectivity.  With the 250GB model in my possession, I am ready to put this drive to the test.  Continue on to see how the SimpleDrive and it's included software perform.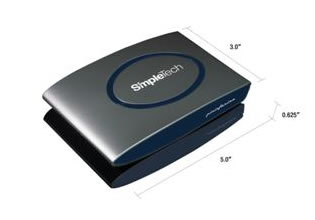 FEATURES
Slim, compact & stylish (designed by Pininfarina)
Ruggedized for travel
Hi-Speed USB 2.0
5400 RPM with 8Mb buffer (cache)
One-Click' backup software (Windows only)
Free 2GB myfabrik.com account
No external power required
Plug n' Play and Hot-Swappable
Free and unlimited technical support
3-Year warranty
SPECIFICATIONS
SimpleTech Part #: SP-U25/250
Capacity: 250 GB
Interface: USB2.0
Form Factor: 2.5 inches
Buffer Size: 8192 KB
Warranty: 3 Years
UPC: 705487174854
PACKAGE CONTENTS
USB 2.0 SimpleDrive Portable
USB 2.0 Cable
StorageSync Software CD (Windows Only)
Quick Installation Guide
3-Year Warranty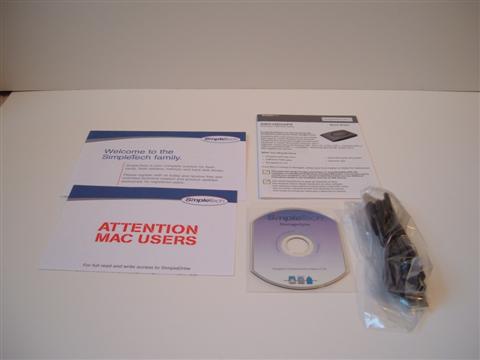 CLOSER LOOK:  PACKAGING
I really like the way the SimpleDrive comes packaged.  The drive is situated at an angle in a showcase like plastic enclosure.  There is a decent list of some of the SimpleDrive's more technical features listed on the back of the packaging in multiple languages, while the front keeps it simple with easy to understand "real world" figures like the number of songs or pictures the SimpleDrive is capable of storing.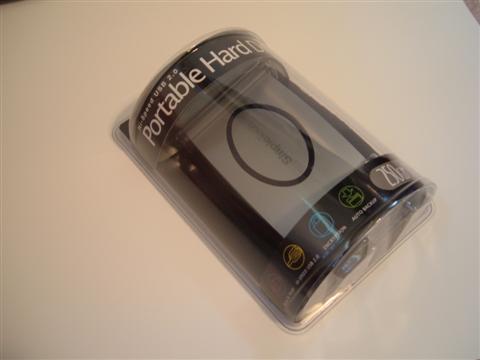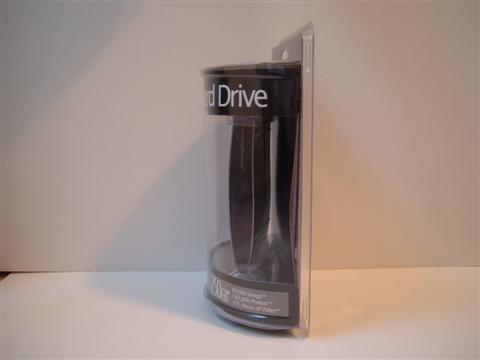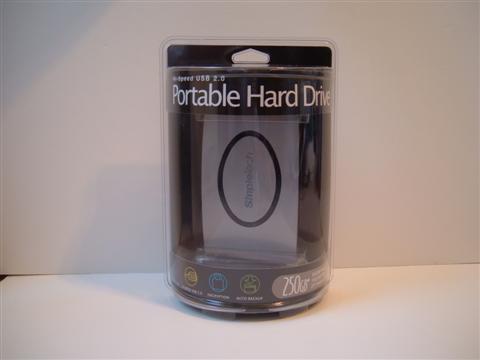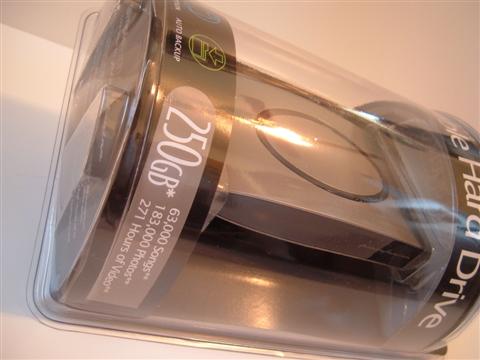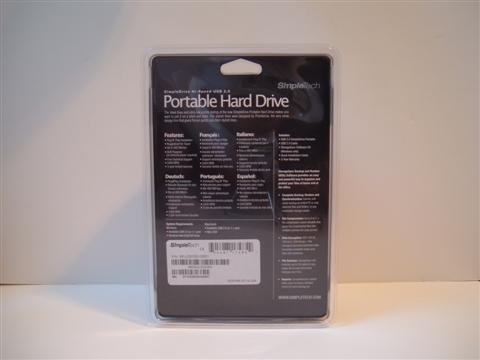 CLOSER LOOK: EXTERNAL
Once outside of it's glamorous packaging, I was able to see the SimpleDrive up close.  The external design was done by none other than Pininfarina, the same designers that Ferrari uses to design their exotic sports cars.  While there are no standing horse logos on the SimpleDrive like there are on the Ferraris, there are a few design elements that make this unit stand out from others.
The SimpleDrive is about as thick as a deck of playing cards and slightly wider and longer than the same deck.  Weight-wise, the drive weighs about as much as two decks of cards.  This unit could easily be transported in a laptop bag, backpack, briefcase, or even your pant pocket if need be.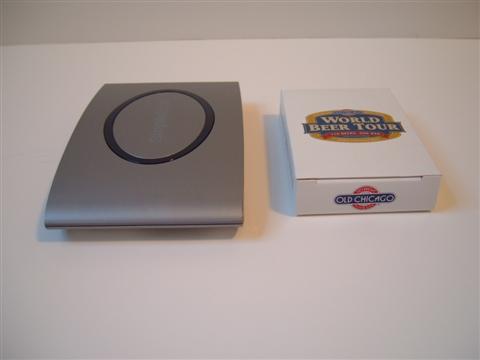 On the top of the SimpleDrive is a slightly transparent navy colored oval that surrounds the SimpleTech name, underwhich the power and activity LEDs reside.  The satin silver color of the drive looks great and is off-set on the sides by navy panels, each sporting the Pininfarina name in a racy font.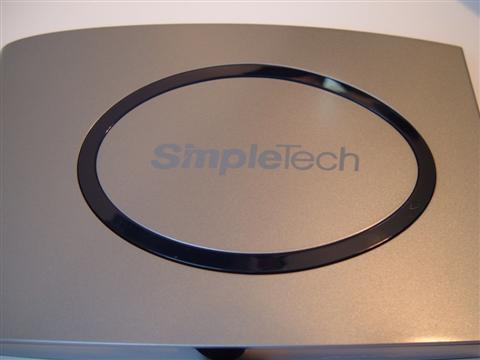 The back of the SimpleDrive is occupied by two ports, one on each end.  The left side is for an AC power adapter, although none is included with this drive.  The right houses a Mini-B USB socket for connectivity to your PC.  The included USB cable has a single Mini-B end that attaches to the SimpleDrive, and two Type-A ends.  SimpleTech provides this type of cable so that an external power supply is not needed, and so that if one USB port does not provide enough power to the SimpleDrive, the second plug can be used for additional power.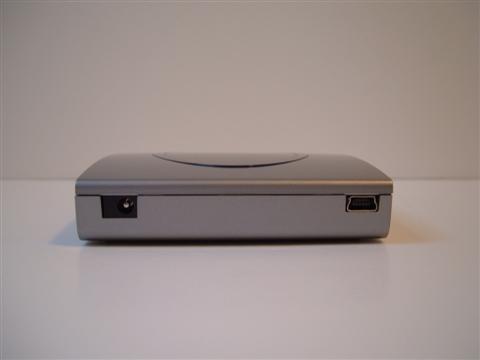 Two rubber feet run the width of the SimpleDrive to keep it in place when placed on a flat surface.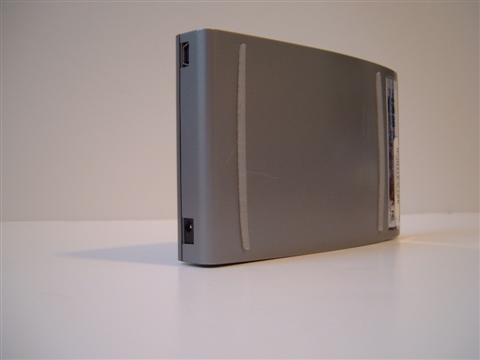 The only thing I worry about with the design of the SimpleDrive is that if it were to be dropped on a hard surface, I'm afraid it would probably not fare very well.  Hopefully this is not the case, as I was not in the mood to ruin a perfectly good external hard drive just to prove this theory.
SOFTWARE
Included with the SimpleDrive is SimpleTech's own StorageSync software.  StorageSync can be used to backup and restore your files and is very easy to use.  Installation is a breeze and once installed the software is very intuitive and offers many different options for your backup needs.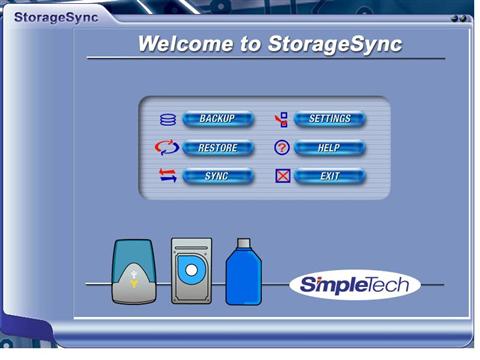 The Backup page of StorageSync uses a simple cascading file structure view to help you select what files and folders you want to backup, and whether or not you want a full backup of all the files selected, or just an incremental backup.  Restore features are easy to access using the Restore portion of the StorageSync application.  Simply select the files or folders you would like to restore and where you would like to restore them to, and simply click "Restore".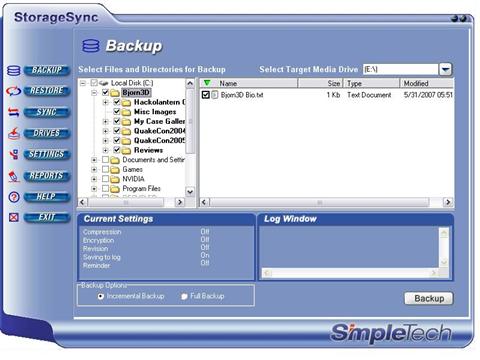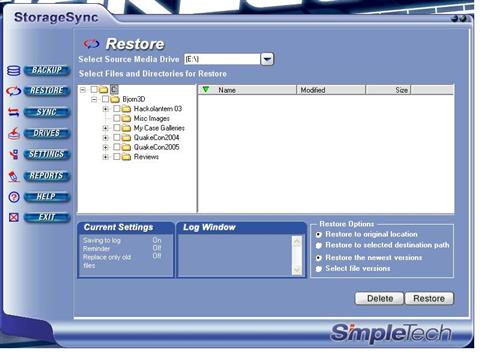 File synchronization is easy on the Sync page, and allows for synchronization, or the ability to have one drive overwrite the other.  The Drives section simply allows you to select what drives are to be used for what features in the backup and synchronization process.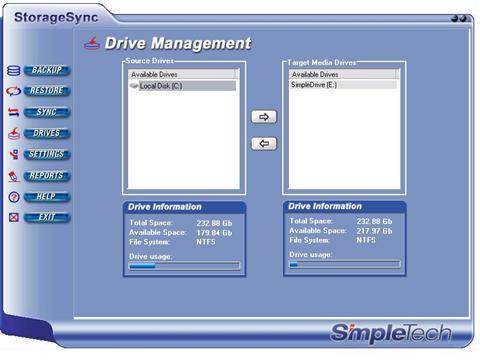 The Settings page offers a variety of options, but the ones to really take a look at are the ability to compress your data, as well as encrypting it to keep it safe from others.  After every procedure, the StorageSync software creates a report for that action.  This information is great for keeping tabs on your data.  A log file is also created and stored on the SimpleDrive, and gives a file-by-file listing of the procedure.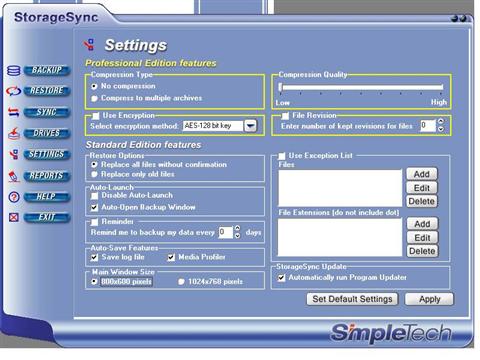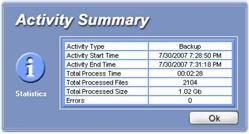 TESTING
Test Platform

Processor
Intel E4300 Core 2 Duo
Motherboard
EVGA 680i 122-CK-NF63-TR
Memory
2GB OCZ PC2-6400
Hard Drive
250GB Western Digital SATA 3.0Gb/s 16mb cache
Video Card
XFX GeForce 8600GT
Power Supply
Tagan SP-1000E
Case
Antec P182
Operating System
Windows XP Pro SP2
In order to test the performance of the SimpleDrive, I have utilized SiSoft's Sandra to benchmark against my 16MB cache, 7200 RPM SATA II hard drive.
SiSoft Sandra Benchmark Results

Test

Western Digital

SimpleDrive

Drive Index
53 MB/s
30 MB/s
Random Access Time
9 ms
11ms
Buffered Read
192 MB/s
33 MB/s
Sequential Read
62 MB/s
34 MB/s
Random Read
40 MB/s
25 MB/s
Buffered Write
181 MB/s
31 MB/s
Sequential Write
61 MB/s
33 MB/s
Random Write
44 MB/s
26 MB/s
As you can see in the Drive Index and Random Access Time sections, the real difference in performance between the two drives lies in the index category.  Each drive has a more than acceptable random access time.
Where the two drives differ most in performance is seen a bit lower when comparing buffered, sequential and random reads and writes.  The SATA drive is by far the better performer of the two, but this is obviously due to the slower spindle speed, smaller cache and USB bus of the SimpleDrive.  Don't get me wrong though, the SimpleDrive performs excellently.
CONCLUSION
At first I was a bit leery of the performance of a 5400 RPM external hard drive, but SimpleTech's SimpleDrive has put my worries to rest.  Although 7200 RPM 2.5″ drives are currently available, SimpleTech chose to stick with a slower spindle speed, presumably to keep prices lower.  What little performance you do sacrifice is made up for with the extreme portability of the SimpleDrive, as well as the included StorageSync software.  StorageSync does a great job of making the often tedious task of backing up you data easy with its simple design.  As stated earlier, the size of the SimpleDrive is just right to fit just about anywhere.
A great bonus that comes along with the SimpleDrive is the free 2GB myfabrik.com account.  Myfabrik.com offers a free 1GB account to anyone, or you can register for a premium account to gain storage of up to 100GB at $0.49 per month for each gigabyte.
Pros
Size – About the size of a standard PDA
Lightweight
No external power supply needed
Great performance
StorageSync software makes backups a snap
Cons
5400 RPM spindle speed
No Firewire
Could be a bit more rugged
SimpleTech's SimpleDrive and the StorageSync software recieve an 8 out of 10.