What we do know is that tody we have XFX's 680i SLI motherboard here at Bjorn3D and plan to put it through our rather extensive review process. Will it be just another NVIDIA 680i SLI reference board with XFX's named stamped on it or is there something special about this board that NVIDIA and XFX have reserved until now? We'll do our dead level best to answer this and other questions in our review.
INTRODUCTION
XFX, a major player in graphics solutions and an NVIDIA partner released their versions of the entire NVIDIA produced 600 series of motherboards approximately 2 months ago. The XFX 680i LT SLI and 650i Ultra motherboards were on the market first to more closely coincide with NVIDIA's official release date of these products. To our knowledge XFX's version of the 680i SLI has just become available in the US within the last few weeks. Was this an incredibly smart business decision on the part of XFX bypassing the proverbial dog days which followed after the 680i SLI's initial release? Did they wait on the board's BIOS to be refined to a point where their customers would be extremely happy? Or was there another reason? Unfortunately, we don't know the answer to any of those questions.
What we do know is that tody we have XFX's 680i SLI motherboard here at Bjorn3D and plan to put it through our rather extensive review process. Will it be just another NVIDIA 680i SLI reference board with XFX's named stamped on it or is there something special about this board that NVIDIA and XFX have reserved until now? We'll do our dead level best to answer this and other questions in our review.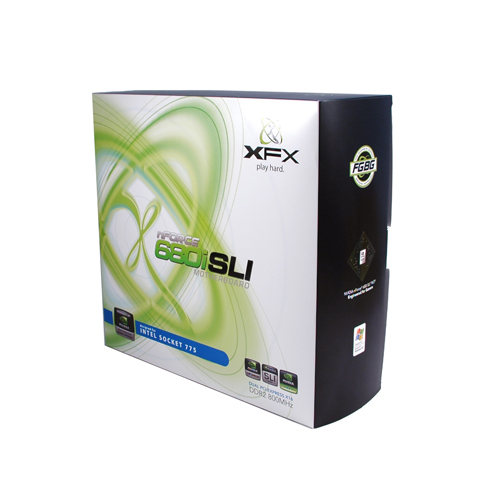 XFX: The Company
XFX, a company that is very well know not only to the general computer consumer but to the Computer Enthusiast community as well operates on the following corporate philosophy:  "XFX; dares to go where the competition would like to, but can't. That's because, at XFX®, we don't just create great digital video components–we build all-out, mind-blowing, performance crushing, competition-obliterating video cards and motherboards." "Oh, and not only are they amazing, you don't have to live on dry noodles and peanut butter to afford them."
FEATURES & SPECIFICATIONS
nforce® 680i SLI Chipset Diagram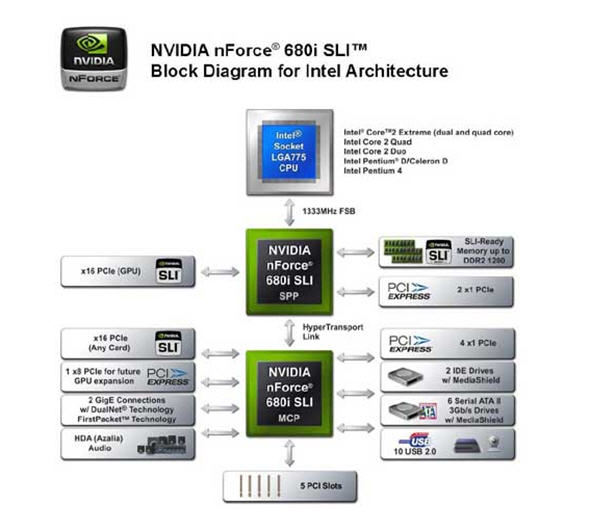 Features
Performance
Based on NVIDIA nForce 680i SLI Chipset chipset
Supports Intel Core 2 Extreme, Intel Core 2 Quad, Intel Core 2 Duo, Pentium EE, and Pentium processors
1066/1333 Mhz Front Side Bus
Memory
4 x 240-pin DIMM sockets
Dual Channel DDR2
Maximum of 8GB of DDR2 533/667/800/1200MHz SLI-Ready memory
Expansion Slot
2 x PCIe x16, 1 x PCIe Graphics expansion slot, 2 x PCIe x1, 2 x PCI
2 x 32-bit PCI, support for PCI 2.1
Storage I/O
1 x UltraDMA133
6 x Serial ATA 300MB/sec with support for RAID 0, RAID1, RAID 0+1
1 x Floppy disk drive connector
Integrated Peripherals
7.1 Channel, Azalia (HDA)
2 x 10/100/1000 LAN via
Multi I/O
1 x PS2 Keyboard
1 x PS2 Mouse
1 x Serial Ports
10 x USB2.0 ports (6 external + 4 internal headers)
Audio connector (Line-in, Line-out, MIC)
Form Factor
ATX Form Factor
Length: 12.0in – 304.8mm
Width: 9.6in – 243.6mm
Key Features
NVIDIA® SLI™ Technology
Dramatically scales performance by allowing two graphics cards to be run in parallel. Only available on select PCI-Express models. 

NVIDIA Native Gigabit Ethernet
The industry's fastest Gigabit Ethernet performance, eliminates network bottlenecks and improves overall system efficiency and performance.

Third PCI-Express Expansion Slot
Provides future support for 3 GPU applications
Other Features
NVIDIA RAID
NVIDIA RAID technology implements standard RAID 0, RAID 1, and RAID 0+1 techniques to maximize storage assets. NVIDIA RAID technology additionally introduces many innovations that simplify and optimize the management of RAID features and disk resources.

NVIDIA StreamThru Data Transport System
NVIDIA's patent-pending isochronous data transport system, providing uninterrupted data streaming for superior networking and broadband communications. StreamThru assists in making streaming video and audio smoother and jitter-free.

Unified Driver Architecture (UDA)
Part of the NVIDIA Forceware unified software environment (USE). The NVIDIA UDA guarantees forward and backward compatibility with software drivers. Simplifies upgrading to a new NVIDIA product because all NVIDIA products work with the same driver software.

NVIDIA nTune Performance Application
Enables the easiest, safest, and highest performing overclocking available for NVIDIA nForce-based PCs. Performance wizards allow automatic tuning for the best performance or the quietest operation. Previously known as the NVIDIA System Utility.

NVIDIA Firewall Technology
A high-performance, hardware-optimized firewall, NVIDIA Firewall protects your PC from intruders by filtering unauthorized traffic. Integrated into NVIDIA nForce3 and nForce2 MCPs with NVIDIA Gigabit Ethernet, it provides professional-grade traffic inspection capabilities, advanced management features–remote access, configuration, and monitoring–and is easy to use and setup via a user-friendly wizard.

NVIDIA nForce Networking
NVIDIA networking delivers the highest throughput for network transfers and lower CPU utilization. The manageable and stable NVIDIA networking solution results in better networking performance and a lower total cost of ownership.
FEATURES & SPECIFICATIONS cont.
Specifications
NVIDIA® 680i & 680i LT SLI Motherboard
Specification Comparison

nForce® 680i
nForce® 680i LT
Segment
Hardcore Enthusiast
Extreme Gamer
Chipset
nForce 680i SLI MCP
nForce 680i SLI MCP
MSRP Retail
$249
$199
CPU
Core 2 Extreme(dual and quad core)
Core 2 Quad
Core 2 Duo
Celeron D
Pentium 4
Pentium D 9XX
Pentium D 8XX
Core 2 Extreme(dual and quad core)
Core 2 Quad
Core 2 Duo
Celeron D
Pentium 4
Pentium D 9XX
Pentium D 8XX
PCB
Black
Green
FSB
1333MHz
1333MHz
SATA 3GB/sec
6 (eSATA-Ready)
6 (eSATA-Ready)
PATA
1 port/2 drives
1 port/2 drives
Gigabit Ethernet Ports
2
1
Audio
HDA (Azalia)
HDA (Azalia)
USB (rear/onboard)
6/4
4/4
Onboard Devices
LED POST Codes
Power/Reset Buttons
Speaker
No
Graphics
  NVIDIA® SLI™ Technology
Yes
2 X 16
Yes
2 X 16
  Third PCIe Graphics Expansion slot
Yes
No
Memory
SLI-Ready Memory with EPP
1200MHz
800MHz
JEDEC DDR2 Memory
800MHz
800MHz
Slots
PCIe x16 slots
3 (2 x16, 1 x8)
2
PCIe x1 slots
2
2
PCI slots
2
2
Storage
RAID
0,1,0+1,5
0,1,0+1,5
NVIDIA MediaShield™ Storage Technology
Yes
Yes
Networking
NVIDIA FirstPacket™ technology
Yes
Yes
NVIDIA DualNet® technology
Yes
No
Teaming
Yes
No
TCP/IP Acceleration
Yes
Yes
Performance Utility
NVIDIA nTune™ Utility
Yes
Yes
CLOSER LOOK
Packaging
The XFX 680i SLI came packaged using the same triple layered packaging as it used with the 680i LT SLI that we reviewed back in April. This is one of the most secure packaging systems for a motherboard that we have observed to date. As the saying goes, "If it ain't broke, why fix it!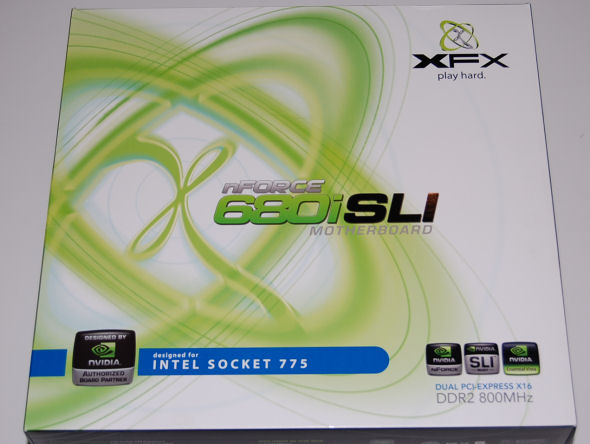 Layer # 1 … The Exterior
The rear of the outer package does a very nice job of outlining most of the key features and specifications the board has to offer.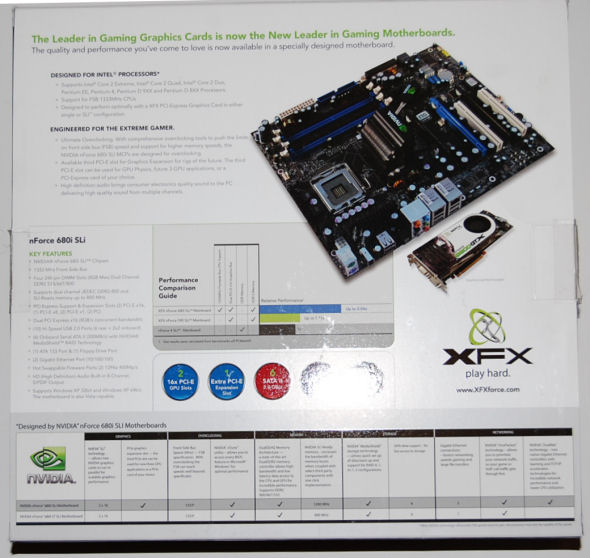 Rear of Outer Container
Inside the outer container is a much sturdier inner box also cardboard, but much thicker in construction. This box is separated into two compartments by a center divider with the motherboard on top and the accessories relegated to bottom section of the container.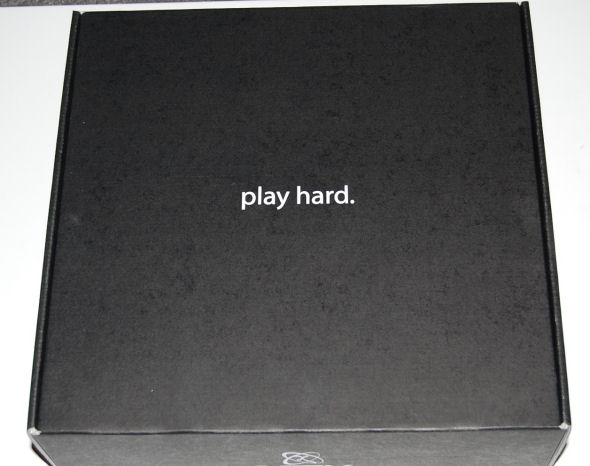 Layer # 2 … The Second Container
The 680i SLI has one final layer of protection, yet a third cardboard container with a thick plastic, anti-static bag which houses the motherboard. Our history with XFX firmly demonstrates that they believe in going the extra mile when it comes to securely packaging their products to assure a safe arrival at your doorstep.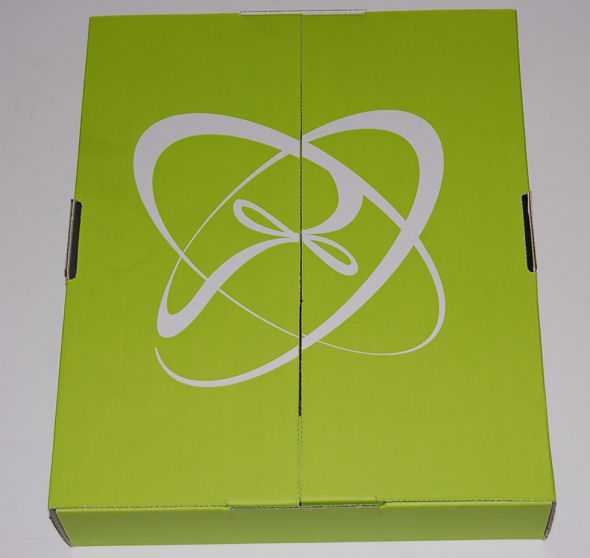 Layer # 3 … The Inner Sanctum
First Impressions
Most of you that have read any of my reviews in the past know that the aesthetics of what we'll call internal computer products (i.e; motherboards, power supplies, memory modules, and etc.) mean very little to me. Yes, a catchy design is nice but if the product fails to function up to and even beyond its rated specifications all you have left is eye candy. As you can see by looking at the image of the board below there don't appear to any visual changes to the current NVIDIA reference design.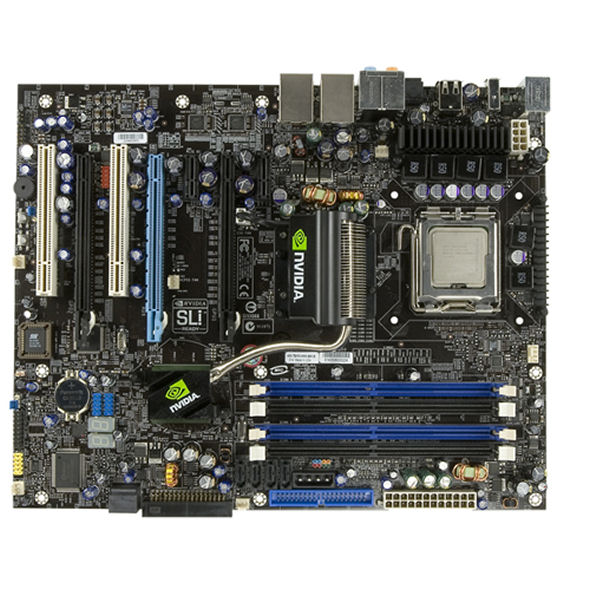 NVIDIA opted to use passive heat-pipe style cooling for both the North and Southbridge on the 680i SLI. An optional fan is included that easily installs just behind the Northbridge for added cooling when overclocking. I tried the fan and didn't find its noise to be objectionable or even noticeable above the rest of the fans in my test rig. We should note here that all of the onboard, passive cooling appears to follow the reference design used on all of NVIDIA's 680i SLI boards.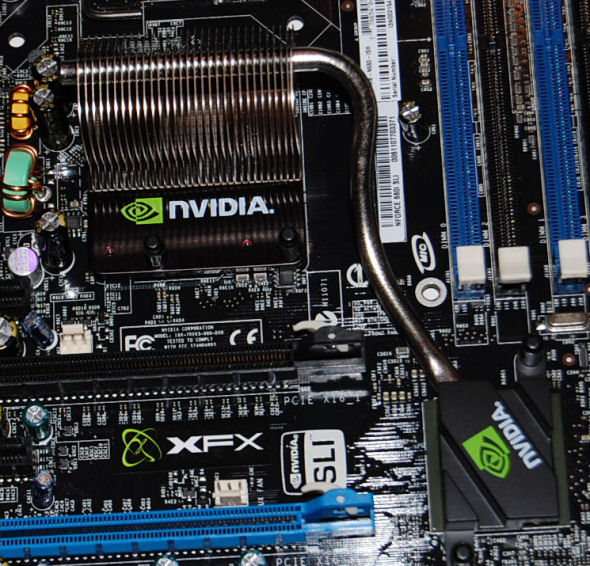 Passive Cooling of Northbridge & Southbridge
The memory slots, 24-pin power connector, auxiliary power connector, SATA ports, and the lone PATA slot on the XFX 680i SLI again follow NVIDIA's reference design. We are not fans of the awkward location used on the 680i SLI for mounting the front panel header connectors (indicated by red arrow in image below). The header connectors are immediately behind the auxiliary power connector and immediately in front of the memory slot. This location serves to only make cable management more difficult not to mention making installing the header cables more tedious. We also are not enamored with the choice to use a 2-pin connection for the Power LED as opposed to the more traditional 3-pin configuration.
CLOSER LOOK cont.
Placing both the FDD connector and SATA 0 & 1 at right angles to the motherboard remains very popular with us and certainly does aid somewhat in cable management. We intentionally took this image from the electronic manual I downloaded from XFX's website. As you can see it still has the SATA connectors reversed. In fact the right angled SATA connections should be numbered SATA 1 and SATA 2 and those to the right of the caps SATA 3 through SATA 6. This could also be a BIOS issue but we find this possibility highly unlikely.

Notice anything

wrong

with this image?
The XFX 680i SLI board offers 3 PCI-e expansion slots, two of which are true 16X slots intended for graphics cards running either running solo or in SLI. The center slot is an 8X slot and could be used for an additional graphics card, physiX card, or other PCI-e based expansion card.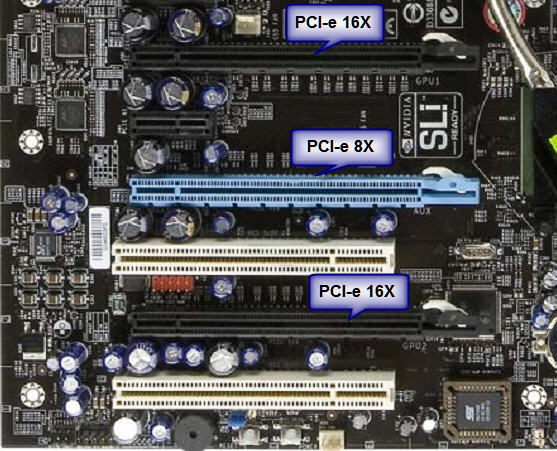 We are also huge fans of the onboard power and reset buttons included on this motherboard as well as all NVIDIA 680i SLI reference boards implicitly.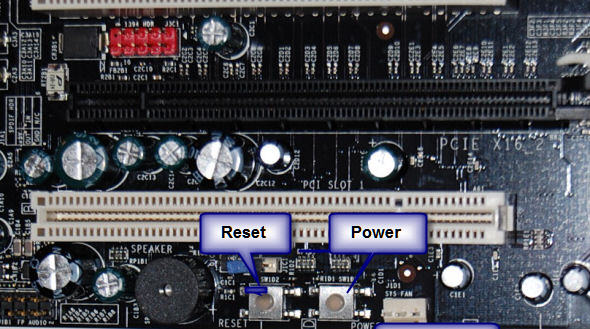 The images below were taken from the XFX 680i SLI users manual and do an excellent job of giving you a complete overview of the remaining board layout not already discussed. It should again be noted that with the exception of this board being an A+ revision which is equivalent to the A1 revision currently being sold by EVGA, there are no physical differences between this board's layout and the NVIDIA reference board which was released by other partners back in October, 2006
The back panel of the XFX 680i SLI again follows the standard NVIDIA 680i reference design.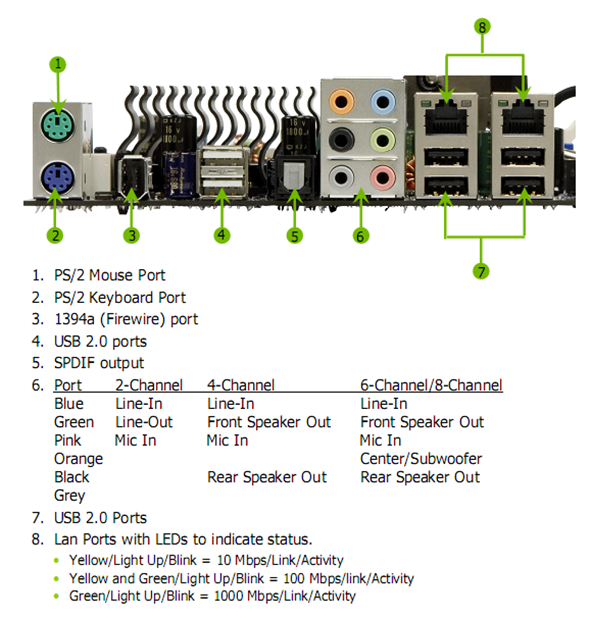 Accessories
While it appears the included accessories with graphics cards are dwindling, motherboard manufacturers tend to be supplying everything needed and then some. The array of accessories supplied with the XFX 680i SLI and listed below is actually quite generous and earns a definite thumbs up!
1 – I&O shield
1 – round floppy drive cable
1 – round IDE cable
3 – SATA power adapters
1 – back panel IEEE 1394 connector with 2 ports
1 – back panel USB adapter with 4 ports
6 – SATA cables
1 – SLI adapter
1 – chipset (Northbridge) fan
1 – users manual
1 – quick start guide
1 – driver & utility CD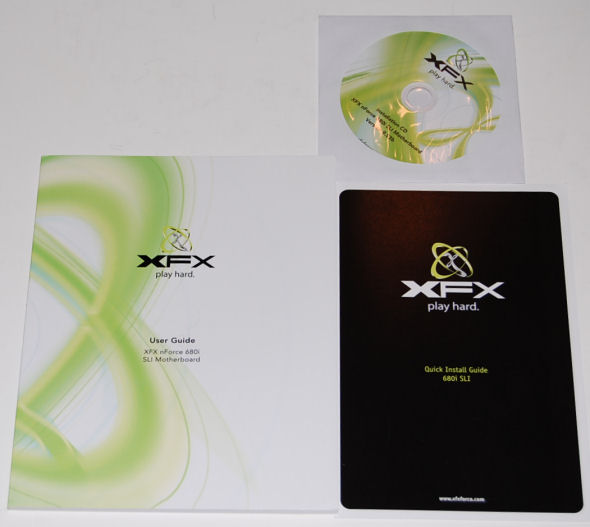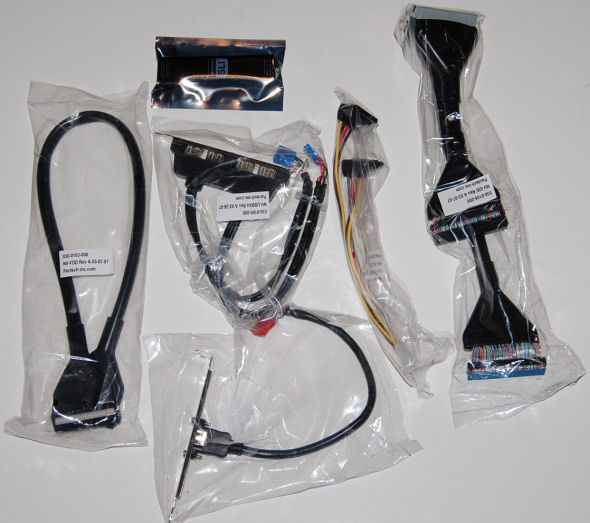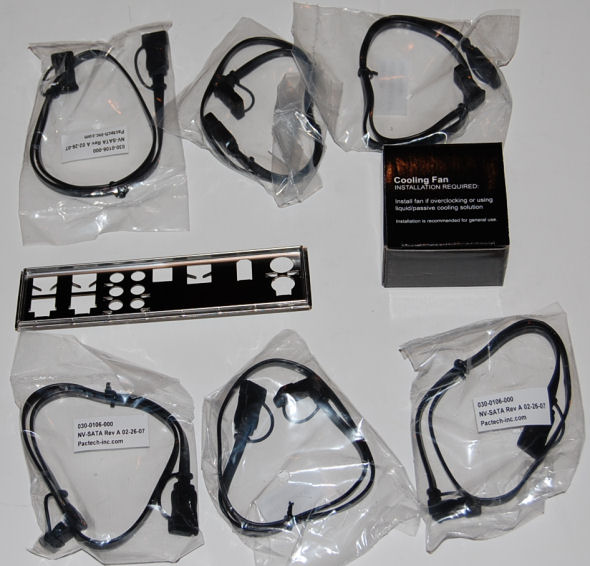 INSTALLATION
Installation was essentially unremarkable. The passive cooling solutions included on the board are of such dimension that they do not cause any notable issues with virtually any CPU cooling option that the consumer might select. This is true also when using the included fan for additional Northbridge cooling. The only true difficulty that one may experience is when using a downdraft style of CPU cooler it is very difficult to secure the board's mounting hole to to standoff in the upper left hand corner of most cases. I am using such a cooler for this review and had to leave this single mounting hole on the board unsecured.
BIOS
The BIOS framework of the XFX 680i SLI motherboard is controlled by the Phoenix Award BIOS. The original 680i SLI reference board underwent a number of BIOS revisions to correct hard drive corruption and other issues that reared their head along the way after its initial release. The current BIOS available for the 680i SLI board is P28. This BIOS is quite mature and is certainly ready for prime time. Our board came with the P26 BIOS but we immediately flashed it to the P28 version as it offered what appeared on paper to be quite a few improvements.
Rather than providing explanation concerning the vast majority of the BIOS adjustments in the following images we thought it might be helpful to present a small table with the parameters of the features that you would likely use the most should you acquire this board.
XFX 680i SLI Primary BIOS Parameters
(Manual Adjustments)

FSB Range
400MHz to 2500MHz in 1MHz increments
Selectable DRAM Frequencies
400MHz to 1400MHz in 1MHz increments
FSB Options
Auto, Linked, & Unlinked
PCI-E Speeds
Ports 1,2, & 3: 100MHz to 200 MHz
in 1 MHz increments
HT Multipliers
1X, 2X, 3X, 4X, 5X
MCP–>SPP
1X – 5X
SPP–>MCP
1X – 5X
VCore Range
Auto, 0.5V to 1.8V in 0.00625V increments
VDimm Range
Auto, 1.8V to 2.5V in .025V increments
MCH Voltage
Auto, 1.5V to 1.75V in 0.025V increments
SPP Voltage
Auto, 1.2V – 1.55V in 0.05V increments
HT Voltage
Auto, 1.2V – 1.55V in 0.05V increments
CPU FSB Voltage
Auto, 1.2V – 1.5V in 0.15V increments
Next we'll show some images of primary BIOS screen and the advanced screens which are highly important to computer enthusiast, in short because all the overclocking options are available in these screens.
Main BIOS Screen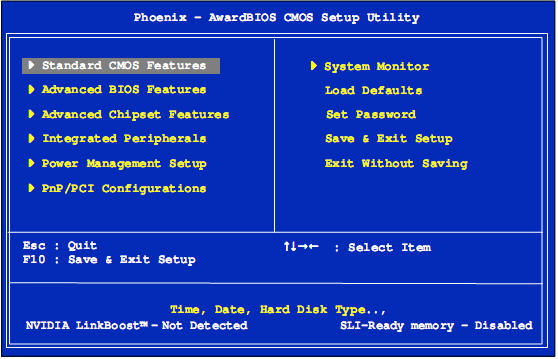 Advanced BIOS Screens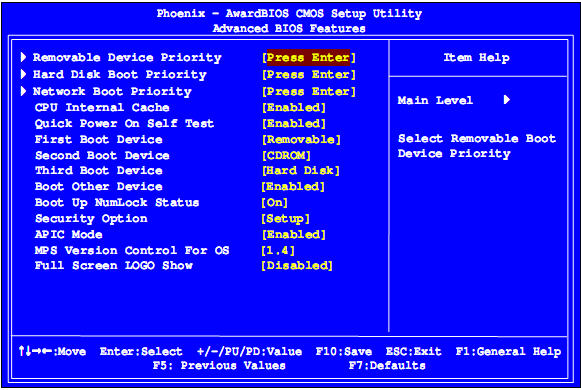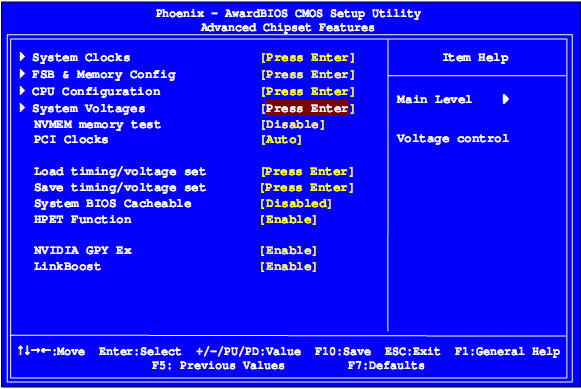 BIOS cont.
Advanced BIOS Screens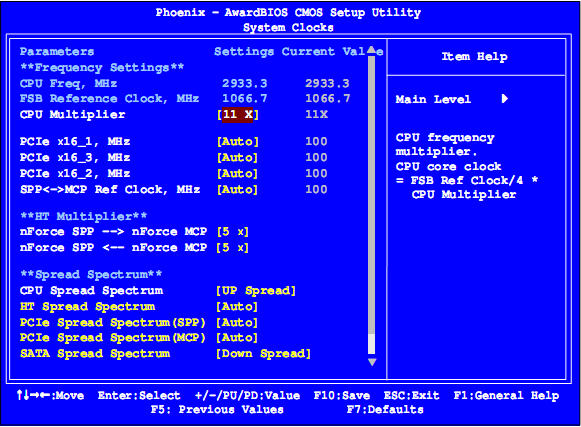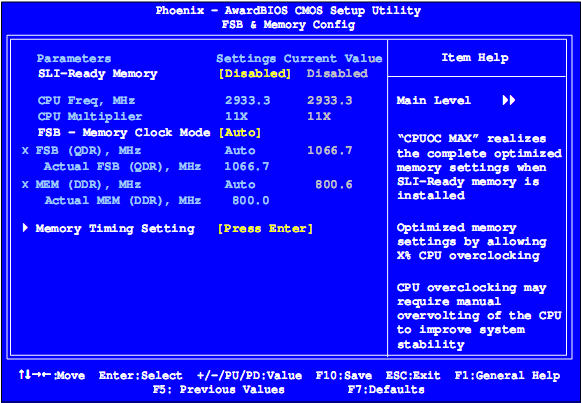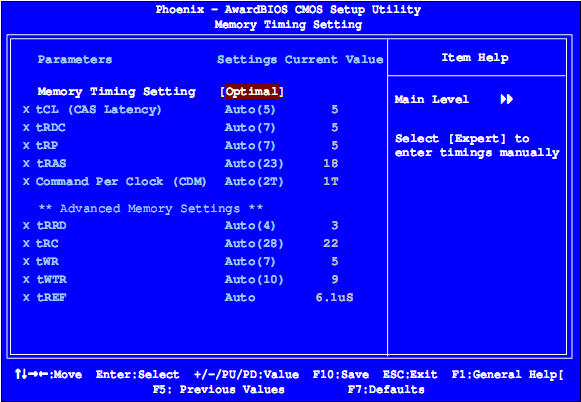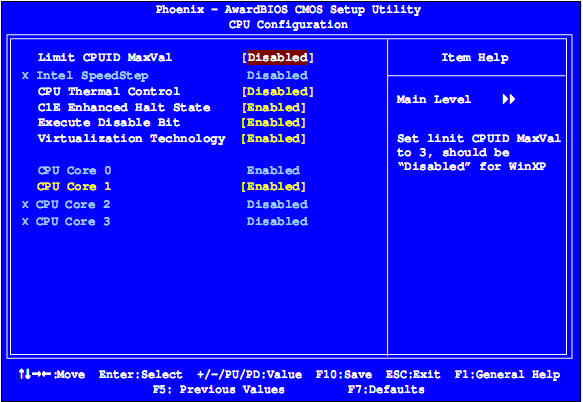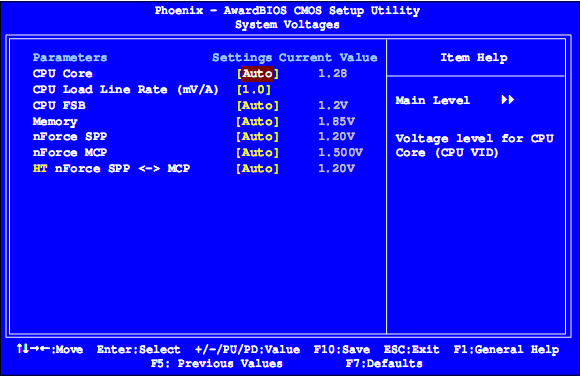 The BIOS for the 680i SLI series of boards is one of the most robust. It literally covers almost every aspect of the system control that any hardcore gamer or enthusiast might want to adjust. Probably the coolest features in the entire BIOS are contained in the FSB/Memory Configuration submenu under the Advanced BIOS options. The ability to run your FSB and Memory Clock virtually asynchronously is now available. This is the type of BIOS that one could experiment with for weeks or even months and still not have tried all the control variations available. To have come from such a marginal beginning this BIOS has truly transcended into quite an exceptional tool. To control as many complex functions as the BIOS does it's actually very simplistic to operate.
TESTING
We will be testing the XFX 680i SLI alongside its younger offspring the XFX 680i LT SLI. We thought a comparison between the two might be of interest to many of our readers as both of these boards have received very good to excellent ratings in recent marketplace reviews. We stated in our review of the XFX 680i LT SLI that we weren't sure if the extra $50 expenditure for the SLI edition was worth it. Today we'll find out.
Test Platform

Processor

Intel E6600 Core 2 Duo at 2.4GHz

Motherboard

Test Board #1:  XFX 680i SLI
Test Board #2:  XFX 680i LT SLI

Memory

2GB of OCZ Reaper 8500 DDR-2
(5-4-4-10 @ 2.2 volts)

Drive(s)

2 – Seagate 750GB Barracuda ES SATA Drives

Graphics

XFX GeForce® 8800 GTX XXX running ForceWare 97.94

Cooling

Enzotech Ultra w/ 120mm Delta Fan

Power Supply

PC Power & Cooling 1KWSR PSU

Display

Dell 2407 FPW

Case

Lian Li G70 (highly customized)

Operating System

Windows XP Pro SP2
Unfortunately when testing a motherboard there is not set of "grass roots" tests that will speak to the motherboard's overall performance. It is therefore necessary to comparatively test the performance of the CPU, Memory, Hard Drive(s) and Graphical Rendering and then we'll draw assumptions from the results of these tests.
Synthetic Benchmarks
PCMark 05 v. 1.2.0
3DMark06 v. 1.1.0
SiSoft SANDRA XI Professional
Cinebench 9.5 (Daylight)
SuperPi Mod 1.5XS
HD Tach RW 3.0.1.0
Games
F.E.A.R. v 1.08
Quake 4: ID Net Demo
Serious Sam II v 2.070
We will test each of these boards using purely stock settings utilizing the benchmarks and games captioned in the table above. Overclocking will be addressed later in this review.
TEST RESULTS
CPU
Although "synthetic benchmarks" aren't the complete answer when testing products as long as the testing is done using the same uniform procedure(s) and settings each time they are run should yield a fairly reliable idea of the product's performance. We chose SANDRA XI SP2 Professional, Everest Ultimate Edition 4.00.976, PCMark05's entire CPU suite, and Cinebench 9.5 one and multiple CPU rendering tests to relate CPU performance. Each was run three times with an average of the results being used to report in this review. .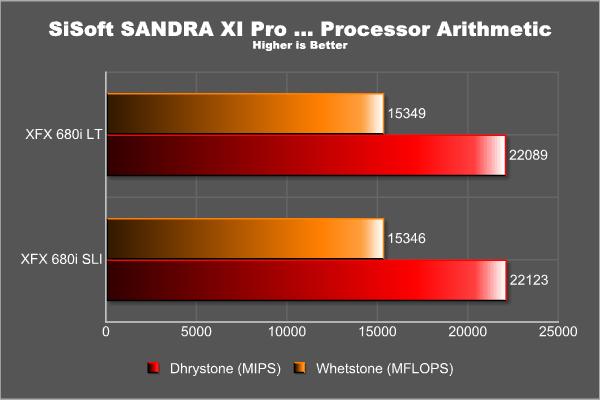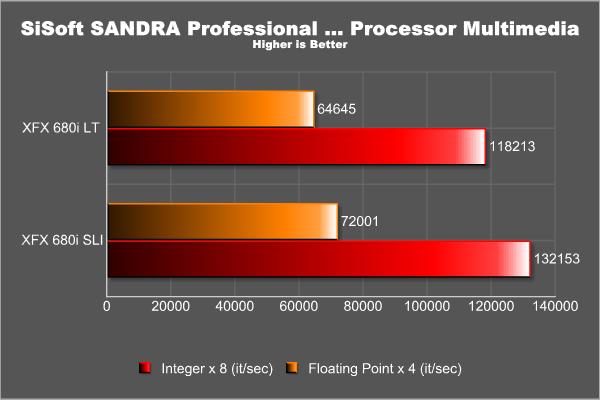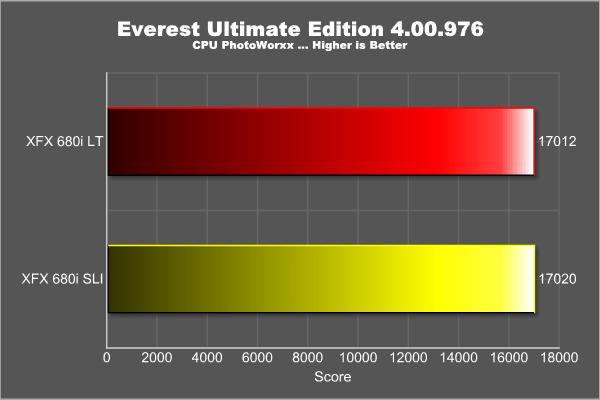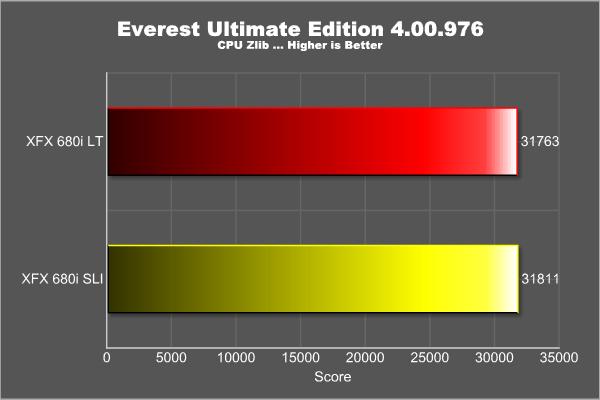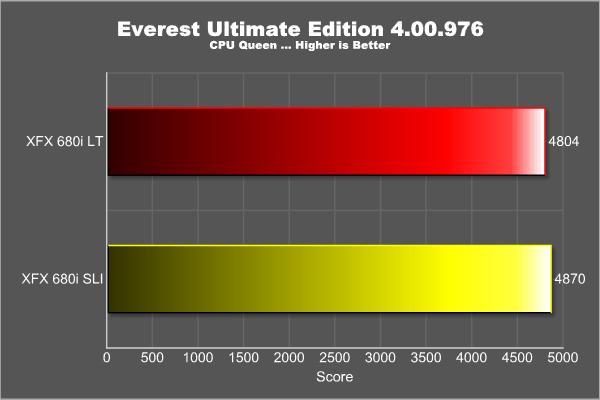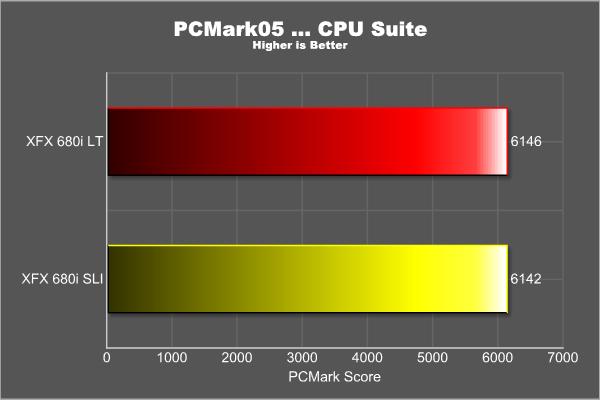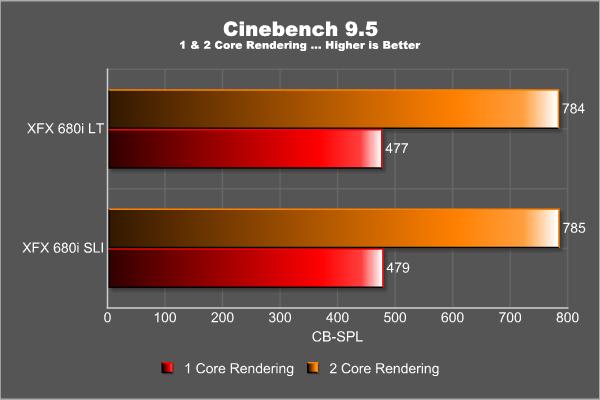 TEST RESULTS
Memory
Again we turned to the same trio of synthetic benchmarks to relate the performance of the memory with these two boards. With PCMark05 we ran the entire suite of memory tests that it offers. Remember we are using a 2GB kit of OCZ Reaper 8500 Memory for our performance testing which is running on all of these trials at 800MHz and timings of 5-4-4-10 at 2.2 volts when utilizing the results for any comparisons that you may make between this review and others you may read. We utilized the same procedure for running the benchmarks as we did in the CPU performance testing.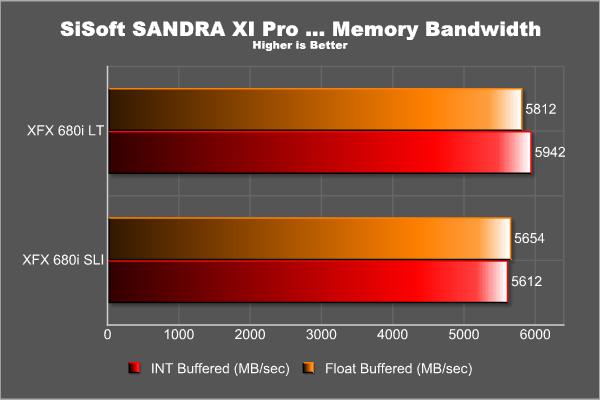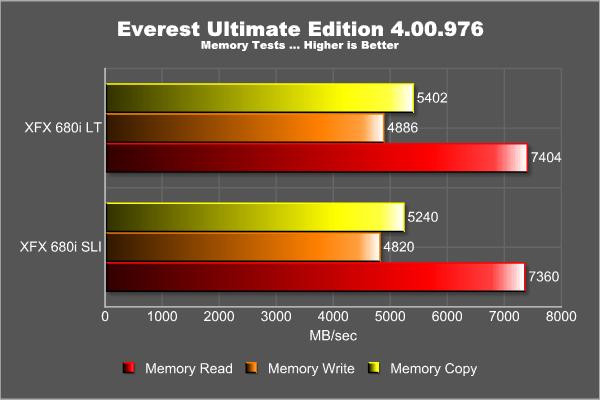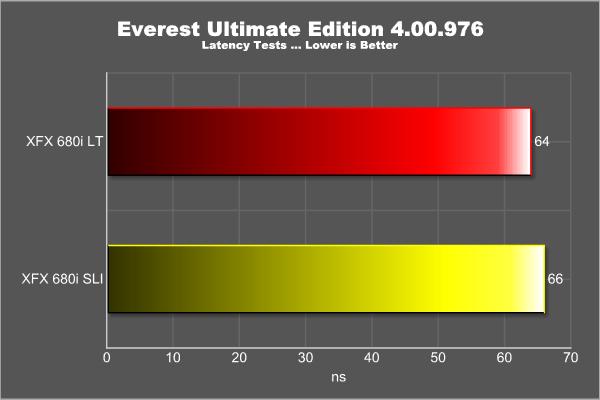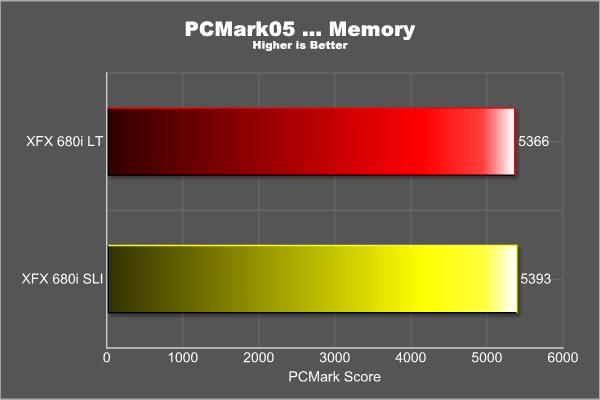 Hard Drive & USB Drive
In addition to utilizing both SANDRA and PCMark's HD entire suite of tests we opted to add an additional benchmark which is well known to the computer enthusiast, HD Tach RW 3.0.1.0. In addition to testing the Seagate Barracuda 750GB ES drive we added a small AVB 4GB USB Flash Drive to the component test results in HD Tach to affirm the USB capabilities of this board and its slighly older brother. We displayed the HD Tach results in table form as opposed to having separate graphs for each of the four test results that were rendered as we feel it provides better visual comparison.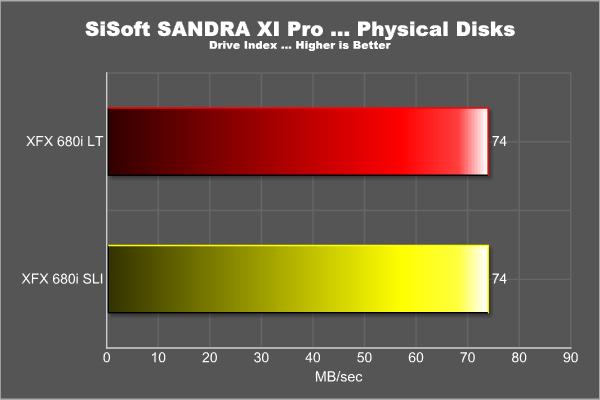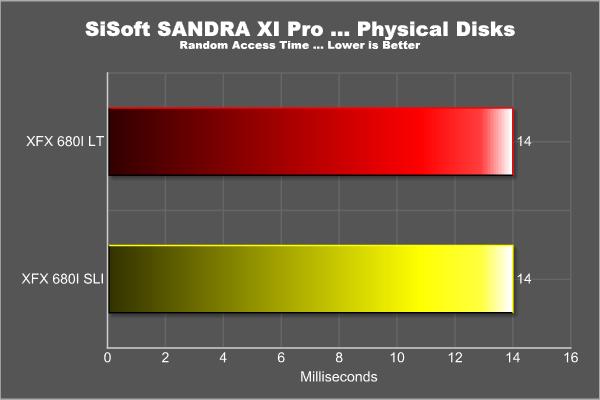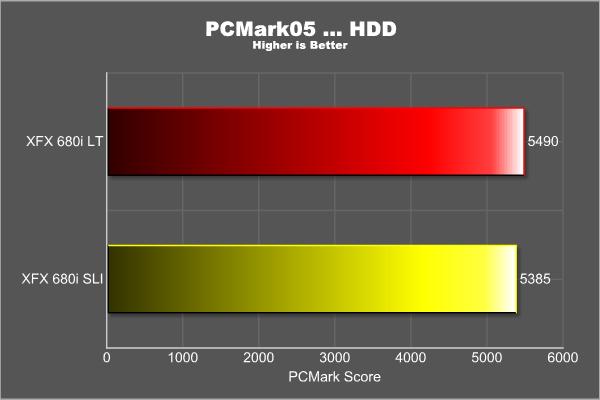 Seagate 750GB Performance … HDT-RW 3.0.1.0

 

XFX 680i SLI

XFX 680i LT SLI

Random Access Time* (ms)

13.6

13.7

Average Read Time (MB/sec)

66.4

68.2

CPU Utilization*

3%

4%

Burst Speed (MB/sec)

258

256.4

*Lower is Better … Otherwise Higher is Better
AVB 4GB USB Flash Drive … HDT-RW 3.0.1.0

 

XFX 680i SLI

XFX 680i LT SLI

Random Access Time* (ms)

13.6

13.7

Average Read Time (MB/sec)

30.1

29.9

Average Write Time (MB/sec)

24.7

24.6

CPU Utilization*

5%

6%

Burst Speed (MB/sec)

32

31

*Lower is Better … Otherwise Higher is Better
TEST RESULTS
3D & Gaming
While graphics are of paramount importance to the computer enthusiast they serve little use in testing a motherboard other than for validation purposes. What we mean is that many of today's graphical benchmarks rely more heavily upon the GPU/VPU in the graphics card than they do upon the rest of the system resources for favorable results. This is a dual edged sword in that consumers with lesser grade CPUs, motherboards and memory may in some cases still have a favorable improvement in their graphics and gaming experience simply by adding an enhanced video card to their mix of components. 3DMark 2006 was also run at its standard default settings. We ran all games at resolutions both 1280 x 1024 and 1920 x 1200. No Antialiasing or Anisotropic Filtering was used to take the GPU out of the mix as much as possible.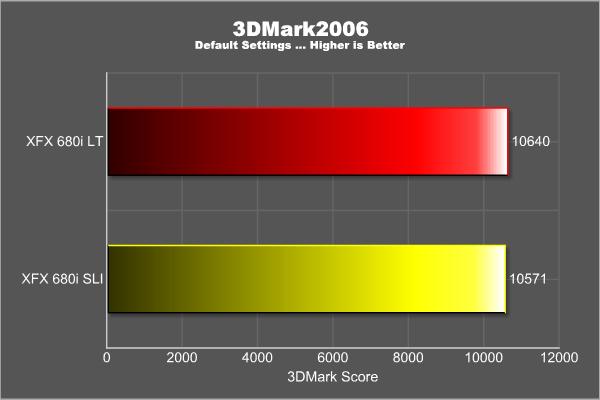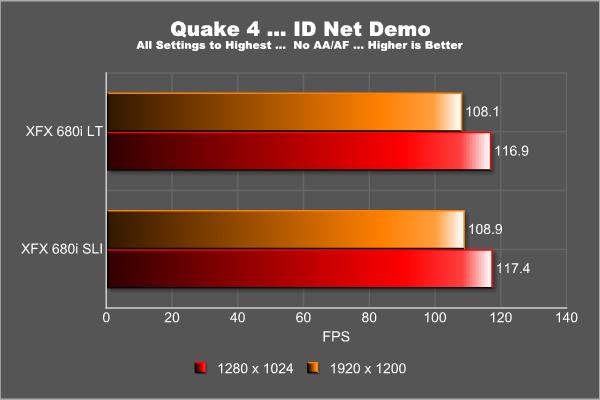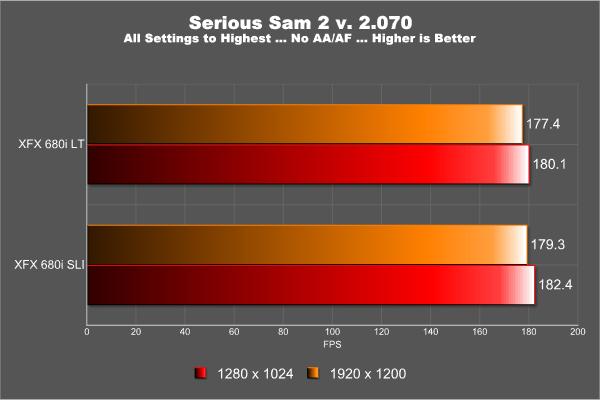 OVERCLOCKING
Having recently reviewed the XFX 680i LT SLI motherboard back in April, we learned a lot of very valuable lessons on how best to overclock the 680i chipset. With the 680i SLI we wanted to see just how high we could take this board using an E6600 Core 2 Duo chip at a vCore of no more than 1.40V. We have also had very good recent luck with the 2GB OCZ Reaper 8500 DDR2 modules being able to rather easily hit 1200 MHz on our 975X test rig. For that reason we opted to use these components in testing this board's overclockability.
We were able to hit a very stable 3.5 GHz clock using a CPU multiplier of 7 and a FSB of 500. All was not total bliss as we were only able to run our memory at 800 MHz in an unlinked mode. We attempted to run at 1066 MHz unlinked, but for some unkown reason the board kept appearing to change bootstraps at that speed the CPU would drop to 1.875 GHz on every reboot attempted. We tried different timings, higher VDimm, higher VCore, and even different memory modules and the board just didn't like a high FSB while running the memory at 1066 MHz unlinked. Running at 800 MHz the board performed flawlessly at 3.5Ghz and only required 2.2V VDimm and 1.35V VCore to achieve the overclock.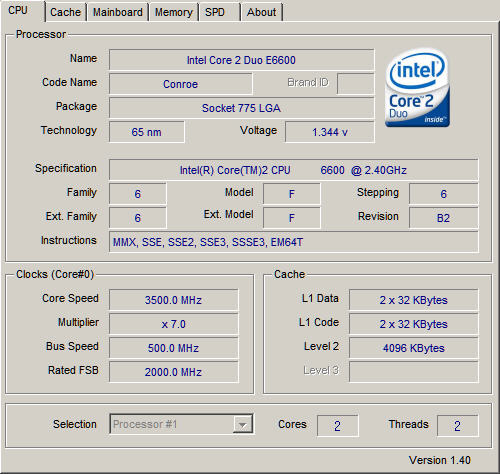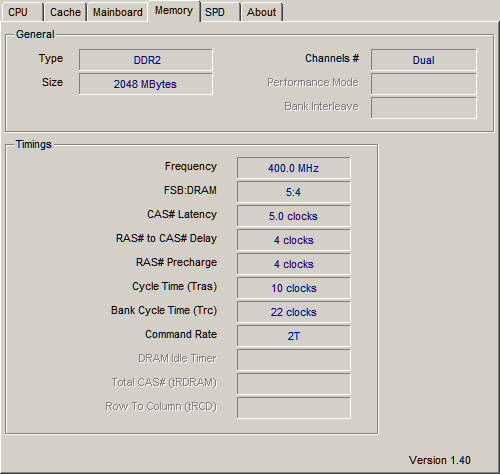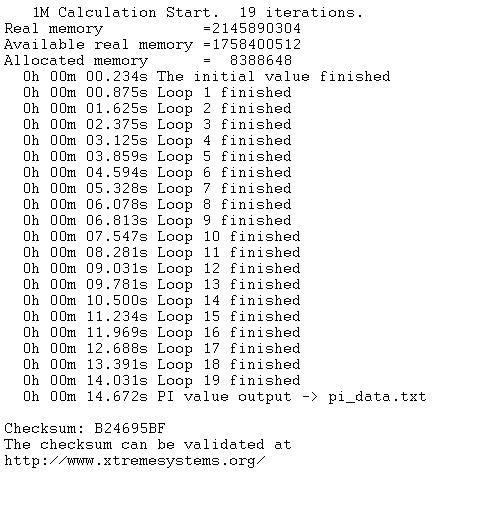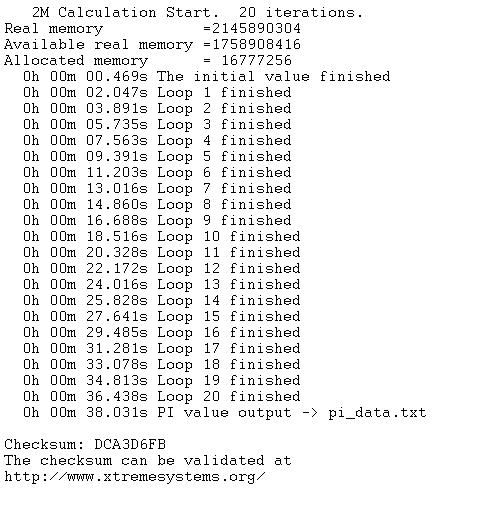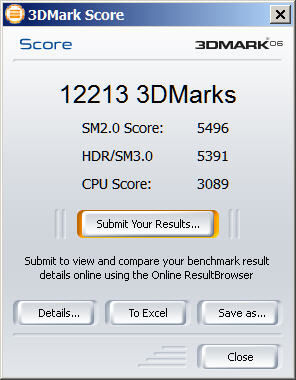 While this overclock is quite good, we feel this board is capable of more with a little more time to tweak the settings. We would also be remiss if we also didn't mention the fact that during overclocking both the Southbridge and Northbridge got rather hot with temperatures of each approaching 55° Celsius. We find it interesting that the passive cooling alone on this board (no Northbridge fan used in the testing) kept it around 5 ° Celsius cooler at a higher overclock than did the active cooling used on the 680i LT SLI board we reviewed with similar components back in April. We are using a downdraft CPU style cooler that adds some airflow to the Northbridge and PWMs in the vicinity it hovers over, by we don't this alone would account for for this much improvement. We did not remove either of the passive heatsinks to determine the contact or quality or the thermal interface product used in applying the heatsink as we wanted to test this board in completely stock condition.
CONCLUSION
We can say now without any reservation that the XFX 680i SLI is in fact an NVIDIA produced 680i SLI reference board. It offers no unique qualities or hidden improvements over the boards released by the other NVIDIA partners back in October, 2006. So what's the matter with that? Not a thing in this world, but given the circumstances of the late release we had heard speculation by some that there might be some new treats in store for us.
We can say without a doubt that this is an excellent board based on a fine chipset. Like its siblings the 680i LT SLI and the 650i Ultra, the 680i SLI is uniformly manufactured by one major manufacturer, NVIDIA® for all of its partners that distribute the board. We were quite impressed by the XFX 680i SLI; it has solid, more professional appearance to it than the 680i LT SLI and in most cases outperforms it; especially in the realm of overclocking. The only area that we saw better performance by the 680i SLI's competition was in memory performance and the differences were not significant.
The XFX 680i SLI motherboard retails for around $229 USD or about $30 more than the LT version and with current rebates it can be purchaed for around $189.00 USD. As we said in our previous review of the LT version: The version you buy is strictly dependant on your needs. I personally like the passive cooling of the 680i SLI better than the active cooling on the LT version and the black PCB certainly makes it more stylish. There are a few features such as a third PCI-e port, two extra USB ports and a higher range of some BIOS settings, just to name a few. Oh and lest we forget to mention tha t the current A+ model released by XFX has all the quad enhancements that were present on the A1 model recently released by EVGA.
We at Bjorn3D can highly recommend the XFX 680i SLI motherboard to almost any consumer looking for a quality, extremely high performance board at a fair price. Even though this product was a little late to the gate it still has excellent performance and is supported by XFX an NVIDIA partner quite well known for their customer support with graphics solutions.
Pros:
+  Exceptional Core 2 Duo performance
+  Excellent overclocking at stock memory settings
+  Fully SLI Ready
+  A BIOS that is an enthusiast's dream
+  SLI™ certified
+  Extremely stable
+  Excellent passive cooling on the North and Southbridge
+  Built by NVIDIA®
+  Fully supported by XFX
Cons:
–  Poor location for front panel headers
–  Mislabeled SATA-ports either on motherboard is still an issue
–  Lacks the lifetime warranty provided by other NVIDIA partners
–  Memory performance is somewhat lacking on this board
Final Score: 8 out of 10 and the Bjorn3D Seal of Approval .