When I was contacted by Issac Poon, Marketing Manager for Foxconn's Channel Division about reviewing this card I wasn't the least bit hesitant! I knew that given their vast experience in the OEM market that their retail product would more than likely be superior. Join us today as we run the Foxconn model FV-N88XMAD2-OD 8800 GTX graphics card through its paces and confirm if my thoughts are true.
INTRODUCTION
We at Bjorn3D are becoming quite the experts on NVIDIA's 8800 series of graphics cards. With the inclusion of today's review this will make our tenth different 8800 series card from five different manufacturers.
Foxconn is no stranger to graphics cards as they manufacture an extremely high percentage of all the NVIDIA based cards on the market. When we say manufacture we're talking taking the bare PCB and turning it into a finished graphics card. The finished products are then shipped to the appropriate company who in turn puts its name and logo on the card and encloses it in the appropriate packaging to ship to distributors and various retail outlets.
When I was contacted by Isaac Poon, Marketing Manager for Foxconn's Channel Division about reviewing this card I wasn't the least bit hesitant! I knew that given their vast experience in the OEM market that their retail product would more than likely be superior. Join us today as we run the Foxconn model FV-N88XMAD2-OD 8800 GTX graphics card through its paces and confirm if my thoughts are true.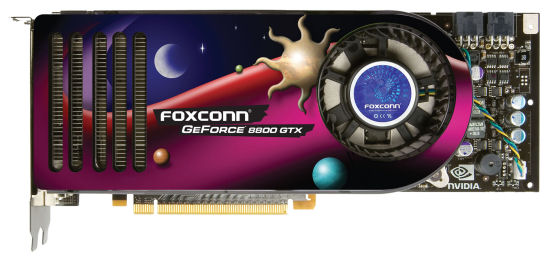 Foxconn: The Company
For those of you who are new to the computer enthusiast arena Foxconn may not be a corporate name that you are readily familiar with. On the other hand those of you that have been around for a while are probably very familiar with Foxconn motherboards. My guess is that most of Bjorn3D's readers are not aware that Foxconn is one of the extremely small number of manufacturers that actually make and assemble NVIDIA based graphics cards as well for all the other companies that market them. Chances are you've already owned a Foxconn manufactured card and never even knew it. You probably aren't aware that in addition to motherboards and graphics cards Foxconn also manufactures: cases, coolers, barebones computer systems, power supplies, card readers, and wireless cards.
Over the past year or more Foxconn has begun a gradual corporate face lift which exudes more of a retail presence. This change probably was first noticed and really taken to heart by the computer enthusiasts when Foxconn launched the immensely popular C51XEM2AA motherboard, a reference standard motherboard for the AMD AM2 prcessor. Foxconn recently brought their retail presence to bear in the graphics card arena. This move while in no way associated with the untimely demise of Leadtek as a major player in the US graphics card market, should certainly fill a major void.
Foxconn is the registered trade name of Hon Hai Precision Industry Co., Ltd., a global leader in the design, manufacture, and distribution of advanced computer, communications, and consumer electronics components, including motherboards, graphics cards, CPU coolers, barebone systems, and chassis for personal computer desktops and servers. With over three decades of demonstrated manufacturing excellence, Hon Hai sets the standard in the industry for product quality and reliability, customer support, and value. In 2005 Hon Hai had sales of $25 billion (USD).

The Channel Service Division (CSD), part of the PCE Business Group of Hon Hai, is Hon Hai's worldwide organization for servicing channel customers. Guided by the mantra "The Art of More", CSD is dedicated to making it simpler and more affordable for its customers to offer superior information systems to their consumer and enterprise customers. CSD serves a network of distributors and OEM customers in Asia, EMEA, and the Americas.
FEATURES & SPECIFICATIONS
Features
NVIDIA® unified architecture with GigaThread™ technology
NVIDIA® Lumenex™ Engine
Full Microsoft® DirectX® 10 Support
Dual 400MHz RAMDACs
Dual Link DVI
NVIDIA® SLI™ Technology
PCI Express™ Support
16x Anti-aliasing
NVIDIA® PureVideo™ Technology
OpenGL™ 2.0 Optimizations and Support
NVIDIA® nView® Multi-Display Technology
Foxconn 8800 GTX Specifications



GPU
NVIDIA® GeForce 8800GTX
Core
G80
Core Clock
575MHz
Pixel Pipeline
128 Stream processors running at 1.35GHz
Vertex Pipeline
128 Stream processors running at 1.35GHz
RAMDACs
400 MHz
Memory Type
GDDR3
Memory Size
768MB
Memory Clock
1800MHz
Memory Interface
384-bit
Graphics Bus Technology
PCI Express x16
Cooler
Fansink
Memory Bandwidth
86.4 GB/sec
Texture Fill Rate
36.8 billion/sec
Connectors
Dual Dual-Link DVI + HDTV-Out
Special Features
NVIDIA® PureVideo™ HD Support
NVIDIA® SLI™ Support
Dual Dual-Link DVI Support
HDTV Out Support
Windows Vista™ Support
Bundled 3D Game Pad
Bundled RestoreIT v7.0
VirtualDrivePro v10.0
Please note that the Foxconn® GeForce® 8800 GTX essentially follows the reference standard for the 8800 MCP set by NVIDIA®. There have been no apparent changes to physical body of the card, the features, or components. For that reason we will somewhat abbreviate our normally in depth "Features & Specifications" section of this review and place our efforts where they belong in testing. Should you have detailed questions on any of these features captioned above, please refer to our article:  NVIDIA 8000 GPU/VPU: An Introduction published when the 8800 series of cards were first released back on November 8, 2006.
CLOSER LOOK
Packaging
The Foxconn® GeForce® 8800 GTX comes in a container that I would classify from a purely protective standpoint as middle-of-the-road packaging. While certainly not surrounded by the secure foam we have seen in some of our other 8800 reviews the container did its job! We received the package after it's 3,000 mile journey without the slightest hint of damage. As you can see from the image below the container is not short on looks either which would certainly draw the consumer's attention. I truly liked the surreal art work on the package and the color scheme Foxconn chose.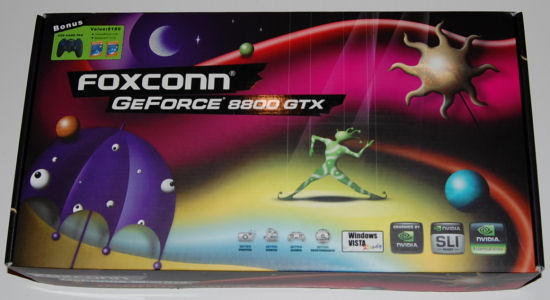 The Package … Front
The rear of the package is chocked full of very good product information that will readily aid the new consumer in making his/her product choice.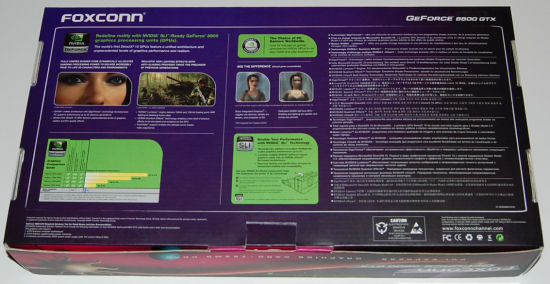 The Package … Rear
The Card
As previously stated the Foxconn® GeForce® 8800 GTX has the appearance of following the NVIDIA® reference standard. For those of you that are into aesthetics, this is probably the best looking graphics card on the market today in this writer's humble opinion.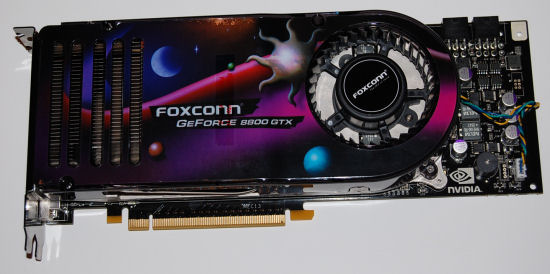 Foxconn 8800 GTX … Side View
From the slightly angled view of the card below you can see that Foxconn adheres to again what appears to be NVIDIA's reference cooling design for their 8800 series of cards. Again that term "appears" I use this because as our tests will later show this card cools considerably better all of the graphics solutions that it is compared to and is somewhat quieter in the process. Each of the other NVIDIA® based cards also appear to use the reference cooler as well.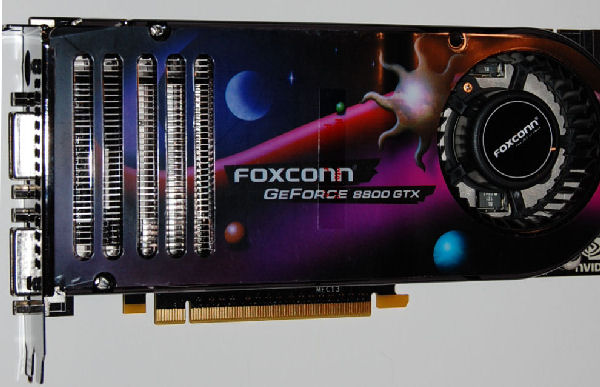 Foxconn 8800 GTX … Angled View
The view of the card from the rear is again unremarkable and from a gross view once again mimics the NVIDIA® reference standard graphics card. One thing to remember is that Foxconn, unlike other manufacturers, actually builds these cards from the the PCB up so simple visualization may not tell the entire story of the components it contains. I would however be a waste of our time to retrieve the magnifying glass to examine each component individually.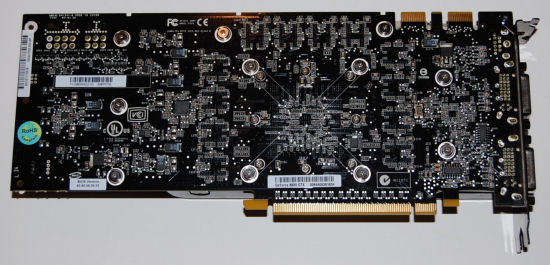 Foxconn 8800 GTX … Rear View
CLOSER LOOK
Accessories
In a recent graphics card review I made the statement: "It would appear that the days of the grandiose bundles that use to accompany most graphics cards are coming to an end". I believe that Foxconn must certainly have been listening as they certainly enhanced the value of this graphics card with the accessories included. The bundled accessories include:
2 – VGA to DVI adapters
2 – Molex-to-PCI Express Power Cable Adapters
1 – HDTV dongle
1 – quick installation guide
1 – setup/driver disk
1 – 3D Game Pad
1 – Restore It v. 7.0 (software)
1 – VirtualDrivePro v. 10.0 (software)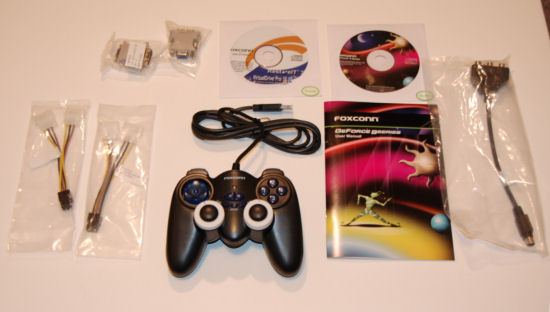 Foxconn 8800 GTX … Bundled Accessories
The software included with the package is an incredible value:
RestoreIt v. 7.0:   In case of a virus attack, a Windows® crash, or a software installation gone wrong, RestoreIT will return your system to normal, even when Windows does not boot. And because it also backs up to CD, a network drive, or a USB device, RestoreIT will recover all data lost to hard drive failure as well. Price $39.95 if purchased through a retail outlet.
Virtual Drive Pro v. 10.0:  VirtualDrive Pro 10 is CD emulator that copies a CD or unprotected DVD as a compressed image, or "virtual disc," and saves the file to a hard drive, a network, a USB device, or to a portable medium. The virtual CD can be played in place of the original disc, directly on your computer's hard drive, in any one of up to 23 "virtual drives" created by the software. You can load each of your virtual drives with a virtual disc, play multiple discs simultaneously, and move from one game or application to another without having to handle CDs or wait for a loaded disc to spin up.irtual discs can be catalogued in a searchable library and run directly on your hard drive with access speeds nearly 200 times faster than CD-ROMs, greatly improving the performance of PC games and disc-based applications. Price $39.99 if purchased through a retail outlet.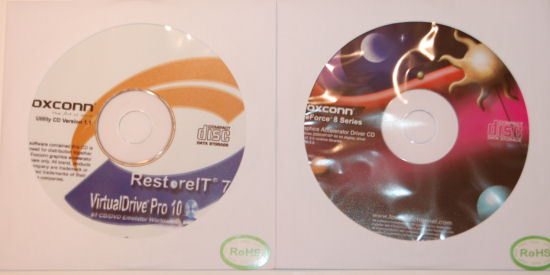 Software Disks
In addition to the generous and truly useful software provided, Foxconn takes things a step further by including their own game pad. As the image below depicts the game pad is somewhat reminiscent of the Playstation 2 controller in both shape and button placement. There are actually two analogue joy sticks incorporated into the game pad that should make for some exciting action assuming the right game is found. While this accessory is not presently sold separately I would imagine the value to be somewhere in the $40 range.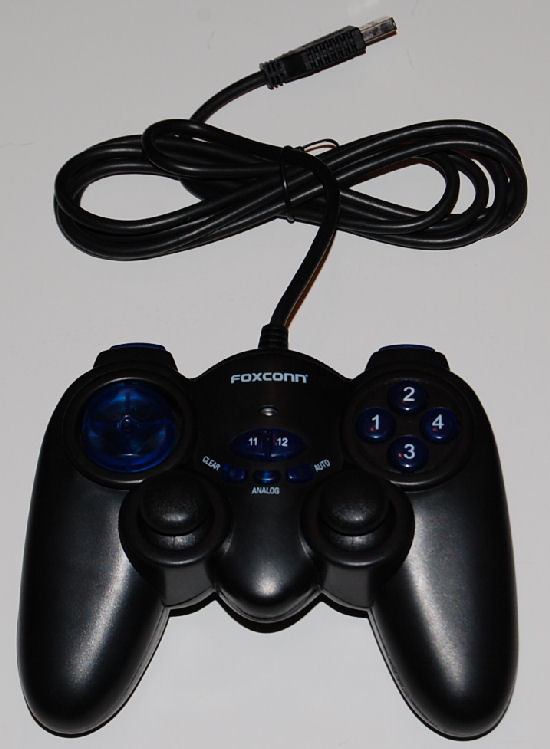 Foxconn Game Pad
I would like to thank Foxconn for proving me wrong and including a very functional and value added group of accessories. It is my hope that other companies will get wind of this accessory bundle and follow suit. I for one much prefer the functionality of accessories of this type far and above over the addition of single game.
CLOSER LOOK
Installation
Normally I would not spend the time to discuss installation of a graphics card, but in the case of the Foxconn 8800 GTX I found an issue that I'd like to warn current and potential users about. Prior to testing any graphics card I usually read through the included installation manual to determine if any caveats exist that I might be unfamiliar with. I followed this practice in this review and found nothing unique in the installation manual. So I installed the card in the test rig for its "breakin period". When I turned the computer on I heard a gentle whirring noise that lead me to believe that the fan on the review sample was probably going to be loud under stress, no real biggy. So after a couple of hours of playing with the card I turned the computer off and heard a rather loud squeak as Windows completely shut down. I then knew all wasn't right.
I physically removed the card from the test rig and could see nothing wrong and the fan spun freely with no noise at all. I figured it was an aberration and reinstalled the card only to experience the same scenario a few minutes later when I shut the system down. I contacted one of my fellow reviewers who recently had reviewed a Foxconn graphics card and asked him had he experienced anything like this, to which he answered no. We chatted for a few minutes and just assumed we had a bad fan bearing. Before ending out chat my teammate remembered that another reviewer had a similar issue and it was related to the plastic protective coating not being removed from the face of the cooler. I removed the card again and this time gave it a very thorough visual inspection and found a warning label that was clear with red type and was camouflaged by the colored background of the cooler. The label warned you to remove the protective coating before using the graphics card. I'll have to give credit to Foxconn it was the best job of installing plastic coating that I had ever seen as it was completely seamless with the finish of the cooler.
To make an increasingly long story shorter, I photographed the plastic coating and warning label before removing them. I also lifted the edge of the plastic in one corner so that it would be visible in the photo. It took several pictures to be able to get one where both the coating and warning label were discernible. (See image below) When I removed the plastic coating I found the problem, part of the plastic overlapped into the fan housing. Thankfully there was no damage done and the graphics card was amazingly quiet after this.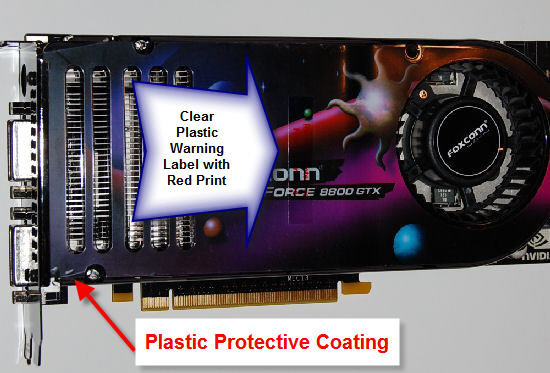 Am I Blind?
It would certainly be my suggestion to Foxconn to:  1) Make the background of the plastic warning label white in color; 2) To mention removal of the plastic coating in their installation manual; and 3) To place a white corner on the edge of the plastic coating to make it easier to see when removing it. I can only imagine what might have happened if some or all of the plastic coating had been sucked into the fan housing.
TESTING
Test Platform

Processor

Intel E6600 Core 2 Duo at 2.4GHz

Motherboard

ASUS P5W64 WS Professional

Memory

2GB of Mushkin Redline XP2-8500 DDR-2
(4-5-4-12 @ 2.2 volts)

Drive(s)

2 – Seagate 750GB Barracuda ES SATA Drives

Graphics

Test Card 1:   Foxconn GeForce® 8800 GTX running ForceWare 97.92
Test Card 2:   XFX GeForce® 8800 GTX XXX running ForceWare 97.92

Test Card 3:   ATI® Radeon™ X1950 XTX CrossFire running Catalyst 6.11 drivers (11/15/2006)

Test Card 4:   Leadtek Winfast®PX8800 GTX TDH running ForceWare 97.92

Test Card 5:   Leadtek Winfast®PX7950 GX2 TDH running ForceWare 91.47

Cooling

Noctua NH-U12F CPU Cooler with Panaflo M1A 38mm Fan

Power Supply

Zippy PSL-6850P(G1) 850 Watt PSU

Display

Dell 2407 FPW

Case

Large HSPC Tech Station

Operating System

Windows XP Pro SP2
Synthetic Benchmarks & Games
3DMark06 v. 1.10
Company of Heroes v. 1.5
F.E.A.R. v 1.08
Quake 4: ID Net Demo
Half-Life 2: Lost Coast
Far Cry v 1.33
Serious Sam II v 2.070
Testing Methodology
We will be testing the Foxconn® Geforce®; 8800 GTX on a comparative basis versus the XFX Geforce® 8800 GTX XXX, the Leadtek Winfast® 8800 GTX, the X1950XTX CrossFire™ Edition, and the the Leadtek Winfast® 7950 GX2 XTX. We will run the above captioned benchmarks on all systems with each graphics card set at default speed. Our synthetic benchmark 3DMark06 will be run in default mode with resolutions of 1280 x 1024, 1600 x 1200, and 1920 x 1200; no anti-aliasing or anisotropic filtering will be used. All other gaming tests will be run at the same resolutions with anti-aliasing set to 4X and anisotropic filtering set to 8X. Each of the tests will be run individually and in succession three times and an average of the three results calculated and reported. F.E.A.R. benchmarks were also run with soft shadows disabled.
TEST RESULTS
3DMark06 v. 1.1.0
3DMark06 developed by Futuremark is a synthetic benchmark used for universal testing of all graphics solutions. 3DMark06 features HDR rendering, complex HDR post processing, dynamic soft shadows for all objects, water shader with HDR refraction, HDR reflection, depth fog and Gerstner wave functions, realistic sky model with cloud blending, and approximately 5.4 million triangles and 8.8 million vertices; to name just a few. The measurement unit "3DMark" is intended to give a normalized mean for comparing different GPU/VPUs. It has been accepted as both a standard and a mandatory benchmark throughout the gaming world for measuring performance.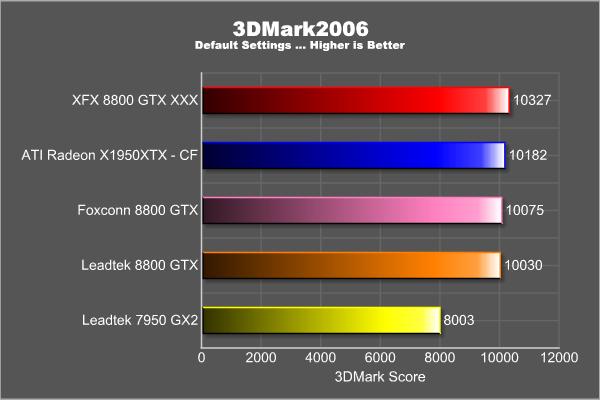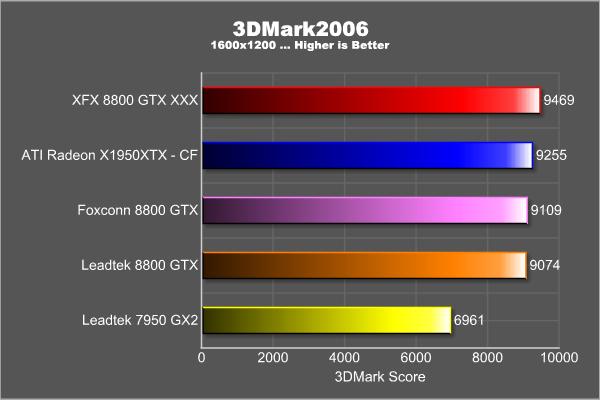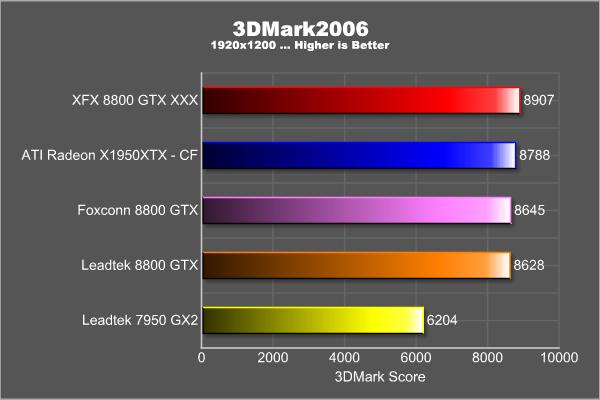 Quake4
Quake4 was released to gaming world in 2005 the year after Doom 3 by Raven Software. It uses the highly touted Doom 3 engine in its operation which means it also functions with the OpenGL API during rendering. Quake 4 and Doom 3 are two highly valued benchmarks that have lost little popularity since their inception.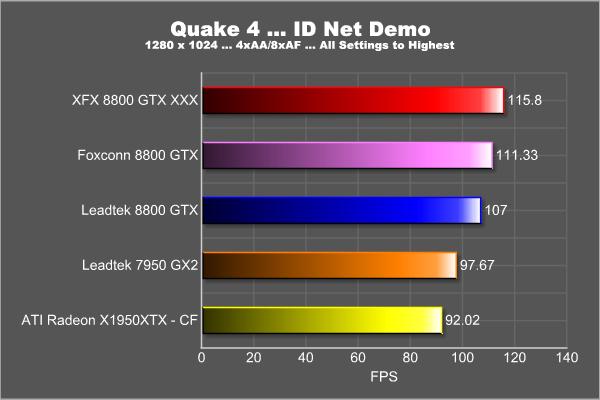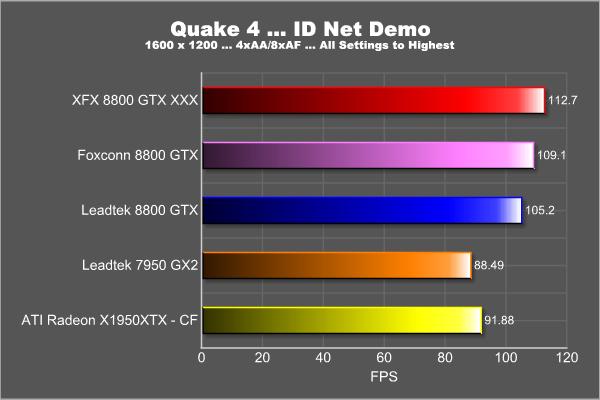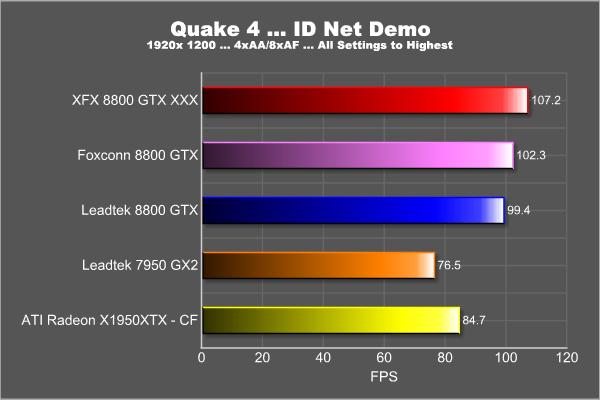 TEST RESULTS
Far Cry
Far Cry is a first-person shooter computer game developed by Crytek Studios and published by Ubisoft in March, 2004. The game is still considered by most to be an excellent test and benchmark of a graphics cards capabilities. Crytek Studios developed their CryEngine which uses "polybump" technology which increases the detail of low-polygon models through the use of normal maps. Far Cry comes with several standard benchmarks built in they must be manually run from the game's console. We automate this process using benchmarking software from HardwareOC to automate the process.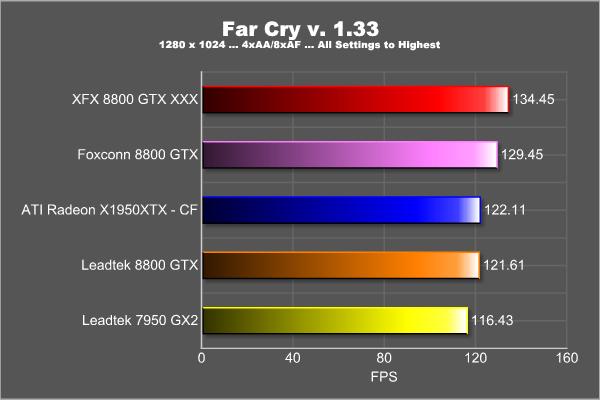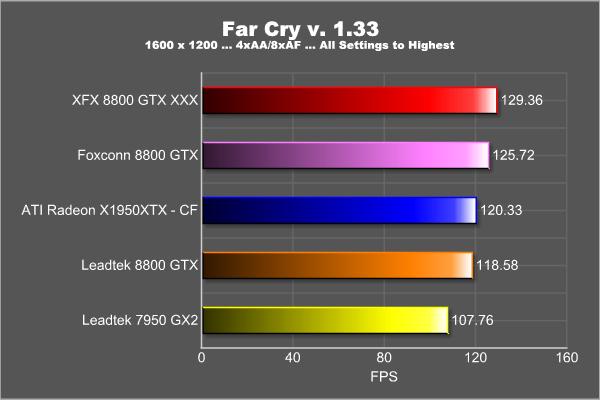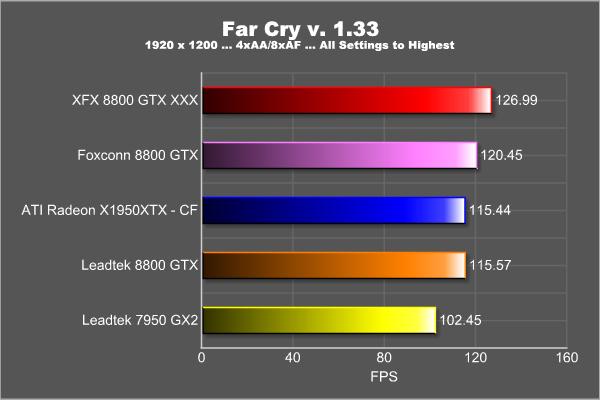 Half-Life 2: Lost Coast
Half-Life 2: Lost Coast was developed as a playable technology demo, intended to showcase the newly-added HDR lighting features of the Source engine that were first implemented into Day of Defeat: Source. Lost Coast also demonstrates in general what the Source engine can achieve when system requirements and detail levels are significantly increased over games designed to run on a broad base of computers, with high-resolution textures and models.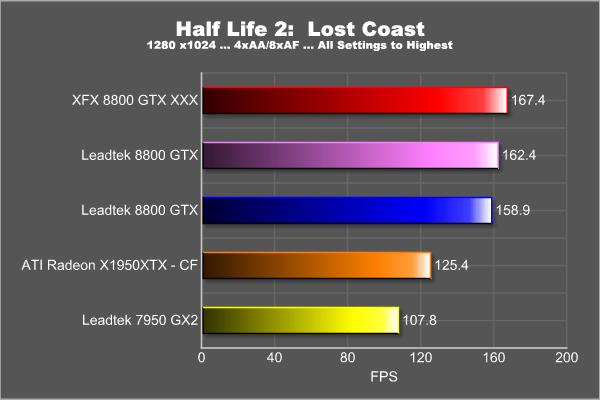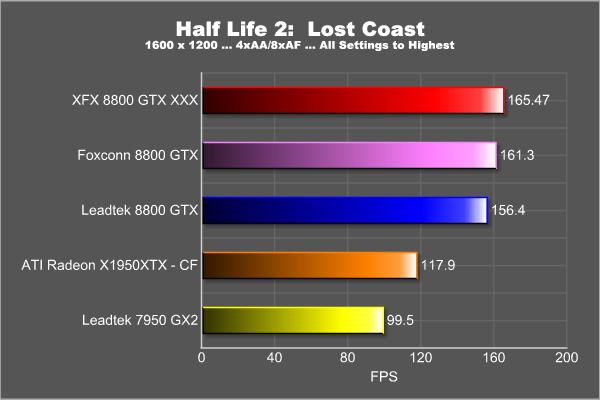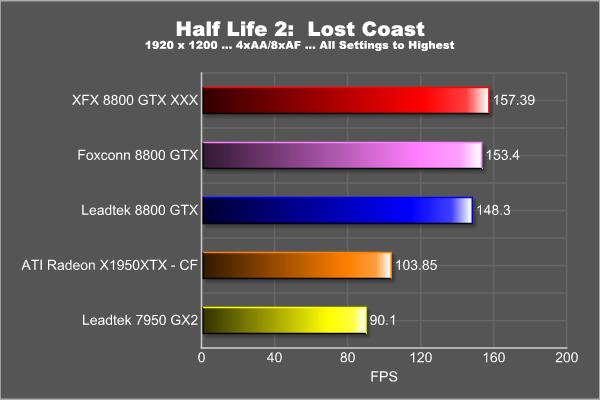 TEST RESULTS
F.E.A.R
F.E.A.R. (First Encounter Assault Recon) is a first-person shooter game developed by Monolith Productions and released in October, 2005 for Windows. F.E.A.R. is one of the most resource intensive games in the FPS genre of games ever to be released. The game contains an integrated performance test that can be run to determine your system's performance based on the graphical options you have chosen. The beauty of the performance test is that it gives maximum, average, and minimum frames per second rates and also the percentage of each of those categorical rates your system performed. F.E.A.R. rocks both as a game and as a benchmark!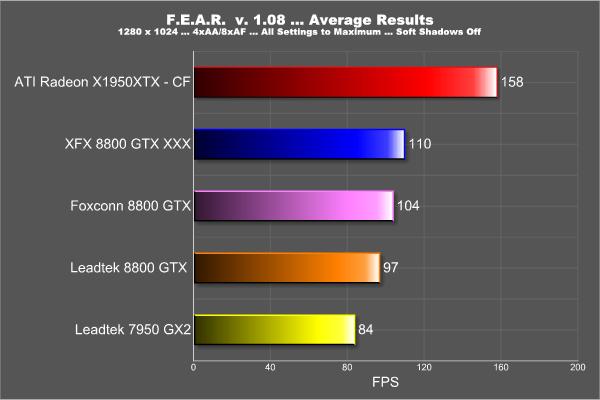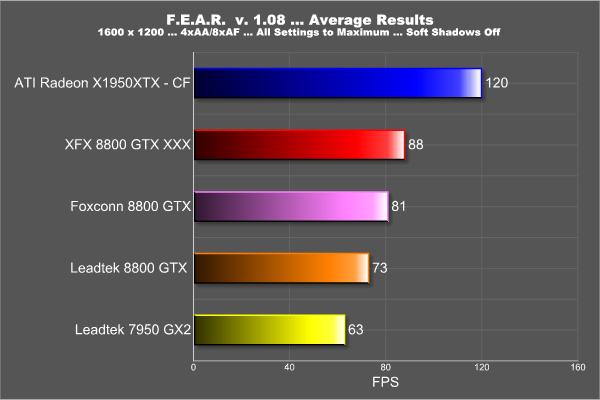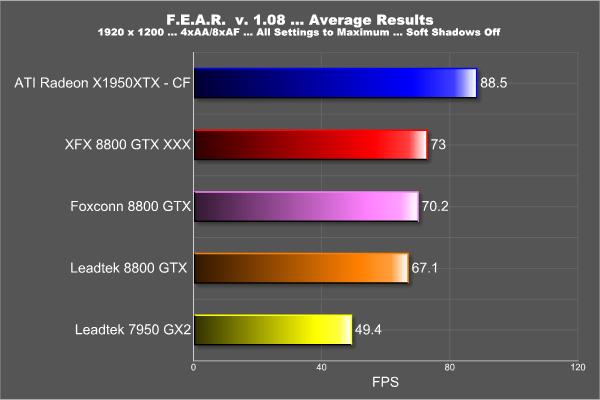 Serious Sam 2
Serious Sam 2 is a first-person shooter released in 2005 and is the sequel to the 2002 computer game Serious Sam. It was developed by Croteam using an updated version of their Serious Engine known as "Serious Engine 2". We feel this game serves as an excellent benchmark which provides a variety of challenges for the the GPU/VPU you are testing. We once again automate the benchmarking process by using benchmarking software from HardwareOC to automate and refine the process.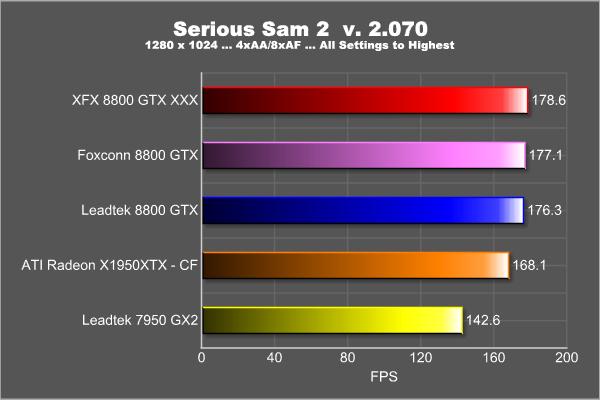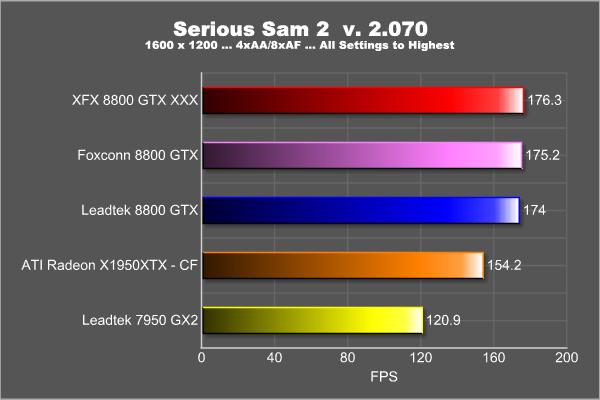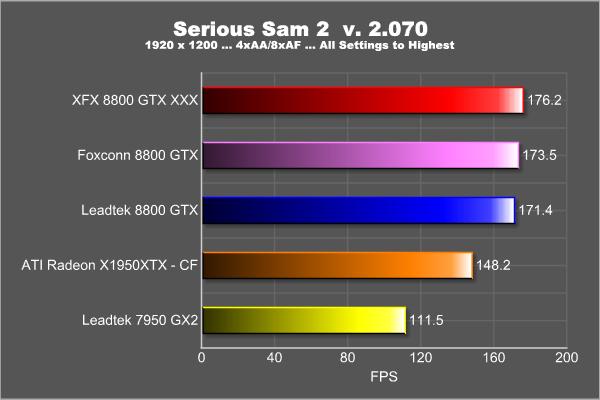 TEST RESULTS
Company of Heroes
Company of Heroes(COH) is a Real Time Strategy(RTS) game for the PC, announced on April, 2005. It is developed by the Canadian based company, Relic Entertainment, and published by THQ. We gladly changed from the first-person shooter based genres of the rest of our gaming benchmarks to this game which is RTS. Why? COH is an excellent game that is incredibly demanding on system resources thus making it an excellent benchmark. Like F.E.A.R. the game contains an integrated performance test that can be run to determine your system's performance based on the graphical options you have chosen. It uses the same multi-staged performance ratings as does the F.E.A.R. test. We salute you Relic Entertainment!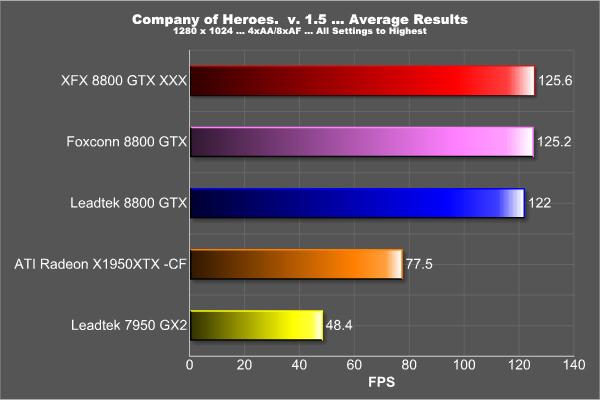 Power Consumption
We decided to measure both the power consumption and temperatures of each of these four cards. To measure power we used our Seasonic Power Angel a nifty little tool that measures a variety of electrical values. We used a high-end UPS as our power source to eliminate any power spikes and to condition the current being supplied to the test systems. The Seasonic Power Angel was placed in line between the UPS and the test system to measure the power utilization in Watts. We measured the idle load after 15 minutes of totally idle activity on the desktop with no processes running that mandated additional power demand. Load was measured after running 3DMark06 for 15 minutes at maximum settings.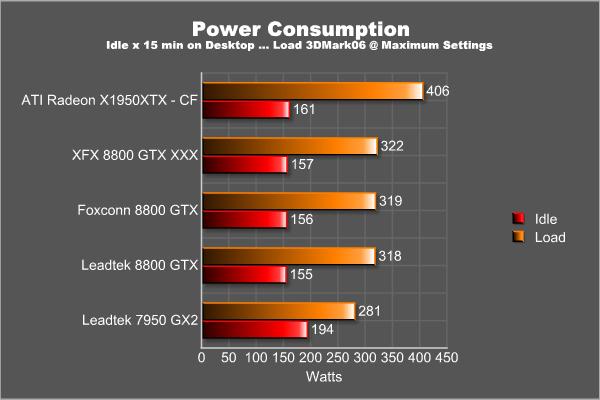 As we would expect, the power consumption of a dual GPU/VPU graphics solution should be higher, linearly speaking, than that of a single GPU/VPU solution. All of the cards tested have somewhat of a voracious appetite for power, the best answer is get used to it and buy the best PSU you can afford if you want the luxury of running any of these products. Guess what, the next generation of graphics cards will probably require even more power.
Temperatures
The temperatures of the cards tested were measured with Everest Ultimate Edition v. 3.50.761 to assure consistency and remove any bias that might be interjected with the respective card's utilities. The temperature measurements used the same process for measuring "idle" and "load" capabilities as did the power consumption measurements.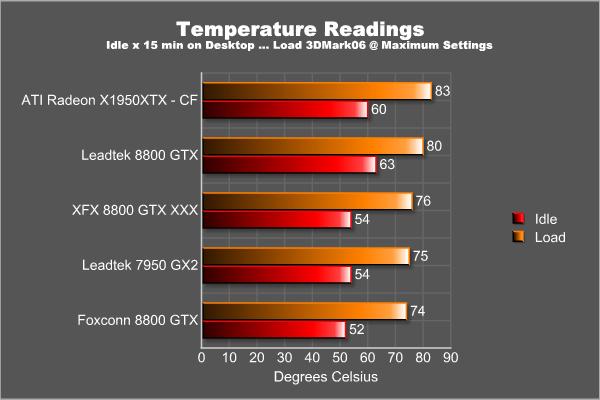 Now that's what I'm talking about! Finally a 8800 GTX card that's has more reasonable temperatures with air cooling. Given our past history with nine 8800 graphics cards under our belt I truly wonder if the cooling used by Foxconn is truly the standard NVIDIA reference cooler or some hybrid variant. It also is far and away the quietest of all the cards it was tested against.
Even when the Foxconn GTX ramped it's fan up under load conditions it was quieter than the competition. Remember also we were running these tests in a completely open HSPC test station in a room that is kept at 20° Celsius (+ 1°:). The moral is these high-end graphics cards produce quite a bit of heat in direct relationship to their power consumption. So make sure your case has plenty of airflow.
Overclocking
Given the phenomenal results that we saw in the benchmarking with the Foxconn® Geforce® 8800 GTX, I was expecting to overclock it to the same level as the XFX Geforce® 8800 GTX XXX (630 MHz core, and 2 GHz Memory) and have some real competition for the XXX graphics card. Well half of this supposition turned out to be true, I was able ascertain a stable clock of 620 MHz core and 1.8 GHz memory. The 630 MHz core clock and 2.0 GHz memory clock started showing some artifacts with the Foxconn card. I ran several sets of benchmarks at the stable clock but was unable to come within a couple of fps of XXX's game benchmarks and within 40 points in 3DMark 2006, but alas the XFX reigned supreme in the overcloced 8800 card ranks.
A number of other reviews that I have read strongly suggest that 630 Mhz mark for core clock and the 2.0 GHz mark for memory are pretty much the maximum for the 8800 series card. After my experiences with four 8800 GTX reviews I also support those as being pretty much the 8800 GTX safe maximum's. Remember it was initially NVIDIA's plan to have no factory overclocked 8800 series cards, for some reason that plan was changed as number of these factory overclocked cards are currently on the market.
CONCLUSION
As the benchmarks certainly show the Foxconn® Geforce® 8800 GTX is the fastest stock 8800 GTX series graphics card that I have reviewed to date. It is very close in many of the gaming tests to the factory overclocked XFX 8800 GTX XXX which is considerably faster on paper. Another thing that is certainly worth reiterating is that this is not only the coolest of the air cooled cards we've reviewed but in my estimation certainly the quietest.
Foxconn's website (for those of you that like to do thorough research on products of this type) is going through what I'd call a transitional phase at this point in time. Remember Foxconn's primary retail customer before the introduction of their retail graphics cards was strictly motherboards. The site contains a fair amount of information about their retail graphics cards but at this point in time is still somewhat slanted towards their motherboard customers.
The Foxconn® Geforce® 8800 GTX sells in the $560 USD price range which I find reasonably priced for a computer enthusiast, although the general consumer might find it a bit steep for their pocketbook. Currently Foxconn is offering a $45 rebate a select retail outlets like NewEgg. I can highly recommend this card to anyone one looking for NVIDIA's top-of-the-line card. Foxconn's vast OEM experience certainly transcends into this retail product from both a quality and performance standpoint.
Pros:
+  Vibrant and very life-like image rendering
+  The fastest stock single GPU/VPU graphics solution I've reviewed to date
+  Highly feature laden
+  Full Microsoft® DirectX® 10 Support
+  SLI™ certified
+  NVIDIA® unified architecture with GigaThread™ technology
+  NVIDIA® Lumenex™ Engine
+  Runs extremely cool and quiet even under heavy load
+  A quality product
+  An incredible bundle of accessories
Cons:
–  A bit expensive for the average consumer
–  The card might be overly long for some mid-tower cases
Final Score: 9.5 out of 10 and the prestigious Bjorn3D Golden Bear Award.
I'd like to extend my sincere appreciation to Isaac Poon and his outstanding staff at the Foxconn, Channel Division for allowing me the opportunity to review this wonderful product.