With the Sparkle Calibre 8800GTX P880+OC, Sparkle and MACS have combined to create the ultimate GeForce 8800GTX card. The card comes with a TEC-unit which manages to cool the card down considerably compared to regular 8800GTX cards.
INTRODUCTION
It is an understatement that we at Bjorn3d like the GeForce 8800 from NVIDIA. So far we have reviewed 9 different GeForce 8800 cards and they all have scored very well. I myself tested the Sparkle 8800 GTX and was blown away by its excellent performance. When I was contacted by Sparkle again to test their newest top of the line 8800GTX card I of course jumped to the chance.
The Calibre P880+ OC Edition is far from a regular GeForce 8800GTX card. Not only has Sparkle overclocked it right out of the box, they also have switched the regular cooler and put a TEC active cooler system on the card.
Will this be the GeForce 8800GTX card to rule them all? Read on to find out.
SPARKLE AND MACS TECHNOLOGY INC
There actually are two companies behind this product. While Sparkle brings the actual video card to the party MACS Technology Inc brings the TEC Active cooling. The company that provided me with the card, dollarshop.nl, actually was the one bringing these two together and as you will see I think it was a great idea.
SPARKLE
Sparkle is a company from Taiwan that makes and sells video cards that use NVIDIA's various GPU's on them. They were established in 1981. Sparkle is one of NVIDIA's launch partners. You can read about the company here.
MACS TECHNOLOGY INC
The company behind the cooler is MACS. This stands for Micro Air Conditioning Solutions. They have been around since 1987 and concentrate on creating PC Cooler products and PC Cases.
MACS Technology Inc. has been concentrating on the manufacture of PC cooler, PC case and communicating related products since 1987. We do have staunchly investigate develop team. The completely manufacture factory makes the best quality and after service.

Our operating concepts are:
Innovated: Always requests the products originalities and differences of design.
Flexible: Feedback the market information promptly and satisfied customers desire.
Valuable appending: Always do the 1+1 greater than 2 businesses for customers.
Even though, we are not a big company but refined products are our target and goals. Therefore, designing and producing classical products with low costs are MACS' common view. We are willing to keep this decision forward.
They probably should hire an English guy to fix their language though.
FEATURES AND SPECIFICATIONS
For a more detailed introduction to the GeForce 8800 family read our introduction.
When you look at the specifications you notice that the Calibre 8800GTX P8800+OC have more juice under its hood than a regular 8800GTX. This is due to the fact that they overclock the card pretty heavy right from the start.
| | | |
| --- | --- | --- |
| Feature/Specification |  Calibre 8800GTX | Regular Sparkle 8800GTX |
| GPU Clock  | 630 MHz | 575 MHz |
| Memory Clock  | 980 MHz | 900 MHz |
| Memory Data Rate  | 1960 MHz | 1800 MHz |
| Memory Size  | | 768 MB |
| Memory Data Width  | | 384 Bits |
| Memory Type  | | GDDR3 |
| ROPS  | 24 | 24 |
| | 128 | 128 |
Both the GPU and the memory has been overclocked with almost 10% from the stock speed.
On the feature side we of course find the features coming from the actual 8800GTX chip:
NVIDIA® unified architectureFully unified shader core dynamically allocates processing power to geometry, vertex, physics, or pixel shading operations, delivering up to 2x the gaming performance of prior generation GPUs
GigaThread™ Technology
Massively multi-threaded architecture supports thousands of independent, simultaneous threads, providing
Full Microsoft® DirectX® 10 support
World's first DirectX 10 GPU with full Shader Model 4.0 support delivers unparalleled levels of graphics realism and film-quality effects
NVIDIA® SLI™ technologyDelivers up to 2x the performance of a single graphic cards configuration for unparalleled gaming experiences by allowing two cards to run in parallel. The must-have feature for performance PCI Express® graphics, SLI technology dramatically scales performance on today's hottest games.
NVIDIA® Lumenex™ EngineDelivers stunning image quality and floating point accuracy at ultra-fast frame rates: 16x Anti-aliasing: Lightning fast, high-quality anti-aliasing at up to 16x sample rates obliterates jagged edges 128-bit floating point High Dynamic-Range(HDR):Twice the precision of prior generations for incredibly realistic lighting effects-now  with support for anti-aliasing
NVIDIA® Quantum Effects™ Ttechnology
Advanced shader processors architected for physics computation enable a new level of physics to be simulated and rendered on the GPU –all white freeing the CPU to run game engine and AI
NVIDIA® ForceWare® Unified Driver Architecture (UDA)Delivers a proven record of compatibility reliability and stability with the widest range of games and applications

ForceWare provides the best out-of-box experience and delivers continuous performance and feature updates over the life of NVIDIA GeForce GPUs

OpenGL® 2.0 optimizations and support
Ensures top-notch compatibility and performance for OpenGL applications
NVIDIA® nView® Multi-Display Technology
Advanced technology provides the ultimate in viewing flexibility and control for multiple monitors
PCI Express supportDesigned to run perfectly with the PCI Express bus architecture, which doubles the bandwidth of AGP 8X to deliver over 4 GB/sec. in both upstream and downstream data transfers.
Dual 400MHz RAMDACs
Blazing-fast RAMDACs support dual QXGA displays with ultra-high, ergonomic refresh rates –up to 2048×

[email protected]

.
Dual Dual-Link DVI Support

Able to drive industry's largest and highest resolution flat-panel displays up to 2560×1600.

Built for Microsoft® Windows Vista™


NVIDIA's fourth-generation GPU architecture built for Windows Vista gives users the best possible experience with the Windows Aero 3D graphical user interface

NVIDIA PureVideo HD technology

NVIDIA® PureVideo™ HD technology is the combination of high-definition movie decode acceleration and post-processing, HDCP circuitry, and integration with HD movie players that delivers the ultimate high-definition movie experience on a PC.

Discrete, Programmable Video Processor

NVIDIA PureVideo is a discrete programmable processing core in NVIDIA GPUs that provides superb picture quality and ultra-smooth movies with low CPU utilization and power.

Hardware Decode Acceleration


Provides ultra-smooth playback of H.264, VC-1, WMV and PEG-2 HD and SD movies.

Spatial-Temporal De-Interlacing


Sharpens HD and standard definition interlaced content on progressive displays, delivering a crisp, clear picture that rivals high-end home-theater systems.

High-Quality Scaling


Enlarges lower resolution movies and videos to HDTV resolutions, up to 1080i, while maintaining a clear, clean image. Also  provides downscaling of videos, including high-definition, while preserving image detail.

Inverse Telecine (3:2 & 2:2 Pulldown Correction)


Recovers original film images from films-converted-to-video (DVDs, 1080i HD content), providing more accurate movie playback and superior picture quality. 

Bad Edit Correction


When videos are edited after they have been converted from 24 to 25 or 30 frames, the edits can disrupt the normal 3:2 or 2:2  pulldown cadence. PureVideo uses advanced processing techniques to detect poor edits, recover the original content, and display  perfect picture detail frame after frame for smooth, natural looking video.

Video Color Correction


NVIDIA's Color Correction Controls, such as Brightness, Contrast and Gamma Correction let you compensate for the different color characteristics of various RGB monitors and TVs ensuring movies are not too dark, overly bright, or washed out regardless of  the video format or display type.

Integrated SD and HD TV Output


Provides world-class TV-out functionality via Composite, S-Video, Component, DVI, or HDMI connections. Supports resolutions up to 1080p depending on connection type and TV capability.

HDCP Circuitry


Designed to meet the output protection management (HDCP) and security specifications of the Blu-ray Disc and HD DVD formats, allowing the playback of encrypted movie content on PCs when connected to HDCP-compliant displays

HD Movie Player Integration


NVIDIA PureVideo HD technology powers the world's leading HD movie player software applications, providing the optimal HD DVD and Blu-ray movie experience.

Noise Reduction :

Improves movie image quality by removing unwanted artifacts.

Edge Enhancement:
Sharpens movie images by providing higher contrast around lines and object
The main feature of the actual card of course is the cooling. Sparkle has worked together with MACS Technology Inc to put a TEC active cooler on the card.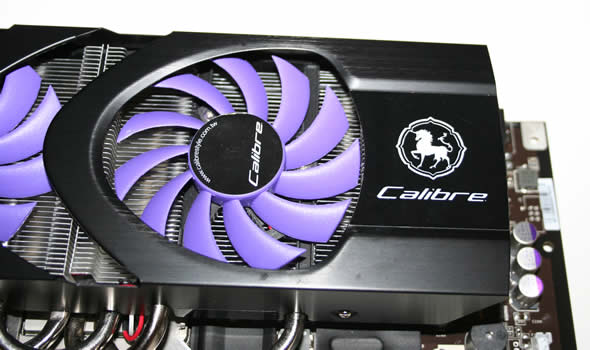 Here's a quick recap of the technology from our friends at Wikipedia:
Thermoelectric cooling uses the Peltier effect to create a heat flux between the junction of two different types of materials.

The Peltier effect is the reverse of the Seebeck effect; a creation of a heat difference from an electric voltage.

 

It occurs when a current is passed through two dissimilar metals or semiconductors (n-type and p-type) that are connected to each other at two junctions (Peltier junctions). The current drives a transfer of heat from one junction to the other: one junction cools off while the other heats up; as a result, the effect is often used for thermoelectric cooling.
Using TEC Cooling Sparkle and MACS hope to keep the GPU much cooler than on a card using the regular NVIDIA cooler. We will see the result in a few pages.
THE CALIBRE PHILOSOPHY
Before we go into the actual card and measure its performance I want to talk a bit about Calibre. Calibre is Sparkle's high-end brand.  The philosophy of Calibre is explained in three words: Uniqueness, Elegance and High Quality.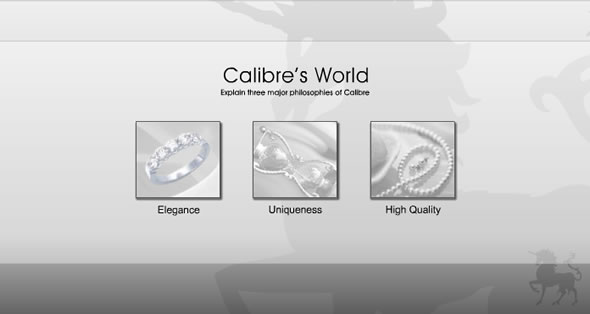 The cards in the Calibre series are built with extra high quality components and tested even more extensively including the heat stress test, packaging vibration test and product dropping test.
When you buy a Calibre card you also get a membership in the Calibre owners club. The main benefit is that the warranty is extended to 3 years. You also are guaranteed a reply from their tech support staff within 48 hours. If you do not register your membership the warranty is "only" 2 years so it certainly pays to sign up for the membership.
The membership is only valid for the first buyer. Also you should be aware that the warranty will be void if you overclock it "improperly", whatever that means.
The three year warranty of course is nice but compared to other companies like BFG and XFX it is quite short. BFG has a lifetime warranty for the original owner while XFX has a lifetime warranty for both the first and the second buyer.
THE BOX AND THE CARD
The Calibre 8800GTX P8800+OC comes in one of the coolest looking boxes I have ever seen. The box is black with subtle pattern and the Calibre logo on it. The logo itself looks very much like the Ferrari horse (probably intentional) although it is a unicorn instead of a stallion. It still looks really cool and stylish.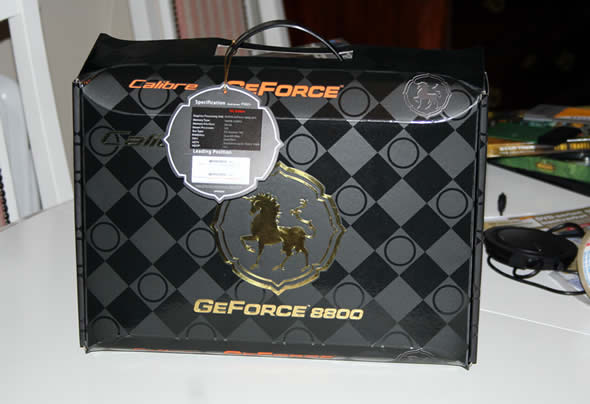 As we open up the box we find the card packed away very nicely inside the box. There should be no risk of a broken card there. In addition to the card you find:
PCIe power cables
Power cable for TEC-cooler
Manual in several languages including English, German, French, Italian, Spanish, Portuguese, Korean, Japanese, and Traditional Chinese
HD-cable (component)
DVI to VGA adapter
The game Painkiller
The choice of game is quite surprising. Painkiller is quite old and it doesn't even include the expansion. I personally would have preferred either a newer game or the latest version of WinDVD, PowerDVD or PureVideo.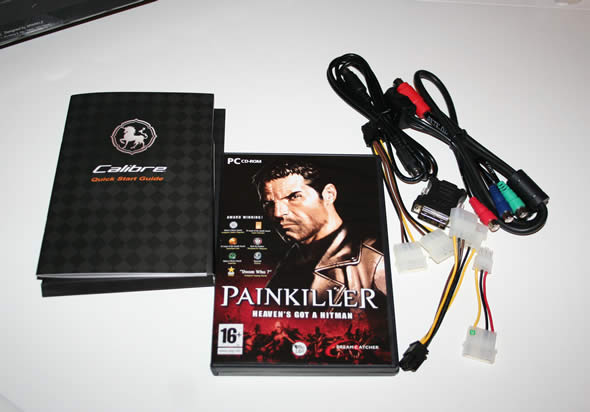 The card itself is quite impressive looking. It is very long and actually was at least a centimeter longer than the eVGA nForce 680i motherboard it sat on. In other words – make sure you have room in your case before buying such a card.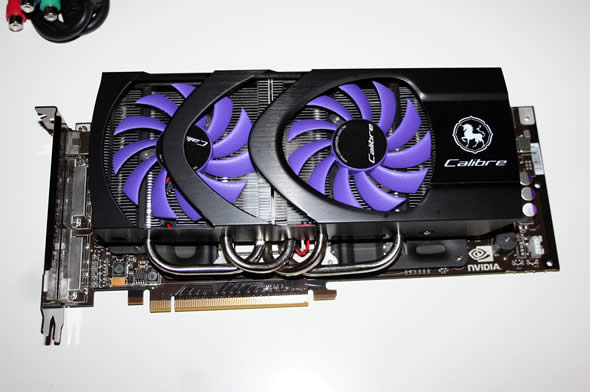 The cooler on top is black with dark purple coolers. On the cooler there is a small sticker with the Calibre logo. I prefer the look of this cooler over coolers using big stickers with mythical images on them. The look of the cooler is perfect for the sophisticated and slightly luxurious feel that the Calibre cards are supposed to have.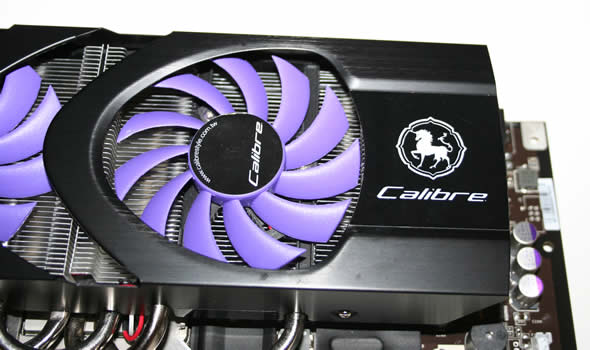 I was surprised that the card still is quite light. However – you still need to fasten it well to the case as the TEC-cooler is so thick that it does make the card weight down to the side if it is not screwed to the case.
If there is something I would object to in the design of the card it is that the heatsinks do not extend to the end of the card. If you look at the image you'll notice that there is a small gap between where the heatsink ends and the back-plate with the holes. There is a slight risk that a bit of hot air that is pumped from the heatsink by the fans actually will go back into the case instead of going out of the case.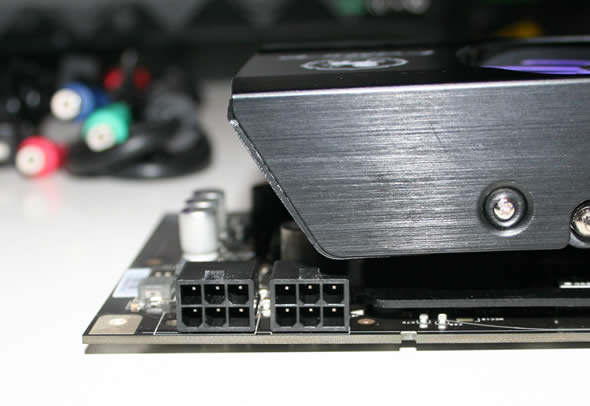 In addition to the two PCI-Xpress power connectors on the card you also have to give the TEC-cooler power through a separate power-cable.
The card was tested in my review machine which consists of the following hardware/software:

Test System
CPU 
Intel Core 2 Duo [email protected]

Motherboards

EVGA 680i

Memory

Corsair XMS2 Xtreme 2048MB DDR2 XMS-1066

HDD

1×80 GB EIDE, 4×320 GB SATA

Video cards

BFG 7900GTX OC
ASUS 8800GTS
Calibre 8800GTX
To test the card we used the following programs: 

Software
3Dmark05 
1920×1280 4xAA 16xAF

3Dmark06

Default

Company of Heroes.
SP Demo

Everything maxed out, 4xAA, 8xAF set in control panel

Quake 4

Ultra quality, 4xAA, 8xAF
TESTING – 3DMARK05 AND 3DMARK06
3DMark05 and 3DMark06 are synthetic benchmarks developed by Futuremark. The measurement unit "3DMark" is intended to give a normalized mean for comparing different GPU/VPUs. They has been accepted as both a standard and a mandatory benchmark throughout the gaming world for measuring performance.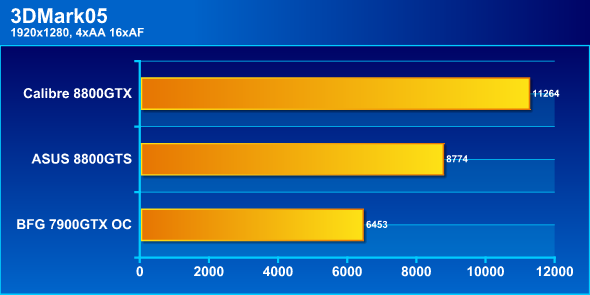 Intel Core 2 Duo E6400 @ 2.13 GHz, 2GB DDR2
When we turn up the resolution and the quality settings the Calibre 8800GTX easily crushes the other cards, including the ASUS 8800GTS.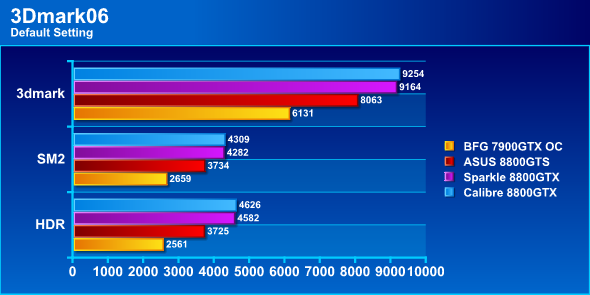 Intel Core 2 Duo E6400 @ 2.13 GHz, 2GB DDR2
When we test the cards in 3dmark06 with its more advanced tests the Calibre 8800 still dominates although the margin is a bit less than in 3dmark05. In the separate SM2 and HDR tests though the difference still is almost 25% between the Calibre 8800GTX and the ASUS 8800GTS. I added the scores from the regular Sparkle 8800GTX which has been reviewed earlier and as you see there is not a big difference between the cards. The extra overclocking does not do that much to these scores.  
TESTING – COMPANY OF HEROES
Company of Heroes(COH) is a Real Time Strategy(RTS) game for the PC, announced on April, 2005. It is developed by the Canadian based company, Relic Entertainment, and published by THQ. We gladly changed from the first-person shooter based genres of the rest of our gaming benchmarks to this game which is RTS. Why? COH is an excellent game that is incredibly demanding on system resources thus making it an excellent benchmark. Like F.E.A.R. the game contains an integrated performance test that can be run to determine your system's performance based on the graphical options you have chosen. It uses the same multi-staged performance ratings as does the F.E.A.R. test. We salute you Relic Entertainment!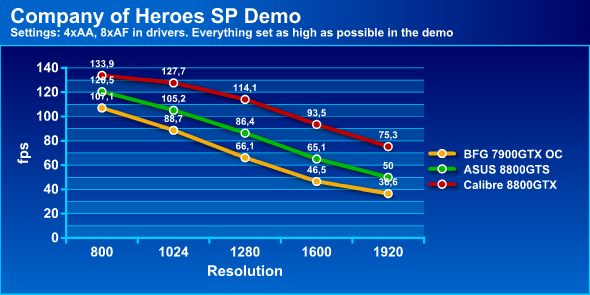 Intel Core 2 Duo E6400 @ 2.13 GHz, 2GB DDR2, Median fps recorded
All three cards drop their median fps as the resolution increases. In the end both the 8800GTS and the Calibre 8800GTX provide you with ample performance all the way up to 1920×1280 although only the Calibre 8800GTX maintains a median fps over the magic 60 fps limit.
TESTING – QUAKE 4
Quake4 was released to gaming world in 2005 the year after Doom 3 by Raven Software. It uses the highly touted Doom 3 engine in its operation which means it also functions with the OpenGL API during rendering. Quake 4 and Doom 3 are two highly valued benchmarks that have lost little popularity since their inception.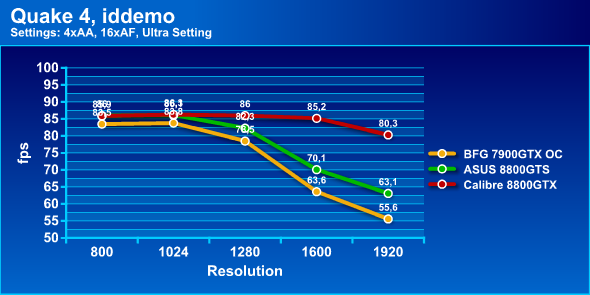 Intel Core 2 Duo E6400 @ 2.13 GHz, 2GB DDR2
As we have seen in other reviews of the 8800GTS that card cannot keep up when the resolution is increased in many games. Quake 4 is one of those games. While the Calibre 8800GTX looses no more than 10% in framerates going from 800×600 to 1920×1280, the ASUS 8800GTS looses 30% in framerate and the BFG 7900GTX even more at a 38% loss. I think the Calibre 8800GTX is ready for the next generation of games. Don't you?
TEMPERATURE, NOISE AND OVERCLOCKING
Temperature
It is unavoidable that a GPU as complex as the 8800GTX will generate a lot of heat. This heat needs to be removed and this is where the TEC-cooling comes into play. I first compared it with the stock cooling of the ASUS 8800GTS which I had at home at the same time.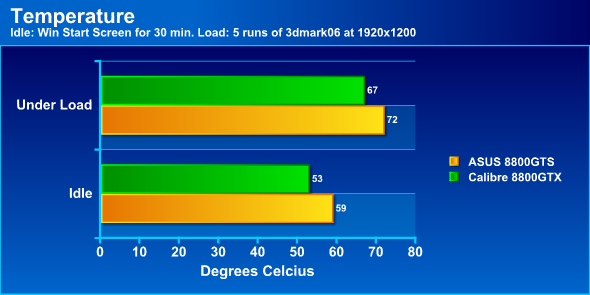 Even compared with a card running a slightly slower version of the GPU, the Calibre 8800GTX manages to take away much more heat and thus let the GPU run cooler.
Since I did not have any other GeForce 8800GTX card at home at the time of testing I asked the rest of the gang at Bjorn3D what temperatures their cards were reporting at full load. The reply I got was that with cards from Leadtek and XFX they saw temperatures at around 80-85 degrees Celcius, quite a lot more than the 67 degrees Celcius the Calibre 8800GTX managed.
Noise
When I reviewed the CPU-cooler from MACS which also uses a TEC-unit to cool the CPU I complained about the noise it was making turning the TEC-unit on and off. I was a bit worried I would encounter something similar here but it turned out I had no need to worry. The Calibre 8800GTX is a really quiet card and never once during my testing did the nosie from the card rise above the noise from all my other components.
Overclocking
Since it did use a good cooler I was hoping to be able to squeeze even more out of the card. Unfortunately I just couldn't get it to work. Even rasing 5-10 MHz on either the GPU or the memory gave issues when running the benchmarks. Since the card already is overclocked 55 MHz and 80/160 MHz for the GPU and memory respectively out of the box it isn't such a big deal if you cannot push it further.
CONCLUSION
When I reviewed the Sparkle 8800GTX I was blown away by it. In fact enough to award it 9.5 paws out of 10. That was back in November. Now almost 4 months later things haven't changed much. The card still is absolutely amazing compared to any of the "old" high-end cards like the X19050XTX or the GeForce 7900GTX and the release of Vista means that it now has a DX10 operating system to run on. Unfortunately the drivers are still rough but that should improve before the first DX10 game (or DX10 patch for a existing game like CoH or Flight Sim) comes out, just as nice is the fact that it runs older DX9 games great. Just before I finished this review I popped Supreme Commander in and played it at 1920×1280 and it looked amazing and played great.
The TEC-cooler actually works very well on this card. I was a bit worried it might have the same issues as the  TEC CPU cooler I earlier reviewed but it turned out it didn't. The temperature drop is definitiely noticable and welcome and all that at a lesser noise level too.
If there is anything to complain about I guess it is that the bundle is a bit weak and that Sparkle should consider to offer the same guarantee that XFX and BFG offer for their cards. But that really is nitpicking.
So in the end my main complaits are price. Not only does the 8800GTX cards cost a lot but the Calibre cards cost even more. They are not easy to find but I found a few stores here in Sweden stocking them and the Calibre 8800GTX cost about $100 more and I'm not completely sure it is worth it over the regular Sparkle 8800GTX. If you however value a silent and cool running card that already is overclocked out of the box then you certainly will be prepared to pay a bit more and should try to find one of these.
Pros
+ It is a really fast card
+ TEC-units works very well and cools the card down well
+ It is a silent card
+ Stylish looking case and card
+ Decently overclocked from the start
Cons
– Weak bundle
– Very long card (make sure it fits first)
– Value compared to a regular 8800GTX could be questioned
– Doesn't seem to overclock that well in addition to the stock overclock.
The Calibre 8800GTX earns an excellent 9 out of 10 and a Golden Bear Award.