QNAP TS-101 is an NAS enclosure which takes SATA hard drives. It supports both SATA 1 and SATA II. It functions as an 9-in-1 NAS Server Turbo Station as it does not only supports NAS, it also comes with a slew of other features and applications. If you need a simple server in your house or you business but does not want the hassle of setting up a full server backbone, then join us as we take a detailed closer look at what QNAP's TS-101 has to offer and see if this NAS can get the job done.
Introduction
The advent of digital age has greatly increased the size and amount of files in our computer.  With the advances of internet, digital music, and digital cameras, storing and sharing data has become a much bigger task than ever.  Luckily the hard drives keep getting larger and the prices are keep falling.  However, sharing these data are not as easy as storing them.  The USB flash drives are nice and easy to transfer files between PCs but the size limit could sometimes make it hard to transfer a large file.  Alternate solution would be using an external storage to transfer the data among PCs.  They do offer much greater storage space than the USB flash drive, but they are limited by only allowing the system at which the storage is attached to access the files.  Another possible solution would be creating a dedicated file server so all computers on the network can access the files.  This is definitely not be a solution for home or small business as the cost would beyond most people's willness to pay.  Even with a simple server, such as an old system to store and share files, the need to have the system turned on 24/7 in order for the files to be accessible, could cost a home user a tremendous amount of electrical bills.  Enter the solution to the data storage and share problem–a Network Attached Storage, or simply NAS.
As oppose to a dedicated file server, where you would need a central system dedicated for file sharing and storage, NAS basically strips everything to a bare minimum and its whole function is just storing and sharing files.  Not only NAS can save a tremendous amount of hardware and maintenance cost from a dedicated server, they also offer an easy way to store large files so that anyone on the network can access them.  In recent years, not only that the cost for NAS has dropped significantly, they are also packed with many other features that are beyond storing and sharing files.  Today, we will be looking at QNAP's Turbo Station TS-101 — 9-in-1 NAS Server.
QNAP TS-101 is an NAS enclosure which takes SATA hard drives.  It supports both SATA 1 and SATA II.  The enclosure which we received does not come with any hard disks.  QNAP advertises the enclosure as an 9-in-1 NAS Server Turbo Station as it does not only supports NAS, it also comes with a slew of other features and applications which we will take a detailed look.
Features:
Let's start by take a look at the feature of TS-101.  It's a long list as it does quite a lot more than simply storing files.

Easy to use, simple set-up in a few steps
Support SATA I / SATA II disk, up to 750 GB or above, and extendable to 1.5 TB by eSATA/USB port
3 high speed 2.0 to support USB printer, disk, digital camera, pen drive card reader, USB Hub
High speed transfer port: 480Mbps USB 2.0, Gigabit Ethernet, 1.5GB eSATA. Data transfer can be done in a flash
Support PHP and SQLite to establish interactive websites.
Supports UPnP multimedia technology for sharing of multimedia files at home
Most reliable data backup: instant/ schedule/ real-time backup
Best heat-dissipation, shock-resistance, anti-collision aluminum design
Fanless, Noiseless, Absolutely Quiet!!!  The Coolest BT Download Partner
ROHS Compliant 
Multimedia Station
TS-101 supports user-friendly web interface to allow administrator to manage albums, authorized users to preview image, audio or video files, and print or play photos by slide show. 
Download Station
TS-101 allows users to add P2P torrent to download list and leave TS-101 to download the files without using PC.
Mirror Station
Unique Q-RAID 1 technology enhances data security. You can mirror all the important data in TS-101 to additional USB hard drive or the latest released eSATA hard drive box.
Disaster Recovery
TS-101 provides remote disk backup over internet connections to another storage device in remote location.  Users can quickly restore their own files even if there is any incident in the location of TS-101.
Web Server
TS-101 enables you to publish your html files as your own website on the Internet. There is no need of going through all the hassles of setting up a web server.
Printer Server
Simply connect USB printer to the USB port of TS-101 to enable printer sharing function without occupying any PC resource.
File Server
Centralize all your data. Files are stored and accessed via network so the need to send large size email or use costly overnight mail to send CD are virtually eliminated.
FTP Server
TS-101 can simplify the procedure of establishing an FTP server in a few steps without the need to seek for MIS help.
Backup Server
TS-101 provides Netbak Replicator to enable PC users to set up schedule for data backup automatically. TS-101 also supports Block Level remote replication to provide reliable, instant and secure data backup.
Hardware and Software Specification
TS-101 is packaged in a huge black glossy box.  The box is splashed with information about the enclosure, it's features, and applications.
Before we take a look at the physical hardware, let's take a closer loook at TS-101's hardware and software specifications:
Hardware
CPU

SoC

DRAM

64MB

Flash Memory

16MB

HDD

1 x 3.5″ SATA I / II HDD, up to 750GB
(the standard system is shipped without HDD)

LAN Ports

1 x Gigabit RJ-45 Ethernet port

LED Indicator

USB, status, HDD, eSATA, LAN, Power

USB

3 x USB 2.0, support USB printer, disk, digital camera, pen drive, card reader, USB hub

eSATA

1 x e-SATA

Buttons

Intelligent USB Auto Copy Button

Power Button

Reset Button

Alarm Buzzer

System Malfunction Warnings

Form Factor

Portable Desktop

Dimension

210(D) x 60(W) x 182(H) mm

Weight

Net weight: 1.2Kg
Gross weight: 2.5Kg

Temperature

0~35 °C

Humidity

0~85% R.H

Power Supply

External power adapter, 36W, 100~240V

Energy-saving Design

Fanless, HDD Sleep Mode
Low power consumption & low noise

Thermal Solution

Heat Release by Aluminum Case

Secure Design

K-Lock Security Slot for Theft Prevention
Power Cord Hook for Kicking-off Prevention
QNAP emphasizes on their box that the SoC processor found on TS-101 is a low power consumption chip.  This will reduce the power usage.  Looking at the hardware specification, you will also notice that TS-101 includes 64MB of DRAM and 16MB of Flash memory.
What is also worth mentioning is that TS-101 comes with a Advanced HDD Health Scanning (HHS).  This feature is embedded into the TS-101 to notify user of bad block before HDD crash.
Software Specification
Operation System

Linux embedded system

Network Transport Protocols

TCP/IP

NetBEUI

Apple Talk

Network File Protocols

Microsoft networks (CIFS/SMB)

Apple (AFP)

Internet (HTTP)

File Transfer Protocol (FTP, max suggested 64 concurrent connections)

OS Supported
(for Client PC)

Microsoft Windows 98/ME/NT/2000/XP/2003

Macintosh system 7.5 or above

Network Management

Fixed IP address

Dynamic IP address

Jumbo Frame

Disk Management

Single disk

Q-RAID 1

with external USB/eSATA Hard disk

Disk usage status management

Check disk / Bad blocks scan

Device Configuration

SATA I / II disk

USB disk

USB printer

eSATA disk

User Management

User account management (max 512 users)

User group management (max 1024 groups)

User can change password

File System Management

Network share management (max 1023 shares)

Share level ACL support

Unicode Support

Journaling file system

Over 4 GB files support

System Tools

E-mail alert (support SMTP authentication)

HDD standby mode setting

Disk usage alert

Auto power on

System firmware upgrade

Change homepage Logo

Backup, Restore, Reset system setting

Event Log

Display system log/alert/error

System Management

Web-based administration (auto detect language)

Quick Install Wizard

LED display

Reset button

Support network time protocol

Multi Language Support

English, Traditional Chinese, Simplified Chinese, Japanese, Korean, French, German, Italian, Spanish, Russia

Backup Management

Support client backup software NetBak Replicator

Schedule to remote replication backup

Block level remote replication

Print server
(Support Windows platform only)

Network printer sharing via USB

Web File Manager

Manage files via webpage

Web Server

Establish

interactive websites with PHP+SQLite

Multimedia Station

Image Slide show, Rotate (+90¢X, -90¢X)

Showing photo information from digital camera

Viewing by thumbnail

Album Management

Multimedia (video, audio) file local play

Supports UPnP/DLNA multimedia technology (iTune, Internet Radio, Automatic File Categorization)

Download Station
(Support Windows platform only)

Support Bit Torrent Download

Download Task Management (automatic relaying if interrupted)

Download Configuration (concurrent download seed number, port setting, upload/download speed)

Download Configuration

Download Status List Management (download percentage)
As you can see, the TS-101 runs on an Linux embedded system and supports both PC and Mac operating systems.  The NAS suports maximum of 512 users and 1024 groups and can support a maximum of 1023 network shares management.  It also supports unicode, journaling file system, 4 GB files transfer, and last but not least 10 languages.
Hardware
When I open up the box, I see an well-protected NAS and an accessory box.  The enclosure is made primarily with heavy-duty aluminum.  There's no fan, so the cooling is all done with the aluminum surface.  It's nice to see a NAS without the fan as it keeps noise down but the TS-101 does get quite hot during operational, an optional or a controlled fan would be a nice feature to have.  The oval shaped enclosure is nice looking.  The included accessories are: an Ethernet cable, two aluminum stands, a startup manual, a bag of screws, and the power adapter.
The enclosure is well protected.  You can see for the picture above the relative size of the enclosure next to the hard drive.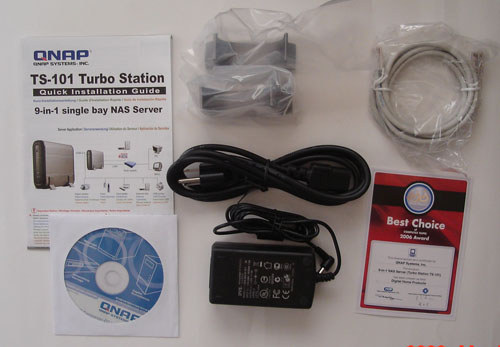 An Ethernet cable, two aluminum stands, a startup manual, a bag of screws, and the power adapter. (note on the picture above the screws are missing as they are already being used with the hard drive)
On the front, you will notice there are few LED indicators to indicate the connector used.  Also, there are a power button, a copy button, and an USB connector.  Looking at the back of the enclosure, you will see the DC in, reset button, the Gigabit LAN port, eSATA, two USB connectors, a keylock for security and a power cord hook.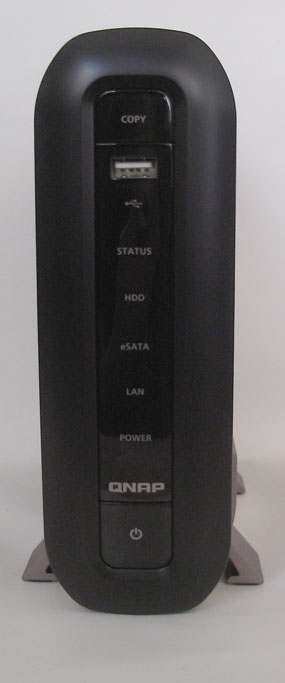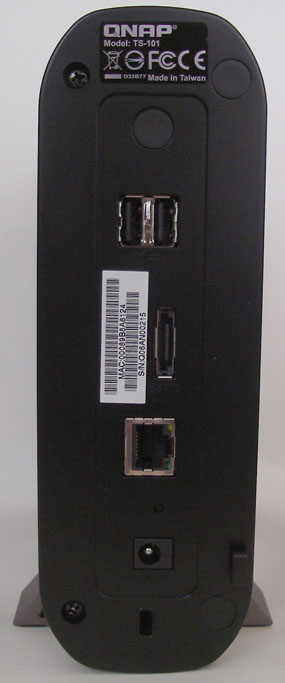 The enclosure is well made and it's quite sturdy.  The stands have padding on them so they will help reduce some noises and won't scratch the case.  Removing the two scrws on the back will lift up the top part of the enclosure to reveal the internal components.  Nothing stands out on the top cover except the front connector's buttons. All the PCB and the back connectors lie on the bottom part of the enclosure.
Installation
Given to the fact that this is just an enclosure, you would need to install your own hard drive.  The installation is quite simple.  Just unscrewing the two screws on the back of the enclosure will remove the top cover.  Then install the SATA hard drive to the connector and secure the hard drive with the screws and you are done.  On QNAP's website, there's a list of compatible hard drives, so before you try to install the hard drive, be sure that your hard drive is on the list.  Both of my Western Digtal WD2500KS and Seagate ST3400620AS installed without any trouble.
The TS-101 that I received comes with firmware version 1.2.0 Build 0713, the first thing I did is update the firmware to the 1.2.1-Build 0822 as this firmware adds new features: UPnP/DLNA functions to support iTunes, Internet Radio, Automatic multimedia file sorting.  The firmware comes in an image file of 12MB file and using the menu interface the flashing/updating is very simple and quick.  After the updating is complete the server needs to be restarted. 
Setting Up
The hard drive installation was quick and easy.  After popping the hard drive into the NAS, the hard drive is recognized immediately.  Although the hard drive does need to be configured before it can be used or mounted to a drive letter under Window's Explorer.  Initial setup can be done either with Quick Installation Wizard Program found in the CD or use the web interface by simply typing in the IP on the NAS directly.  I found that the program is slightly easier to use as it won't require the knowledge of which IP to enter.  Furthermore, it will keep your settings along with IP address the NAS is assigned, so in the future, if the IP of the NAS has changed you can still retrive the information with the program.  For MAC user, it's a slightly more complicated, you would have to add a few more number after the IP as it is described in detail in the manual.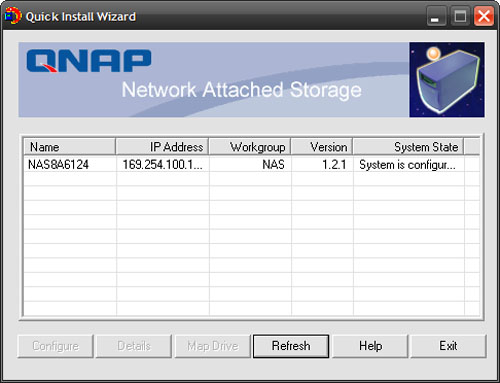 Quick Install Wizard makes hard drive detection, configuration, access a breeze on TS-101.
Regardless of using the program or the Web browser's menu interface, the configuration is all step by step so it's very easy to get the system set-up and running within 10 minutes.  After the initial setup, the drive needs to be activated and formatted to be used.  Once it's finished, the control panel can be accessed through the Web browser either by typing in the IP address or the Server Name that was created during initial setup.  You can even double click on the Quick Installation Wizard to access the web interface.
Features
Once the setup is complete, I start digging into TS-101's vast amount of features and configuration.  It is probably impossible for me to go through every single function that TS-101 can do but I will try to take an overview on what can be done and some of the special features that TS-101 offers.  Since TS-101 comes with whole bunch of features and configurations, for a novice in the NAS or even server setup it could be overwhelming in the beginning.  However, the web interface on TS-101 makes it easy to access these options and how to change them.  Also, the included PDF manual is very thorough and easy to follow.  (a note, no physical manual is provided except the quick start guide)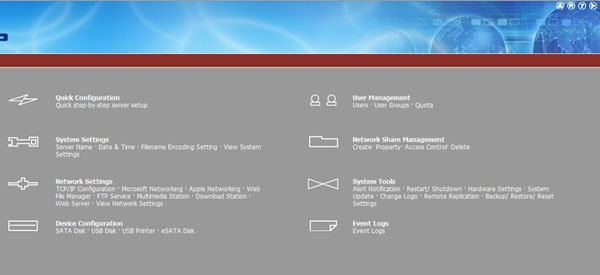 TS-101's menu is divided into 8 categories: Quick Configuration, System Settings, Network Settings, Device Configuration, User Management, Network Share Management, System Tools, and Event Logs.  When you click on one of these 8 options on the Main Menu, it will bring up submenus under each category.  On each submenu, you basically have two panels, a left and right side.  On the left side, there's the submenu categories and on the right side, this is where you will use to adjust different options.  On the top of each submenu, you will see a red strip, which also contains the main menu buttons, so you can easily change between different menus.  On the upper right corner of each page, you will see four buttons, which have functions for back, home, help and logout.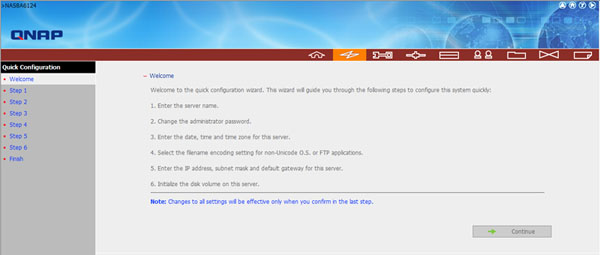 Under System Settings, user can adjust the server's name, date and time, and language.  TS-101 comes with the ability to automatically adjust the date and time to the NTP, so no need to worry about forgetting to adjust your time during day light saving.

The Network Settings allowing users to configure the TCP/IP.  As mentioned earlier, TS-101 supports both PC and MAC, so in here you can adjust how the server communicats for both operating systems.  As you can see TS-101 supports web file server, FTP service, multimedia station, download station, even web server (PHP4, SQLite supported).  TS-101 supports Jumbo Frame Setting (MTU).  If your network (only for Gigabit network), supports jumbo frame then you can configure all the clients on the network to run the same frame size.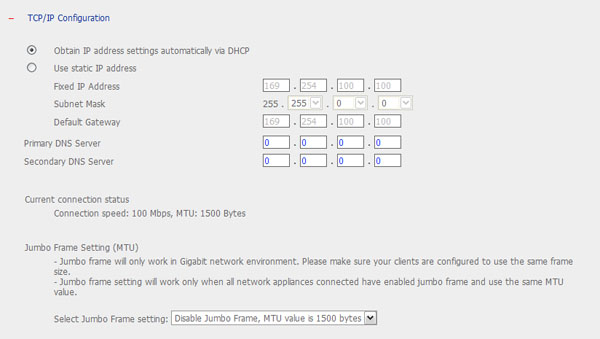 The multimedia station is something worth mentioning.  It actually indexes the image files as they are being stored on a particular folder on the NAS.  The images can be display as slideshows and view as thumbnail, they can be rotated, and the image information can be displayed from digital camera.  Furthermore, TS-101 also offers album management.  Not only that TS-101 supports image display, it also allows multimedia (video and audio) files to be played directly from the server and supports UPnP/DLNA multimedia technology (iTune, Internet Radio, Automatic File Categorization).  To take the advantage of this last feature, you would want to upgrade the firmware to 1.21.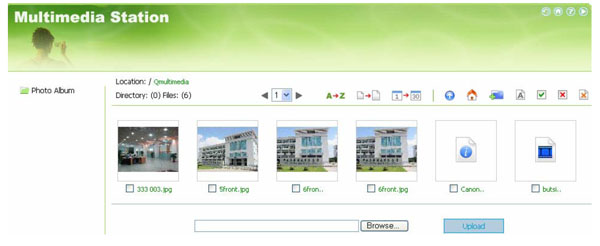 TS-101 support image display.

These are the file fomats which TS-101's Multimedia Station currently supports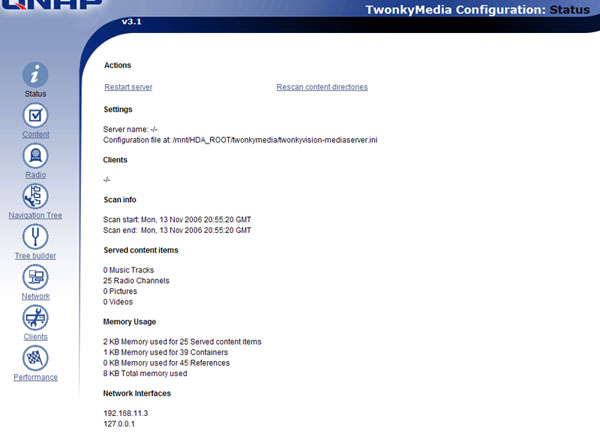 TS-101 also supports Enable UPnP MediaServer.  It allows user to share picture, video, and music files with any media player that supports UPnP.  This feature will share and index files on the designated folder on the NAS and play files on a designated device, eg your TV, iPOd, etc.  When enabled, it will bring up a menu labeled "TwonkyMedia Configuration (quite awkward name:)).  In here you can setup how to setup the UPnP. 
In addition to the included media station, the download station is something that's quite unique to the TS-101.  This feature basically allows automatic downloading of BitTorrent files without a computer.  It's not simply just a download manager for BitTorrents.  TS-101 comes with quite a few configurations, such as limiting share time, limiting download/upload rate, limiting simultaneous connections, port range settings, and even a dump diagnostic information feature.  Although it's a great feature to be able to download files without a computer, I am not sure that without a proper firewall, it would be wise to leave the files open to attacks.

Features, continued
Under Device Configuration, you will see a whole bunch of information regarding to the hard drive attached to the NAS.  In addition, you can configure how the data will be formatted as well as whether to use the attached storage as either additonal space or backup hard drive with the Q-RAID 1 feature.  Q-RAID 1 is a rather interesting function on TS-101, we'll discuss more on the next paragraph.  Currently, the TS-101 only allows 1 additional storage attached to the enclosure, given the fact that the enclosure has 3 USB ports and 1 eSATA port, I would hope that QNAP will support more storage to be attached with their future firmware updates.
As we have discussed earlier, the TS-101 has a Q-RAID 1 function under the Device Configuration Menu.  The Q-RAID 1 allows users to backup data in case of hard drive failure.  What is unique about the RAID function for the TS-101 is that it allows RAID to be setup with the attached USB or eSATA hard drives.  The system only requires manual operation for the first time backing up the files.  Once it is setted up, it will automatically backup the hard drive when the external storage is attached.  Not only does it back up the hard drive, it will also restore the hard drive's data in case of drive failure.
Furthermore, the TS-101 also supports USB Printer sharing.  This is great feature as not only it functions as a server, it also shares any USB printer without the need for a printer server.  A networked printer usually costs anywhere from $50~100 more than a non-network printer.  By incorporating a print sever into the TS-101, QNAP has saved this cost from a home user or a small business.  Unfortunately the TS-101 only supports generic USB printer and not the multi-function printer and this feature is only supported under Windows but not MAC.
The TS-101 offers a lot of controls over how users can access the server.  It can create different accounts for different users, setup user groups, limit the disk quotas, and even create a private network share folder where you will limit who has the access to the which file folders.  What's nice about the user account settings in the TS-101 is that each individual user can change their own password without the administrator.
Not only that different user can be created, TS-101 also allows to create different network share folders for various type of files, and provide different file access rights to users or user groups.  All these options are done under Network Share Management.

Under System tools, users would have to option how to be notified in case of system error or warning events.  The alart could be send via email, so you can be notified in case of the server failure.  In addition, users have other controls to the restart/shutdown, hardware settings, updating the firmware, even changing the logos.  In here, you can also backup/restore/reset settings for TS-101.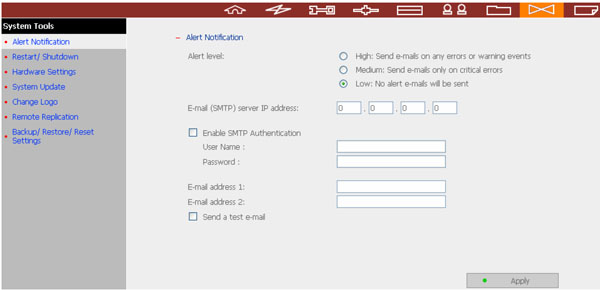 Under Hardware Settings, you will find some nice features.  The TS-101 can set hard drive's standby time.  It can also send out a warning LED signal in case the hard drive's storage is below certain limit.  Also, power resume after a power loss is a great feature in case of a power outtage.

Another interesting feature under System Tools is the Remote Replication.  With Remote Replication, user will be able to replicate files on the TS-101 to another TS-101 or other QNAP NAS series.  Basically this allows replicate of the disk with other QNAP's products.  This is in addition to the Q-RAID 1 that was mentioned above that QNAP has implemnted on the TS-101 to backup data for data safety.  To save transfer time and storage space, the backed up file will be compressed.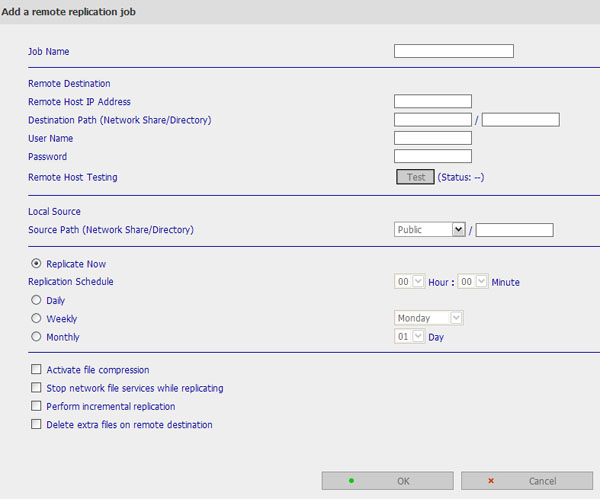 Finally, TS-101 also offers logs for warning, error, and information messages under Event Viewer.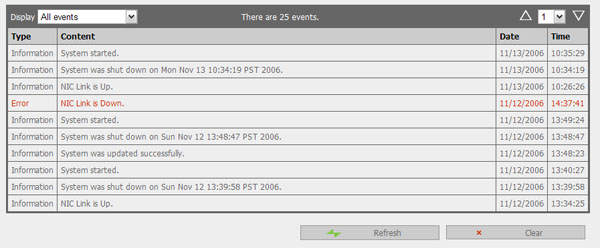 Features
The 9-in-1 feature that QNAP advertises with the TS-101 includes: multimedia station, download station, mirror station, disaster recovery, web server, printer server, FTP server, backup server, and file server, which we have talked about already.  However, the TS-101 can do more.  It also allows direct copy from USB devices (the manual states that the USB device's storage which TS-101 supports are limited to 10GB).  Basically you plug in the USB device and press the "Copy" button on the front of the enclosure and it will automatically copy the file from the USB device to the TS-101 and store them to Qusb folder.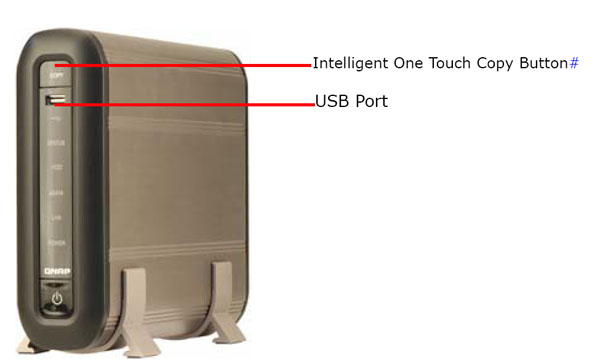 Another great feature from the TS-101 is the NetBak Replicator.  This program will allow user to backup any files or folders on local PC to a specific shared folder on the TS-101 by LAN or WAN.  This feature, however, only works under Windows.  It will allow instant backup, scheduled backup, file filter, monitoring the backups, restoring files, and even keep a log.  This is a great way to backup important files and folders without a full system backup.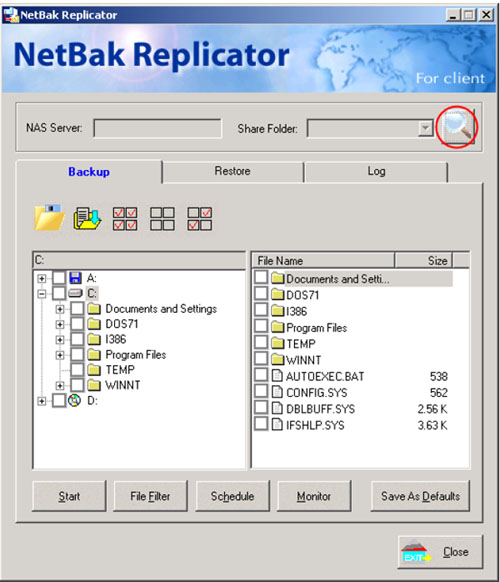 With so many great features, I am very happy to find that TS-101's manual is very well-written and detailed with information on how to configure and setup the NAS.  The startup manual is somewhat confusing and could have been better written but the detailed pdf manual is excellent.
Performance
All right, let's put TS-101 to the test and see how it performs.  The performance of TS-101 is done with iozone 3.263 (www.iozone.org).  The test is done with the 100 Mbps through my existing home network with Buffalo WHR-G54S router.  The following command was used to test the transfer speed of TS-101:
               iozone -Rab -i 0 -i 1 -+u -f -q 64k -n 32M -g 1G –z
This command basically tests the record size of 64kbytes and transferred file sizes of 32, 64, 128, 512 and 1024 Mbytes.
System Setup
Processor: AMD Athlon 64 X2 4200+ Manchester
Memory: 2x G.Skill Extreme Series (F1-3200PHU2-2GBZX)
Motherboard: DFI Lanparty nF4 SLI-DR (BIOS NF4LD406)
Graphics Card: Gigabyte GeForce 7800 GT (GV-NX78T256V-B)
Sound Card: SoundBlaster Audigy 2
Internal Hard drive:  Maxtor DiamondMax Plus10 250GB Hard Drive (Maxtor 6B250S0), 250GB, 7,200 rpm, 16 MB Cache, SATA 150
Testes hard drives: Seagate ST3400633AS-RK Serial ATA (SATA/300), 400GB, 7,200 rpm, 16 MB Cache, SATA 300
LAN: NVIDIA nForce 4 Gigabit ethernet, forceware 6.86  
The result is shown on the next two images.  The first one show the TS-101's write, re-write, read, and re-read's performances using a 64 kbyte record size and file sizes from 32 MB to 1 GB.  The second images shows the CPU utlization during the file transfer.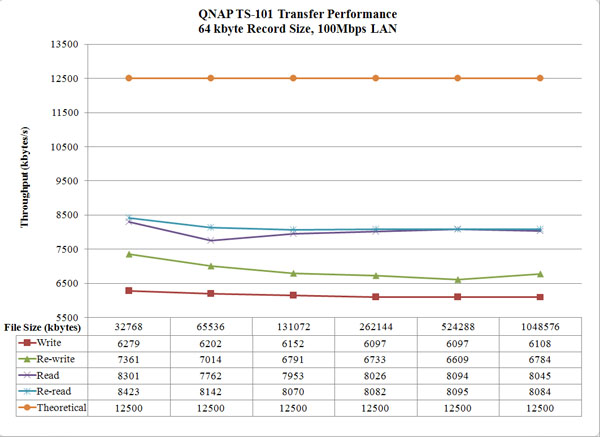 As you can see the write performance of TS-101 is fairly constant regardless of the size of the file.  It averages to about 6156 kbytes/s.  TS-101 offers much better re-write performance than write performance.  The re-write offers better performance with smaller file size than the large file size.  The read and re-read of TS-101 offer much better throughput than the write performance and they are very comparable to each other.  Both read and reread performance seem to work better with smaller size of file than large one.  They average to 8030 and 8149 kbytes/s respectively.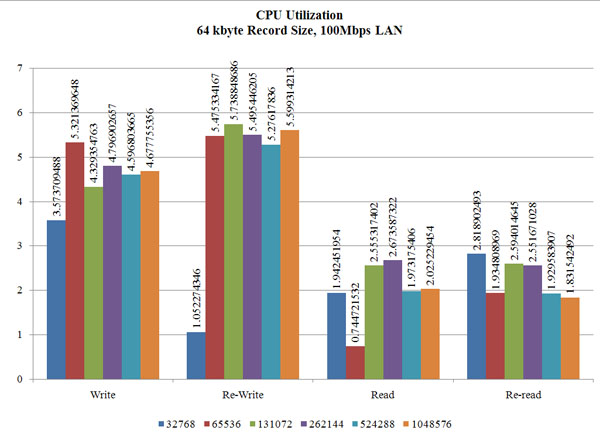 The write/re-write speed of TS-101 is generally much higher than the read/re-read speed.  The write/re-write speed seems to be at the lowest when the file size is small (32MB) and it levels out to be around 4.7% with the write and 5.5% CPU utilizatoin for the re-write.  The increase in the re-write CPU usage could be attributed to higher throughpout with the re-write as seen above.  The read and re-read performances are very similar to each other.  What is interesting as the performances actually utilize less CPU power when the file size is 64MB than other sizes.  The read and re-read averages to be about 2.2% and 2.3% respectively.
UPDATE: THE GIGABIT RESULT
Performance, continued
To get a better sense of real world performance, I copied 4.19 GB (4,509,042,735 bytes) of file (which contains 27 files in 1 folder) to and from the hard drive to the NAS and used my timer to measure the transfer time.  The transfer from internal hard drive to TS-101 is completed at 12:18.30 (mm:sec) and the transfer from TS-101 to the hard drive is completed at 8:26.83 (mm:sec).  They translate to about 6,107,331 byte/s and 8,896,558 bytes/s.  The performance is very similar to what we have seen with the iozone. 
Conclusion
Overall, I found that QNAP's TS-101 is a very user-friendly product.  It's important to be so for a NAS specially considering the buyer maybe either home users or small business where there's no network specialists is available to maintain the server.  Setting it up is a breeze for a novice and getting the features to work is easy to follow with included manual and the web interface is easy to navigate.
The TS-101 is truly a great product.  It brings more to the table than a simple NAS.   Its ability to function as a print server, multimedia server, and features such as simple one-button push external storage copy and eSATA/USB hard drive expansion make TS-101 not just a simple server but rather a multi-functional station.  Not only that the unit is just full of functions and features, it is very well built with nice designs.  The included pdf manual is comprehensive and very easy to read.
What really sets QNAP's TS-101 apart from the competitors is the Q-RAID 1 function, where the ability to use eSATA/USB external storage to backup data not only simplify the RAID setup but also makes data secure an easy task.  Moreover, the Download Station is also an unique feature where only a handful of NAS on the market today carries.  QNAP has thought of not just data security but also the convenience when they design the TS-101.
At a price of $259.99 (which it is currently available at Newegg), I found that QNAP TS-101 is a very well priced NAS with excellent features.  The power saving features that TS-101 included makes it a great buy for home users or small business as every wattage saved is translated intoto money saved.  It's a great buy if you are looking for a NAS that is quiet, power saving, and easy to use.
QNAP's TS-101 will receive a 9.5 out of 10 (extremely good) for its exceptional features and easiness of use and take our coveted Golden Bear Award.

Pros:

     + Easy setup
     + Full of features such as multimedia station, server station, and FTP server
     + Q-RAID 1
     + One touch auto copy function
     + eSATA/USB external storage expansion
     + Quiet and power saving feature
     + Advanced HDD Health Scanning
     + Printe server
     + Download station: ability to download bittorrent files without a PC
     + Gigabit support
Cons:
     – Some features are not available for MAC users
     – The unit gets quite hot when it's in use
Note:
A reader "stmok" has pointed out that since the TS-101 runs on Linux, it would be good to also post the source code's so the techies out there can read/modify the embedded operating system.  Luckily QNAP has posted the source code on their website, take a look at it if you are familiar with the Linux code.
QNAP has done a testing with the heat generated from the TS-101.  Based on their testing, the TS-101 generates significantly less heat in both the CPU and the hard drive when it's working.  You can find their testing at their website.