Please join me at Bjorn3D's Southeastern US test facility (my computer room) where we'll take the ATI® X1950XTX CrossFire™ edition to its limits. It is our plan to test this card in comparison with the two fastest single GPU graphics cards currently on the market. Is it a fair test pitting a dual GPU graphics solution against ones with effectively only half the processing power? We'll soon see!
INTRODUCTION
On August 23, 2006, Bjorn Endre the founder and "Godfather" of Bjorn3D flew to Berlin, Germany and covered the launch of ATI Technologies then new line of graphics solutions which included the X1950XTX, the X1950XTX CrossFire™ Edition, the X1650 Pro and the X1300XT. You can read his launch coverage here. As with most events of this type there was enough information information to sufficiently wet the appetite of the computer enthusiast and product analyst alike. After reading Bjorn's review, I have been very anxious to review a CrossFire based graphics system.
Recently, I built two new Intel Core 2 Duo systems each based on the Intel I975X motherboards. One of the systems was designated as my personal workstation and the other was specific for product reviews. Since CrossFire™ technology was the biggest and baddest dual GPU graphics product available for this system I was stoked to review it. After exchanging a few emails with Will Willis, ATI's North American Public Relations Manager, my request was granted. I received the X1950XTX CrossFire™ components in less than two days, which was absolutely incredible.
Please join me at Bjorn3D's Southeastern US test facility (my computer room) where we'll take the ATI® X1950XTX CrossFire™ edition to its limits. It is our plan to test this card in comparison with the two fastest single GPU graphics cards currently on the market. Is it a fair test pitting a dual GPU graphics solution against ones with effectively only half the processing power? We'll soon see!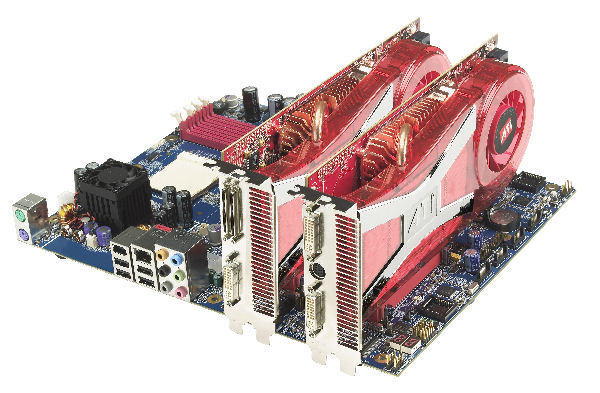 ATI: The Company
ATI Technologies, a Canadian based corporation that is one of the two largest graphics solution developers and manufacturers in the world was purchased on October 25, 2006 by Advanced Micro Devices (AMD). Since the purchase we can only speculate there has been some reorganization within their ranks and as of yet the new structure of ATI/AMD remains a bit of a mystery. That being said we will refer to some quotes from the October press release where AMD outlines (in a gross perspective) some of their future plans for ATI.
"Today marks a historic day for our employees, our partners and our customers as we officially welcome ATI into the AMD family," said AMD Chairman and CEO Hector Ruiz. "On day one, we are delivering a winning set of complementary technologies, igniting a new level of innovation and continuing to champion choice for the industry. Thanks to the strength of our talented employees, the new AMD now has a full range of intellectual property (IP) in microprocessors, graphics, chipsets and consumer electronics to deliver open platforms and integrated solutions. In the near term, customers gain a new level of choice, and in the long term, we believe the possibilities for innovation are truly limitless."

AMD plans to create a new class of x86 processor that integrates the central processing unit (CPU) and graphics processing unit (GPU) at the silicon level with a broad set of design initiatives collectively codenamed "Fusion." AMD intends to design Fusion processors to provide step-function increases in performance-per-watt relative to today's CPU-only architectures, and to provide the best customer experience in a world increasingly reliant upon 3D graphics, digital media and high-performance computing. With Fusion processors, AMD will continue to promote an open platform and encourage companies throughout the ecosystem to create innovative new co-processing solutions aimed at further optimizing specific workloads. AMD-powered Fusion platforms will continue to fully support high-end discrete graphics, physics accelerators, and other PCI Express-based solutions to meet the ever-increasing needs of the most demanding enthusiast end-users.

"With the anticipated launch of Windows Vista, robust 3D graphics, digital media and device convergence are driving the need for greater performance, graphics capabilities, and battery life," said Phil Hester, AMD senior vice president and chief technology officer. "In this increasingly diverse x86 computing environment, simply adding more CPU cores to a baseline architecture will not be enough. As x86 scales from palmtops to petaFLOPS, modular processor designs leveraging both CPU and GPU compute capabilities will be essential in meeting the requirements of computing in 2008 and beyond."

Fusion processors are expected in late 2008/early 2009, and the company expects to use them within all of the company's priority computing categories, including laptops, desktops, workstations and servers, as well as in consumer electronics and solutions tailored for the unique needs of emerging markets.
FEATURES & SPECIFICATIONS
Features
384 million transistors on 90nm fabrication process
Up to 48 pixel shader processors
8 vertex shader processors
Up to 256-bit 8-channel GDDR4 memory interface
Native PCI Express x16 bus interface
Ring Bus Memory Controller
Up to 512-bit internal ring bus for memory reads
Fully associative texture, color, and Z/stencil cache designs
Hierarchical Z-buffer with Early Z test
Lossless Z Compression (up to 48:1)
Fast Z-Buffer Clear
Optimized for performance at high display resolutions, including widescreen HDTV resolutions
Ultra-Threaded Shader Engine
Support for Microsoft® DirectX® 9.0 Shader Model 3.0 programmable vertex and pixel shaders in hardware
Full speed 128-bit floating point processing for all shader operations
Up to 512 simultaneous pixel threads
Dedicated branch execution units for high performance dynamic branching and flow control
Dedicated texture address units for improved efficiency
3Dc+ texture compression o High quality 4:1 compression for normal maps and two-channel data formats
High quality 2:1 compression for luminance maps and single-channel data formats
Complete feature set also supported in OpenGL® 2.0
Advanced Image Quality Features
64-bit floating point HDR rendering supported throughout the pipeline

Includes support for blending and multi-sample anti-aliasing

32-bit integer HDR (10:10:10:2) format supported throughout the pipeline

Includes support for blending and multi-sample anti-aliasing

2x/4x/6x Anti-Aliasing modes

Multi-sample algorithm with gamma correction, programmable sparse sample patterns, and centroid sampling
New Adaptive Anti-Aliasing feature with Performance and Quality modes
Temporal Anti-Aliasing mode
Lossless Color Compression (up to 6:1) at all resolutions, including widescreen HDTV resolutions

2x/4x/8x/16x Anisotropic Filtering modes

Up to 128-tap texture filtering
Adaptive algorithm with Performance and Quality options

High resolution texture support (up to 4k x 4k)
Avivo™ Video and Display Platform
High performance programmable video processor

Accelerated MPEG-2, MPEG-4, DivX, WMV9, VC-1, and H.264 decoding and transcoding
DXVA support
De-blocking and noise reduction filtering
Motion compensation, IDCT, DCT and color space conversion
Vector adaptive per-pixel de-interlacing
3:2 pulldown (frame rate conversion)

Seamless integration of pixel shaders with video in real time
HDR tone mapping acceleration

Maps any input format to 10 bit per channel output

Flexible display support

Dual integrated dual-link DVI transmitters
Dual integrated 10 bit per channel 400 MHz DACs
16 bit per channel floating point HDR and 10 bit per channel DVI output
Programmable piecewise linear gamma correction, color correction, and color space conversion (10 bits per color)
Complete, independent color controls and video overlays for each display
High quality pre- and post-scaling engines, with underscan support for all outputs
Content-adaptive de-flicker filtering for interlaced displays
Xilleon™ TV encoder for high quality analog output
YPrPb component output for direct drive of HDTV displays
Spatial/temporal dithering enables 10-bit color quality on 8-bit and 6-bit displays
Fast, glitch-free mode switching
VGA mode support on all outputs
Drive two displays simultaneously with independent resolutions and refresh rates

Compatible with ATI TV/Video encoder products, including Theater 550
CrossFire™
Multi-GPU technology
Four modes of operation:

Alternate Frame Rendering (maximum performance)
Supertiling (optimal load-balancing)
Scissor (compatibility)
Super AA 8x/10x/12x/14x (maximum image quality)
Specifications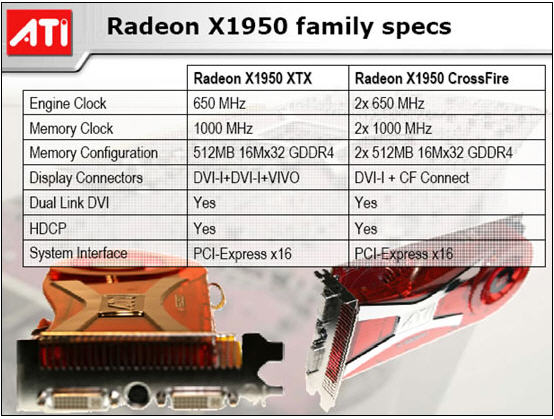 Special Features
Benefits of GDDR4
The R580+'s robust and versatile memory controller is capable of using several types of graphics memory such as GDDR2, GDDR3, and now GDDR4 – a new type of memory aimed to achieve very high frequencies. The Radeon X1950 XTX comes equipped with 512MB of high-speed GDDR4 memory operating at a frequency of 1 GHz (2GHz effective). This gives the Radeon X1950 XTX a 29% memory bandwidth improvement over the previous king of the hill product, the Radeon X1900 XTX. This translates to as much as 15% performance improvement in cases when there is extensive memory usage, such as high graphics settings.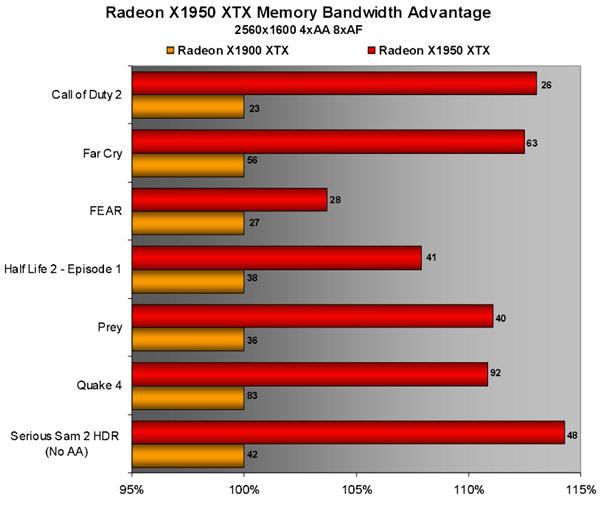 HDR with Anti-Aliasing
High-Dynamic Range (HDR) rendering is one of the most exciting new techniques appearing in new games. It makes use of floating point processing to capture the full range of color and brightness that can be perceived by the human visual system. Although HDR dramatically improves image quality and heightens the gaming experience, the competition's hardware does not support Anti-Aliasing with specific HDR implementations. ATI's line of Radeon X1K hardware has full capabilities to render HDR with Anti-Aliasing. The Radeon X1950 Series offers the benefits of High Dynamic Range lighting, while effectively reducing the amount of aliasing in the scene.
XHD Gaming
Extreme High Definition (XHD) refers to ultra high resolutions in widescreen 16:10 aspect ratios. 1680×1050, 1920×1200 and 2560×1600 are all considered XHD resolutions. The benefits of Extreme High Definition include:
Highest picture clarity
Higher resolution means finer details
Widescreen aspect ratio shows more of the game

CLOSER LOOK:  The Components
As I alluded to earlier both ATI and FeDex did an amazing job of getting the review sample to me as fast as I've ever experienced, especially coming from another country. The package arrived safe and secure and contained three components:
1 – X1950XTX CrossFire™ master card
1 – X1950XTX standard card (slave)
1 – Dongle (connection cable)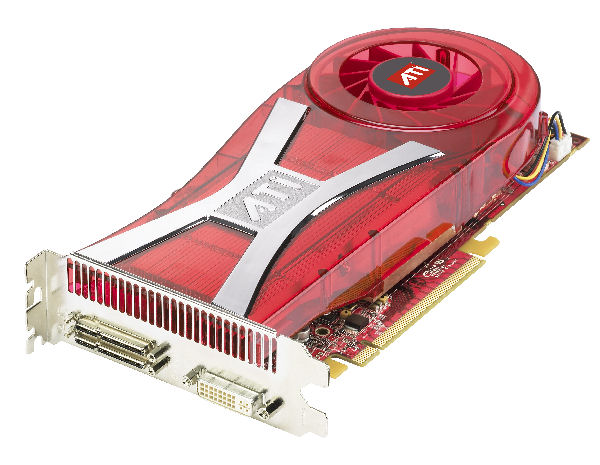 X1950XTX CrossFire™ Master Card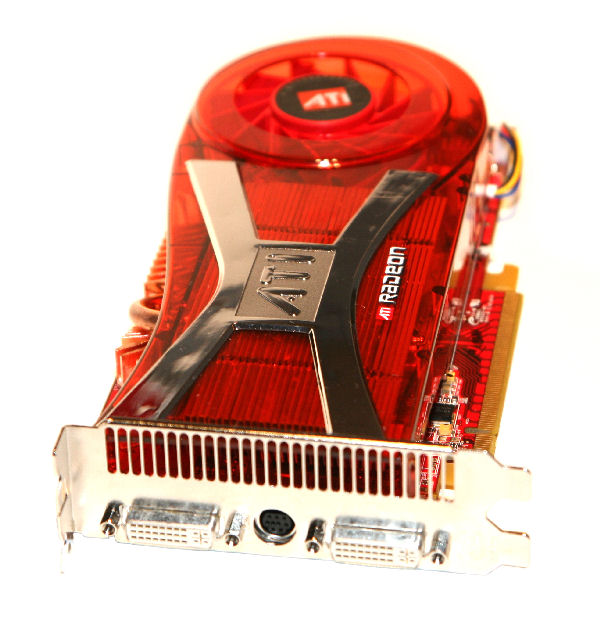 X1950XTX Standard Card
The standard X1950XTX graphics card has two DVI-I connectors and a component video output connector. There are no S-Video or other component outputs on the CrossFire™ master card, only DVI and the special dongle connector. Speaking of the dongle, it's probably one of, if not the most distasteful aspects of CrossFire to consumer enthusiasts. ATI has developed a CrossFire solution for lower performance line of GPUs that doesn't require the use of a specific CrossFire™ master card and CrossFire™ dongle. This solution uses interconnect cable somewhat reminiscent of those use with NVIDIA's SLI systems. I have not seen or tested one of these CrossFire™ systems as of yet, but understand from reading various user comments that performance is somewhat compromised using these interconnect cables.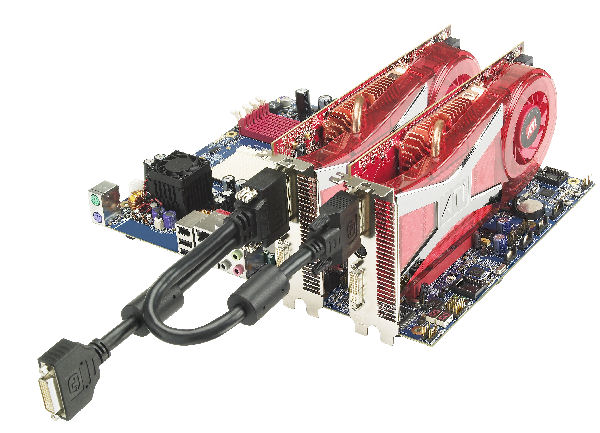 X1950XTX CrossFire™ Cards with Dongle
CLOSER LOOK:  The Components cont.
Being a guy whose absolute favorite color is red, I love the aesthetics of this card. The red background color coupled with the silver logo centered on the card make this absolutely the most stylish looking graphical solution on the market today, in this writer's opinion. From a functionality standpoint the cooling solution implemented on the X1950 series appears to be improved over the X1900 series. A larger fan coupled with the full copper cooler that utilizes heatpipe technology should keep this fire breathing monster in better tow.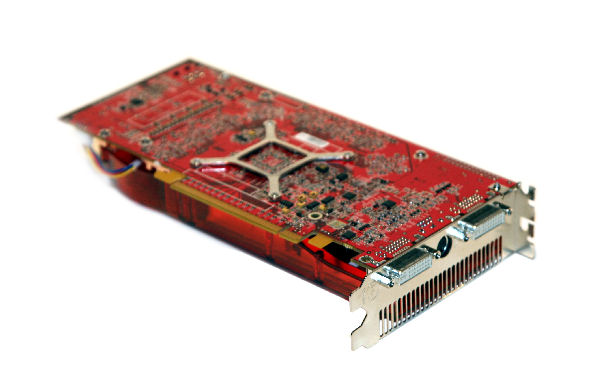 X1950XTX Back View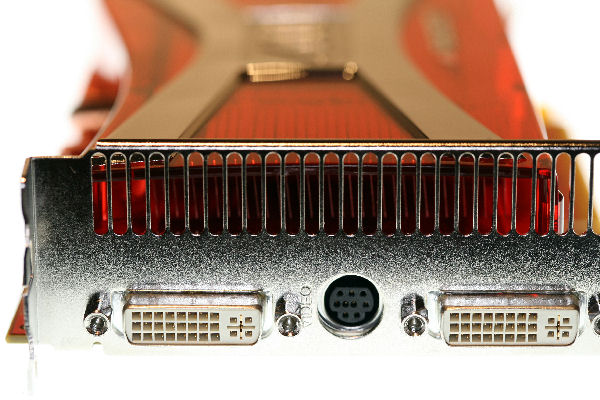 X1950XTX Side View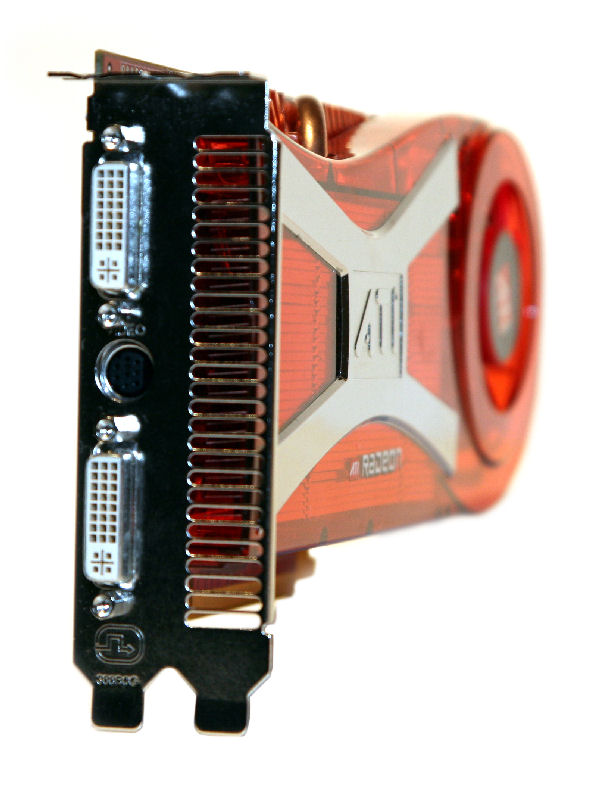 X1950XTX Front to Rear View
The Chips
Both the ATI® X1950XTX CrossFire™ mastercard and the standard card are powered by a similar R580 chip to the one that powered the X1900 series of graphics solutions. The R580 chip in the X1900XTX is however referred to as the R580+. The major differences are the inclusion of a GDDR4 memory controller and GDDR4 memory which is clocked effectively at 1GHz or 400 MHz higher than its X1900 counterpart. The core clock is also upped to 650 MHz which is 75 MHz faster as well.
ATI's R580 Chip
The Rage Theater chip is also present on the X1950XTX which gives the card VIVO functionality.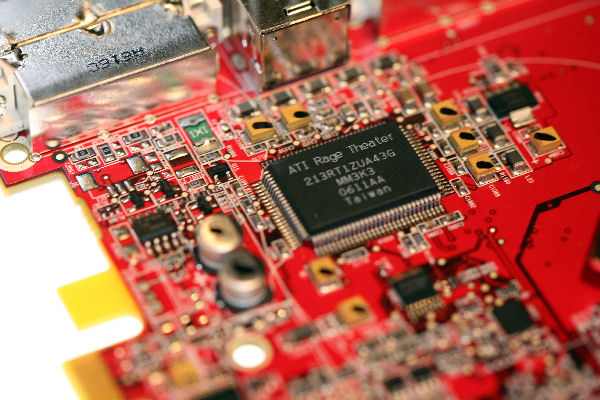 ATI's Rage Theater Chip
Ok, it's time to get on with it! The features are nice, the aesthetics are gorgeous, but we're all here to see how this baby performs … so on with the show.
TESTING
Test Platform

Processor

Intel E6600 Core 2 Duo

Motherboard

ASUS P5W64 WS Professional

Memory

2GB of Mushkin Redline XP2-8000 DDR-2
(4-5-4-11 @ 2.2 volts)

Drive(s)

2 – Seagate 750GB Barracuda ES SATA Drives

Graphics

Test Card 1:   ATI® Radeon™ X1950 XTX CrossFire running Catalyst 6.11 drivers (11/15/2006)

Test Card 2:   Leadtek Winfast®PX8800 GTX TDH running ForceWare 96.89

Test Card 3:   Leadtek Winfast®PX7950 GX2 TDH running ForceWare 91.47

Cooling

Noctua NH-U12F CPU Cooler with Panaflo M1A 38mm Fan

Power Supply

Zippy PSL-6850P(G1) 850 Watt PSU

Case

Large HSPC Tech Station

Operating System

Windows XP Pro SP2
Synthetic Benchmarks & Games
3DMark06 v. 1.02
Call of Heroes v. 1.03
F.E.A.R. v 1.08
Quake 4: ID Net Demo
Doom 3:  Time Demo 1
Far Cry v 1.33
Serious Sam II v 2.070
Testing Methodology
We will be testing the Radeon CrossFire™ vs. the Leadtek Winfast® 7950 GX2 XTX vs the Leadtek Winfast® 8800 GTX which is by far "King of the Hill" when it comes to single GPU graphics solutions. We will run the above captioned benchmarks on both systems with each GPU/VPU set at default speed. Our synthetic benchmark 3DMark06 will be run in default mode with both set at a resolution of 1280 x 1024. All other gaming tests will be run at 1280 x 1024 and 1600 x 1200 resolutions with Anti-Aliasing set to 4X and Anisotropic Filtering set to 8X. Each of the tests will be run individually and in succession three times and an average of the three results calculated and reported. F.E.A.R. benchmarks were also run with soft shadows disabled.
Test Results
3DMark06
3DMark06 developed by Futuremark is a synthetic benchmark used for universal testing of all graphics solutions. 3DMark06 features HDR rendering, complex HDR post processing, dynamic soft shadows for all objects, water shader with HDR refraction, HDR reflection, depth fog and Gerstner wave functions, realistic sky model with cloud blending, and approximately 5.4 million triangles and 8.8 million vertices; to name just a few. The measurement unit "3DMark" is intended to give a normalized mean for comparing different GPU/VPUs. It has been accepted as both a standard and a mandatory benchmark throughout the gaming world for measuring performance.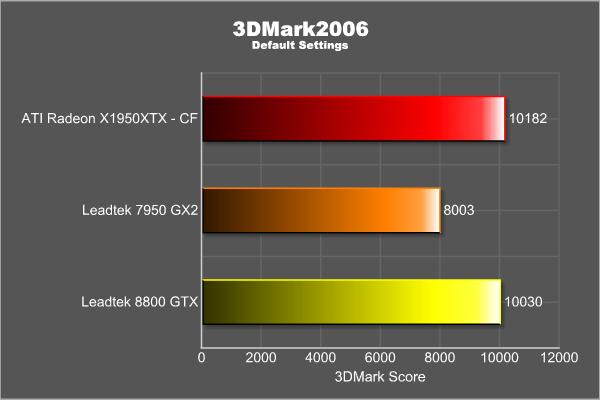 The X1950XTX CrossFire jumps out to an early lead in this synthetic benchmark with the 8800 GTX in a close second place followed at some distance by the 7950 GX2.
Test Results cont.
Doom 3
Developed by ID Software and released to the gaming world in 2004 Doom 3 set a new standard for gamers by its use of the Doom 3 graphics engine is the unified lighting and shadowing. Rather than computing or rendering lightmaps during map creation and saving that information in the map data, most light sources are computed on the fly. This allows lights to cast shadows even on non-static objects such as monsters or machinery, which was impossible with static lightmaps. The Doom 3 engine uses the OpenGL API in its rendering and is still a solid benchmark for current day graphics solutions. Doom 3 is a standard benchmark in our graphics testing suite.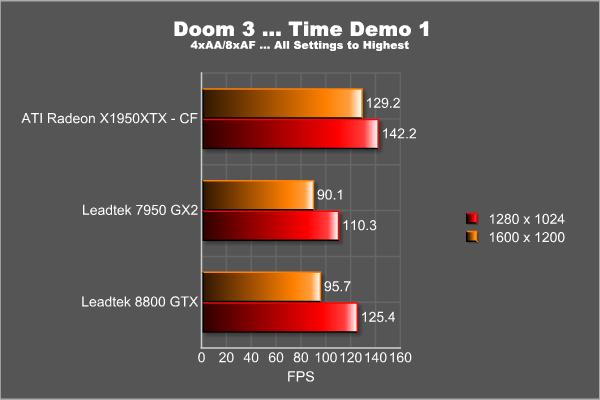 Chalk up another win for the X1950XTX CrossFire this time in the OpenGL arena; again with the same order of finish amongst the other two competitors.
Quake 4
Quake 4 was released to gaming world in 2005 the year after Doom 3 by Raven Software. It uses the highly touted Doom 3 engine in its operation which means it also functions with the OpenGL API during rendering. Quake 4 and Doom 3 are two highly touted benchmarks that have lost little popularity since their inception.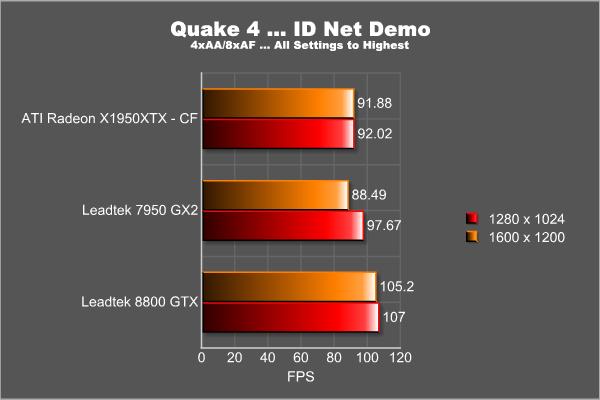 Ah! I was beginning to think this entire session was going to be a "cake walk" for the X1950XTX CrossFire, but here we see the 8800 GTX flexing a bit of muscle also in the OpenGL arena. Quite interesting!
Far Cry
Far Cry is a first-person shooter computer game developed by Crytek Studios and published by Ubisoft in March, 2004. The game is still considered by most to be an excellent test and benchmark of a graphics cards capabilities. Crytek Studios developed their CryEngine which uses "polybump" technology which increases the detail of low-polygon models through the use of normal maps. Far Cry comes with several standard benchmarks built in they must be manually run from the game's console. We automate this process using benchmarking software from HardwareOC to automate the process.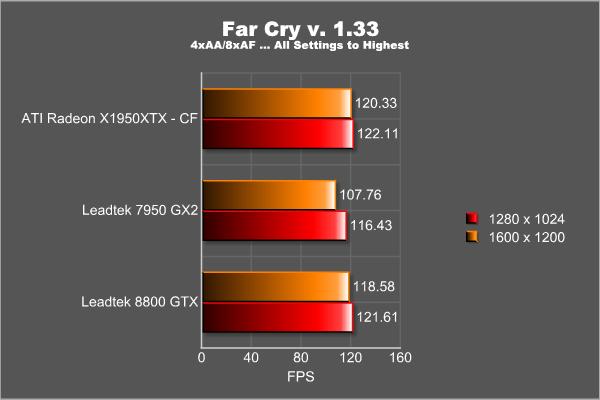 The X1950XTX CrossFire ekes out a win by a very narrow margin over the 8800 GTX with the 7950 GX2 again brining up the rear. I think someone's telling us something here about the 7950 GX2, like maybe it's out of it's league. What amazes me is the extremely small frames per second margin between the 1600 x 1200 scores and the 1280 x 1024 scores for all three cards. If my memory serves me correctly that's three wins to one loss in favor of the X1950XTX.
Test Results cont.
Serious Sam 2
Serious Sam 2 is a first-person shooter released in 2005 and is the sequel to the 2002 computer game Serious Sam. It was developed by Croteam using an updated version of their Serious Engine known as "Serious Engine 2". We feel this game serves as an excellent benchmark which provides a variety of challenges for the the GPU/VPU you are testing. We once again automate the benchmarking process by using benchmarking software from HardwareOC to automate and refine the process.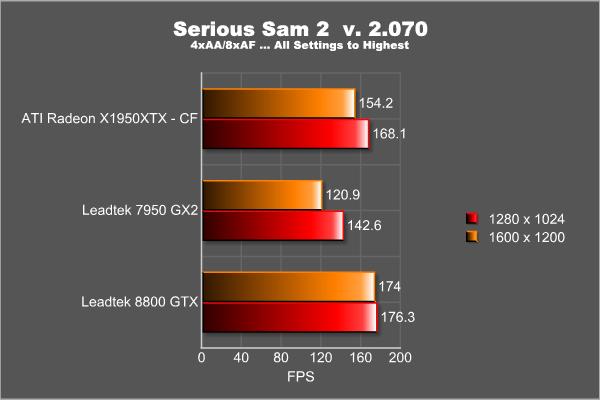 Again the 8800 GTX flexes it's muscle ousting the X1950XTX CrossFire by a slim margin. This brings the score to three wins for the CrossFire system as opposed to two for the 8800 GTX. The race just got tighter!
F.E.A.R
F.E.A.R. (First Encounter Assault Recon) is a first-person shooter game developed by Monolith Productions and released in October, 2005 for Windows. F.E.A.R. is one of the most resource intensive games in the FPS genre of games ever to be released. The game contains an integrated performance test that can be run to determine your system's performance based on the graphical options you have chosen. The beauty of the performance test is that it gives maximum, average, and minimum frames per second rates and also the percentage of each of those categorical rates your system performed. F.E.A.R. rocks both as a game and as a benchmark!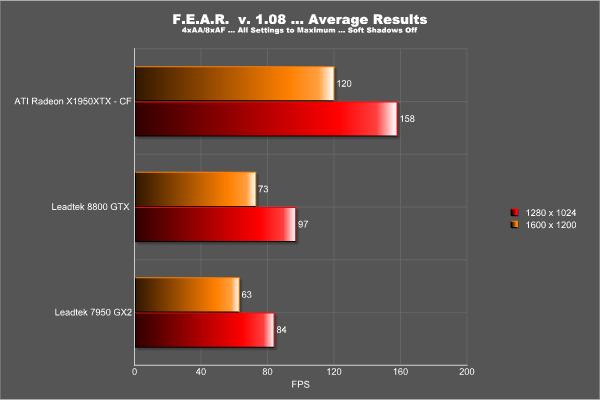 The X1950XTX CrossFire kicks some major butt in this benchmark, I mean it's not even close. Should the 8800 GTX concede a loss with only one test remaining and the score four to two in favor of the X1950XTX. It has been our practice in the last few reviews we've done to run our last test Company of Heroes twice using two different configurations, so there's still a chance for a tie, let's proceed.
Company of Heroes … Test 1
Company of Heroes(COH) is a Real Time Strategy(RTS) game for the PC, announced on April, 2005. It is developed by the Canadian based company, Relic Entertainment, and published by THQ. We gladly changed from the first-person shooter based genres of the rest of our gaming benchmarks to this game which is RTS. Why? COH is an excellent game that is incredibly demanding on system resources thus making it an excellent benchmark. Like F.E.A.R. the game contains an integrated performance test that can be run to determine your system's performance based on the graphical options you have chosen. It uses the same multi-staged performance ratings as does the F.E.A.R. test. We salute you Relic Entertainment!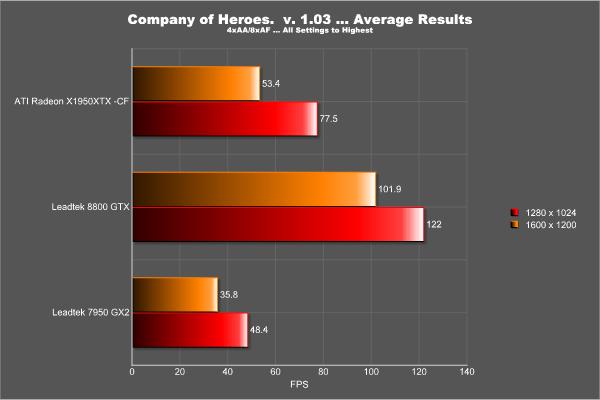 The 8800 GTX is back with a vengeance, it shows around the same margin of victory with this benchmark as the X1950XTX did with F.E.A.R. That's four to three in favor of the X1950XTX with one final test to go. Are you biting your nails yet?
Company of Heroes … Test 2
We decided to push these cards a bit more again using Company of Heroes which is one of if not the most resource intensive games on the market today. We decided to increase the eye candy to 8xAA and 16xAF and see how our competitors handle the additional load.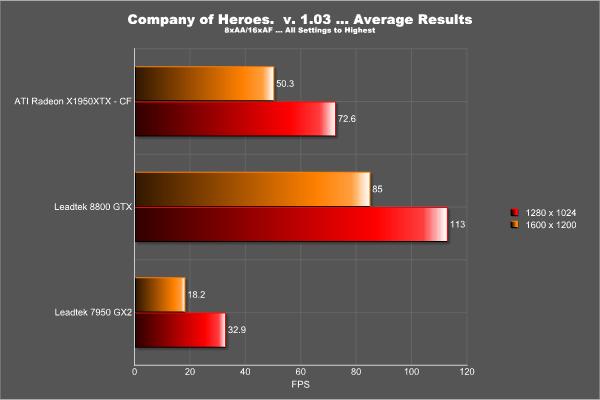 The 8800 GTX took this test in stride and wasn't even breathing hard at the end. The margin of victory over the X1950XTX CrossFire is almost the same as with the first COH test run. That's a tie sports fans and here there are no overtime periods here!
Testing Impressions
Whether you are an ATI® or NVIDIA® fan is irrelevant as our top two competitors both kick some major booty; each in their own realm. There is no single or dual GPU/VPU graphics solution that will perform at its highest level in all tests. A bold statement? Well maybe, but a common sense one to say the least. Almost every game and/or benchmark for graphics cards that is released offers a different challenge to the product being tested.
Most graphics cards perform extremely well in some areas and are not quite as auspicious in others. This is certainly the case here and with most graphics cards that I've tested over the years. Tweaking and overclocking can help but the same holds true for the competition. End result: The X1950XTX CrossFIre is an extremely fast and capable graphics solution that offers a great deal of flexibility in how it's used.
Power Consumption
We decided to measure both the power consumption and temperatures of each of these three cards. To measure power we used our Seasonic Power Angel a nifty little tool that measures a variety of electrical values. We used a high-end UPS as our power source to eliminate any power spikes and to condition the current being supplied to the test systems. The Seasonic Power Angel was placed in line between the UPS and the test system to measure the power utilization in Watts. We measured the idle load after 15 minutes of totally idle activity on the desktop with no processes running that mandated additional power demand. Load was measured after running 3DMark06 for 15 minutes at maximum settings.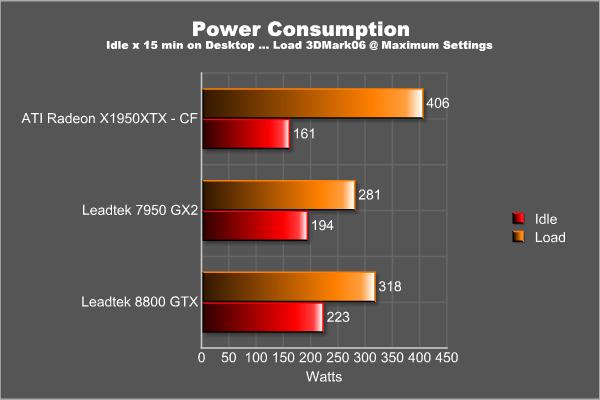 From what we have read we understand that power consumption has been reduced on the X1950XTX CrossFire as opposed to its X1900 counterpart. We applaud ATI for this effort. As we would expect, the power consumption of a dual GPU/VPU graphics solution should be higher, linearly speaking, than that of a single GPU/VPU solution. Both the CrossFire platforma and the 8800 GTX platform are power hungry, the best answer is get used to it and buy the best PSU you can afford if you want the luxury of running either of these products.
Temperatures
We measured the temperatures of the ATI® Radeon CrossFire using the latest Catalyst driver version 6.11. The temperatures of the NVIDIA® based cards was measured using the respective ForceWare software versions used in testing each card. The temperature measurements used the same process for measuring "idle" and "load" capabilities as did the power consumption measurements.
While not totally out of the realm of what we expected to see, the temperatures are higher than we'd like to see. However, they are totally within an acceptable operating range. Remember also we were running these tests in a completely open HSPC test station in a room that is kept at 20° Celsius (+ 1°:). The morale is these high-end systems produce quite a bit of heat in a direct relationship to their power consumption. So make sure your case has plenty of airflow.
CONCLUSION
Well it's to do a brief synopsis of the good, the bad, and the ugly. We can effectively rule out ugly as we didn't find any issues we would classify in that realm; you may if you happen to dislike red, but not this writer. The X1950XTX is by all accounts an excellent card that supports most of today's current features. The cards (CrossFire master card and X1900XTX standard card) are barely three months old and they are already outdated from the standpoint that they are not Shader 4.0 compliant and they do not support DirectX 10. I'm sure the next generation of Radeon graphics solutions based on the R600 chip will support these features. These factors certainly cannot be held against ATI as at the time of production these were not the standards of the day. Talk about technology moving fast!
From a visual perspective I was quite impressed with the image quality the ATI® Radeon X1950XTX CrossFire™ system presented. The colors were quite vivid and vibrant. Benchmark performance was in most cases at or very near the top of the heap. Setup, although not difficult, was more extensive than most graphics cards due to the addition of the infamous dongle which is a royal PITA. We are fervently hoping that future generations of CrossFire™ based graphics cards will find an effective and less troublesome workaround.
A quick search of Bjorn3d's Price Grabber link yielded a price range for a single X1950XTX graphics card in the $400 – $450 USD range. The master card will cost the same and includes the dongle. So you're looking at somewhere in the $800 – $900 USD range to purchase this graphics system. While the price is certainly not outlandish it is on the high end when looking at a dual GPU/VPU graphics solution. It's closes competitor in the testing, the 8800 GTX is only about $200 USD less and it's a single GPU/VPU product. I guess the moral is if you want big boys' toys you have to pay for them.
While the ATI® Radeon X1950XTX CrossFire™ is an excellent product that I can say performs extremely well, I'm not going to suggest you run out an buy one at the current pricing level. Why? One new generation of card is currently on the market from NVIDIA® and the next generation ATI® graphics solution isn't far off, based on what I've garnered from doing my research. Yes they're quite likely to cost even more, but you would then have products that meet the current state-of-the-art standards; and no I'm not going to recommend one platform over the other, purchase the best available at the time you have the need to upgrade. On the other hand, when the price drops and it most certainly will, grab one of these and you won't be at all disappointed.
Pros:
+  Vibrant and very life-like image rendering
+  Exceptional performance
+  Highly feature laden
+  High Dynamic Range Rendering (HDR) compliant
+  CrossFire™ certified
+  HDR with Anti-Aliasing
+  Use of extremely fast GDDR4 memory
+  A quality product
Cons:
–  Runs a tad on the warm side
–  The dongle is a PITA
–  Currently overpriced and slightly outdated
Final Score: 8 out of 10 and the Bjorn3D Seal of Approval.
I'd like to extend my sincere appreciation to Will Willis, Nadia Santoli and their wonderful staff for allowing me the opportunity to review this wonderful product.