The story doesn't exactly end here, about ten days ago I received a call from Scott, one of my bosses at Bjorn3D, asking if I wanted to review the P5W64 WS Professional. Guess what I said? So here we are today ready to put this baby through its paces. Oh! I guess you can readily understand which motherboard I'll be comparing the P5W64 WS Professional to in the testing phase of this review. Did I make the right purchase decision? We'll soon see!
INTRODUCTION
A couple of months ago the Intel® Core 2 Duo series of processors was first officially introduced. The official launch, although very auspicious, was somewhat less hyped than the 2 – 3 months immediately preceding it. During that time, all the enthusiast sites on the NET were abuzz with performance results being leaked from the various engineering samples of the chip that had been acquired. I was, needless to say, caught up in the anticipation and wanted to be one of the first kids on the block to own one of these behemoths.
While ready to purchase the processor the day it was released I quickly realized that as in most major launches the supply almost never meets the demand. I decided to take this interim period to determine the best combination of products that would fit my needs, both personally and as a Product Analyst at Bjorn3D. In short order I found that most of the components I needed were a shoe-in and didn't require a great deal of research before purchase. This was certainly not the case when it came to determining the best motherboard to house my new processor. As it turns out the early release versions of most of the Core 2 Duo motherboards were quite immature. So I purchased all the other components necessary for a system and decided to use a "wait and see" approach for the motherboard.
A month passed and I was getting quite antsy and in the process reading everything I could about the experiences of others and the motherboard(s) they chose. To keep an already long story from getting too much longer lets just say I woke one day, had my wake up caffeine, switched on the computer to get some news and clicked on the link to one of the sites I use for research. There was a veritable plethora of information about a new workstation styled board from ASUS® that was churning out some amazing numbers, the P5WDG2 WS Professional; in just over a week I had one. Normally the story would end here but as with any other high-tech computer product ASUS shortly after this announced the birth of a very similar board with even newer and more exciting features, the P5W64 WS Professional. Well I was not going to spend another tidy sum on a new motherboard when the one I had was working just fine.
The story doesn't exactly end here, about ten days ago I received a call from Scott, one of my bosses at Bjorn3D, asking if I wanted to review the P5W64 WS Professional. Guess what I said? So here we are today ready to put this baby through its paces. Oh! I guess you can readily understand which motherboard I'll be comparing the P5W64 WS Professional to in the testing phase of this review. Did I make the right purchase decision? We'll soon see!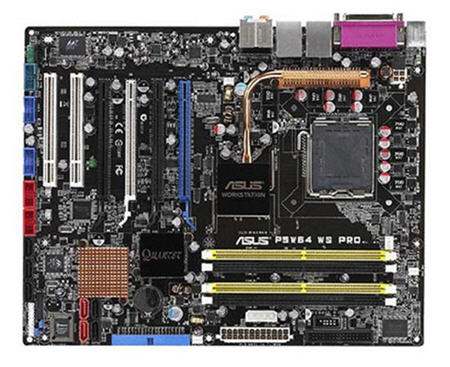 ASUS: The Company
ASUS, a technology-oriented company blessed with one of the world's top R&D teams, is well known for high-quality and innovative technology. As a leading provider of 3C (computers, communications and consumer electronics) total solutions, ASUS offers a complete product portfolio to compete in the new millennium.
In 2005, ASUS shipped 52 million motherboards, which means one out of every 3 desktop PCs sold last year was powered by an ASUS motherboard. If we line them up side by side, the length will be longer than the distance from New York to San Francisco.
ASUS products' top quality stems from product development. It's like learning Chinese Kung-Fu; one must begin with cultivating the "Chi" and inner strength. Besides innovating cutting-edge features, ASUS engineers also pay special attention to EMI (electromagnetic interference), thermal, acoustics and details that usually go unnoticed to achieve complete customer satisfaction. ASUS notebooks are the first TCO'99-certified notebooks worldwide. The requirements for this honor include radiation emission control, energy (battery consumption), ecology (environment friendly) and ergonomics.
Imagine innovations that simplify our lives and enable us to realize our full potential. It is technologies' responsibility to accommodate us, not the other way around, because all devices should perform and communicate seamlessly anytime, anywhere. ASUS thrives to become an integrated 3C solution provider. (Computer, Communications, Consumer electronics.)
Over the past 2 decades, technology has changed the way we live and experience the world. We have been enabled to work, play, learn, and communicate in ways we have never before thought possible. Since its inception, ASUS has been the cornerstone of this evolution. 1 out of every 4 desktop PCs in the world today has an ASUS motherboard inside. As a major player of this evolution, we have established our corporate mission … ASUS mission:   Provide innovative IT solutions that enpower people and businesses reaching their full potential.
FEATURES & SPECIFICATIONS
Features
Intel CPU Features
LGA775 Intel® Core™2 Processor Ready:  This motherboard supports the latest Intel® Core™2 processors in LGA775 package. With new Intel® Core™ microarchitecture technology and 1066 / 800 MHz FSB, Intel® Core™2 processor is one of the most powerful and energy efficient CPU in the world.
Intel® 65nm Dual-Core CPU support:  This motherboard supports Intel Pentium D/Pentium 4/Celeron dual-core processors built on the 65-nanometer (nm) process technology with copper interconnect.
Intel® MPT (Intel® Memory Pipeline Technology):  The Intel® Memory Pipeline Technology (Intel MPT) delivers additional system-level performance by optimizing memory access between CPU and system memory, and allows increased performance at standard operating specifications.
Intel 975X chipset:  The Intel 975X is the latest chipset designed to support Dual PCI Express graphics, along with the maximum 8GB dual-channel DDR2 667/533 architecture, 1066/800 FSB (front-side-bus), and Dual-core CPU. Easily build a n workstation or create a multimedia environment with its exceptionally high bandwidth. Together with the Serial ATA ports enabled through the SATA 3Gb/s RAID controller integrated in the ICH7R Southbridge, the Intel 975X satisfies multi-task processing and data security.
Intel Chipset Features
Advanced Thermal Design:  ASUS has devoted special efforts to address the thermal issues across the motherboard, and most notably the areas that reside the CPU, power, Northbridge and Southbridge.
ASUS Special Feature – Thermal
Stack Cool 2:  Stack Cool 2 is a fan-less and zero-noise cooling solution offered exclusively by ASUS. It effectively transfers heat generated by the critical components to the other side of the specially designed PCB (printed circuit board) for effective heat dissipation.
8 Phase Power Design:  ASUS 8-Phase Power Design keeps CPU and power module away from suffering risk of high power stress, which makes CPU lifetime much longer and system more stable. Furthermore, It provides high efficiency operation to generate less heat than conventional power solutions and consequently achieve cool system environment. With this strong power pump, this motherboard is made for overclocking.
Fanless Design: Heat-pipe Thermal solution:  Cooling fans, though a popular thermal solution, also come with noise and malfunction likelyhood. ASUS Motherboard's fansless concept is specifically created to provide a cool environment without all the baggage.
The heat pipe, heat sinks and strategic board layout were tailor made to dissipate heat in the most efficient manner.
ASUS Special Feature – Performance
AI Clock Skew:  AI Clock Skew automatically skews the memory clock signal timing, thus improving memory overclocking capability by 10 to 15%, depending on the memory features when users overclock memory frequency. Users can easily enjoy better memory overclocking without strenuously fine-tuning the clock signal timing. For professional users, they can still adjust each memory channel's clock signal separately to reach the highest memory frequency.
ASUS O.C. Profile:  The motherboard features the ASUS O.C. Profile that allows users to conveniently store or load multiple BIOS settings. The BIOS settings can be stored in the CMOS or a separate file, giving users freedom to share and distribute their favorite overclocking settings.
Precision Tweaker:  It offers ways to raise system performance inch-by-inch and step-by-step to achieve maximum performance! This is about getting the most out of your machine and taking pride in your customized computer.
AI NOS™:  Applications such as 3D games and video editing demand a huge chunk of system resource. Inject "nitrous oxide" into your CPU! The patented AI NOS™ (Non-delay Overclocking System) technology intelligently detects system load and automatically boosts performance for the most demanding tasks. Unlike other dynamic overclocking techniques, AI NOS™ reacts much faster to satisfy your unending need for speeds.
PEG Link:  This latest technology, PEG (PCI Express Graphics) Link Mode, is a unique feature that enables users to boost graphics card performance for superior video quality. PEG Link allows users to raise GPU and VGA memory throughput via the motherboard BIOS the same way system bus and memory bus are tweaked. PEG Link Mode enables powerful video performance on DX8 and DX9 applications. ASUS engineers carefully fine-tuned the parameters for every single PCI-Express card to provide system stability during high-speed graphics operation.
ASUS Special Feature – Others
AI Gear:  To balance both system performance and quietness, AI Gear allows users to choose from profiles to adjust CPU frequency and vCore voltage, minimizing system noise and power consumption. Users can real-time change the mode under operating system to suit their needs.
AI Nap:  With AI Nap, users can instantly snooze your PC without terminating the tasks. System will continue operating at minimum power and noise when user is temporarily away. It keeps downloading files or running applications in quietest state while you're sleeping. Simply click keyboard or mouse, you can swiftly wake up the system in few seconds.
ASUS Q-Connector:  The ASUS Q-Connector allows you to connect or disconnect chassis front panel cables in one easy step with one complete module. This unique adapter eliminates the trouble of plugging in one cable at a time, making connection quick and accurate.
ASUS CrashFree BIOS 3:  The ASUS CrashFree BIOS 3 allows users to restore corrupted BIOS data from a USB flash disk containing the BIOS file. This utility saves users the cost and hassle of buying a replacement BIOS chip.
ASUS EZ Flash 2:EZ Flash 2 is a user-friendly BIOS update utility. Simply launch this tool and update BIOS from a USB flash disk before entering the OS. You can update your BIOS only in a few clicks without preparing an additional floppy diskette or using an OS-based flash utility.
ASUS MyLogo2:  The ASUS MyLogo2 is the new feature present in the motherboard that allows you to personalize and add style to your system with customizable and animated boot logos.
Interface Features
PCI Express Architecture:  PCI Express is the latest I/O interconnect technology that will replace the existing PCI. With a bus bandwidth 4 times higher than that of AGP 8X interface, PCI Express x16 bus performs much better than AGP 8X in applications such as 3D gaming. PCI Express x1 also outperforms PCI interface with its exceptional high bandwidth up to 500MB/s. The high speed PCI Express interface creates new usages on desktop PCs e.g., Gigabit LAN, 1394b, and high-speed RAID systems.
Dual Gigabit LAN:  The integrated dual Gigabit LAN design allows a PC to serve as a network gateway for managing traffic between two separate networks. This capability ensures rapid transfer of data from WAN to LAN without any added arbitration or latency.
High Definition Audio:  Enjoy high-end sound system on your PC! The onboard 8-channel HD audio (High Definition Audio, previously codenamed Azalia) CODEC enables high-quality 192KHz/24-bit audio output, jack-sensing feature, retasking functions and multi-streaming technology that simultaneously sends different audio streams to different destinations. You can now talk to your partners on the headphone while playing a multi-channel network games. All of these are done on one computer.
SATA on the Go:  The P5W64 WS Professional supports the next-generation hard drives based on the Serial ATA (SATA) 3Gb/s storage specification, delivering enhanced scalability and doubling the bus bandwidth for high-speed data retrieval and saves. The external SATA port located at the back I/O provides smart setup and hot-plug functions. Easily backup photos, videos and other entertainment contents on external devices.
IEEE 1394a interface:  IEEE 1394a interface provides high speed digital interface for audio/video appliances such as digital television, digital video camcorders, storage peripherals & other PC portable devices.
RoHS
GreenASUS:  The motherboard and its packaging comply with the European Union's Restriction on the use of Hazardous Substances (RoHS). This is in line with the ASUS vision of creating environment-friendly and recyclable products and packaging to safeguard consumers' health while minimizing the impact on the environment.
FEATURES & SPECIFICATIONS cont.
Specifications
P5W64 WS Professional Specifications

CPU

LGA775 socket for Intel® Pentium Processor
Extreme Edition / Pentium D / Pentium 4 / Celeron CPU
Support Intel 65nm, Core™2 Extreme / Core™2 Duo
Support Intel next generation Mulit-Core CPU
Compatible with Intel 06B, 05B/ 05A and 04B/04A processors
Intel EM64T and Hyper-Threading Technology ready

Chipset

North Bridge: Intel 975X (support ATi CrossFire dual Gfx technology)
South Bridge: Intel ICH7R
PCIe Switch: IDT 89HA0324

Front Side Bus

1066/800 MHz

Memory

4 x DIMM, max. 8GB, DDR2 667/533, ECC and non-ECC un-buffered memory
Dual channel architecture
Native DDR2 800 Support

Expansion Slots

4 x PCI-E x 16 slots
2 x PCI 2.2

Storage

Intel ICH7R controller supports:
– 4 x SATA 3.0Gb/s (RAID 0,1,10,5)
– 1 x UltraDMA 133/100
Marvell 88SE6145 supports:
– 3 x SATA 3.0Gb/s (RAID 0,1,10)
– 1 x eSATA 3.0Gb/s

Audio

ADI 1988B 8-channel High Definition Audio CODEC
Support Jack-Sensing, Enumeration, Multi-streaming and Jack-Retasking
Coaxial, Optical S/PDIF out on back I/O port

LAN

Marvell 88E8052 + 88E8001PCI-E Dual Gb LAN controller
Support Teaming function

USB

8 x USB 2.0 ports

Overclocking Features

ASUS AI NOS™
AI Overclocking
AI Clock Skew
ASUS PEG Link
Hyper Path 3
ASUS BIOS Profile
ASUS C.P.R.
ASUS AI Booster
Adjustable FSB/DDR2 ratio
Fixed PCI/PCIe frequencies.

Precision Tweaker:
– vDIMM: 12 step DRAM voltage control
– vCore: Adjustable CPU voltage at 0.0125V increment
– SFS (Stepless Frequency Selection): allowing FSB tuning from 100 MHz up to 550 MHz at 1MHz increment
– PCIe x16 Frequency: allowing PCIe x16 frequency from 90MHz up to 150MHz at 1MHz increment

Advanced Thermal Design

8-Phase Power Design
Stack Cool 2
Q-Fan 2
ASUS Heat-pipe thermal solution

ASUS AI Lifestyle Features

Multi-language BIOS
SATA on the Go
AI Nap
AI Gear
My Logo 2

Other ASUS Special Features

ASUS AI NET2
CrashFree BIOS 3
EZ Flash 2
Q-Connector
ASUS AI Quiet
TPM (Trusted Platform Module) 1.2 (optional)

Back Panel I/O Ports

Parallel
PS/2 Keyboard
PS/2 Mouse
RJ45
S/PDIF Out (Coaxial + Optical)
4 x USB
eSATA
Audio I/O
WLAN antenna jack (Optional)

Internal I/O Connectors

4 x USB
8-pin ATX+12V power
24-pin ATX Power connector
Chassis intrusion
CPU fan with PWM control
Chassis fan1 with Q-fan control
Chassis fan2 with Q-fan control
PWR fan
IDE connector
Floppy disk drive connector
Serial ATA connectors
CD audio in
IEEE 1394a port
Front panel audio connector

BIOS

8Mb flash ROM, AMI BIOS, Green, PnP, DMI, Wfm2.0, ACPI v2.0a, SMBIOS v 2.3, EZ flash, CrashFree BIOS2

Manageability

WOL by PME, WOR by PME, PXE, AI NET, Chassis Intrusion

Support CD

Drivers
BIOS flash utility under DOS
AI Booster
ASUS PC Probe II
RAID utility
Anti virus software
Adobe Acrobat Reader ver 7.0
Microsoft Direct X ver 9.0C

Accessories

User's manual
UltraDMA cable
FDD cable
2-port USB module
2-port 1394a module
I/O shield
SATA cable
SATA power cable
Media Launcher

Form Factor

ATX Form Factor, 12″x 9.6″(30.5cm x 24.5cm)
CLOSER LOOK
I've owned and tested so many ASUS motherboards over the past year that I've grown quite use to what to expect when it comes to their packaging. If I was designing the packing to be used, I'd surround something a purportedly delicate as a motherboard in multiple layers of foam or other equally protective material to protect the extremely valuable contents within. Then again by the time I finished it would have to be hauled by a transfer truck which would not be economically feasible or practical.
ASUS has obviously done its homework. I say this simply because the packaging they use works! I have never received an ASUS board that was damaged in transit due to faulty packaging. Call me obsessed but I want the contents to arrive in the same condition as they were in when they left the manufacturer.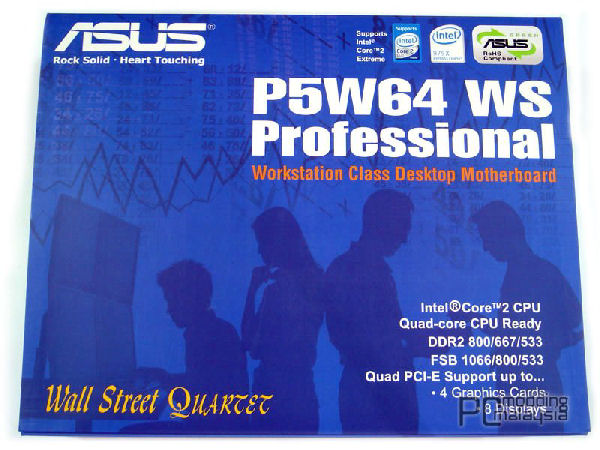 P5W64 WS Pro Package
The Accessories
This motherboard comes with one of the most feature rich accessory packages of any I have ever seen.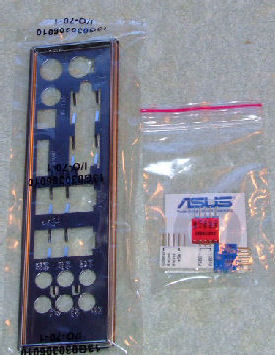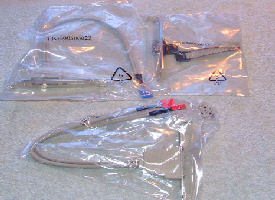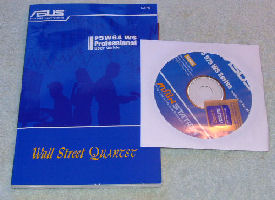 P5W64 WS Pro Accessories
Your package should contain the following items:
1 – P5W64 WS Professional motherboard
1 – Driver CD
1 – User's manual
2 – UltraDMA cables
1 – FDD cable
2 – 2-port USB modules
1 – 2-port 1394a module
1 – I/O shield
4 – SATA cables
4 – SATA power cables
1 – Media Launcher
The Motherboard
I almost never get excited about aesthetics of any part of a computer system, just the functionality, but then when you were born both dyslexic and color blind what can you expect. Just kidding, I'm just a Geek that places functionality in a much higher order than aesthetics. Looks are in fact a selling point to many computer enthusiasts and I'll have to admit this is one sleek looking board.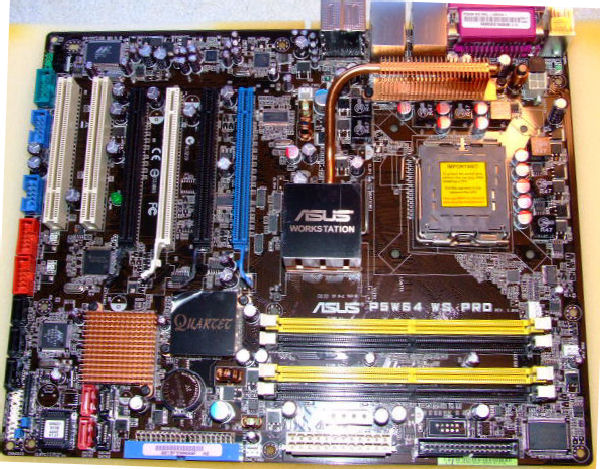 P5W64 WS Professional Motherboard
The 775 pin socket is surrounded in close proximity by the board's northbridge and its passive cooling system solution. While I've never experienced a real problem installing a CPU cooler I've certainly read of many tight fits and even mods necessary to get the cooler properly installed where it's making the correct contact with the processor.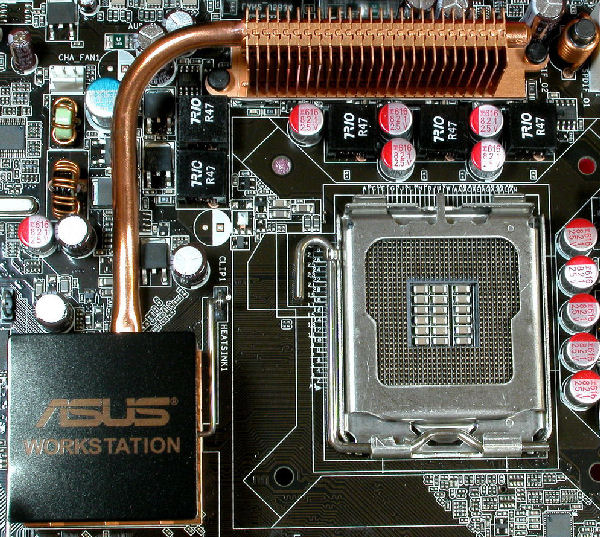 Socket 775, Northbridge & Passive Cooling
I'm really wondering when high-end motherboard manufacturers are going to move from the ATX form factor to E-ATX to allow for better component spacing and hopefully optimized cooling. The next image shows the close proximity of the PCI-E slots incorporated on this board. We are in hopes that one day this I975X chipset or a variant of it will sustain SLI but currently CrossFire is the only multi GPU format "officially supported" by this board. That's certainly not ASUS's fault!
CLOSER LOOK cont.
The P5W64 WS Professional is an 8-layered PCB board which supports 8-phase power. There are 4 x PCI-E x 16 slots and 2 x PCI 2.2 just below them. It also support two different modes for the PEG slots:  16-0-4-0 and 8-8-4-8 which are BIOS controlled. We have yet to ascertain which mode functions the best with CrossFire, but will determine this and much more in a forthcoming CrossFire review.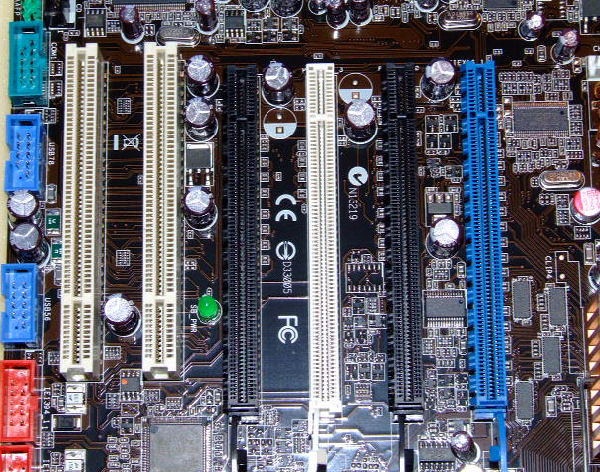 PCI-E & PCI 2.2 Slots
There are the typical four dual channel memory slots on this board each of which will reputedly support a 2GB DIMM for a total of 8GB of supported DDR-2 memory.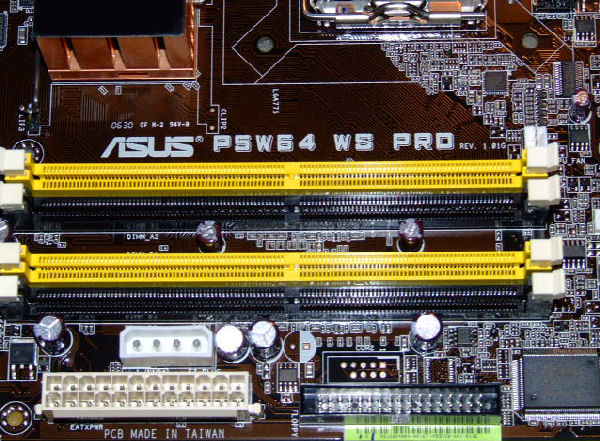 PCI-E & PCI 2.2 Slots
The board supports 1 – right-angled UltraDMA (133/100) port and 4 – SATA (3.0Gb/sec) ports in JBOD, RAID 0,1,10,5 via the on-board Intel ICH7-R controller.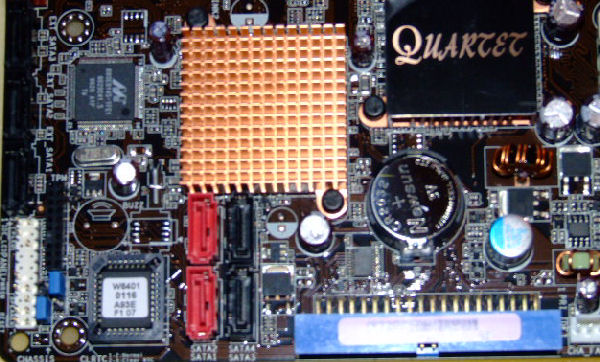 ICH7-R Supported SATA Ports & UltraDMA Port
There is also a Marvell 88SE6145 controller on board which supports 4 additional SATA (3.0Gb/sec) ports in RAID 0,1,10 located on the board's left lower section; it also supports 1 eSATA (3.0Gb/sec) port on the board's rear I/O panel.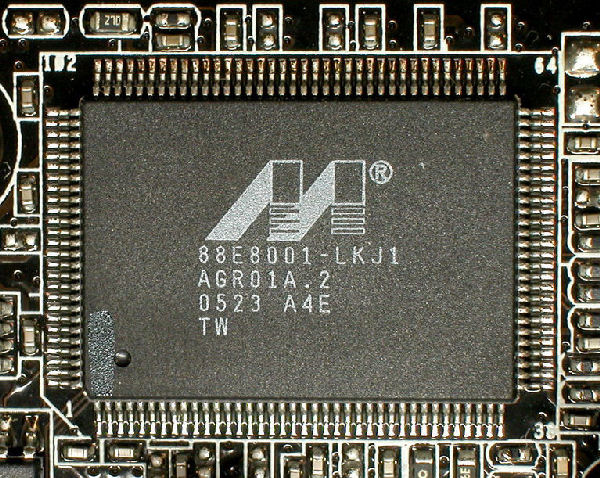 Marvell 88SE6145 Controller Chip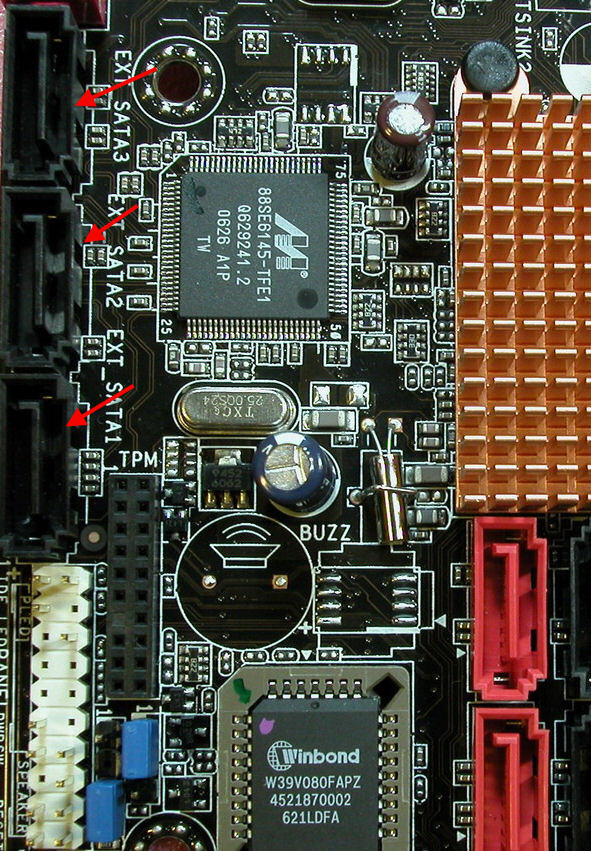 3 – Marvell Controlled SATA Ports
The final motherboard image is of the rear I/O panel which contains the following ports:
Parallel
PS/2 Keyboard
PS/2 Mouse
2 – RJ45
S/PDIF Out (Coaxial + Optical)
4 – USB
eSATA
Audio I/O
WLAN antenna jack (Optional)

3 – Rear I/O Panel
BIOS
Being a long time user of ASUS motherboards I have grown quite accustomed to their BIOS adjustments and locations within the BIOS framework. I find the AMI BIOS used on the majority of their boards to be the simplest yet most feature laden BIOS in existence. You can control almost every aspect of your board and it's accompanying hardware by relatively easy BIOS tweaks.
Rather than providing explanation concerning the vast majority of the BIOS adjustments in the following images we thought it might be helpful to present a small table with the parameters of the features that you would likely use the most should you acquire this board.
ASUS® P5W64 WS Professional Primary BIOS Parameters
(Manual Adjustments)

CPU Frequency

100 to 550MHz in 1MHz increments

Selectable DRAM Frequencies

400/533/600/667/711/800/889/1067 MHz (Scalable upward with FSB)

VCore Range

1.2875 Volts to 1.7000 Volts in 0.0125 Volt increments

VDimm Range

1.85V to 2.40V in 0.15V increments

MCH (Northbridge) Voltage

1.50 Volts to 1.80 Volts in 0.10 Volt increments

FSB Termination Voltage

1.20 Volts to 1.50 Volts in 0.10 Volt increments

MCH Chipset Voltage

1.50 Volts to 1.80 Volts in 0.10 Volt increments

ICH Chipset Voltage

1.05 Volts or 1.20 Volts
Next we'll show some images of the primary BIOS screens and the features each contain.
Main BIOS Screen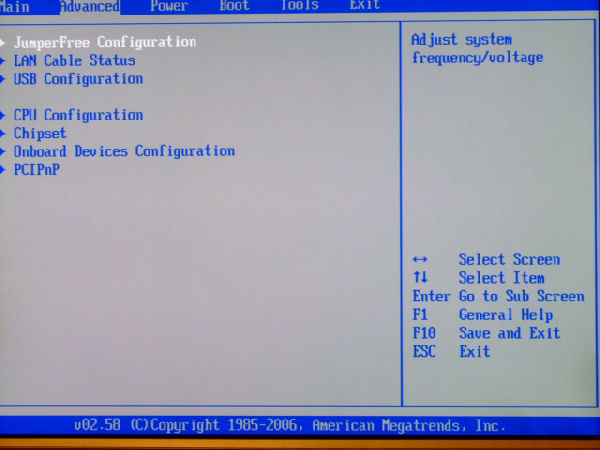 Advanced BIOS Screen(s)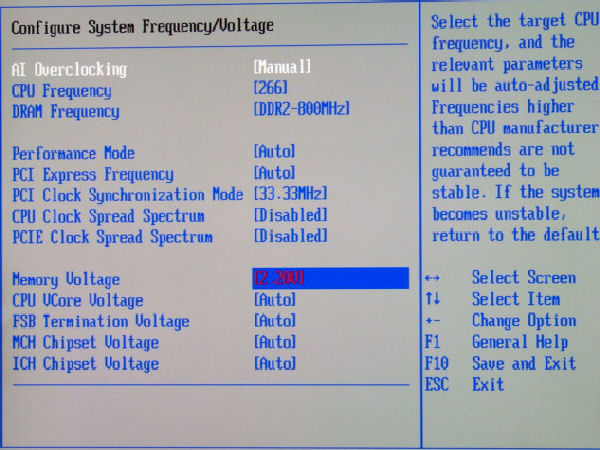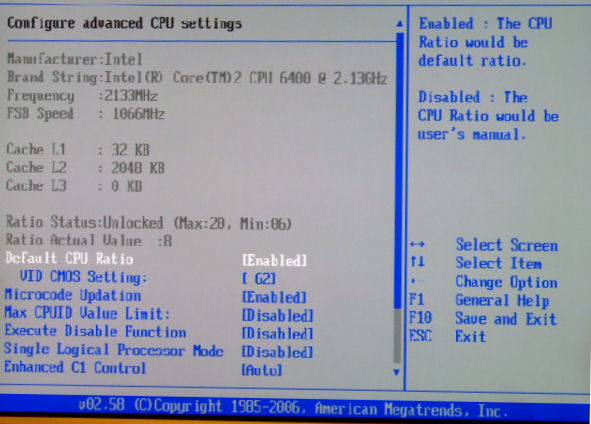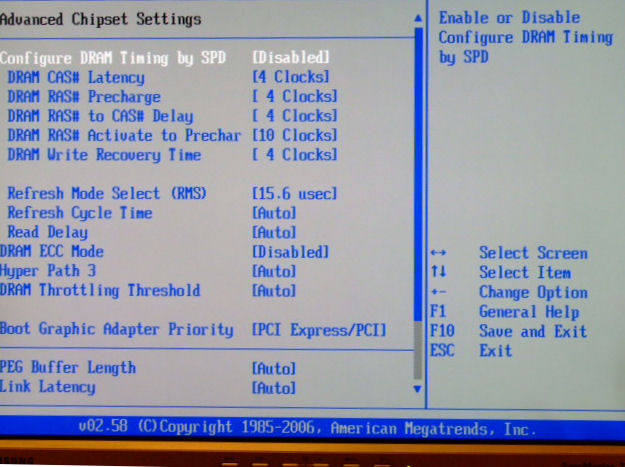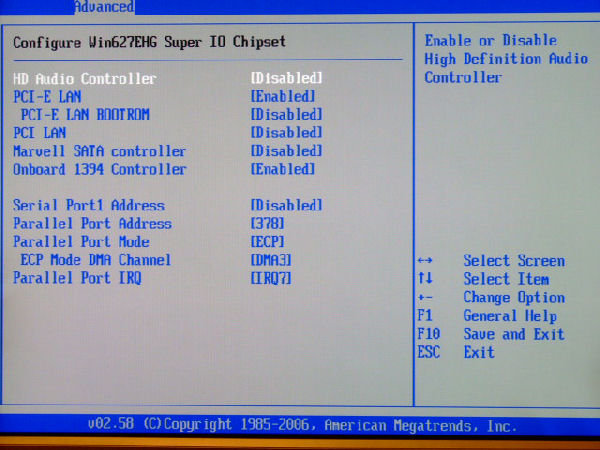 Power BIOS Screen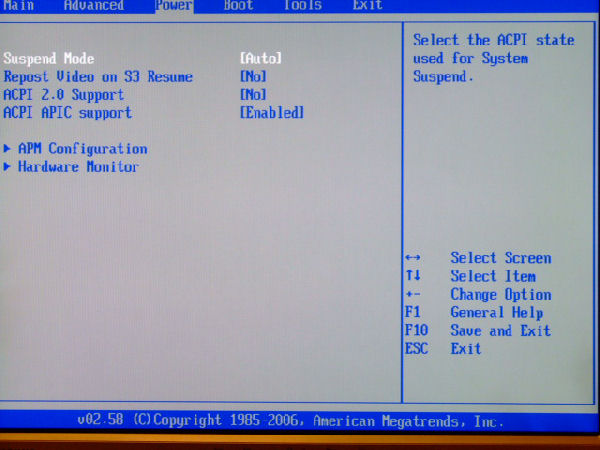 Boot BIOS Screen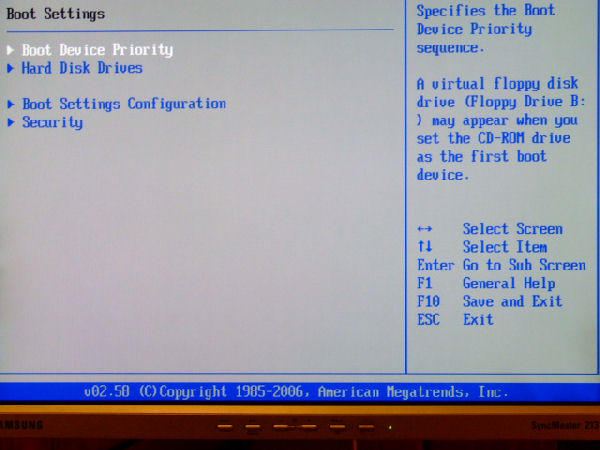 Tools BIOS Screen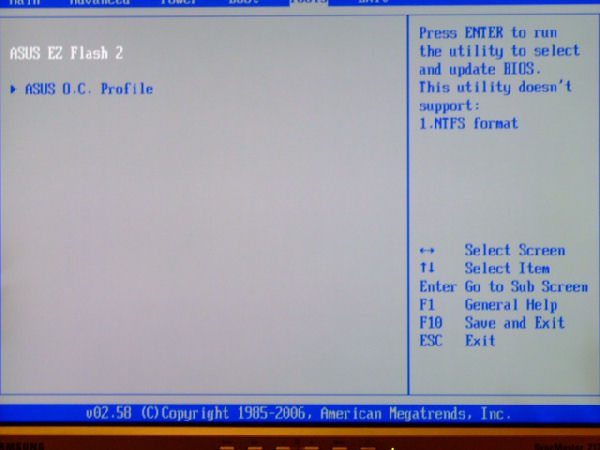 TESTING
Test System
Test Motherboard 1:  Asus P5W64 WS Professional Motherboard, BIOS 0205
Test Motherboard 2:  Asus P5WDG2 WS Professional Motherboard, BIOS 0408
Intel E6400 Core 2 Duo (Allendale) Processor
Noctua NH-U12F CPU Cooler with Panaflo M1A 38mm Fan
2GB of Mushkin Redline XP2-8000 DDR-2 @ 867 MHz, at VDimm 2.3 Volts
XFX®7950 GT 512Mb running ForceWare 91.47
2 – Seagate 750GB Barracuda ES SATA drives
Creative Audigy 4 Sound Card
Zippy PSL-6850P(G1) 850 Watt PSU
Pioneer 111D DVDRW
Lian-Li G70 Case customized by Performance PCs
Windows XP Pro SP2
Samsung Syncmaster 213T 21.3″ LCD Monitor
SanDisk Cruzer Mini 512 MB USB Drive
Benchmarks & Tests
PCMark06
SiSoft Sandra 2007 Professional
Everest Ultimate Edition v. 3.5
3DMark06
Cinebench 9.5 (Daylight)
SuperPi Mod 1.5XS
HD Tach RW 3.0.1.0
FEAR v. 1.08 @ 640 x 480
Quake 4: ID Net Demo @ 640 X 480
Testing Methodology
Unfortunately when testing a motherboard there is not set of "grass roots" tests that will speak to the motherboard's overall performance. It is therefore necessary to comparatively test the performance of the CPU, Memory, Hard Drive(s) and Graphical Rendering and then draw your assumptions from the results of these tests.
We thought it only fitting to comparatively test the ASUS P5W64 WS Professional against the P5WDG2 WS Professional with a huge bevy of tests and determine which of the two is "King of the Hill". We will discuss the tests we used and our approach to using them in each of the four component categories.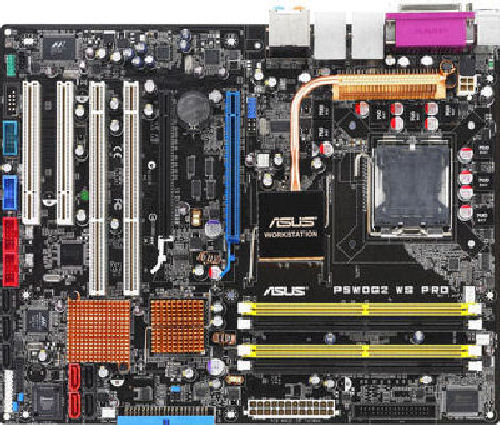 Contender #1:  P5WDG2 WS Professional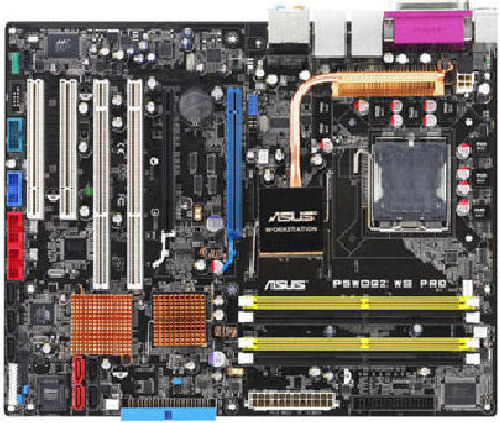 Contender #2:  P5W64 WS Professional
Were it not for the fact that the P5WDG2 WS Professioanl has 2 PCI-X slots in lieu of the two PCI-E slots featured on the P5W564 WS Pro these two motherboards would be essentially identical. Although each was built for the high-end workstation market, as evidenced by the features and costs; each offers volumes of features and overclocking capabilities that that certainly will appeal to the computer enthusiast sector. When I say identical let me preface that by saying they are so much so that you can use the same Windows XP Professional installation on each with no issues whatsoever. While I'm reasonably sure at the micro component level (resistors, capacitors, and etc.) there may be some subtle differences these are not evident whatsoever in the ability to switch between the two using the same CPU, Operating System, Graphics card, and memory. There are ever so subtle differences in performance as we will soon see.
We'll test each of these boards using stock settings except for the memory which we'll run at DDR-2 867. Overclocking will be addressed later in this review.
TEST RESULTS
CPU
Although "synthetic benchmarks" aren't the complete answer when testing products as long as the testing is done using the same uniform procedure(s) and settings each time they are run should yield a fairly reliable idea of the product's performance. We chose SANDRA 2007 Professional, Everest Ultimate Edition 3.50, PCMark05's entire CPU suite, and Cinebench 9.5 one and multiple CPU rendering tests to relate CPU performance. Each was run three times with an average of the results being used to report in this review. Also remember we are running a Core 2 Duo E6400 processor which is performing at its default clock speed of 2.13 GHz at the default FSB of 266.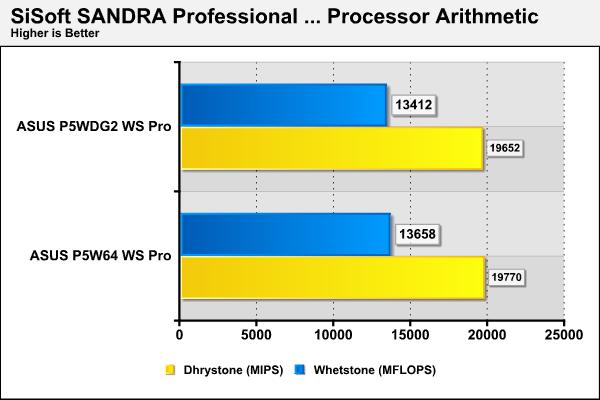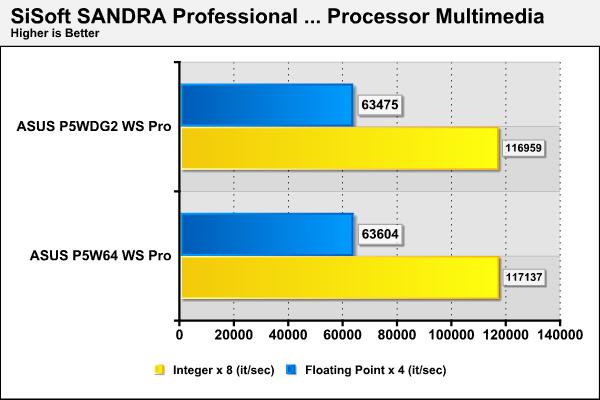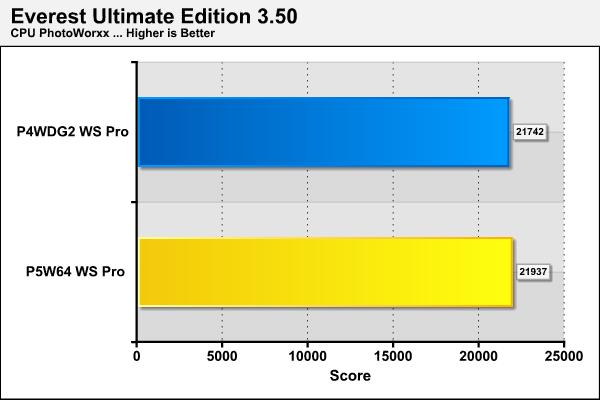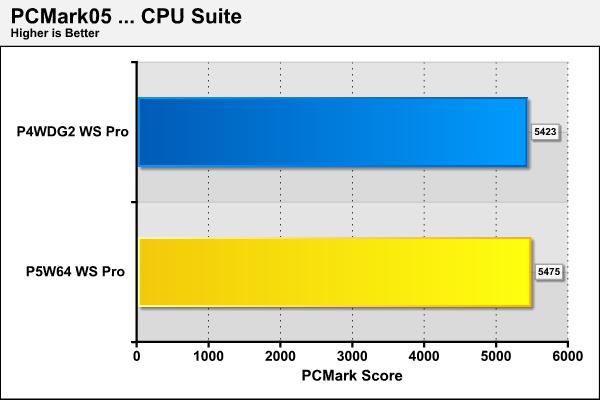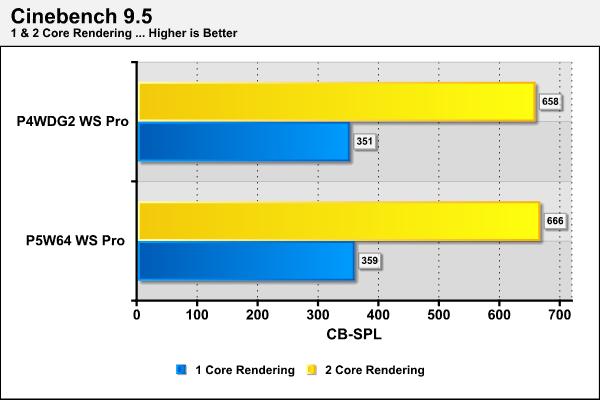 After this stage of testing the outcome is too close to call with the ASUS® P5W64 WS Professional taking a slim lead over its fraternal twin. Is this close proximity of the test performance results an anomaly or a sign of things to come? Read on!
TEST RESULTS
Memory
Again we turned to the same trio of synthetic benchmarks to relate the performance of the memory with these two boards. With PCMark05 we ran the entire suite of memory tests that it offers. Remember we are using Mushkin Redline 8000 for our performance testing which is running on all of these trials at 867 MHz when utilizing the results for any comparisons that you may make between this review and others you may read. We utilized the same procedure for running the benchmarks as we did in the CPU performance testing.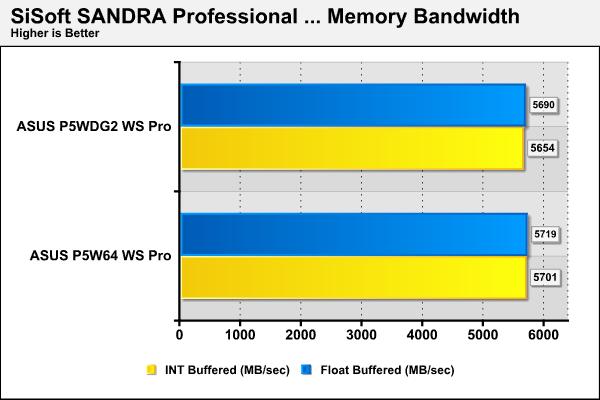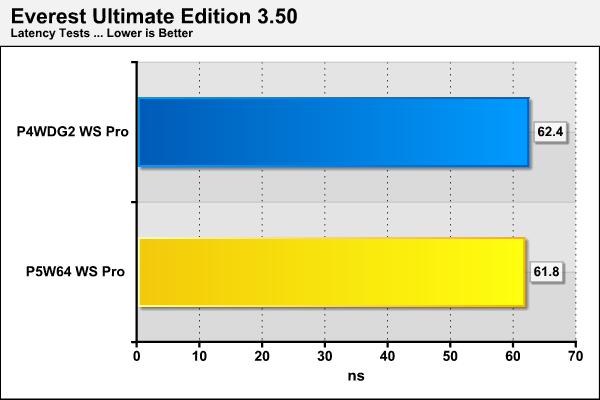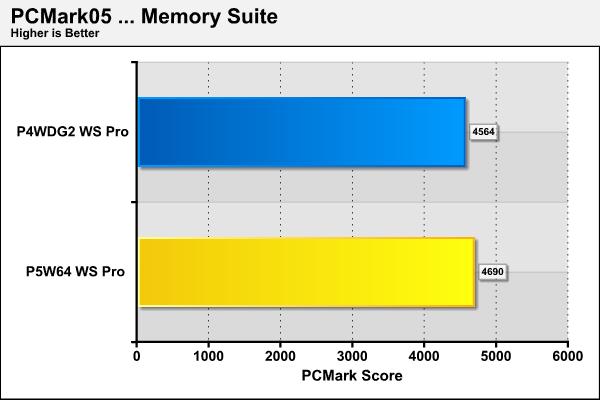 Again the results are too close and the variances are statistically insignificant enough to pronounce a victory. The P5W64 WS again maintains a slight margin in all the performance tests run thus far over its competition.
TEST RESULTS
Hard Drive & USB Drive
In addition to utilizing both SANDRA and PCMark's HD entire suite of tests we opted to add an additional benchmark which is well known to the computer enthusiast, HD Tach RW 3.0.1.0. In addition to testing the Seagate Barracuda 750GB ES drive we added a small SanDisk Cruzer Mini 512 MB USB Drive to the component test results in HD Tach to affirm the USB capabilities of this board and its slighly older brother. We displayed the Hd Tach results in table form as opposed to having separate graphs for each of the four test results that were rendered as we feel it provides better visual comparison.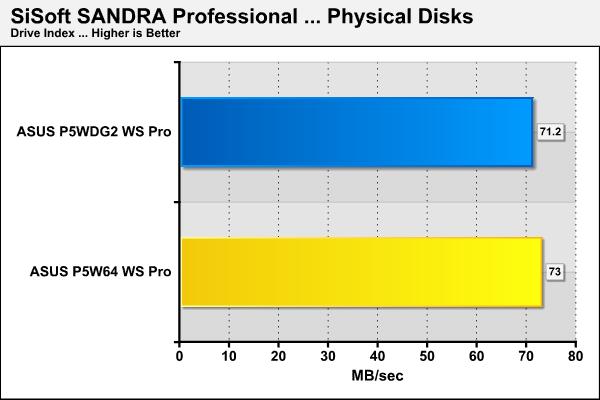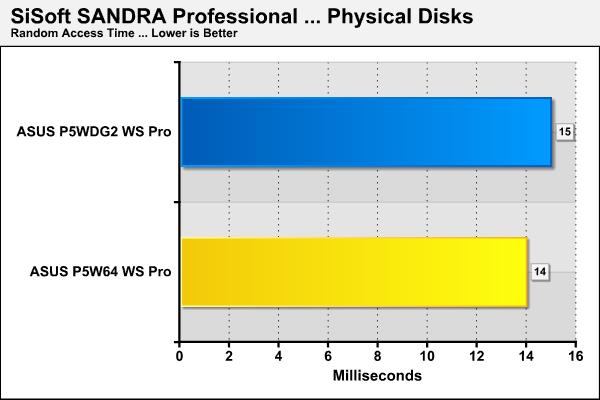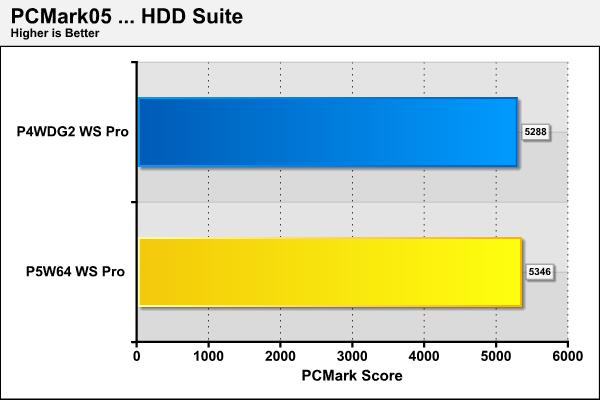 Seagate 750GB Performance … HDT-RW 3.0.1.0

 

P5W64 WS
Professional

P5WDG2 WS
Professional

Random Access Time* (ms)

13.7

13.9

Average Read Time (MB/sec)

66.4

65.8

CPU Utilization*

2%

2%

Burst Speed (MB/sec)

249.6

245.4

*Lower is Better … Otherwise Higher is Better
SanDisk Cruzer Mini 512 MB USB Drive Performance
HDT-RW 3.0.1.0

 

P5W64 WS
Professional

P5WDG2 WS
Professional

Random Access Time* (ms)

11.7

12

Average Read Time (MB/sec)

9.2

9.4

CPU Utilization*

1%

1%

Burst Speed (MB/sec)

10.6

10.4

*Lower is Better … Otherwise Higher is Better
Were it not for the remaining performance tests we would indeed call this a draw at this juncture in the testing. That might be unfair to the P5W64 Professional which has maintained a lead, be it ever so slight in all of the benchmarks run thus far.
TEST RESULTS
System Performance
We thought this would be a perfect time to run a "real life" test that truly measures system performance as a whole excluding the drives. We opted for SuperPi which is the "Gold standard" for many when it comes to judging system performance. We ran 1 and 2 Meg calculations again running each test three times and reporting the average of the results.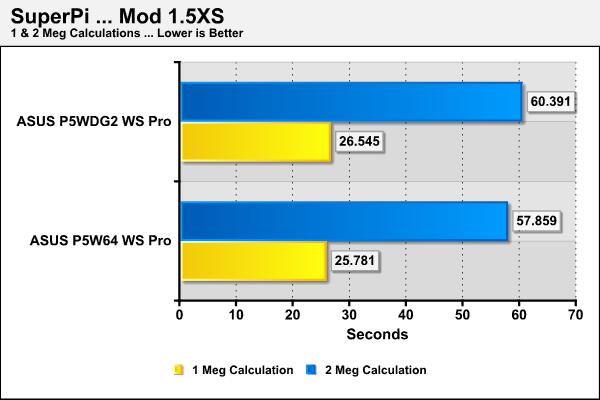 Again a slight margin of victory by the P5W64 WS Pro … Well graphics and gaming are next want to guess the outcome?
3D & Gaming
While graphics are of paramount importance to the computer enthusiast they serve little use in testing a motherboard other than for validation purposes. What I mean is that many of today's graphical benchmarks rely more heavily upon the GPU/VPU in the graphics card than they do upon the rest of the system resources for favorable results. This is a dual edged sword in that consumers with lesser grade CPUs, motherboards and memory may in some cases still have a favorable improvement in their graphics and gaming experience simply by adding an enhanced video card to their mix of components. We wanted to take the GPU out of the final results as much as possible so we used an XFX 7950 GTX in lieu of it's much faster relative the 8800 GTX. We ran Quake 4 and F.E.A.R. at 640 x 480 resolution, no AA/AF, and medium quality settings. 3DMark 2006 was run at its standard default settings.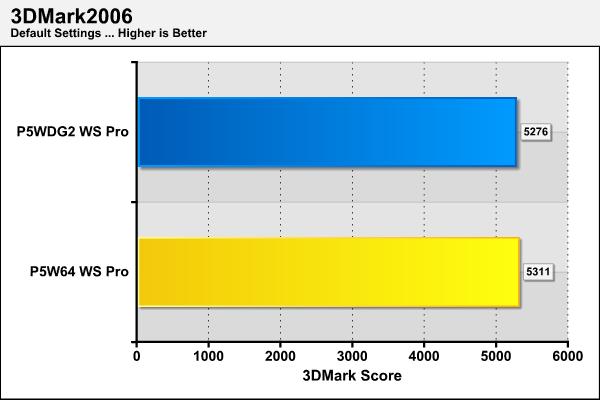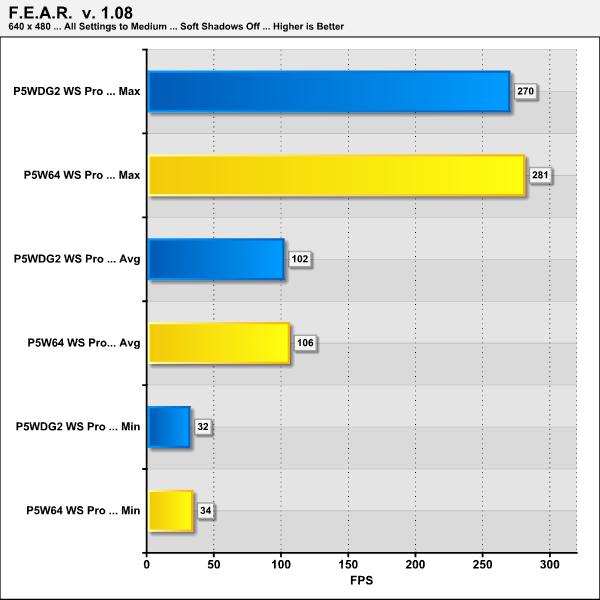 Well we can certainly say one thing the results are consistent across the board, no pun intended

. The ASUS® P5W64 WS Professional maintains a slight margin of victory over the ASUS® P5WDG2 WS Professional across the board in all the volumes of testing that we have sone. It is the winner although not by a photo finish yet still extremely close!
OVERCLOCKING
No motherboard review would be complete without determining the overclocking capabilities of the system being tested. We had time to do ample testing in this regard. Our first goal was to achieve the highest overclock possible using the standard multiplier, at default voltages, with the memory at SPD and a Vdimm of 2.3 Volts, and HyperPath 3 diabled in the BIOS. We were able to reach a FSB of 440 or 3.52 GHz although we didn't find this completely stable at stock settings and voltage. We're sure had we been willing to up these a bit this overclock and probably more could have been reached quite stably.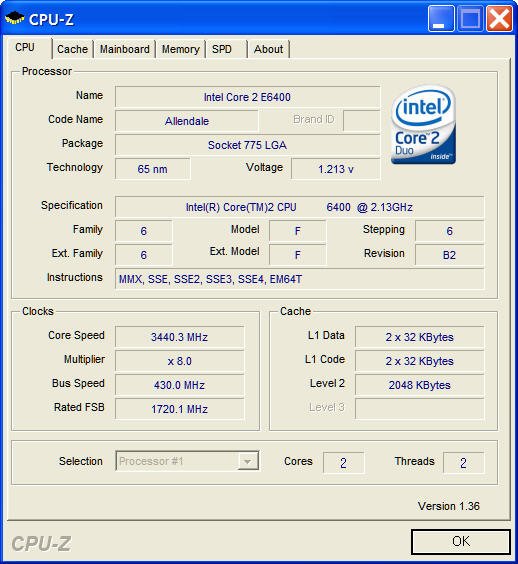 A FSB of 430 or 3.44 GHz proved to be the mark that we were looking for without any enhancements. We ran two hour's of Prime 95 and determined no errors.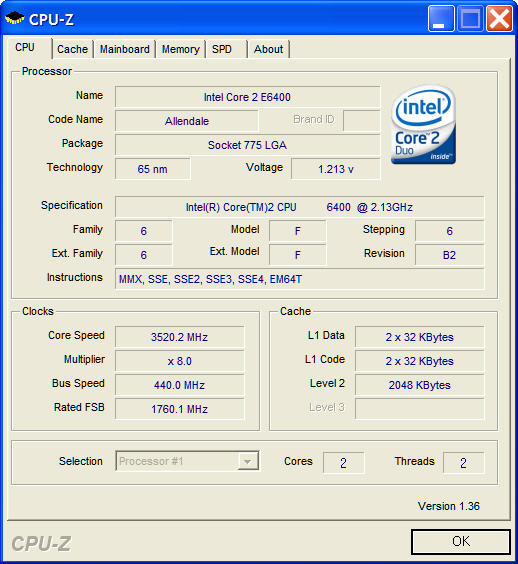 As you can see the two sessions of SuperPi that we ran here are vastly improved over the stock settings that we tested earlier.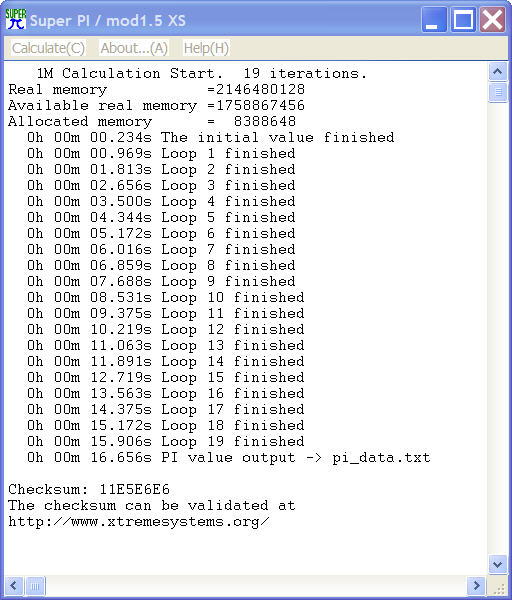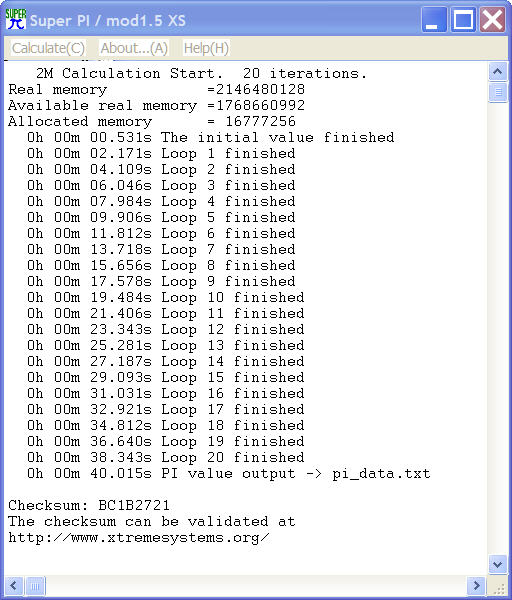 We also changed the multiplier of the CPU to 7 and were able to achieve a FSB of 500 or 3.5 GHz although not totally stable without changing voltages. An FSB of 490 proved perfectly stable. At a multiplier of 6 we were able to achieve a FSB of 515 or 3.09 GHz which again had to be decreased to a FSB of 500 or 3.0 GHz to achieve 100% stability. We realize that these are at almost stock settings (VCore (Stock), VDimm (2.3 Volts). We didn't have the luxury of a lot of time to continue testing at higher voltages and other altered settings so we decided to leave that pleasure to you.
Since we're not reviewing the P5WDG2 WS Professional, we will only mention the fact that it was able to overclock on an equal basis with the P5WS64 WS Professional. I also did not run SuperPi on this board as it's not the center of attention in this review.
CONCLUSION
Wow this has been an extremely fun review to do for several reasons. It verified that the ASUS® P5W64 WS Professional is both an awesome I975X workstatio and consumer enthusiast board all rolled up into one fine package. This is the longest motherboard review I've done in sometime again because there was a lot of really cool features and tests to discuss and we are always striving to improve the quality of the reviews we do at Bjorn3D so that we may properly aid you in the product decision making process.
The ASUS® P5W64 WS Professional is the best 975 chipset board that I've yet had the pleasure to test. It offers rock solid stability with unquestionably enhanced performance. It is about as future-proof as any product out there in that it will support the next generation Kentsfield quad core processors. It overclocks as well of better than any other I975X based motherboard on the market today. Installation, although not previously commented on, was a snap and offered no problems whatsoever.
I realize that we tested this motherboard against one that was almost identical to it as evidenced by both features and performance results. There have been a number of discussions on various computer enthusiast sites concerning which of these two boards was the best. In my opinion this review has answered that topic. I can say without reservation that both of the tested boards are excellent, but unless you need the PCI-X features offered by the P5WDG2 WS Professional the P5W64 WS Professional would be this reviewers board of choice. So much in fact that this board will now become my reference board for all future reviews for products it supports.
The only possible drawback is the price which is in the $295 – $325 USD range currently. This is not a drawback in my humble opinion for such a feature laden product that not only can serve as a workstation for just about any professional use, but also a board that would make any computer enthusiast proud. Even though you may never be able to fully utilize all of the quad x16 PCI-E slots they're there should a situation arise. These x16 PCI-E slots will get a through workout in my next review which will be on the Radeon® X1950XTX graphics card in both standard configuration and in CrossFire mode.
There's no question about recommending this board to anyone that wants the best 975 based board the market currently has to offer. It's full of energy and kicks some major ass overclocking, and I didn't push it nearly as far as some of you will, and believe me there's plenty more distance to push!
Pros:
+  Quad x16 PCI-E slots
+  Exceptional Core 2 Duo performance
+  Excellent overclocking at virtually stock settings
+  Dual Gigabit Ethernet
+  CrossFire Support
+  Extremely stable
+  Crash free BIOS 3
+  Excellent passive (heatpipe) cooling
+  Extremely stable
+  Will support the next generation Kentsfield quad core processor
Cons:
–  Priced a little high for some consumers
Final Score: 9.5 out of 10 and the prestigious Bjorn3D Golden Bear Award.