This Thermaltake Toughpower 750W PSU is all about stability, quad +12V rails with combined total of up to 60 Amps and very quiet operation. Give it a clean look and you have a perfect power supply for as low as $159 green! You can't miss it!
Introduction

Thermaltake is a well known company among enthusiasts. It was founded back in 1999. Their success started with manufacturing high-end CPU coolers and case accessories. The most memorable cooler was the Golden ORB available for both Intel and AMD platforms. The introduction of PC cases, power supply units and liquid cooling systems gave the company a nice head start in the market.

2004 – Restructure of the company in correspondence to the global scale it has grown into: reorganization of patent, channel, chassis, power supplier & computer accessories, and industrial design departments to strengthen organizational management and reinforce our commitment to research and development. Designs cooler for the heat-conducting pipe to the specification of desktop Silent Tower and four other types of CPU. Manufactures fanless power supplier with Fanless PSU. Unveils Tsunami chassis, incorporating the mirror bake-coating technology and a transparent, see-through side-window. Designs 12CM, applying low-noise liquid cooler Big Water which receives AMD's outstanding partner award. Size of net capital now grows to NT 75 million while the cash capital increases to NT 255 million.
Back in February I've reviewed Thermaltake's Toughpower 550W power supply unit. A great PSU with low tolerance and stable rails. Because every now and than people upgrade their PC components, it's crucial to upgrade PSUs as well — especially if you're going for SLI / Crossfire + Athlon FX62 or Pentium Presler and god knows what else. If you're an enthusiast, you will appreciate stability more than anyone else.
Sometime ago, Thermaltake introduced a slew of new power supplies — six to be exact. They include: Toughpower 650W, 700W & 750W units with modular and non-modular configurations. This time around I'm going to check out SLI certified non modular Thermaltake Toughpower 750W unit (W0117RE). The major differences between this generation of Toughpower units and last (prior to 650W) are quad +12V rails and larger fans (140mm).
I'm not going to tell you everything about it. You have to hit the next page for more information 🙂
Features & Specifications

This Thermaltake Thoughpower unit I'm reviewing sports not 2 +12V rails but 4! Each rail can push 18A, but total combined +12V output load cannot exceed 60A. It is very important that +12V rails (especially) are stable because this is where most of your PC components draw power from. Four of those will definitely do you good. The +5V and +3.3V rails can draw up to 180 Watts. One interesting thing I've read is that the peak current lasts up to 12 seconds with no more than one occurence per minute.
Main Thermaltake Toughpower 750W features:
Complies with ATX 12V 2.2 & EPS 12V version
SLI and Dual Core CPU ready
Next generation four +12V rails(12V1, 12V2, 12V3, 12V4) supports high-end graphic card and PC system (combined loading of 60A)
Independent Voltage Circuit: offers unflappable current delivery under heavy load and makes voltage output more stable
Active Power Factor Correction (PF>0.99) and high efficiency (up to 85%)  
Extremely good voltage regulation (±3%): provides steady voltage for system  
Industrial grade components (capacitor, transformer, etc)  
High reliability: MTBF>120,000 hours
Mirror effect housing and reliable 14cm ball-bearing fan
Protections: Over Current, Over Voltage, and Short-Circuit protection
Safety / EMI Approvals: CE, CB, TUV, FCC, UL, CUL, and BSMI certified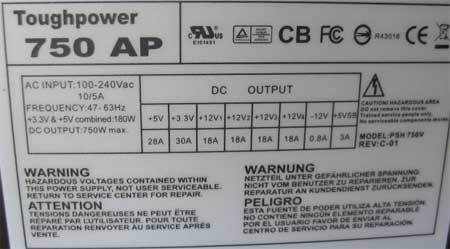 Below you have more detailed specifications of this Tt unit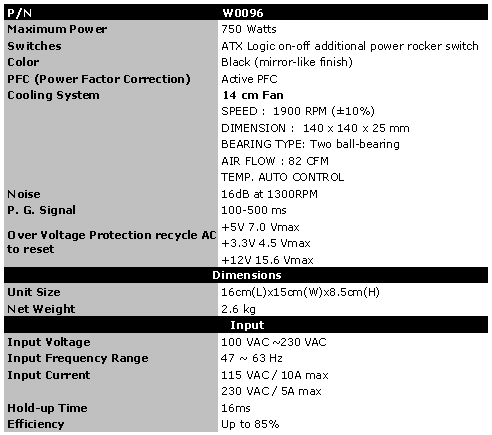 The unit I'm reviewing features Active PFC. What does it all mean? Voltage is switched automatically depending on what you have in your wall socket, either 115 or 230V — no need for additional switches, neat right? The PSU features a 140mm fan rocking at ~1900 RPM (+/-), automatically controlled by temperature. In case of a short cirtuit, Thermaltake's PSU will kick in with Over Voltage Protection, temporarily shutting down power to all of the components. It's designed to protect all your computer peripherals currently connected to the power house. Very nice feature if you live where power outtage commonly occurs.
External & Internal Loooks

All Toughpower PSUs sport a very clean look. No fancy LED fans, colors and enclosures. Plain and simple with mirror finished sides is what makes those units look good. As with older models, this Toughpower 750W unit is built to last using only high-quality components (transistors, capacitors, etc).
Click a picture to see a larger view
---
---
First we will have a look at the housing and inside. It's built using steel components and coated with black paint and mirror finish. The back of the PSU features grilled casing where hot air leaves the power supply. If you don't have good airflow inside your case, do not worry. This Thermaltake unit is equipped with
140mm fan
rotating at ~2000 RPM, airflow at 82 CFM. The fan can be loud at times, but it's auto controlled so it's not like it runs at 2000 RPM 24/7. All Toughpower PSUs are built from high-quality transistors and capacitors so the probability that it breaks is very slim — unless you make it so by not properly operating it. This unit is heavier than it's brothers and does not come with modular cables.
Let's move on and see the rest as well as cabling system.
Bundle, Cabling & Installation
Thermaltake Toughower 750W comes with a set of screws, installation manual, power cable (in my case, 230V version) and a silicone gasket to reduce noise between PSU and case. The manual is clear and highlights the PSU's features and detailed specifications. In the back, you can find a troubleshooting guide in case you get stuck with installation.
Click a picture to see a larger view
---
---
Looking at the cabling system it's similar to the
550W unit I've reviewed sometime ago
— Thermaltake calls it
Intelligent Cable Management.
Above we have non-modular system though modular design is available as well. It's cabling system is a very sturdy solution, no more cable tanglements, better case ventilation.
The above images show you a bunch of cables:
24-pin main power connector (detachable 4-pin so it's ATX compatible) along with P4 cable, 4-pin, SATA, floppy, PCI-E (2x). Here is a complete list:
24-pin Main Connector x 1
4-pin +12V Power Connector x 1
4-pin Floppy Drive Connector x 2
6-pin PCI Express Connector x 2
8-pin +12V Power Connector x 1
4-pin Peripheral Power Connector x 8
5-pin S-ATA Connector x 6
All are wrapped up in black aesthetic braid. They are extremely useful when reducing heat inside your case. Additionally, 4-pin power cables come equipped with finger grips so it's easier to detach them from a device.
Components
– DFI NF4 Ultra-D
– Athlon64 3000+ Venice
– G.Skill F1-4000BIU2-2GBHV DDR500
– Thermaltake ToughPower 750W
– Thermaltake ToughPower 550W
– Thermaltake PurePower 520W
– PowerColor X1900 XT

Software
– Windows XP SP2
– DirectX 9.0c
– nForce4 6.53 drivers
– CATALYST 6.4
Tools used

– 3DMark 2005 v1.2.0 (GT 1 looped 3 times)
– Digital Multimeter for voltage measurement

Notes
CPU clocked at 1.8GHz (idle/load) and 2.7GHz (idle OC/load OC)

Installation procedure was a standard unscrew, take out old PSU, put in new one and screw it back in, attach cables. I haven't experienced any problems during installation. The silicone pad does actually work and reduces some of the vibrations produced by the PSU. It's not something you cannot live without however.
Testing & Thoughts
This is likely the most interesting part of any review — testing under different kinds of working environments. The tolarance level for most PSUs nowadays is +/- 5% from the nominal voltage. With that in mind, I recorded minimum, maximum and average rail values (both idle, loaded and overclocked states). Thermaltake however, advertises their Toughpower PSUs as being very stable with only a +/- 3% tolerance. Whether that's true or not I've ran some tests for you.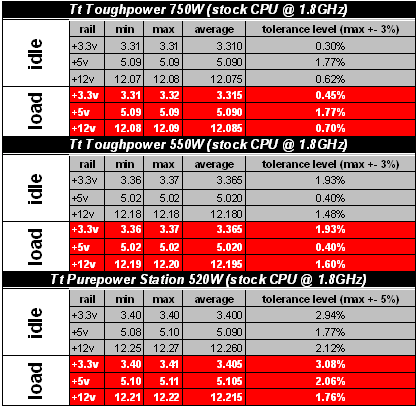 Comparing this 750W plant to other 2 PSUs, I have to say it has the most stable +12V rails. Idle and load values only differ by 0.08%. The same can be observed with +3.3V rails. Let's go and bump up that CPU / GPU clock and see what changes.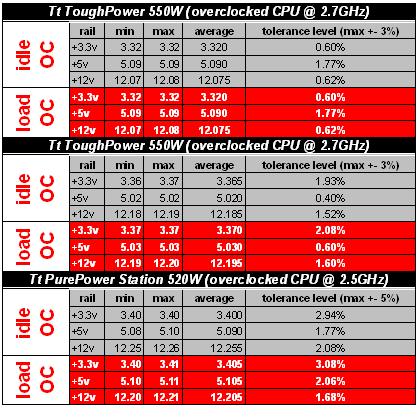 Overclocking my Venice to 2.7GHz and X1900 XT returned good results. None of the rails were reaching 2% tolerance level. Overclocking raised the +3.3V just a bit, +5V stayed the same. The main rails were going at average of 12.075V — less than with non OC state.  The only rail that was running unchanged was +5V.

Above, we have consolidated values inside a table. All voltages were averaged to give you a narrower look at the performance.
I wish I could push more out of this power supply. 750 Watts definitely gives you something to work with and overloading it without proper equippment / components is quite a feat. As much as I could though, it passed all my tests with flying colors. It definitely performs better than Toughpower 550W and Purepower 520W under similar conditions. Voltage fluctuation on Toughpower 750W is so low, it's actually not seen on the multimeter. It's mostly notable with Purepower 520W PSU. The only thing that bothers me are high +5V rail values. They escalate to 5.09V (nearly 5.1V) which is 1.77% above the nominal level of 5.0V. Don't get me wrong, it does not cause any stability problems, it just seems higher than with 550W Toughpower.
This Thermaltake power supply should be in hands of those who actually need it. If you're building a brand new system with very power hungry components, consider the Toughpower 750W PSU — you should be golden for few months or so. If you want stability / ATX compliancy or need some spare Watts, get this Thermaltake product. If you're just looking to upgrade your <insert brand name> +500W PSU just because you feel like it, you might as well just wait another year as it won't do you any good — unless you have $160 – $200 to spend then be my guest 🙂 I almost forgot, did I mention this new line of Toughpower products also come with modularized design? I think I did somewhere, nonetheless Thermaltake did listen to the media and did the right thing of supplying its customers with two versions.
Pros:
+ Very stable rails
+ Quad 12V rails
+ 140 mm fan
+ Quiet
+ Up to 60 Amps on 12V rails
+ SLI / CrossFire / Dual-core ready
+ Clean look

Cons:
– Tad high +5V values

For phenomenal stability, quad 12V rails and quiet operation, Thermaltake Toughpower 750W gets the rating of 9.0 (Extremely Good) out of 10 and the Bjorn3D Seal of Approval.