Check out our review of the white 4GB Apple iPod nano. The nano is a small and sleek flash-based digital audio player. We haven't reviewed an iPod here before, but now we know why they are so popular…
Introduction
iPod, schmiPod…at least that's what I thought until several weeks ago when I finally got my hands on one. Thanks to Geeks.com, I have a 4GB Apple iPod nano for review. Yeah, yeah, it's been out for a while, but it's far from the end of its lifecycle, so why not read another opinion about this top-selling digital audio player (DAP)?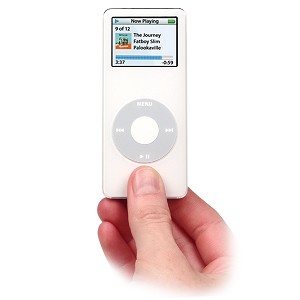 The nano is a flash memory-based digital audio player. Flash-based DAPs seem to be more popular than ever, thanks in large part to flash memory's increase in capacity and decrease in price. As its name implies, the nano is quite small; it is only 0.27 inches thick and weighs a mere 1.5 ounces! They say big things come in small packages. Read on to find out if that's the case with the iPod nano.
Features & Specifications
Features
White color
4 GB flash drive
Plays music and photo slide shows
Holds up to 1000 songs
Up to 4 hours of music with slide shows
Holds up to 25,000 nano-viewable photos
1.5-inch bright LCD display
176 x 132 pixel resolution with blue/white LED backlight
Apple Click Wheel
Charges and syncs via USB
Complete skip-free playback
Up to 14 hours music playback with rechargeable battery
As you can see, the nano has some nice features, like a 1.5-inch LCD display, the ability to play music and show photos, and a rechargeable battery. The great styling and user interface is what attracts many buyers though. Check out the list of customizable settings below.
Customizable Settings
Customize main menu
Create multiple On-the-Go playlists
Adjust audiobook playback speed
Clicker playback through headphones
Rate songs
Shuffle songs or albums
Repeat one or all
Sound Check on or off
20 Equalizer settings
Backlight timer
Alarms on, off or silent
Sleep timer
Date and time
Display time in menu bar
Contacts sort and display by first or last names
Clicker on or off
Specifications
Audio Support:

AAC (16 to 320 Kbps)
Protected AAC
MP3 (16 to 320 Kbps)
MP3 VBR, Audible (formats 2, 3 and 4)
Apple Lossless
WAV
AIFF

Photo Support:

Syncs iPod-viewable photos in JPEG, BMP, GIF, TIFF, PSD (Macs only) and PNG formats

Unit Dimensions:

3.5 x 1.6 x 0.27-inches (H x W x D)
Weight: 1.5 ounces

Regulatory Approvals:
PC Requirements:

Windows 2000 with Service Pack 4 or Windows XP Home or XP Pro
USB port

Macintosh Requirements:

Mac OS X v10.3.4 or later
USB port
Closer Look
More often than not, small things feel flimsy and cheap, but that's not the case with the iPod nano. It feels like a very solid and high quality device, but it is not very scratch-resistant.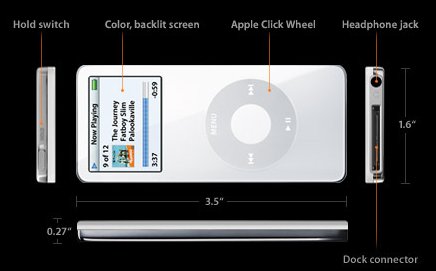 Apple packs the nano in a minimalist-style box that shows you exactly what can be found inside – a sleek little nano. The box includes the following items (for the 4GB white nano):
iPod Nano 4GB white MP3 Player
Quick Start Guide
iPod + iTunes Software CD
Electronic Features Guide (on iTunes CD)
Earbud headphones
Carrying case
Pod dock adapter
USB 2.0 cable
So far, so good. The packaging is great; I couldn't wait to open up the box, check out the accessories and start playing with the nano. My first small disappointment came when I saw that the included carrying case is so simple. At this point, I see it as more of a storage case than a "using case" (meaning that you wouldn't put the nano in this case while using it, but you might when storing it if you don't have a better case). The case almost completely covers the nano, so you can't even really use it while it's in the case. Sadlly, this means that most people will immediately feel forced to purchase a new and much better case that will allow them to utilize, protect and store their nano. So, plan to spend $15-30 on a good case, depending on how you use the nano and what parts you want to protect.
While the case left me wanting more, the other accessories impressed me. I'm a big fan of little extras and subtle bonuses. Apple was kind enough to include two sets of earbud headphone covers, which is great for people who work out and sweat all over them or for people who might accidentally rip one as they try to put them on. I also appreciate the connector covers and cable organizing clip on the USB cable.
The nano itself is a slick looking digital audio player, which is no surprise since it's an Apple product afterall. The front of the nano features the Click Wheel and screen while the back features a mirror-like finish. The looks and feel of the device are topnotch.
In case the dimensions don't really mean much to you, the three pics above give you a good idea of the nano's size. In these pics, to the left of the nano is a 2GB OCZ Rally USB flash drive, and to the right is the mobiBLU DAH-1500i.
The USB charger and headphone connector is located on the bottom of the nano. On the top of the nano, you will find the hold switch, which essentially disables all buttons as long as it is engaged.
Testing & Using the nano
Like most of you, I like to keep user manuals closed as long as possible, and I'm really glad I did this time. My introduction to the Click Wheel wouldn't have been so sweet if I hadn't. After the inaugural battery charging, I started playing with the nano. I was excited to actually experience what everyone raves about. I was also maintaining my healthy skepticism since the iPod seems to be the "only" MP3 player on the market in many people's eyes. I was trying for a little while to click through menus, using menu and play/pause as up and down buttons. That just made sense to me at the time. As you can imagine, I was getting frustrated because that wasn't working. Then, I suddenly discovered the scroll function of the Click Wheel! My geek-o-meter hit a high point right then. I had no idea how that worked until discovering it on my own, so I felt like I was a kid again figuring out how my newest Transformer worked! Sometimes it's more fun starting out as a newbie. I wouldn't have gotten to experience that "Whoaaaa!" feeling if I had already known how to use the iPod's Click Wheel.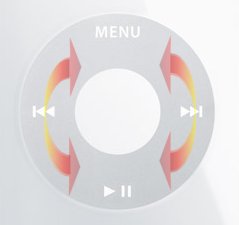 For those of you who haven't used an iPod, the Click Wheel provides a quick and easy way to control the nano (or any other iPod with the Click Wheel). The image above shows the Click Wheel. You can click MENU, rewind, fast forward and play/pause, and you can click the center button, which acts like "enter" essentially. Additionally, you can lightly rub your thumb or other finger across the touch-sensitive surface to control volume or navigate up and down in menus. I added the arrows in the picture to show you that you can use the Wheel in all directions across its entire surface. As I mentioned, I was initially quite impressed by the Click Wheel, and I must admit that I still am just as impressed.
I really like the colorful little screen and the user interface. The main menu includes the following selections: Music, Photos, Extras, Settings and Shuffle Songs. When music is playing, a Now Playing selection also shows up. You simply scroll up and down with the Click Wheel and press the middle button to access that menu.
Kudos to Apple for including the Extras, which include Clock, Games, Contacts, Calendar, Notes, Stopwatch and Screen Lock. Although not necessary for a DAP, they are all great features that add value to the nano. I bet at least a couple will be useful to everyone who buys a nano.
Over the last month of testing, I have found the sound quality to be very good. Additionally, I'm not really a big fan of earbud-style headphones, but I actually like the ones Apple includes. They actually feel sort of big for earbuds. Nevertheless, I like them. I like the other included accessories as well for the most part. As I mentioned before, a nicer and more usable case would be nice.
Putting music on the nano isn't as easy as some other DAPs. Many DAPs allow you to simply drag and drop MP3s, WMAs and the like onto them from within Windows Explorer. You can't do that with the nano; Apple wants you to use its iTunes application to transfer music to your iPod. Fortunately though, iTunes is a nice program and transfers are pretty speedy when connected to one of my PC's USB 2.0 ports. iTunes isn't the only way to get music on your iPod though. You can supposedly use Winamp, but I couldn't get it to work with the latest version. I believe there are other options out there, but I haven't explored those yet. Most users will want to stick with the supported iTunes method.
Uploading pictures to the nano isn't quite as simple as music. In addition to iTunes, you will need iPhoto on a Mac or Adobe Photoshop Elements or Adobe Album on a Windows PC. Photo viewing is a neat feature, but I'm not sure how much I'll ever use it. Photos look good on the colorful display, but the small screen limits how well you can see an image.
The battery life of the nano has been decent. I haven't gotten 14 hours out of a charge yet, but I do usually get about 10-12 hours of use before needing to recharge, depending of course on how much I'm browsing through menus or changing settings, etc.
Conclusion
I usually avoid jumping on bandwagons, but I've crawled aboard the iPod bandwagon and am glad I did. The 4GB nano is a great little DAP and photo viewer. I am by no means an authority on DAPs, but I strongly suggest giving the nano a closer look if you want a flash-based DAP. Apple offers the nano in three capacities – 1GB, 2GB and 4GB – and two colors – black and white. Both colors look about as slick as a DAP can look. Plus, the user interface and Click Wheel are excellent. In addition to the great style and interface, the nano offers great little extras, like Contacts, Games, Calendar, Stopwatch and much more.
The biggest beef I have with Apple in regards to the iPod nano pertains to the included case. If you want to really protect the nano, you have to buy a new case. iPod accessories tend to be on the expensive side in my opinion, so look to spend at least $20 if not $30+ to find a case that fits your needs. I purchased the DLO Action Jacket for my nano because I use it primarily while exercising and traveling. It is worth noting that a protective case wouldn't be as necessary if Apple would use a more scratch-resistant finish on the nano.
Since the nano is one of the nicest DAPs on the market, it isn't the cheapest. Geeks.com is selling the 4GB nano for around $245. If that's out of stock, you can get the black or white 2GB nano for just over $180.
Pros:
+ Excellent user interface and menus
+ Click Wheel rocks!
+ Great looks
+ Great features
+ Decent battery life
+ Colorful, bright display that's easy to read
Cons:
– No WMA support
– Included case could be much better
– Surface could be more scratch-resistant
– No FM tuner
– Screen could be bigger (longer at least)
Final Score: 9 out of 10 and the Bjorn3D Seal of Approval