By now, you all know how exciting the GeForce 7800 GTX has proven to be. It's definitely on a whole new level of performance. This review covers Gigabyte's offering into this whole new level of graphic card goodness. Check it out to see just how well a single retail 7800 GTX performs compared to a single 6800 GT.
Introduction
---
With the very successful GeForce 6 Series and what will probably be an even more successful 7 Series, NVIDIA is clearly back to doing things right. SLI has made the company king again, at least for a little while. SLI combined with the 7800 GTX is a whole new level of "wow" that we haven't seen before. I think it's getting easier and easier to forget about that 5800 silliness.
By now, you've probably heard it a thousand times, but it deserves repeating. NVIDIA's 7800 GTX launch was not just a typical paper launch. A handful of companies had cards on the virtual shelves of e-tailers the day that the new card was announced. As a matter of fact, we even had a retail board for our preview article. Today, though, it's time to look at retail 7800 GTX offering from Gigabyte, a name I'm sure you all recognize.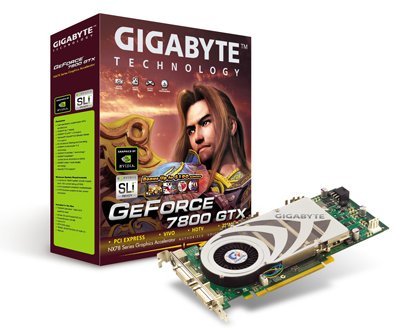 In this review, I'll cover the features, specifications, bundle, performance and overclocking abilities of the Gigabyte GV-NX78X256V, an interesting name for a GeForce 7800 GTX with standard clocks.
Features & Specifications
---
Features
Next-generation superscalar GPU architecture
NVIDIA SLI Ready
NVIDIA CineFX 4.0 engine
Microsoft DirectX 9.0 Shader Model 3.0 support
64-bit texture filtering and blending
NVIDIA Intellisample 4.0 technology
NVIDIA PureVideo technology
NVIDIA ForceWare Unified Driver Architecture (UDA)
NVIDIA nView multi-display technology
OpenGL 2.0 support
DVI-I and TV-Out connectors
Specifications
| | | |
| --- | --- | --- |
|   | 7800 GTX | 6800 Ultra |
| Graphics Bus Technology | PCI Express | PCI Express & AGP |
| Memory Interface | 256-bit | 256-bit |
| Memory | 256 MB GDDR3 | 256 or 512 MB GDDR3 |
| Memory Bandwidth (GB/sec.) | 38.4 | 33.6 |
| Fill Rate (billion pixels/sec.) | 10.32 | 6.4 |
| Vertices/sec. (million) | 860 | 600 |
| Pixels per Clock (peak) | 24 | 16 |
| RAMDACs | 400 MHz | 400 MHz |
For more 7800 specs, go to NVIDIA's web site: http://www.nvidia.com/page/specs_gf7800.html.
You can see in the comparison above that the 7800 GTX, with its 24 pixel pipes and 8 vertex pipes, offers quite a bit more power than the 6800 Ultra. If you've been keeping track of NVIDIA technologies, you will also notice that the 7 Series GPU's utilize the new CineFX 4.0 engine and Intellisample 4.0 technology. All of this adds up to faster frame rates and better looking visuals in games. According to NVIDIA's GeForce 7800 FAQ, here are the key areas of improvement that the 7800 GTX offers over the 6800 Ultra.
New vertex, pixel and texture engines
The GeForce 7800 GTX has a 24 pipe architecture compared to a 16 pipe architecture of the 6800 Ultra
The pipes are more efficient, resulting in a dramatic improvement in shader performance and programmability
Increase in clock speeds
NVIDIA, of course, opted to continue offering SLI support on this new card. A pair of 7800 GTX's is definitely a pixel-pushing force to be reckoned with. We'll be covering 7800 GTX SLI performance in a review very soon.
Closer Look & Bundle
---
Closer Look
So far, most companies are releasing retail 7800 GTX cards that vary only slightly from NVIDIA's reference design, and that variation typically can be seen on the heatsink cover. Gigabyte is no exception to this, as you can see below. The heatsink is the same as the reference one with the only change being the word "GIGABYTE" in the right-hand corner.
Hopefully, you can tell in the pictures that Gigabyte's 7800 GTX is a single-slot solution. Unfortunately, the 7800 GTX PCB is a little bit longer than a 6800 GT, which can mean more cramping between the card's power connector and system hard drives. The 7800 GTX requires a single connection to system power (350W or greater power supply is recommended, which is actually lower than the 6800 GT/Ultra). Most of you will be happy to see the dual DVI connectors.
Bundle
Gigabyte GV-NX78X256V-B
Driver/Software CD:

CyberLink PowerDVD 6
ForceWare Drivers

CyberLink PowerDirector 3 ME
Game: Xpand Rally (full)
Game: Joint Operations: Typhoon Rising (full)
VGA-to-DVI adapter
DTV VIVO cable
Manual
One thing is for sure; this is a much better box than that used to package the last Gigabyte card I reviewed, the Silent-Pipe X800 XL. This box is actually a reasonable size and presents the awe-inspiring card inside quite well. The included CyberLink software is pretty good stuff, and the games are okay, but they don't interest me at all. Hopefully, you enjoy them if you buy this card.
Test System & Benchmarks
---
You can see the details of the test system used in this review below. I'm still using the DFI LP NF4 SLI-DR motherboard but have upgraded to a 3800+ Venice processor. For comparison, I'm also benchmarking the reference 6800 GT that I have on hand. Both cards were benchmarked using the latest public drivers from NVIDIA, ForceWare 77.72.
Test System
AMD Athlon 64 3800+
DFI LANParty NF4 SLI-DR Motherboard (review)
Video Card 1: Gigabyte GeForce 7800 GTX – DirectX 9.0c, ForceWare 77.72
Video Card 2: NVIDIA Reference GeForce 6800 GT – DirectX 9.0c, ForceWare 77.72
Maxtor 120GB Serial ATA 7200RPM Hard Drive
Windows XP with Service Pack 2
20″ Dell LCD Monitor – max resolution 1600×1200
Benchmarks
3DMark03 v3.6.0 – default settings and 4xAA / 8xAF
3DMark05 v1.2.0 – default settings
AquaMark3 – 4xAA / 8xAF, high quality
Half-Life 2 – NoAA / 2xAF and 4xAA / 8xAF
Doom 3 1.1 – NoAA / High Quality and 4xAA / High Quality, both with highest details set in game
Far Cry 1.3 – NoAA / 1xAF and 4xAA / 8xAF
X2: The Threat, Rolling Demo – automatic quality set in benchmark with antialiasing, bumpmaps and shadows enabled in benchmark
Benchmarks – 3DMark03
---
One quick and easy way to see what the 7800 GTX's new architecture offers over the 6800 GT's is to look at the feature tests in 3DMark03 and 3DMark05. In the table below, you can see how much better the 7800 GTX performs in fill rate and shader tests as well as the game tests in 3DMark03. In the multi-texturing fill-rate test, the 7800 GTX outperforms the 6800 GT by almost 83%, and it outperforms the 6800 GT by over 108% in the pixel shader 2.0 test.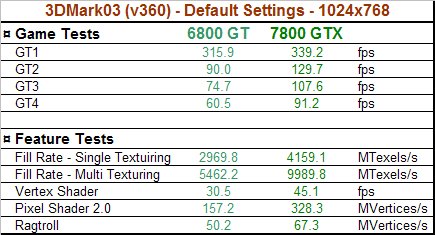 The first game test isn't much of a challenge for either card; the 7800 GTX only performs 7.4% better than the 6800 GT. The other tests, though, provide a better opportunity for the 7800 GTX to show off as it performs 44-50% better in all three. That's quite a gap over NVIDIA's previous generation's second most powerful card.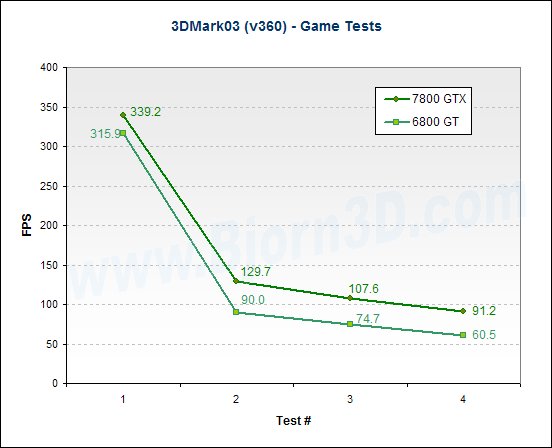 In these last two graphs, you can see how much higher the 7800 GTX scores in the overall 3DMark03 tests. The default score of this Gigabyte 7800 GTX is almost 16,000 3DMarks, a 38% gain over the 6800 GT. When the tests are run at 4xAA (anti-aliasing) and 8xAF (anisotropic filtering), the 7800 GTX beats the 6800 GT by over 65% at each resolution.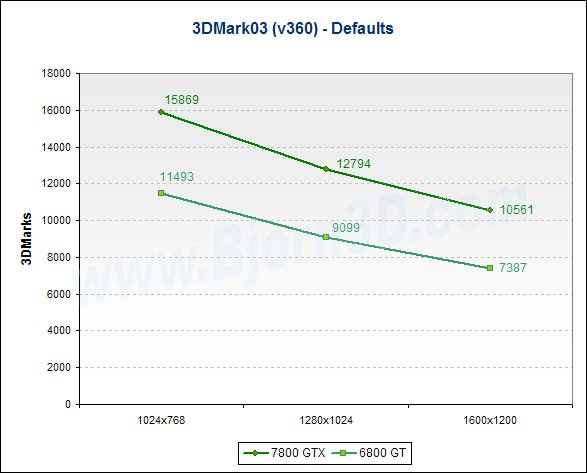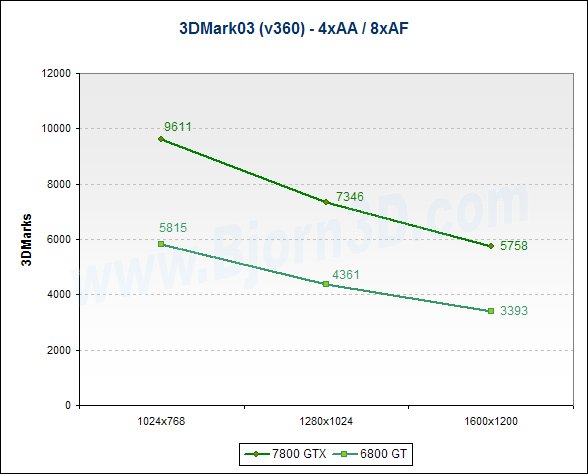 Benchmarks – 3DMark05
---
Just like 3DMark03, 3DMark05 includes feature tests that provide us with some good synthetic performance comparisons. These results are much like the 3DMark03 results. In the game tests, the 7800 GTX performs between 45% and 65% better than the 6800 GT. Additionally, the pixel shader performance of the 7800 GTX is once again more than double that of the 6800 GT while the single and multi-texturing fill rate performance is 54% and 81% higher, respectively.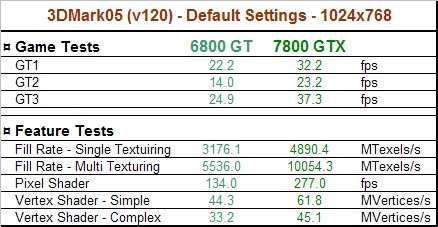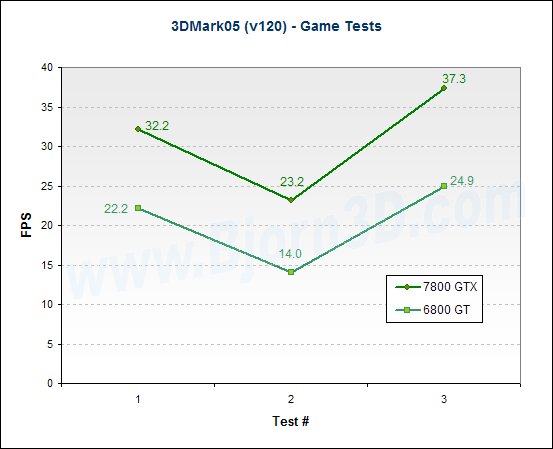 You can see the overall 3DMark05 scores below. The big gap between those two lines really makes it clear how superior the 7800 GTX is to the 6800 GT. At all default settings (1024×768), the 7800 GTX performs 53% better than the 6800 GT, and at 1600×1200, it performs almost 70% better.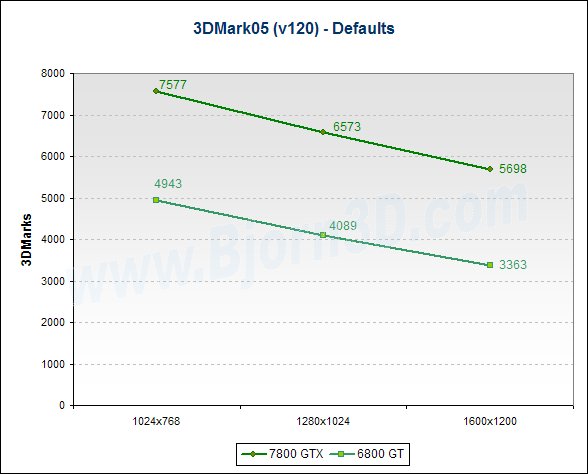 Benchmarks – AquaMark3 & X2: The Threat
---
AquaMark3
The AquaMark3 benchmark is based on an actual game engine, and some parts of the benchmark can really stress even the most modern cards. I ran the benchmark with 4xAA and 8xAF in the application and "Application Preference" set in the driver control panel.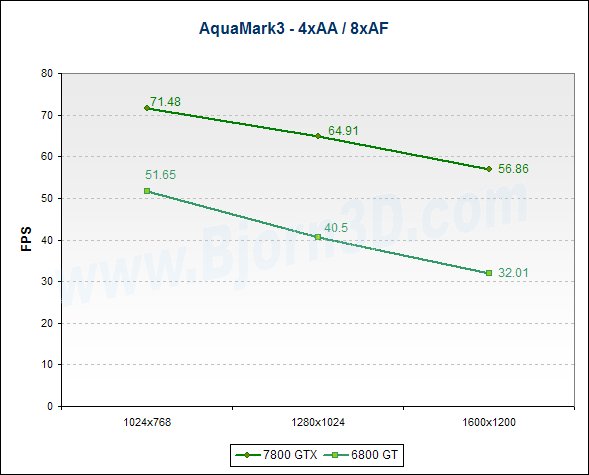 Once again, the performance gain of the 7800 GTX over the 6800 GT is quite obvious. At 1280×1024, the 7800 GTX provides over 60% more frames per second on average while at 1600×1200, it leads by almost 78%.
X2: The Threat Rolling Demo
This demo is also based on a game, and that is X2: The Threat, of course. The Rolling Demo renders a bunch of different game scenes and reports scores for each scene and an average score in frames per second (FPS). The chart below just shows the average. This benchmark was run with bumpmaps, shadows and anti-aliasing set to "On" in the application and with "Application Preference" set in the driver control panel.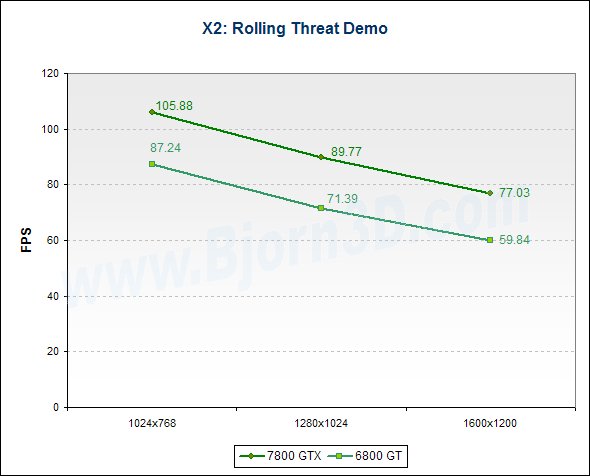 The gap in performance isn't quite as high in X2. The 7800 GTX only performs about 21-28% better than the 6800 GT.
Benchmarks – Doom 3
---
While it can play fairly well on low-end systems at lower resolutions, Doom 3 can really punish a system if you crank up the details and resolution. I ran the included demo1 timedemo with quality set to high and AA turned off and also with quality set to high and AA set to 4x in the game.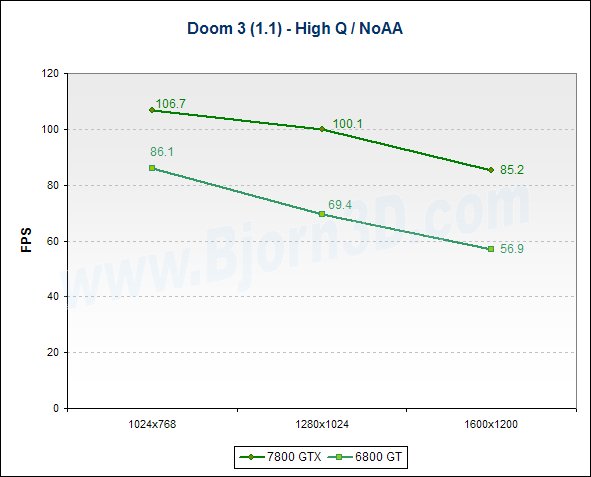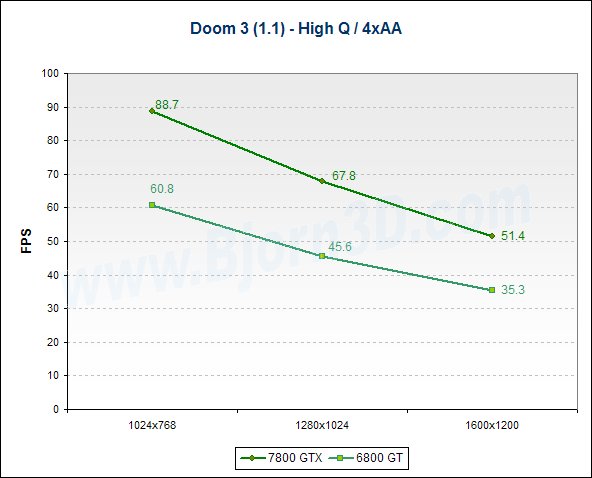 With AA disabled, the 7800 GTX surpasses the 100 FPS mark at both 1024×768 and 1280×1024, pushing 20-30 FPS more than the 6800 GT. The story, of course, doesn't change with 4xAA enabled. In the 4xAA tests, the 7800 GTX performs over 45% better than the 6800 GT at all resolutions.
Benchmarks – Half-Life 2
---
Like Doom 3, Half-Life 2 is a popular game with oustanding graphics. To benchmark Half-Life 2, I used the HL2 benchmark utility created by HardwareOC. I used the included HOC d3c171 map demo and Guru3d demo5 for testing.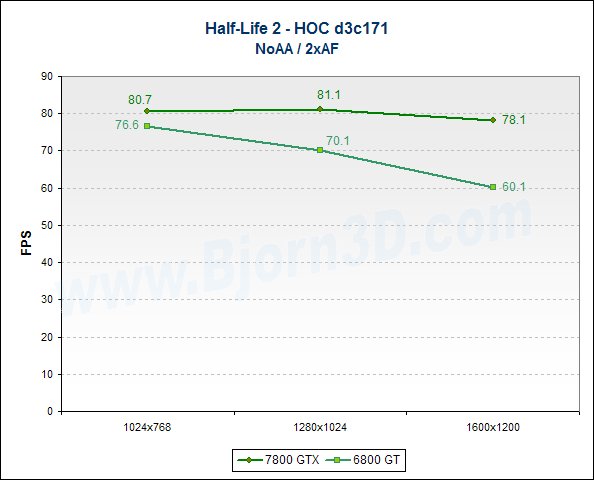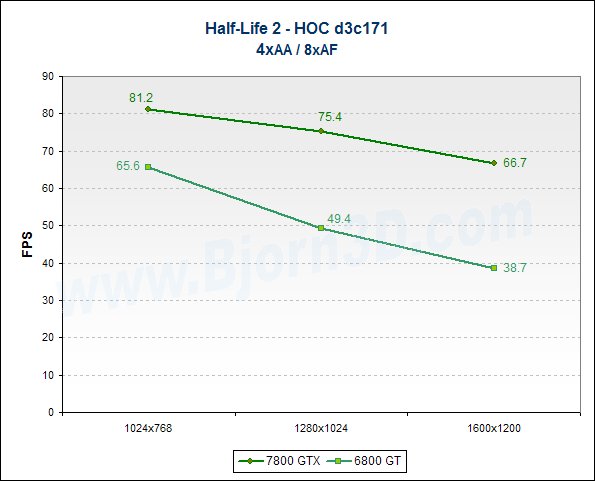 It is becoming more evident, and not surprisingly so, that the 7800 GTX really shines at higher resolutions with features turned high (like 4xAA and 8xAF for example). This is most notable in the second d3c171 graph above where the 7800 GTX surpasses the 6800 GT by over 50% at 1280×1024 and over 70% at 1600×1200. These are the kind of gains we want to see to help justify the 7800 GTX's price.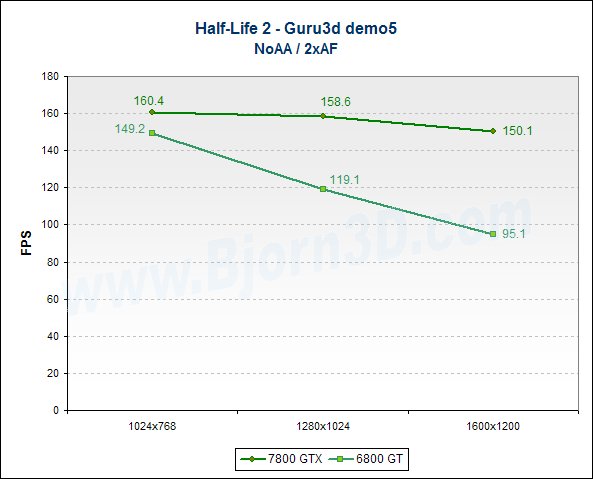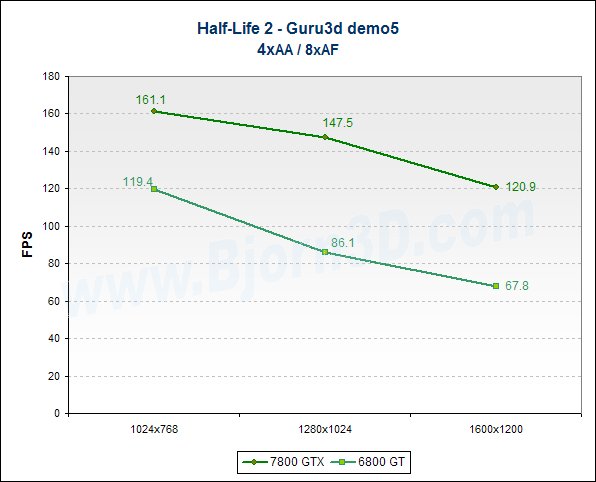 The trend in the demo5 test is very similar to the d3c171 map tests. As I throw more at the 7800 GTX, it just seems to want to show off even more. This time it performs over 70% better than the 6800 GT at 1280×1024 and 1600×1200 with 4xAA and 8xAF.
Benchmarks – Far Cry
---
Far Cry is currently one of the most pipeline-punishing PC games available. Playing at the highest resolution with eye candy maxed out and still getting playable frame rates is not really possible for even the most powerful systems and graphics cards…at least it wasn't before the 7800 GTX was introduced. Let's see if that's still the case. Once again, I used a benchmarking utility from HardwareOC to benchmark this game. This time I used the HOC volcano and river demos for testing.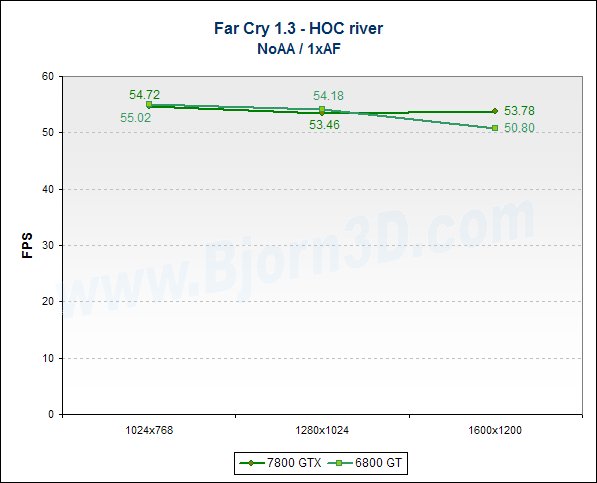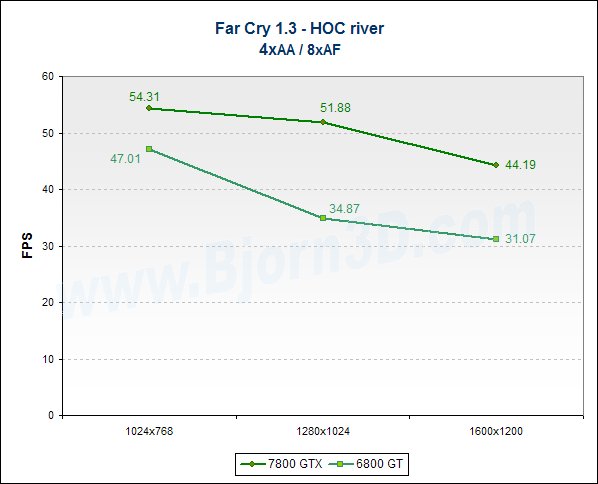 The first graph above doesn't really tell us much other than the fact that the system is CPU-limited in the river map. With 4xAA and 8xAF, the cards face more of a challenge, but the 7800 GTX still puts up scores that are over 40% higher than the 6800 GT's at 1280×1024 and 1600×1200.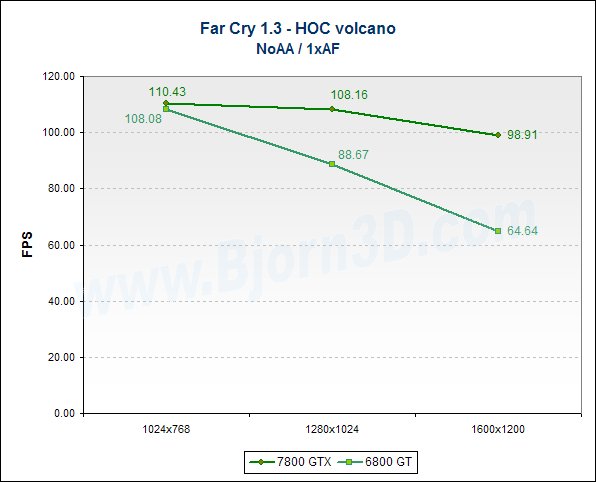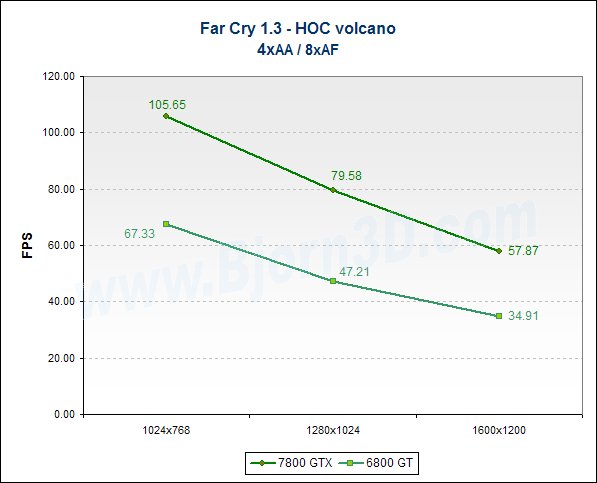 The volcano map tests the video cards better but reveals the same story. The 7800 GTX boasts 20-35+ FPS gains over the 6800 GT at all settings except 1024×768 NoAA / 1xAF.
Overclocking & Conclusion
---
Overclocking
For the most part, the Gigabyte 7800 GTX at default clock speeds (430MHz core and 1.2GHz memory) will give you enough power to play most games at 1600×1200 with 4xAA and 8xAF or even higher. But, I know that doesn't stop many of you from wondering how well this card overclocks. After a little trial and error, I was able to overclock the GV-NX78X256V-B to 470MHz core and 1.3GHz memory. These clock boosts resulted in 7-11% performance improvement in the benchmarks that I tested. Not too shabby, but still, think long and hard before you risk a $530 card for only a small gain in performance. As always, your mileage will vary when overclocking. Every processor and memory chip is different.
Final Thoughts
The current hype and excitement over the 7800 GTX definitely is justified. The price seems to be too considering how many people are snatching them up. The performance gains offered by the Gigabyte 7800 GTX over the excellent 6800 GT make it worth every penny to hard core gamers. Even with just a single 7800 GTX, you can play games at detail levels that were previously unplayable (unless you like slide shows). Two 7800 GTX's in SLI are basically too powerful to be fully exploited by even the most powerful processors and systems available today. That's downright impressive. NVIDIA deserves some props…well, a lot of props.
If you are in the enviable position of being able to afford one or two $530 video cards, then go for it! I doubt anyone who has emptied his wallet for this new graphics powerhouse is regretting it. It's amazing that these cards have already dropped $70-100 from their initial asking price. Early adopters got stung quickly this time around.
Gigabyte's GV-NX78X256V-B is a strong offering in the 7800 GTX crowd. The package includes some decent software, including two full games. With default clock speeds, it's a safe and practical route to take if you want the awesome performance of a 7800 GTX without many extra bells and whistles.
Pros:
+ Awesome performance
+ Decent bundle
+ Dual DVI
+ VIVO capabilities
+ Single-slot solution
Cons:
– Expensive
– Long
Final Score: 9 out of 10 and the Bjorn3D Seal of Approval