Sapphire, like other video card companies, isn't forgetting about the AGP users out there. The flagship X850 XT Platinum Edition card is now available in both PCI Express and AGP flavors. Read this article to see just how well Sapphire's flagship AGP card performs relative to an X850 XT PCIe and X800 XL PCIe card.
INTRODUCTION
---
Enthusiasts who are reluctant to or not in a hurry to upgrade to a PCI Express platform must have rejoiced when the latest high-end ATI AGP cards starting arriving on store shelves. If you really love ATI and your AGP motherboard, then you can get a flagship Radeon card, like Sapphire's Radeon X850 XT Platinum Edition, which I happen to have on the review bench today.

Although ATI scoffed at NVIDIA for employing a bridge chip last year, ATI decided that a bridge chip was the best way to go to quickly and affordably bring the latest Radeons to market in AGP form. This bridge chip makes the PCI Express cards AGP 8X compatible.
When it comes to the features and specifications that really matter, the PCI Express and AGP forms of the X850 XT PE card are no different. The X850 XT PE is clocked at 540MHz for the core and 590MHz for the memory while the X850 XT is clocked at 520MHz and 540MHz, respectively. This, of course, makes the X850 XT PE ATI's top card right now.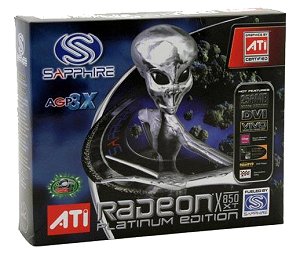 Whether in AGP or PCI Express form, the Sapphire X850 XT PE is one awesome card. I'll compare this AGP card to two recently reviewed PCI Express Sapphire cards – the 256MB X800 XL and X850 XT. If you keep reading, you'll see that the AGP slot doesn't hinder the X850 XT PE's performance one bit.
FEATURES and SPECIFICATIONS
---
Features
256MB of GDDR3 memory
256-bit quad-channel GDDR3 memory interface
16 parallel pixel pipelines
AGP 8X support
VIVO – video-in/video-out
Dual display support
Dual integrated 400MHz DAC's
2048×1536 @ 85Hz Maximum Resolution
S-Video TV-out port
Full support for DirectX® 9.0 and the latest OpenGL® 2.0 functionality
SMARTSHADER™ HD technology
SMOOTHVISION™ HD technology
3Dc™ High quality 4:1 Normal Map Compression delivers beautiful scenes without the performance hit.
Unique VIDEOSHADER™ HD engine uses programmable pixel shaders to accelerate video processing and provide better-looking visuals
HYPER Z™ HD is optimized for performance at high display resolutions, including widescreen HDTV resolutions.
Specifications
| | | | |
| --- | --- | --- | --- |
|   | RADEON X800 XL | RADEON X850 XT | RADEON X850 XT PE |
| Memory Amount (MB) | 256 | 256 | 256 |
| Memory Type | GDDR3 | GDDR3 | GDDR3 |
| Memory Interface | 256-bit | 256-bit | 256-bit |
| Memory Clock Speed (MHz) | 490 | 540 | 590 |
| Engine Clock Speed (MHz) | 400 | 520 | 540 |
| Pipelines | 16 | 16 | 16 |
| Pixel Fillrate | 6.4 Gpixels/sec | 8.32 Gpixels/sec | 8.6 Gpixels |
| Geometry Rate | 600 MTriangles | 780 MTriangles | 810 MTriangles |
CLOSER LOOK and BUNDLE
---
Closer Look at the Card
Just like the PCI Express X850 XT I reviewed, Sapphire's AGP X850 XT PE card features a large plastic shroud with a copper heatsink and interesting fan. Additionally, it is a two-slot solution, so you'll have to keep that first PCI slot unoccupied. On the back of the card, you can see the ATI Rage Theater chip (which is present since this is a VIVO-capable card) as well as two metal pieces that help hold the plastic and metal cooler on.
It still baffles me that these high-end cards don't feature dual DVI connectors. You can see below that this Sapphire card has a regular VGA connector, a DVI connector and the TV-out/VIVO connector. As is typical with both ATI's and NVIDIA's flagship cards, this card requires connection to your system's power supply via 4-pin connector (Molex). The yellow connector if for fan monitoring.
Bundle
Sapphire X850 XT PE Video Card
Installation/Getting Started Guide
DVI-to-VGA Adapter
S-video Cable
Composite Video Cable
Component Video Connector
VIVO Cable
Y-Power Cable
Sapphire Sticker
Installation Driver CD
CyberLink PowerDVD 5
CyberLink PowerDirector 3
Redline Tweak Utility
Prince of Persia: Sands of Time (full version)
Splinter Cell: Pandora Tomorrow (full version)
This bundle is just like Sapphire's other higher end card bundles but with the inclusion of two pieces to make your VIVO experience complete – the VIVO cable and CyberLink PowerDirector software. The included games are good, but it would be great to have their newer sequels instead.
TEST SYSTEM & BENCHMARKS
---
Test Systems
I decided to compare the AGP X850 XT PE to two recently reviewed PCI Express Sapphire cards – an X850 XT and X800 XL. For the AGP system, I used a Chaintech nForce3-150 motherboard with a socket 754 3400+, and for the PCI Express system, I used the Foxconn NF4UK8AA-8EKRS with a 939 3200+. While the 3400+ is clocked slightly higher than the 3200+, the 3200+ features a dual-channel memory controller compared to the 3400+'s single. Additionally, the nForce4 board is a better performer than the nForce3. These points add up to the two systems performing very, very similarly in gaming benchmarks, which you can see right here in the Foxconn NF4UK8AA-8EKRS review.
PCIe – nForce4 Socket 939 System Configuration

AMD Athlon 64 3200+
Foxconn NF4UK8AA-8EKRS (review)
Maxtor 120GB Serial ATA 7200RPM Hard Drive w/ 8MB Buffer
Windows XP with Service Pack 2
17″ Solarism LCD Monitor – max resolution 1280 x 1024

AGP – nForce3 Socket 754 System Configuration

AMD Athlon 64 3400+ (review)
Chaintech ZNF3-150 Zenith nForce3 Motherboard (review)
Sapphire Radeon X850 XT PE – DirectX 9.0c, Catalyst 5.3
Maxtor 200GB DiamondMax9+ Hard Drive w/ 8MB Buffer
Windows XP with Service Pack 2
17″ Solarism LCD Monitor – max resolution 1280 x 1024
Benchmarks
3DMark03 v3.6.0 – default settings and 4xAA / 8xAF
3DMark05 v1.2.0 – default settings
AquaMark3 – 4xAA / 8xAF, high quality
Half-Life 2 – NoAA / 2xAF and 4xAA / 8xAF
Doom 3 1.1 – NoAA / High Quality and 4xAA / High Quality, both with highest details set in game
Far Cry 1.3 – NoAA / 1xAF and 4xAA / 8xAF
X2: The Threat, Rolling Demo – automatic quality set in benchmark with antialiasing, bumpmaps and shadows enabled in benchmark
PERFORMANCE – 3DMARK03 & 05
---
There is no need for introduction to Futuremark's 3DMark benchmarking applications. Although many people question their benchmarking relevance, their popularity and ease of use is undeniable. As long as people seem to love comparing their 3DMark results, I'll probably include them in my reviews since they provide a good reference point.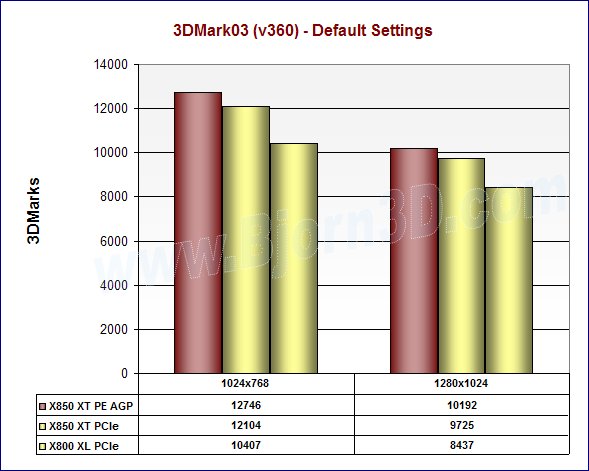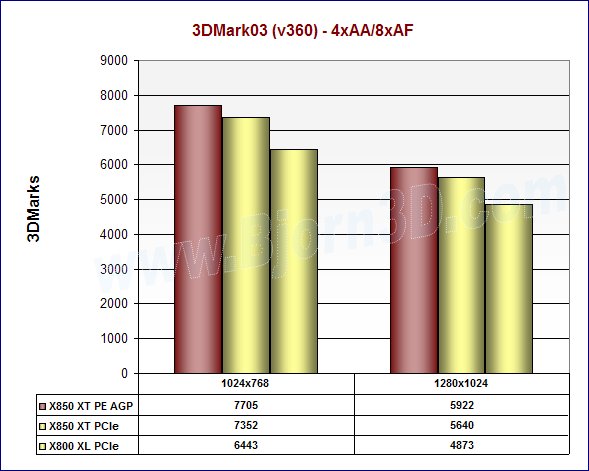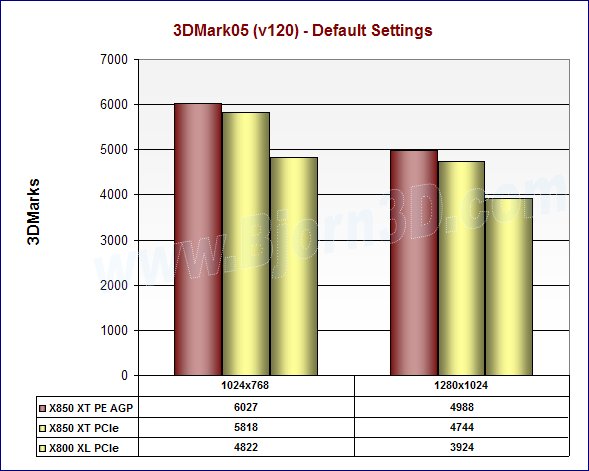 PERFORMANCE – AQUAMARK3 & X2: THE THREAT
---
The AquaMark3 benchmark is based on an actual game engine, and it can really stress even the most modern cards. I ran the benchmark with 4xAA and 8xAF in the application and "Application Preference" set in the driver control panel.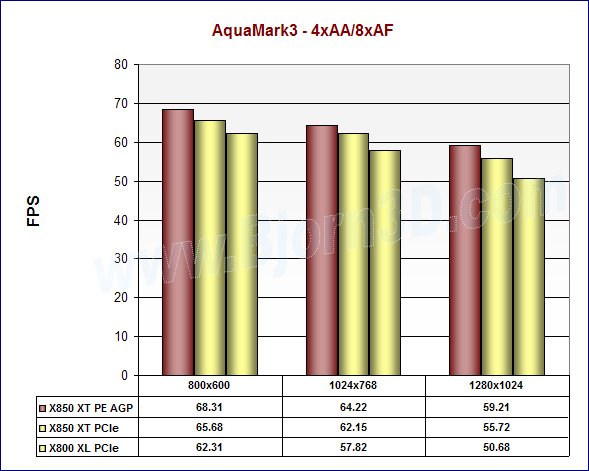 This demo is also based on a game, and that is X2: The Threat of course. The Rolling Demo renders a bunch of different game scenes and reports scores for each scene and an average score in frames per second (FPS). The chart below just shows the average. This benchmark was run with bumpmaps, shadows and anti-aliasing set to "On" in the application and with "Application Preference" set in the driver control panel.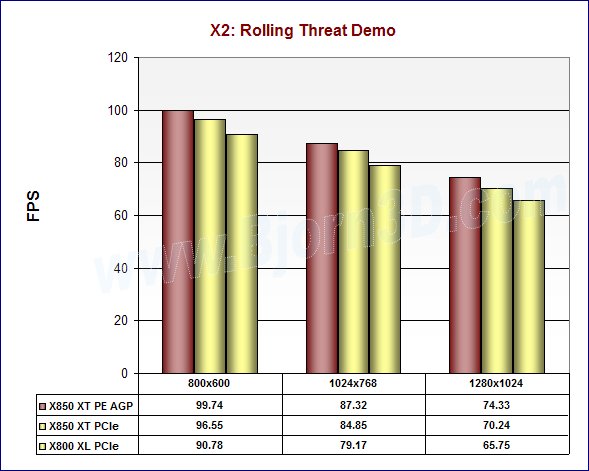 PERFORMANCE – DOOM 3
---
While it can play fairly well on low-end systems at lower resolutions, Doom 3 can really punish a system if you crank up the details and resolution. I ran the included demo1 timedemo with quality set to high and AA turned off and also with quality set to high and AA set to 4x in the game.
PERFORMANCE – HALF-LIFE 2
---
To benchmark Half-Life 2, I used the HL2 benchmark utility created by HardwareOC. I used the included HOC d3c17 map demo and Guru3d demo5 for testing. The performance appears to be quite system-limited, for my system at least. My test system is getting a nice little boost in the form of a 3800+ Venice very soon, so hopefully that'll help make these benchmarks mean a little more.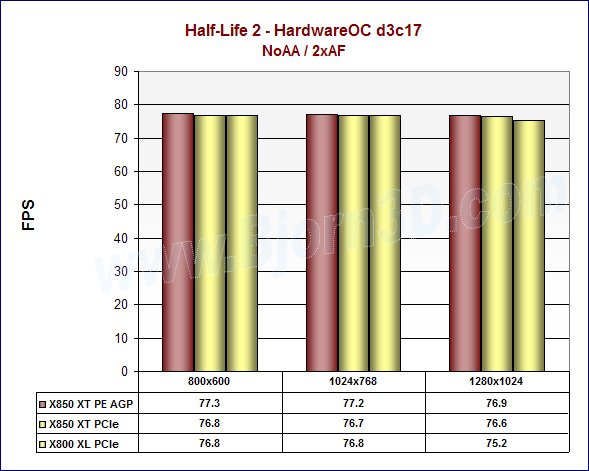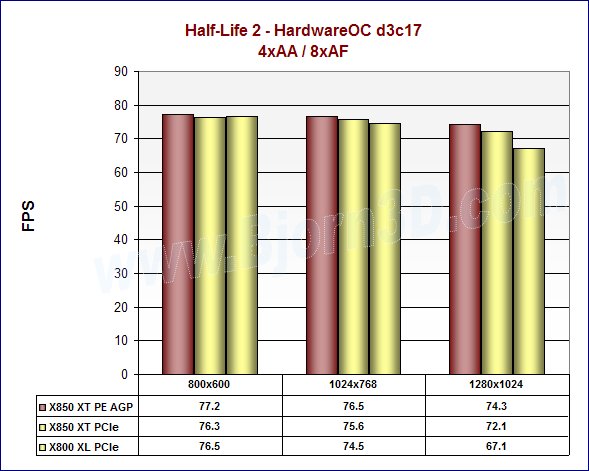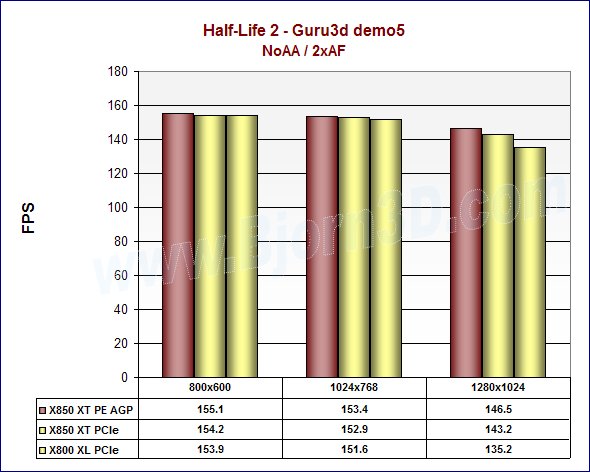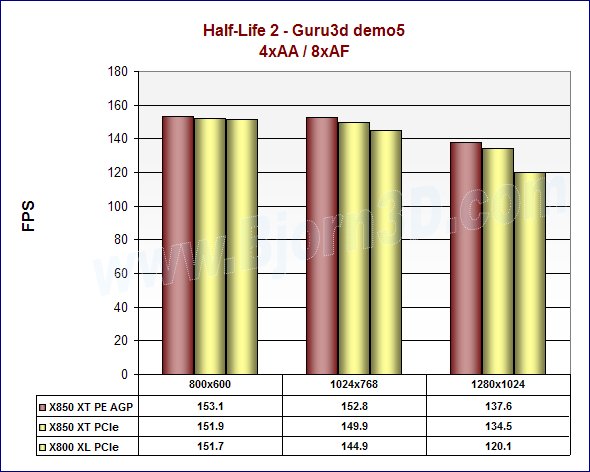 PERFORMANCE – FAR CRY
---
Far Cry is currently one of the most pipeline-punishing PC games available. Playing at the highest resolution with eye candy maxed out and still getting playable frame rates is not really possible for even the most powerful systems and graphics cards. Once again, I used a benchmarking utility from HardwareOC to benchmark this game. This time I used the HOC volcano and river demos for testing. Like the HL2 results, these tests also appear to be CPU-limited at lower resolutions. My test system LCD has recently been replaced with a 20″ LCD that is capable of 1600×1200, so I'll definitely go back to including that resolution in my testing.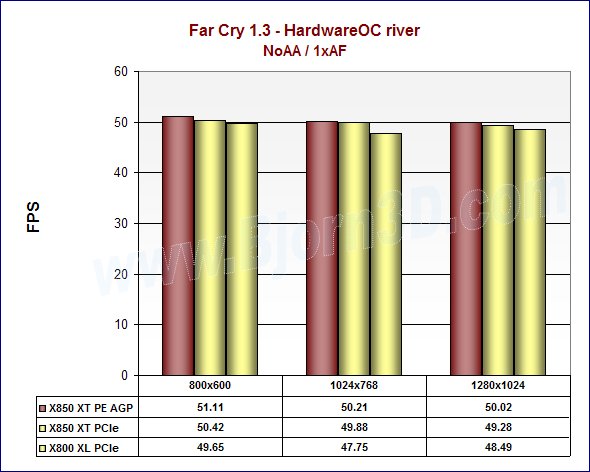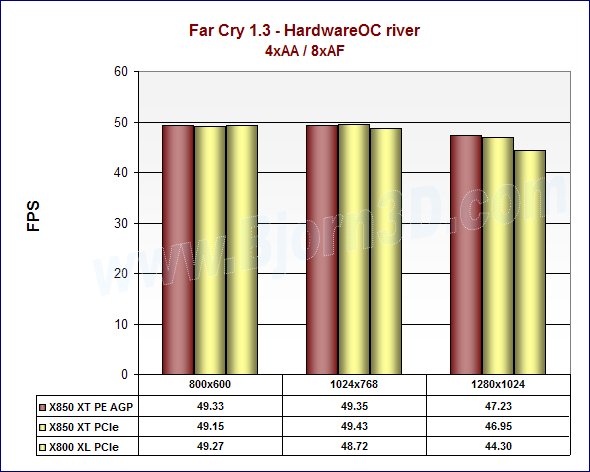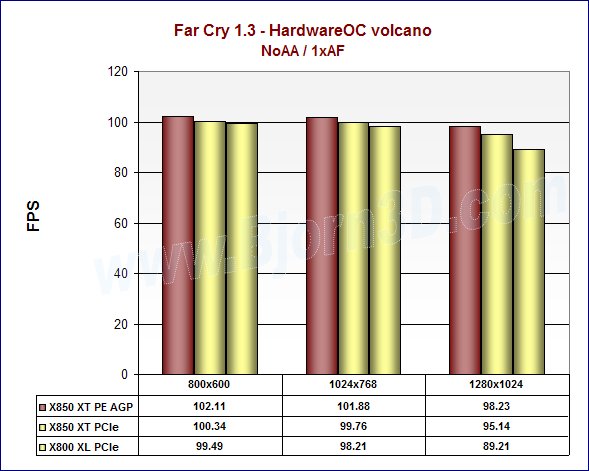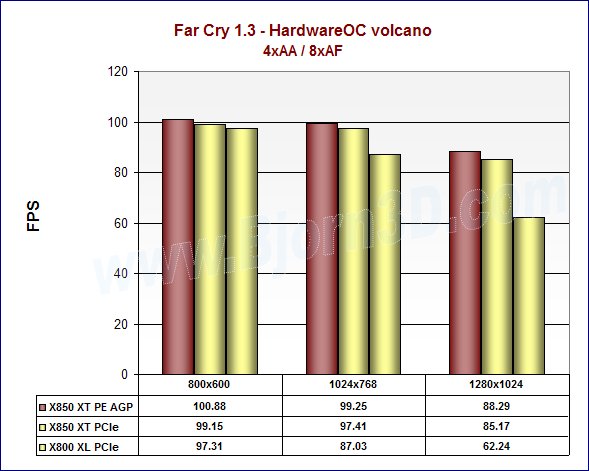 OVERCLOCKING & CONCLUSION
---
While the default clock performance of the Sapphire X850 XT PE AGP card is quite impressive, the overclocking headroom is definitely underwhelming, but this isn't a surprise considering that it is already an overclocked part essentially. I wasn't able to overclock over 20MHz more on either the core or the memory, and, as you might guess, the resulting performance gain was not worth noting.
You can see from the test results on the previous pages that the X850 XT PE definitely offers a slight advantage over the X850 XT. This extra performance comes at a cost of about $40 over Sapphire's AGP X850 XT. In addition to higher clock speeds though, you also get the VIVO capability in the PE card that isn't found on the non-PE. If you want the most capable Sapphire/ATI card currently available, then it's definitely worth the current $445 price tag. This card will last you quite some time, pumping great framerates for years to come.
On the other hand, if you can't stomach the sticker shock or don't like the size of the two-slot beast, I'd strongly recommend you take a look at the X800 XL offerings from Sapphire. You will have to make more compromises on eye candy and high resolutions though. That's what's so great about a top card like the X850 XT PE; you don't have to make those compromises in very many (if any) games. You're free to crank up resolution to at least 1280×1024 with 4xAA/8xAF or better, and you won't have to worry about stuttering mid-game.
If you want to stick with that nice AGP board you currently own and have come to love, then the Sapphire AGP X850 XT PE makes a strong case for there being no rush to make the switch to PCI Express. It definitely offers every bit of pixel power as its PCI Express brother. Sapphire also includes a nice bundle to round out the great ffering. Look for prices to keep dropping as the next generation cards will be introduced soon and as PCI Express takes over more of the market.
Pros:
+ Excellent performance
+ VIVO capabilities
+ Decent bundle
+ Reasonably quiet after initial loud startup
Cons:
– Not cheap
– Two-slot design
– Requires connection to PSU
Final Score: 8.5 out of 10 and the Bjorn3D Seal of Approval