Leadtek's Winfast A6600 GT TDH proudly crunches the numbers so that you can enjoy your latest and greatest games. See just how well it performs inside.
Introduction
---
At a time when a $500 video card is not uncommon, many PC enthusiasts may find it hard to justify the need to spend that amount of money on one piece of hardware. NVIDIA's 6600 GPU is aimed at users who want some of the best performing hardware without having to sell their first-born to afford it. Leadtek has taken this technology and tossed it into a great package. The WinFast A6600GT TDH offers performance that almost matches that of high-end GPUs, at a fraction of the cost.
Ever since I first heard about the 6600 GPU at QuakeCon last year, I was very excited to see this video card first hand. Offering the performance of DDR3 memory and supporting Shader Model 3.0, this card was built to blow the cobwebs and dust off of those games that you purchased thinking that your old hardware would be able to run it. The 6600GT TDH really impressed me with the results that it produced in my testing, and I think you will feel the same.
The A6600GT TDH sports 128 megabytes of DDR3 memory clocked at an effective speed of 900MHz. The GPU core runs at 500MHz and is cooled with a very simple looking aluminum heatsink and fan combination.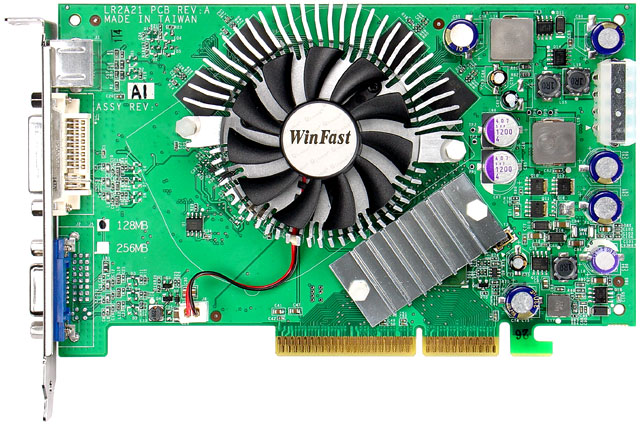 Features and Specs
---
Features
Microsoft® DirectX® 9.0 Shader Model 3.0 support
AGP 8X support
High-speed GDDR3 memory interface
NVIDIA® CineFX™ 3.0 engine
NVIDIA® UltraShadow™ II technology
NVIDIA® Intellisample™ 3.0 technology
NVIDIA® PureVideo™ technology
Adaptable programmable video processor
Advanced motion adaptive de-interlacing
Video scaling and filtering
Integrated HDTV encoder
Video color correction
NVIDIA® ForceWare™ Unified Driver Architecture (UDA)
NVIDIA® nView™ multi-display technology
NVIDIA® Digital Vibrance Control™ 3.0 technology
OpenGL® 1.5 optimizations and support
Specs
GPU – GeForce 6600GT
Graphic Bus – AGP 8x
GPU/Memory Clock – 500/450MHz
Memory – 128MB DDR3
Memory Interface – 128-bit
RAMDACs – 400MHz
Memory Bandwidth – 14.4GB/sec
Data Bandwidth – 2.1GB/sec
Data Pipelines – 8
Fill Rate – 4.1 billion texels/sec
Vertices – 375 million/sec
Process – .11 micon
Outputs – DVI, VGA, HDTV-Out

Package Contents
---
Winfast A6600GT TDH
Instruction Manual
Quick Install Guide
Driver and Utilities CD
Splinter Cell: Pandora Tomorrow DVD
Prince of Persia: The Sands of Time
DVI to VGA Adapter
HDTV Output Cable
Power Splitter
Detailed Look
---
Packaging
The retail packaging that the A6600GT shipped with is almost identical to the other packages that Leadtek has been distributing as of late. There is much to learn about the card inside by just reading the detailed explanations on the back of the box.
Detailed Look
---
A6600GT
I was not expecting what was inside the box to be so, for a lack of better words, "plain." The A6600GT features a bland green PCB; definitely more tame than other manufacturer's cards.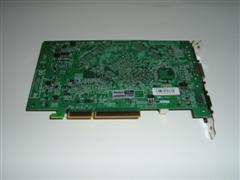 One thing about the card that did stick out was the custom GPU heatsink that Leadtek used. The heatsink features an aluminum base that extends out above and beyond the A6600GT's memory chips. This allows for the air brought in from the fan to circulate down across the DDR3 chips to keep them cool. Many other 6600GTs do not have this feature and may end up with higher memory temperatures.
The other heatsink on the A6600GT keeps the HSI bridge cool. This bridge is the matchmaker between the AGP and PCI-E buses and allows the natively PCI-E 6600GT to communicate with the AGP bus.
Other than the above details, the A6600 GT is very similar to just about every other videocard. Leadtek has definitely spent their time on the performance of this card, rather than the looks of it. I cannot complain one bit, as the benchmarks on the next pages show just what I am talking about.
Benchmarks
---
To get a good feel of just how well the A6600GT performs, I pitted it against the Leadtek A400TDH (GeForce 6800) that I reviewed in November. Although the A6600GT is in a whole class below the A400TDH, it performs almost as well as the higher classed card. I believe the following benchmark results speak for themselves, and I think you will agree.
Test System
AMD Athlon64 3200+ (2.2Ghz, 512k L2 Cache)
Biostar K8VHA Pro
Corsair XMS 3200 RAM 1x512MB
Maxtor 120GB HDD
Western Digital 200GB HDD
Lite-On 4xDVD+-RW
Thermaltake BigWater watercooling kit
Thermaltake Shark case
AquaMark 3
1024×768 – Default Settings, noAA/4xAF

GPU

FPS

Leadtek A400 TDH
55.16
Leadtek A6600 GT TDH
52.75
3DMark 05
1024×768 – Default Settings

GPU

3DMarks

Leadtek A400 TDH
3362
Leadtek A6600 GT TDH
3045
Source Stress Test
1024×768 – noAA/noAF, High Detail, Reflect World


Videocard

FPS

Leadtek A400 TDH
136.42
Leadtek A6600 GT TDH
125.03

1600×1200 – noAA/noAF, High Detail, Reflect World


Leadtek A400 TDH
80.03
Leadtek A6600 GT TDH
67.29
Source Stress Test
1024×768 – 4xAA/8xAF, High Detail, Reflect World


Videocard

FPS

Leadtek A400 TDH
115.42
Leadtek A6600 GT TDH
91.98

1600×1200 – 4xAA/8xAF, High Detail, Reflect World


Leadtek A400 TDH
26.03
Leadtek A6600 GT TDH
25.31
DOOM 3
1024×768 – noAA/8xAF

Videocard

FPS

Leadtek A400 TDH
86.1
Leadtek A6600 GT TDH
78.0

1600×1200 – noAA/8xAF

Leadtek A400 TDH
52.0
Leadtek A6600 GT TDH
43.5
DOOM 3
1024×768 – 4xAA/8xAF

Videocard

FPS

Leadtek A400 TDH
58.5
Leadtek A6600 GT TDH
40.4

1600×1200 – 4xAA/8xAF

Leadtek A400 TDH
22.4
Leadtek A6600 GT TDH
16.3
As shown in the charts above, the A6600 GT TDH almost performs as well as cards in a whole class above it. In addition to the great performance of this card, it is nearly silent. Since my rig is currently water cooled and uses 120mm fans, it is virtually silent. Adding the A6600 GT TDH to the mix did not increase the noise level of my system at all. This is one more feature to point out in favor of Leadtek's cooling solution on the A6600 GT TDH.
Overclocking
---
With such a plain looking cooling solution, I did not expect much overclocking to come from the A6600 GT. Boy was I wrong. Utilizing the WinFox software included with the 6600, I was able to safely achieve a GPU core clock of 581MHz. It didn't stop there. The memory clock increased an incredible 150MHz all the way up to 1050MHz. All of this power from such a small card. I am once again amazed at how powerful today's technology is. Below are the benchmark results of the overclocked Leadtek A6600 GT compared to the stock A6600 GT.
Aquamark3
1024×768 – Default Settings, noAA/4xAF

Videocard

FPS

Leadtek A6600 GT TDH (500/900)
52.75
Leadtek A6600 GT TDH (581/1050)
57.07
3DMark05
1024×768 – Default Settings

Videocard

3DMarks

Leadtek A6600 GT TDH (500/900)
3045
Leadtek A6600 GT TDH (581/1050)
3502
As you can see, overclocking the A6600 resulted in a gain of close to 500 3DMarks! That is quite a large jump in the score. I always enjoy it when a video card overclocks much higher than its stock settings and love to see the results that this can achieve. Even if you cannot afford the performance of a high-level video card, you can still achieve near the performance of one, and the Leadtek A6600 GT TDH is the perfect card for doing just that.
Conclusion
---
Amazed. That is how I feel after reviewing the Leadtek A6600 GT TDH.  This small card packs a punch worthy of a heavy-weight title.  Sure, it may not be the best looking card on the market with its plain-jane cooling solution and green PCB, but it sure can render framerates that are suitable for any gamer.  Add to that the fact that this card is capable of some great clock speeds with a little tweaking, and you have a video card that should be and is very desireable.
Pros
Small
Great performance
Overclocks like a champ
Affordable
Quiet
Cons
Videocard lacks creative design that may help it sell
Could benefit from an updated game bundle
With the performance it is capable of, the Leadtek A6600 GT TDH receives a score of 9 out of 10 and the Bjorn3D Seal of Approval.