The Pocket Hard Drive from Seagate offers a lot of storage at a great price. If you don't need the really small size of today's USB flash drives but still want something that can fit in the palm of your hand, then you should really take a look at the Pocket Hard Drive. It offers a lot of bang for your buck!
INTRODUCTION
---
When you need highly portable storage, you probably immediately consider USB flash drives and maybe 2.5″ USB-powered portable hard drives. Well, Seagate has another product that you might want to consider if you need an affordable 2.5GB or 5.0GB device, and that product is the USB 2.0 Pocket Hard Drive. While it is not as small as a USB flash drive, it is extremely portable and convenient thanks to its retractable USB cable.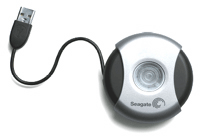 Seagate's USB 2.0 Pocket Hard Drive would make a great storage device for those who want to carry around a lot of work documents or large media files. People who frequently lose things would probably be more comfortable with the Pocket Drive than a flash drive since its beefier. The bigger something is, the less likely you are to just leave it laying somewhere, right? Let's take a closer look at this interesting device from one of the leaders in storage.
FEATURES and CLOSER LOOK
---
Features
Built-in, retractable USB 2.0 cable.
Powered by your computer, so you don't need a power supply.
Hot-pluggable USB 2.0 interface enables data transfer up to 480 Mbps.
3600-RPM drive with 2-Mbyte cache consistently delivers the high performance you need.
Password-protect your data with included utility.
Worry-free one-year warranty, plus free technical advice even after your warranty ends.
Comes complete with built-in, retractable 2.0 cable, quick connect guide and utilities CD.
Closer Look
The Pocket Hard Drive is a spiffy little device. It fits in the palm of your hand, and its USB 2.0 cable wraps around itself to be hidden when not in use. The cable is about six inches long when pulled out all the way. Some people will be left wanting a longer cable perhaps, but the drive can just hang from your computer if necessary since it is not very heavy. Although relatively light, the Pocket Drive feels quite sturdy with its plastic casing. The drive comes with a brief user's guide and a utilities CD.
To release the USB 2.0 cable, you just have to spin the black part of the Pocket Drive and then release the cable and pull it out. You can see this in the pictures below. You can also see in the last picture in that bunch that the bottom of the drive features two rubber, non-slip grips.
It's so cool to me that a 3600-RPM 1-inch drive with 2MB cache can fit in this thing! I just want to take it apart and see what that drive looks like. The pic below gives you some idea of how big the Pocket Hard Drive is.
SOFTWARE – SEAGATE TOOLKIT
---
The first thing I was interested in taking a look at was the included utilities in the toolkit. The executable to install it happened to by on my drive, but I'm not sure if they ship that way or not. If not, then you simply can install it off the included CD.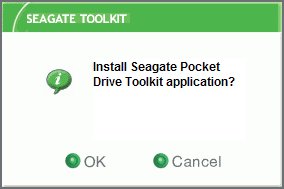 Seagate really did a nice job of creating a slick interface for these useful utilities. The Seagate Toolkit utility allows you to:
Resize partitions on the drive,
Create a secured partition on the drive,
Write-protect the drive, and
View status information about the drive.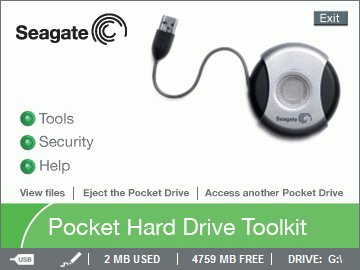 I think it's pretty obvious what these functions do. If you choose to resize the partitions to allocate secure space, the utility will warn you that doing so will erase all contents of the disk.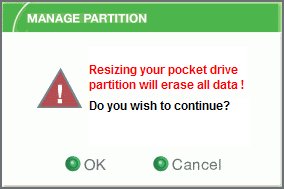 Creating a secure partition is quite simple. You just click and drag a slider or type in the size of the partition you want. Then you choose your password, confirm the password and add a password hint. It's very straightforward, and overall, one of the best looking interfaces I've seen for a portable storage device.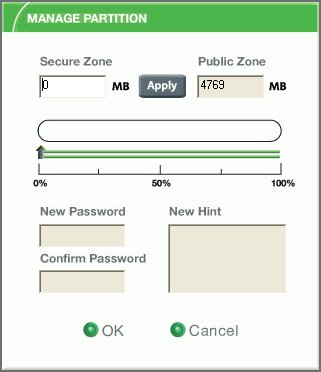 The Toolkit utility adds an icon in the system tray that allows you to access some of the Toolkit's capabilities, like write-protecting the drive. Also, Seagate even created a custom icon that looks like the Pocket Hard Drive to show up in the system tray and in Windows Explorer. That's a pretty cool extra step.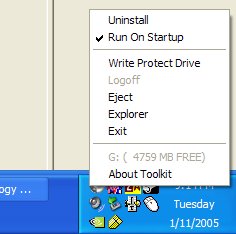 USE and PERFORMANCE
---
In the pictures on the previous pages, you may have noticed that the center of the drive contains a clear plastic. When the drive is being accessed, this area is lit up by a blue LED inside the drive. Blue was a good choice in my opinion, and it's nice and bright.
I think Seagate's main goal with the Pocket Hard Drives is to provide affordable, reliable and portable storage. With that said, it isn't intended to compete with the fastest (although smaller in capacity) USB 2.0 flash drives on the market, which can reach around 20MB/s read and 14MB/s write speeds or faster. The Pocket Hard Drive performs at a more moderate 4-7MB/s. When using the drive, I found this to be fast enough. It reminded me of the first generation of USB 2.0 flash drives. I'm not going to focus on benchmarks in this review, but I know that some of you will still want to see a common benchmark result, so here is my drive's performance in HD Tach 3.0.1.
I performed over a dozen transfers to and from the Pocket Drive to test its real-world performance, and its performance matched that shown in HD Tach. Most of the transfers took place at around 6MB/s, and they were all between 4 and 7MB/s. While the drive does get a little warm during operation, it doesn't make any noise.
CONCLUSION
---
When it comes to affordable, small, portable, adequately fast and convenient storage, Seagate nails it with the USB 2.0 Pocket Hard Drive. I wouldn't hesitate to recommend it to anyone, especially those people who want something with more capacity than most flash drives that are available. The 5GB Pocket Hard Drive is $150-160 ($155 at Newegg) while a 1GB USB 2.0 flash drive is currently about $70, a 2GB one is at least $140, and the less readily available 4GB flash drives are a hefty $320+. Considering those prices, the 5GB Pocket Hard Drive becomes an easy choice if more than 2GB is needed. Seagate also has a 2.5GB Pocket Hard Drive available, but the 5GB one is still a better buy.
The only thing I hope to see in Seagate's next generation Pocket Hard Drive is improved performance, but at $155, it's definitely not a deal-breaker or even close. Ultra portable storage doesn't get any cheaper than this. The value that Seagate provides is undeniable. It's nice to come across a product that really does provide a lot of bang for the buck.
Pros:
+ Great price
+ Decent performance
+ Small and portable
+ Great Toolkit software included
+ Security option
+ Retractable USB cable
Cons:
– Not as fast as some flash drives
Final Score: 9.5 out of 10 and the Bjorn3D Seal of Approval