1GB on the go! Yes, you can take a CD and a half in something smaller than a pack of gum. Put it in your pocket, find a USB port, and take everything you need with you!
Introduction
---
Always on the go? Do you need to store a CD and a half worth of stuff and have it at your side at all times? Well, either way you can benefit from having a USB flash drive with you. These drives have hit the market running and are beginning to take over the old and busted floppy drives of yore. Good riddance to the floppy for all I care, and a big hello to the VisionTek Go Drive! A huge gigabyte of data, USB 2.0, and a very compact size make for a sweet little removable storage solution. I don't know about you, but the fact that I can hold a full gigabyte of data in my pocket and have it to use in any PC with a USB port on it turns my frown upside down.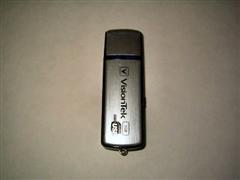 Features and Specs
---
Features:
Bootable
Password protect & USB lock for enhanced security
Microsoft Outlook Express synchronizer
Secure partition capability
Drag and Drop encryption
Write Protect Switch
Comes with 3 foot USB extension cable
Neck strap (lanyard) included
Lifetime Warranty & Toll Free Tech Support
Specifications:
Hi Speed USB 2.0 device
USB 2.0, 1.1 and 1.0 compatible
Fits in any USB port
Driverless installation
Plug and play support for Win 98/98SE/ME/2000/XP (Win 98/98SE driver included on CD)
Compatible with Mac OS
Data transfer rate up to 8MB/sec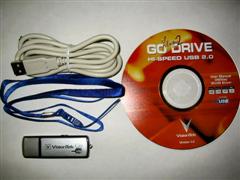 So you have the storage capacity, but what else can this thing offer? Well, the Go Drive can also be made into a bootable disk, such as a Windows 98 startup disk. You can separate the drive into different partitions adding security to individual partitions requiring a password to access the contents. The whole drive can also be locked down with a simple flip of a switch. It is a great addition to the drive to have such security options. Many people are very worried that such a small device could easily be lost, stolen, or otherwise fall into the wrong hands. Having the ability to protect your important data and keep it secure is no longer a problem with the Go Drive.
The construction of the Go Drive has a strong feel to it. It is constructed of a plastic and metal combination to add to the strength of the drive. There is no plastic that can crack or break easily on it. The bottom of the Go Drive has a little metal loop that is used to attach the lanyard or attach it to a keychain. The only thing that really bothered me with the construction of the drive was the lack of somewhere to put the cap. The cap pretty much comes on and off with only you to keep track of it. It would be nice to have the lanyard loop on the cap so you can keep the cap attached to a keychain or the lanyard. Just don't lose that cap; you'll kick yourself if you do. 🙂
It is small, smaller than a stick of gum in relative size. Put it in your pocket, use it as a bookmark, or keep it on the lanyard and put it around your neck. Just make sure you know where it is because it is small enough to come out of your pocket, fall out of your book, or come off of the lanyard in the blink of an eye.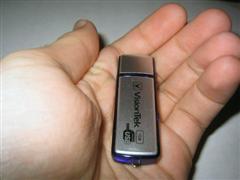 Testing
---
VisionTek states the transfer rates of the 1GB Go Drive to be 7MB/s write and 8MB/s read. To test the drive, I decided to use SiSoftware's Sandra benchmarking tool. I used the standard File System Benchmark to get a good measure of how fast the read and write speed of the Go Drive is. I also took an assortment of files totaling about 800MB of data and timed exactly how long it took to write these files to the drive. Why don't we see if the numbers I get match up with the numbers that VisionTek is claiming?
The file system benchmark shows an 8MB/s read and an 8MB/s write speed. So the write speed is actually showing a faster speed than VisionTek's specifications give. This is definitely a speedy little piece of storage hardware. Much faster than that archaic piece of plastic you call a floppy disk. Oooooooh, I don't like those floppy disks.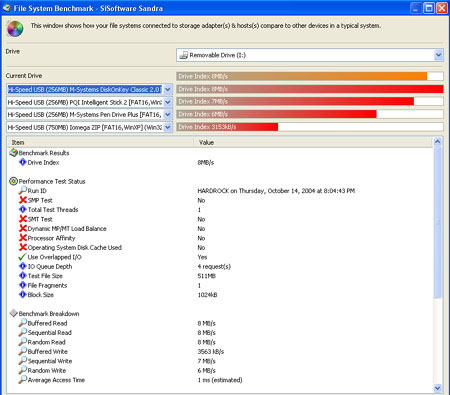 I continued with a timing of the transfer of approximately 800MB of data files to the drive. I began the copy and immediately started tracking the total time from start to finish of the copying. The 800MB of data took 3:40 to transfer. Given the 800MB and the total of 220 seconds to transfer, that leaves us with a 3.6MB/s actual transfer rate. Bringing the same 800MB back to the PC took exactly half the time of 1:50. This gives the 800MB of data a transfer time of only 110 seconds for a read speed of 7.2MB/s. Not a bad set of speeds and not a long time to wait for that amount of data to be placed on and off of the drive. The write speed was a little lower than I had hoped it would be in a real-world situation. Of course, these speeds are also just an average, so you cannot truly pinpoint a firm speed for the drive. Many times I wonder why such solid state methods of data storage take even that long to read and write. Someday the transfer of data may be instantaneous. 
Software 
---
Along with the Go Drive, several apps are included to get the most from the drive's features. The U-Storage program allows you to create partitions on the drive and add security to the partition. It also helps you make the Go Drive a bootable drive. You can make the drive a number of different bootable options, but the most common will be making the drive a Windows 98 bootable drive. Overall this is an awesome little application that will add to the security and functionality of the Go Drive.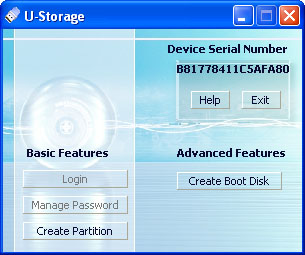 The included CD also has an app called Flash Mail that allows you to basically make the Go Drive an email receiving and sending mailbox. The application lets you connect to existing email accounts, send and receive, and leave no footprint on the PC. Very cool indeed.
PCLock lets you lock down a PC you are using when you leave. The PC will be locked down for a certain amount of time or until you come back and insert your drive into the PC again. This can come in handy if you are working on something you need to secure before you are done. It will also help you keep that pesky roommate off your PC when you are away.
Another cool program included with the drive is SecretZip. This lets the user automatically compress and secure data that is written to the drive. When you place any file onto the drive it is automatically compressed and secured as fast as you throw it on there. Yet another app to help you secure your data on your portable drive.
Final Thoughts 
---
What a great product to have around! I started off with a 128MB USB drive about 6 months ago, and I thought that was too good to be true. Having a gigabyte at my disposal gave me options I hadn't even thought of in the past.
The VisionTek Go Drive is the perfect size, is fast, and meets just about every need I can think of in a portable storage solution. The only thing I really found wrong with the drive was the "too easy to lose" cap with the lanyard loop on the wrong end of the drive. Otherwise this is one cool little piece of hardware.
So now you are probably asking "How much is it???" I expected that the price would put a nice little dent in your pocketbook, but fortunately it isn't nearly as bad as I thought. For a measly $99.99, you can pick up the Go Drive directly from VisionTek. Not too bad of a dent after all.
Pros:
+ Solid construction
+ 1GB of data to go
+ Fast
+ Cool set of applications
Cons:
– That cap could end up anywhere
– Small size could lead to a lost drive if you are forgetful
Considering that all I could find wrong with this drive is the ability to lose the cap, this is a great piece of hardware to have. If you are looking for a cool stocking stuffer for the holidays, grab this thing while you can. I give the VisionTek Go Drive a 9 out of 10 and the Bjorn3D Seal of Approval.