Imation delivers a solution to all of you who lose little things like that cap on your USB flash drive. The Swivel Drive has no cap that you can lose. Instead, as the name suggests, you swivel it open. Innovative design, great performance and Imation reliability are all offered by the USB 2.0 Swivel Flash Drive.
Introduction
---
If you have a USB flash drive, you probably have a little cap you have to keep track of when you use the device. Imation has a solution for this hassle and risk (we all lose little things, after all) in the form of the USB 2.0 Swivel USB Flash Drive.
As the name suggests, this drive utilizes a swivel motion for closing the drive rather than relying on a cap or lid. Nothing to detach equates to nothing to lose. Simple and clever. This design should definitely appeal to those of you out there with the tendency to lose small things.
Features and Package Contents
---
Features
Proprietary swivel design ensures you'll never lose the cap
Unique, miniature form factor
USB extension cable and neck strap included
Ultra-fast USB 2.0 drive (8MB/sec read speed; 7MB/sec write speed)
128MB, 256MB, 512MB & 1GB capacities
Ten-year data retention
Up to 100,000 write cycles
One year warranty
FREE! Imation Disk Manager Software for Windows available for download
Package Contents
USB 2.0 Swivel Flash Drive
Neck strap
USB extension cable
As you can see, the Swivel Drive only comes with a couple extras, but they are practical and useful. Personally, I have never used a neck strap included with a flash drive, but I can see how it would be useful to some people. The USB extension cable is great for users without front USB ports.
In addition to these bundled items, Imation offers its free Disk Manager Software, which can be downloaded here. Note that this software doesn't appear to be compatible with Windows XP SP2. Unfortunately, I found this out the hard way. I thought my Swivel Drive or its drivers were malfunctioning for a couple weeks before finally noticing the warning about SP2 on Imation's download page. Imation is apparently working on a version that works in SP2. For more information on this software and a closer look at the Swivel Drive, please read my 256MB Swivel Drive review.
Performance
---
When I first heard about the availability of larger USB 2.0 flash drives (1GB+), I was curious if they performed the same as their lower capacity counterparts. I remember reading about some 1GB USB 1.1 flash drives not performing quite as well as a 128MB drive of the same type. That is the main reason I wanted to do this review. Some people do not want to sacrifice performance for more storage capacity. Here is my test system.
Test System Configuration
NVIDIA Reference PCI-Express GeForce 6800 GT – DirectX 9.0b, ForceWare 61.77
Maxtor 2 x 120GB Serial ATA 7200RPM Hard Drive w/ 8MB Buffer in RAID0
Windows XP with Service Pack 2
Hyperthreading = Enabled
I kept the testing simple. First, I ran the File System benchmark in SiSoftware Sandra 2004 SP2b. This test shows that the drive not only meets the speeds that Imation claims (8MB/sec read speed; 7MB/sec write speed), but it can beat them in some cases.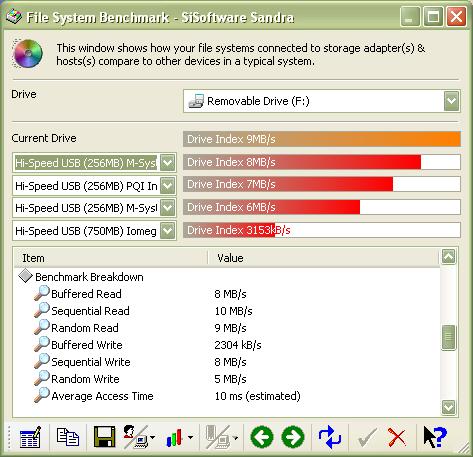 After the Sandra test, I did various real-world tests by copying or moving data to the Swivel Drive and timing how long the transfer took. During this testing, the drive consistently performed at 3-7MB/s. Over the last month or so, I've used the 1GB Swivel Drive almost daily, and I've been really pleased with its perfromance.
Conclusion
---
The USB 2.0 Swivel Flash Drive from Imation is a great little gadget that offers good performance. The inclusion of a neck strap, USB extension cable and free Disk Manager Software adds value to the entire package. When I first started using my 256MB Swivel Drive several months ago, I was concerned that lint from my pockets would gradually and adversely affect the drive. In other words, I was a little worried that not having a cap would be a positive and a negative attribute. My experience with both the 256MB and 1GB Swivel drive have proven my worries to be unfounded so far. I have had no physical problems with either drive and have used both quite frequently for months now.
The major downer for me when using the Swivel drive came as a direct result of using the Disk Manager Software and installing Windows XP SP2. As I mentioned previously, Imation is working on a version of the software that is compatible with SP2. So, right now, I cannot access my secured files on either of my main systems because I upgraded both of them. This is unfortunate, but I'm sure Imation will resolve the issue shortly.
The final aspect of the Swivel Drive to discuss is its price. A quick look around on the Internet, and you quickly see that the Swivel drive costs about 50% more than many competing drives of the same capacity. The 1GB Imation Swivel drive costs $170 or more, depending on where you shop (CDW sells it for just under $170). I asked Imation about this, and it turns out there is a technical (and seemingly good) reason behind the price discrepancy. Flash memory chips have NAND technology that is either Multi-Level Cell (MLC) or Single-Level Cell (SLC). Drives with Multi-Level Cell (MLC) technology cost less, while drives with Single-Level Cell (SLC) technology, such as the Imation USB 2.0 Flash Drive, cost more. SLC offers the following advantages over MLC.
SLC-based drives last up to 10 times longer. Typically about 100K read/write cycles for SLC-based drives vs. 10K cycles for MLC-based drives.
SLC-based drives store data up to three times faster than MLC-based drives.
SLC is more reliable than MLC, which is inherently less reliable due to charge leakage. So, MLC needs a lot more error detection and correction (EDC/ECC) circuitry to preserve data integrity.
SLC allows for partial programming. SLC-based drives can handle data chunks as small as 512 bytes (a common file size), while the smallest chunk a MLC-based drive can handle is 2KB, which means extra buffers and a more complex controller are often necessary, which results in a drop in performance.
It seems to me that the higher price is attributed to a higher quality, longer-lasting part. I think it's also important to note that Imation is a highly regarded and trusted brand. Afterall, the company has been providing storage products for over 50 years. How many other companies that offer USB flash drives can say that? Finally, Imation assures me that the drives are quality tested in their own labs to meet the high standards its customers have come to expect.
Having said that, it's hard to label the price as a "con" since it is due to the use of a higher priced and better quality part, although it's quite obvious that the price will deter some people from the Swivel family. If you like the small size, swivel 'capless' design, good performance and SLC advantages that the Swivel Flash Drive offers, then I definitely recommend it. I have been very happy with the drives and had no major problems with them (with the exception of Disk Manager and SP2, which won't be a problem if you don't need to use the software).
Pros:
+ No cap to lose
+ Good performance
+ Light and small
+ Good bundle
+ Should last longer than many competing drives due to SLC technology used
Cons:
– Disk Manager Software not working with SP2 yet
– Price will turn some away ($290 at Imation's store although less than $170 at CDW)
Final Score: 9 out of 10 and Bjorn3D Seal of Approval