The PowerColor A350A-VF is a decent Socket 478 motherboard featuring ATI's RADEON 9100 IGP Pro chipset.
Introduction
---
PowerColor is mostly known for its range of ATI graphics cards. Less known is the fact that PowerColor and its parent company, TUL, actually sell a variety of products, including thin clients, computer cases, service gateways, video cards and motherboards. Today, I am looking at one of PowerColor's motherboards, the A350A-VF. This motherboard is special since it doesn't use an Intel, AMD, VIA or NVIDIA chipset. Instead, it uses an ATI chipset for both the northbridge and the southbridge.
Specifications and Features
---
The A350A-VF uses the RADEON 9100 Pro IGP (RS350) for its northbridge and IXP300 for the southbridge.

The chipset has a built-in RADEON 9200 graphics core that can share up to 128MB system memory. It also supports up to 800 MHz FSB (front side bus) CPU for Intel® Pentium® 4 Processor (incl. Prescott), 128-bit DDR400 SDRAM up to 3.2 GB/second bandwidth, LAN, 6 Ch AC'97, 8 x USB2.0, 2 x SATA, AGP 8X Slot, and Firewire IEEE1394.
Detailed specs and features:
Chipset
•  ATI RADEON 9100 PRO IGP( RS350) + IXP 300
CPU
•  Socket-478 for Intel Pentium 4 (Prescott and Northwood) processors up to 3.4GHz and Celeron processors
•  Intel Hyper-Threading ready
FSB
•  400/533/800MHz
Memory
•  128-bit Dual-channel memory architecture
•  4 184-pin DIMM sockets 4GB in max.
•  DDR266/333/400, non-ECC SDRAM memory
Expansion Slots
•  1 AGP-4X/8X
•  5 x PCI
Storage
•  1 Floppy port
•  2 parallel IDE ports with up to 133Mbps UltraDMA
•  2 serial IDE ports with up to 150Gbps
USB
•  8 USB2.0 ports
Audio
•  6CH Audio CODEC
LAN
•  RTL8100C 10/100 MbE
IEEE 1394
•  100/200/400 Mbps 2 ports
Back panel IO ports
•  1 x PS2 mouse, 1 x PS2 keyboard
•  1 x Printer, 1 x COM, 1 x VGA port
•  2 USB2.0 ports+ 1394×1 port
•  2 USB2.0 ports+ 1 x RJ45
•  3 x Audio jacks
Form Factor and PCB Size
•  ATX, 305x245mm
BIOS features
•  4Mb flash ROM;
Accessories:
•  User's Manual
•  1 Parallel IDE flat cable, 1 FDD flat cable
•  1 Serial IDE cable
•  Driver CD
•  IO Shield
Optional Accessories:
•  SPDIF connector w/bracket, TV-out connector w/bracket
On the surface, the motherboard has the features that you expect from a mainstream motherboard. The built-in graphics might not be enthusiast level or even mainstream level but should on the other hand only be compared to other built-in solutions. It is DX8.1 compliant and has the features you expect from the RADEON 9200 core:
3D Graphics Features
– HyperZ™ memory optimization technology
– Hardware with Pixel Shader 1.4 support
– Supports up to 2048×1536 @ 32bpp.
– Supports 3D textures and Microsoft® DirectX® texture compression
– Anisotropic texture filtering and Full Screen Anti-Aliasing (FSAA)
Video Features
– Video scaling and filtering with advanced 4-tap horizontal and vertical filter
– Integrated hardware motion compensation and iDCT
– Enhanced MPEG-2 hardware decode
– Hardware DVD sub-picture decode
– Video deblocking with FULLSTREAM™
Looking at ATI's page for the RADEON 9100 IGP PRO, I noticed that they recommended this chipset for use in Media Center Edition (MCE) PC's. Since this motherboard doesn't have TV-Out, I was curious how they thought it would be used for that.  It turns out that the chipset actually supports TV-Out but that you need an optional bracket that you can buy from PowerColor to use it.
Bundle
---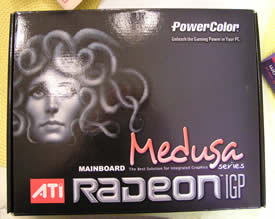 The motherboard comes in a black box that looks like most other motherboard boxes.  
In the box, you find:
The motherboard
Floppy Drive cable
80-pin IDE cable
I/O Shielding
SATA cable
Manual
Drivers
Floppy with SATA drivers
DVD with Cyberlink DVD Solutions (PowerDirector SE+, Mediashow SE, PowerDVD, PowerProducer, Power2Go)
SATA is slowly catching on, so it would have been nice to see two SATA cables. Other than that, the bundle is neither impressive nor lacking. The DVD with the Cyberlink programs is a nice touch. Instead of having to juggle 5 or 6 CD's, you have everything on one DVD.
Layout and Installation

---
I have no big complaints about the layout of the motherboard, just some minor ones. I installed it in a pretty small case (Antec Sonata Piano), and it took some time to get it seated due to the small case. The dimensions are just as other ATX mainboards (305x245mm).
 
The IDE, Floppy and SATA connectors are all gathered in the lower left part of the motherboard, putting them close to where you usually have the hard drives. One of the IDE-connectors is a bit close to where the heatsink is on a long 2-slot video card, but I installed an HIS x800XT/Pro and a few NVIDIA 6800 Ultras, and all that happens is that the IDE-cable coming out of the connector is pushed down a bit.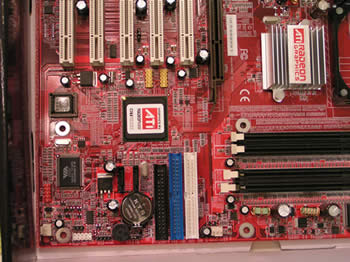 The storage connectors are situated in the lower 
left of the motherboard. Click for large image.
Speaking of video cards, the retention mechanism of the AGP slot must be one of the most stupid mechanisms ever. It is hard to reach with a large video card, and even if you reach it, it is very hard to get it to let the card go. Several times I had to use force to yank the card loose from the AGP slot.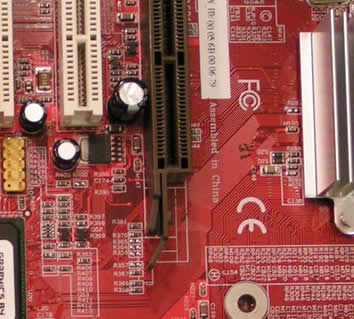 This mechanism doesn't work well.
The northbridge is cooled with a heatsink while the southbridge, the built-in graphics, is not. I'm sure you could put a fan/heatsink on it if you want to overclock it.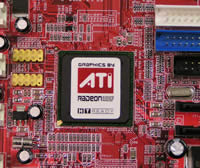 The IXP300 southbridge and RS350 northbridge.
Click for larger images
The main power connector is situated in the far right corner, making it easy to reach without having to draw the huge cable over the CPU. The placement of the power connector did however present me with a slight problem. I have a Coolermaster Cooldrive 4 in one of my 5 1/4 slots. As you can see from the image below, the Coolermaster actually interfered with the power connector. With some force and 'persuasion,' I still managed to hook it up, but if you buy this motherboard, make sure to check if it might have the same issue. I would guess I would see something similar with a longer DVD/CD drive.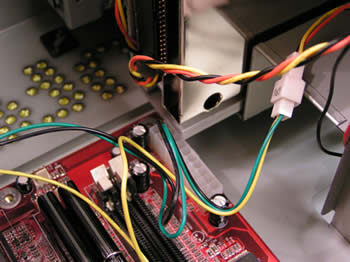 The Coolermaster Cooldrive 4 interfered
with the power connector.
The smaller power connector is situated just to the left above the CPU. I'm not sure why they placed it there since it means I have to drag the cable close/over the CPU.
Since I haven't used Intel CPU's for a long time (my last was a PIII), I had to run out and buy myself a new CPU. I ended up with a 3 GHz P4. Installing it on the motherboard together with the included heatsink was easy. As you can see in the pictures below, it did however have a pretty close fit on the side.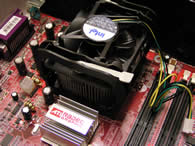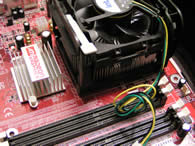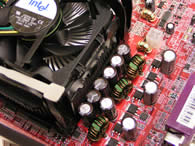 Click on each image for the large version
The row of transistors are placed there so they can benefit from the air flow and be cooled, but that means you need to make sure your heatsink fits before buying it.
The BIOS
The BIOS used is from AMI. Below is a selection of screenshots to show some of the stuff you can setup.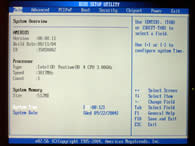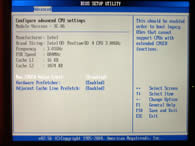 From left to right: Main screen, Advanced settings and Advanced CPU settings
Click on each image for the large version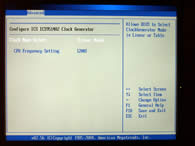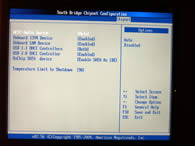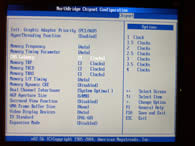 From left to right: CPU Clock speed, Southbridge and Northbridge (memory/AGP)
Click on each image for the large version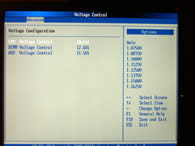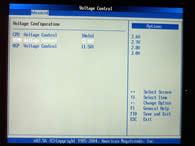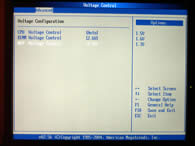 From left to right: CPU Voltage, DIMM Voltage and AGP Voltage
Click on each image for the large version
While writing this review, PowerColor released a new BIOS for this motherboard. Unfortunately, they didn't include any release notes so I have no clue what actually was improved.  
Installation of WinXP with SP2 went flawlessly, and after I installed the drivers from the CD, everything was working fine. I also downloaded the latest drivers from ATI and could install them without any issues.
Performance

---
Since this is my only Intel system, I unfortunately do not have anything similar to compare with. Thus, I decided to do the next best and compare it both to my AMD64 system (CPU and memory) and to my Shuttle XPC system with its integrated NVIDIA GeForce4 MX400 graphics.
 

System 1

System 2

System 3

CPU
AMD64 3000+
Intel P4 3.0 GHz (800 MHz FSB)
AMD 2000+
Memory
1024 MB PC3200
512 MB PC4000
512MB PC3200
Motherboard
MSI K8N-Neo Platinum (nForce3)
PowerColor A350A-VF (ATI)
Shuttle nForce2
Integrated graphics
—
Radeon 9200 class (assigned 128 MB memory)
MX400 class (assigned 128 MB)
External graphics
HIS X800 XT
HIS x800 Pro
MSI 6800 Ultra
Aopen 6800 Ultra
HIS X800 XT
HIS x800 Pro
MSI 6800 Ultra
Aopen 6800 Ultra
—
OS
WinXP + SP2
WinXP + SP2
WinXP + SP2
Drivers
Cat4.9
ForceWare 61.77
Cat4.9
ForceWare 61.77
ForceWare 61.77
NOTE: I am fully aware that it is hard to compare 2 CPU's from different vendors. While the AMD64 CPU is rated 3000+ (and we know it technically doesn't mean it is at the same speed as a 3 GHz Intel CPU), it only runs at 2 GHz. The P4, on the other hand, actually runs at 3GHz.  At the same time, the CPU's cost almost the same, which means that they compete in the same market space.
Motherboard
To test the 'motherboard features,' I used SiSoft Sandra 2004 and PCMark04. These programs were used to test both CPU and memory speed.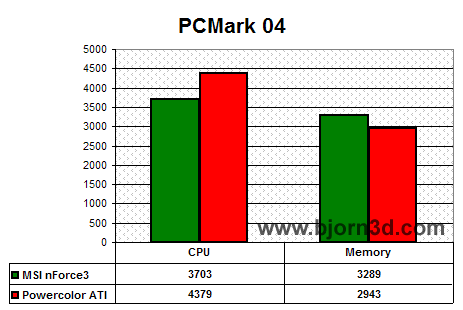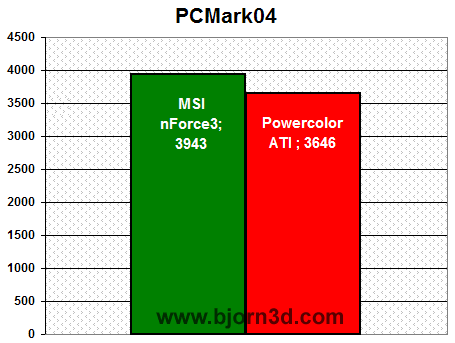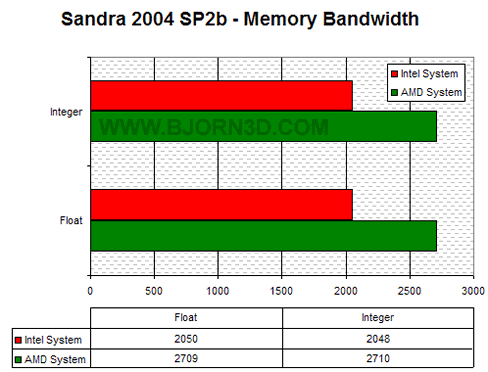 While the PowerColor/ATI/Intel motherboard wins the CPU tests, the nForce3/AMD64 motherboard manages to perform much better when looking at the memory bandwidth.
Integrated Graphics
Since neither integrated graphics are DX9 compliant, there was no reason for me to run 3DMark03 (I actually did it on the PowerColor motherboard, and it was horrible), so I decided to bring back good old 3DMark2001SE. While the Radeon 9100 IGP Pro supports all tests in 3DMark2001SE, the MX400 does not.
The 3DMark score for the PowerColor A350A-VF's integrated graphics was: 3367. To put this in perspective, I dug up some old scores from other cards (all done on slower CPU's), and I got 8644 with my Ti4200, 8491 with a AIW 9600 and 12377 with a Radeon 9800.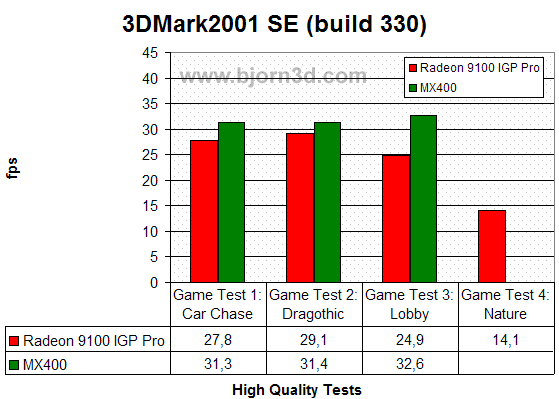 The Radeon 9100 IGP Pro actually loses to the older MX400 core in my nForce2 system. However, since it actually supports DX8.1, it alone can finish the Nature test, disqualifying the MX400.
Fillrate is pretty similar between the two graphics cores. They are way behind normal consumer cards though.
Conclusion – Internal graphics: While the added Dx8.1 support is coo,l you should still not expect to do any serious gaming with the built-in graphics. It fits perfectly in a HTPC machine though.
External Graphics
Gamers won't settle for the integrated graphics, and thus it is time to test both systems with more potent cards. The cards tested:
· HIS X800 XT
· HIS X800 Pro
· MSI 6800 Ultra
· AOpen 6800 Ultra
In both the ATI and NVIDIA driver configuration panels, all image optimizations were turned off. Antialiasing (AA) and anisotropic filtering (AF) was set to Application.
Doom 3
We used the built-in timedemo demo1 to bench the cards. Doom 3 was set to High Quality and 4xAA. High Quality automatically sets 8xAF. The demo was run three times to make sure everything was loaded into memory, and the last average framerate was recorded.
I re-ran these benchmarks several times and also tested with some other GeForce 6800 Ultra cards and other X800 cards, and the result was the same: While the GeForce 6800 Ultra's dominate the AMD system, they quite unexpectedly lose almost 10 FPS when moving to the Intel system and actually lose the top spot to the HIS X800 XT. The X800 cards instead gain a few FPS. The Intel system has only 512 MB system memory, but that should affect the ATI cards as well.
Video Stress Test in CS: Source
While Steam still was working for me, I benchmarked these cards with the stress test option in CS: Source.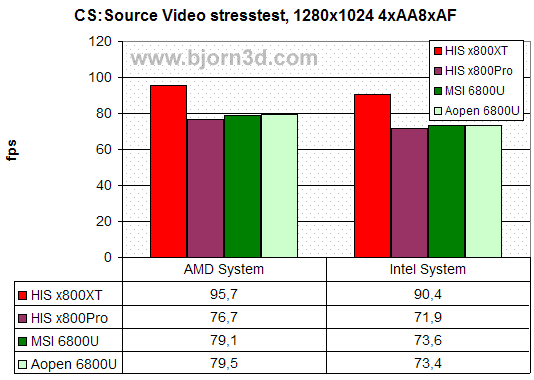 The HIS X800 XT dominates this test. All cards lose a few FPS moving from the AMD system to the Intel system. This could be attributed to the difference in memory and the difference in CPU speed.
Conclusion – External graphics: As expected, the PowerColor A350A-VF works great with the high-end cards. I'm a bit curious, though, regarding the huge drop in performance that we see with the GeForce 6800 cards in Doom 3.
Overclocking

---
You can increase the FSB from 200 MHz in 1 MHz increments. The highest overclock I could reach was a FSB of 220 MHz (3.3 GHz). I had to increase the CPU voltage to at least 1.5V to get that to work. With a higher FSB, the machine didn't even boot. I did not increase the voltage higher though, so there might be even more room for overclocking.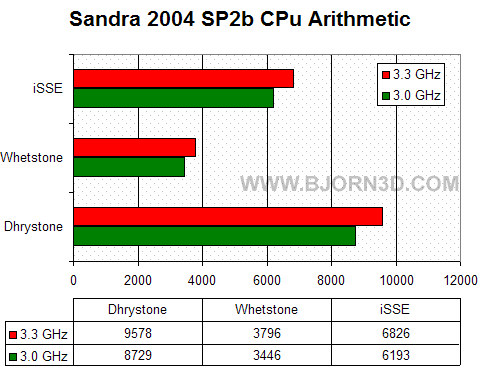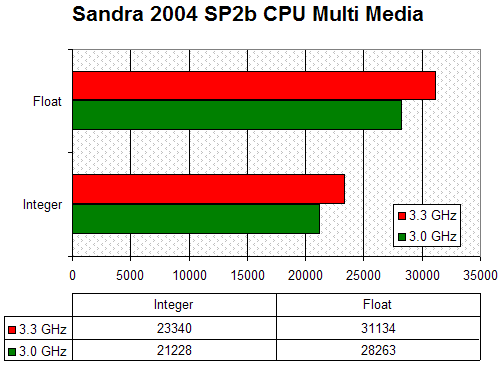 As expected, we see a 10% increase in every benchmark.
Conclusion
---
The PowerColor A350A-VF is a motherboard that, while not shining in any department, manages to provide a solid experience. I'm not sure this is the motherboard I would go for if I were an avid overclocker, but other than that, there's really nothing wrong with it. The biggest drawback is that there at the same time isn't anything extremely good about it that makes it stand out from all the other motherboards. The fact that it is targeted by ATI as a cost-effective integrated solution for MCE PC's is cool, but as far as I could see, there are no MCE certified IGP drivers on ATI's site (only for their graphics cards).
Pros
+ 2 SATA connectors
+ 4 USB2.0 and 1 IEEE1394 port in the back
Cons
– SPDIF and TV-out connector must be bought separately
– Slow integrated graphics