Modular power supplies have become popular for obvious reaons: less clutter and more flexibility. Antec brings us one of the first mainstream modular PSUs in the form of the NeoPower 480. Not only are most of the cables detachable, but the unit also features dual +12V rails.
Introduction
---
One of the most obvious trends in the power supply industry is the ever-increasing power that is available for the average consumer. Several years ago, you had to be a really hardcore enthusiast to consider dropping $150+ on a high quality 500W PSU, and the selection was limited. For a good system, 300-400W was plenty at that time. Now, you won't find many recommendations for new PCs being under 400W because the power demands of components continues to rise, and more and more people are putting more powerful components in their systems.
Another trend that is obvious to those of us who follow modding, even if just a little, is the increasing demand for so-called 'modular' PSUs. A modular PSU is one that allows you to connect only the cables that you need for your system, thus reducing clutter and hopefully increasing airflow inside your case. This type of unit allows for instant customization and a great amount of flexibility. At first, modular PSUs were only seen at online retailers that offer custom products and modding supplies. Now, there are several modular PSUs being mass produced, and one of those is the NeoPower 480 from Antec.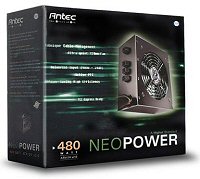 As the name suggests, the NeoPower 480 is a 480 watt power supply (ATX12V v2.0). And, as you might expect since it's an Antec unit, it boasts some great featurs and provides the solid power that Antec is famous for. Keep reading to learn about what Antec has done to reduce the cable spaghetti in your case and to see how well the NeoPower 480 performs.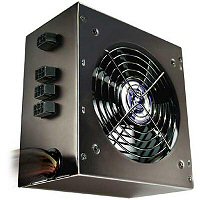 Features and Specifications
---
Antec offers a lot with the NeoPower 480, including the new Advanced Cable Management System, which allows you to use only the cables you need. You simply don't add the connectors you don't need when you are setting up the NeoPower. The general concept behind this kind of 'modular' design has been offered by several PC component resellers for quite some time now, so don't think that Antec came up with the idea. The idea definitely came from the heads of modders, and now it's finally hitting mainstream. Unfortunately, Antec only did the minimum with its design. You won't find any nice cable wrapping here, just regular, boring power cables. You can see more about the ACMS here. While the ACMS will still do its job of reducing clutter and therefore improving airflow, wrapped cables would do the job even better, and I'd be willing to pay several more dollars for that if cost is the main issue.
In addition to the ACMS, the NeoPower features dual +12V rails, which is definitely a big positive as the latest processors and video cards continue to demand more and more power with each new generation. The NeoPower also features a different fan setup than what we've become accustomed to from Antec. This unit utilizes a single 120mm fan rather than two smaller fans. The focus on quiet operation remains though, which is definitely a plus in anyone's book. Furthermore, those of you with newer PC components will be happy to know that the NeoPower includes a 24-pin power connector, SATA connectors and a PCI-Express video card power connector. As if that weren't enough, Antec also throws in a couple of the dedicated fan-only connectors that we've seen in the TruePower series and that allow the NeoPower to control case fan speeds to reduce system noise even further.
Features:
Advanced Cable Management System allows you to use only the cables you need; This improves airflow and reduces clutter inside your case
ATX12V v2.0 compliance reduces power consumption by up to 25%, saving you money on your electricity bill
Universal input automatically accepts line voltages from 100V to 240V AC
Active PFC delivers environmentally-friendlier power
Dual +12V rails provide plenty of juice for even the most power-hungry systems
Includes special power connector for PCI Express graphic cards
Dedicated circuits for each voltage output allow NeoPower to overcome combined-output limitations
Voltage-feedback circuitry improves system stability by delivering extremely accurate power
Temperature-response system ensures blissfully quiet operation, by varying fan speed in response to load and conditions
Dedicated Fan-Only connectors allow NeoPower to control case fan speeds, thereby further reducing system noise
Over-temp and over-current protection, provide maximum reliability
120mm fan delivers whisper-quiet cooling
Gold-plated connectors for superior conductivity
Specifications:
DIMENSIONS

Unit Size

5.9″(L) x 5.5″(W) x 3.4″(H)
15cm(L) x 14 cm(W) x 8.6 cm(H)

Net Weight

5lbs.2.3kg
OUTPUT

+5V
+12V1
+12V2
+3.3V
-12V
+5Vsb

Max. Load

38A

18A

15A

30A

1.0A

2.0A

Min. Load

0.3A

0.4A

0.4A

0.3A

0A

0A

Load Reg.

±3%
±3%
±3%
±3%
±5%
±5%

Rippe
V(p-p)

50

120

120

50

120

50
INPUT

Input Voltage

100Vac to 240Vac +/- 10%

Input Frequency Range

47Hz to 63Hz

Inrush Current

640A @ 115V , 100A @ 230V

Input Current

12A @ 115V, 6A @ 230V

Hold-up Time

20ms at full load

Efficiency

70%(min.) at full and typical loads, 115V/230Vac 60/50Hz 60% (min) at light load

EMI/RFI

FCC Class B
ENVIRONMENTAL

Operating Temp.

10 ºC to 50 ºC

Operating Alt.

Sea Level-10,000 ft

MTBF

80,000 hours at 25'C

Safety Approval

TUV, UL, CUL, CE, CB, FCC
Closer Look and Package Contents
---
The NeoPower 480 comes in a nicely designed box with all the goodies you need to get your system all hooked up and running. With the Advanced Cable Management System, you get to choose which of the included cables you want to plug into the NeoPower and use to hook up your components. The NeoPower has four 6-pin output sockets located on the side that faces the inside of your computer. You hook up the included ACMS cables to these 6-pin sockets. The ACMS includes the following wires:
One set of wires with two Fan-Only connectors at one end and one 2-pin PSU connector at the other end
Three sets of wires with standard 4-pin Molex peripheral connectors at one end and a 6-pin PSU connector at the other end
One 24-pin to 20-pin adapter for the motherboard power connector
Four additional connectors, 2 Molex & 2 SATA, for optional use
One set of wires with one standard 4-pin Molex peripheral connector at one end and two Floppy power connectors at the other end
One set of wires with a 6-pin PCI Express graphic card connector at one end and a 6-pin PSU connector at the other end
One set of wires with SATA drive connectors at one end and a 6-pin PSU connector at the other end. Note: The SATA connectors include a +3.3V output so you can power next-generation SATA devices.
The casing is dark gray, and the 120mm fan is installed in such a way that the grill and screws are flush with the casing and not protruding at all. Overall, it's a good looking unit. The only thing I'd like to see changed on the outside of the unit itself is the way the output sockets are sticking out so far. I'd really like to see them installed so that they are flush with that side of the unit rather than sticking out. I probably only really noticed this because I was using a Lian Li V1000 case, which places the PSU at the bottom of the case. It's a tight fit with the NeoPower and its protruding output sockets.
In a standard ATX case, I doubt anyone would have a problem with the NeoPower. If you have a V1000 though, I'd consider a different power supply
Performance
---
In the specs listed a few pages back, you can see that Antec claims that the +5, +12 and +3.3 voltage rails will remain within +/-3% of their rated values. This means that the +5V rail will maintain a voltage between +4.85V and +5.15V, the +12V rail will maintain a voltage between +11.64V and +12.36V, and the +3.3V rail will maintain a voltage between +3.2V and +3.4V.
To test the NeoPower, I simply gave my test system a nice little workout, including running games, benchmarks and multiple benchmarks simultaneously, and left Motherboard Monitor open the entire time to see how much the rails fluctuated under stressful conditions. Before getting to the results, let's take a look at my test system.
Test System Configuration
NVIDIA Reference PCI-Express GeForce 6800 GT – DirectX 9.0b, ForceWare 61.77
Maxtor 2 x 120GB Serial ATA 7200RPM Hard Drive w/ 8MB Buffer in RAID0
Windows XP with Service Pack 2
Hyperthreading = Enabled
Typically, the NeoPower had the following idle values:
+12V = 11.89V
+5V = 5.09V
+3.3V = 3.37V
In the screenshot below, you can see what Motherboard Monitor 5 reported after running through the stressful system usage I mentioned above. Take a look at the Low and High columns in particular. You can see that the NeoPower 480 stayed very stable and within the voltages that Antec claims it will maintain.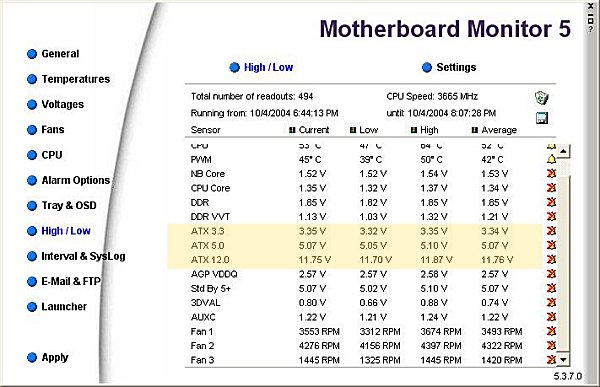 Conclusion
---
Overall, I'm quite impressed with the NeoPower 480's performance. It delivers exactly what we have come to expect from Antec — clean and reliable power. You get great features, like dual +12V rails, quiet operation thanks to the 120mm fan, and Advanced Cable Management System, in addition to that solid Antec power. What else can you ask for? Well, I'm not one to label a product perfect, so I'll reiterate that I'd like to see a couple changes (improvements in my opinion) in the modular design. First, I'd like to see the cables wrapped. Second, I'd like to see the connectors on the unit itself recessed into the unit rather than sticking out.
This is a great power supply choice for new Intel 915/925 systems that require PCI-Express and include four SATA ports. The 480W and dual +12V rails should be adequate for most systems, and including a 6-pin PCI-Express connector and multiple SATA power connectors is a great forward-thinking move on Antec's part. I was definitely glad to have them for my test system based on the Intel 925 chipset.
While the retail and early selling price for the NeoPower 480 was around $150, it seems that you can find it for under $120 at varying retailers, like Newegg ($115 at the time of this writing). That might seem high to some of you, but you have to remember that the PSU is like the heart of your system. It's worth spending the extra money on a high quality supply. Don't make the all-too-common mistake of upgrading all your components and then skimping on the PSU.
Pros:
+ Solid, stable power
+ Advanced Cable Management System – reduce clutter
+ Dual +12V rails
+ Not very loud
+ Includes PCI-Express power and multiple SATA power connectors
Cons:
– Advance Cable Management System could look better (wire wrapping, recessed connectors)
– Tight fit in Lian Li V1000 case
Final Score: 9 out of 10 and the Bjorn3D Golden Bear Award