The Microsoft Optical Mouse by S+arck is something as special as a designer mouse which looks just as good on the coffee table as at the computer.
Introduction
---
The evolution of computer mice has accelerated the last few years. A mouse used to be a beige 2-button rodent with a cord as a tail. Today however you can buy cordless, optical and even laser mice with more buttons you could ever want or need in all sorts of styles. 
Microsoft has a wide range of mice from the simplest Wheel mouse to the new Wireless IntelliMouse with Tilt Wheel functionality. The mouse I am looking at today however is something completely different from all the other mice – it's a designer mouse. This is the mouse my wife would choose.
The mouse

---
This mouse caught my eye one day when I was in the computer store. Put in a stylish box it looked like no other mouse I had looked at. A closer inspection revealed an optical mouse that might not be a technical marvel but which excels in style instead.
Finding out the technical specifications of this mouse is hard. In fact so far I haven't been able to find any information from Microsoft at all. It's almost as Microsoft doesn't want the user to have to think about the technical bits and just concentrate on using the mouse.
What I could find out though is this:
It's a optical mouse (duh)
It's not cordless. The cord though is very thin, much thinner than other mice I've used.
It has just 2 buttons.
It has a scroll wheel but no tilt wheel functionality
Its ambidextrous design makes it work well for both left- and right-handed users.
I said in the beginning that this is a stylish mouse. Just look at the images. It has a nice curving which fits perfectly in the palm of your hand. The buttons actually are built-in the top of the mouse. The left side is the left button and the right side is the right button. In the middle is a blue or orange strip of plastic which lights up when the mouse is connected. This makes the mouse glow in the dark and looks very cool.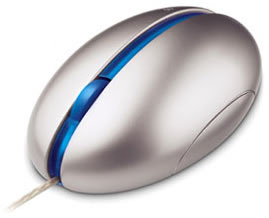 The mouse is made of plastic and is very light.
Who is S+arck?
---
I must admit I never had heard about him before buying this mouse. This is what Microsoft says about him:
Phillipe Starck is one of the most famous contemporary designers in the world. He is best known for his expressionist architecture and remarkable building interiors, such as the Paramount hotels in New York and Tokyo's La Flamme building. But Starck has made major contributions in virtually every type of design—from furniture to lamps, kayaks, and motorcycles.
 
He has won accolades as diverse as the Oscar du luminaire and the Harvard Excellence in Design award, and his work is displayed in museums throughout the world.

Products designed by Starck can be seen in the collections of premier museums, like the Brooklyn Museum in New York, the Musée des Arts Décoratifs in Paris, and the Museum of Design in London. Perhaps one day Optical Mouse by Starck will find a home in the museums of the world.

Learn more about Philippe Starck at http://www.philippe-starck.net/
Using the mouse

---
No CD is included with this mouse, which means that all you have to do is connect it and start using it. The mouse works both in Windows and in Mac. 

I've used it over the last month at work for office work, web work and some gaming. Overall I am very pleased. The mouse fits perfectly in my palm and it is one of the more comfortable mice I've used. It glides very well on the various surfaces I've used it on (tree, mouse mat and paper) even though I managed to loose one of the glidepads when I threw it in my bag one day. The scroll wheel has a nice feel and works well.
On the downside I've noticed that sometimes it flips out and the mouse pointer darts up in one of the corners. That would be irritating enough when using one monitor but in my case, using dual screens, it is frustrating when suddenly the mouse pointer is gone and I have to move the mouse around to 'find' the pointer on one of the monitors. It doesn't happen often but it happens and that's bad enough.
Gaming also works well although the same thing happens here from time to time (mouse pointer moves to one corner).
Conclusion

---
If it weren't for the occasional mouse pointer jump I would have no problems awarding a high score and an award. As it stands this is a good mouse, which works well in most situations but which can occasionally 'freak' out. If you can live with that and the lack of extra buttons and want a very stylish mouse then the S+arck mouse is the mouse to get.
Pro's
+ Very good looking
+ Very comfortable
+ Works for both left and right hand users.
Con's
– Only 2 buttons
– Mouse occasionally freaks out
Score: 6.5/10