If you are upgrading to a new LGA775 motherboard and need DDR2, you'll want to check out this article. Corsair's speedy 1GB Twin2X1024-5400C4PRO kit features big heat spreaders, activity LEDs and great performance.
Introduction
---
Surely, by now you've all heard that DDR2 currently doesn't offer any compelling performance gain worthy of a serious upgrade involving a new DDR2 motherboard and PCI-Express video card. I emphasize "currently" because it probably won't be long before DDR2 really starts to show off its true muscle as newer, lower-latency, and faster modules are developed.
Today, I'm going to take a quick look at some DDR2 from Corsair in the form of the TWIN2X1024-5400C4PRO 1GB kit. You might be thinking to yourself, "5400!?!" Oh yeah…this RAM is designed to run at 675MHz. The fastest DDR I reviewed was 550MHz, so I was definitely excited to check out this DDR2 kit from the top performance memory company on the planet.

I'm going to see just how much performance I can squeeze out of this kit with the ABIT AA8 DuraMAX motherboard I recently reviewed. This motherboard features the Intel 925X chipset and is very tweaker-friendly. Corsair XMS RAM is consistently good for overclocking so I'm hoping for the same from the XMS2 line.

Features and Specifications
---
The TWIN2X1024-5400C4PRO kit features a matched pair of CM2X512-5400C4PRO memory modules. They are of course rated for 675MHz at latencies of 4-4-4-12. These modules also feature the bigger PRO Series heat spreaders and 24 activity LEDs on each module. As with all TWINX kits, the modules were tested and packaged as a pair. The tests took place on an Intel-based motherboard at 675MHz.
When the PRO Series modules were introduced, I was curious if we'd see platinum heat spreaders used or if Corsair would just stick with black. I'm glad to see Corsair chose to go ahead and use platinum. The activity LEDs are always a cool addition, as they add some fun inside your case. You might have noticed the new naming convention for Corsair's DDR2; instead of "TWINX," Corsair is referring to DDR2 as "TWIN2X" to make the distinction. In general, the DDR2 XMS modules are referred to as "XMS2."
What Corsair has to say about this kit:
"The TWIN2X1024-5400C4PRO is a 1024 MByte matched pair of DDR2 SDRAM DIMMs. This part delivers outstanding performance in the latest generation of DDR2-based motherboards. It has been tested extensively in multiple DDR2 motherboards to ensure compatibility and performance at its rated speed. This memory has been verified to operate at 675MHz at the low latencies of 4-4-4-12. This module is also available in a single module part."
TWIN2X1024-5400C4PRO Kit Specifications:
Part Number: TWIN2X1024-5400C4PRO
Speed: XMS2-5400 (675MHz)
Size: 1024MB (2 matched CM2X512-5400C4PRO 512MB modules)
Package: 2 x 240 DIMM
Latency: 4-4-4-12
32M x 8 DDR2 SDRAMs
Test Voltage: 1.9V
TWIN2X1024-5400C4PRO Kit Features:
High-efficiency aluminum heatsink

95% greater surface area than standard memory heatspreaders
Thermally bonded to the module

24 activity LEDs show level of memory activity
1024 Megabytes of memory in a pair of 240-pin DDR2 DIMMs
100% tested at 675MHz in pairs in high performance DDR2 motherboards

Packaged together immediately following system test

Tested at 4-4-4-12 latency settings at 1.9V
Legendary Corsair reliability and service
Lifetime warranty
If you've looked at some of the DDR PRO Series modules, you may have realized that these DDR2 PRO modules actually have more activity LEDs. The DDR PRO sticks have 18 LEDs while the DDR2 version features 24. Here's a movie of the LEDs in action if you are interested in how cool they look.

Performance / Benchmarks
---
With my test system motherboard — ABIT's AA8 DuraMAX — I haven't been able to get past a front side bus (FSB) speed of 250MHz. Unfortunately, this means a couple things: 1) I can't even test the memory at its 675MHz rated speed, and 2) I obviously can't see if this RAM has a lot of overclocking room. It is entirely possible that the RAM is what's holding back my overclocking efforts, but I doubt that. If I find that that's the case or I finally get this RAM at a higher speed either on this motherboard or another, I'll update this article. Here is my test system.
Test System Configuration
Since I was unable to make any progress beyond what I saw in my AA8 DuraMAX review, I'm just reusing those benchmark graphs here. Take a look at my test results in SiSoftware Sandra 2004 SP2b and PCMark04 (paying particular attention to the memory score in PCMark of course). In the graphs, I'm going to present to you the performance of the Corsair DDR2 5400 kit at the following CPU clock/RAM clock combinations: 200/533, 204/544 and 250/668. I maintained a 3:4 CPU to memory ratio and memory timings of 4-4-4-12 throughout all of the testing.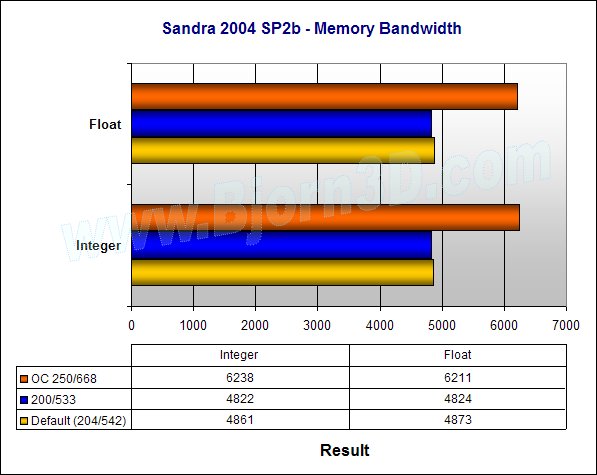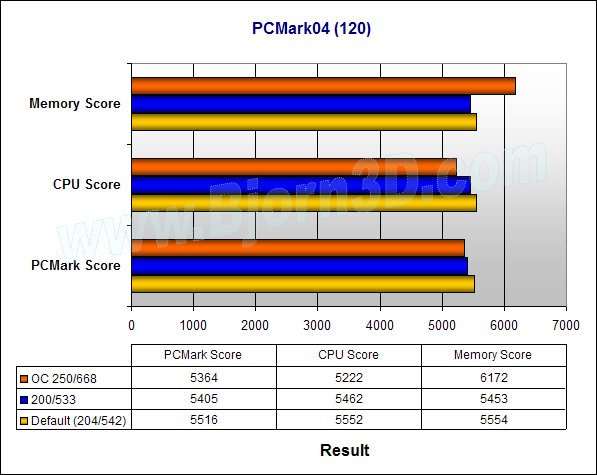 While it's unfortunate that the highest speed I could test the TWIN2X1024-5400C4PRO kit was slightly lower than its rated speed, you can still see that this RAM is pumping over 6,200 MB/s of bandwidth. That's pretty nice performance for sure. You can also see that the RAM performs pretty well without any overclocking. Looks like a good set of memory to me, and I'm betting there's a least a little headroom for overclocking beyond 675MHz.
Conclusion
---
Like many of you, I've been a fan of Corsair memory for many years now. I was excited to check out DDR2, especially a kit from a leader in the memory industry. I'm definitely happy with and impressed by the TWIN2X1024-5400C4PRO kit. I hope that my next motherboard affords me the opportunity to really open it up.
Like most emerging technologies, DDR2 is relatively expensive right now. Our Pricegrabber search indicates that this Corsair kit can be found for around $400, which obviously isn't cheap and is probably the biggest drawback about this kit.
If you feel the need to upgrade to the latest technologies and/or need some RAM for that shiny new Intel 915 or 925 motherboard, then you can't go wrong with the Corsair TWIN2X1024-5400C4PRO kit, especially considering the lifetime warranty. Oh, and there's always those really cool activity LEDs on those fat heat spreaders. They don't hurt either.
Pros:
+ Big, platinum-colored heat spreaders
+ Activity LEDs
+ Great performance
+ Lifetime warranty
Cons:
– Not exactly cheap
Final Score: 9 out of 10 and the Bjorn3D Seal of Approval