Earlier this month, we took a look at the Intel Pentium 4 550 (3.4GHz) processor, and this time we have the 560 (3.6GHz) up on the test bench to gauge its performance. Check out this quick look at the current fastest Intel desktop processor (non-EE that is).
Introduction
---
When Intel first introduced the new Socket T (LGA 775) processors and motherboards, I was really intrigued by the pin-less processor. Never mind the general heat issues with Prescott CPUs and apparent disappointing performance of the new chipsets, I wanted to check out one of these new processors. Maybe I'm just easily entertained or just love a fundamental change, but I was eager to get my hands on the 560 processor that was heading my way.
In case you don't know what I'm referring to, I'll explain. The new Intel LGA 775 processors do not have pins like your typical Intel or AMD processor of the past. The pins are located in the socket on the motherboard, which, as you may have already heard, is a source of concern for many mainboard manufacturers. Let's have a look at the bottom of the new processors.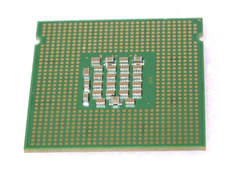 Earlier this month, Chad took a look at Intel's newest 3.4GHz offering — the P4 550. Now, I have the pleasure to bring you a comparison between that processor and its slightly faster brother, the 560, which runs at 3.6GHz. Thanks to a recent price drop from Intel, both of these processors have become much more affordable. Now, let's take a look at the specs and features of the chip and then cover its performance compared to the 550 and an Athlon 64 3400+. For a little more info about the LGA 775 package, check out this page, and for more info on how these new processors are installed and what the stock HSF is like, check out this page.
Specifications & Features
---
All of the specifications (except clock speed, of course) and features listed below are shared by all of Intel's Pentium 4 LGA775 Prescott processors. One thing to keep in mind is that there are Prescott processors based on Intel's previous package technology (FC-PGA4) available as well as the new PC-LGA4. If you want to get a motherboard/CPU combo that you will be able to upgrade beyond 4 GHz, you should probably look for an LGA775 (Socket T) solution.
Specifications:
| | |
| --- | --- |
| Processor Number | 560 |
| Process Technology | 90 nanometer |
| Clock Speed | 3.6 GHz |
| Front Side Bus Speed | 800 MHz |
| L1 Data Cache | 16 KB |
| L2 Cache | 1 MB |
| Package | FC-LGA4 (Flip-Chip Land Grid Array) |
| Socket Type | LGA775 |
| Pin Count | 775-land (pins are actually in the socket) |
| Min-Max Voltage | 1.25-1.40 |
| Supported Chipsets | Intel 925X and 915 |
| Supported Memory Types | DDR2 400, DDR 400/333 |
Features:
Supports Hyper-Threading Technology
L1 data cache size of 16 KB (twice that of Northwood)
L2 cache size of 1 MB (twice that of Northwood)
31-stage pipeline (11 more stages than Northwood) – this actually can be a detriment to performance, but Intel did this so that they could ramp up the clock speed well beyond 4 GHz
Improved branch prediction (helps the new, deeper pipeline's performance)
Streaming SIMD Extensions 3 (SSE3) Instructions
Performance – Test Systems and PCMark04
---
In addition to comparing the 560 to the 550, I will compare it to the fastest AMD processor I have on hand, which is the Athlon 64 3400+. Unfortunately though, I only have an older nForce3-150 motherboard, so the 3400+ doesn't quite show its full strength on my AMD test bed. The Intel system does use some newer technology, such as PCI-Express and DDR2, that are not available on AMD-based boards yet, so keep that in mind. While the systems are obviously not as close to being the same as we'd like them to be, they are similar enough to make a valid comparison.
| | |
| --- | --- |
| Intel System Configuration | AMD System Configuration: |
The performance of the test systems will be measured with the following benchmarks: SiSoftware Sandra 2004 SP2b, Futuremark PCMark04, BapCo SYSmark2004, AquaMark3 and Futuremark 3DMark03. Since the BFG 6800 GT OC's core clock is overclocked to 370MHz, I overclocked the NVIDIA PCX 6800 GT to 370MHz as well before running the game benchmarks.
PCMark04 (1.2.0)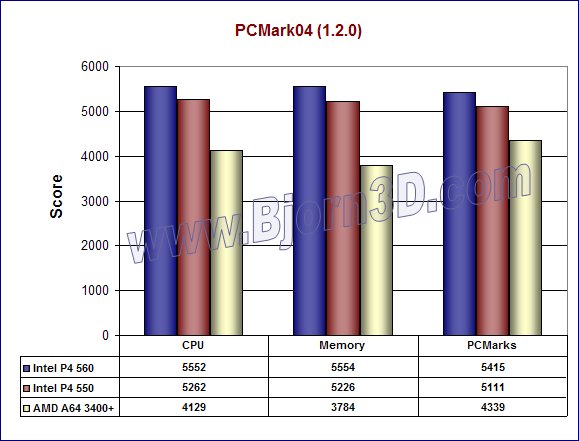 Since the 560 is 200MHz faster than the 550, which is almost a 6% difference, we can logically expect it to outperform the 550 by somewhere around 5-6% in most benchmarks. With that said, there's nothing surprising about the PCMark04 results.
Performance – Sandra 2004 (SP2b)
---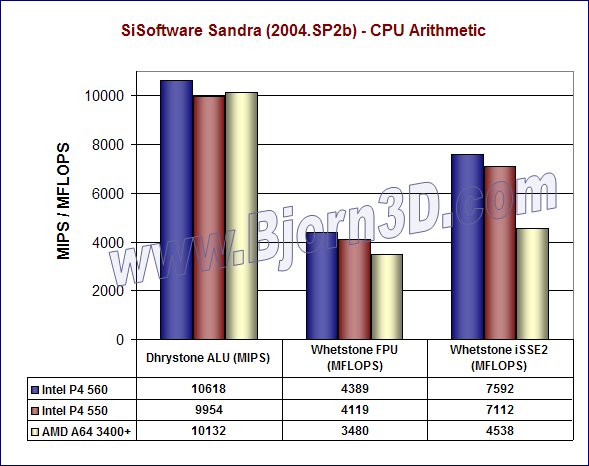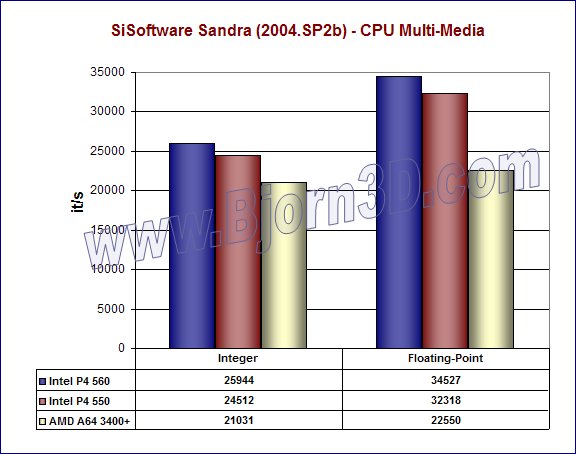 As expected, the 560 offers a slight performance improvement over the 550 (recall that the 560 is a 3.6GHz processor, and the 550 is 3.4GHz). The 560 is the top performer out of all three processors for all of the Sandra benchmarks. I feel the need to reiterate, though, that the Athlon 64 3400+ is held back at least a little bit by the test system motherboard. Nonetheless, the P4 systems will always blow away the Athlon 64 (non-FX's of course) because of the motherboard's dual channel memory versus the single channel that the Athlon 64 is limited to.
Performance – SYSmark 2004 (Patch 2)
---
I could not get SysMark to finish on the Athlon 64 test system. I tried several different installations and tried running the test about 10 times and never had any success getting it to finish without errors. Therefore, I'm only able to include the P4 test system scores.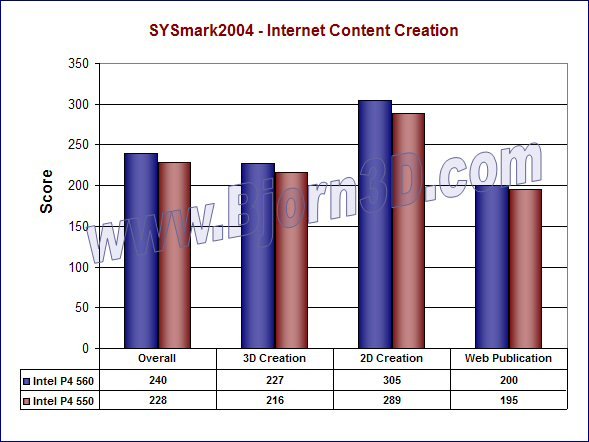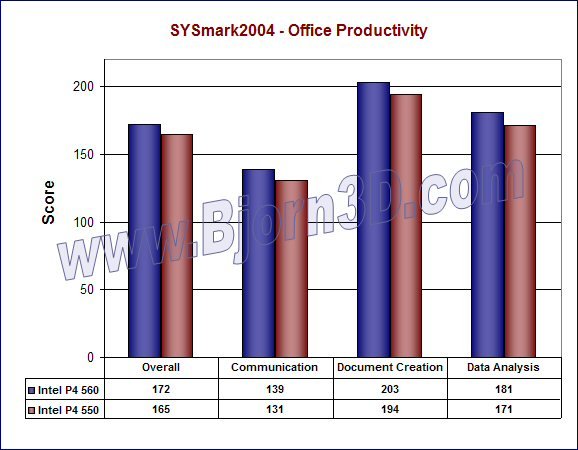 Once again, there are no surprises with these results. The 560 offers a nice little boost in performance over the 550.
Performance – AquaMark3 and 3DMark03
---
For a quick graphics comparison, I ran AquaMark3 and 3DMark03. Recall that I overclocked the Intel test system's 6800 GT to match the default overclock of the BFG 6800 GT OC in the AMD system. Also, I was limited to a maximum resolution of 1280×1024 due to the 17″ LCD that I was using for testing.
Normally, I would run these tests at only lower resolutions and with AA (anti-aliasing) and AF (anisotropic filtering) disabled since this type of article isn't intended to showcase the graphic cards' horsepower. However, I opted to run the benchmarks at higher settings since both of these systems offer a lot of gaming power. My goal was to give you a glimpse of how these two opposing camps compete on gaming grounds.
AquaMark3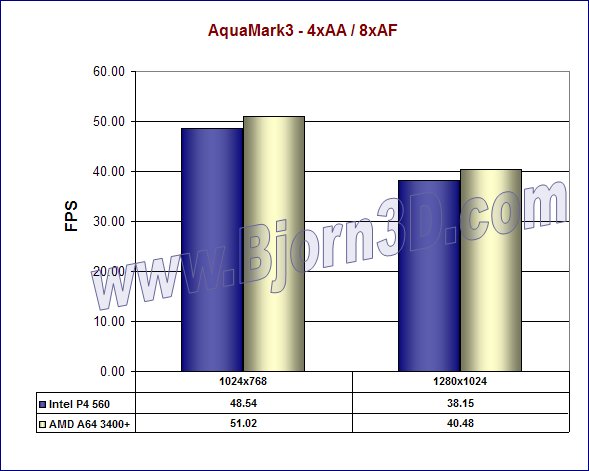 In AquaMark3, the 560 loses a little ground to the Athlon 64 3400+, which is not really surprising considering the excellent reputation the Athlon 64 has acquired as a gaming platform.
3DMark03 (340)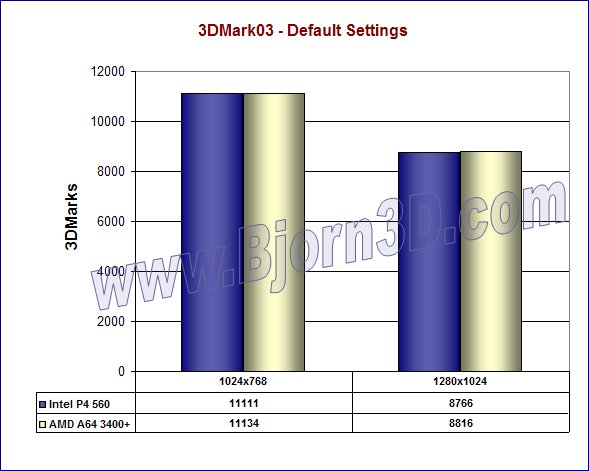 The 560 does a better job of matching power with the 3400+ in 3DMark03, but the 560 wouldn't be able to compete with an Athlon 64 at 3600+ speeds. Nonetheless, we can see that the 560 matched with a good motherboard and top-notch video card can produce very respectable gaming performance.
Conclusion
---
As Intel's top desktop processor, the 3.6GHz P4 560 carries a hefty price tag of over $400, which is probably hard to swallow for most of you reading this. While many of us haven't ever and probably wouldn't ever spend even more than $200 for a processor, there are people out there who this processor (and any top processor for that matter) is made for. If you want the absolute fastest Intel has to offer right now outside of the Xeon and Extreme Edition families, then this is it. On the other hand, there is always the waiting game. The 560 and other Intel chips actually dropped considerably in price several weeks ago, so if you want this processor, just wait a couple months and see how much lower it drops as Intel releases even faster CPUs.
The place I see the 560 being most prevalent is in business machines. For example, I'm considering an upgrade at work, and we typically buy Dell in my office. I would definitely spend the extra bucks on a 560 since it's the fastest processor Dell offers right now (besides the costly Xeons and EEs). For sheer power of number crunching, programming/compiling, rendering and content creating, the 560 is definitely an excellent choice.