There is no doubt in my mind that Steelpad S&S is a well designed and solid product. With additional bundle such as the pad pouch you should be golden while playing any game, and the size of the pad's surface is only a plus!
Introduction
If you are a gamer, you know that a good mouse pad is part of successful fragging. Ever since the introduction of optical mice, gamers around the world have been seeking depthless and smooth surfaces — not always necessary however. The mouse pad sector has grown big — plenty of competition, companies coming up with new solutions and materials for their pads. Expensive mouse pads aren't exactly a necessity for RPG enthusiasts. Nonetheless, it's fun to glide your mouse on a comfortable surface.
Steelpad is behind the mouse pad we are reviewing today — the Steelpad S&S. It was developed in cooperation with Schroet Kommando Sweden (a major gaming community / multigaming clan). Despite the name, Steelpad S&S is made out of plastic material. It has taken about 8 months of work to complete the final design.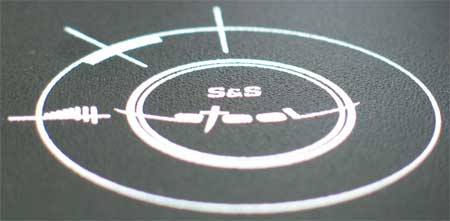 S&S = (steel) & SK. Brought to you by (steel) and SK — the S&S mouse pad is the first
product in a new line of professional gaming gear. For more steel stuff check out: www.steepad.com.
Package
Overall, I was nicely surprised to see how the pad was packed. The box itself was wrapped with a plastic foil. The color scheme was definitely carefully chosen by the design team. Below you see the retail box with features and review quotes listed. I was even more astonished to find a mouse pad pouch (or a sleeve if you will)! Definitely a useful bundle if you often venture around LAN parties.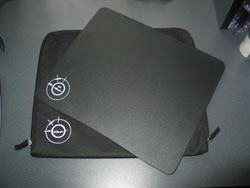 Steelpad S&S along with the pouch.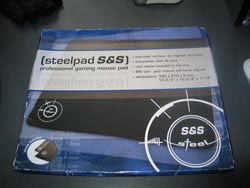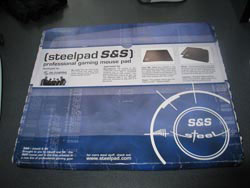 The Steelpad S&S came in an appealing inch-thick box.
Let's take a look at the included mouse pouch: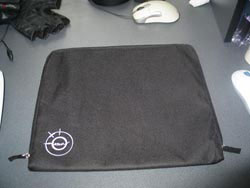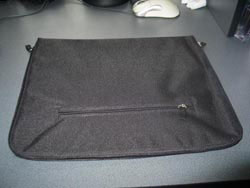 The front and back of the mouse pouch.
As was mentioned above, the Steelpad S&S comes with a carrying bag. The pad fits in there nicely, so if you are heading for some serious gaming, don't forget to protect your gear by putting it in the included pouch. On the back of the bag, you will see an additional pocket. There isn't much space inside, though. You should be able to fit your mouse or about 5 CDs and something to write on.
Features
As to the features, this isn't really a feature rich mouse pad, and I doubt other pads are. 🙂 The Steelpad S&S is made out of plastic material — just as my Everglide (I will later show how the Everglide has worn off over the last 12 months of usage — actually it's been unusable for the past 6 months).
The Steelpad S&S has been designed with professional gaming in mind. After all, it was developed by hardcore gamers.
Improved surface, for highest accuracy
Compatible with all mice
Cool sleeve included in the box
BIG size — your mouse will never slip off
Dimensions: 320 x 270 x 2 mm or 12 2/3″ x 10 2/3″ x 1/12″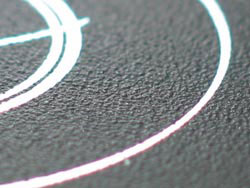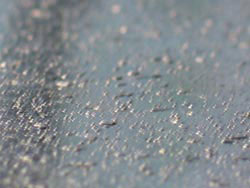 Take a look at mouse pad's material (front and rear).
From the left: this is the close up of the material. Again, it's plastic. On the right you see the bottom of the pad, randomly spread with rubber to hold your Steelpad S&S in place.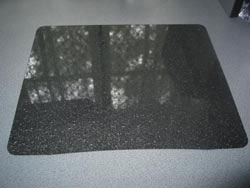 The back of the pad.
The rear of the pad is actually shiny (click the thumbnail for larger picture), but the rubber across the pad holds it very well. I tested the pad on three different surfaces: wood, glass and some sort of plastic. So let's see how it performed shall we?
Testing
Mouse pads can't really be tested in one week or so. There are a lot of mouse pads out there that look great when you first look at them. Unless you know exactly what's it made of, it's pretty hard to say how the pad is going to perform over the next year or so. Before I go into the details of the performance figures, take a look at my previous mouse pad, the Everglide GIGANTA.
Worn off Everglide GIGANTA: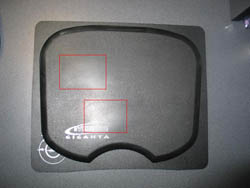 Notice the highlighted spots.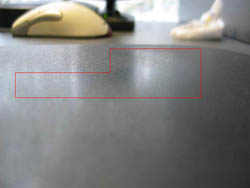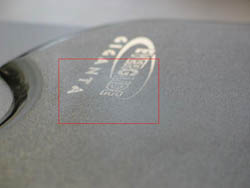 When the material wears off, it leaves the shiny looking stain — very hard to move the mouse over those spots.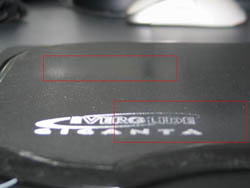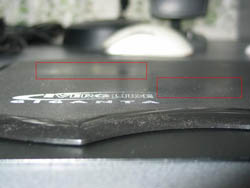 Shiny spots once again. Click on the thumbnail for bigger picture.
So this is what happens when you are a hardcore gamer. Yes, pads wear off and it's hard to predict when yours will unless you've had experience with one before. I did not mention this to put down Everglide, but I thought this is was an interesting bit to show. Take a look at the red stroked parts on the above images. The surface that was moused the most has worn off. So you wonder what happens when you glide over those parts? Simply put, the mouse stops, and you don't want that when you're fraggin' around your opponents.
It will be interesting to see how the Steelpad S&S will deal with my stress testing over the next few months. I will most likely give you guys an update to see for yourselves.
Performance
This is probably the most important part of the article, especially for people who are looking for a decent mouse pad, and possibly this one.
As with everything computer-related, things need to be tested — yes, even mouse pads. I decided to use the Logitech Cordless Click Plus mouse while analyzing the pad's performance. I don't know if you are aware, but previous Steelpads have had trouble with Logitech's optical sensors. That is the main reason I chose the Logitech over a Microsoft mouse for this review. I tested the pad mainly in games and the Windows environment. Looking at the performance, the mouse rides pretty smoothly. It doesn't require much force to swiftly move it across the pad's large surface either. The mouse itself was very responsive, and I haven't noticed any problems with the optical sensor on this pad. Testing the pad in a first person shooter was really a blast. For that, I've launched Unreal Tournament 2004 and started fragging. If you consider my previous setup, which was a Microsoft Intellimouse Optical plus my desk, it's a really huge change, even though my desk is great for optical mice. The pad's large mousing surface is a big plus. However, it might be an issue for some. It may not fit on your desk, so please do look at the dimensions. Also, because the Steelpad is very thin, it is very comfortable for gaming. Believe me — mousing over the pad's edge isn't as chaotic as I have experienced with Everglide's GIGANTA (most likely you will not even get to the edge because of the size of the pad).
Conclusion
There is a strong competition in the mouse pad market right now, and a lot of different designs and materials are being tested in the production of a pad. What does it all mean to the gamer though? Would you rather have a glowing mouse pad or a simple one that actually does the intended job? That's what Steelpad S&S gives you. I've used a few pads over the last few years, but I never found the perfect one. There is no doubt in my mind that Steelpad S&S is a well designed and solid product. With the additional bundle, such as the pad pouch, you should be golden while playing any game. Additionally, the size of the pad's surface is only a plus! My only little gripe is that the pad gets dirty very quickly, but mousing surfaces should be cleaned once in a while, so it's not a big deal.
Let me remind you that the purpose of the mouse pad is to improve the movement of your mouse as much as possible. The mouse pad also has to be comfortable while using it. That's what Steelpad S&S offers. In my opinion, a mouse pad that is used for gaming should last you at least four to six months. Let's hope the Steelpad S&S will be able to live up to my expectation.
Pros:
+ Nice design
+ Large mousing surface
+ A carrying bag
+ Thin and comfortable
+ Holds well on not so rough surfaces
Cons:
– None really
Steelpad S&S gets the rating of 9 (Extremely Good) out of 10 and the Bjorn3D Golden Bear Award.