If you are looking for a cheap yet fast and capable DVD-burner the LiteOn SOHW-812S will not dissapoint you. With a write speed at 8X for both DVD-R and DVD+R you will be burning your movies and data in no time.
INTRODUCTION
Isn't it amazing to look where we are today with optical storage? It was not long ago when my Philips 2x CDRW drive was 'hot,' and the true proof of what a hardware geek I was. True, it took 30 minutes to burn a CD, and if you sneezed at the computer while it was burning, you got a coaster, but so what? I could burn baby burn! Today, I'm testing a DVD-burner from LiteOn that can burn 4.7 GB in about 10 minutes, do it in almost all of the available formats and won't care if you do the flamenco on the keyboard while it is burning. Progress – amazing, isn't it?
FEATURES AND SPECIFICATIONS
The drive I am testing today is the LiteOn SOHW-812S, an 8x Dual-DVD burner. It is neither a Dual-Layer burner nor the fastest DVD±RW burner out there, but it is still both fast and even more important a pretty inexpensive burner.
Let's take a look at the specifications:
Interface
IDE
DVD+R Write Speeds
8x (10800KB/sec) maximum by Z-CLV
DVD+RW Write Speeds
4x (5400KB/sec) by CLV
DVD-R Write Speeds
8x (10800KB/sec) maximum by Z-CLV
DVD-RW Write Speeds
4x (5400KB/sec) by CLV
DVD Read Speeds
Up to 12X
CD-R Write Speeds
40x (6000KB/sec) maximum by P-CAV
CD-RW Write Speeds
24x (3600KB/sec) maximum by Z-CLV in UltraSpeed disc
CD Read Speeds
40x (6000KB/sec) maximum by CAV
Data Buffer
2MB
Access Times
DVD: 120 ms
CD: 120 ms
Let's look what Nero InfoTool says about the drive: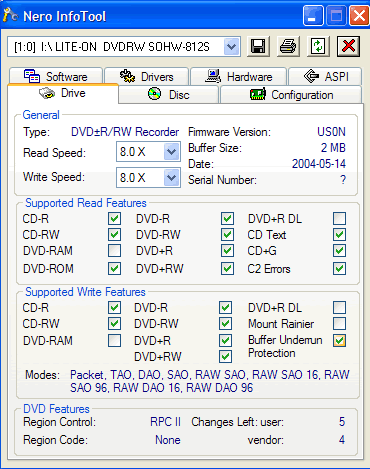 As you can see, the drive supports most stuff except a few exceptions. There's no support for DVD-RAM, no support for DVD+R DL (Dual Layer) and no support for Mount Rainier. The last item is the biggest surprise for me since I thought all new drives these days would support it. If you have never heard about it, check this link out where it is explained: http://www.mt-rainier.org/. I was also surprised that regardless of which media I had in the drive, it always said that 8x was the fastest read speed.
Features:
ATAPI / E-IDE Half-Height internal DVD+R / DVD+RW / DVD-R / DVD-RW / DVD-ROM / CD-R / CD-RW / CD-ROM combination drive

SMART-BURN avoiding Buffer Underrun Error, Automatically adjusting writing strategy & running OPC to provide the best burning quality

SMART-X function adjusts CD-DA / VCD / DVD data extraction to a fastest allowable speed according to both data request rate from host and disk quality

VAS® system reduce vibration and noise during recording and reading

Support Fixed Packet, Variable Packet, TAO, SAO, DAO, Raw Mode Burning & Over-Burn

DVD read compliant : DVD single / dual layer ( PTP / OTP ), DVD-R ( 3.9 GB / 4.7 GB ), DVD-R multi-borders, DVD+R, DVD+R multi-sessions, DVD-RW, and DVD+RW

CD read compliant : CD-DA, CD-ROM, CD-ROM / XA, Photo-CD, Multi-session, Karaoke-CD, Video-CD, CD-I FMV, CD Extra, CD Plus, CD-R, and CD-RW

Support both 8 cm and 12 cm disc of CD and DVD family

Conform to Orange Book : Part 2 CD-R Volume 1, Part 2 CD-R Volume 2 Multi Speed, Part 3 CD-RW Volume 1 ( 1x, 2x, and 4x ), Part 3 CD-RW Volume 2 : High Speed, Part 3 CD-RW Volume 3 : Ultra Speed
 Package content:
In the retail-package you get:

The drive

One 8x DVD+R disc and one 4x DVD-R disc, both LiteOn branded.

4 mounting screws

Sonic MyDVD

Power DVD XP 4.0

User guide as well as Quick installation guide.
I guess the only thing I am missing is a rewritable DVD.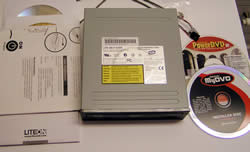 Installation
Installing the LiteOn drive was easy. It is actually a bit shorter than other drives I've had, something which should be very useful in SFF systems. The included quick guide is excellent and should make it easy for anyone to install the drive.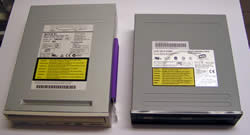 The LiteOn is a few centimeters shorter
than the old Sony DVD-RW drive
PERFORMANCE
Theory is one thing, but how fast is this drive really? To answer this question, I did various read and write tests with a variety of media.
Test System Configuration:
AMD Athlon 64 3000+
AOpen AK86-L Via K8T800 Motherboard
1024 MB PC3200 DDR
120 GB Maxtor SATA, 80 GB Maxtor IDE, 60 GB Hitachi IDE
Creative Audigy 2 ZS
Media used:
Traxdata 8x DVD+R
Verbatim 8x DVD-R
Verbatim 8x DVD+R
Platinum 8x DVD+R
TDK 4x DVD+RW
Noname 48x CD-R
LOTR-TT (Lord of the Rings: The Two Towers) – DVD 1
Far Cry DVD
Write performance
The first write tests were done with Nero's CD-DVD Speed 3.01. In addition to this utility, I also burned 2 DVD's with ~4 GB of files both with Nero Burning Rom and the included program MyDVD.
To test the performance of the drive while writing to a disc, I used CD-DVD Speed's built in Create Disc test. This writes 4.7 GB of files ranging from 2 KB to 7 MB to the disc (or 650 MB if it is a CD).
Traxdata 8x DVD+R
I'm actually a bit confused by CD-DVD Speed here. It says the drive uses P-CAV (Partial Constant Angular Velocity), but the graph clearly shows that the drive is using Z-CLV (Zoned Constant Linear Velocity) for this disc. The average write speed is 7.16X, which isn't far off the max 8X it supports.
Platinum 8x DVD+R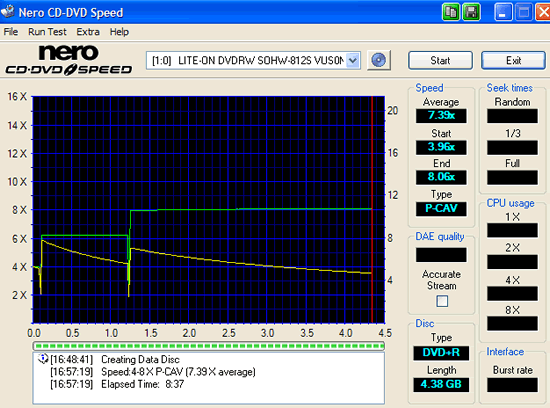 Same picture here. Z-CLV and an average write speed of around 7.4X. On this media, the drive switches up to 6X burning quicker than on other media.
Verbatim 8x DVD+R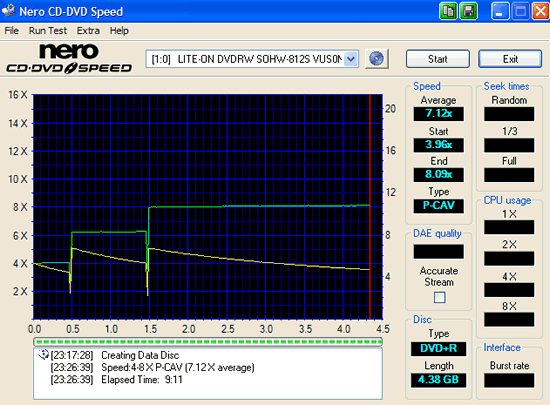 And again same picture here. Z-CLV and an average write speed of around 7X.
Verbatim 8x DVD-R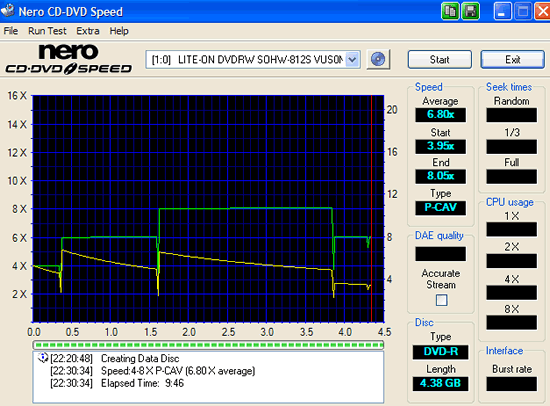 Switching to DVD-R, the Verbatim media gets a strange dip in the speed in the end. This leads to a slightly lower average write speed of 6.8X. I did try out one more disc just to be sure it wasn't a fluke but got the same result.
TDK 4x DVD+RW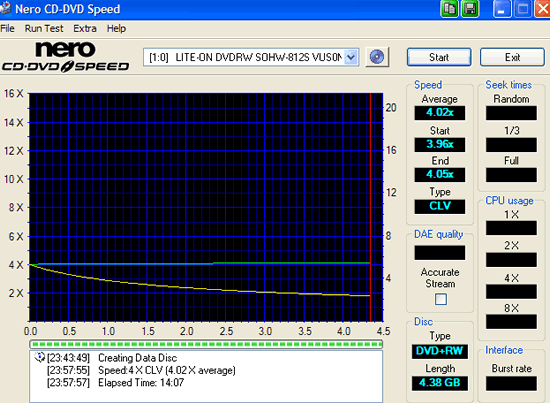 A DVD+RW can only be written at 4x speed, and that is exactly what happens.
NoName CD-R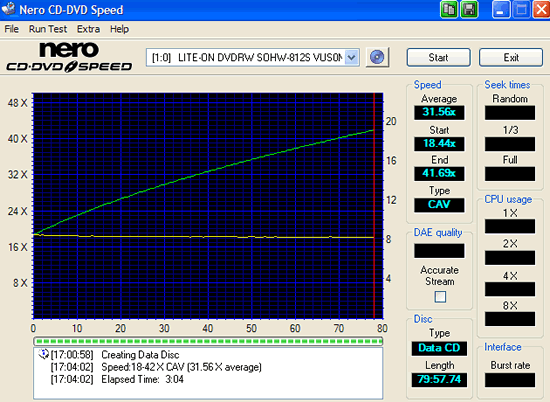 The LiteOn 812S writes CD's with CAV (Constant Angular Velocity). This means that the rotation of the CD is constant on all parts of the disc. The average write-speed is 31.6X, which isn't far from the max 40X.
Burning files with Nero and MyDVD on a 8x Verbatim DVD+R
Lead-In: ~30s
Lead-Out: ~25s
Nero Burning Rom 6.3.1.15, 4472.1 MB files
Total Time (including Lead In and Lead Out): 9 minutes 12 s
Average speed: 8.1 MB/s => ~6.1X
MyDVD 4.5.2, 4118 MB files
Total Time (including Lead In and Lead Out): 8 minutes and 45s
Average speed: 7.8 MB/s => ~5.9X
Conclusion
The average write speed is overall pretty close to the maximum rated speed of 8X both for DVD-R and DVD+R. I was surprised that the fastest speed was found on the cheap Platinum media and not the more expensive Verbatim media.
PERFORMANCE CONTINUED
Read performance
The read tests were done with Nero's CD-DVD Speed 3.01 on the DVD's that were created during the write performance testing.
In addition to looking at the read speed, we also look at the random seek times for the drive.
Traxdata 8x DVD+R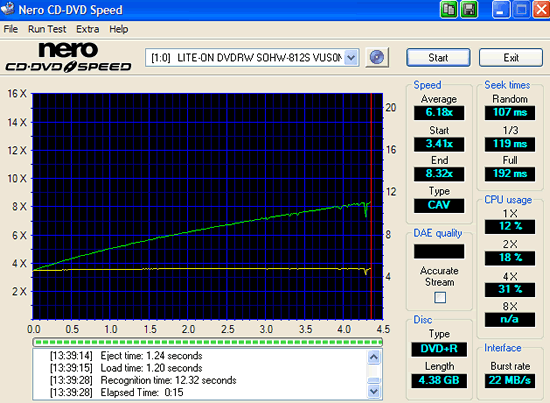 As you can see the disc is read with Constant Angular Velocity. Even though the drive is rated to be able to read up to 12X speed, it barely reaches 8X, which also was what Nero InfoTool reported as max speed. In the end of the disc, you can see that there are some dips indicating that the drive had some small issues reading the last part of the disc, slowing it down a notch a few times.
Platinum 8x DVD+R
The drive doesn't seem to have any issues reading this disc, even if it doesn't read faster than 8X in the end.
Verbatim 8x DVD+R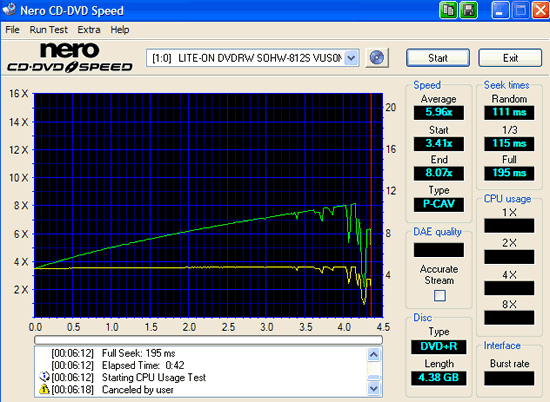 Whoa – what happened here? I even tried it with 2 different discs with the same result. In the end of the disc, it seems to have issues reading the disc. To see if I could replicate the problem, I used the DVD that I burned with Nero (see previous page) and then did the read-test in CD-DVD Speed, and in that case, things seemed to work fine: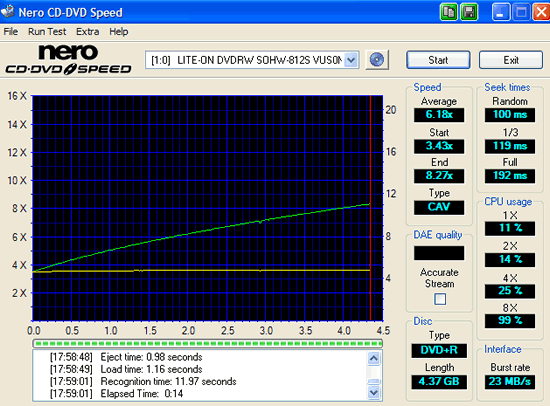 Verbatim 8x DVD-R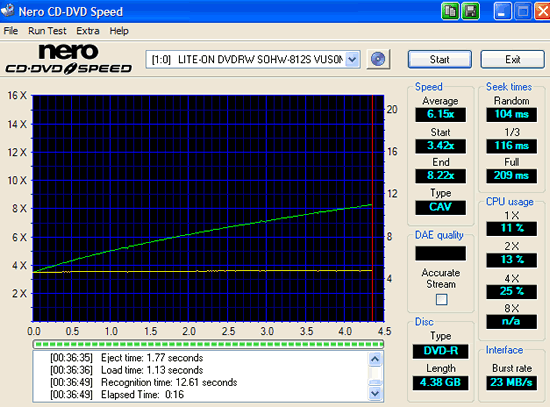 Looks okay with no issues in the end of the disc. The read-speed still ends at around 8X though.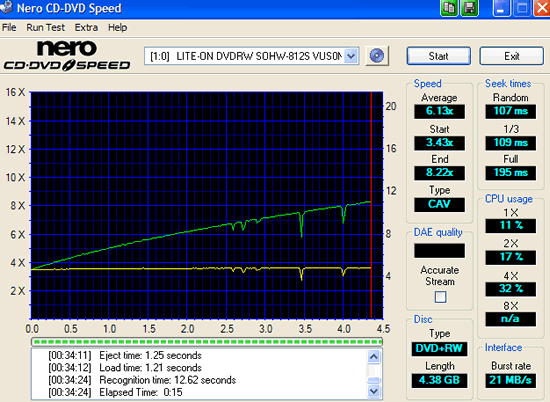 Some small dips in the read speed during the test.
Lord Of the Rings: The Two Towers, DVD 1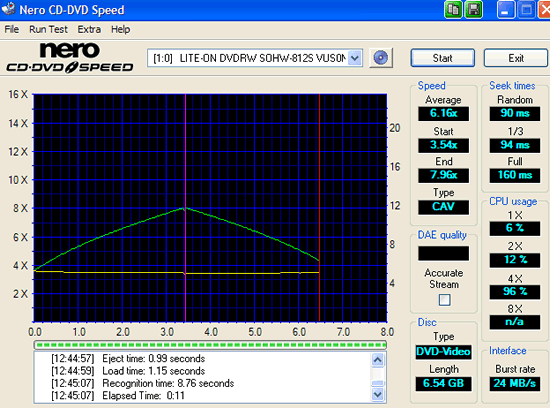 Since this is a double-layered disc you get this pattern where it reads each layer in turn. Once again the average speed is around 6X. Note the low access times, around 90-95 ms.
Noname 48x CD-R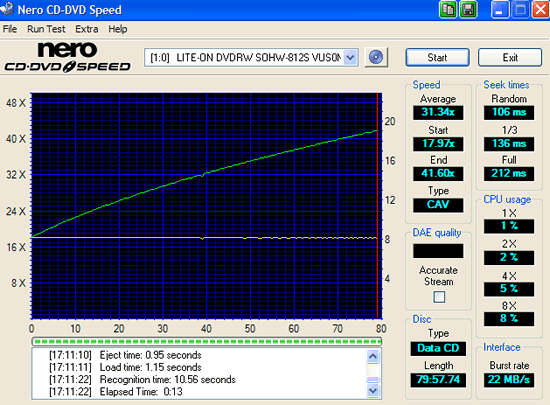 Moving to CD, we see that the read speed actually slightly exceeds the maximum 40X that the drive is supposed to be capable of.
Conclusion:
I was a bit surprised here of the result. Not only did the drive never reach the maximum read speed of 12X, not even at the end of the disc, but it also seemed to have some issues reading the end of the disc on a few DVD's. Once again the Platinum DVD seemed to work well with this drive compared to the more expensive Verbatim media.
Access times were good and in most cases actually were below the expected 120ms.
I got an idea to see how the read test would perform on a commercial DVD, in this case the Far Cry game DVD.
Finally! On this DVD the drive is on its way toward a read speed of 12X at the end of the disc.
CONCLUSION
There's many different ways to approach this burner when writing a conclusion. You could concentrate on the negative stuff like the missing support for DVD-RAM, Mount Ranier and DVD Dual Layer or the indications that there might be some read issues with certain media at certain circumstances.
You could however also concentrate on the positive sides of the drive like the fact that the bundle is okay (although Nero would had been even better), the performance is solid both when writing and reading and the fact that it handles cheap media without any issues. The drive also is silent, short (good for SFF users) and most important, cheap (~$70 at PriceGrabber) .
In the end, the positive aspects of the drive have won me over, and even though it isn't the fastest drive today, and it doesn't support everything, I think for the price it is a good burner that would make anyone on a budget happy.
Pros:
· Short drive (good for SFF systems)
· Silent drive
· Acceptable bundle
· Excellent price
· Good performance, both at writing and reading
· Has no big issues handling all sorts of media
Cons:
· 'Only' 8X write speed at a time when 12X is the fastest possible
· No support for DVD-RAM, Mount Ranier or DVD Dual Layer
· Some issues when reading some DVD's at certain circumstances
The LiteOn 812S DVD±RW burner is awarded a score of 7 out of 10.