Check out this article if you want to see performance comparison between an 80GB Maxtor PATA HDD, a 120GB Maxtor SATA HDD, RAID 0 with two 120GB Maxtor SATA HDDs and RAID 1 with those same two drives.
Introduction
---
RAIDing – it's what pirates and vikings do… no, wait, this is a computer hardware and software review site, so that's probably the wrong kind of RAID. How about a Redundant Array of Inexpensive Disks? Yeah, that's more like it. For those unfamiliar with the term, RAID systems require at least two hard drives, and they allow for two main benefits over single drive configurations – increased performance and fault tolerance. Well, that's the simple way to look at it at least.
RAID comes in a couple main flavors: RAID 0, RAID 1 and RAID 5. These are others, but these are the most commonly used RAID configurations. The first two are increasingly common in the machines of home PC enthusiasts while the latter is almost exclusively found in business-class servers. To learn more about RAID, go here.
In this article, I'm going to take a brief look at SATA RAID performance with two 120GB Maxtor DiamondMax Plus 9 SATA hard drives. I reviewed one of these drives back in February, and Maxtor sent us another for a RAID article. I'm going to present a performance comparison between RAID 0 with these two 120GB drives, RAID 1 with the drives, a single 120GB drive and an 80GB Maxtor PATA DiamondMax Plus 9 drive. All of the drives feature an 8MB buffer.

Features and Specifications
---
Before we dig into the performance charts, let's take a quick glance at the features and specs of the 120GB SATA DMP9 drives from Maxtor.
Features
Serial ATA interface for transfer speeds up to 150MB/s
100% FDB (fluid dynamic bearing) motors
8MB cache buffer
Shock Protection SystemTM
Data Protection SystemTM
The FDB motors help the drive operate at very low sound levels. Maxtor's SPS (Shock Protection System) and DPS (Data Protection System) work together to provide the drive with enhanced protection against operating and non-operating shock to eliminate costly drive returns.
Specifications
Model #: 6Y120M0
RPM: 7200
Capacity: 120GB
Interface: SATA/150
Seek: <= 9.3ms average
Acoustics: <= 2.7 bels average
Buffer: 8MB
For a more exhaustive look at the DiamondMax Plus 9 line's specs, read this PDF found on Maxtor's web site.
Performance – SATA, SATA RAID 0, SATA RAID 1 and PATA
---
For testing I used the following benchmarks: PCMark2002, SiSoftware Sandra 2004, PassMark PerformanceTest V5.0 and HD Tach 2.70. My test system uses the DFI LANParty Pro875B motherboard, which of course includes the ICH5R southbridge, which allows for SATA RAID 0 and 1 configurations. This is my first time setting up RAID, and I have to give Intel props for how easy they make things. Install the drivers and then install the Intel RAID configuration utility, and then the rest is a piece of cake. In the configuration utility, you just create a RAID volume and choose the setup that you want. Simplicity at its finest. I used a 128k stripe size by the way.
Test System:
Benchmarking Results: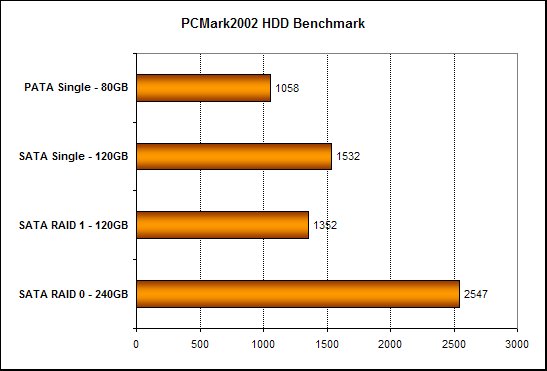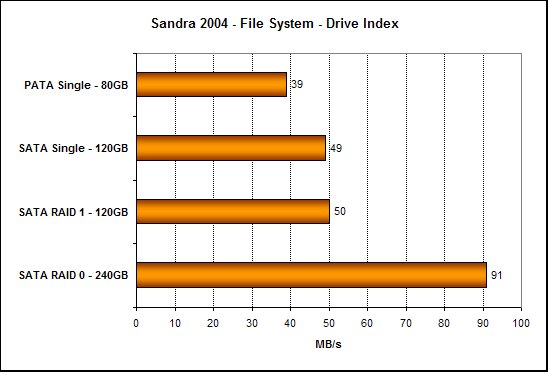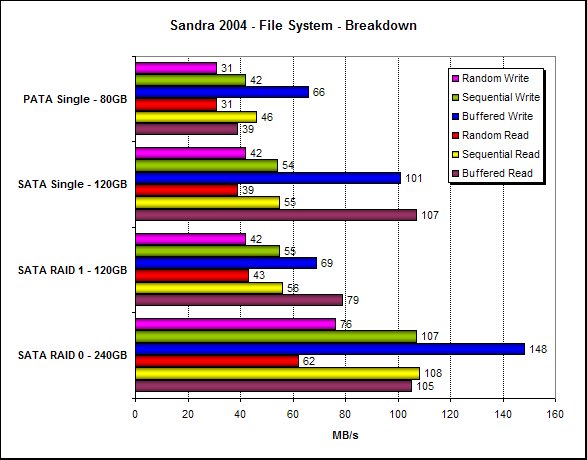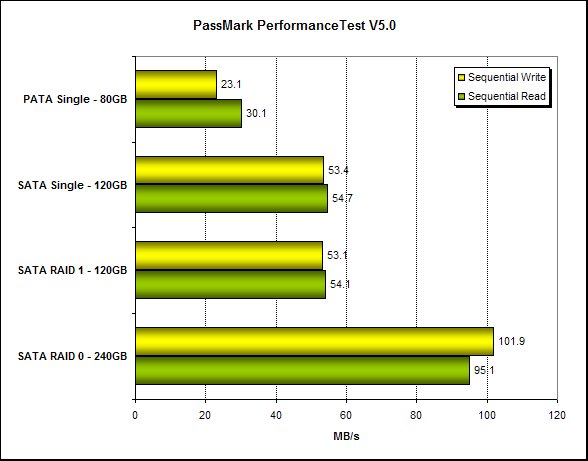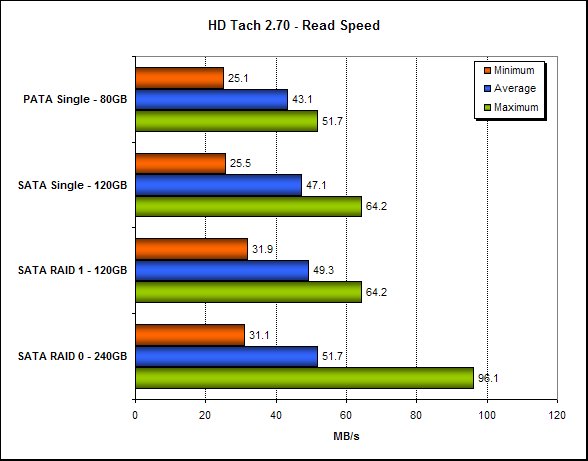 These results weren't too surprising. Basically, the SATA drive performed slightly better than the PATA drive, the RAID 1 SATA setup performed similarly to the single SATA drive, and the RAID 0 SATA setup is the top performer across the board, except for minimum read speed in HD Tach.
Conclusion
---
My first experience with RAID was definitely a good one thanks to the simple setup of Intel RAID and the good performance offered by the Maxtor hard drives. If you must have fast disk performance or redundancy, then I recommend taking a look the Maxtor SATA drives for your RAID setup. The DiamondMax Plus 9 drives are very affordable, don't get too hot and are pretty quiet overall.