We've waited a long time, but it is finally here — our first GeForce 6800 Ultra review. Read our review to find out if BFG's extra spicy GeForce 6800 U OC (as in overclocked) was worth waiting for.
Introduction
---
Every time I hear the name BFG, two things come to mind: the gun from Doom/Quake and a company that makes great video cards.  BFG has been making video cards based on NVIDIA GPU's since the days of the GeForce Ti4600, and after talking with their marketing folks, it sounds like they plan on staying with just NVIDIA for the foreseeable future.  This is a good move for BFG because NVIDIA is smart enough to make sure they take care of their loyal AIBs (AIB= Add-In-Board manufacturer).
The GeForce 6800 Ultra OC I am looking at today uses an NVIDIA stock reference cooler, because currently all the 6800U boards are being supplied to AIBs directly from NVIDIA. So what exactly does BFG do to make their product different from everyone else's 6800U?  The first thing they do is take off the reference heatsink, which uses thermal pads, and clean the cooler, GPU and RAM.  They then use Artic Silver Thermal compound and reattach the heatsink.  Then, the boards are all tested running at a GPU clock rate of 425MHz!  Finally, they are packaged and sold with the 25MHz overclock (default is 400MHz for the 6800U), hence the name 6800U OC.
Features and Specifications
---
Features at a Glance
•  Superscalar GPU architecture
•  NVIDIA® CineFX(TM) 3.0 engine
•  On-chip video processor
•  High-speed GDDR3 memory interface
•  NVIDIA® UltraShadow(TM) II technology
•  64-bit texture filtering and blending
•  NVIDIA® Intellisample(TM) 3.0 technology
•  NVIDIA® ForceWare(TM) Unified Driver Architecture (UDA)
•  NVIDIA® nView(TM) multi-display technology
•  NVIDIA® Digital Vibrance Control(TM) 3.0
•  AGP 8X
•  Microsoft® DirectX® 9.0 Shader Model 3.0 support
•  Tech support available 24 hours, 7 days a week
•  Lifetime warranty
Specifications
•  GPU NVIDIA® GeForce 6800 Ultra
•  Bus Type AGP
•  Memory 256MB GDDR3
•  Core Clock 425 (vs. 400MHZ standard)
•  Memory Clock 1100MHz (effective)
•  RAMDAC Dual 400MHz
•  API Support Microsoft® DirectX® 9.0, OpenGL for Microsoft® Windows®
•  Connectors DVI, DVI, S-Video-Out
•  638 million vertices/sec setup
•  35.2GB/second memory bandwidth
•  Minimum 480W PSU
The Card, Package Contents and Installation
---
The card I received came in an OEM white box.  At this time, BFG is selling the 6800U OC online only and does not have a fancy retail box for it.  So what comes in the BFG box? 
Package Contents
•  BFG GeForce 6800U OC graphics card
•  Quick install manual
•  2 DVI-I to VGA connector
•  2 "Y" power cable
•  NVIDIA® Unified Drivers
•  Full installation manual .pdf
•  NVIDIA® NVDVD 2.0 multimedia software
•  Windowblinds BFG / NVIDIA® skins
•  Game Demos – Painkiller, Silent Storm and Splinter Cell: Pandora Tomorrow
Installation
Installing the card was pretty straightforward.  You do need to have the AGP and the PCI slot next to it free, since the card uses both slots like past NVIDIA flagship products. Although NVIDIA strongly recommends using two dedicated Molex power leads to power the 6800U, especially for overclocking, BFG has found that each independent Molex connector on their card should be connected to its own power cable, but those individual power cables can be in line with other components, such as a hard drive or CD/DVD drive. If you do decide to use two dedicated lines and not use any other connectors off those lines, then you'll be happy to see that BFG includes two Y-Cables to let you use your other power leads to feed more devices.
Performance/Benchmarks
---
To test out the BFG 6800U OC, I'm going to use the same benchmarks and games I used when testing the VisionTek X800 Pro, which includes AquaMark3, X2: The Threat Rolling Demo, Unreal Tournament 2004 and Far Cry. I'm just adding the 6800U OC's results to those tables, so you'll actually see a comparison to both the X800 Pro and NVIDIA 5950U.
Test system:
• Asus SK8N (nForce3 150PRO)
• AMD Athlon 64 FX-51
• 2 x 1GB Legacy DDR 3200 ECC
• BFG 6800U OC or  Visiontek Xtasy X800Pro or NVIDIA 5950U
• 2 x 36GB WD Raptors RAID 0 and 2 x 200GB Maxtors RAID 1
• DirectX 9.0b, Catalyst 4.5, ForceWare 61.34
• Windows XP SP1a
• Antec True Power 550Watt
• SB Audigy 2 ZS
As you can see, my system is loaded with stuff, something that would affect the overclockability of the card. More about that later though.
All benchmarks were run with AA (anti-aliasing) and AF (anisotropic filtering) enabled. Additionally image quality were set to "High Quality" and trilinear optimizations were disabled in the ForceWare driver control panel.
AquaMark3
The AquaMark3 benchmark is based on an actual game engine, and it can really stress even the most modern cards. I ran all tests with 4xAA and 8xAF in the application and "Application Preference" set in the driver control panel.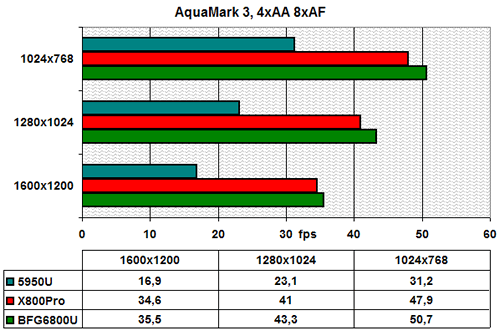 No big suprises here. The FX5950U is crushed by both other cards and the BFG 6800U OC takes a small lead over the X800 Pro in all resolutions. 
X2 – The Threat, Rolling Demo
This demo is also based on a game, and that is X2: The Threat of course. The Rolling Demo renders a bunch of different game scenes and reports scores for each scene and an average score in frames per second (FPS). The chart below just shows the average. This benchmark was run with bumpmaps, shadows and anti-aliasing set to "On" in the application and with 4xAA and 8xAF set in the driver control panel.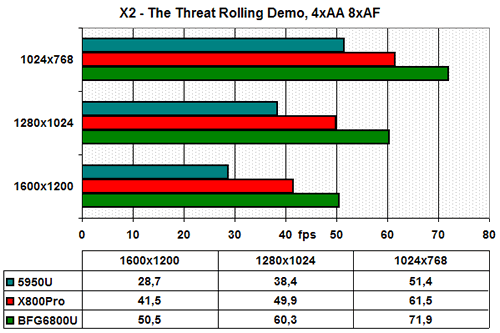 The engine in X2 – The Threat is actually the same, although modified, engine as in AquaMark3. Here we see that the BFG 6800U OC scores between 16-22% higher than the X800 Pro in all resolutions.
Unreal Tournament 2004 Demo
In order to benchmark UT2K4, I used the botmatch timedemo from 3dcenter.de. The botmatch demo is a multiplayer game with 16 bots in Assault-Mode on the map AS-Convoy.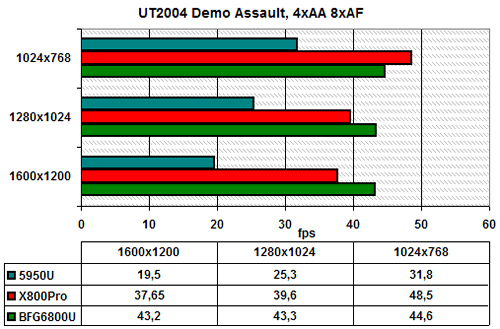 At 1024×768, we for the first time see the X800 Pro beating the BFG 6800U OC. but it is the only time. The BFG 6800U OC clearly looks mostly CPU bound (botmatches are CPU dependant).
Far Cry
Far Cry is currently one of the most pipeline-punishing PC games available. Playing at the highest resolution with eye candy maxed out and still getting playable frame rates is not really possible for even the most powerful systems and graphics cards. The benchmark we have chosen to use with Far Cry for now is the PCGH_VGA Timedemo from 3dcenter. NOTE: We still do not have the patch for Far Cry that includes PS3.0 optimizations.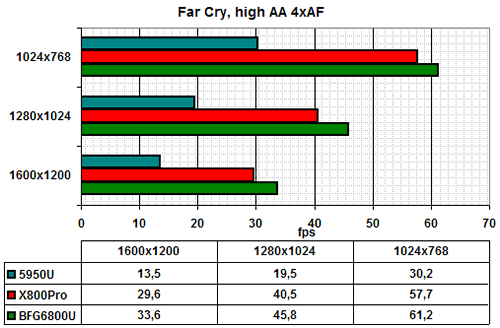 The BFG 6800U OC 'only' scores about 6-13% higher than the X800 Pro. Keep in mind though that the new patch for Far Cry with PS3.0 support promises to speed up the 6800U around 10%.
A Note About Temps
Some of you are probably wondering how hot the 6800U OC runs. Well, when my system was idle and doing no 3D rendering, the GPU core maintained a temperature of about 62C while the ambient temperature was 46C. Load temperatures are of course a bit higher. Immediately after running the Far Cry benchmarks, the core was reading over 78C, and ambient reached 54C. Therefore, you can figure load temps for the core to be in the 80s. The card does get hot, so I would not go touching the heatsink for the fun of it.
Overclocking
---
As my test system specifications showed earlier, my system is loaded with components. This might be a reason why I simply couldn't overclock the BFG 6800U OC any further than 427/1150. BFG did tell me that they have gotten boards to 450MHz, but their test systems are not as loaded as mine.  I am also working on a review of a 6800 GT from another vendor, and this card is overclocking well in my system. Unfortunately though, BFG's 6800U OC just didn't overclock more than what BFG already has done.
Screenshots
---
What use is a $500 video card if you don't play games on it? Here are some screenshots from three games (Far Cry, Soldiers – Heroes of World War II Demo, and Unreal Tournament 2004) I've been playing lately with the card. Each small image opens up to a big image (1024×768, 1280×1024 or 1600×1200), which range in the size between 300KB to 700KB. The format used is JPG with quality set at 90% to make sure minimal quality is lost when converting them from the BMPs.
Far Cry
Soldiers – Heroes of World War II Demo
Unreal Tournament 2004
Conclusion
---
BFG has once again gone the extra step to give us a great NVIDIA product.  The 6800U OC is a fast card, a very fast card.  The card is able give us playable frame rates at 1600×1200 with all the eye candy on and 4xAA / 8xAF. I still play at 1280×1024 with all details maxed, since I just cannot read some of the text messages at 1600×1200.  I will be looking at this issue of mine with an upcoming review of the Mitsubishi Diamond Pro 2070 monitor.
NVIDIA continues on the road of 2-slot solutions. As long as you are aware of this and have room in your system, there shouldn't be a problem. A bigger issue could be the power requirements. 480W is a pretty high demand when many systems come with much weaker power supplies. The fact that my loaded system handled the card without any issues though hopefully suggests that the 480W requirement is intended for a worst case scenario.
Looking at the price around $500, it is clear that the card is meant for the high end enthusiast. If you have even more dough to spare, BFG Tech even offers some upgrades to this card. First of all you can buy a bundle with the card and a BFG 530W power supply for $649.99. If the speed of the card is too slow, you can buy a 6800 Ultra OC with a waterblock on the GPU so you can hook up your existing water cooling system. That card should run up to 470 MHz and costs $599.99 alone and $749.99 together with the 530W power supply.
As mentioned earlier in this review, this card can only be bought online right now over at BFG Tech.
Pros:
+ Excellent performance
+ Already overclocked
+ Lifetime warranty and 24/7 tech support
+ Not too noisy
Cons:
– Expensive
– Relatively large card (long and takes up two slots)
– Runs pretty hot
– Weak bundle
Final Score: 9 out of 10 and the Bjorn3D Golden Bear Award