ADS Tech's Instant TV tuner has a lot going for it, but the big story is what's missing with the package.
Introduction
---
The convergence of electronic entertainment devices such as TV's, DVD players, and stereos with personal computers is finally starting to happen. Purpose-built computers with direct support from Microsoft in the form of Windows XP Media Center Edition are available now. Even better news for the do-it-yourselfer is the availability of devices and software to create your own Home Theater PC (HTPC). Building a low budget HTPC was on my list of summer projects and this effort was greatly facilitated by the arrival of ADS Tech's "Instant TV" USB 2.0 TV Tuner.
Instant TV is an external USB 2.0 device that features a TV tuner and the capabilities of a Digital Video Recorder (DVR). In addition to watching television on a computer monitor (or television using TV-Out, the Instant TV can record to a hard drive, directly to a CD or DVD disc in VCD, SVCD, or DVD format, and perform Time-Shift recording functions.
Features and Specifications
---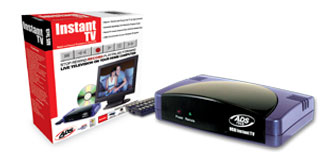 USB 2.0 connection to the PC
Capture audio and video via the USB 2.0 port
Pause Live TV
Last viewed channel
125 Channel Analog TV tuner
Includes remote control
Time-Shift Recording – rewind, pause or fast forward live TV
Scheduled recording with Electronic Program Guide
Full Screen TV viewing on PC monitor
Record video from any analog video source
Direct to Disk Capture – capture TV shows directly to re-writable disks
Edit and update re-writable disks – add shows to a disk, add chapters and menus
Integration with full DVD authoring software applications
Includes:
USB Instant TV
Remote Control
125 Channel Analog TV tuner
Audio/Video and USB cables
CD containing:
System Requirements:
Windows XP Only
2.0 GHz Intel Pentium 4, AMD Athlon XP 2400, or better
Available USB 2.0 port
AGP Graphics Card
Sound Card for audio playback
CD-ROM for software installation
CD or DVD writer for VCD, SVCD or DVD creation
4 GB for every 2 hours of video recording time
Installation and Use
---
Test System:
Biostar M7NCG (mATX nForce2 400)
AMD Duron 800 CPU
Elsa GeForce3 (64MB)
Maxtor 7200 30GB HDD
Lite-On 16x DVD-ROM
Sony 8x CD-RW
Samsung 15″ SyncMaster 151s LCD
Samsung 19″ SyncMaster 950p CRT
Logitech Z640 5.1 speakers
Note: The test system's specs are deliberately puny. As I noted in the introduction, the Instant TV is intended to live in a budget HTPC. With the exception of the motherboard, I had all other components on hand. The CPU in the test system is clearly well below the system requirements so any tests issues attributable to processor speed will be noted.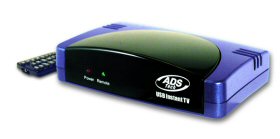 Installation is very simple, as one would hope with an external USB product. The product box and provided documentation very clearly state that Windows XP and USB 2.0 are required. XP is necessary to write directly to CD/DVD media and USB 2.0 is required for the throughput of the audio and video stream. The software is installed before the hardware and includes an audio and video driver. Please note that they have been updated since the product release and can be downloaded from ADS Tech. The installer checks for Windows XP Service Pack 1 and if it is not found it will install Microsoft's USB 2.0 drivers. The tuner can be plugged into a USB 2.0 port once the drivers are installed. The tuner requires a coaxial cable connection, but not a separate power source. Unfortunately, removing the tuner also means reinstalling the driver software. You don't have to use the installation CD each time, but you will have to click on numerous dialog boxes while the audio and video drivers reinstall. This isn't a crippling problem, but it is rather irritating.
As stated previously, my intended use for the Instant TV is with a Home Theatre PC. However, I also tested it with two PC monitors. The TV output is generated through the video card's S-Video TV-Out port using a S-Video to Composite adapter (the TV only has a composite input). Composite video is, unfortunately, the least desirable video input but using the PC monitors for TV display will offset the TV's quality loss in our visual analysis. The Biostar's onboard 6-channel Realtek audio provides the sound output to a set of Logitech Z640 speakers. The Z640's continue the theme of using budget components, but they are certainly good enough to test the Instant TV's audio integrity.
Connections for the Instant TV are:
• USB Port (USB 2.0 ONLY)
• Audio In (to record audio from external audio/video sources)
• Audio Out (pass-through audio from external sources)
• RCA (composite) Video In
• S-Video (Y/C) Video In
• Cable TV connector (F-Connector for NTSC, IEC for PAL)

The included Ulead [email protected] also has a product update that can be downloaded from ADS Tech. It installs neatly and quickly (one can never be sure with bundled software). All manipulation of the Instant TV tuner is performed through the [email protected] software. This is a big plus in my opinion. Too often hardware comes with numerous overlapping, conflicting, or incompatible applications. A one-stop-shopping control point is always welcome.
Installation and Use Cont'd
---
Setup is as easy as the installation. Once started, [email protected] scans the incoming television signal for channels. This process is very quick and is significantly faster than any of the other television processing devices I've used in the past. Once the channels are set you are ready to watch TV!
The user interface for [email protected] is a dashboard similar to most other media players on the market. It packs a lot of features into the GUI, which is a bit problematic on a low resolution analog TV display. Some of the buttons and icons are intuitive, such as "Play" and "Stop", but others have small labels or icons and do not show up well on a TV display. Fortunately, there is descriptive text displayed when the mouse hovers over a button. This alternate text is big enough to see on the TV. The interface looked just fine on the 17″ LCD monitor (1024×768) and 19″ CRT (1600×1200).

For my first test of the Instant TV I did a little channel surfing with the supplied remote. The [email protected] playback window is initially displayed in a smaller window. The image was crisp and clear on both monitors. Enlarging it to full screen on the monitors still maintained a clear, viewable image. The television display was also reasonably sharp considering the much lower resolution and Tv-out source. Enlarging the image to full screen on the TV also looked good. It was not as sharp as a native television image, but still very acceptable for viewing – about equal to VHS playback quality. The remote functions well and features standard controls such as record, channel and volume adjustments, and Time Shifting. Unfortunately, the remote has two significant issues. First, it is tiny. It's about half the size of a regular TV remote. While it is entirely functional, it would be extremely easy to lose something of that size. Second, there is a noticeable lag between remote inputs and actions. Entering a channel number or scrolling up or down the channels requires a pause long enough to make you wonder if you really hit the right button. On a positive note, the feel of the buttons is very good. In fact, they felt and responded better than most of my other remotes. It just channel surfs a lot more slowly.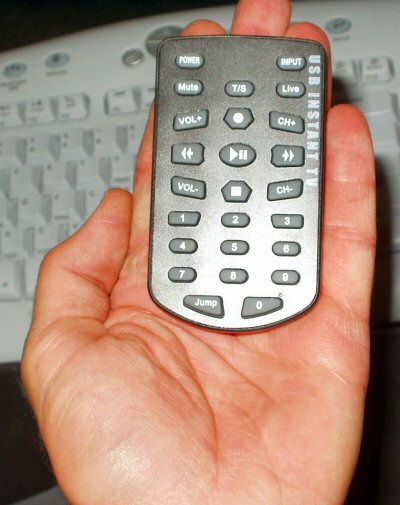 I'm not freakishly large, it's just small!
While the video from the Instant TV turned out quite nicely, things are different on the audio side. Audio quality was at first marred by noticeable clicking noises. The driver update nearly solved the problem. The clicks were still present, but were comparatively rare and hardly noticeable after the patch was applied. This is one issue that could be attributed to using a below-spec CPU. However, an even bigger audio issue still remained: there's no stereo output. The tuner's specifications do not state that it support stereo output, but the printed and PDF directions for Ulead [email protected] do explicitly state that stereo (and SAP) should be an option. The sound coming out of the speakers was clearly mono, so I contacted ADS Tech support and they confirmed that the Instant TV only has mono sound. Ulead [email protected] may support stereo sound, but only in conjunction with a different tuner. The lack of stereo support is very disappointing. That omission in itself excludes the Instant TV from long-term use in my HTPC.
Time Shifting:
Time shifting is the biggest reason for the popularity of TiVo-like devices. The incoming broadcast signal is cached to a hard drive. The playback device uses the hard disk for playback, not the actual signal, so the program can be paused, rewound, and fast-forwarded. This is a very handy function that the Instant TV performs quite well. This is also the only feature that stressed the budget components of the host system. Response to time shifting commands was a bit slow and playback tended to be jerky. Just to be sure, I installed the Instant TV on a XP 2500+ system where it performed admirably – no hesitation and smooth playback.
Recording:
The Instant TV also serves as a video recorder. This feature is also easy to use. One button recording is possible through the remote or the on-screen GUI. Timed recording is also simple to set up. It's also much simpler than most of the VCR's I've been saddled with! There are, however, a few things that keep the Instant TV from being as handy as a VCR:
• You must leave your PC and Instant TV on, so scheduled recording can be active even if you're out.
• Before scheduled recording starts, if you want to temporarily close Ulead [email protected], you must right-click the Ulead [email protected] Scheduling wizard icon
(located on the Windows task bar) and set the time for Ulead [email protected] to automatically open before recording starts.
• While scheduled recording is active, you cannot switch to another TV channel in Ulead [email protected]
• The minimum recording time is 30 seconds; maximum 12 hours for MPEG.
The Instant TV has a recording feature that I really liked. It integrates the recording function with Electronic Program Guides, such as offered by the free TV guide Web service, TitanTV. TitanTV provides television program guides for North America through the Web. It is a free service requiring only a simple registration process. Find a program you want to record, click on a red dot, and [email protected] will present the Scheduled Recordings box for confirmation. As long as the PC is turned and [email protected]'s TV Scheduling Icon is displayed in the icon tray your selected program will record. Simple and elegant!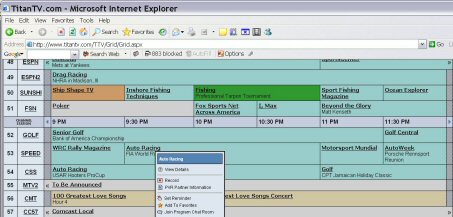 World Rally racing on Speed Channel – good choice!
The Instant TV also records directly to disc instead of a hard drive. The Disc-Direct feature writes to CD or DVD using VCD, SVCD, or DVD formats. Disc-Direct uses Window's XP native burning components and this is feature explains the XP software requirement. Instant TV also burns previously recorded video files using your own burning software (note that separate burning software does not come with the Instant TV). Finally, the Instant TV can perform screen captures in bitmap format.
The Instant TV also serves as a pass through device for analog players such as VCR's and camcorders or digital (DV) recorders.
Conclusion
---
The Instant TV has some very nice features, but one glaring omission in the form of stereo audio. Here are the device's pros and cons:
Pros:
+ Easy installation
+ Good television playback quality
+ Simple recording procedures and excellent integration with Electronic Program Guides
+ Time Shifting
+ Ability to record directly to disc
+ Very good performance with a system well below spec
Cons:
– Drivers must be reinstalled each time the device is unplugged
– No stereo audio
– Poor audio without the software patch
– Tiny remote
– Slow channel surfing
The Instant TV performs some functions very well, but it suffers in comparison to its competition. Bjorn3D recently reviewed Leadtek's TV2000 XP – Expert Edition and it offers everything the Instant TV lacks – stereo audio, a full-sized remote, and other items including MPEG4 support. Leadtek's solution is a PCI card, but we also reviewed another external tuner, the Transcend TV-Box USB2.0. The Transcend is very similar to the Instant TV, but it has stereo output. The lack of stereo audio is ultimately a deal breaker for the Instant TV. Sound quality just isn't good enough in mono to justify the purchase of the device. Bjorn3D cannot recommend the ADS Tech Instant TV because of the lack of stereo audio and annoyances such as the small, slow-reacting remote. Final score: 6.5 out of 10.