In the market for an affordable, comfortable, and functional gamepad? Saitek may have the answer for you!
Introduction
---
The success of the PlayStation2, the X-box, and the GameCube has resulted in a wonderful bounty of crossover titles for the PC. Many of these games, however, benefit from or even require a gamepad. My family eagerly awaited the release of Lego's "Bionicle, The Game", EA's "LOTR: Return of the King", and Ubisoft's "Prince of Persia: The Sands of Time", three multi-platform releases heavy on the arcade action. When I installed them on our PC, however, none worked with my Belkin gamepad! The gamepad continued to work with older games, but refused to budge for anything new. No amount of driver reinstalls or tweaking helped, so I resolved myself to replacing a perfectly good gamepad.
If you haven't looked lately, good gamepads are cheap. I remember paying over $40 for the original Microsoft Sidewinder. Today you can get an excellent and more fully-featured gamepad for half that amount. I did some cursory research on current offerings and headed over to CompUSA for a tryout. Fifteen minutes of trying controllers on for fit and features sent me home with our review subject, the Saitek P880 Dual Analog Pad.
Features & Installation
---
Features
Smooth-control Dual Analog joysticks are complemented by an 8-way D-Pad, 6 conveniently positioned buttons and 2 easy reach rapid-fire shoulder triggers for total control.
Featuring an 'on-board' shift key, allowing each button to be programmed for 2 functions via Saitek's Smart Technology software.
Ergonomic styling allows every game to be played in comfort and in style.
6 Buttons
2 Analog Joysticks
8-way D-Pad
2 Shoulder Triggers
Shift Key
USB interface
Test System
AMD Athlon XP 2500+ @3200+
Biostar nForce2 M7NCD Pro
256MB Corsair XMS PC3200 DDR SDRAM, 256MB Corsair PC2400 DDR SDRAM
Sapphire RADEON 9600XT Ultimate
Windows XP Pro, all current patches applied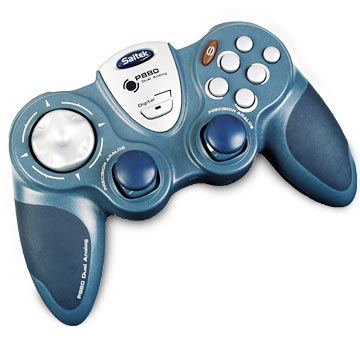 The P880 has the ubiquitous boomerang shape pioneered for the PC by Microsoft. The size and weight are very comfortable for both big and little hands. The palm area is padded with a soft plastic molding that is quite comfortable. Button feel is good, but not best in class. I tried the majority of big-name pads available while at CompUSA, and a few felt a little more responsive to the touch, but most of the others were more vague and mushy feeling. In the end, the P880 offered the best compromise of features, feel, and price so I left left the store one gamepad heavier and $20 lighter.
Installation
Installation of the P880 is very simple, as it should be for any USB device. Saitek recommends that you first install the driver software, then let the installation program prompt you to plug in the controller. The Windows gaming device calibrator is started automatically by the installation program, so once the program terminates you are ready to play. The default installation routine does not install the programming software (called "Smart Technology" by Saitek). I wonder how many gamers actually use the programming function that comes with gamepads? I can see flight sim enthusiasts wanting to tweak their joystick to the nth degree, but I've always found that default gamepad assignments pretty much work fine when left to the developers' configuration. Well, there was the one time that I tried to program my Sidewinder to beat some of the more difficult levels in "Earthworm Jim", but no amount of programming could make up for the fact that I didn't have the skillz to beat the game (Queen Slug For A Butt is a real b!tch). Nevertheless, Saitek's Smart Technology software is powerful and relatively easy to use if you actually need it.
In Action
---
There was much rejoicing in the house when we fired up gamepad-friendly games. The P880 was detected and worked flawlessly in all three games. Default controller assignments worked just fine, so there was no need to play with the Smart Technology software (Note: Prince of Persia: The Sands of Time does not come with default mapping assignments for any gamepad except the Thrustmaster Firestorm Dual Analog 3). A welcome and recent addition to PC gamepads is the inclusion of analog joysticks. Digital buttons are fine for on/off actions, but they are not ideal for the character and vehicle movement prevalent in arcade games. The P880 includes two sticks that can be switched from analog to digital with a button. I like the fact that the button is prominently labeled and lit in red. It serves as a visible symptom when one of the kids says, "Hey Dad, why isn't this button working?".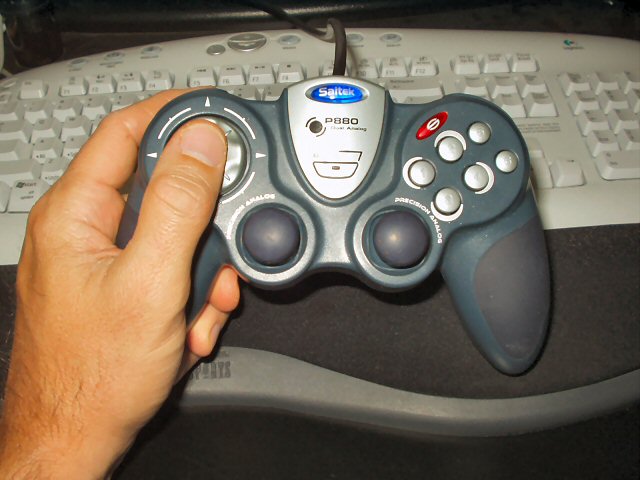 The joysticks, triggers, buttons, and D-Pad all worked comfortably and reliably in the current games we tried, and we also tried several older games as well. The P880 felt fine during extended gaming sessions, unlike the old Sidewinder which tended to give me hand cramps after a while.
Conclusion
---
The P880 is an excellent choice for gamers needing analog and digital functionality in a gamepad. It does not feature force feedback, but Saitek does offer that in its P2500. They also offer a wireless version of the P880, the P3000. The P880 pad offers good control, game compatibility, and comfort for a very reasonable price. We highly recommend Saitek's P880 and award it 8 out of 10.