If you're looking for a good, long-range cordless mouse and keyboard, then you should definitely check out the Gyration Ultra GT Compact Keyboard Suite. In addition to being a good mouse and keyboard for regular use, the mouse includes the capability of being use in the air!
Introduction
---
As media PCs and home theater PCs (HTPCs) become more and more popular, so do devices to easily, comfortably and conveniently control these PCs. Many people seem to focus their hunt for the perfect HTPC input devices on remote controls and wireless keyboards and mice. This review will focus on the latter, and when talking about HTPCs and wireless keyboard and mouse combos, operating range is one key feature to keep in mind. After all, it's not likely that you'll be operating your mouse and keyboard from less than six feet from your PC, is it?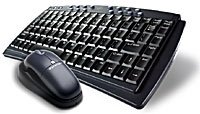 Gyration has some unique solutions that provide flexibility and a generous operating range of 30 feet. What is most unique about Gyration's keyboard suites is that the included optical mouse can be operated in the air! Keep reading to learn more about the Ultra GT Compact Keyboard Suite.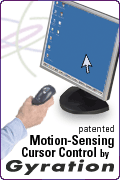 Features, Specs and Package Contents
---
General Features
Extra long 30 foot radio range
High power radio with multiple device capability and digital security features
Plug 'n play USB, no special drivers or software needed
2-year limited parts and labor warranty
Ultra Mouse Features
Gyroscopic motion sensor for use off the desktop
Ultra precise optical sensor – no moving parts to wear out or get dirty. Mouse pad not required
Long life rechargeable NiMH battery with convenient desktop charging cradle
GyroTools Media Control software for Microsoft Windows
Ergonomically designed for comfortable desktop & in-air use
Windows and Mac compatible scroll wheel
Compact Keyboard Features
15 Internet and multimedia hotkeys require no special drivers
88-key QWERTY layout in a compact, lightweight design
Low profile, scissors style keys for a quality feel and whisper-quiet keying
Specifications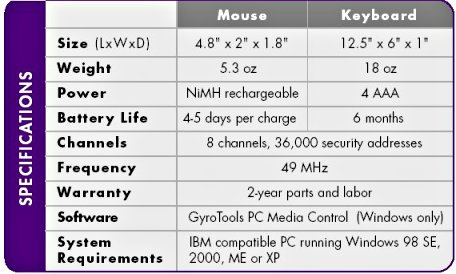 Package Contents
Gyration Ultra Cordless Mouse
Gyration Compact Keyboard
Desktop charging cradle with AC power adapter
RF receiver with USB connector
CD with GyroTools Media Control software for Windows
Quick Start Guide
Closer Look
---
The Ultra GT Compact Keyboard Suite will appeal to HTPC owners (and other users as well) for a number of reasons. First, the 'compact keyboard' featured in this suite is comparable to a laptop keyboard in size and feel. When I pulled it out of the box, I was quite surprised by its small size. Despite its petite frame, the keyboard feels quite sturdy and solid (think good quality). To give you a good idea of the size, I took a picture of it laying on top of my cordless Logitech Elite keyboard (the Gyration keyboard is outlined in green on the image to make it easier to see).
Although Gyration's compact keyboard lacks a number pad on the right side, it still offers 88 keys in the typical QWERTY layout and 15 Internet and multimedia hotkeys (small buttons at the top of the keyboard — Multimedia: Prev Track, Next Track, Volume Down, Volume Up, Play/Pause, Stop, Mute; Internet: Back, Forward, Web/Home, Favorites, Stop, Refresh, Search, Mail). These hotkeys work without having to install drivers, and they are quite handy.
The Ultra GT mouse is as long at a typical mouse but a little skinnier. You lefties out there will be happy to see the symmetrical design, which makes it equally comfortable in either hand. I'm guessing that the symmetrical design was chosen mostly to make the mouse as comfortable as possible for in-air use. Overall, it's a nice design, including the colors and light textured feel.
The mouse features a rechargeable NiMH battery, which of course means that the suite includes a desktop charging cradle. The mouse just lays in the cradle when charging, and the cradle has a typical power block that you plug into a standard power outlet. While charging, the small green LED strobes until the mouse is completely charged, at which time it remains solid and stops blinking.
As I mentioned above, the Ultra GT mouse feels rather skinny (at least in my hand), but it's still quite comfortable. I'm used to bigger mice, such as the Logitech MX 510, Logitech Elite Duo cordless mouse and Microsoft Intellimouse Explorer, but I can't imagine using something that chunky in the air.
The final major hardware piece in this suite is the RF USB receiver, which features a small, telescoping antennae. The receiver isn't too big and has status LEDs for Caps Lock, Num Lock and Scroll Lock. An LED on the side also blinks when the unit receives a signal.
To read about Gyration's patented gyroscope and RF technologies, visit this page.
Testing
---
Installation
I found the Ultra GT Compact Keyboard Suite to truly be plug 'n' play on my Windows XP HTPC. Although pretty simple, it's not quite as simple as that sounds. First, you plug in the Ultra GT mouse's charging cradle and USB receiver. After powering up your PC, you can then 'teach' the keyboard and mouse to communicate with the receiver. This only takes a button push on the receiver and on each of the devices though. Bada boom, bada bing, it's all done. It's a very simple process, and Gyration outlines it well in the included instructions.
GyroTools
Included free in the suite is GyroTools Media Control Software, an application that extends the functionality of the Ultra GT mouse. Gyration describes it well:
Bring your computing experience to life with over 60 powerful media, Internet, and Windows controls. GyroTools is a suite of software tools that enhances the functionality of the Ultra Mouse. Assign your favorite tools to button clicks or gestures to put commonly used PC commands at your fingertips.
This description comes from a GyroTools PC PDF from Gyration's site. The PDF also lists all the different functions you can assign to clicks, gestures and swipes.
Installation of this innovative software is quite simple. Pop in the included CD and run the install program. It's pretty basic, and Gyration was cool enough to include some tutorial videos on using the mouse. Kudos to them for going the extra mile to make users more comfortable with this new technology!
Setting up and using the GyroTools features is also pretty simple. You choose a tool (Highlighter, Notepad, Page Forward, etc.) from the list at the bottom of the setup screen and simply drag and drop it to the swipe, click or gesture that you want it assigned to.
As you can see, this software gives you considerably more flexibility and control than the average mouse. You can actually set up profiles that switch the functions of the swipes, buttons and gestures. Gyration includes several profiles by default (Internet-Email, Media Player, MyProfile and Windows-Email), but you can customize and create your own.
Using the Mouse and Keyboard
One of the main things that interested me in the Gyration cordless sets is the long range of use. The Ultra GT Compact Keyboard Suite's 30-ft range is much better than my Logitech Elite Duo's paltry 6-ft operating range. I decided I had had enough of the Logitech's pickiness and limited abilities due to its IR technology. With Gyration's RF technology, you don't have to have line of sight with the receiver like you do with IR receivers. The Gyration keyboard and mouse should work from anywhere within a 30-ft radius around the receiver, and that gives you the kind of freedom you need with a HTPC. I had no problems at all using the Gyration combo from well over 20 feet away.
The most innovative feature of this suite is of course the mouse's ability to be used in the air. The Ultra GT mouse uses a gyroscopic motion sensor for in-air use, and it works great. Admittedly, it does take some getting used to, but after only a few in-air mousing attempts, I was starting to feel pretty good at it. My girlfriend also got the hang of it pretty quickly. Now, when we watch Naruto episodes on the HTPC, we can easily fast forward, advance to the next playlist entry or open new files. I'm very happy to say that it will be replacing my Elite Duo set.
I've found a lot to like about the compact keyboard as well. The keys provide a good response, and typing on it feels pretty good. I had no issues with speed typing like I do sometimes with laptop keyboards. Although very similar to a laptop keyboard, I like the Gyration keyboard much better than many laptops I've used. I also like the inclusion of useful buttons at the top of the keyboard. The main thing I don't like about the layout is same thing I don't like about laptop keyboards — the location of some buttons. The small, lightweight and sturdy feel of the unit makes this easy to get over though.
Mousing on surfaces rather than in the air proved to be a good experience. The mouse does feel rather skinny in my hand but not annoyingly so. Lefties will be glad to see the symmetrical design. The buttons and scroll wheel respond well, and the optical sensor works quite well. I used the mouse on a mousepad, pillow and couch and had no problems with it at all.
The battery life of the rechargeable mouse was more than acceptable. Gyration suggests to put the mouse on the charger between uses to keep it fully charged. I left it off the charger and used it on and off for three or four days, and it was still working fine. I wouldn't leave it off the charger for much longer than that though.
Conclusion
---
Overall, Gyration has developed a winning combination with the Ultra GT Compact Keyboard Suite. It suits my needs in a HTPC mouse/keyboard combo quite well. The 30-ft operating range is great, and the size of the devices makes them easy to stash. I've really enjoyed using this innovative set and recommend it to anyone looking for one of the best and most flexible cordless sets available, especially if you want to use it while lounging back in a chair or on the couch or bed.
Pros:
30-ft operating range!
Use mouse in the air
Lightweight, sturdy and compact keyboard
Decent battery life between charges for the mouse
Fair amount of accessories available
GyroTools increases the mouses flexibility and power big time!
Cons:
Keyboard requires 4 AAA batteries
May be a bit pricey to some ( > $110 )
Final Score: 9.5 and Bjorn3D Seal of Approval!