Want a professional-grade CF card? Want high read and write speeds? If so, then you just might want to take a look at the SanDisk Extreme CF card.
Introduction
---
When you are photographing your kid's birthday party or your family vacation, the last thing you want to worry about is how many pictures you have left on that flash card in your digital camera, right? Well, then you need something bigger…er, I mean something with more capacity. How about a 1GB Extreme CompactFlash (CF) card from SanDisk?
SanDisk is certainly not new around here. We've reviewed several of SanDisk's products, such as the Cruzer and 6-in-1 ImageMate. I actually reviewed both of those products and found them to be great devices, so I am expecting a lot from the Extreme CF card.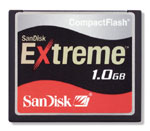 The Extreme line was really designed for professionals who use high-end digital SLR cameras and need to write pictures very quickly to media, but anyone who wants really fast read and write speeds has to look beyond the normal generic CF card towards a specialty line, like SanDisk's Extreme and Ultra lines. The Extreme cards are about more than just speed though. Read on to find out more about the 1GB Extreme CF card and to see how well it performs.
Features and Packaging
---
Like most specialty lines of products, you will pay 'extra' for the Extreme CF cards, but you get more in return of course. In this case, you get more and better features and more stuff in the box. So, what exactly do you get for the extra cash? Let's take a look at the features and package contents to find out.
Features
Faster read and write speeds (up to 10MB/s and 9MB/s, respectively)
Extreme shooting conditions
Durable, reliable and rugged
Travel case included
Digital image recovery software included
100% compatibility guaranteed
Lifetime warranty
Dedicated technical support line with priority service
In an area where few people expect innovation, SanDisk continues to achieve just that. Here is a description from SanDisk about the increased performance provided by the Extreme line:
Performance for the Sandisk Extreme card has been achieved through SanDisk's new high performance ARC-based microcontrollers, advanced firmware and high performance 0.13 micron NAND memory. While actual performance increases vary by camera model, improving the overall performance of the card leads to increased performance in all digital cameras, rather than optimizing the card to benefit only a handful of cameras as some competitors have done.
When I first read the 'durable, reliable and rugged' line, I was skeptical. I mean how much more rugged can one CF card be than another? Well, I became convince once I read the following information from SanDisk:
For the utmost in reliability, SanDisk has used its expertise and decades of experience in providing flash memory cards for the industrial market to develop the SanDisk Extreme card, that features the industry's widest guaranteed operating temperature range to ensure flawless performance in extreme temperatures-from well below freezing (minus 13F/minus 25C) to near boiling (185F/85C). This is an important feature since many professional photographers must shoot pictures in grueling conditions and store their equipment in harsh environments.
That's impressive for sure. Sorry, but I'm not even going to consider testing the card in conditions even close to those extremes! 😉
The last two listed features also impressive and quite easy to understand. They also help justify the higher price of the Extreme line. I would expect nothing less from an 'extreme' product than a lifetime warranty. Basically, if your Extreme CF or SecureDigital (SD) card ever fails, SanDisk will replace it. There is some fine print involved of course, but it's a solid benefit nonetheless. Additionally, SanDisk offers a dedicated technical support line with priority service for Extreme card owners. Now, that's impressive! Who wouldn't want that?
Package Contents
Extreme CF card
Plastic protective case
Travel case (lightly padded; fits two CF cards)
RescuePRO software
User guide
My expectations were definitely exceeded when I opened the box. I thought it was just bulky packaging, but the Extreme CF card actually comes with a small bundle of goodies, including RescuePRO software (on an 80mm mini-CD), a protective case, a travel case and a user guide. While the plastic protective case is intended to hold only one card, the lightly padded travel case is designed to carry two. The RescuePRO software is a welcome addition to this bundle. It is a basic utility that provides data recovery from flash memory. If you need to completely erase a card instead, you can also use the RescuePRO to do this (by clicking the "Wipe Media…" button, which launches the Secure Erase utility). This will write over an entire card with 0's so that nothing can be recovered from it.
RescuePRO
I installed and ran the RescuePRO utility to see how well it really works. You can see in the first image above that you have the option to just run RescuePRO if you don't wish to install it. The second screenshot above shows what you see after running the application. RescuePRO scans for drives that it can recover files from. Keep in mind though that it won't allow you to recover files from fixed drives; it is designed only to recover from removable media. You have to choose where you want files recovered to, which will usually be your hard drive. Keep in mind that the total size of the files recovered can exceed the size of the media that the files are being recovered from. For example, I recovered files from a 16MB CF card, but the total size of all the files recovered exceeded 16MB. This consideration will be more important for bigger and more frequently used cards.
The recovery from the 16MB CF card was very successful (you can see the results in the first image above). All but one file was recovered properly. After testing the recovery function, I tested the erase utility. I used the same 16MB card. The utility basically writes over the entire card with zeros, a standard method of truly erasing data from media. After the erasing operation completed, I ran the recovery tool again to verify that no files could be recovered. Secure Erase did its job, and no files could be found now.
Testing / Performance
---
Testing a CF card seems pretty simple, but I ran into some issues. To make a long story short, the Extreme CF card wasn't performing as well as I had hoped. It was outperforming my standard 128MB SanDisk card but only by a small margin. The culprit according to SanDisk was the SanDisk ImageMate 6-in-1 card reader (which is a USB 2.0 reader by the way) that I was using! I was very surprised by this because I've been very happy with my ImageMate. Eventually, I tested the Extreme card out in a different reader (an IO Gear USB 2.0 reader), and the performance was much better. This just goes to show you that the reader you choose can have a significant impact on performance. SanDisk has assured me that their newest ImageMate 8-in-1 reader is faster than the 6-in-1.
For testing, I used HDBench and SiSoftware Sandra 2004's File System and Removable Storage benchmarks. The test computer was running Windows XP Pro SP1, and the reader used in test was an IO Gear USB 2.0 multi-format reader. For comparison, I used a 128MB Mr. Flash CF card. Let's take a look at the results.
HDBench Results
|   | SanDisk 1GB Extreme CF | Mr. Flash 128MB CF |
| --- | --- | --- |
| Read (KB/s) | 5688 | 1617 |
| Write (KB/s) | 4031 | 621 |
| Random Read (KB/s) | 5688 | 1648 |
| Random Write (KB/s) | 1323 | 297 |
Sandra 2004 File System Benchmark Breakdown
|   | SanDisk 1GB Extreme CF | Mr. Flash 128MB CF |
| --- | --- | --- |
| Buffered Read (KB/s) | 6144 | 1648 |
| Sequential Read (KB/s) | 6144 | 1681 |
| Random Read (KB/s) | 1421 | 1637 |
| Buffered Write (KB/s) | 5120 | 492 |
| Sequential Write (KB/s) | 5120 | 674 |
| Random Write (KB/s) | 823 | 525 |
Sandra 2004 Removable Storage / Flash Benchmark
As you can see, the 1GB Extreme card mops the floor with the Mr. Flash card. For some reason though, the Extreme card isn't hitting the advertised 10MB/s read and 9MB/s write, but I have a feeling the reader was the bottleneck again.
Conclusion
---
If all you want is 1GB of CF storage, then you don't really need to consider the Extreme card. On the other hand, if you demand the best (including awesome performance in cameras, top of the line speed in your reader, and great extras), then you'd be remiss not to take a closer look at the Extreme line. The 1GB SanDisk Extreme CF card is one of those items that stands out from the crowd for good reasons, but it also stands out because of its price (at least to the Average Joe photographer). Pros probably don't gasp for air when they see a $300+ price tag on a piece of equipment; average point-and-click photographers like me can't help but grimace at least a little though. It's easy to spend money though on something that is your job or passion. You do what it takes to gain an edge, and for some, the Extreme line of cards might just provide that.
From my testing, I am convinced that the Extreme CF card outperforms the average CF card by a considerable margin. Additionally, I'm convinced that you'll need a damn good reader and damn good camera to really use it to its full potential. SanDisk not only packs in the performance but also adds great little extras, including the RescuePRO software and travel case. RescuePRO is a great utility that works exactly as you'd expect. Whether you need to recover files, backup media or erase it, RescuePRO has you covered. If purchased separately, the RescuePRO software would cost $40, so it's definitely a nice inclusion in the Extreme CF package. (For more info on RescuePRO, go here.) The travel case is a nice little extra that you can take with you to help protect your investment. One other feature worth emphasizing is the dedicated support line for Extreme card owners. This is a testament to SanDisk's commitment to its customers, and it's a great addition to the package.
If you've made it this far, you are no doubt wondering how much the 1GB Extreme CF card costs. SanDisk sells it directly for $440, but after a little searching, I found it online at several stores for about $100 less. If you can't quite fork up $340 for a CF card, then SanDisk's other professional line – the Ultra II – might be of interest to you. The Ultra II 1GB card can be found for around $270 while SanDisk's standard (and much slower) 1GB CF card is about $180. It's a simple 'you get what you pay for' type of situation.
Maybe one day I'll have a camera that can take pictures fast enough to really test this card. By then though, I'm sure technology will be way different and my 1GB card will be nothing compared to 20GB drives half the size. If you want to see how the card performs in high-end cameras, I highly recommend you check out Rob Galbraith's web site. Check out the "Card-to-Computer" benchmark results here, and make sure you read the rest of the comparisons on his site if you're really considering purchasing professional-grade media.
If you want one of the best performing and best packaged CF cards available today, then considering the SanDisk Extreme line is an absolute must. I'm awarding the 1GB Extreme a 9 out of 10.