So, you think a hard disk cooler is overkill? Think again. If you are running a simple file server or if you have mission-critical data sitting on a hard disk at home, you may want the extra peace of mind that this simple but effective device has to offer.
Introduction
---
Did you hear that noise? You probably did, but you were so accustomed to the sound that you didn't even think to pay attention. Those clicks and whirs emanating from your system chassis come from one of the most neglected components of a computer user arsenal: the hard disk drive. If you think about it, you may realize that you rely on these mechanical wonders more than you think; some of you could risk losing your job should any critical data lay claim to a damaged hard disk.
Now that you may respect that noisy block of machinery just a tad more, it is time to take the initiative and help prevent data loss. Modern hard disks tend to generate lots of heat; this heat causes the mechanical components within the drive to risk failure. It is important to try to keep your hard drives in a stable, cool environment with as much airflow as possible. Since most computer chasses are not designed for this sort of seemingly "paranoid" cooling capacity, it may be necessary to go a step further and purchase a hard disk cooling unit.
I have the pleasure to introduce to you the StarTech.com HDDSINKPRO, a hard disk cooler that is designed to run within a free 5 1/4 inch drive bay. Does it meet our need for cooling capacity while hopefully increasing drive reliability? Read on to discover for yourself.
Features/Specifications
---
Simplified
Features*
Specifications*
Extends hard-drive life by preventing over-heating
Dimensions: 184x146x43mm (7.24×5.74×1.7in)
2 high performance DC fans
Fans: 40mm (1.57in)
Large extruded heatsink has adjustable clamping distance to fit any hard drive
Weight: 1.16 lbs (0.53 kg)
*Basic features/specifications from product package.
Detailed
Specifications**
Hard Drive Requirements:
Bay : 5.25 inches
Hard Drive Size : 3.5 inches
Hard Drive Type: IDE & SCSI
Weight:
Lbs: 1.16
Grams: 530
Fan Type: Ball Bearing
Construction:
Fan: Plastic
Enclosure : Plastic with Aluminum Heatsink
Fan Airflow (CFM): 24
Noise Level (dB): 36
Mounting Kit: Included
Life Expectancy: 45,000 hrs
Connector: LP4
Fan Dimension:
Inches: 1.57 x 1.57 x 0.78
Millimeters: 40 x 40 x 20
Enclosure Dimension:
Inches: 7.24 X 5.74 X 1.7
Millimeters: 184 X 146 X 43
Voltage: 12V
**Detailed specifications from product web site.
Construction/Quality
---
When I recieved the package, I was surprised at how large the heat sink was. It was both longer and wider than the test hard disk, a Western Digital 250GB drive with a 7200RPM spindle speed (WD2500JB). This is a good thing. We want the hard drive cool and we need a good-sized heat sink to do the job.
The contents of the package consist of a preassembled cooling unit (3.5 HD rails, heat sink with attached fans, and an air filter assembly) and a few screws in a small plastic bag.
The heat sink seems very solid and the hard disk contact surface is nice and shiny. The only thing that concerned me was that it looked like not much air could be pushed through the heat sink to allow maximum cooling, but we will go over that later.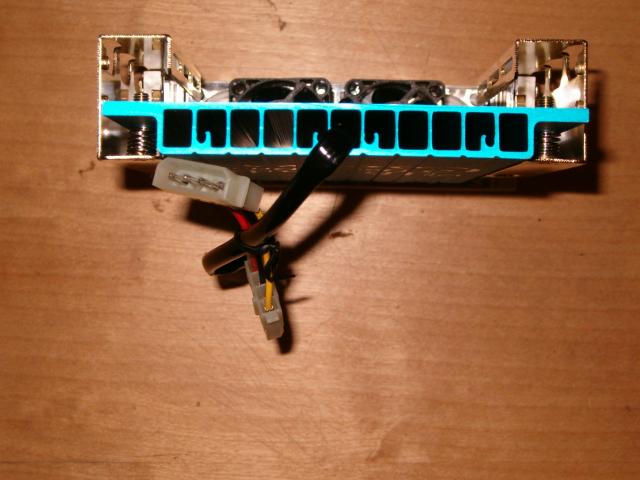 The hard drive rails are secured to the heat sink through an intuitive screw and spring assembly that allows the heat sink to contact the hard disk evenly, to allow for better heat distribution.
The fans are standard DC fans. This is good because if one ever died it would be easy to find a replacement. I will go over them and the air filter later on after the HDDSINKPRO is installed.
Installation
---
Installation is very straightforward; it is as simple as screwing the hard disk into the supplied metal brackets (almost as easy as installing a hard drive into a case chassis) and then mounting the fnished assembly within the case. Unfortunately, the air filter fell off while I was installing the hard disk. Luckily it was simply a matter of fitting it while the drive was partially screwed in (if the drive was secured fully, the air filter was very difficult to install). After that you loosen the screws on the top of the heat sink assembly so that the heat sink obtains full contact with the top of the hard disk.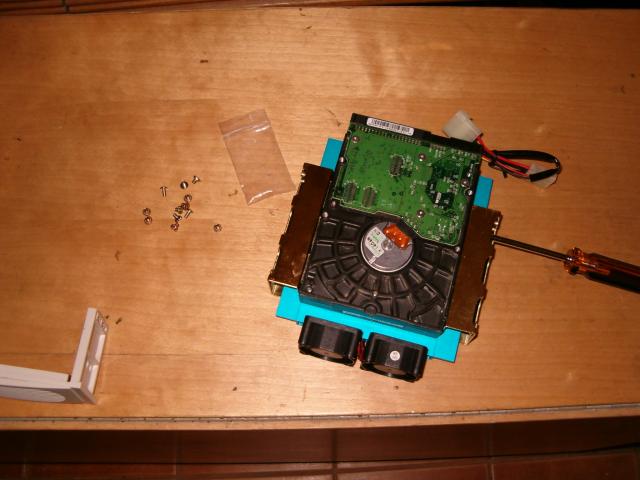 At this point during installation, the hard disk was nearly secured to the heat sink assembly. Note the detached air filter; it fell off while I was mounting the hard disk. Afterwards I found that I couldn't fully secure the hard disk before attaching the air filter because the air filter wouldn't fit then.
To complete installation, simply mount the hard disk cooler into your chassis' empty front bay. This part of installation is very easy and is just about as simple as mounting a new CD-ROM drive or DVD-ROM drive. I installed it below my CD/DVD drives because my IDE cable has to reach two hard disk drives.
It can be a little messy in the case; especially if you have a second hard disk chained off of the one within the hard disk cooler. It looks great from the outside, though.
Performance
---
So far I have had absolutely no problems during computer operation. I have already had to clean the air filter once; it was a painless operation that consisted of taking a tissue and wiping the filter clean. Afterwards, blow out any remaining residue with a quick puff of air. Be careful not to stick your fingers in the whirling fans while the filter is detached, however, because there is no fan grill (hopefully, most people would know not to!).
More important than an air filter is the actual cooling performance that this solution offers. I decided to test with a single drive (the Western Digital 250GB WD2500JB model) under load and use the drive's S.M.A.R.T. interface to read the temperature. I used the freeware SpeedFan, by Alfredo Milani-Comparetti, to test the cooling performance of the hard disk and motherboard/CPU diodes. I used the [email protected] client to keep the CPU utilization at a constant 100%. These programs were run for 30 minutes alongside the normal set of Windows 2000 services. Test scores were recorded after the temperatures became stable.
System Temperatures (under load)
CPU
MB Diode 1
MB Diode 2
WD2500JB
No HD Cooler
45 C
36 C
21 C
34 C
With HD Cooler
44 C
30 C
19 C
28 C
You can see from the performance table above that the drive cooler is performing very well. Amazingly, it has lowered the average temperature within my computer by nearly 4 degrees Celsius from 34C to 30.25C…more than a 10% decrease! How it has lowered my entire system temperature by so much is testament to the fact that smaller cases do not promote airflow. Yes, there may be less air within the case, but they are also prone to more blockage of airflow by cables and a lack of room for additional fans. The hard disk cooler affected the temperature by such a large amount that it should be noted that it is bringing air in from an unusual angle within my case. Normally, there is no air intake from the area around the CD-ROM drives so I guess that this made a big difference. Of course, the drive cooler has also brought the hard disk temperature down by a sizeable margin: nearly 18%. This should translate to more reliability in the long run and an increased sense of security (although backups are always recommended!).
After examining the way the little fans push air through the heat sink, it is easy to see that some air is going through, but not much. This is one area that I think could use a bit of improvement: a better way to force the air through the heatsink. If this were remedied, this product could perform even better! The good thing is that the HDDSINKPRO still manages to function very well as it is.
Conclusion
---
Overall, I have been very pleased with the performance of StarTech.com's HDDSINKPRO. It has managed to both exceed my expectations and make me recommend this product to anyone who needs maximum reliability from their hard disk drive. There is only one real complaint that I can find from this product…its list price is nearly $50 US. Even if you go to a major distributer of this product such as CDW the price can be just a tad high at around $34. These are steep prices for what seems like a simple piece of hardware. Your best choice to buy this product would be at a smaller vendor (click the Pricegrabber link at the bottom of this page) for prices that are around $25. In the end, however, money can be mostly overlooked if one sees the incredible costs that are required for a data recovery operation.
This product's good performance helps us overlook its price tag. This gives it a well deserved rating of 8 out of 10 and Bjorn3d's Seal of Approval!
Rating:
(8.0/10)

Product Review Summary
Warranty: One Year
List Price: $49.99*** Street: $33.67****
Warranty Specifications: StarTech.com warrants its products against defects in materials and workmanship for the periods noted below, following the initial date of purchase. During this period, the products may be returned for repair, or replacement with equivalent products at our discretion. The warranty covers parts and labor costs only. StarTech.com does not warrant its products from defects or damages arising from misuse, abuse, alteration, or normal wear and tear.***
Pros
Cons
Solid construction, smooth heat sink surface
5 1/4 Bay requirement may create a stretch for short IDE cables
Easy installation
Heat sink seems starved for air and may be underperforming as result
Excellent performance
Price can be high for such a simple device
Air filter helps keep dust/dirt out of case, and is easy to clean
***Price/Warranty information from StarTech.com.
****Price information from CDW