Tweak, twist, and turn up your system to make it run at its peak performance. If you have an nForce based motherboard, you might want to take a look at NVIDIA's new System Utility to aid in the process of changing all those BIOS settings right inside your Windows OS.
Introduction
---
Have you been itching to do some tweaking to your PC from within Windows instead of making a trip to the wonderful primary colored BIOS? Well stop scratching and start tweakin with NVIDIA's newest little utility that allows your nForce based motherboard to break the binding bonds of the BIOS and make changes to a number of settings in your Windows environment called the NVIDIA System Utility (NVSU). The NVSU is a piece of software from NVIDIA's ForceWare line of new software components.

Features and Specs
---
I want to start out with some of the basic chipsets and motherboards that are fully supported by the NVSU. All of this information has come from documentation provided by NVIDIA and from NVIDIA's website.
NVIDIA Chipsets Supported NVSU will support the following NVIDIA chipsets:
nForce 2 SPP and all MCP2 versions
nForce 2 IGP and all MCP2 versions
nForce 2 400 and all MCP2 versions
nForce 2 Ultra 400 and all MCP2 versions
nForce 3 150
nForce 3 Pro 150
NOTE: NVSU will not support any nForce 1 chipset combinations.
Processors Supported NVSU will support the following processors:
All AMD FSB 133 (266 DDR) MHz style processors
All AMD FSB 166 (333 DDR) MHz style processors
All AMD FSB 200 (400 DDR) MHz style processors
AMD Athlon 64 processors
AMD Athlon 64 FX processors
AMD Opeteron processors
One major thing to note with the NVIDIA System Utilty is the fact that not all motherboards will be able to take full advantage of some of features of the NVIDIA System Utility. Currently there is only a small number of boards that can use all of the basic features and the advanced features of the utility. Board manufacturers are being urged to include support in their BIOS and motherboards so that more and more boards will be able to see the benefits that this utility can provide. Here is a current list taken directly from NVIDIA's website of the fully supported boards.
Products Supported NVIDIA nForce2:
ASUS A7N8X-E
Biostar M7NCG
Epox EP-8RDA+
Epox EP-8RDA3+
ABIT NF7-S
NVIDIA nForce 3:
Gigabyte K8NNXP
Shuttle AN50
The utility offers the user the ability to tweak, adjust, and specify values for a large number of settings usually only found in the system's BIOS. Some of the more basic features of the NVSU enable the changing of the FSB, AGP bus, several volatages, and even the fan speeds right from your desktop.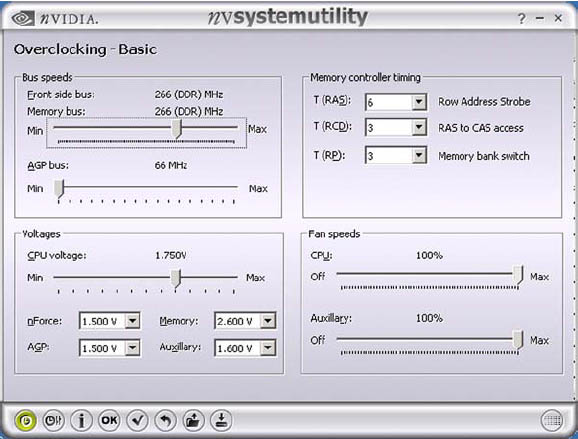 The more advanced features, the ones I have talked about that are only available for certain motherboards currently, up the ante a little with direct control over your chipset performance and other settings including AGP support options and even your CPU multiplier. Very cool indeed, but these changes will require a reboot of your system to take effect. Some of the basic features, such as the fan speeds, can be switched without worrying about a reset. Is it worth it to keep away from the dreaded BIOS screen. Heck, why not? I would love to have the option to play with my settings while I was sitting there looking at research or other information on the net to help me make the best changes. No need to print out a sheet of data to take with you to the BIOS screen, now your browser is right there with you while you make the changes.
You also have the ability to save profiles of settings so that you can quickly switch a group of settings for a different situation. If you have a highly overclocked profile for your gaming sessions, or just a very stable and quiet one for watching a movie, a quick reset of your PC and you are ready to go.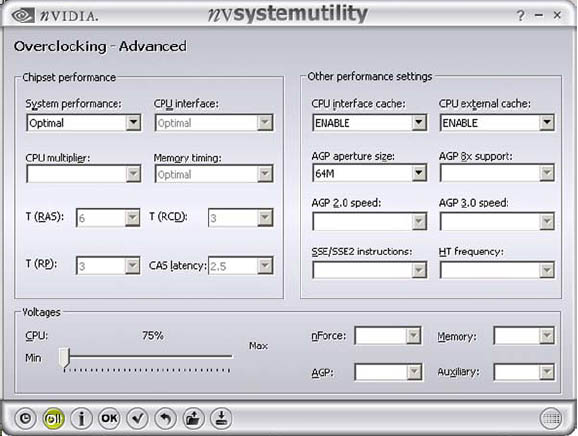 Well I took the NVSU for a spin on my system. Unfortunately I was not one of the few that can take full advantage and tweak my system to the max. I was only able to change my FSB, AGP bus, and the memory timings on my ASUS A7N8X Deluxe mobo. Was I dissappointed….YES! I am hoping that motherboard makers will make an effort to get the necessary software upgrades so that most of the users with nForce boards will be able to use this program.
With the little amount I was able to do with my PC, I liked the ease of use and simple interface that NVIDIA provides. Slide a couple controls over, switch up a drop-down box, and you have done a couple of system changes that normally would have required a reboot and trip to the setup screen. It's a useful tool that can be very useful if you have a fully supported system.
The onscreen "dynamic" help that comes with the NVSU is also nice. When the help option is turned on a dialogue box will pop up when you hover over a particular option. Each dialog box gives you a rundown of what you are looking at, what you can do with the feature, and your limitations of adjustment. Very nicely done for the user that is not used to messing with the more advanced settings of their system.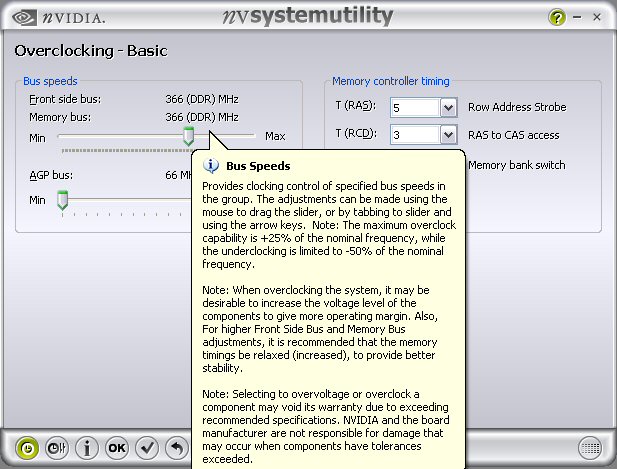 Overall the NVSU is very promising. Having a very powerful utility such as this right there on your desktop will save you time and hassle that the good ol' BIOS can provide. I, like many others, can only hope that there will be increased support for other models of boards so we can all use the advanced and in-depth features of the NVSU. Motherboard and BIOS manufacturers need to get with the program and support this utility so that it can be used for what it's made for. Hopefully NVIDIA is on the right track with their latest efforts to gain a stronghold in the shifting tides of PC competition. I definitely believe they are starting in the right place. You can grab this tool at NVIDIA's site.